Welcome to the webbed and wired edition of R&R, aristotle. We'll be doing the same sort of song and dance here as we do in print: reviewing the latest comics and cartoon-related books and ranting about trends and abuses and unfathomable foolishnesses. Each installment will stay here for about four weeks, with a new one coming in just about every other week or so. If you don't have the time to ponder every punctuation mark in this deathless prose and merely want to see what might be there that would interest you, we suggest you scroll down the page looking for the bold-face type that heralds the notables who reside herein this week. So here we go with Opus 382 (and a reprise of Opus 381):
Opus 382: Old Duffer Gets Inkpot, Nemo to Return, Toothpaste Caper in Gasoline Alley, Batman White Knight Limps to an End, Peter Wheat Review & Nick Meglin RIP (July 31, 2018).
Opus 381: Editoonist Fired for Being Critical of the Trumpet, the Denver Comic Con & More Ominous Trumperies (June 30, 2018).
Opus 382 (completed July 31, 2018). Down the rabbit hole this time, we look at conservative editoons arousing reader ire and do book reviews of Hollywood and the Comics, a new Peter Wheat reprint, Assume the Worst: Graduation Speeches You'll Never Hear (truthful ones), and a graphic instructional tome on sex. We also report on DC Black Label's morphing into a reprint imprint, and we start a new department devoted to the antics of our wispy-haired Prez, Trumperies (as distinct from politics and national issues). And we have our usual departments on editoons and newspaper comic strips. Oh—and we are both humbled and honored to have received the San Diego Comic Con's Inkpot Award "for achievement in the comic arts."
We also tell you more about Tom Tanquary's documentary video on the history and influence of newspaper comic strips in America—which relies upon interviews with 20 well-known cartoonists—and show you how to help make history by joining the Kickstarter campaign to fund the last stages of the film's production.
And we post an extensive and fond farewell to Mad's Nick Meglin, who died unexpectedly June 2.
If you're a non-$ubscribing visitor here, taking advantage (as we encourage you to) of our Open Access Month, you might consider wandering from the Rants & Raves posting at hand to look at some of the evergreen articles of history and biography in Harv's Hindsight. Here are a few—:
Hubris & Chutzpah, the Al Capp/Ham Fisher Feud that Resulted in Fisher's Death, posted January 29 2013 (click on Harv's Hindsight, then scroll down to this date)
Origin and Evolution of the "Comic Con," November 30, 2017
Who Discovered Superman?, November 30, 2013
Hefner Died. In His Bed, Of Course, October 31, 2017
Unforgettable Jane (the British Comic Stripper), September 30, 2016
The Real Captain Easy, January-February, 2012
In the meantime, we provide the following list of this Opus's content so you can pick what you want to see without having to read through everything. Here's what's here, in order, by department—:
MAKE HISTORY
Join Our Kickstarter
NOUS R US
Old Duffer (RCH) Gets Inkpot at Sandy Eggo Con
Stan Lee's Situation Still Unclear
Sales Decline Slightly in 2017
DC Black Label Titles Are Reprints
Nemo to Return; Ditto Inks
Scholarly v. Academic Discussed
Rob Rogers' Spiked Editoons On Display
Conservative Editoons Spark Reader Objection
Glenn McCoy Laid Off; Takes Up Animation
Wedding Plans Foiled
Garfield Is Forty
The Toothpaste Caper in Gas Alley
Odds & Addenda
Watterson Editorial Cartoons
Statue of Archie
Simpsons Comics Dies Off
The Utterances of Art Spiegelman
FUNNYBOOK FAN FARE
Batman White Knight Ends Badly
Doomsday Clock Limping Along
Shipwreck and Skybourne Too Long in Coming
Plastic Man's Essence Is Still Illusive
Renato Freelancer Ends Second Round Well
TRUMPERIES
The Guy's So Silly He Rates a Department Separate from—:
EDITOONERY
Rounding Up Highlights of the Month's Editorial Cartoons
NEWSPAPER COMICS PAGE VIGIL
The Forbidden and the Intriguing in Today's Funnies
ACCRETION OF INTENTION DEPARTMENT
Review of Hollywood and the Comics
BOOK MARQUEE
Short Reviews Of—:
Pocket Full of Dennis the Menace
Dennis the Menace in Hawaii
Assume the Worst: Graduation Speeches You'll Never Hear
Feiffer Triology Concludes with The Ghost Script
Instructional Book on Sex
BOOK REVIEW
Of The Adventures of Peter Wheat
A-GAGGING WE SHALL GO
Playboy Still Isn't Cutting It
PASSIN' THROUGH
Art Paul
Nick Meglin
Harlan Ellison
QUOTE OF THE MONTH
If Not of A Lifetime
"Goddamn it, you've got to be kind."—Kurt Vonnegut
Our Motto: It takes all kinds. Live and let live.
Wear glasses if you need 'em.
But it's hard to live by this axiom in the Age of Tea Baggers,
so we've added another motto:.
Seven days without comics makes one weak.
(You can't have too many mottos.)
And our customary reminder: don't forget to activate the "Bathroom Button" by clicking on the "print friendly version" so you can print off a copy of just this installment for reading later, at your leisure while enthroned. Without further adieu, then, here we go—:
HERE'S A CHANCE TO HELP MAKE HISTORY
If you enjoy our twice-a-month trips down the rabbit hole for comics news and reviews and history and lore, maybe you would like to help make history. Here's your chance. For the past several years, I've been working with an Emmy award winning television documentarian, Tom Tanquary, to make a film about the American newspaper comic strip and how it influences our culture and vice versa.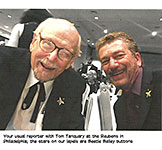 We traveled all over the U.S. to interview cartoonists and get their perspective on their art and its relationship to its readers. As you doubtless expect, I had a great time talking shop with almost twenty professional cartoonists: after all, talking about comics is what this fortnightly online magazine, Rants & Raves, is all about.
I talked with Greg Evans, Cathy Guisewite, Jules Feiffer, Mell Lazarus, Wiley Miller, Brian Walker, Mort Walker, Lalo Alcaraz, Sandra Bell-Lundy, Ray Billingsly, Bill Holbrook, Darren Bell, Jeff Keane, Keith Knight, Morrie Turner plus active observers like Jeannie Schulz, Andrew Farago at the Cartoon Art Museum in San Francisco and historian Peter Maresca (Sunday Press).
We visited the Walkers, Ray Billingsly and Jules Feiffer on one harrowing week in the spring. Bad weather forced us to land, briefly, in Philadelphia; then on to New York, where Tom had rented a van. By then, it was night, and we made our way to the Hamptons (where Feiffer was) in the dark. Thank goodness for GPS; otherwise, as in the olden days, we'd still be wandering the countryside.
It was lunchtime when we dropped in on Knight, so we all went off to a local fast-food spot. As we ate, Keef drew a Sunday strip—right there, before our very eyes—wholly imperturbable. And as he drew, he answered our questions and responded to our comments.
The plan was that I talk to cartoonists. I'd talk to them about the profession, their strips, and the syndication business. And then later, Tom would edit the video, taking out only what he wanted for the documentary. In effect, I was left entirely to my own devices and desires, so I followed myself happily. Among the things that I remember was that Feiffer, who was working on his second graphic novel while we were there, said doing a graphic novel had reinvigorated him. Suddenly—once again—he loved drawing and cartooning again.
None of this is apparent in the documentary, but I think you can tell everyone is having a good time. I was anyhow.
Tom is now moving into the post-production phase of making the film. So far, he's financed the whole project himself; but now he needs to hire people with expertise he doesn't have in order to finish the film, and he's launched a Kickstarter to raise the funds. Herewith, the News Release—:
Picture and Sound Productions announces the final stage of development for its feature length documentary:
"Hand Drawn Life – The History and Influence of Newspaper Comic Strips"
UNLIKE OTHER WORKS ON THIS SUBJECT, "Hand Drawn Life" traces the history of the newspaper comic strip by detailing its effects on the readers and its impact on society. The film explores not just the timeline of their creation but the emotional connections these drawings have had, and are still having, on the reader. These strips are arguably the first form of American pop culture. Unlike the books, sheet music and traveling side shows of the late 19th and early 20th centuries, newspaper comics were syndicated to papers across the country, thanks to William Randolph Hearst. This meant for the first time, people in New York, Los Angeles, Chicago and elsewhere could read the same cartoon at the same time. These cartoons united the country in a common entertainment experience like never before. And they continue to connect readers to this day.
With interviews from 20 of the greatest names in the comic strip world, both creators and historians, the story unfolds without a narrator. The people that know best weave history and personal experience into a tale of modern American culture. They explore how these comics, deployed by newspaper editors to sell newspapers, turned into a truly unique art form. Not just their ability to craft a gag or joke in just a few panels of drawn figures, but also to convey complex ideas and emotions, to create other worlds and fantastic stories, and to let millions of readers know they are not alone. They have their trusted friends right there on the comics page, day after day, with new adventures and laughs, new stories to tell.
Jeannie Schulz, widow of Charles Schulz, says in the film: "People may read the comics to get away from themselves, but in Peanuts, they found themselves." That could also be said of comics in general. Even with radio, movies, television, and now the internet, comic strips continue to connect with their readers.
This is their story.
The Kickstarter campaign to get finishing funds for post-production is underway. To hear Tom explain it (he does a better job than I do) and to see a short preview of the 90-minute film, go here:
https://www.kickstarter.com/projects/228655795/hand-drawn-life?ref=email
READ & RELISH
"Its better to prepare children than to repair them."—Jim Zimmerman, former Macy's chair
Upon being named U.S. poet laureate in 2006, Donald Hall explained his simple view on the value of poetry: 'There is no other purpose than the beauty of it,' he said, '—and that is reason enough to be.'"
NOUS R US
Some of All the News That Gives Us Fits
OLD DUFFER GETS INKPOT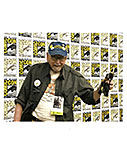 I would be seriously remiss in my duties as a crusading journalist if I failed to report that I received the coveted Inkpot Award "for achievement in comic arts" two weeks ago during the 49th Sandy Eggo Comic Con.The Inkpot has been bestowed on 15-20 people a year since 1974—professionals in the fields of comic books, comic strips, animation, science fiction and related areas of popular culture. So there are now well over 600 of us.
Recipients in the inaugural year include legends in movies and popular culture and in the histories of cartooning and comics fandom:
Forrest J. Ackerman (magazine editor)
Ray Bradbury (prose writer)
Kirk Alyn (actor)
Milton Caniff (cartoonist, Terry and the Pirates, Steve Canyon)
Frank Capra (filmmaker)
Bob Clampett (animator)
June Foray (voice actress)
Eric Hoffman (film historian)
Chuck Jones (animator)
Jack Kirby (comic books)
Stan Lee (comic books)
Bill Lund / William R. Lund (actor/writer/founding member of San Diego Comic-Con)
Russ Manning (comic strips, Tarzan, Star Wars)
Russell Myers (cartoonist, Broom Hilda comic strip)
Charles Schulz (Peanuts)
Phil Seuling (comic art convention founder)
Roy Thomas (comic book writer and fan, co-founder of Alter Ego)
Bjo Trimble (science-fiction fandom figure)
To Read more for FREE Click Here
SUBSCRIBE TODAY!
Just $3.95/quarter after $3.95 introductory month
NOTE: You can gain temporary access to this posting (and all the rest of this website)
by paying the trial month fee of $3.95 (which is about what the
New York Times used to charge for a single print-out).
$ubscriber/Associates: To Continue reading please CLICK HERE
To find out about Harv's books, click here.