Welcome to the webbed and wired edition of R&R, aristotle. We'll be doing the same sort of song and dance here as we do in print: reviewing the latest comics and cartoon-related books and ranting about trends and abuses and unfathomable foolishnesses. Each installment will stay here for about four weeks, with a new one coming in just about every other week or so. If you don't have the time to ponder every punctuation mark in this deathless prose and merely want to see what might be there that would interest you, we suggest you scroll down the page looking for the bold-face type that heralds the notables who reside herein this week. So here we go with Opus 416 and a reprise of Opus 415—:
Opus 416: Wonder Woman's H.G. Peter, Dagwood's 8-pager, Hank Ketcham's Graphic Brilliance, RCH's Dennis Tryout, Brzrkr, Mignola, Little Sport, Rumples & Editoons (April 8, 2021).
Opus 415: Round-up of Editoons, Six Seuss Cancelled, New Presidential Caricatures & The Most Popular Editoons of 2020 (March 17, 2021).
Opus 416 (through April 5, 2021). Happy Easter. By the time this reaches you, Easter will doubtless be a week in the past. But I couldn't stop myself from using Mike Mignola's Easter Bunny as an introductory illo for this opus. And I could not resist tacking on my own rabbit, Cahoots, who, rather than applauding Mignola (as I do), voices suspicion about the contents of any eggs emanating from the spooky and harrowing halls of Mignoland.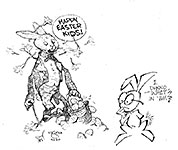 But if you want the Whole Story of Easter, bunnies and eggs and all, you should consult Harv's Hindsight for May 2017, a really long, boring but thorough examination of historical matters.
But herewith, our topics this time: Wonder Woman and H.G. Peter, 70th anniversary for both Dennises, Dagwood in an 8-pager, Liniers, the graphic brilliance of Hank Ketcham (and my Dennis adventure), and reviews of Mignola book, Golden Age Westerns, Brzrkr, plus historic Little Sport, and Harvey Kurtzman's Rumples. Here's what's here, by department, in order (the longest entries are marked with an asterisk* a reader's guide to help you decide where to spend your time)—:
NOUS R US
Continuing Destruction of the Direct Market
The Comeback Is Bigger than the Setback
How Many Titles Is Enough?
Wonder Woman Tells Her Age
*And H.G. Peter Who Drew Her at First
Dennis Is 70, Twice
Top 10 Comicbooks Since 1970
Ginger Meggs Turns 100 This Year
Mod Marvel Covers
Jaffee Hits 100
FUNNYBOOK FAN FARE
Brzrka
* BARENEKKIDWIMIN IN BLONDIE
And a Little Copulation To Top It Off
TRUMPERIES
The Antics and Idiocies of Our Bloviating Buffoon in Chief
* EDITOONERY
The Mock in Democracy
YET ANOTHER POINT OF VIEW
Marty Two Bulls
NEWSPAPER COMICS PAGE VIGIL
The Bump and Grind of Daily Stripping
Liniers Macanudo & Foreign Cartooners
LINIERS COVERS THE NEW YORKER
* DENNIS THE MENACE IS 70
Jim Engel and Dennis
Marcus Hamilton Says
My Adventure with Dennis
The Graphic Brilliance of Hank Ketcham
BOOK MARQUEE
Short Reviews
The Love and Rockets Companion
BOOK REVIEWS
Long Reviews, Critiques & Crotchets
*Mike Mignola: The Quarantine Sketchbook
*Golden Age Western Comics
BOTTOM LINERS
Single Panel Magazine Cartooning
Little Scouts
COLLECTORS' CORNICHE
Little Sport by John Henry Rousou
Rumples by Harvey Kurtzman
PASSIN' THROUGH
Frank Thorne
* FORTY-FIVE LESSONS LIFE TAUGHT
By Regina Brett, Age 90
QUOTE OF THE MONTH
If Not of A Lifetime
"Goddamn it, you've got to be kind."—Kurt Vonnegut
Our Motto: It takes all kinds. Live and let live.
Wear glasses if you need 'em.
But it's hard to live by this axiom in the Age of Tea Baggers,
so we've added another motto:
Seven days without comics makes one weak.
(You can't have too many mottos.)
And in the same spirit, here's—:
Chatter matters, so let's keep talking about comics.
AND—
"If we can imagine a better world, then we can make a better world."
And our customary reminder: when you get to the $ubscriber/Associate Section (perusal of which is restricted to paid subscribers), don't forget to activate the "Bathroom Button" by clicking on the "print friendly version" so you can print off a copy of just this installment for reading later, at your leisure while enthroned. Without further adieu, then, here we go—:
NOUS R US
Some of All the News That Gives Us Fits
THE CONTINUING DESTRUCTION OF THE DIRECT MARKET
The transformation of the Direct Market for comics, which began last year with DC's move to a new distributor for comic stores, has just been thrown a new wrench with the announcement that Marvel has signed an exclusive multi-year agreement with Penguin Random House to distribute Marvel comics and graphic novels to comic stores. Hachette will remain (for now) Marvel's distributor of graphic novels to the book trade.
Under the new arrangement, PRHPS will sell to Diamond as a wholesaler, allowing Diamond to continue to offer Marvel products to its customers, albeit under different terms. PRHPS laid out some its plans for serving the Direct Market, including free freight to retailers on Marvel products, as it does on its other lines.
Marvel Entertainment President Dan Buckley said: "Comics are the core of the Marvel Universe, and we are confident this new partnership will continue to grow and evolve this resilient industry. We look forward to advancing our capabilities with PRHPS to serve our fans and the Direct Market. We thank Diamond for their many years of support and partnership as we continue our relationship with them in other areas."
Diamond Comic Distributors CEO Steve Geppi (statement released separately): "We value our almost 40-year relationship with Marvel and are pleased that we will continue selling Marvel products to the Direct Market and other channels. The change Marvel announced today represents a behind-the-scenes shift in how Diamond interacts with Marvel for certain products .... I expect the discount terms under which our retail partners order these Marvel products to change. ... While there are still details of this new arrangement to work through, my leadership team and I are committed to making this supply change as operationally seamless as possible for our retail partners and we look forward to our continued distribution of Marvel products."
Others expressed other concerns. One retailer said: "All comic publishers that aren't DC or Marvel—now's probably a great time to see of you can renegotiate your contracts with Diamond."
Another asked: "Does this mean your local comic store now will have to compete with chain bookstores? Will Marvel focus their content for longer shelf-life? If this sinks Diamond or—more likely—forces cutbacks, what happens to small publishers? ... Geppi is more likely to close up shop entirely than try to make money on those thin margins.
Heidi MacDonald said: "While some retailers may feel more comfortable going with Diamond for periodicals, it's hard to see many advantages in using Diamond for graphic novels. PRH already distributes DC, Archie, IDW, Dark Horse, and Kodansha Comics to all markets, so a lot of comics shops already have a relationship with them.
THE COMEBACK IS BIGGER THAN THE SETBACK
Marking off a year of Pandemic Life, Heidi MacDonald at comicsbeat.com remembered that it was March 23rd in 2020 that Diamond president Steve Geppi announced they would cease shipping new comics starting April 1st, effectively putting the comics industry on hold. Shops nearly everywhere shut down for almost two months. Within a few days, DC dropped it's own bombshell announcing that it would be moving to new distributors.
There was no dearth of coverage and fretting about this, as, with people stuck at home, there was little else to do. You can find the Beat's own coverage on the crisis in various places and see how good we did at predicting things:
One year later, comics and comics retailers have survived the "Pandemic Shift" in good shape, but we thought it was time to reach out to retailers to look back at that scary period and talk about the ways they've adapted and the lessons they've learned. ... In my cover letter asking for thoughts, I noted that Diamond's Geppi had predicted "the comeback will be bigger than the setback" and he's proven to be correct, as comics sales were robust in the second half of 2020 – even bigger than 2021 in some cases.
However, reading the responses, we see that we're not out of the woods yet – retailers worry that as other forms of entertainment like live events and theater going return, comics will face more competition and the sales boom could evaporate. It's a relevant concern, but it also marks the surprising strength of the comics industry: the pandemic has seen comics go from a shut down of new weekly comics delivery to one of the most reliable forms of COVID-era entertainment. ...
For stores that rely solely on the new releases, this was "the most traumatic" but for stores who have in-stock books and comics, the lack of new releases led to sales of their backstock.
If comics didn't entirely "shut down," March 23rd was still a day that marked a seismic shift – and the realization that everything we thought was true could change. But as the responses we got show, the comics industry is strong, nimble and dedicated. ... With this kind of perseverance and (yes) passion for the medium, we can overcome just about anything.
HOW MANY TITLES IS ENOUGH
Paul Levitz, who entered comics as a writer and retired as Publisher of DC Comics, is back writing, saith ICv2—but prose, apparently, not stories. Herewith, he examines what the pandemic taught us about the question of how many comic titles is enough—:
One of the few pleasant surprises of this virus-plagued year is how resilient the comic shops have proved to be. Even those of us who are longtime supporters of the system feared that we would lose large numbers of shops, and with them, large numbers of readers who would find comics shopping just too damn inconvenient in a time filled with too many challenges. Happily, that didn't prove to be the case. A number of shops went under, to be sure, which is bad news for the owners, staffers and patrons of those stores, but we've seen a fair number of new outlets open up too, and the net loss has been much lower than we "experts" predicted.
Consider that testimony to the dedication of the people who own and run the stores, the surprisingly effective program of PPP funding provided by the federal government, and the degree of passion our readers have for getting the comics they needed as entertainment in a particularly bleak period.
A second thread of good news has been increased sales of many titles that have been published since most stores were allowed to reopen on some basis by their states. ... Some of this phenomenon can be attributed to the extra leisure time we're all experiencing as captives of our homes, without access to as many other activities as usual.
Another factor is certainly a run of better content in some major publishers' titles, which often has had the effect of also lifting smaller publishers' sales by bringing more customers to the cash registers and making them more enthusiastic about our shared hobby. But some retailers are also attributing the increase to the decrease in the number of titles being published, both by removing clutter in their displays, and concentrating readers' attention on the better books. ...
Levitz concludes his essay by cautioning against publishers' "overproduction," and particularly the proliferation of titles featuring the top characters in any line.
Back in the day, even as I signed off on adding to the Superman or Batman line, I was reluctant to go over the "one new issue a week" rule, assuming that since our readers mostly shopped weekly, that was a safe limit. ...
Perhaps the comparative success of more titles during this period of shortened schedules shows that a more careful curation strategy can work. Stores should be open to try new series and graphic novels, and should make sure they have a system where consumers can get anything comics-related they desire as easily as ordering it online. But the display racks seem to be benefiting from more focus, and that's within retailers' ability to continue. Let's keep these improbable good times going!
WONDER WOMAN TELLS HER AGE
A DC publicity release announced that DC, Warner Bros, Global Brands and Experiences and WarnerMedia are bringing the "Wonder" to International Women's Day by launching a global celebration that honors the 80-year legacy of DC's Champion of Truth and Warrior for Peace— Wonder Woman.
Embracing the call to see the world through Wonder Woman's eyes and to "Believe in Wonder," the 80th Anniversary celebration illuminates the Super Hero's timeless and relevant message of hope and empowerment with original content, commemorative comics, books, and global fashion collections and experiences. This multi-month campaign will culminate with a worldwide celebration of Wonder Woman Day on October 21.
The legacy of Wonder Woman includes the first appearance of Wonder Woman in All-Star Comics No.8, the first comicbook headlined by Wonder Woman (Sensation Comics No.1), and the publication of Wonder Woman No.1 in 1942. All are free to read on the ultimate fan destination for DC: DC UNIVERSE INFINITE.
DC also announced the Wonder Woman 80th Anniversary 100-Page Spectacular that will bring together some of the greatest storytellers in comics and entertainment for a tribute to Wonder Woman in a collectible keepsake. Available in October on Wonder Woman Day, fans can look forward to original stories and a beautiful art montage by Eisner Award-winning artist Yanick Paquette (Wonder Woman: Earth One) with colors by Nathan Fairbairn.
The History of Wonder Woman. Created by William Moulton Marston, a psychologist who was a pioneer in lie-detection by electronic means, Wonder Woman was conceived as a new type of super hero who used wisdom and compassion, not just her fists, to triumph over evil. Born and raised on Themyscira, Diana is the immortal daughter of the Amazonian Queen Hippolyta. After training to be the ultimate warrior, she chooses to leave her paradise island home and join the world of mortals, where she becomes a champion for justice and equality as Wonder Woman.
She was imbued by the gods with powers including super-strength and gifted with a lasso that compels anyone bound by it to tell the truth. Wonder Woman is the only female comic book character to have her own stories continuously published for the past three-plus quarters of a century.
Wonder Woman first appeared in All Star Comics No.8 on October 21,1941 in a back-up story meant to test her appeal at a time when female super heroes were rare. An instant favorite, Wonder Woman was soon headlining her own standalone title less than a year later.
Subsequent generations came to know the Amazonian princess with silver bracelets on her wrists and a magic lasso by her waist via her hit 1970's television series as well as roles in animated shows and movies.
The groundbreaking 2017 film "Wonder Woman" by director Patty Jenkins and starring Gal Gadot was the largest grossing live action film ever for a female director at the time of release. The sequel, "Wonder Woman 1984" premiered on HBOMax and in theaters globally December 25, 2020. Warner Bros. Pictures confirmed the third Wonder Woman movie starring Gadot will also be written by Jenkins.
Fans can join in on social media using hashtags #WonderWoman80 and #BelieveInWonder. Visit wonderwoman80.com for the latest news and updates.
SPEAKING OF WONDERS, the most wonderful part of Wonder Woman's history is H.G. (Henry George) Peter, the artist who drew her comicbook adventures from the beginning in 1941 until his death in 1958 at the age of 78. ... To find out all about H.G., plus RCH's history with Dennis the Menace, Ketcham's graphic brilliance, Dagwood in an 8-pager, Marty Two Bulls, Liniers and his Macanudo, Mignola's Quarantine Sketchbook, Little Sport and Harvey Kurtzman's Rumples— and More— Click Here.
And If You're Not a $ubscriber/Associate—
SUBSCRIBE TODAY!
Just $3.95/quarter after $3.95 introductory month
NOTE: You can gain temporary access to this posting (and all the rest of this website) by paying the trial month fee of $3.95 (which is about what the New York Times used to charge for a single print-out).
$ubscriber/Associates: To Continue Reading, Please CLICK HERE
To find out more about Harv's books, click here.
To find out about Harv's books, click here.