Welcome to the webbed and wired edition of R&R, aristotle. We'll be doing the same sort of song and dance here as we do in print: reviewing the latest comics and cartoon-related books and ranting about trends and abuses and unfathomable foolishnesses. Each installment will stay here for about four weeks, with a new one coming in just about every other week or so. If you don't have the time to ponder every punctuation mark in this deathless prose and merely want to see what might be there that would interest you, we suggest you scroll down the page looking for the bold-face type that heralds the notables who reside herein this week. So here we go with Bunny Bonus Opus 380 plus Opus 379 (and a reprise of Opus 378):
Opus 380: Bunny Bonus Report on the Reubens Awards of the National Cartoonists Society (June 4, 2018).
Opus 379: Underground Comics 50th, Cartoonists as Goat Getters, Wallace Wood Volume 2, Action Comics No.1000 and Captain America No.700 & Surprises in Savage Dragon (May 26, 2018).
Opus 378: Editoons in March-April, the Pulitzer Fiasco, Stan Lee at the New York Times, the New Mad No.1 & Denver's Boutique Comic-con DiNK (April 25, 2018)
Opus 380 (completed June 2, 2018). Up out of the Rabbit Hole this time, a Bunny Bonus report on the Reubens Awards conferred May 26 by the National Cartoonists Society—complete with errors and corrections and the Usual Carping by Yr Faithful Rptr, this time based upon Solid Statistical Evidence. Here's what's here, in order—:
NCS Loss of Prestige
List of Winners
Corrected List
Panel Presentations
Other Events
History of Division Awards (Rubes)
And our customary reminder: when you get to the $ubscriber/Associate Section (perusal of which is restricted to paid subscribers), don't forget to activate the "Bathroom Button" by clicking on the "print friendly version" so you can print off a copy of just this installment for reading later, at your leisure while enthroned. Without further adieu, then, here we go—:
BUNNY BONUS
Report on the Reubens Weekend of the National Cartoonists Society
AT THE 72ND ANNUAL REUBENS AWARD WEEKEND, May 25-26 in Philadelphia, NCS conferred its 15 annual awards, including the Reuben itself for "cartoonist of the year," which went to Glen Keane, a Disney animator.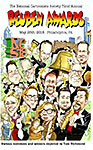 Of the 15 winners, only three— only 3!—were present to receive the accolades of their colleagues. Keane was one. The other two were Mark Parisi and Mike Peters, who won two of the 14 other awards (one of which he shared with Michael Ramirez).
That means 12 of the winners didn't think enough of the award to show up in case they would win. The number is actually higher than that. There were two winners in two categories, and of the 5 nominees for the Reuben, 2 didn't attend. (The Reuben winner three years ago, The New Yorker's Roz Chast, wasn't there to pick up her trophy.)
NCS bills itself as "the world's premier organization of professional cartoonists." If we are to judge from the foregoing attendance records, not very many professional cartoonists think very highly of "the world's premier organization for professional cartoonists."
All of the nominees for the Reuben have been nominated before—except Keane. In alphabetical order, this is the second nomination for Lynda Barry (Ernie Pook's Comeek), the 9th for Stephan Pastis (Pears Before Swine), the 4th for Hilary B. Price (Rhymes with Orange), and the 2nd or 3rd for Mark Tatulli (Heart of the City and Lio; he says only "numerous times"). Neither Barry nor Pastis attended.
This was Keane's first nomination. He has spent most (if not all) of his animation career at Disney. In 2013, he was named a Disney Legend. And at the 90th Academy Awards, he and basketball superstar Kobe Bryant won the Best Animated Short Film Oscar for "Dear Basketball."
As winner of the Cartoonist of the Year award, Keane gets a large, heavy metal trophy, which is called the Reuben after its creator, Rube Goldberg, who was also the first president of the Society.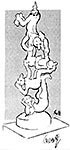 Since 1956, the NCS has conferred a secondary level of award for achievement in various cartooning genre—comic book, editorial cartoon, magazine gag cartoon, and advertising illustration. The list has expanded over the years. These awards have been termed "division awards" for most of their history, and recipients get a metal plaque.
Over the years, division awards have acquired the nickname Reuben: recipients say they've won a Reuben for Best Newspaper Comic Strip, f'instance. But division awards are not Reubens; only the Cartoonist of the Year gets a Reuben, the Goldbergian trophy. Confusion, nonetheless, reigns. Finally, to make the distinction clear, a couple of years ago, the NCS Executive Board determined that the division awards should be called "Silver Reubens," surrendering to a misnaming tradition already in place but modifying it to distinguish it from the Big Award, the Reuben itself.
At the business meeting this year, several members expressed annoyance with the Silver Reuben nomenclature. To give a subsidiary award a precious metal adjective seems to cheapen the Reuben itself, which is condemned to going through history without a metal adjective. The physical trophy is bronze, I think, but a Bronze Reuben sounds even cheaper than the unadorned Reuben. My vote: call the division awards Rubes, the shortened form of Reuben, hence subsidiary. It's also the name Goldberg signed to his cartoons, so he would continue to be honored in the custom of the Society. But nobody listens to me.
This year's Rube winners are listed herewith. I've included the nominees as well as the winner in each category because even being nominated is an honor. The winner's name is preceded with an *asterisk. Here we go—:
Magazine Feature/Magazine Illustration
*Peter Kuper, Tom Richmnd, Johnny Sampson
Advertising/Product Illustration
Farley Katz, Johnny Sampson, *Dave Whamond
Television Animation
*Alan Bodner (Disney's Tangled, The Series),
Rustam Hasanov (Dreamworks, Troll Hunters),
Sean Jimenez (Disney's Duck Tales)
Feature Animation
Beniamin Renner, Patrick Imbert (Big Bad Fox and Other Tales)
Nora Twomey (The Breadwinner)
*Lee Unkrich, Adrian Molina (Coco)
Comic Book
Cliff Chiang (Paper Girls), Dean Ormston (Black Hammer Secret Origins),
*Sana Takeda (Monstress)
Graphic Novel
*Emil Ferris (My Favorite Thing Is Monsters), Tillie Walden (Spinning),
Campbell Whyte (Home Time)
Newspaper Illustration
Greg Cravens, Glen LeLievre, *Dave Whamond
Book Illustration
Ryan T. Higgins (Be Quiet), *Adam Rex (The Legend of Rock Paper Scissors),
Ed Steckley (Rube Goldberg's Simple Normal Humdrum School Day)
Magazine Gag Cartoon (all New Yorker cartoonists)
Pat Byrnes, Joe Dator, *Will McPhail
Online Comics—Short Form
*Gemma Correll, Lonnie Millsap (Bacon), Mike Norton (L'il Donnie)
Online Comics—Long Form
*John Allison (Bad Machinery), Vince Dorse (Untold Tales of Bigfoot),
Ru Xu (Saint For Rent)
Newspaper Panel Cartoon
Dave Blazek (Loose Parts), Harry Bliss (Bliss),
*Mark Parisi (Off the Mark)
Editorial Cartoon
Clay Bennett, *Mike Peters, *Michael Ramirez (tie)
Newspaper Comic Strip
Terri Libenson (Pajama Diaries), *Mike Peters (Mother Goose and Grimm), Mark Tatulli (Lio)
Notice the recurrence of several names, another sign that the awards aren't valued much: not enough cartoonists in some of the categories submit their work to be juried for the awards. Why not? Not enough prestige, I suspect.
Wait! Hold On. Just a Minute!
What about those names I underscored? Well, as it turns out, those are the real winners in those divisions. On Friday night, just as I was putting the finishing touches on this opus, intending to ship it off to Rancid Raves Webmaster JeremyLambros on Saturday morning, I (and all other members of NCS) received a self-proclaimed "mea culpa" from Bill Morrison, NCS Prez.
Red-faced, he explained that he'd made a mistake in assembling the list of winners in two categories, taking data from preliminary results instead of final results, which included online votes. And the consequence was that he erred in determining the winners in two categories—Editorial Cartoon and Magazine Gag Cartoon.
The underlined names in the foregoing list are the actual winners in those two categories. Morrison apologized abjectly:
"I'm deeply sorry for any embarrassment or ill will this may have caused any of our nominees or their friends and family members. I hope everyone will understand that this was a case of human error and was in no way underhanded or malicious."
It was, in short, a mistake—in the same class of mistake as a snafu at the Oscar award ceremony a couple of years ago (as Morrison observed). Morrison's speedy and no-excuses correction is as admirable as his mistake was human.
And it changes somewhat my opening tirade: there were 4 of the 15 winners present, not just 3. That doesn't much change my reaction to the situation, but here's a revised tirade:
AT THE 72ND ANNUAL REUBENS AWARD WEEKEND, May 25-26 in Philadelphia, NCS conferred its 15 annual awards, including the Reuben itself for "cartoonist of the year," which went to Glen Keane, a Disney animator. Of the 15 winners, only four— only 4!—were present to receive the accolades of their colleagues. Keane was one. The other three were Mark Parisi and Mike Peters and Pat Byrnes.
That means 11 of the winners didn't think enough of the award to show up in case they would win. The number is actually higher than that. There were two winners in one category, and of the 5 nominees for the Reuben, 2 didn't attend.
The revised winners list doesn't change much the cause of my complaint. The percentage of the winners who showed up changed from 20% to 26%, from a fifth to a quarter. When three-quarters of the winners don't think enough of the award to attend the presentation ceremony, that doesn't speak very highly of the regard in which NCS and its awards are held.
My complaint, in other words, remains the same.
APART FROM THE AWARDS BANQUET, the Reubens Weekend consists of panel presentations, some stand-up cocktail parties, and a ritual business meeting. ... And To Get Our Report on All These Doin's, with Ample Illustration by Photographs, Click Here
SUBSCRIBE TODAY!
Just $3.95/quarter after $3.95 introductory month
NOTE: You can gain temporary access to this posting (and all the rest of this website)
by paying the trial month fee of $3.95 (which is about what the
New York Times used to charge for a single print-out).
$ubscriber/Associates: To Continue reading please CLICK HERE
To find out about Harv's books, click here.