Welcome to the webbed and wired edition of R&R, aristotle. We'll be doing the same sort of song and dance here as we do in print: reviewing the latest comics and cartoon-related books and ranting about trends and abuses and unfathomable foolishnesses. Each installment will stay here for about four weeks, with a new one coming in just about every other week or so. If you don't have the time to ponder every punctuation mark in this deathless prose and merely want to see what might be there that would interest you, we suggest you scroll down the page looking for the bold-face type that heralds the notables who reside herein this week. So here we go with Opus 412a, a Bunny Bonus, and a reprise of Opuses 412 and 411–:
Opus 412a: Bunny Bonus with Editoonery about Trump's Insurrection (January 10, 2021).
Opus 412: Cartoonists and Trump-free World, Editoons about Loser Trump, Friends/Fans Discuss Stan Lee, the Year's Best Graphic Novel & Linus and Saint Luke (December 30, 2020).
Opus 411: Ten Books Reviewed, Including Michael Jordan Graphic Novel, Ultimate History of Mickey Mouse, plus Four Number One Comicbooks, First Comic Strip (Ever), Stan Lee's Sad Last Days & the Trumpet's Big Sulk (December 15, 2020).
Opus 412 (news thru December 28, 2020). Here's "part two" of our seasonal extravaganza that reviews a half-dozen books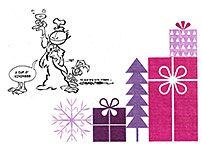 (including the year's best graphic novel) that you should buy with the money Aunt Josephine put into your stocking, plus cartoonists in a Trump-free world, reviews of a half-dozen first issue comicbooks, Linus and St. Luke, summarizing the forward-looking events of 2020 and obits for Richard Corben and Ken Spears. And more, MUCH MUCH more. So much more that we're providing a reader's guide. Here's what's here, by department, in order (the longest entries are marked with an asterisk* a reader's guide to help you decide where to spend your time)—:
'TIS THE SEASON, KIMO SABE
The Plague of the Trumpet
SULLIVANT AT LAST!
Brand New Book on Legendary T.S. Sullivant
*STIR CRAZED IN PLACE
Surviving the Pandemic during Lock-Down
NOUS R US
*Summing Up the Comics Year by Michael Cavna
50 Years of Price Guidance
*Charlie Hebdo Accomplices Found Guilty in Paris
Kent State Graphic Novel Wins PW Poll
Wimpy Kid Author Beats Lock-Down
Cartoonist Arrested for Possessing Child Porn
ODDS & ADDENDA
Cartoonist Christmas Cards at NCS Website
Further Ado
Leonard Pitts, Jr. On the Christmas Spirit
*CARTOONISTS IN A TRUMP-FREE WORLD
Four Cartoonists and Their Views
FUNNYBOOK FAN FARE
Christmas Issue of Mad
Bad Mother No.4
Hellboy by Adam Hughes
Miles to Go No.2
Sacred Six No.1
American Ronin No.1
TRUMPERIES
The Antics and Idiocies of Our Bloviating and Delusional Buffoon in Chief
* EDITOONERY
The Mock in Democracy
BIRTH OF A POLITICAL CARTOONIST
Bob Englehart
The Difference between Republicons and Democrants
THE FROTH ESTATE
Time's Person of the Year
NEWSPAPER COMICS PAGE VIGIL
Adults in Peanuts—A Historic Once
& Other Strange and Wonderful
ACCRETION OF INTENTION DEPARTMENT
Review Of—:
Henry Speaks for Himself
Rancid Raves Gallery
Charlie Brown Hugging Snoopy Figurine
*BEHIND THE SCENES WITH LINUS AND ST. LUKE
How Charles Schulz Got His Way with "A Charlie Brown Christmas"
Civilization's Last Outpost
Trump's Corrupt Last Days
*EXCELSIOR!
A Panel of Stan Lee Fans
BOOK MARQUEE
Short Reviews Of—:
The Nutcracker
Gahan Wilson Sunday Comics
*A Wealth of Pigeons: A Cartoon Collection
The New Yorker Cartoon Issue
BOTTOM LINERS
Single Panel Magazine Cartooning
LONG FORM PAGINATED CARTOON STRIPS
Called Graphic Novels for the Sake of Status
The Book Tour
*The Loneliness of the Long-Distance Cartoonist
ONWARD, THE SPREADING PUNDITRY
Will Durst Needs Help
PASSIN' THROUGH
Richard Corben
Ken Spears
QUOTE OF THE MONTH
If Not of A Lifetime
"Goddamn it, you've got to be kind."—Kurt Vonnegut
Our Motto: It takes all kinds. Live and let live.
Wear glasses if you need 'em.
But it's hard to live by this axiom in the Age of Tea Baggers,
so we've added another motto:
Seven days without comics makes one weak.
(You can't have too many mottos.)
And in the same spirit, here's—:
Chatter matters, so let's keep talking about comics.
AND—
"If we can imagine a better world, then we can make a better world."
And our customary reminder: when you get to the $ubscriber/Associate Section (perusal of which is restricted to paid subscribers), don't forget to activate the "Bathroom Button" by clicking on the "print friendly version" so you can print off a copy of just this installment for reading later, at your leisure while enthroned. Without further adieu, then, here we go—:
'TIS THE SEASON, KIMO SABE
Everywhere I look, pundits are complaining about 2020, what a rotten year it was, what with the pandemic and the plague (by which latter I mean Trump), the rupture of the nation's economy, widespread unemployment and homelessness, protests for racial justice and equality in a nation laced with systemic racism, entrenched poverty, a broken criminal justice system, police violence, and Trump inaction. Herewith, more-or-less at random, are some of what's being said (mostly about the Trumpet)—:
Trump had questioned the legitimacy of elections, attacked the free press, called for the arrest of his political opponents, encouraged white supremacists, violated anti-corruption safeguards, implemented nepotism, advocated measures that limit voting, sought more control of the civil service, claimed unbridled executive power, treated the federal government (even the White House grounds) as his own private duchy, and embraced despotic leaders around the world.
After the 2020 Election was called, Trump branded the results a "fraud," insisted he had won, and asserted that victory had been stolen from him by left-wing radicals, corrupt Democrats, and the media. He signaled to his supporters that American democracy was utterly crooked—that they shouldn't trust the results—and many leaders of the Republican Party joined in this treacherous subversion of the Election. ...
But beyond his post-Election tyrannical tantrum, the most significant bad news was this: after a full term of Trump displaying disdain for democracy, immense ineptitude (including a pandemic response that led to the preventable deaths of tens of thousands), and unabashed malice (marked by racism, misogyny, crudeness, and cruelty), Trump gained support among Americans. ... Nearly half of the electorate and an entire political party accepted, if not fully applauded, his war on democratic norms. ...
With millions of Americans blase about or, worse, energized by Trump's wide-ranging assault on democratic values—as well as his attacks on reality, rationality, and science—a threat to the political core of the nation remains, even without Trump in the White House. ... The Election demonstrated that this virulent current [of authoritarian impulses] existed beyond Trump's narcissism. And this moment raises a pressing question for the nation: can a slide toward authoritarianism be reversed?
And that's just from David Corn in Mother Jones.
David Roth in The New Republic carries on in much the same spirit—:
Donald Trump will leave the White House in a blaze of truthless tweets and hapless coup attempts. Did we really expect anything else? ... There was never a chance that he would respond to an electoral defeat in anything but the most egregiously undignified way. ... He would handle it poorly, and lazily. Out of spite and out of habit, he would make idle threats and lash out where and whenever it seemed safe [an important distinction: bullies always back down if met with even ordinary resistance]. ...
This is Trump going out exactly as he governed—by telling someone whose name he'd soon forget to fix a problem he didn't care enough about to understand, and then watching television to see how well he was doing. ...Trump never really knows anything about anything. As wildly irresponsible as his behavior has been since the Election, and as queasy as it is to watch him flail and fume and feint his way through what is either an exceptionally oafish attempted coup or the single most tasteless fundraising gambit in the history of American politics, the spectacle has mostly just been confounding. ...
The American culture's reflexive deference toward men born to wealth and privilege ... has not just coddled but cultivated his every poisonous whim. In that sense, his ham-handed flirtations with authoritarianism are simply the result of him being afforded one more scoop of ice cream just before bedtime. ...
The unreasoning battle that Trump is fighting, down to the last moment, is the one he has been fighting all his life—not to lead or rule but to displace whatever is not him with his own sour self. He wants everything, always, if only to keep it from anyone else. At the end, as at the beginning, it is either him or us.
That's Roth.
But the news media are full of phrases and fragments of criticism of the Trumpet—:
Republican conservatism based upon the self-interest of the very rich. ... a deeply tribal, all-encompassing, information resistant ethnonationalism. ... a days-long torrent of falsehoods, obfuscation, evasion, misdirection and imprecision ... 25,000 false or misleading claims (twenty-five thousand) from the Trumpet ... he'll lash out and try to create the illusion that he's still dominant. ... the more erratic and unstable he'll become. ... "Trump is going to go down fighting. And he's not afraid to take all of us down with him" (Jeet Heer at The Nation).
And then, there's the Wall, symptomatic of the Trumpet himself. From The Week, December 18—:
Trump inherited 654 miles of border structure along America's 1,900-mile border with Mexico. Over 4 years, he's constructed 415 miles, although of that total, only about 25 miles cover areas that had no previous barriers. The rest of the new construction replaced or reinforced existing structures.
To accomplish what little has been accomplished, the administration has waived dozens of regulations regarding endangered species and Native American burial sites. Portions of once protected saguaro cactus forests have been cleared, and communities' access to the Rio Grande and canals has been cut off. In Arizona's Organ Pipe Cactus National Monument, crews were blasting in a mountainous area known as the final resting place of Apache warriors who died in battle. "The heartbreaking thing is we're watching them detonate these areas that will never be finished," says Laiken Jordahl of the nonprofit Center for Biological Diversity in Arizona. He calls it "a true desecration of indigenous land." ...
Trump believes that the wall he did succeed in building will stand as a monument to his presidency—a kind of anti-Statue of Liberty. ... Some of the most invasive construction now being conducted in New Mexico's remote Guadalupe Canyon includes some of the "most endangered and critical habitats in North America. ...
Does the wall work? Trump says the wall is "virtually impenetrable," but the Washington Post has documented that drug smugglers and migrants have been sawing through the bollards in minutes with a $100 household reciprocating saw. Some migrants have used ladders or simply shimmied up over the top of the wall. ...
The Administration has spent more than $8 billion of the $15 billion allocated so far, making the wall one of the largest infrastructure projects in American history. So far, none of the wall has been built with Mexican money.
Yes, of course—that's all true. But the year has had a huge upside, too. Sheltering in place for most of it means I have spent more time with loved ones. And any year that can arrange for that is not a bad year at all.
SULLIVANT AT LAST!
My copy arrived on December 24, Christmas Eve. And it is a Christmas present the likes of which hundreds of T.S. Sullivant fans have been waiting for—for years. For decades. For as long as I've known and admired the comedic drawings of this cartooning genius. Entitled A Cockeyed Menagerie: The Drawings of T.S. Sullivant, it weighs in at 400 9x12-inch pages (b/w with a color section; 2021 Fantagraphics Books hardcover, $74.99). And it is everything Sullivant fans could want— a grand and glorious tome, encyclopedic in reach and scholarly in treatment. At the Fantagraphics website: "Fantagraphics is proud to present the most comprehensive collection ever published of Sullivant's delightfully off-kilter creations, which have not seen the light of day since their initial appearance in pioneering humor magazines over a century ago."
Yes, I had a role in creating this seriously humorous compilation. I collected most of the cartoons, scouring the old humor magazine Life through nearly four decades of Sullivant's run in it, and I wrote a biographical appreciation for the Introduction. But Sullivant exceeds anything any single one of us could do: we all stand in his shadow. And now you can pre-order your copy of this landmark publication at fantagraphics.com
We'll do a more expansive review next time.
STIR CRAZED IN PLACE
During the Great Pandemic of 2020
AS I WRITE THIS, it's been 40 weeks since my wife and I started sheltering in place. We started on a Tuesday, March 17, St. Patrick's Day. And before this opus gets posted, at least two more weeks will have passed.
And how are we faring?
Candidly, pretty damn well.
At our advanced ages, we never vigorously recreated outside much anyhow. I miss drives and walks in the mountains: to take them was one of the reasons we moved here thirteen years ago. But I can see the front range, bunched up at the western edge of the Great American Desert, just on the horizon.
We live on the northeastern shoulder of the Denver metropolitan area in a housing development that is surrounded by open farmland. No tall buildings. Not many buildings at all except for the houses in the development. I can see a little of the front range from our front porch. And whenever we drive somewhere (to the grocery story or the liquor store—one needs sustenance at times like these), we see the mountains piled up against the sky in the west.
So my privation is not complete.
I'm retired from any money-making employment: the work I do is writing this online magazine for posting once a month. And Harv's Hindsight, the history and biography department, also posted once a month.
And I can do that just fine whether quarantined or not.
In fact, the lock-down hasn't changed my daily routine much at all. I have been living like this for almost twenty years, glued to the keyboard half-a-day at a time. On the Other Side of the $ubscribers' Wall (OS$W), we've posted a revealing picture of what I see every morning when I report for work—on the shelf just below the computer screen.
The lockdown has resulted in my writing more every month. The postings are longer. (More tedious, no doubt.) Dunno whether longer means better. That's up to you.
I'm enjoying myself. Just the same as I would if I weren't sheltering in place, locked down and quarantined.
I do a little more research these days. I write in the mornings and read in the afternoons. When tempted away from the ancestral manse in the olden pre-pandemic days, I'd waste afternoons wandering in stores, spending money excessively and not doing much research. Now that delinquency has been corrected.
I go to the comicbook shop every 3-4 weeks. I miss going more often, but not because I need to buy more comics. I subscribe to a mail-order service, G-Mart: I order a month's worth of comics from the Diamond catalog, and G-Mart delivers through the mail as the comics come in. So I get what I need, pretty much.
I have relied upon the comicbook shop for DC Comics. Since DC's withdrawn from the Diamond distribution system, the only way I know what Batman's up to this week is by scanning the comics at the shop.
And at this season of the year, I miss shopping—wandering malls and aisles amid throngs of people in a seasonal mood with Christmas carols hovering over it all. Instead, we shop remotely in the Web's catalogs, viewing and picking and choosing online. The results come through the front door from the Postal Service. Kind of drab for a holiday.
One of our amusements here is watching the neighbor's dog. (How's that for a comment on our pandemic times? Our entertainment consists of watching a dog.) Our kitchen window looks out over their back porch, where their dog does unusual things. It's a Boston terrier and only six months old or thereabouts.
The day after the snow fell, the neighbor kids piled up quite a lot of it to reach from their porch floor to the ground below, and they tapered it off as it descended so they have a snow slide. It's too short to last long as entertainment for the kids, but then they got the dog involved.
They brought out a plastic box lid, about two-by-three feet, and put it on the upper part of the snow slide. Then they put the dog on it and gave it a gentle shove. This make-shift snowboard went the four feet to the bottom pretty quickly. And—lo and behold—the dog liked it!
Now whenever they play snowboard with the dog, when the thing reaches the bottom of the snow slide, he hops off and takes the thing in his mouth to return it to the top of the slide.
Fun to watch. And so we do.
Stirred but not shaken.
NOUS R US
Some of All the News That Gives Us Fits
SUMMING UP THE COMICS YEAR
At the Washington Post, Michael Cavna attempted to sum up the comics year, and it wasn't all bad. True, comic shops were shuttered by the hundreds, he began. Cartoonists canceled long-planned bookstore tours, and the grand gatherings from San Diego Comic-Con on down became virtual versions of themselves. "Given such obstacles, 2020 was the year that the comics industry could have taken cover, merely trying to survive," said Cavna.
Yet graphic novelists and other comics storytellers adapted and rose to ongoing challenges. Authors hunkering down at home became Zoom 'toonists, sometimes drawing remotely for fans, sometimes reading their works to school-age audiences in quarantine. And by the fall, North American graphic novel sales were up more than 40 percent — boosted significantly by manga and the "Dog Man" publishing empire of Dav Pilkey.
Cavna then goes on to briefly outline five of the main comics trends "that helped define 2020, along with the books that propelled the industry to new heights." Herewith, Cavna—:
1. Comics representation mattered.
Amid the year's reckoning over race in America, graphic novels continued to give voice to once-underrepresented stories, and creators of color drew critical acclaim.
Shortly before George Floyd's death sparked international protests, Gene Luen Yang and artist Gurihiru released the graphic novel "Superman Smashes the Klan." ...
Other heralded culturally diverse stories included "Almost American Girl," Robin Ha's illustrated memoir about suddenly relocating from South Korea to Alabama as a teenager; "When Stars Are Scattered," in which Victoria Jamieson helps tell Omar Mohamed's true story of growing up in a Somali refugee camp; and "Long Way Down," as Jason Reynolds's free-verse story got a graphic-novel adaptation with artist Danica Novgorodoff. Plus, "Class Act," Jerry Craft's latest book about middle-school life, arrived months after his "New Kid" won the Newbery Medal.
2. Comics fed the quarantining soul.
As in-person comics conventions from coast to coast toppled like dominoes, creators and fans were missing these bonding pilgrimages. And one of the best recollections of this life was Adrian Tomine's "The Loneliness of the Long-Distance Cartoonist" — released during the summer's virtual Comic-Con — in which the acclaimed author offers sharply felt insights into how he experiences this specific culture. [Reviewed down the scroll.] Other graphic novel types explored sports and music
3. Politics was front and center.
Comics collections that lampooned President Trump were plentiful, including Garry Trudeau's "Doonesbury" book "Lewser!," Tom Tomorrow's "This Modern World" release "Life in the Stupidverse" and Ruben Bolling's "Tom the Dancing Bug" compendium "Into the Trumpverse."
Yet broader and more historical takes on politics were also abundant. The most powerful of them all was "Kent State: Four Dead in Ohio," a deep journalistic dive into the still-resonant '70s tragedy by Ohio native Derf Backderf ("My Friend Dahmer"). [I reviewed it in my Hare Tonic column at the Comics Journal online, tcj.com.]
4. LGBTQ representation keeps growing.
Trung Le Nguyen delivered a sparkling debut with his graphic novel "The Magic Fish," about the child of Vietnamese immigrants who teaches through fairy tales — yet wrestles with how to come out to his family.
Also noteworthy were "You Brought Me the Ocean," by Alex Sanchez and Julie Maroh, "The Times I Knew I Was Gay," by Eleanor Crewes, Sophie Yanow's hitchhiking-toward-discovery tale "The Contradictions," and Noelle Stevenson's memoir, "The Fire Never Goes Out."
5. Youth was served.
As young readers attended school from home, they could take breaks with deft new illustrated literature, much of it almost nostalgically set in schools. The year's best YA books included Terri Libenson's "Becoming Brianna," Lisa Brown's "The Phantom Twin" and Maria Scrivan's "Nat Enough."
Then there were Pilkey ("Dog Man" and "Cat Kid" books) and Jeff Kinney ("Diary of a Wimpy Kid: The Deep End"), who helped power the kids' market with relentlessly strong sales — a trend that shows no sign of flagging in 2021.
50 YEARS OF PRICE GUIDANCE
The Overstreet Comic Book Price Guide celebrated its 50th year this year. It began in 1970, which is just about when I started buying comicbooks again after a hiatus of about 15 years when I was indulged in such "grown up" and therefore comicbook-less activities as college and the U.S. Navy. Overstreet commemorated the present occasion with a "special 50th anniversary edition" that doesn't look much different from the non-commemorative edition.
To celebrate the occasion, I ordered the book with a cover by Todd McFarlane that depicts Spider-Man and Spawn clinging to a lively looking gargoyle. Inside, it's pretty much the same as always. The Market Report runs from p.89 to p.176, and a list of the Top 100 Golden Age titles joins front matter articles on Big Little Books, the Pioneer Age (1500s-1828), Victorian Age (1646-1900), Platinum Age (1883-1938) and a long piece "Batman Gothic Genesis" with an emphasis on Gardner Fox.
The alphabetical listing of comicbooks and their prices begins on p. 354 and runs to p.1,132. That's 779 pages of prices.
I bought my first Price Guide with No.4 in 1974. It has a cover by Don Newton depicting the Justice Society of America. Newton did several covers in the early years. Overstreet did the covers for the second and third editions; the cover of the first edition simply depicted comicbook publisher's logos. Overstreet recruited Joe Kubert for No.5, who covered it with Tarzan. After that, the cover artist was usually a professional. With No.6, Will Eisner joined those ranks.
And then with No.8, Bill Ward shows up, treating us all to a pulchritudenous portrait of his Torchy in one of her form-fitting, er, "gowns" to celebrate "women in comics" with sexy pictures of various superheroines in scanty attire—scarcely the sort of festivity women's rights demand. The same kind of desecration occurs on the cover of No.44. On the OS$W, we've posted scans of several of the Price Guide covers over the years.
"All of the artists over the years have been very supportive," Overstreet said at the 40th anniversary of the Price Guide. "Will Eisner was always there for me, and so was Carl Barks. In fact, Carl drove from California to Tennessee [where Overstreet lived] to meet me. He wanted to see the 'factory' where the Guide was created. He was shocked to see that the production of the book, from beginning to end, was a one-man operation. I was working full-time for a paper company as their statistician and drawing maps of their operations. I did the Guide in my spare time."
Compared to the current edition's 300-plus pages of advertising and essays, the 1974 edition, which starts the alpha listing on p.38, has ads and articles that are virtually non-existent. The alpha listing ends on p.452, after 414 pages; this year's alpha listing, remember, is 779 pages long.
That's a measure of how the comicbook market has grown in 50 years. It's almost doubled.
And the number of advisors (comicbook shop owners and collectors) has grown, too. For several years (maybe still; I dunno), Overstreet convened an annual meeting in the Smoky Mountains of Tennessee to discuss markets and prices.
"After that meeting," Overstreet said, "I would have a good feel for the market and how many titles were coming in, and who was buying what. The most important factors were how many books existed, the supply in certain geographic areas, and what the prices where."
This year's anniversary special edition costs $29.95; the first Price Guide in 1970 cost $5. That was a pretty steep price for a 6x9-inch pamphlet of 32 pages. A Special Collector's Reproduction of the first Guide was published in 1993; we've paired it with the 50th edition in our first illustration, above.
A mint edition of Action Comics No.1 (Superman's debut) was priced at $300 in the first Guide; this year, that comicbook in mint condition sold for $4,600,000. Mint prices for Military Comics, $70 and $8,800; Fantastic Four, $30 and $190,000; Gleason's Daredevil, $100 and $24,500; Captain America, $150 and $550,000. Captain Marvel and other Fawcett titles weren't even listed in 1970.
One thing that hasn't changed much: the black-and-white photos of comicbook covers are still too small to read—just as they were in No.1. But then, we don't need to "read" the pictures, do we? We're interested in the prices not the pictures.
CHARLIE HEBDO ACCOMPLICES FOUND GUILTY
Fourteen people associated with the 2015 attacks on the satirical newspaper Charlie Hebdo and a kosher supermarket on the outskirts of Paris were arrested, tried for three months in Paris, and found guilty of involvement by a panel of French judges on Wednesday, December 16, reports James McAuley at washingtonpost.com ... To Read More about the Trial, about Cartoonist Christmas Cards at NCS Website, Leonard Pitts, Jr. on the Christmas Spirit, Cartoonists in a Trump-free World, the Froth Estate with Time's Person of the Year, Henry Speaking, a Panel of Stan Lee Fans, a Review of the Best Graphic Novel of the Year, the near Miss of The New Yorker's Cartoon Issue, Adrian Tomine's Autobiographical Graphic Novel—and More, Much Much More. To see it all, Click Here.
And If You're Not a $ubscriber/Associate—
SUBSCRIBE TODAY!
Just $3.95/quarter after $3.95 introductory month
NOTE: You can gain temporary access to this posting (and all the rest of this website) by paying the trial month fee of $3.95 (which is about what the New York Times used to charge for a single print-out).
$ubscriber/Associates: To Continue Reading, Please CLICK HERE
To find out more about Harv's books, click here.
To find out about Harv's books, click here.