Welcome to the webbed and wired edition of R&R, aristotle. We'll be doing the same sort of song and dance here as we do in print: reviewing the latest comics and cartoon-related books and ranting about trends and abuses and unfathomable foolishnesses. Each installment will stay here for about four weeks, with a new one coming in just about every other week or so. If you don't have the time to ponder every punctuation mark in this deathless prose and merely want to see what might be there that would interest you, we suggest you scroll down the page looking for the bold-face type that heralds the notables who reside herein this week. So here we go with Opus 421a—a Bunny Bonus— and a reprise of Opus 421 and Opus 420:
Opus 421a: Bunny Bonus on Ray Billingsley, Reuben Winner and Cartoonist of the Year (October 22, 2021).
Opus 421: Book Reviews (19, Including Wolverton Biog, Marvel Histories, the Joker, and Steranko: The Self-Created Man), August's Editoons & Plugs in Funky (September 7, 2021).
Opus 420: July's Editoons, the First Corto Maltese Book, Mister Oswald & Obits at Andrews McMeel Universal (August 8, 2021).
Opus 421a (October 22, 2021): Our Bunny Bonus this time celebrates Ray Billingsley's life and career as the first Black cartoonist to win the Reuben as the National Cartoonists Society's Cartoonist of the Year. Without further adieu, here we go—:
BILLINGSLEY GETS THE REUBEN
First African-American To Be Cartoonist of the Year
The National Cartoonists Society made history on last weekend by presenting Ray Billingsley, creator of the syndicated comic strip Curtis, with the Reuben Trophy as Cartoonist of the Year, the cartooning profession's highest honor.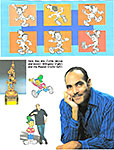 The coveted award was presented to Billingsley online Saturday evening, October 16, during the finale of NCSFest 2021, the virtual cartooning festival hosted by NCS and the NCS Foundation. (The Reuben Division Awards were also announced; we'll list them in Opus 423, which will be posted in a week or so.)
Filmed accepting the Award at his home studio, Billingsley was just a little flustered at the honor.
"Oh my goodness,," he began, "— I can't believe this is happening. I can't believe this has happened. I'd like to thank everyone who made this moment come true, thank everyone from the deepest part of my heart. I never thought I'd see this day."
Choking up and saying he hoped he wouldn't, Billingsley went on: "This has been a huge step for me. And also a monumental step for the NCS, because I'm the first Black guy to win the prestigious Reuben Award, and for that I am very grateful," adding, "I wish creators like Morrie Turner and Ted Shearer, and Brumsic Brandon Jr. were here to see this."
The three he named are pioneering Black cartoonists; all, alas, are deceased.
And Billingsley went on to name and thank numerous cherished friendships, cartoonists who have helped and guided him—Charles Schulz, Mort Walker, Arnold Roth, Jules Feiffer, Bunny Hoest, and others. (See ncsfest.com for the online virtual NCS Reubens Weekend.)
Billingsley, like all syndicated cartoonists, lives a life on deadline all the time, but with Billingsley, that life began earlier than most—at the age of twelve— when he was discovered by KIDS Magazine and hired as a staff artist.
After graduating from the High School of Music and Art in Manhattan, he attended the School of Visual Arts on a full four-year scholarship. Upon graduation in 1979, he began an internship at the Walt Disney Studios, but quickly left, having sold his first nationally syndicated comic strip, Lookin' Fine, which ran from 1980 to 1982 with United Features Syndicate.
After that, he spent the next few years working on various projects in the fields of animation, advertising, greeting cards, clothing design, and magazine cartooning, until 1988 when King Features Syndicate bought his Curtis strip and launched it into syndication on October 3.
Although he was born (July 25, 1957) in Wake Forest, North Carolina, Billingsley was raised in New York City's Harlem. It was a time when the citizens were plagued by poor surroundings and drug use. It was his older brother, Richard, who sparked his initial fascination with art and cartooning. As a very young child, Ray learned to draw in order to emulate his brother.
"He was really good at portraits, landscapes, and still-lifes," Ray remembered in telling his life story at his website, billingsleyart.com. "I watched him draw, heard the praises he received from family, school and the church, and one day picked up a pencil. I was seven years old.
"As if in some sort of competition with my brother, I practiced and practiced and practiced, and to my family's surprise, I got better!"
Billingsley continued by recounting his debut in professional art.
"Recycling was a big deal back in the day. My seventh grade art class was asked to participate in an ecology program. It was our task to construct an 18-foot Christmas tree entirely of recyclable cans in front of a hospital in upper Manhattan.
"By this age, I would draw whenever I could, and it had become common for me to carry a small notepad. While they piled up tin cans, I crept away from my classmates, sat nearby and began doodling. It must have been a slow news day because I noticed some news cameras.
"A woman approached me and asked to see my drawings. Then, she asked if she could keep a couple, one with my name and phone number on it. A few days later, she actually called on me and my family at home. Turns out, she was an editor at KIDS Magazine, and she wanted me to visit the office to see if I could draw a picture to accompany a certain story.
"The office was located on the very busy East Side of New York City and the streets were choked with activity. My mother and I must have looked very out of place, especially with me carrying a portfolio. I made my first sale that very day, and to my surprise, I was offered a job as a staff artist.
"I had to show up every day after school—and on Saturday. They made sure I would show up by sending a car for me. So the car would be parked right outside the school, waiting for me to show up. There's a driver, waiting. And, of course, my classmates, other kids, don't find that very cool.
"In the office, I learned how to do filler and do paste-ups, and I was learning story editing, all that. I'd do sketches, read stories, and finalize drafts for a nationally-recognized magazine. This, along with keeping up my class assignments kept my days filled. I guess I was, more or less, 'discovered.'
"I stayed with KIDS from age 12 until retiring as an Associate Editor at age 18. My father wasn't too cool on giving me or my siblings allowances, so drawing became an effective way to make money. Legally, that is. The streets in my neighborhood offered a lot of other ways to make money— a lot of money. Luckily for me, a career was blossoming that I wasn't even aware of."
BILLINGSLEY WENT ON WITH his autobiographical recitation:
"Art jobs began to take up a lot of my time. In fact, most of it. It wasn't uncommon for me to work on several projects at the same time, all highly different and commanding different styles. My mother says I used to draw 'in the air.'
"Trying to have just a normal life, and do what my buddies did was becoming impossible. No one around was into art as I was. They were interested only in things that led to jail, or worse. Playing basketball, fathering children they had no intention of raising, and getting high was the rule. They thought I was weird because I was creative. I thought they were weird because they weren't. Drawing had become second nature to me and was as easy as breathing. It was all I did. All I knew.
"I was accepted into the High School of Music and Art. It was the first time I was around other people my age who shared a desire to carve their own niche in some aspect of the Creative Visual World. It wasn't always great when I ran up against an art teacher who was still trying to get published, and this lanky Black teenager was doing so regularly. For reasons such as this, and not being accepted by my neighborhood peers, I became somewhat quiet when it comes to my career. I'm still that way."
Among the jobs Billingsley remembers doing was a series of graphic posters for the Path trains and transportation.
"They told me they had placed two thousand copies throughout their system, and at the end of a week, only 200 remained. It seems they were being stolen! I felt very flattered. And I wrote and drew a full-color comic book on the Path system, following the adventures of four teenager riders. This was the first time I had to sustain storylines over several pages."
Crazy magazine provided other opportunities to write his own articles, and not just supply art to someone's script . He sold his first national magazine cartoon spot to Ebony magazine in 1978. "I became, more or less, a regular contributor 'til today.
"As I grew, so did my portfolio," Billingsley said, "— in tearsheets, things that had been published. I was beginning to get the reputation around New York publications as the Kid Artist. I sometimes used my age to my advantage. I remember one interview I went to.
"The front office was filled with artists and their portfolios, all angling for the same job. I put on a messenger's jacket and wore a cap, and put my portfolio in a large envelope. I told the receptionist that I had to give it to the editor personally, or get a signature. Some BS like that. And it worked. When I got in front of that editor, I quickly pulled my portfolio from the envelope and showed it to him.
"He looked through the stuff and said, 'This is yours?' And I said 'Yes.' And he said, 'You know, you've got a lot of chutzpah. I like that. You got yourself in front of me, before everyone else.'
"And he hired me!
"By 16, I had become a seasoned pro with a diverse portfolio and steady clients."
Among the other jobs he took on were designs for packaging, art for brochures, a line of greeting cards ("they were popular in Europe"), even a line of designer drawers.
The day after graduation from SVA in 1979, Billingsley went to the Disney Studios in Orlando to begin an internship in animation.
"It was quite grueling," he said. "I would draw all day, had mandatory art classes after work, plus I was still working on my own stuff. It was a good thing that I was already used to such a schedule. I learned to draw 'Disney-Style.'"
But his Disney career came to a stop pretty quickly: Billingsley had been working on developing a comic strip, and United Feature Syndicate picked it up... For More Rants & Raves -- Click Here.
And If You're Not a $ubscriber/Associate—
SUBSCRIBE TODAY!
Just $3.95/quarter after $3.95 introductory month
NOTE: You can gain temporary access to this posting (and all the rest of this website) by paying the trial month fee of $3.95 (which is about what the New York Times used to charge for a single print-out).
$ubscriber/Associates: To Continue Reading, Please CLICK HERE
To find out more about Harv's books, click here.
To find out about Harv's books, click here.