Welcome to the webbed and wired edition of R&R, aristotle. We'll be doing the same sort of song and dance here as we do in print: reviewing the latest comics and cartoon-related books and ranting about trends and abuses and unfathomable foolishnesses. Each installment will stay here for about four weeks, with a new one coming in just about every other week or so. If you don't have the time to ponder every punctuation mark in this deathless prose and merely want to see what might be there that would interest you, we suggest you scroll down the page looking for the bold-face type that heralds the notables who reside herein this week. So here we go with Opus 392 and a reprise of Opus 391:
Opus 393: Twentieth Year Anniversary Celebration, A Dream Come True, Photo Tour of Rancid Raves Galaxy & Shel Silverstein Re-runs (June 7, 2019).
Opus 392A: Editoons from the Last Month, Chan Lowe's Life and Work & Turk Editoonist at Trial and in Jail (May 15, 2019).
Opus 393 (June 7, 2019). And now—fanfare, bugles, drums and dervishes— the Grand Finale of our celebration of having completed 20 years of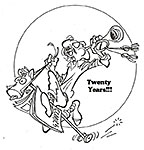 Rancid Raves. That's right—as I've mentioned before (too often, probably), by the time we've arrived at the end of May, we've been regularly posting installments of this online magazine, at least once a month, for two decades.And to supplement the current news and reviews of Rants & Raves, we've posted, usually once a month, an installment of Harv's Hindsight, our history and biography department. Twenty years, kimo sabe!
We began our celebration almost a month ago with the posting of another video starring our favorite reporter, Yrs Trly, and we continued with a special Hindsight featuring the history of Cartoons Magazine, accompanied, as usual, by a profusion of illustrative material. All of which—in addition to our routine posting of R&R (which, in May, took two installments to top off).
And now, as I said, the Grand Finale of the revelry, this posting of Opus 393, which includes the usual casserole of news (among which, the annual Reubens award weekend of the National Cartoonists Society) and reviews (of editoons and more) plus special 20-year anniversary features, to wit—:
■ How this online magazine enterprise sneaked up on me to become a youthful dream come true without my even knowing it
● Bob Hall's insightful construction of an underpinning mythos for superhero comic books
◆ Re-runs of two essays about Shel Silverstein, the most unusual cartooner of the last century: one, our obit; second, a book review of a Silverstein biography
BUT MOST IMPORTANT,
we have a
Once In A Lifetime
pictorial tour of
the Rancid Raves Homestead and Sweat Shop,
the Study and the Studio
where All the Damage is Done.
Before we leap two-footed into the fray, we'll pause a moment to survey landscape so you can pick and choose what to read and what to slide by. To make it easier for you to wade through all this plethora and pick just what you want to read, we've listed everything that's here, in order, by department, as follows (articles with asterisks * are the long ones)—:
NOUS R US
Two More Editoonists Laid Off
NCS Award Winners
*NCS Seaside: A Festival
Al Roker's Secret Life As a Cartoonist
Last Beetle
Alcaraz Consults
Odds & Addenda
Illustrators Mag Is 25
*SIXTY YEARS AGO
And How My Dream Has Come True
An Anniversary Celebration Special
FAMOUS TOUR OF RANCID RAVES
Photographic Expedition through the RR Galaxy
Another Anniversary Celebration Special
FUNNYBOOK FAN FARE
Re-running A Brilliant Analysis by Bob Hall
Yet Another Anniversary Special
TRUMPERIES
The Outlandish Antics of Our Prez
EDITOONERY
The Mock in Democracy
NEWSPAPER COMICS PAGE VIGIL
The Bump and Grind of Daily Stripping
*SILVERSTEIN AMONG THE GIVERS AND TAKERS
In Honor of Rancid Raves' 20th Year Anniversary
Re-running Our Obit for the Most Eccentric and Talented Cartoonist of His Day
BOOK REVIEW
Another Re-run in Honor of Rancid Raves' 20th Year Anniversary—:
Reviewing A Boy Named Shel
IRKS & CROTCHETS
The Bible Won't Object to Same Sex Marriage
A-GAGGING WE SHALL GO
New Sites for Gag Cartoons
And Seeing Some Odd but Good Ones
COLLECTORS' CORNICHE
Jefferson Machamer Revisited
QUOTE OF THE MONTH
If Not of A Lifetime
"Goddamn it, you've got to be kind."—Kurt Vonnegut
Our Motto: It takes all kinds. Live and let live.
Wear glasses if you need 'em.
But it's hard to live by this axiom in the Age of Tea Baggers,
so we've added another motto:
Seven days without comics makes one weak.
(You can't have too many mottos.)
And in the same spirit, here's—:
Chatter matters, so let's keep talking about comics.
And our customary reminder: when you get to the $ubscriber/Associate Section (perusal of which is restricted to paid subscribers), don't forget to activate the "Bathroom Button" by clicking on the "print friendly version" so you can print off a copy of just this installment for reading later, at your leisure while enthroned. Without further adieu, then, here we go—:
NOUS R US
Some of All the News That Gives Us Fits
TWO MORE EDITOONISTS BITE THE DUST
Eraser Crumbs Hereafter
Nate Beeler, editoonist for the Columbus Dispatch for the past seven years, and Rick McKee, a 30-year veteran at the Augusta Chronicle (21 as staff editorial cartoonist), were let go on May 23 as part of a sweeping nation-wide cost-cutting measure by GateHouse Media. GateHouse, one of the largest newspaper publishers in the U.S., owns 156 daily newspapers, mostly in smaller towns, and 328 weeklies, and it reportedly cut staff by 99 editors, reporters, photographers, and other newsroom employees, as reported by Andrew Pantazi, a journalist who is maintaining a spreadsheet keeping track of layoffs. More layoffs are expected.
A likely cause for the cuts: GateHouse's parent company, New Media Investment, reported a loss of $9.4 million in the first quarter despite its revenues being up 13 percent.
Mike Reed, CEO of New Media, tried to downplay the news, calling the layoffs "immaterial."
"We're doing a small restructuring," he said, "—at least that's what I would call it. ... We have 11,000 employees. This involves a couple hundred."
He claimed most of the reported layoffs would be asked to change roles in the company and that the actual number of layoffs only affect "more like 10 people."
But nearly 100 people were online claiming they'd been cut.
Earlier this year, GateHouse committed at least 60 other layoffs across the country. With its cuts this month, GateHouse joins another chain owner, Gannett, in reducing staff.
Among local newspapers, GateHouse has built a reputation for quickly acquiring local properties, gutting staff, and then combining regional newsrooms to reduce costs. Ditto, as I understand it, Gannett. And these owners are not the only ones.
When newspapers sold out to share holders, they opened themselves up to being treated as profit-producing factories, not news organs, and when profits sag, expenses are quickly cut. And staff salaires represent a large portion of the cost of running a newspaper.
With the disappearance of Beeler and McKee, the number of full-time staff editorial cartoonists in this country drops to 43, a drop of 57% since 2008 when there were 101.
McKee, a popular syndicated editoonist with Cagle Cartoons, said his stint of three decades, 21 drawing editoons, was his "dream job, and I have been extremely fortunate to have been able to do it for as long as I have."
His last day will be July 19. "So you will still see cartoons from me for a while," he said. "After that, who knows what the future holds?"
Apart from the personal and financial pain these two layoffs cause, for the Association of American Editorial Cartoonists, cutting Beeler will affect the AAEC convention next fall when it meets in Columbus, where Beeler and the Columbus Dispatch were hosts for the event.
Before joining the Dispatch, Beeler worked for another 7 years for the Washington Examiner.
We have samples of Beeler's work and McKee's On the Other Side of the $ubscribers Wall.
Incidently, by a vote of 33 million to 11 million, New Media shareholders rejected a compensation plan for the GateHouse CEO, thereby confirming greed as the basic motivating force in capitalism. But we knew that, eh?
BARGAIN GORDO BOOK
Bud Plant, in his summer Incredible Catalog of Comics, Art & Illustration, offers a "warehouse find" of my Accidental Ambassador Gordo, the life and art of Gus Arriola. "Warehouse find" means they found a box of the books that had been mislaid for a couple years. The ones they found are accompanied by a bookplate signed by me and Gus (signed before his death), which doubtless justifies the price—$75. You can buy the same book here—without the bookplate and Gus's signature but with my signature—for less than half that, merely $30, including p&h.
NCS AWARDS
At its 73rd annual meeting May 17-19, the National Cartoonists Society distinguished itself by giving the Milton Caniff Lifetime Achievement Award to Disney Legend Floyd Norman, a man whose life and work lend class to the Society. An hour later, NCS disgraced itself by giving the Reuben trophy to the man it named Cartoonist of the Year, Stephen Pastis, a man who cannot draw. Cartoonist of the year and he can't draw!
Pastis's daily strip, Pearls Before Swine, proclaims with its name its creator's disdain for his readers and then heaps contempt upon scorn by resorting to stick figures to tell his jokes.
Pastis is the Susan Lucci of NCS: he has been nominated for the Reuben every year since 2009 (or nearly every year—enough for the Lucci Award).
But he can't—or doesn't—draw.
And yet NCS chooses to honor him by calling him Cartoonist of the Year.
The final slap in the face of professional cartoonists.
Pearls is funny, yes. And it's in a lot of newspapers. But Pastis can't draw. Surely the Cartoonist of the Year should be able to draw.
In making such an award, NCS demonstrates to all and sundry that its awards aren't worth much. They're trivial and inconsequential. And we see this verdict again in all the other awards NCS confers, the "divisional" awards, the Rubes (as I call them), conferred upon cartoonists who labor in the other vineyards of cartooning—panel cartoons, comic strips, book illustration, advertising, and on and on.
Fifteen Rubes were awarded during the Reuben Banquet. But only six of the fifteen winners thought the awards are consequential enough to come to the dinner. Only six out of fifteen were present to accept their Rubes. Not even half; just 40%. Last year, it was even worse; seen Opus 380.
Four of the remaining nine sent film clips of them accepting their awards; two more were accepted by friends. Three of the winners weren't present in any way.
If this roundup doesn't signify the profession's disregard for NCS and its awards, I dunno what would.
The Rubes of NCS. Here are the Rube winners—and the nominees since I believe that if the award is worth making, it's worth listing those who were nominated as well as those who won. The six who were present are in bold face and are marked with an ornate asterisk, ❉ ; the winners who disdained to appear are marked with a black square, ■ ; those who weren't there but accepted via film or a friendly stand-in get a diamond ◆.
Editorial Cartoons —Clay Bennett, Michael Ramirez, ❉Rob Rogers; nice—Rogers, who lost his job last year in a conflict of interest with his publisher after 25 years (see Opus 381), got the formal recognition that presumably rubs his former employer's nose in it
Magazine/Newspaper Illustration — ◆Tom Bunk, Amy Kurzweil, Jim Woodring
Feature Animation —Shiyoon Kim (character design) Peter Ramsay (director),
■ Justin K. Thompson (production design); all three for "Spider-Man into the Spider-Verse"
Television Animation —"Castlevania" (Netflix), "Hilda" (Netflix), ■ "Adventures of Rocky and Bullwinkle" (Amazon Prime)
Newspaper Panel Cartoons —❉Dave Blazek, Loose Parts; Mark Parisi, Off the Mark; Jerry Van Amerongen, Ballard Street; again, a nice nomination—Amerongen just retired, and had he received this, it'd be his second so he'd be going out in style; but he didn't get it.
Magazine Gag Cartoons —❉Joe Dator, Pia Guserra, Amy Hwang; all three, mostly in The New Yorker (where else? Well, there are some small trade journals, and some obscure cartoonists are still drawing and selling to such outlets—too obscure, alas, to attract the attention of NCS).
Advertising/Product Illustration — ◆James Lyle, Luke McGarry, Johnny Sampson;
Comic Books —Daniel Acuna, Black Panther; John Allison, Giant Days; ■Greg Smallwood,Vampironia; as usual, NCS overlooks most newssstand funnybooks, apparently in the mistaken belief that only off-beat efforts are worthy of an award—phooey; DC's Man and Superman should have won. Others that demonstrated superior stories and storytelling were Batman White Knight, Kill Or Be Killed, and Cemetery Beach. To name a few. A few that apparently NCS members are too sophisticated to read, even. Sigh.
Graphic Novels —Rick Geary, Chester & Grace: The Adirondack Murder;❉Peter Kuper, Kafkaesque; Brenna Thummler, Sheets; great—Geary and Kuper getting recognition at last
Online Comics, Long Form —Vince Dorse, Untold Tales of Bigfoot; Tom Parkinson-Morgan, Kill Six Billion Demons; ◆Ota Yuko and Ananth Hirsh, Barbarous; Online Comics, Short Form —◆Dorothy Gambrell, Cat and Girl; Lonnie Millssap, Bacon; Zack Weinersmith, Saturday Morning Breakfast Cereal
Greeting Cards— Scott Nickel, ❉Maria Scrivan, Dan Walsh
Variety Entertainment— James Allen, Mark Trail; John Graziano, Ripley's Believe It or Not; Bucky Jones; ◆Dave Klug; I have no idea what this category is supposed to include; comic strips are apparently fair game; also design of some sort? Who knows? Whatever's left over after all the other Rubes?
Newspaper Comic Strips—John Hambrock, The Brilliant Mind of Edison Lee; ❉Will Henry, Wallace the Brave; Mike Peters, Mother Goose and Grimm; the winning strip started syndication just a little over a year ago, and it already qualifies as a "best of the year" award? Well, I suppose. Best "new strip" maybe?
Book Illustration —Genevieve Godbout, Mary Poppins; Ed Kaban, Even Superheroes Make Mistakes;◆Rafael Lopez, The Day You Begin; Online Animation —One of the new "divisionals," this category didn't receive enough qualifying submissions so there are no nominees; management vows to try again next year with better description of the division
To see samples of the nominees' work, visit reubens.org, the NCS website.
NCS SEASIDE
As an old seagoing man, I was glad to see the ocean again. ... To See What I Saw of the NCSfest, plus Al Roker's Comic Strips, the Last Beetle and To Read about How I Planned a Magazine Sixty Years Ago, How Bob Hall Created a Myth That Underpins Superhero Comicbook Adventures, How Wildly Shel Silverstein Conducts His Life, and To Take the Famous Photographic Tour of the Rancid Raves Homestead, and More, Much More —Click Here
SUBSCRIBE TODAY!
Just $3.95/quarter after $3.95 introductory month
NOTE: You can gain temporary access to this posting (and all the rest of this website)
by paying the trial month fee of $3.95 (which is about what the
New York Times used to charge for a single print-out).
$ubscriber/Associates: To Continue reading please CLICK HERE
To find out about Harv's books, click here.