Welcome to the webbed and wired edition of R&R, aristotle. We'll be doing the same sort of song and dance here as we do in print: reviewing the latest comics and cartoon-related books and ranting about trends and abuses and unfathomable foolishnesses. Each installment will stay here for about four weeks, with a new one coming in just about every other week or so. If you don't have the time to ponder every punctuation mark in this deathless prose and merely want to see what might be there that would interest you, we suggest you scroll down the page looking for the bold-face type that heralds the notables who reside herein this week. So here we go with Opus 403 and a reprise of Opus 402—:
Opus 403: Reuben Nominees, Vermont's Laureate Veitch, Bagley Finishes 40, Broomhilda's 50th Anniversary, Why Brits Don't Like Trump, Comics and Coronavirus, Three Signatures in Dennis & Obits for Gene Deitch and Mort Drucker (May 10, 2020).
Opus 402: Coronavirus Plagues Comicbook Biz, Disgraces of Trump, Labor Editoonists Retire, Reviews of Josephine Baker Biog plus 5 More Books & Albert Uderzo Obit (April 13, 2020).
Opus 403 (May 10, 2020). CONFINED to the Harvey Ancestral Manse for the duration, the Happy Harv had nothing to do for the last few weeks except write Rancid Raves. And so he did. And the result is one of the longest (biggest? most fulsome?) episodes of comics news and reviews, cartoon history and lore on record. We hope it won't bore you.
Still, since you've also been trapped at home with nothing to do but visit the bathroom and other rooms in your house, you'll doubtless eagerly welcome the engaging distraction of this 403rd opus of Rants & Raves.
To help distract you, we celebrate Broomhilda's 50th anniversary, editoonist Pat Bagley's record-setting 40 years at the Salt Lake Tribune, and 35 years of Comic News, the tabloid of editoons. We review Hog Wash and nine Number One comicbooks. We post an essay on "Why Brits Don't Like Trump" and another one on hate groups in America. We examine coronavirus and the comics, Biden accused of rape, NCS Reuben nominees and three signatures in Dennis the Menace, plus obits for Gene Deitch and Mort Drucker.
In order to assist you in wading through all this plethora, we're listing Opus 403's contents below so you can pick and choose which items you want to spend time on. And we've divided this voluminous extravaganza into two parts. No logic involved: we just cut the thing in half and labeled the segments Part One and Part Two. The idea is that if something has a Part One and a Part Two, it'll seem shorter when you're reading it because you get to an ending of the first part when you're halfway through. (Somehow, that makes sense to me.)
Here's what's here, by department, in order (the longest entries are marked with an asterisk*)—:
>>>>>>>>>>>>>>>>>>>PART ONE<<<<<<<<<<<<<<<<<<<<
NOUS R US
San Diego Comic-Con International Cancelled
New Yorker Cover Artist Wins Pulitzer for Editorial Cartooning
*NCS Reuben Award Nominees and Special Award Winners
Reubens Weekend Cancelled
Comics and the Coronavirus
Sex in Books, As Usual, Banned
Zyglis Takes Furlough
Tatulli Loses Heart
Quarter Million Comicbooks Sold
*Veitch Cartoonist Laureate in Vermont
*Hate Groups in America
The Culture War Explodes
*Broom Hilda Is 50
My Encounter With Elliot Caplin
WARE PANDEMIC AT THE NEW YORKER
Kuper's Borrowing of Winsor McCay
FUNNYBOOK FAN FARE
Reviews of Number Ones—:
Strange Academy No.1
King of Nowhere No.1
Fantastic Four: Grimm Noir No.1
Backtrack No.1
Cimmerian: Queen of the Black Coast No.1
Criminal Macabre No.1
Killdelphia No.1
Artemis and the Assassin No.1
Decorum No.1
>>>>>>>>>>>>>>>PART TWO<<<<<<<<<<<<<<<<
**FOUR DECADES OF PAT BAGLEY
LECHERY AND THE PENILE PROMPT
Biden Accused of Rape and Hypocrisy
TRUMPERIES
The Idiotic Antics and Other Crimes of the Buffoon in Chief
*Why Do the British Not Like Trump?
EDITOONERY
The Mock in Democracy
NEWSPAPER COMICS PAGE VIGIL
The Bump and Grind of Daily Stripping
April Fools Day Strips
Easter
Pandemic Strips
CORONAVIRUS IN THE COMICS
Cartoonists Testify
RANCID RAVES GALLERY
Postcards and Paper
BOOK MARQUEE
Short Reviews Of—:
Hog Wash
The Comic News : Tabloid of Editoons Is 35
DENNIS SOME MORE
A Tale of Three Signatures
ONWARD, THE SPREADING PUNDITRY
Trump and History
PASSIN' THROUGH
Allen Bellman
Gene Deitch
Mort Drucker
Personal Feetnoot: The Pandemic at Home
QUOTE OF THE MONTH
If Not of A Lifetime
"Goddamn it, you've got to be kind."—Kurt Vonnegut
Our Motto: It takes all kinds. Live and let live.
Wear glasses if you need 'em.
But it's hard to live by this axiom in the Age of Tea Baggers,
so we've added another motto:
Seven days without comics makes one weak.
(You can't have too many mottos.)
And in the same spirit, here's—:
Chatter matters, so let's keep talking about comics.
And our customary reminder: when you get to the $ubscriber/Associate Section (perusal of which is restricted to paid subscribers), don't forget to activate the "Bathroom Button" by clicking on the "print friendly version" so you can print off a copy of just this installment for reading later, at your leisure while enthroned. Without further adieu, then, here we go—:
We're all in it together even if we're six feet apart. Especially then.
>>>>>>>>>>>>>>>PART ONE<<<<<<<<<<<<<<<<<
NOUS R US
Some of All the News That Gives Us Fits
IT'S OFFICIAL: SANDY EGGO COMIC-CON IS CANCELLED
For the first time in its 51 years, San Diego Comic-Con International will not convene this year, but it will return in 2021. In a press release announcing the decision, the Con's sponsor said: "It is the right thing to do. Comic-Con wants to do all we can to fight the spread of this virus and support workers who are on the front line, fighting this battle."
Comic-Con International was monitoring the situation in California, with hopes of the event happening, if by chance the pandemic might come to an end by July. But, no luck.
"Recognizing that countless attendees save and plan for its conventions each year, and how many exhibitors and stakeholders rely upon its events for a major portion of their livelihood, they had hoped to delay this decision in anticipation that Covid-19 concerns might lessen by summer," CCI explained in a statement. "Continuous monitoring of health advisories and recent statements by the Governor of California have made it clear that it would not be safe to move forward with plans for this year."
It took some doing to extract the Comic-Con from its July appointment. The Con represents millions of dollars of revenue for the city and the hotels that are signed up for it, so an exit had to be carefully negotiated. The fact that the Con has been coming to San Diego for 50 years undoubtedly helped ease the way to an exit this year. Next year, the Con will convene July 22-25.
PULITZER IN EDITOONING GOES TO ILLUSTRATOR
The Pulitzer committee announced all the finalists for the editorial cartooning Prize—in alphabetical order, Lalo Alcaraz, Matt Bors, Barry Blitt, and Kevin Kallaugher—before naming the winner, Blitt, mostly for his New Yorker covers, "work that skewers the personalities and policies emanating from the Trump White House with deceptively sweet watercolor style and seemingly gentle caricatures." (And a line almost too frail for its work, I say.)
Blitt's work included not only magazine covers but an array of cartoons published exclusively online, the Pulitzer announcement acknowledged. "For nearly three decades in the pages of The New Yorker and, more recently, in a regular series on the magazine's Web site, Blitt's political cartoons have parodied, delighted, and informed."
Since 1992, Blitt has contributed illustrations and more than a hundred covers to The New Yorker.
The magazine reaped a second Prize with staff writer Ben Taub, who won in the feature-writing category with "a devastating account of a man who was kidnapped, tortured, and deprived of his liberty for more than a decade at Guantánamo Bay. Despite this litany of horrors, Mohamedou Salahi survived with his spirit intact and gained a new friend, a former Guantánamo guard with whom he reconnected after he was released."
In its citation, the Pulitzer Board praised Taub for "blending on-the-ground reporting and lyrical prose to offer a nuanced perspective on America's wider war on terror."
Finalist Alcaraz is cited "for irreverent and poignant cartoon commentary focused on local and national issues from a distinctly Latinx perspective"; Bors, "for cartoons that sliced through the hypocrisy of the Trump presidency, as well as the blind spots of moderate Democrats in a distinct, contemporary style"; and Kallaugher, "Kal," "for combining classically beautiful cartoon art and incisive wit to create a striking portfolio addressing the Trump administration, international affairs and local Baltimore politics."
Samples of the work of all the cartoonists appear on the other side of the $ubscribers Wall.
NCS REUBEN AND DIVISION AWARD NOMINEES
And Recipients of Special Awards
Five cartoonists are up for the National Cartoonists Society's Reuben for "cartoonist of the year": Lynda Barry (alternate weekly cartoons, Ernie Pook's Comeek and illustrated novels and graphic novels), Terri Libenson (Pajama Diaries, which she discontinued January 4, 2020), Hilary B. Price (Rhymes with Orange, the daily of which is now drawn by Rina Piccolo, who retired her Tina's Groove), Mark Tatulli (two strips, Heart of the City and Lio's weird stuff; and children's books, The Big Break, Day Dreaming et al), and Raina Telgemeier (graphic novels for young readers, Ghosts, Smile, Drama et al).
To belabor the obvious—four of the five nominees are women. A huge step at NCS.
Three of the five—Barry, Price, and Tatulli— have been nominated before; Price, several times. I don't think Barry is still doing Ernie Pook's Comeek; she's now an Associate Professor of Interdisciplinary Creativity at the University of Wisconsin - Madison. In 2019, she received one of the MacArthur Genius Grants.
Telgemeier's nomination is a happy deviation for NCS: she's not a syndicated cartoonist but a graphic novelist, which signals that NCS is reaching beyond its membership core to award other deserving cartoonists.
After last year's win by Stephan Pastis (Pearls Before Swine), who either can't draw or pretends he can't draw (either of which circumstance makes his winning "cartoonist of the year" a fraud), it's reassuring to see that all of this year's nominees can actually draw.
The finalists for all the Division Awards in the annual competition are now up at the NCS website. You can see all the voting results here: https://www. nationalcartoonists.com/ 2020/03/2019-ncs-divisional-nominees/
IN ADDITION NCS ANNOUNCED the recipients of several of its special awards that were scheduled to be presented at the 74th Annual Reuben Awards in Kansas City, June 5-7. (But the convention has been cancelled; see below.)
■ Hy Eisman is to receive the Milton Caniff Lifetime Achievement award. The "Caniff" is awarded by a unanimous vote of the NCS Board of Directors. It is given for a lifetime of outstanding and accomplished work to a cartoonist who has not previously won a Reuben. (The single exception was the posthumous award to Charles M. Schulz, who was awarded a unique Golden Caniff for his outstanding contribution to the art form. Schulz had received the Reuben for 1955.)
At the age of 92, Eisman is currently drawing and writing the gags for the Popeye Sunday strip and for the Sunday Katzenjammer Kids.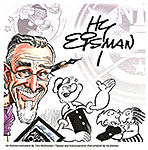 In a press release, NCS also recognized Eisman's work teaching at the Joe Kubert School of Cartoon and Graphic art until just last year. "His contribution to the furthering of the art form is nothing short of heroic. The NCS is lucky to have had Hy Eisman as a loyal and dedicated member of the Society."
■ John Glynn, Chairman and Editor at Large at Andrews McMeel Syndication (Formerly Universal Press Syndicate) will be awarded the Silver T-Square. The Silver T-Square is awarded by unanimous vote of the NCS Board, to persons who have demonstrated outstanding dedication or service to the Society or the profession. By press release, NCS said: "We are so pleased to be able to recognize John's long-standing commitment in contributing his time, energy, expertise and support to both the National Cartoonists Society and its members, and the part he has played in helping to advance the careers of so many cartoonists."
Previous recipients of the Silver T-Square include John's colleagues John McMeel (2004) and the late Lee Salem, who was presented the award in 2013. Other recipients over the last 72 years include Presidents Harry S. Truman and Dwight D. Eisenhower, James Thurber, Milton Caniff, Walt Kelly, Mort Walker, Herbert Block, Bil Keane and industry stalwarts including Joe D'Angelo of King Features and the Billy Ireland Library's Lucy Caswell.
■ Garry Trudeau will be awarded the Gold T-Square award, which is presented to a person who has had an outstanding career in cartooning for 50 years. In a press release, NCS said: "We are so pleased to be able to recognize Garry's stellar career and cannot think of a more appropriate recipient for this prestigious award."
Trudeau will be the 4th person to receive this award in 65 years. Previous recipients of The Gold T-Square include Rube Goldberg (1955), Mort Walker (1999), and Arnold Roth (2018).
■ And Mutts' Patrick McDonnell will be awarded the Elzie Segar award. The " Segar " is presented to a person who has made a unique and outstanding contribution to the profession of cartooning. It is awarded by the NCS Board of Directors in concert with the President of King Features Syndicate in honor of Popeye creator, Elzie Segar.
The NCS press release noted: "We are in awe of Patrick's career spanning multiple disciplines of the craft of cartooning, not to mention his work as an advocate for environmental, humanitarian and animal causes. Patrick will be the 21st person to receive this award in nearly 50 years." Previous recipients of the Segar are:
1971 Milton Caniff
1972 Otto Soglow
1973 Dik Browne
1974 Russell Patterson
1975 Bob Dunn
1976 Bill Gallo
1977 Mort Walker
1978 Hal Foster
1979 (posthumous) Al Capp
1980 Charles Schulz
1981 Johnny Hart
1982 Bil Keane
1983 John C. Murphy
1984 Fred Lasswell
1985 Jim Davis
1986 Brant Parker
1987 Mike Peters
1994 Fred Lasswell
1996 Thomas Armstrong
1999 Mort Walker
Reubens Weekend Cancelled
THIS YEAR'S AWARDS will all be given in absentia. NCS has announced that the early June convention in Kansas City is cancelled.
Prez Jason Chatfield adds: "On a positive note, the NCS Board is in the process of establishing a live streaming option for both the Conference and the Awards Night. We may even be lucky enough to have an in-person event late in the year for some special presentations, but for the moment we are seeing this as an opportunity for the NCS to evolve, using modern technology to the benefit entire membership."
More details later. Perhaps the awards will all be given at a safe social distance. Online.
Meanwhile, Prez Chatfield, who fled New York City to avoid the plague, got it anyway. Now recovering, he reveals what it's like to get the coronavirus (Spoiler alert: it's horrible) in —what else — a new cartoon, which you can witness here—:
https: //www.jasonchatfield.com/coronavirus
On the other side of the $ubscribers Wall, we've posted a couple of Chatfield's self-caricatures from that account.
THE COMICS AND THE CORONAVIRUS
The number of global coronavirus cases is rapidly approaching 2 million, according to CNN on April 15. And totals change daily, always spiraling upward. The number of cases in Russia has surged, said CNN, and Singapore is seeing a second wave of the virus. Germany recorded its highest number of deaths in a single day, even though new infections in the country are significantly down.
The U.S. on May 1 marked its deadliest day, and all 50 states now have at least one confirmed death due to Covid-19. As of May 2, the number of known deaths related to coronavirus in the United States passed 66,000. Worldwide, the number of deaths total roughly 240,000. In other words, the United States, the most advanced of the populous nations, has so badly flubbed reaction to the virus—thanks to a self-centered chief executive who thought that by ignoring coronavirus he could assure his re-election— that the total of Covid-19 deaths in the U.S. is more than a quarter of the world's deaths.
The Centers for Disease Control and Prevention and the Federal Emergency Management Agency have drafted a plan to reopen the country in phases. Despite some politicians, including the Trumpet, champing at the bit to get the economy going again, Dr. Anthony Fauci says the country is "not there yet." In fact, a new study from the Harvard School of Public Health says Americans may need to endure periods of social distancing until 2022 if a vaccine isn't found.
Then on the eve of releasing the 17-page CDC plan, Trump suppressed it, saying it was too specific; different localities needed latitude to tailor reopening plans to fit local circumstances. That rings true, of course; but I suspect Trump's action here is dictated by his own political cowardice—his fear of condoning something that might not work out and that would consequently undermine his re-election hopes.
Whatever the case on April 15 when I recorded this, re-opening is proceeding apace nonetheless. By Friday, May 1, more than a dozen states had begun to reopen their economies and public life, even though health experts have expressed concern that a premature opening could lead to a spike in coronavirus infections that would not be detected in official case counts for weeks. Many areas are still seeing the number of cases grow.
And the Comics Industry Is Still in Limbo. Email reports are piling up. And with each new pile, what was true yesterday is no longer true today. But to suggest the flux, here's a report from Rich Johnston at bleedingcool.com who says that while Marvel Comics seems to be putting itself into mothballs, with editorial staff furloughed and comic book projects put on pause, DC Comics still seems to be going ahead with all pistons pumping. Well, most of them, at least. While some creators have been moved off certain projects such as planned 5G books, with some creators receiving kill fees for the work they have completed, most are being repurposed for other projects.
At comicsbeat.com, Heidi MacDonald reported on Diamond CEO Steve Geppi's appearance as the guest for two hours on Dan Shahin's Comic Book News YouTube channel on April 29. Geppi spoke about all the current topics.
A panelist expressed some worries about the huge piles of other merchandise that have also been held up, to which Geppi responded: "It does us no good for us to ship stuff and have you say you can't pay for it."
Geppi went into an extended metaphor about restaurants that are closed – they'll never get back the meals, but comic shop can still sell Batman No.92. "Your customers still want them. There's a cumulative demand pent up."
In perhaps the bluntest declaration of optimism we've heard through all this, Geppi said "I don't think you can destroy our industry in two months."
Reports Lunge from Good News to Bad. Working on the edge of rumour and fact as Bleeding Cool often is, said Rich Johnston, we often get flashes of what is actually going on. Like a strobe lamp, we see everything in one fixed moment and are left trying to work out what happened in the dark between then and the subsequent illumination. Sometimes we won't actually know what was going on until it's over and we get to look back and join up all the dots. But that doesn't mean we can't or shouldn't try. Such as with the news that Bleeding Cool received earlier on April 13 that Diamond Comic Distributors has just furloughed the majority of their purchasing department.
Regular readers of late will know that Geppi Family Enterprises closed Diamond's doors to new products as a result of the current global situation. They also had to make some staff redundant, but the distributor kept their backorder operations going.
We also were recently given the nod that Diamond was expecting to resume new comics distribution in some fashion in mid-May, possibly direct to comic retailers' homes, though some publishers were being asked not to run new solicitations until August. Diamond had also told publishers that they wouldn't be paying their bills, although they have since announced a payment plan.
Several essayists have declared the Direct Market dead, or have called for its demise because as matters presently stand, the comics industry is too dependent upon Diamond.
FCBD Cancelled; But Hope Survives. Saturday, May 2, would have been Free Comic Book Day, an annual nationwide event intended to bring die-hards and newbies alike into comics shops. Instead, reported Jake Coyle at the Associated Press, stores were closed nationwide and new print issues haven't been released since late March, when the industry's primary distributor, Diamond Comic Distributors, shut down.
Normally, some 6 million extra comics are distributed for FCBD and around 1.2 million people flock to stores. For some shops, it dwarfs even Comic-Con, the annual San Diego convention (also canceled ).
"We're going to come out of this with fewer comic shops, but there will be enough that survive that this industry will continue," said Dan Gearino, author of Comic Shop: The Retail Mavericks Who Gave Us a New Geek Culture. "The question I'm asking is: How big will the culling be?"
Joe Field, owner of Flying Colors Comics, is certain the comic shop will abide.
"Comic book retailers are the cockroaches of pop culture," Field says. "We have been through all kinds of things that were meant to put us out of business, whether it's the new digital world or distribution upheaval or Disney buying Marvel. We have adapted and pivoted and remade our businesses in ways that are unique and survivable."
Steve Geppi, the founder of Diamond, said shutting down distribution was the hardest decision he's ever made.
"When I was a 9-year-old boy reading comics, I never dreamed I'd be the guy to pull the plug on the whole industry," says Geppi.
Diamond is now cautiously preparing to bring the company back online, hoping to fill orders for the third week of May. But restarting will be gradual, and a two-month shutdown has already been enough to potentially reshape the industry.
This week, DC began a more robust release of digital comics. Until now, digital comics have been a fraction of the $1 billion industry, accounting for about a tenth of sales. While newspapers have gone digital, most comic readers want to hold the colossal worlds of comic books in their hands.
DC also broke its exclusive distribution deal with Diamond to get new issues to shops that are open, adding a pair of new distributors. That move has been debated among shop owners; some say they'd rather wait until Diamond restarts. DC didn't comment.
"We want everybody to survive," Geppi says. "The consumer is going to be the one to decide the fate of the industry."
Meanwhile, Marvel has released a schedule of new comics and graphic novel releases beginning Wednesday, May 27 and extending through July 8. Diamond is resuming operations the week before, for the May 20 release date."Over the next few weeks, Marvel will keep a balanced release schedule for its comics and trade collections as the industry continues to restart distribution and comic shops begin to reopen and adapt to current social distancing policies," the company said in its announcement.
CAVEAT: By the time you read this, all of the foregoing may have drastically changed so rapidly are matters developing in one direction or another. I rehearse the foregoing more to illustrate the nature of the crisis than to claim authenticity in the details, which today aren't as prevalent as they were yesterday.
SEX, AS USUAL, IS BANNED
Eight of the 10 most challenged books last year were based on L.G.B.T.Q. subjects or narratives, the American Library Association said in its annual ranking of books that were banned or protested in schools and public libraries. One book told a story about a marriage between two men. Other books on the 2019 list were stories about children and transgender identity.
"This year, we saw the continuation of a trend of a rising number of challenges to L.G.B.T.Q. books," said Deborah Caldwell-Stone, executive director of the library association's Office for Intellectual Freedom, which compiles the list.
"Our concern is the fact that many of the books are age-appropriate and developmentally appropriate books intended for young people, but they are being challenged because they allegedly advance a political agenda or sexualize children," she told Christine Hauser at nytimes.com. According to the association, Hauser reported, the challenges came from parents, legislators and religious leaders.
"Libraries are community institutions, intended to serve diverse communities," Caldwell-Stone added. "That includes all kinds of individuals and families."
In January, a Missouri lawmaker, State Representative Ben Baker, proposed a bill that would subject public library employees to a fine or jail time for providing "age-inappropriate sexual material." Baker, a Republican, said the bill was inspired by library programming and events like Drag Queen Story Hour.
The Office for Intellectual Freedom said that in 2019, there were 377 attempts to remove books or materials from libraries, schools and universities. Most of the challenges came from patrons, followed by administrators, political and religious groups, librarians, teachers, elected officials and students.
The challenges — sometimes made in a written request, sometimes made via public protest — are not always successful, Caldwell-Stone told Hauser.
"But the fact that the requests are being made is deeply concerning," she added. "We find that young people in particular need to find themselves reflected in the books they read. And serving those needs does not take away anything from those people with other viewpoints."
Among the 10 most frequently challenged are—:
Sex Is a Funny Word, written by Cory Silverberg, illustrated by Fiona Smyth. This sex-education comic book was challenged, banned and relocated for L.G.B.T.Q. content; for discussing gender identity; and for concerns that the title and illustrations were "inappropriate."
The 'Harry Potter' series by J.K. Rowling was challenged over its magic and witchcraft references, for its curses and spells and for characters who use "nefarious means" to attain goals.
ADAM ZYGLIS TAKES FURLOUGH FROM BUFFALO NEWS
By D. D. Degg at dailycartoonist.com; April 14
Earlier this year Lee Enterprises bought the Buffalo News. Two weeks after the purchase became final in mid-March, Lee Enterprises announced there would be a series of pay cuts, lay-offs, and furloughs across its chain. On April 13, it hit home as the Buffalo News' Pulitzer Prize-winning cartoonist Adam Zyglis announced he was taking a two week furlough—:
"Starting today, I'll be taking a 2-week furlough from work and going dark on this forum. Every journalist at the News is being hit with this because of the Covid-19 shutdown."
The furloughs, which will be serialized over the next 3 months, affect 200 members of the staff from newsroom to print shop. And we all hope that it is temporary.
LOSING HEART
Fans of Mark Tatulli's comic strip Heart of the City doubtless went looking for their favorite strip for a long time on Monday, April 27. Nothing like Tatulli's wispy-haired juvenile was anywhere to be found on the funnies page. And that's because ...To find out why and to rejoice in Broomhilda's 50th and Bagley's 40th not to mention reviews of 9 Number Ones, Hog Wash (visual puns gone wild), and April Fools Day in comic strips plus three signatures in Dennis and Why Brits Don't Like the Trumpet —and more, much more— Click Here
SUBSCRIBE TODAY!
Just $3.95/quarter after $3.95 introductory month
NOTE: You can gain temporary access to this posting (and all the rest of this website)
by paying the trial month fee of $3.95 (which is about what the
New York Times used to charge for a single print-out).
$ubscriber/Associates: To Continue reading please CLICK HERE
To find out about Harv's books, click here.