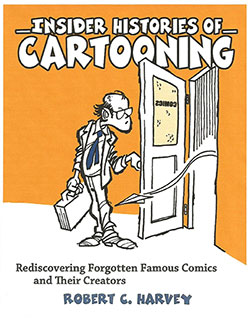 INSIDER HISTORIES OF CARTOONING
Rediscovering Forgotten Famous Comics and Their Creators
Musing about the "mysteries" his book delves into, Harvey allows that he didn't intend to write an encyclopedia of American cartooning. Said he: "All I'm doing with it is shining a light into some of the corners of the nation's cartooning that have remained for too long too dim—to celebrate some of the medium's achievements and achievers that have faded too far into distant memory or that have never been recognized at all. Throughout, my purpose is to illuminate the arts of cartooning in order to enhance appreciation of the medium."
Today's cartoonists are the insiders in the book's title, he explained. They know most of these tales. But not all of them. Many have never heard of Bill Hume, for instance, or Bailin' Wire Bill or Abe Martin or the Texas History Movies. Or AWOL Wally. And almost none of them know that the longest running cartoon character is a bird. And yet most of these names were once well-known and familiar to vast numbers of readers.
And although insiders may know most of the stories in broad outline, much of the book wraps around fugitive tidbits, shreds and happy scraps, that are almost unknown. Which of Bill Mauldin's famous World War II duo is Willie? Which is Joe? What was the big secret about E. Simms Campbell? Who was Funnyman? And why? Which of a long roster of cowboy comic strips is the most authentic?
How many of the stories alluded to in the foregoing sentences do you know? (A few cryptic hints cluster at the end of this preview.)
The book includes an incidental chapter of raw history that reels out the timeline of milestones in the development of modern comics. Starting in mid-19th century, it cites the dates for the first "comic book" in the United States, the launch dates of American humor magazines that were the forcing bed for cartooning, the debut date of the first color newspaper supplement, and the creator of the first newspaper comic strip in color. (No, not Richard Outcault with the Yellow Kid.)
Among the cartoonists discussed are a ground-breaking African American and a woman who broke into an industry dominated by men.
For insiders who are scholars of the medium, Harvey reveals the origin of the word "cartoon" as first applied to humorous drawings and explains why we call comic books "comics" even though many of them aren't at all funny. In another chapter, he devises a working "description" of what comics are and offers Frederick Burr Opper's Happy Hooligan in early 1900 as the watershed between the primitive, prototypal comic strip and the modern descendent everyone recognizes on the pages of today's newspapers.
The second word in this tome's title doesn't serve quite as exotic a function as the first, but it works just as hard. "Histories" is determinedly plural: the book is a collection of little histories, not one big unified chronicle. Although the arrangement of the chapters is roughly chronological, you needn't read them in order: each history is a stand-alone essay, and, except for the first introductory chapter, they're intended to be read one at a time and in any order. As Disney historian Jim Korkis said recently about a book of his: "Think of the book as a box of chocolates with different delights and maybe some tasty hidden surprises to enjoy during a pleasant afternoon" (in Who's Afraid of the Song of the South?).
Cryptic Explications. Bill Hume drew a pin-up cartoon character, Babysan, in occupied Japan during the Korean War.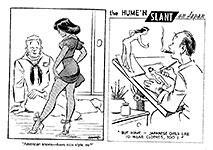 Bailin' Wire Bill starred in a 1949 Denver Post weekly comic strip by Dick Sebald; called Sage, Sand and Salt, it concerned the mundane adventures of a 20th century rancher whose ranch had only one steer. Abe Martin was a cracker barrel philosopher who showed up in Brown County, Indiana and was eventually syndicated nation-wide.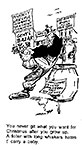 The Texas History Movies weren't movies at all: it is the title of a newspaper comic strip that recounted the history of the Lone Star State. The longest running cartoon character is the Weatherbird at the St. Louis Post-Dispatch—where it has appeared for well over 110 years.
Mauldin's Willie and Joe switched identities during their run: at first, the hook-nosed character was Joe, but by the time Mauldin's unit invaded Sicily, he was Willie. The secret about E. Simms Campbell that his syndicate and most of his publishers wanted kept was that he was African American. Back in the 1940s, his syndicated cartoon about beauteous young women, Cuties, would scarcely have sold to newspapers of the South had the editors known. Funnyman was the last invention of Jerry Siegel and Joe Shuster after they lost their Superman berth at DC Comics.
The most authentic appearing cowboy strip was Fred Harman's Red Ryder; the most authentic stories were told by Stan Lynde, first in Rick O'Shay and then in Latigo —if you're looking for serious authenticity; if humor is your object, try Sage, Sand and Salt.
These cryptic explanations only hint at the whole stories. For those, you need the book itself. And the book includes pictures that are pretty rare, too.
Cartoons by Playboy's founder Hugh Hefner, Kin Hubbard's illustrations for Short Furrows, Betty Swords' pictures for the Male Chauvinist Pig Calendar of 1974. A generous sampling of Babysan, the Far East pin-up. Campbell's illustrations for Popo and Fifina. Red Ryder's last bow.
Insider Histories of Cartooning (192 8½ x 11-inch pages, 71 b/w illustrations) is $35 in paperback, available at this website; click here for ordering information. The hardcover casebound edition is $85 and is available only from the University Press of Mississippi at www.upress.state.ms.us .