Telling Tales about a Legend
Milton Caniff wasn't inept, exactly, at drawing hands, but he wasn't unreservedly enthusiastic about the results of his efforts. And one hand he'd drawn even made him cringe a little. It was Colonel Flip Corkin's hand in the 9th panel of the Sunday Terry and the Pirates for October 17, 1943. Caniff felt he'd failed to get the thumb just right. But the deadline closed in faster than he could fix it, so he sent the page off to the Tribune-News Syndicate. He'd have ample opportunity to make up for the lapse, he may have thought, in the hundreds of hands he'd draw thereafter.
            Ten weeks later, U.S. Congressman Carl Hinshaw of California read this strip in his Sunday newspaper and was immediately impressed with "the finest and most noble sentiments" of trenchant patriotism in the speech Corkin made to Terry, who had just been commissioned a pilot. "It is deserving of immortality," Hinshaw told his fellow legislators, and he promptly read it into the Congressional Record. And that was wonderful. But then the so-called "Pilot's Creed" page started getting reprinted as a poster that was circulated world-wide throughout the World War II military establishment. Everywhere he looked, Caniff saw that ugly hand. And he kept on seeing it for the rest of his life: the Pilot's Creed was reprinted in nearly every retrospective of the cartoonist's work.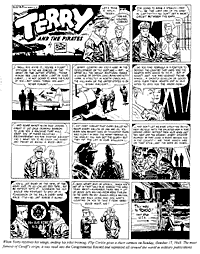 The Pilot's Creed is reprinted again in a new book I edited for the University Press of Mississippi, Milton Caniff Conversations (316 6x9-inch pages), the second of its Conversations with Comic Artists Series (Charles Schulz was the first). The book collects over a dozen previously published interviews with Caniff from 1937 to 1986 and includes a modest sampling of his art from Puffy the Pig, The Gay Thirties, Dickie Dare, Terry and the Pirates, Male Call and WWII pin-ups and other special drawings, and Steve Canyon (with preliminary sketches of the character), some of it familiar and some of it seldom, if ever, reprinted. Given the celebrity of the Pilot's Creed, the book would be deficient without it, so Flip Corkin's deformed hand is once again on display for all to see.
            About Caniff's rendering of hands generally, I must agree with him. Some of his hands don't look very graceful. They're unrelievedly square, a chunk of bone and lumps of knuckle between elbow and fingertip, no tapering at the wrist at all. When I was interviewing him for what he called "the definitive biography," I realized why the hands he drew looked the way they did.
            I started interviewing him in March 1984 at his East 45th Street studio in New York. He lived in the same building, commuting every day from his apartment on the 30th floor to 5E on the fifth floor, a tiny one-bedroom apartment. In the bedroom, a twin bed for napping was jammed in among numerous filing cabinets. The livingroom was his studio. The walls were hung with framed original drawings, his own sometimes but mostly those of Noel Sickles and other artists. He propped his drawing board against a worktable in the middle of the room, facing a couch against the opposite wall. At his back were bookcases filled with ready reference. I sat at his left with my tape recorder silently spooling away on the top of a two-drawer filing cabinet next to the drawing board. As he talked, answering my questions, he drew. He never just sat. He was always drawing. And that's when I noticed his hands. They were not the hands of an artist: they were large and square, chunks of bone and sinew, no tapering at the wrist whatsoever. And like most artists, when he drew hands, he used his own as models.
            The East 45th Street studio was only a block or so away from the Palm, the one-time speakeasy on Second Avenue that had become a hangout for cartoonists in the 1930s and, with the repeal of Prohibition, a restaurant. Its walls are defaced with "merry murals" (as Caniff would say), drawings of their characters by the cartoonists who frequented the place. And Caniff was one of those. "It was our livingroom," he told me, speaking of his first years in New York when he lived in nearby Tudor City.
            He took me to dinner a couple of times at the Palm. He'd phone in advance to see if a table was available, and when we entered, we were met at the door by a phalanx of waiters. "Good evening, Mister Caniff," one would say. "Your table is ready, Mister Caniff," said another. "Right this way, Mister Caniff," gestured a third.
            One time, we sat in the second room at a table for two next to the wall on which was a framed Steve Canyon strip, the one from April 30 1947 in which Steve and Delta are depicting having dinner at the Palm.
            "Someone stole the original," Caniff said about the strip. "This is a photostat."
            A waiter walked by and said, "Good evening, Mister Caniff" as he passed.
            "Good evening, George," Caniff said. "He's been here forever," he continued to me; "—he was just a kid, a busboy, when we first came here."
            Caniff also took me once to Costello's, around the corner and down the block from the Palm. We had lunch.
            "This is a writer's place," Caniff explained. "James Thurber came here. And Walt Kelly. Not here exactly: the place used to be a couple blocks from here when Thurber was around. He drew on the walls, and when they moved the place, they cut out the sections of the walls with his pictures on them and brought them here."
            Some cartoonists, including Caniff, had been invited to decorate the backroom in the fashion of the Palm, but it was sparkling new artwork on a freshly white-washed wall not the haunting vintage imagery on the Palm's faded plaster.
            On another occasion, Caniff took me to the Society of Illustrators Clubhouse on 63rd Street. "You have to visit these places," he explained, "—for the biography. These places are part of the story." The National Cartoonists Society, lacking a clubhouse of its own, often met, in the early days, at the Illustrators'.
            I spent several days interviewing Caniff in 1984 and returned once in a later year for more. And we spoke on the telephone at other intervals: I would discover questions as I wrote, and periodically, I'd send him a list and then phone for the answers.
            My 1984 visit straddled a weekend, and late on Saturday afternoon, Caniff called it a day, saying that he had to get dressed for dinner. He and Bunny, his wife, were going out that evening to attend the Air Force Salute, the annual ball of the New York's Irongate Squadron of the Air Force Association. Caniff was one of the founders of the group and had served as commander in 1965, when the Irongate Squadron set the national pace for fund-raising dinners for Air Force charities.
            "It's black-tie," Caniff said, "so I'll have to wear the monkey suit."
            I returned the next morning at about 10 o'clock to continue our session. Caniff met me at the building entrance on the ground floor. Usually he awaited my arrival upstairs in the studio, but, he explained, he'd just happened to come down for the Sunday paper. He was still wearing his tuxedo. He'd gone directly from the banquet to his studio to finish some strips. Presumably, he'd worked through the night, perhaps stopping to nap a little, as he often did.
            When we got to the studio, he removed the tux jacket and sat down at the drawing board. He started to draw, and I cranked up the tape recorder again. After an hour or so, I noticed that he was squirming in his chair, something he'd not done before. Finally, after several fidgety minutes, he exclaimed:
            "It's this cummerbund! I forgot to take it off."
            He'd worked all night with it on.
            Caniff's dedication to work was legendary. I interviewed several of his friends and associates—James Reston, Dick Rockwell, and others, including Bill Mauldin. For several years after World War II, Mauldin had lived near the Caniffs in Rockland County, and I wanted him to tell me about life along the fabled South Mountain Road where Maxwell Anderson, Lotte Lenya, Kurt Weill, and John Houseman—and the Caniffs—lived. The poker parties at the Caniffs were a regular social event, and I wrote Mauldin, asking if he'd agree to let me interview him about this period of Caniff's life.
            Mauldin didn't respond, so after waiting several weeks, I phoned him in New Mexico.
            Oh, yes, he said, he remembered my letter, but he hadn't responded because, he said, he couldn't tell me anything about Caniff in those days. There just wasn't anything to talk about, he said. Well, yes, he'd spent a lot of the wee hours of the day in Caniff's studio, watching Caniff draw and talking. They'd talked about how to draw jeeps and airplanes.
            "The windshield on a jeep," Mauldin said, "goes straight up, perpendicular to the hood. Milt was drawing it on a slant. I corrected him on that."
            As for the poker parties, Caniff wasn't there much, Mauldin explained. He was present when the evening started and usually played a couple of hands. Then he excused himself, pleading the imminence of deadlines, and went up to his studio, where he worked until the party was ready to break up. Then he'd come down and have a nightcap with everyone, Mauldin said.
            "He was always working," Mauldin continued. "Even at those parties the Cartoonists Society had in the summer at Fred Waring's place in Pennsylvania. Everyone would be in the bar or around the pool, and Milt would be in his room, drawing."
            And all this came from the man who said he couldn't tell me anything about Caniff.
            None of these stories are in Caniff Conversations. But there are long interviews conducted by such cartooning luminaries as Jules Feiffer and Will Eisner (The Spirit and Contract with God) in which Caniff discusses how he developed the famed chiaroscuro drawing style as well as his passion for realism in every detail, both visual and narrative, and his relationships with other cartooning greats like Al Capp (Li'l Abner) and Noel Sickles (Scorchy Smith) and Alex Raymond (Flash Gordon). Few of the interviews and commentaries in this volume are likely to have been seen or read by many because most of the material has been gleaned from difficult-to-find publications not in general circulation. Caniff's status as a spokesman for the military in general and the Air Force particularly, for instance, is attested to by interviews with reporters from military magazines and newspapers.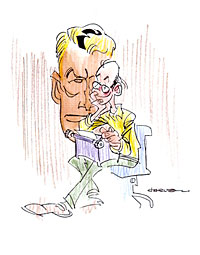 Two of the interviews from later years were conducted by Shel Dorf, who lettered Steve Canyon for twelve years and who was intimately familiar with Caniff's work. And a particularly wide-ranging interview with Arn Saba in The Comics Journal, long unavailable except in fugitive back issues of the magazine, is here reprinted in full. We learn in these interviews about how Caniff contributed to the morale of servicemen during World War II, both with Terry and with Male Call, a special somewhat risque weekly strip he drew for base newspapers, and about how Caniff's loyalty to military personnel cost his strip vital circulation during the Vietnam War. We read Caniff's own eulogy for Terry, written when the strip ceased in 1973, and his drawing assistant's fond farewell, published shortly after Caniff's death in 1988. Although chiefly a text production, the book includes a few rare samples of Caniff's graphic artistry—preliminary sketches for Steve Canyon, pin-up art from World War II military publications, special drawings produced for Caniff's fraternity magazine, and a sample of vintage strips from all Caniff's oeuvre. And there's a chronology of Caniff's life, laying out, year by year, all the major events and works of his remarkable career.
            The paperback with the colorful cover depicted on our main page is $24, which includes First Class postage; an unjacketed hardcover is also available for $52, again including First Class postage. To order your copy, inscribed by the editor (me), click here.