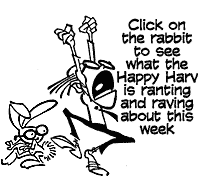 Here at the Happy Harv's Homepage, we fulminate about an assortment of topics in the general vicinity of cartooning. Our most recent Rants & Raves posting ends our 23rd year with a roundup of recent editoons even as editooning is threatened, more mass murders enrage a nation, Florida governor vs Disney, reviews of Foul Play, Badass Broads, Davenport, Grass Kings, Lalo Alcaraz's long journey, and Jack Chick's ghost—and more. To witness it all, click on the rabbit at the right.
Become a Patron and get full subscriber access at https://www.patreon.com/rcharvey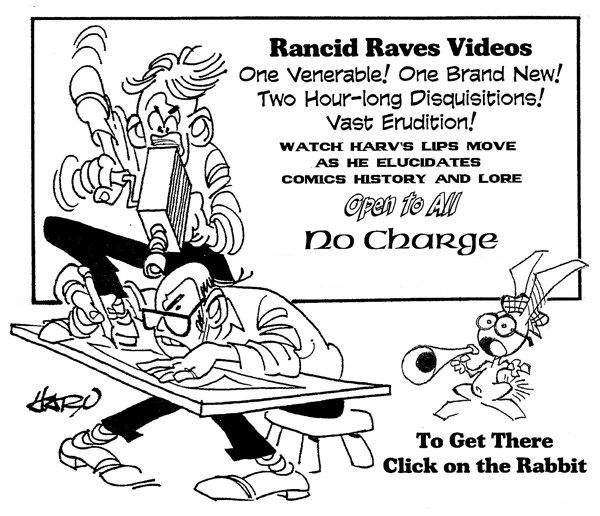 Further down the scroll, we list the permanent departments of this website, but before we get to the list, here are a few words from our sponsor:

Get the Rabbit Habit! The Best Way to become habituated to this Dubious News and Reviews Enterprise is to become a Subscriber. There are two categories of Subscriber:
Subscriber/Gratis
$ubscriber/Associate

One, as you can plainly tell from the conspicuous dollar sign, involves money—that is, paying a subscription fee, a Paltry Amount, as you'll find out in a trice. The other category is available to the Known Universe without charge—that is, gratis, free, inexpensive. Both categories of Subscriber require that you give us your e-mail address by filling out the blanks in the upper right-hand corner above. Then we'll be able to send you an e-notice, a Rabbit Habit Alert, whenever we post something new or hare-brained to Happy Harv's Homepage. In short, if you're on our e-list, you'll be notified of every thrilling new installment of Rants & Raves or Harv's Hindsights (our comics history and cartooning lore niche). We post something new in one or the other department just about every other week.
Subscriber/Gratis. As a Subscriber/Gratis, you'll receive the bi-weekly Rabbit Habit Alert, which blurts out a summary of what we've just posted. And you'll be able to order Harv's books from the Online Store and to buy other valuable tomes from our Book Sale listing of rare and slightly used volumes, which we up-date about twice a year (click on Books). Many of these are surplus review copies that Harv receives but doesn't have the bookshelf space to keep; they're virtually new. And you can browse the contents listings for both Rants & Raves (in the Archive) and Harv's Hindsights. But, alas, you can't get to the actual content without becoming a $ubscriber/Associate. Well, you saw that coming, right? To get an idea of what you're missing by not becoming a $ubscriber/Associate, click on either (or both) the Archive or Hindsights at the left and scroll down the nearly endless list of Informative Articles and Essays. What a treasure trove, eh?
$ubscriber/Associate. For the entire hare-razing experience, you should pay our Miserably Low Subscription Fee. Then you'll have unfettered access to the full range of rancid raves (the current postings of news and reviews as well as everything in the Archive, which goes back to May 1999) plus all of Harv's Hindsight articles (which start in May 2000). You'll also receive the bi-weekly Rabbit Habit Alert telling you that Something Fresh has just been posted. The Pitifully Cheap Subscription Fee is only $3.95 for the first trial month; then just $3.95 every quarter thereafter—that is, once every three months, merely $1.32/month, tovarich. We generate the equivalent of about 15-20 printed-out pages every other week, so that's like a 30-40-page monthly magazine. Where else can you get a 30-40 page magazine of comics news and reviews and cartooning lore for $1.32 a month? Nowhere, that's where. Except here. To join the swelling ranks of our $ubscriber/Associates, click on the appropriate spot above, just to the left of the Rabbit Habit sign-up. That will take you to the enrollment form, where you can choose a User ID for yourself and a Password as well as supply payment information, a credit card or bank account number. And don't forget to sign up for the Rabbit Habit Alert by giving us your e-mail address at the upper right. Click here for our privacy policy.
Non-subscriber Access. Not a Subscriber? See something you'd like to read in the contents listing of either the Archival Rants & Raves or Harv's Hindsight? You can view the entire contents listing of both departments without being a Subscriber; just click on the appropriate title at the left. And then if you see something you'd like to read, you can gain temporary access—and print out the article or articles you want—for the trial month fee of $3.95 (which is about what The New York Times used to charge for a single print-out, and you could, with unflagging patience, print out the entire contents of both the R&R Archive and the Hindsights during your trial month).




Bi-weekly Infusion of Reviews and Commentary



Everything the Happy Harv Has Ever Said Here




The Very Best in Comics History and Cartooning Lore



Harv's Favorite Destinations on the Web
Want to Read a Good Book Lately? Here Are Harv's