Opus 355 (July 17, 2016). Once again, we prolong our annual Open Access Month. All the usual $ubscriber walls and barricades are down, and you and anyone in your family (or neighborhood) (or country) can peruse all of Rants & Raves (including archives and Harv's Hindsight) at leisure without having to pay a toll. For the next four weeks—until August 15— you can join us, carefree and duty free, in hoppin' down the bunny trail where, suffering—er, basking—in the summer heat, we have one hot cross bunny, who, this time, considers the evils of the ravening mob on social media, reports on last month's Denver Comic Con, ridicules Playboy's so-called "cartoonists," tells classic tales about Red Ryder's Fred Harman, and reviews of first issues (Midnight of the Soul, Renato Jones: The One %, Wagner's Shadow) and of Yuge: 30 Years of Doonesbury on Trump, Graphic Classics: H.G. Wells, Geary's Murder at the Hollywood Hotel, Wallace Wood Presents Shattuck, The Tipping Point, Walt Kelly's Fables and Funnies, and The Story of My Tits (graphic novel) plus editoons of the month and more—much more.
As this is written (July 17), we are on the cusp of the Grandstanding Obstructionist Pachyderm convention in Cleveland. On the this historic threshold, we are blissfully unaware of what damage the Trump opponents might wreak on the GOP dog-and-pony show in their effort to Dump Trump. Nor do we know what the Trumpet himself might do—what further display of willful ignorance and overweening self-confidence he might commit. Whether Dump Trump works or not, it will undoubtedly provide a good show. And you are doubtless in the middle of witnessing it as you read this.
To make up for our regrettable but unavoidable failure to actually Cover the Event, we have concocted a whole section of Editoonery devoted to His Royal Ignorance. And we have the aforementioned review of Garry Trudeau's reprise of all his Doonesbury Trump strips in Book Marquee. Those, in their turn.
Meanwhile, on the cusp of the Most Momentous Prez Election in a generation, I'm indulging an irresponsible streak: I'm off to the Sandy Eggo Comic Con, July 20-24—blithely ignoring the Fate of the Nation. Entertainment Weekly is once again giving the Comic Con extravagant coverage; in fact, it started the week before the week of the Con. And then in the issue dated July 22/29, over 50 of the magazine's 112 pages are Comic Con focused. Mostly movies and tv, but—gasp! wonder of wonders!—four pages at the end of the Comic Con section are about comic books!!
EW is sponsoring a special off-campus rendezvous in San Diego. Called Con-X, it is "a free hangout space for fans—an outdoor area to relax and enjoy food trucks, photo booths, phone-charging and hydration stations and other great activities. ... Stop by and catch the conversation on the EW Spotlight Stage, stay for evening musical performances...."
Probably, the next issue of EW will feature reports on what actually happened in San Diego. Evidently, comics have arrived. Not funnybooks, mind you—"comics." We can tell because EW gives the Comic Con so much space.
As for me, I'm resolved that this one will be the Last Rodeo. My last. This's my 25th in a row. It's a good round number to quit with.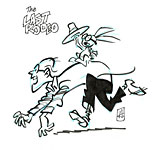 I'll be wandering the vast premises, trying not to get lost, and I'm on two panels on Friday afternoon, should you be in the vicinity. I'm also scheduled to be sitting at the booth of the National Cartoonists Society No.1307 every morning, 9:30 a.m. - 1 p.m. So if you want to say hello, drop by.
Until then, here, immediately below, is what's here this time, the entire contents of Opus 355, listed by department, topic by topic, in order. It's a monstrous lot to read through, we admit. And so we've devised a scheme to enable you to make the most of your visit here. The way this works is this: scroll down the listing and find topics you are interested in; remember them, and then scroll down some more until you find them again, elaborated upon in the department they've been written up in.
With that as orientation, here we go with the listing. (And if you like what you find here, consider joining us as a $ubscriber for merely $3.95/quarter after an initial $3.95 introductory month fee.)
NOUS R US
Charlie Hebdo Troubles
Atena Back at the Drawing Board
More Four-Color Diversity: LGBTQ, Latina
Trump and Trudeau (for 29 Years)
DENVER COMIC CON REPORT
Red Ryder's Fred Harman
Playboy's "Cartoonists"
Friday's Back
Odds & Addenda
Lois Lane Dies
New Iron Man (African American Woman)
A Statue for Captain America's 75th
Bill Watterson High School Art
SOCIAL MEDIA, FREEDOM OF SPEECH & EDITORIAL CARTOONING
Resist the Ravening Mob on Social Media
FUNNYBOOK FAN FARE
First Issues Of—:
Chaykin's Midnight of the Soul
Renato Jones: The One %
Wagner's Shadow
Plus—:
Wagner's Spirit Ends
EDITOONERY
Surveying Some of the Best Editoons of the Month on—:
Dallas
Trumpery
Hillary's E-mails
GOSSIP & GARRULITIES
June 16th: Bloomsday
NEWSPAPER COMICS PAGE VIGIL
More Taboos Violated
and Other Events of Note
(Including Fearless Fosdick in Dick Tracy
and the Fourth of July)
BOOK MARQUEE
Graphic Classics: H.G. Wells
Yuge: 30 Years of Doonesbury on Trump
BOOK REVIEWS
Rick Geary's Murder at the Hollywood Hotel
Wallace Wood Presents Shattuck
The Tipping Point
Walt Kelly's Fables and Funnies
(Persiflage and Badinage: Kelly's Off-color Joke)
LONG FORM PAGINATED CARTOON STRIPS
Er, Graphic Novels
The Story of My Tits
ONWARD, THE SPREADING PUNDITRY
Political Comment
PASSIN' THROUGH
Chester Krause
Shaw McCutcheon
Mell Lazarus
QUOTE OF THE MONTH
If Not of A Lifetime
"Goddamn it, you've got to be kind."—Kurt Vonnegut
Our Motto: It takes all kinds. Live and let live.
Wear glasses if you need 'em.
But it's hard to live by this axiom in the Age of Tea Baggers,
so we've added another motto:.
Seven days without comics makes one weak.
(You can't have too many mottos.)
And our customary reminder: don't forget to activate the "Bathroom Button" by clicking on the "print friendly version" so you can print off a copy of just this installment for reading later, at your leisure while enthroned. Without further adieu, then, here we go—:
NOUS R US
Some of All the News That Gives Us Fits
CHARLIE HEBDO STILL IN TROUBLE
French government prosecutors opened an investigation into new credible death threats against surviving members of the staff at Charlie Hebdo, an anonymous source told Le Parisien newspaper. The threats came by mail and on the magazine's Facebook page over the space of a few days earlier this month according to Maren Williams at Comic Book Legal Defense Fund headquarters.
Le Parisien's source said that the threats "clearly mentioned wanting to physically attack the journalists of Charlie Hebdo." The staff is still under police protection after the attack that killed 12 people in January 2015. In the same spirit of heightened security, the location of its new office is undisclosed.
The anonymous source, identified as being "close to the editorial staff," said it had been quite a while since the magazine received such direct threats. Staff cohesion and morale have suffered under the stress of the attack's aftermath, however; surviving cartoonist Renald Luizier (aka Luz) left the magazine last year, shortly after he and 14 out of 19 other staff members published a joint editorial in Le Monde, calling for the magazine to become a cooperative with all employees as equal shareholders. The editorial expressed concern about mismanagement of funds that flooded in through donations and new subscriptions after the attack.
And the magazine's morale suffered another blow recently.
According to artform.com on June 24, Le Parisien reports that Gala Renaud, widow of Michel Renaud, one of twelve people killed by the Kouachi brothers at the Charlie Hebdo last January, has filed a lawsuit against the satirical newspaper. Renaud alleges that after collecting millions of euros following the attack, the paper's directors have not made good on promises to compensate families of the victims. The lawsuit specifically targets the new coeditor of Charlie Hebdo, Laurent Souriseau (aka Riss) who was injured in the shoulder during the shooting.
Responding to Renaud's accusations in an email addressed to regional newspaper La Montagne, a Charlie Hebdo representative wrote: "We are surprised and shocked. We have always said that the proceeds from [subscriptions and sales—and outright donations—] should be devoted to ensure its sustainability."
However, in February 2016, Le Figaro reported that contributions collected by the organizations Press and Pluralism via the website JaideCharlie.fr (which at that date amounted to nearly $3 million) and Friends of Charlie Hebdo ($1.7 million) should be donated to the victims of the attacks and the families of those killed. [I don't know the source of Le Figaro's report. Is it the staff and/or directors of Charlie Hebdo or not? The source determines the accuracy of the report.—RCH.]
IRAN'S BETE NOIR IS BACK AT THE DRAWING BOARD
You'd think that Atena Farghadani, after spending 18 humiliating and brutalizing months in prison for caricaturing the Iranian Parliament, would, upon her recent release, retire quietly to the comforts of her home. But she didn't. Instead, she was on Facebook earlier this month with a new cartoon taking aim at the state-run women's university that expelled her after she was arrested. Maren Williams at the Comic Book Legal Defense Fund filed the ensuing report—:
The president of Alzahra University, where Farghadani was studying art, is Ensieh Khazali — the daughter of a hardline ayatollah who died last year. In the new caricature, Farghadani depicts Khazali as a Yoda-like gremlin with bird feet chained to a throne bearing her father's likeness, suggesting that the university is constrained by the most repressive elements of Iran's theocracy.
Farghadani was first arrested in August 2014 for her cartoon mocking members of Parliament as they debated a bill to ban voluntary sterilization procedures, such as vasectomies and tubal ligations, in an effort to reverse Iran's falling birthrate. But even before her arrest, she was already well-known to the government for her fearless advocacy on behalf of political prisoners, Baha'i minorities, and the families of protesters killed after the country's presidential election in 2009.
When at the end of 2014, Farghadani was released on bail while awaiting trial, she promptly uploaded a video to YouTube detailing abuses she suffered in prison including beatings, strip searches, and non-stop interrogations. She was rearrested in January 2015 and finally received the draconian sentence of 12 years and 9 months after a perfunctory jury-less trial in late May 2015. Last year, she was honored with the 2015 Courage in Editorial Cartooning Award from CRNI.
She was finally released this year after some charges were dismissed on appeal and the rest of her sentence was reduced to 18 months, which she had already served.
Also last year, Farghadani was additionally charged with "non-adultery illegitimate relations" for shaking the hand of her lawyer Mohammad Moghimi while he was visiting her in prison. Contact between unrelated members of the opposite sex is technically illegal in Iran, but rarely prosecuted. Moghimi was also charged, and both parties could have received sentences of up to 99 lashes if convicted.
Both were acquitted in January 2016, but in the course of the investigation Farghadani was involuntarily subjected to virginity and pregnancy tests. The specious virginity test is carried out by physically checking for the presence of a hymen, and is recognized by the World Health Organization as a form of sexual violence.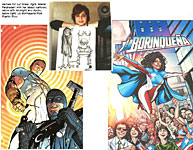 Mere minutes after her release last month, Farghadani sent a short video to the activist Facebook page "My Stealthy Freedom," where Iranian women post pictures of themselves without hijab. Here (in italics) is her brief butpowerful message, according to the English subtitles on the video:
Some people think that art is not important, but the responsibility of an artist is to challenge authority and to be challenged. Sometimes the price for an artist is imprisonment, but do not forget that artists have responsibilities.
Farghadani's fearless advocacy for human rights and freedom of expression is a continuing source of inspiration!
MORE FOUR-COLOR DIVERSITY
First, LBGT
In October, DC Comics will publish Midnighter & Apollo, the first part of a six-issue mini-series that reunites the two heroes, who are gay and have an on-again off-again relationship, reported George Gene Gustines at the New York Times. Gustines continues—:
"They have a firmer idea of who they are, and they've become stronger and more confident together," said Steve Orlando, who will write the comic, which will have interior art by Fernando Blanco and covers by the artist known as ACO.
The characters, who made their debut in 1998, were gay analogues of Batman (Midnighter) and Superman (Apollo). They dated, eventually married, adopted a child and, thanks to comics, had their history rebooted. Midnighter most recently headlined his own series, which ended in March. The comic, written by Orlando, was lauded for its portrayal, which balanced the hero's volatile global adventures — and a friendly flirtation with Dick Grayson, the former Robin — with a domestic life that included using dating apps and being sexually active.
Orlando, 30, who is bisexual, has an affinity for Midnighter. "Getting to write a character that helped me when I was younger and boost the signal to a new generation has been an honor," he wrote on his blog. Of the new project, he said: "This is the World's Finest Couple — kicking back and making each other better than they are on their own."
Then, Trans Alone
But DC is not alone in facing gender issues. The month before Midnighter & Apollo debuts, Gustines reports, Aftershock Comics will launch Alters, a series starring Chalice, a superhero who can manipulate gravity so that she can fly.
Chalice is also Charlie Young, a male college student, who, unbeknown to his family, is beginning to transition to female. Said Gustines: "Unlike most superheroes, who have to maintain one secret identity, Chalice has two."
Gustines continues:
The series was created by the writer Paul Jenkins, for whom it is a passionate project, one he has pursued since 2005. He gives a lot of credit to his mother, a gay single mom who raised him and his brother in Dorset, England. "If we ever get to a point where issues such as race, sexuality and gender identity are a nonissue, we will have arrived," he said. "That's my Mum talking right there."
With the alters — this comic's term for people who have some kind of empowering anomaly — Jenkins, 50, is set to explore characters who have special abilities and physical, chemical or mental challenges. One story will focus on an unattractive heroine. "The TMZ report would be 'Ugly Chick Saves World,'" he said. Another will focus on a shape-shifter who becomes quadriplegic and faces a choice: remain that way and live or opt for a final change that will grant mobility but prove fatal after a month.
Jenkins said that he had always planned for a transgender superhero in the series, but Chalice didn't fully take shape until he met a fan, Liz Luu, in 2014, at a convention panel about creating characters. Luu had an appealing idea: a transgender hero who hadn't transitioned yet and could present as a female only when in costume.
"She can only be herself when she's not herself" summarized Jenkins. In exchange for mentoring Luu, who is now an executive assistant at the Cartoon Network, Jenkins incorporated that idea into Chalice's back story.
Jenkins said that he firmly believed that Alters would not turn into a series of moral lessons in which everyone learns about tolerance and grows as a person. "The most important thing in approaching this book is for me to concentrate on these characters as heroes and villains, and to let these things come out during the process," he said.
A transgender superhero is rare, said reporter Gustines, but not unusual in the current world of comics, where the industry has made efforts to be more reflective of the real world. Recent superheroes have been lesbian, Muslim, plus-sized and more. Next month will introduce Kim & Kim, a sci-fi adventure from Black Mask Studios, about two bounty hunters — one a trans woman, the other bisexual — who are best friends. There is also TransCat, an independently published humor comic about a transgender heroine.
"The big news about diversity in comics is that we now have diversity in comics — in the people who actually create the material and also in the characters depicted," Mark Evanier, a comic book historian, said. "When I was growing up, every hero might just as well have been the same well-toned male in a different costume."
At DC, a lesbian Batwoman has been on the scene for some time. Cyborg, who is black, will star in a new series in September. And Marvel has had success with its Muslim-American Ms. Marvel, the Korean-American Hulk, and the female Thor, plus the African American Black Panther. To name a few.
This is the second series by Jenkins for AfterShock, a publisher that was founded last year and whose first comics came out in December. One of those was Replica, by Jenkins and Andy Clarke, about an overwhelmed detective on a space station, who clones himself 50 times for the sake of efficiency.
Then Latina
Another October arrival in her own title will be a Puerto Rican heroine, La Borinquena, who is secretly a college student named Mariso Rios De La Luz. She is the creation of Edgardo Miranda-Rodriguez, who grew up in the South Bronx but whose family is from Puerto Rico.
Miranda-Rodriguez has always found the diversity of heroes a provocative shortcoming, he told Guestines. Said he: "Latinos are underrepresented in all forms of media. If we don't tell our own stories, no one else will."
In 2009, he helped organize "Marvelous Color," an exhibition at the African Diaspora Institute in Midtown Manhattan about the minority superheroes and artists at Marvel. And he started thinking about the heroine who would become La Borinquena.
The inspiration for the Puerto Rican heroine connects the past and the present. Her costume was modeled after the Grito de Lares, Puerto Rico's revolutionary flag from 1868, and her name is the title of the commonwealth anthem of the country.
TRUMP AND TRUDEAU
For nearly 29 years, Garry Trudeau has been ridiculing Donalt Rump, his presidential ambitions, and his soaring ego. At first in 1987 when it all began, reports Michael Cavna at Comic Riffs, the real estate mogul was flattered at Doonesbury's attention. Later, maybe not so much as Trudeau ridiculed him over his treatment of wives and other women, employees and other underlings — and, in general, most anyone (everyone?) he deemed beneath him.
Said Trump on one occasion in late 1988 when it was beginning, finally—after more than a year—to get to him: "There are 210 million people in this country. Why's he have to keep putting me in his strip month after month?"
"Actually," Trump said as Trudeau's persecution of him continued, "—I don't read his stuff. You know, I did pretty well in school, but for the life of me, I still can't understand what Doonesbury is all about.
"They say Trudeau is somewhat clever," the Trumpet continued, "but I'd venture to say that most people are like me: they don't comprehend what Trudeau's trying to achieve with Doonesbury either."
"He's always been impossible to ignore," Trudeau told Cavna in an interview posted on July 5. "It's like having a big, clanking cowbell installed in your head. I've just written four Sundays in a row about Trump, which is insane.
"I figured he'd eventually run," Trudeau went on, "— especially after he got a taste of double-digit poll numbers with his birther campaign. But I also assumed he'd quickly drop out after he'd maximized the promotional value."
Said Cavna: "It's easy to forget that many of the headlines surrounding Donald Trump's current campaign were strikingly foreshadowed. But a stroll down the past three decades of Doonesbury can read like a road map to the billionaire's 2016 candidacy."
Then he lists the checkpoints:
A Trump run for president? Check. Doonesbury first had that covered nearly 30 years ago.
Campaign references to Trump as sexual being? Double-check. The comic strip was dishing that satire back in the last millennium.
Trump University shenanigans? You betcha. Cartoonist Trudeau was on the case more than a decade ago.
And Trudeau's new book, Yuge! 30 Years of Doonesbury on Trump shows the degree to which The Donald himself has been telling us for decades what was on his long horizon; see Book Marquee on down the scroll, where we offer a short harvest of those years. Herewith, we cull excerpts from Cavna's interview with Trudeau.
"By 1987," Trudeau said to Cavna, "he'd already made himself a risible figure in New York. But he was completely harmless, fodder for Spy magazine. The ads were the first 'uh-oh' moment and my response was a kind of reflexive, prophylactic slap-down. The grandiosity was so over-the-top that it would have been comedy malpractice to ignore it. Of course, now we know he was playing the long game. I'm sorry I missed that."
Cavna: You call Trump an "a–hole." Are a–holes any easier to satirize — kind of like how good actors are drawn to playing villains?
Trudeau: Absolutely. "A–hole" has a very particular meaning, one that is universally understood. The a–hole is a demeaning, abrasive bully who takes all the credit and assigns all the blame to others. In my lifetime, we've had several presidents who've disappointed us; we've had a crook, a warmonger, some philanderers, but we've never actually had a president who's a total a–hole. This is where I fundamentally got it wrong; I assumed that the body politic would reject such a toxic personality. It's also why I thought Chris Christie would fail to get traction. Now we face the distinct possibility of having not just one, but two a–holes on the same ticket. That's how I much I know about politics.
Cavna: Has anything about Trump's rise as a candidate changed your sense of much of the electorate?
Trudeau: Yes. I never imagined they could be so easily conned. Here's what the people who love Trump don't understand: he doesn't love them back. I figured they'd be on to him by now. These are folks who feel anxious and left behind by the new economy. Many are struggling. Trump has a word for such people: losers. And he's never had time for losers. He doesn't have time to sit in their kitchens and go to their barbecues and listen to their problems. True, losers in the aggregate — say 12,000 at a time — get him to where he wants to be. But he's always one squirt of Purell away from getting back on his plane so he can sleep in his penthouse. Never has an electorate been held in more contempt by its putative champion.
Cavna: What is your single favorite aspect about Trump for cartoon skewering?
Trudeau: Probably his use of language. An analysis by USA Today concluded that he uses a fourth-grade vocabulary in his speeches, but that doesn't mean he isn't inventive. Who else uses phrases like "nasty with lies" or "win with the military" or "that I can tell you"? I don't do much to tweak his speech mannerisms — I'm more of a stenographer — but there is some art to reconfiguring it for satiric purposes. ...
Drawing Trump is a journey, not a destination. I've been trying to reverse-engineer his hair ever since it was brown, well before he set it on fire to run for president. All cartoonists draw Trump differently because we each have a different understanding of how he achieves his effects, especially now that he's of a certain age. He's been melting for some time now, so we're now down to hulking, gilded bloat and it ain't pretty. But someone has to draw it.
Cavna: Among the many political candidates you've covered and mocked over 46 years, where does Trump rank in that illustrious field?
Trudeau: I can't really compare Trump to other political figures because they're all relatively normal human beings. Trump, on the other hand, is an actual toon, and I've always treated him as such. He's just another character in my strip, and the rest of the cast regard him as a peer. I didn't have to change a thing.
BIG HOOT AT THE DENVER COMIC CON, JUNE 17-19
As is my wont lately, I attended the Denver Comic Con, the fifth such extravaganza here in the Mile High City—and the best so far. "Best" means more in the exhibit area, including a greatly expanded Artists "Valley," the local locution that aims to enhance the convention experience by invoking the mountainous venue. (You can see the mountains from Denver, but the city is not surrounded by them, popular belief to the contrary notwithstanding.)
Reports on attendance varied. The Denver Post, prompted by Con organizers, claimed in advance articles about the Con that over 100,000 were expected—and that the Denver Con was the third largest in the country (Sandy Eggo being first with 130,000; who's second? New York, I suppose). Last year, it was averred that attendance broke 100,000—at 101,500 (besting the previous year's 86,500).
After this year's Con, two numbers surfaced, both ostensibly from the Con management: according to one, 114,500 attended; the other claimed 117,500. If they keep on like this, the DenComCon will surpass the champ, San Diego.
But the numbers are questionable. One former insider told me that the DenComCon inflated attendance numbers by counting a 3-day registrant as three people. San Diego, the same (perhaps disgruntled) former insider said, counted "registrations" not people; so a multiple-day registrant was still counted as one person. If the same counting system were observed in Denver, he said, the final count would be closer to 60,000 than 100,000.
But I question his report of the counting at San Diego, where the attendance is limited by the fire marshal, who cuts it off at 130,000. That's the total number he will permit in the Convention Center on any given day. How does he know what the count will be on any given day if a 4-day registrant is counted only once? Clearly, a 4-day registrant must be counted each day—in effect, as four people.
Well, wrong. San Diego officials confirmed that their method counts a person only once regardless of the kind of badge he has: so a 4-day registrant is counted as one person, not four. But Sandy Eggans don't arrive at their cut-off number by counting, exactly. Instead, they apply past experience and, in effect, estimate the daily count. They have to juggle several factors—how many single day registrants for a given day, an estimated percentage of 3- and 4-day registrants, the number of Con attractions outside the walls of the Convention Center, and so on. Not a job I'm envious of.
I'VE HAD A TABLE in Artists "Valley" at all of the DenComCons, and I do pretty well with sales of my books and other items. One of my gimmicks is apparent in the accompanying visual aid.
The idea is that I'll put a caricature of the victim—er, client—in the blank spot where a head should be, thereby making the client a "big time comic book superhero" or the star of a ribald tableau. Whatever the client wants.
Everyone who passes by and reads the billboard behind my table thinks this is a stunning idea. They usually laugh at the thought. "Great idea," they say. But no one—NO ONE—wants to participate and have his/her caricature inserted into one of the tableaux.
My wife attended for two of the three days, staffing my table so I could make short forays into the exhibit area (called "Merchants Mesa" in another gesture at localizing the Con). This year, comic books were more in evidence than previously. About a quarter of the exhibit booths sold comic books, an encouraging sight what with the name of the convention. No big publishers, though—no Marvel, DC, or Dark Horse. And no Hollywood.
The rest of Merchants Mesa was occupied by merchants selling games, toys, t-shirts, steam punk regalia and weapons, samurai swords, and other accouterments associated with comic book characters. One booth sold colorful socks, striped and polka-dotted but no superheroes. At another booth, you could buy a specially branded DenComCon beer glass for ten bucks—and then, for another seven, fill it with beer.
At "Celebrity Summit," the guest stars of the Con sat at tables and autographed items for their fans, lines of which stretched throughout the area. Stan Lee was there, signing autographs for $100 each.
I also toured the whole of Artists Valley, stopping to say "hello" to Rick Geary (up from his home in New Mexico) and to buy his latest book, Murder at the Hollywood Hotel, which I review further down the Scroll at Book Marquee.
I also came upon Dick Tracy's Joe Staton at his table. He hadn't been at previous DenComCons, and I'd never met him, so I went up to his table, stuck out my hand, and said: "Hi, I'm R.C. Harvey and I've been watching your stuff for forty years."
Shaking my hand, he grinned and said: "And I've been reading your stuff for forty years."
In our exchange of pleasantries, he told me a Staton family story: one Sunday when he was three years old, his folks saw him stretched out on the kitchen floor trying to copy Dick Tracy from the Sunday funnies.
"And now, 65 years later," he concluded with a grin, "I've finally made it: I'm drawing Dick Tracy—for a living!"
He later bought my newest book, Insider Histories of Cartooning (which is shamelessly available for purchase at this site, too). And when he and his wife (who was with him at the table) professed an interest in famed Red Ryder's creator, Fred Harman, I told him a couple stories about Harman that aren't in the book. I regale you with those stories in the next article down the scroll.
THE DENVER COMIC CON is deliberately a family friendly enterprise. It offers more than 300 hours of programming in the Convention Center meeting rooms, and in the middle of the exhibit area is the Pop Culture Classroom Kid's Lab, where kids and their parents participate in drawing games. All profits from the Con go to the Pop Culture Classroom, which, in workshops throughout the year at elementary schools and elsewhere, seeks to foster literacy and creativity by introducing kids to comics and to the process of creating them for themselves, telling stories and devising colorful characters.
Cosplaying is as big a part of the DenComCon as it is in other comic cons, but the DenComCon, in keeping with its family friendly aspirations, has strict rules about what kinds of costumes are not permitted. Here is the "advisory" rules as posted on the Con's website—:
"We ask that people have swim suit coverage with leotard bottom coverage. That means bikini coverage for girls and swimsuit bottoms for boys. No thongs and no "plumber's butt" for anyone. An outfit must provide this level of coverage at all times, whether the attendee is standing, moving or posing. Coverage must be opaque and sturdily constructed with the proper undergarments. Types of coverage that are not sufficient on their own include, but not limited to, sheer materials, very thin materials, tape, pasties, body paint, liquid latex, and prosthetics. Proper coverage must be held to the body by more than adhesives such as, but not limited to tape, prosthetic glue, medical glue, theater glue, fashion glue and fashion tape. Such things may be used to assist in wearing the costume but cannot be the only method for keeping a costume on. The illusion of nudity is still nudity. If flesh colored garments are not easily identifiable from 10 feet away as garments, they do not count towards bathing suit coverage."
Cosplay this year operated under an unaccustomed restriction. One of the Con days was also Gay Pride Day in Denver, and over 350,000 were expected to attend. In the wake of the massacre in Orlando—on the preceding Sunday— security was beefed up, and people cosplaying with fake guns and plastic samurai swords were carefully scrutinized. Those props considered dangerous were confiscated.
Mark Robinette, a comics-collecting friend who helped out at my table, invented a new money-making scheme for me. One of my usual scams is to do a drawing in the "blank" square of the accompanying 4x5-inch prefabricated form. Two bucks each. The customer would get an original sketch, plus a "print" of a Harvey Girl disrobing behind the panel. I'd draw anything the buyer wanted.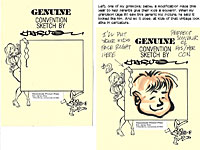 Watching all the families with little kids parade up and down the aisles, Mark suggested that I offer to caricature the kids.
"This is probably the first comic con for these kids," he observed, "—and getting caricatured would make a perfect souvenir for them."
So he began stopping the parents and convincing them to let me caricature their offspring for two bucks. I must've done about 15-20 of them. At two bucks a pop. Fairly
easy to do: except for different hair-cuts, most kids look pretty much alike from a caricaturist's point-of-view. They haven't matured enough to develop truly distinctive features. But they were universally happy with the results.
The only possible problem: "I just realized," Mark said with a furtive grin, "—the kids' caricatures on those forms appear next to a nearly nude woman. No one seems to notice."
For next year, I resolved, I'll develop a special kids' form without a nude woman. Maybe it'll have more rabbits on it. Nude, admittedly—but fuzzy.
STORIES ABOUT RED RYDER'S FRED HARMAN
Cartoonist Fred Harman was an authentic cowboy: he grew up on his father's ranch near Pagosa Springs, Colorado. His home and studio is now the Harman Museum, and I visited it a couple years ago and met the cartoonist's son, another Fred Harman (the Third, the cartoonist's father being the First). One of the family stories is about our Red Ryder Harman's mother.
Once she and her husband were driving home and got stuck in the muddy road. Harman stayed at the wheel of the auto and his wife (the cartoonist's mother) got out and pushed the car. After they'd extricated themselves from the mudhole, a couple of Native Americans showed up. They'd observed the Harmans' predicament and their escape from it. Admiring the behavior of Mrs. Harman, one of the Indians offered Harman five blankets and a horse "for the woman."
Another story has to do with the syndication of Red Ryder. Through the mid-1930s, Harman had been self-syndicating a cowboy strip entitled Bronc Peeler, a lanky dude with a Native American kid as sidekick. Named Little Beaver, the Indian kid was a throughly stereotypical pigeon-speaking character, but in the thirties and forties, our culture was tolerant of such ethnic abuses. Self-syndication wasn't working out all that well (to make a longer story shorter; for the longer version, visit Harv's Hindsight for August 2004, where the whole history of Harman and his cartooning is unveiled), and Harman abandoned his creation in 1938 after a five-year run.
Harman's break came that year shortly after he had illustrated a Big Little Book, Cowboy Lingo, for Whitman Publishing Company. Sam Lowe, Whitman's president, liked Harman's work and recommended an agent in New York, Stephen Slesinger. Slesinger had an assignment for Harman, illustrating a book about cowboys and Indians, and Harman promptly moved to New York and joined Slesinger's art staff, leaving Bronc Peeler turning slowly in the desert wind.
While on staff, Harman may have tried out to draw King of the Royal Mounted, a comic strip produced by Slesinger. But he soon found his metier elsewhere. That summer, as Harman tells it, "Fred Ferguson, president of Scripps Howard's NEA newspaper syndicate, came into the office inquiring about a Fred Harman he had heard about who drew a Little Beaver cartoon. When I stuck out my eager paw and said, 'Howdy—I'm Fred Harman,' he dang near lost his voice in surprise."
At Ferguson's instigation, Harman created a sample Sunday comic strip in which Bronc Peeler was transformed into Red Ryder, and Slesinger negotiated a ten-year contract with NEA. Red Ryder debuted on Sunday, November 6, 1938, its raw-boned redheaded hero in his signature red shirt, white wide-brimmed low-crown hat, and chaps; a daily strip started March 27, 1939.
But this success story has an unhappy underpinning: in arranging the deal with NEA, Slesinger negotiated a 51% ownership of the strip for himself. Harman and the syndicate would split the remaining 49% of revenue. And in that unusual circumstance, Red Ryder was doomed.
The strip was popular enough to provide Harman with a good living, but he aspired to be a painter of the West not a cartoonist. He did Red Ryder for a dozen years or so before his other aspiration got the better of him. In order to pursue his fond dream, he began hiring various artists to draw the strip. He continued to write it for a time, but when he finally wanted to abandon all involvement with the strip except for collecting his 24.5%, he was unable to find anyone who would take it over for the pittance that the Slesinger Deal left for the people who actually produced the strip. So Harman let the strip die in the midst of a still-healthy circulation. And he took up painting in earnest, becoming one of the founding members of the Cowboy Artists of America.
When Slesinger died, the cartoonist's son told me, his father was present as Slesinger's staff, including his wife Shirley, went through his papers. They found therein a letter signed by Slesinger, in which he gives back to Harman his, Slesinger's, 51%.
As Harman contemplated this happy outcome, Shirley said, "Well, good. Let's go to lunch."
When they returned from their repast, the letter had disappeared.
Slesinger's heirs, mostly Shirley, still owned 51% of Red Ryder.
Shirley's machinations did not end with losing the letter. She also held the American rights to Winnie the Pooh, and she spent the last years of her life suing Walt Disney for a share of the revenue from ancillary products manufactured and sold after the Disney Pooh movie was made. She never won that one.
Meanwhile, Harman was active in the Cowboy Artists of America. And he could have been the association's first president, his son told me. He won the election, but another of the founders, his friend George Phippen, had been a candidate and came in second. Phippen had cancer and everyone knew he hadn't long to live. Harman declined the presidency in order that Phippen could be the first prez and have that legacy when he passed on.
PLAYBOY'S "CARTOONISTS"
Yet again, now up to the fifth re-vamped, cleaned up and clothed issue, Playboy isn't publishing cartoons. Not any that we would recognize as cartoons. But as if to make up for the lack, the magazine's July/August "double issue" has several features about cartoonists. (The "double issue" dodge is a fraud: the magazine has 148 pages; normal is 114, so an actual "double issue" would be 228 pages. Yep: they're still trying to cut costs at Playboy. Not that I blame them: the whole revamp adventure was prompted by the red into which the magazine has been plunging for years.)
The magazine's Playbill pages highlight three "cartoonists," only one of whom is an actual cartoonist working the medium in ways we find familiar. Art Spiegelman is aboard but not to draw cartoons: rather, he is extolling the supposed cartoonish merits of Molly Crabapple, whom he calls "artist reporter engage." Her so-called reportage consists largely of quite conventional subjects rendered in a splashy, sketchy Steadmanish manner. She is this issue's "artist in residence."
Spiegelman sees her work as interpreting the visible society in ways that make a personal statement about what she sees: "her journalistic drawings return art to its Goya-like function of announcing, 'I saw this.'" She says: "You take a photo, but you make a picture."
All of which is true, but since her style is more-or-less consistently the same from drawing to drawing, the style makes no such interpretive statement. Therefore it must be the subjects of her renderings that make her an interpretive reporter. But the pictures we are shown do not reveal an opinion about the subjects. They merely depict them.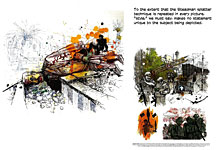 Spiegelman says Crabapple "soon figured out while a struggling art student that comix was a sucker's game. One usually gets paid far less for making lots of illustrations on a page than for drawing just one." Drawing a narrative sequence of pictures—which might actually reveal her opinion of what she is picturing—was more work than she was prepared to commit to. "Comix required a work ethic I didn't have," she told Spiegelman.
And so we have the female version of Steadman.
The third "cartoonist" in this issue is Mike Perry, whose "cartoon" (see below) is a decoration of Rachel Rabbit White's column about getting a hand job at a massage parlor; see below. This is a cartoon?
Daniel Clowes is the un-Playbilled cartoonist in this issue. He gets a two-page article, dominated by a half-page self-portrait. The occasions prompting the article are the appearance of a new graphic novel, Patience, and the arrival on the big screen of the cinematic interpretation of his book, Wilson. We learn, otherwise, that his Eightball's Ghost World continues to be a best-seller for its publisher, Fantagraphics, and that Clowes was shaken to his core by the death of his life-long friend and manager, Alvin Buenaventura. Apart from the monster-size self-portrait, the article offers no samples of Clowes cartooning.
This issue's cover illustration focuses our attention on what used to be Playboy's chief editorial emphasis, and the partially clothed women inside prolong the teasing the magazine has resorted to of late.
The "freedom issue" takes form in a section consisting of twelve prose essays, each only a page long—each facing a full-page illustration. The soul of brevity.
One of the essays is Hugh Hefner's, who expresses his tentative approval of the Republicon Party's emerging embrace of sexual freedom—a tendency that may during the forthcoming convention take the form of a platform plank supporting gay marriage . But, he cautions: "We must remain vigilant. Not all conservatives are willing to recognize that they have lost the war over our sexual rights."
Throughout this issue, the magazine continues marching to the tune of its new layout and format policies—short articles (only a couple are more than a page long) surrounded by great gulfs of white. The longest article in this issue is an interview with Ta-Nehisi Coates, the new spokesman for Black Rights who is also writing Marvel's Black Panther series. The article is depressingly festooned with "fuck" and "shit," which Coates dispenses as punctuation marks.
According to interviewer Bomani Jones, Coates is "thirsty for challenges, and that's why he agreed to write the comic book."
Said Coates: "Reading comic books taught me the beauty of poetry." But the work is hard.
"Things don't just flow out of your brain," he told Jones. "It's not like, Hey, I'm brilliant. Show up, paper right here, bam, another banger. No—you sit and you struggle with yourself and you stop cutting your hair."
IT'S FRIDAY AGAIN
That Iowa farmer/cartoonist who was fired for drawing an editorial cartoon critical of one of his newspaper's advertisers? He's back at Fort Dodge's weekly Farm News. And he says he's happy to be back. Rick Friday had been a fixture at the paper for over 20 years with his It's Friday cartoon, and the national notoriety the paper attracted for firing him made the editors confront second thoughts—a remarkably unusual occurrence among editors who may regret publishing a cartoon that earns them criticism. But these guys were courageous enough to admit their mistake. They phoned the cartoonist, apologized, and asked him to return. Some negotiations ensued, and then on July 1, his cartoon returned. At the website, a message: "Farm News is delighted to announce the return of cartoonist Rick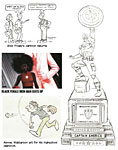 Friday. Beginning today, his witty insight will regularly return to its home on our editorial page and our website.Welcome back, Rick."
Getting fired brought fame to Friday from across the country, reported Charly Harley (from whose report I culled most of these words)— including articles in the Columbia Journalism Review and The New York Times. Friday said he received more than a thousand Facebook messages of support from around the world and has had job offers to draw for several different publications. He'll be attending to some of them whilst still producing his weekly visual comment for the Farm News.
ODDS & ADDENDA
Noel Neill, who played Lois Lane to Kirk Alyn's Superman in the 1948 movie serial (and reprised the role to George Reeves' Man of Steel in the 1950s tv "Adventures of Superman"), died at the age of 95 on July 3.
■ Marvel is bringing on a new Iron Man. A woman. A black woman. They're still working on the armored avenger's new name, Eliana Dockterman reported at Time.com—Iron Man clearly won't work anymore. This is another of Marvel's many steps lately at creating racial and gender diversity in its line-up. Thor, you'll remember, is a woman now. Then we have Jessica Jones, Miles Morales and Maria Hill. So why not Iron Man? The new Golden Avenger, Riri Williams, is a science genius who enrolls in MIT at the age of 15 and builds her own Iron Man suit in her dorm. All I've seen is the picture nearby (culled from ICv2), and I don't think this'll work: how will Riri fit her afro into the Iron "Man" helmet? And she won't be nearly as cute when she's covered up with the red and yellow clank suit.
■ For the Captain America's 75th anniversary, Marvel is unveiling a 13-foot-tall bronze Cap at San Diego Comic-Con before it heads east on a cross-country trip and lands in Brooklyn's Prospect Park for a dedication ceremony on August 10. The statue, which literally weighs a ton saith Brian Truitt at USA Today, features the movie quote "I'm just a kid from Brooklyn" — from "Captain America: The First Avenger"—and features a pose (which you can see in the visual aid above) "symbolically chosen to showcase the impressive strength of Captain America and his stoic form." Marvel's social-media channels will keep fans apprised of where Cap is along his post-Comic-Con route via Instagram photos as well as Twitter and Facebook updates. And Comicave Studios — which designed the statue with Marvel artists — will be selling a limited-edition line of 750 12-inch bronze replicas and 100-made-to-order 35-inch pewter ones for Cap aficionados to show off at home.
■ Some early art by Calvin and Hobbes creator Bill Watterson has surfaced, reports Joe Blevins at avclub.com. As a student at Chagrin Falls High School in the suburbs of Cleveland, Watterson contributed drawings to the Chagrin Falls' 1976 yearbook, the Zenith. "Amid the caricatures of various Chagrin Falls staffers are characters who look (Blevins avers) very much like prototypes for Calvin, Hobbes, and even Calvin's parents. (Well, not quite; Blevins is getting carried away with himself.) A copy of the 1976 Zenith wound up on PBS' Antiques Roadshow, alongside some other artwork from Watterson's high school years. In the aforementioned visual aid, we've posted a couple examples.
Fascinating Footnit. Much of the news retailed in the foregoing segment is culled from articles eventually indexed at rpi.edu/~bulloj/comxbib.html, the Comics Research Bibliography, maintained by Michael Rhode and John Bullough, which covers comic books, comic strips, animation, caricature, cartoons, bandes dessinees and related topics. It also provides links to numerous other sites that delve deeply into cartooning topics. For even more comics news, consult these four other sites: Mark Evanier's povonline.com, Alan Gardner's DailyCartoonist.com, Tom Spurgeon's comicsreporter.com, and Michael Cavna at voices.washingtonpost.com./comic-riffs . For delving into the history of our beloved medium, you can't go wrong by visiting Allan Holtz's strippersguide.blogspot.com, where Allan regularly posts rare findings from his forays into the vast reaches of newspaper microfilm files hither and yon.
FURTHER ADO
From a Birthday Card: "We may be getting a little older physically, but mentally, we're still tarp as shacks."
"The United States was founded by the brightest people in the country—and we haven't seen them since."—Gore Vidal
"A mistake is simply another way of doing things." —Publisher Katharine Graham
The thing I don't like about Taylor Swift is that she looks like a chipmunk. A chipmunk with lipstick, but a chipmunk still. People ought not to look like chipmunks.—RCH
SOCIAL MEDIA, FREEDOM OF SPEECH, AND EDITORIAL CARTOONING
Ann Telnaes, editorial cartoonist for the Washington Post and a person I am delighted and proud to call friend, discussed recently the implications for her profession of the social media reactions to the notorious "Ted Cruz monkey children" cartoon she drew last December. Her article, which appeared at the Columbia Journalism Review website on June 29, 2016, appears down the scroll. As background, I'm reprinting forthwith the report I filed in my online magazine, Rants & Raves, Opus 347, last winter; here it is—:
Cruz Makes a Monkey of Himself
A week or so before Christmas, Republicon prez candidate Ted Cruz released a self-glorifying tv campaign ad in which the Texas senator and his wife sit on the family couch while attentive, loving father Ted reads Christmas stories to his two daughters, ages 5 and 7, from books with such parody titles as How Obamacare Stole Christmas and Rudolph the Underemployed Reindeer and The Grinch Who Lost Her E-mails. At various intervals during the ad, viewers are invited to send in donations to obtain their very own copies of the books.
At the end of the bedtime reading, the older of the two daughters speaks up, gesturing and pointing and turning her head dramatically from left to right and back again and again, calling Hillary a grinch and attacking her about her e-mail server. The words she speaks are clearly not her own: she's reciting lines written for her (perhaps by her doting father?). Hers is a Shirley Temple imitation, but, as one viewer reported, the girl looks more like she's auditioning to be the next Money Boo Boo.
A few days later—on December 22—the Washington Post's Ann Telnaes, a Pulitzer-winning cartoonist, posted the cartoon displayed hereabouts, depicting candidate Cruz as that old time entertainer, the sidewalk organ grinder, whose monkeys are trained to dance in tune with the music the organ grinder grinds out—a virtuoso image of precisely what Cruz does in the tv ad.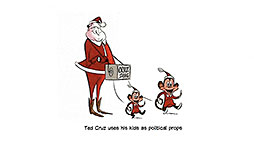 Telnaes' Post cartoons are always animated, so in this one, Cruz the organ grinder grinds his organ and his monkeys dance around. To me—and to any but the most fevered Right Wing-Nut viewer—the cartoon is attacking Cruz for turning his daughters into trained performers— monkeys— for the amusement of the passing multitudes.
Cruz, of course, did not see it that way.
To him, Telnaes was ridiculing his daughters, not their father. He began at once frothing at the mouth with protective paternal rage —while at the same time rubbing his hands with mercenary glee. He was outraged, he said as loudly as he could, that his kids would be used as political fodder by an editorial cartoonist.
Telnaes acknowledged that the children of politicians are typically off-limits, but in this case, since the politician had used his kids as political commentators, satirists even, not just as members of his family, depiction of the girls was fair.
Cruz didn't bother to disagree: he was busy sputtering outrage and then, in an ingenious effort to turn lemons into lemonade, asking his supporters to donate a million dollars within 24 hours so he could send the Post a message. He sent them all an e-mail with Telnaes' cartoon in it, calling it evidence of the liberal bias of the news media. Tea Baggers lapped it up.
Suddenly, Telnaes' editor, Fred Hiatt, yanked the cartoon, offering this lame explanation: "It is generally the policy of our editorial section to leave children out of it. I failed to look at this cartoon before it was published. I understand why Ann thought an exception to the policy was warranted in this case, but I do not agree."
The news of Hiatt's action spread quickly through the small but vociferous editooning community, inspiring a host of reactions—all supporting Telnaes. I do, too, in case it's not obvious by now from the tone of my voice. Quite apart from my being a friend of hers, I think this cartoon, like most of hers, is brilliant. The visual metaphor is apt for depicting what Cruz is doing and thereby is perfect for criticizing Cruz's sleazy campaign tactics, exploiting his children for political advancement—not only with the original parody ad but in the subsequent solicitation for funds to attack the Post.
With the foregoing as context, here is Telnaes' June 29 article follows herewith, verbatim as it appeared in the Columbia Journalism Review website—:
How Social Media Has Changed the Landscape for Editorial Cartooning.
By Ann Telnaes
"You filthy kunt…a baseball bat to your head is now due."
"HOW FUCKING DARE YOU CUNT. GET THE HELL OUT OF THE BUSINESS…"
"Bitch, your days are numbered."
"Do the world a favor, go hang yourself"
"I hope you get raped to death"
I stood frozen in front of my computer, watching my Twitter feed roll like a slot machine reel. My editorial cartoon criticizing then-presidential candidate Ted Cruz for his decision to have his 7-year-old daughter read from the script of a political attack ad had just been published online by the Washington Post, and four days of continuous emails, tweets, and comments had begun.
Since my cartoon ran in December, I've thought a great deal about the role of social media in stoking the resulting outrage. Although passionate criticism over a provocative cartoon isn't new, the introduction of social media into politics and election campaigning has dramatically increased the speed and intensity of those reactions, and the repercussions for the editorial cartooning profession. This has been especially true during the volatile 2016 presidential campaign.
Editorial cartoonists are a thick-skinned group; we're used to getting negative feedback from irate readers telling us we're idiots and how terrible our cartoons are. Many of my colleagues have received death threats as well—but this was different. In my almost 25 years as an editorial cartoonist, I have never received the level or amount of misogynistic vitriol I did over that cartoon. In addition to comments like the ones above, I was Twitter trolled, my archived cartoons doctored, and my photograph tweeted with the caption: "Makes fun of Ted Cruz's children, aborted all of her own."
Visual metaphors are an important component of editorial cartooning. They are the language we use to convey our point of view. The visual metaphor in this cartoon was an organ grinder, an early 20th century street musician who used leashed animals, usually monkeys, to collect coins from appreciative audiences. Because the point of my cartoon was to criticize Cruz's decision to exploit his children for political gain, I drew him as a campaigning organ grinder with performing monkeys. This important part of the cartoon was lost immediately in the social media outrage fueled by tweets and comments from the senator and his supporters that mischaracterized the cartoon as attacking his daughters.
The Washington Post pulled the cartoon within hours and replaced it with a note from Editorial Page Editor Fred Hiatt, saying, "It's generally been the policy of our editorial section to leave children out of it." That was when the Cruz campaign reprinted the cartoon in an email asking for political donations to fight the "vicious personal attack on my daughters."
My colleague Joel Pett of the Lexington Herald-Leader had a similar experience last year with a cartoon criticizing Kentucky Governor Matt Bevin for his opposition to the resettlement of Syrian refugees—Bevin had claimed there was a possibility of terrorists entering the state. He called the cartoon racist because it mentioned his adopted children from Ethiopia, and he issued a statement condemning the newspaper for its racial intolerance and for attacking his kids. An online right-wing group picked up the story and continued the misrepresentation of the cartoon's intent.
For 36 hours, Pett and the Herald-Leader received phone calls, emails, and social media messages demanding apologies. Pett and his editor responded that the cartoon was not racist. [A portion of my report on this matter last November appears down the scroll.—RCH] Pett's experience, and mine, underscore how social media has changed the landscape for editorial cartooning—how it is being used as a tool of intimidation by interest groups and campaigns to try to silence criticism.
Through social media they can quickly mobilize their supporters and distribute misinformation, allowing mob mentalities to spread as soon as a cartoon is posted online. The medium is lightning fast and provides the protection of anonymity.
Add a news media that seems to value clickbait over presenting context about the editorial cartooning craft and often parrots the inaccurate characterizations the campaigns' supporters spread, and you might as well paint a red bull's eye on the cartoonist's back.
During my four-day marathon of emails and tweets, I was trolled by a well known conservative cable news commentator who characterized my cartoon as attacking children and tried to bait me with insulting tweets. A member of the Cruz campaign communications team also trolled me, crowing that their "folks pushed back hard," and "we won" after the cartoon was pulled. (Ironically, months later that same person was trolled herself with sexist tweets from Trump supporters.)
In the glut of coverage, most news outlets didn't bother mentioning or showing the part of the video where Cruz had his daughter read from his political attack ad's script. Except for a couple of print articles, including an informative piece by the New York Daily News that offered much-needed historical perspective about editorial cartooning, there was practically no coverage that explained what an editorial cartoon is supposed to do or the importance and use of visual metaphors. Instead there was outrage and talk about monkeys and children.
Many of my cartooning colleagues pushed back with thoughtfully-written (and cartooned) arguments about the purpose of an editorial cartoon; had they not done so, I would have faced the equivalent of being tarred and feathered, with cable news talking heads leading the way with torches.
LET ME BE CLEAR: Even in the face of this kind of attack, I am not advocating limiting people's right to speak, however obnoxious and offensive the language is (threats are not included in this; threaten bodily harm, and that's where your free speech ends). I would much rather have an abundance of stupid, ignorant speech (as this political season is giving us) than watch a slow slide into self-censorship and possibly worse for my profession, with cartoon police deciding what can or cannot be drawn. I have spoken out publicly in support of cartoonists to freely express themselves without fear of imprisonment or threats, including the Danish cartoonists in 2006 and the Charlie Hebdo cartoonists in 2015, both of whom published cartoons of the prophet Muhammad.
The big worry for editorial cartoonists these past several years has been the widespread loss of staff jobs as newspapers fold or choose to eliminate their cartoonist in favor of buying syndicated cartoons. Finding paying work online remains problematic for cartoonists.
But the much bigger danger now is the use of social media to intimidate and silence because it attacks the satirical core of what makes a cartoon an editorial cartoon. If we're being harassed and pressured not to aim our pens critically, we won't be able to call ourselves editorial cartoonists much longer—we won't be able to create anything but mushy, uncontroversial drawings.
How should the journalism community protect cartoonists so they can do their jobs? We need to educate and be ready the next time a cartoonist aims his or her satire against a thin-skinned politician or interest group looking for an opportunity to manipulate fair criticism. Be aware when a false narrative is being presented to deflect the actual intent of a cartoon; talk to your editors and come up with a plan to counter the misinformation.
Instead of just hopping on the social media outrage bandwagon gathering clicks, media outlets need to do their homework, explaining the role in holding powerful people accountable that editorial cartoonists have had for centuries in America. Educate yourself about the components of an editorial cartoon, and how satire, irony, caricature, symbols, and visual metaphors all contribute to its makeup.
The US Supreme Court affirmed the essential role of editorial cartoons in a democracy when it ruled in the 1988 Hustler v Falwell case that satire is speech protected under the First Amendment. "Despite their sometimes caustic nature, from the early cartoon portraying George Washington as an ass down to the present day, graphic depictions and satirical cartoons have played a prominent role in public and political debate," conservative Chief Justice William Rehnquist wrote in the majority opinion. "From the viewpoint of history it is clear that our political discourse would have been considerably poorer without them."
We might be wearing the metaphorical funny hat, but we take our jobs as journalists very seriously. It has been said cartoonists are on the front lines of the war to defend free speech. Don't make the job easier for the social media lynch mobs by ignoring the threat their attacks pose to that freedom.
Ann Telnaes creates editorial cartoons in various media— animation, visual essays, live sketches, and traditional print— for the Washington Post. She won the Pulitzer Prize in 2001 for her print cartoons in the Los Angeles Times. Her print work was shown in a solo exhibit at the Library of Congress in 2004. That same year, her first book, Humor's Edge, was published by Pomegranate Press and the Library of Congress. A collection of Vice President Dick Cheney cartoons, Dick, was self-published by Telnaes and Sara Thaves in 2006. She is the incoming president for the Association of American Editorial Cartoonists (AAEC).
And now...
Editoonist Joel Pett's run-in with his state's Governor-elect over an editorial cartoon was reported in Rants & Raves, Opus 346, the pertinent parts of which are—:
MORE RACIST NONSENSE FROM THE RIGHT
Kentucky Governor-elect Matt Bevin has come out in opposition to resettlement of Syrian refugees in his state. Like many timorous Americans, he imagines terrorists lurking in the displaced multitudes. In response, Lexington Herald-Leader editorial cartoonist Joel Pett did a cartoon depicting Bevin as scared of his own adopted children who are from Ethiopia.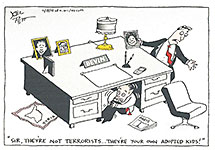 With my liberal bias, I see Pett's cartoon as taking Bevin's so-called "thinking" to its logical extreme: Bevin is being ridiculed as so fearful of Islamic hooligans infiltrating the ranks of Syrian refugees that he quakes even at photographs of his own adopted children from a Muslim country. (He has nine children, four of whom are adopted.) Bevin chose to respond to the cartoon by accusing Pett of racism:
"They say a picture is worth a thousand words," Bevin wrote. "Indeed, today, the Lexington Herald-Leader chose to articulate with great clarity the deplorably racist ideology of 'cartoonist' Joel Pett. Shame on Mr. Pett for his deplorable attack on my children and shame on the editorial controls that approved this overt racism. Let me be crystal clear," he added, "—the tone of racial intolerance being struck by the Herald-Leader has no place in the Commonwealth of Kentucky and will not be tolerated by our administration."
Jack Brammer at the Herald-Leader said that Bevin did not elaborate about how his administration's intolerance of the newspaper's racism might be manifest.
I suspect that Bevin's anger was inspired as much by Pett's invasion of his children's privacy in the cartoon as by any political comment inherent in the ridicule—even though Bevin has used his children as political props when running for office. And Bevin is also seizing the opportunity to make a few political points about his administration's posture on racism while attacking an opponent, Pett. Even if I understand his motivation, I don't approve of it.
In a telephone interview, Pett said he was not a racist. "When Bevin has time to think about it—and there will be recurring criticism of his administration—I think he will view things differently." He said he would "chalk up Bevin's reaction to inexperience on his part."
The Herald-Leader subsequently published a full response by Pett, full of sarcasm and truth. You can see it all at RCHarvey.com, Rants & Raves, Opus 346.
FUNNYBOOK FAN FARE
Four-color Frolics
An admirable first issue must, above all else, contain such matter as will compel a reader to buy the second issue. At the same time, while provoking curiosity through mysteriousness, a good first issue must avoid being so mysterious as to be cryptic or incomprehensible. And, thirdly, it should introduce the title's principals, preferably in a way that makes us care about them. Fourth, a first issue should include a complete "episode"—that is, something should happen, a crisis of some kind, which is resolved by the end of the issue, without, at the same time, detracting from the cliffhanger aspect of the effort that will compel us to buy the next issue. A completed episode displays decisive action or attitude, telling us that the book's creators can manage their medium.
HOWARD CHAYKIN is back with Midnight of the Soul, featuring another of his grim-looking stalwart heroes, this one, Joel, a severely damaged veteran of World War II, a wannabe writer who's not making it. So he drinks, supported by his wife, Patricia, who works nights as a court reporter. In one of the book's completed episodes, our hero quarrels with his wife, who, after five years of supporting them both, is tired of it and wants him to give up his failed writing career and find a real job. He refuses. And then after she's gone, he inadvertently discovers salacious photographs of his wife that reveal that her "night job" is apparently that of stripper and whore.
The narrative then shifts to the wife, and Chaykin offers one of his notorious sex scenes with the wife performing oral sex on an African American client. This interlewd (sic) is interrupted by a man who shoots and kills the guy; Patricia escapes through the window. We see the gunman's face, but not clearly enough to determine if it's Joel, the writer.
Then we're back in Joel's home, where he's gearing up to go confront Patricia at her place of nocturnal enterprise. He relives a moment from WWII in a flashback that repeats a couple pages from the book's opening sequence. Then he dresses in black leather and rides off on his motorcycle.
Given the rapid back-and-forth shift of scene in the closing episodes, it's not clear whether the scene with the shooter is a "flash forward" with Joel doing the shooting. Are the last pages, showing him dressing in black and mounting his motorcycle, a "flash back" to moments before he shoots his wife's lover? Or not.
I'll buy the next issue because I want to know how Chaykin extricates himself and his hero from this puzzling circumstance. But Chaykin's drawing style no longer appeals to me. In recent years, he's taken to pulling up detailed backgrounds from some computer warehouse of background scenes, tinkering with them a little, coloring them, and then superimposing on them drawings of his characters. The resulting imagery is pretty sterile-looking whenever it is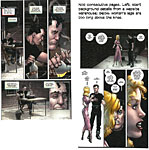 not simply overwhelmingly detailed in the manner of a draftsman's rendition.
But he has at last abandon the formulaic page layouts he was using in previous books—every page ending with a tight close-up. He does a little of that here but varies the size and array of panels more than he was wont to in previous outings.
His way of picturing the faces of his characters is Chaykin-standard to the point of sterotype. If it weren't for hair coloring, all his men would look alike; ditto his women. And he's seriously misinterpreted female anatomy: his women have legs that are too short from the knee down; too long from the knee up.
THE FIRST ISSUE of Renato Jones: The One % is, we are assured several times throughout, "created, written, drawn, colored and owned by Kaare Kyle Andrews," of whom I haven't heard a whit. But then, I don't get out much. In any case, Andrews has a perfect right to blow his own horn: the book is extravagantly, delightfully, energetically, pleasingly drawn, Andrews deploying a bold almost inflexible line and plenty of shadowy black, resorting, on some pages, to stunning stark black-and-white.
The narrative is a little hard to follow. It consists of three strands: the early nightmare childhood life of Renato Jones, an abused rich scion; the excesses and abuses perpetrated by a greedy, self-absorbed "one percent"; and the punishment/revenge rained upon the latter by (we think) the former, who has grows up into a masked vigilante called the Freelancer.
Through the book, the narrative jumps back and forth from one strand to another, which necessarily involves leaping from one time to another. There are no objective narrative captions: the captions are the thoughts of the Freelancer as he reviews the events of his childhood and present endeavors. Without explanatory captions, it's a trifle difficult to sort it all out as we go along, leaping back and forth. But the words are infected with a revolutionary fervor, and the pictures are exciting forays into extreme action arrayed in imaginative layouts.
In the completed episode, young Renato kills his cruel stepmother (a bloated fat woman who acquired him after his real mother was killed), whose cruelty justifies her demise. Her man servant, Church, explains: "This isn't murder. This is payment for one's misdeeds. It is restitution."
At the end of the book, the Freelancer kills a highly objectionable member of "the one percent," Douglas Bradley, saying: "You are an abuser of women. You are a sadist and a murderer. You've built yourself a luxury yacht that floats on horrors."
Bradley, groveling, screams: "Dude—they're not even people."
"Choke on this," says Freelancer, shoving a monster gun into Bradley's mouth and blowing him away.
On the last page, the Freelancer says: "They've destroyed this country. They've imprisoned the masses. They have escaped prosecution and judgment. But they won't escape me."
The next issue continues in this vein. We catch a few glimpses of Renato's childhood again, but the Freelancer, posing sometimes as the deceased Douglas Bradley to gain access to privileged circles, goes after another of the bloated rich, Christopher Baal, who, at the end of the book, the Freelancer blows away with his patented sentence of death—"Choke on this."
The series seems driven entirely by Andrews' detestation of "the one percent"; he's turned his passion into powerful pictures telling a horrific story. Between revenge killings, the pages quiver with rants against the very wealthy: "They've run our economy into the ground, destroying jobs and opportunity. They've taken homes from families. Turned the middle class poor and the poor into felons. They've stolen, thieved, bribed and killed But the Ones have bought their way out of judgement and persecution. Today, 62 people own as much as half the world. With that
kind of money, that kind of power, how can anyone stop them? How can anyone make them pay? Who will make them pay?"
The Freelancer, of course.
This may not be the first comic book infected with a hard-breathing political message. But its politics are not at all veiled. They're out there, plain and simple, for all to see. And Andrews' powerful drawings carry the message from page to page.
MATT WAGNER, having reached the end of the Spirit string (see next review), turns his attention to another icon of the 1930s and 1940s—the Shadow. He's scarcely the first to try to resurrect this popular figure; most of the rest who've tried have failed. And the reason is simple: this is no longer the 1930s and 1940s. Our sensibilities are different; life has moved on. And the Shadow belongs in the past. But Wagner, drawing here as well as writing, is trying again.
Under the heading "The Death of Margo Lane," the story is related by Margo herself—"the baffling case of the Red Empress." The Shadow, despite his best efforts, is unable to halt the expansion of crime from Chinatown into the rest of New York, so he (as Lamont Cranston, with Margo, "friend and companion," in tow) goes to China. As they return on a leisurely voyage, they decide that the Red Empress is deliberately provoking the Shadow's attention, hoping to trap and kill him.
While strolling the deck, they are attacked by two thugs, who have no apparent object in mind but the death of the couple. The Shadow, however, clouds their minds, disappears, and makes one thug think his cohort is Lamont Cranston. Naturally, the former shots and kills the latter, and then Cranston re-appears and persuades the killer to cast himself overboard.
In this complete episode, we see the resourcefulness of Margo and of the Shadow—and Wagner gives us a good look at the Shadow's powers.
When they return to New York, they are immediately attracted to the case of an abducted shipping heiress because, they explain, the shipping firm is somehow connected to a plot originating in Shanghai, hence, probably of the Red Empress's devising. Or so we suppose.
The Shadow finds the captive heiress, bound and gagged in a warehouse, but is himself trapped before he can rescue her. End of issue.
Like many who have attempted to revive the Shadow, Wagner tries to include in his tale some of the ingredients of the novels as well as the radio program. In the novels, the Shadow (like another 1930s hero, whose revivals usually fail, Doc Savage) is assisted by a band of agents; none of them show up in the radio version—with good reason, I think: their presence detracts from the Shadow as the central, functioning hero.
Wagner devotes four pages here to the investigation by a newspaper reporter named Clive Burke, who is an agent of the Shadow. Atmospheric as this sequence is—darkened streets and alleys—it adds very little to the narrative and slows it down. Wagner should haven taken the hint supplied by the radio scripters: focus on the Shadow and leave his minions behind.
Wagner's drawings are competent, but his layouts and breakdowns are often static and unimaginative. And his rendering of people is as stiff as his drawings of buildings (a lot of that, nicely moody and atmospheric but, still, stiff as a wall).
Despite the cliched cliff-hanger ending of this issue, I won't be back. The story requires too much verbal explication, and the pictures are as boring as the verbiage.
EIGHT PAGES OF THE 30-PAGE last issue of Matt Wagner's Will Eisner's the Spirit —a quarter of the book—are devoted to a puerile poetic memoir of her life by Sachet Vaas, the beauteous daughter of a powerful Nazi personage, Mikado Vaas. They have moved to the U.S., where they are behaving in criminal fashion, but this lengthy introduction is hardly justified by the remainder of the tale, which, instead of following up with a story that brings the Vasses into conflict with the Spirit focuses instead on the Spirit as Vaas's captive and his eventual escape, which is achieved by others, the Spirit almost entirely inert the whole time. The Spirit, the book's title character, spends all but a few pages at this issue's conclusion helplessly bound to a chair, his feet soaking in a pan of solidifying concrete.
Having not followed at all Wagner's stint on the Spirit—after finding the first issue a lame and boring effusion (see Opus 342)—I must concede, here, that this issue, No.12, may be the conclusion to a story that began in a preceding issue. So I'm ignorant of some of the ramifications of that issue that are acted upon in this one. Even allowing that excuse, however, I find this issue just another instance of Wagner's misinterpretation of Eisner's storytelling genius.
Eisner's stories often focused on minor transient characters who crossed the Spirit's path at crucial moments of their lives. But not always. And Wagner has a little too enthusiastically deployed this device in two of his dozen Spirited forays, the first and the last.
As in his first issue, Wagner gives most of the action here to Sammy Strunk and Ebony White, the Spirit's assistants, who arrive at the lair of Vaas to rescue the Spirit, who finally gets into action (albeit highly contrived and unlikely action) for four of the book's remaining pages
—only to fail in capturing Vaas.
The Spirit then makes a pointless visit to Sachet in jail, where she tries to seduce him into freeing her. Doesn't work. Then the Spirit and Ebony and Sammy go to a graveyard where they dig in the dirt and work on concrete blocks of tombstones. The Spirit says, "It's good to be alive"—despite having failed to capture Vaas. An upbeat ending to the 12-issue series, but also wholly unsatisfactory: without having captured Vaas, the Spirit's joy at being alive somehow rings hollow.
Several inexplicable scenes suggest that this issue concludes a narrative began previously. Otherwise, how did Sachet go from being a poet at the onset to being a jailbird at the end? Who is it who climbed over her garden wall at the conclusion of her preambulatory poetry? Who is Francis "Boulder"? Who is the traitor at the police station? And why? And who is Dolan, who makes a magical appearance mid-way through the book, rescuing from what?
The book is distinguished by only a couple of sequences (both of which appear in the accompanying visual aids). Drawn by Dan Schkade, the pictorial content is entirely adequate.
Some of the panel composition and page layouts are a little too static for my taste, but they are better than Wagner himself could have engineered (judging from his work on the explored Shadow book). The best thing in the issue is not in it but on it—Eric Powell's Goon-like Spirit on the cover.
But I'm being a little unfair. This issue is better than the first. Some of the blundering layouts of that issue have been eclipsed with some neatly achieved sequences in this issue. But I'm still glad that Wagner will no longer be tampering with Eisner's iconic creation. Not that Eisner would object to what Wagner is doing: Eisner had already given up to others authority over the Spirit's life and adventures, and the cartoonist sat back and enjoyed watching what others might make of the character. So he wouldn't mind.
Quotes & Mots
From Steven Wright—:
Okay, so what's the speed of dark?
How do you tell when you're out of invisible ink?
When everything is coming your way, you're in the wrong lane.
EDITOONERY
The Mock in Democracy
Workin' on my Trumpster and Hillarious caricatures in preparation for the forthcoming General Election. I like Trump's hair here: looks more like an extraneous layer of hardened foam, not actual hair—just like the real thing, in other words. And Hillary is sharpening up, too. Or so I've persuaded myself.
I look at these things again upon posting them, and I'm frankly amazed. They both seem to me to be awfully good. And yet I drew them both in a matter of minutes. Trump, seconds. In pencil, so relaxed, so spontaneous appearing. Just a line here, a line there. Done. If I could draw that well every time I picked up a pencil, I'd try to make a living at it.
I think I can improve on Hillary, but Trump (forgive me for ferocious self-adulation) is perfect. And I did it in seconds. I astonish myself. I'm not this good very often, so now, in my dotage, I enjoy it. But Trump, of course, is easy: he's a walking caricature. His face, his hair— a cartoonist's dream.
ONE OF THE GUN KILLINGS this month assumed a somewhat different shape than usual: in Dallas, it was a black man shooting and killing white men. We should have seen this one coming. African Americans are getting fed up with being killed by white police, and in a gun culture like ours, the consequences are predictable: blacks eventually get guns and kill whites. I'm not applauding or recommending it. Shooting each other is not the way to achieve peace, liberty or the pursuit of happpiness.
Fortunately, the post-massacre conversation after Dallas was also somewhat different than usual. Not so much about gun control. Suddenly, the focus was on what to do about racism not guns. This evolution may have beneficial effects: eventually, we may shift the debate to the culture of violence and how to change it.
Cartoonists have a tough time with tragedies of this kind. A simple drawing usually cannot adequately capture our reactions to such things. In our first visual aid, Nick Anderson tries hard, presenting a heart-rending image—namely, a broken heart.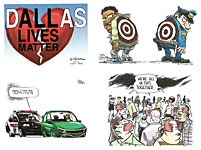 And he also finds a heretofore unanticipated meaning in the name of the massacre site.
Other cartoonists confront the dilemma: what to do. Daryl Cagle offers no solution: instead, he presents a portrait of our violent times. A somber image, it makes us pause. And maybe think. Tom Eagan goes for an even more profound image. The solution to our racism problems, we've heard often, is to listen to each other. And talk among ourselves. "We're all lin this together," Eagan's cartoon proclaims—but, in a supreme irony, none of the people in his cartoon can "see" the others. We're together, but we're blindered: we cannot understand each other.
At the lower left, Steve Benson provides a terrible seemingly true comment, recalling the killings in Minnesota and Louisiana, the killings that prompted the demonstration in Dallas that ended so tragically.
But the Orlando massacre earlier in the month flushed a bevy of gun talk again. New calls for greater control; fresh gun advocacy by the National Rambo Association and its adherents. Nick Anderson gets us started in our first visual aid with an editoon in comic strip form, a format that permits him to pile up his indictment of the NRA position until it reaches its ludicrous logical conclusion.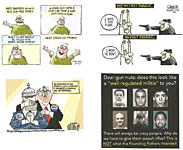 His indictment gains power from the crazy clownish appearance of the gun advocate.
Incidentally, although the Wild West of American mythology seems steeped in gun violence with shoot-outs occurring on main streets in every town and hamlet, those shoot-outs are of Hollywood origin; they never happened in real life. Most shootings and deaths by gun occurred in saloons where, under the influence of strong drink, the participants decided to settle their arguments with bullets.
Next around the clock, Jeff Stahler makes an excellent point in a two-panel cartoon that repeats the image but changes the thought. Below Stahler is another kind of pictorial editorial comment—photos of the crazy guys who have committed several of the gun killings of late. No, we can't tell who's criminally nutso enough to commit the next mass murder. And that's the problem. But judging from this evidence, the mass murderers are likely to be not just a little deranged.
And at the lower left, David Fitzsimmons returns us to the world of editorial cartooning by manipulation of imagery. The "moment of silence" is created by the NRA, the threat of whose retaliation effectively muzzles the Republicon majority in Congress. The diminutive bird at the corner of the cartoon adds a revelatory footnote: "A moment that will last as long as the checks keep coming."
The bird, Fitzsimmons tells me, is a quail, native to the Southwest, where Fitz lives (Tucson, Arizona) and works (Arizona Star). He'd been using the tiny quail in his weekly local culture cartoons, and after that try-out, he moved the bird to his editorial cartoons. "He seemed a good fit when an editorial cartoon would call for a second rimshot observation." A discovery that Pat Oliphant made with another bird, a penguin, several decades ago. (And that I, even I, made with a rabbit in gag cartoons before I had seen anything of Oliphant's.)
In the next exhibit, Rob Rogers continues in the same vein as the earlier cartoon by Fitzsimmons.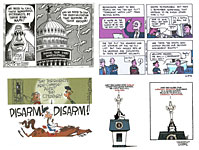 He moves a little further in his condemnation by going beyond just the NRA to include anyone, not just NRA supporters, who is a "radical gun lobby worshipper." The cartoon also takes a poke at those who see mosques as hotbeds of radical extremism. To the immediate right, Ted Rall uses a comic strip format to explain the reason for not using the "Do Not Fly" list as a roster of people who can't buy guns: the list includes many "false leads"—persons who, upon subsequent examination, aren't threats at all. Much as I hate to agree with that argument, it makes sense to me.
Years ago during the hijacker fad, I was pulled out and "wanded" because my itinerary fit a hijacker profile. Since I did a lot of travel in those days, I began to think I'd spend most of my travel time in wanding lines. But the screening became more sophisticated, and I escaped. Goodness knows, I was innocent. I have occasionally stolen other people's ideas (with credit if I can remember the source), bust I've never held them hostage.
Next around the clock, Bob Gorrell deploys two panels to contrast Obama's arguments about Muslims and guns. If the logic of his position on Muslims is sound, why does he reverse it when discussing guns, taking the diametrically opposite position in the second panel? I don't agree with Gorrell's logic here (in the first place, it is impossible to "ban" all Muslims—moreover, how do we know who they are?), but the method of his editoon is impressive.
Finally, at the lower left, Mike Lester takes Gorrell's position with a highly comical two-panel cartoon, which, on its face, destroys the controlers' argument. Again, I disagree: gun nuts aren't clutching their guns to their bosoms in order to withstand an invasion of terrorists, so Lester's argument is flawed. But his comedy makes his point persuasively to those inclined in his direction. And it makes me laugh, too.
In the next visual aid, Steve Sack takes the controversy into Congress, using the Democrat "sit in" as the device by which he exposes the hypocrisy of Speaker Paul Ryan's comment.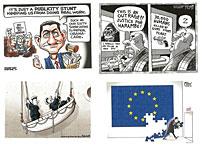 And in the next cartoon, Rob Rogers makes us face another kind of hypocrisy—blatantly inconsistent thinking and stupid selective human sensitivity. We weep over the killing of a gorilla but nod off with boredom when it comes to 30,000 deaths by gun every year.
When the Orlando disaster was first reported, I was struck by Bronco Bama's comments. "This is an especially heartbreaking day for all our friends—our fellow Americans—who are lesbian, gay, bisexual or transgender. The shooter targeted a nightclub where people came together to be with friends, to dance and to sing, and to live. The place where they were attacked is more than a nightclub—it is a place of solidarity and empowerment where people have come together to raise awareness, to speak their minds, and to advocate for their civil rights."
A place of solidarity and empowerment. And a refuge from a too-often disapproving world. It is gratifying to me that we have a President who is so attuned to life in these United States—even to the lives of the persecuted minority of the LGBTQ population. Can you imagine Trump being even sensitive to such things or conscious of them? Hillary? Well, maybe. But Obama, we know, now, for sure, has it wired.
WE SHIFT TO THE BREXIT disaster in the next cartoon. Gary Varvel's imagery makes effective use of the jigsaw puzzle. Yes, you can remove a piece—but to do so requires that other pieces be disrupted, destroying the over-all image of the completed puzzle. But Clay Bennett has an equally telling image that memorably depicts the political tension of the issue: his two Britons are working at cross purposes, one lowering the boat to escape the European Union; the other, desperately clinging to his rope to prevent the lowering of the boat. Using the image of a "life boat" completes the image's message: with opposing efforts at work, the life boat will never be put to use.
In our next visual aids, we turn to our favorite editorial cartoon character. The Trumpet his own self. How can a guy with his hair-do be anything but a cartoon character? His knit-hair alone ought to disqualify him for high political office.
Trump's hair dominates any caricature of him. But in surveying the crop over the last few weeks, other aspects of his candidacy have emerged, fully qualified for caricature.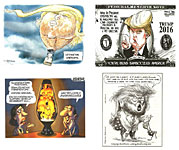 Nick Anderson's hot air balloon is a metaphor frequently on display among the inky-fingered cabal. Next around the clock, Paul Combs puts a great hair image of Trump on paper money because his campaign so often emphasizes wealth. But don't overlook the message below the Trumpet's visage.
Below Combs is Taylor Jones, whose Trump image is not as neatly coifed as the others. More true to actuality. And the utterance foretells foreign relations disasters just on the horizon. Finally, Steve Sack comes up with an ingenious device: Trump as a lava lamp, the image of which is constantly shifting—and yet (profound observation), "oddly mesmerizing."
In the next batch of Trumpery, we move a little away from sheer imagery into the realm of policy.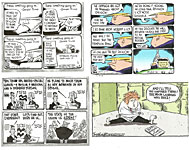 Tom Toles starts us off with two cartoons about Trump's supposed relationship to religion. In the first, a typical Trump conspiracy theory is enunciated; in the second, Trump's true religion surfaces—money. In both cases, the comic strip format enables Toles to develop his comedic thesis, step by logical step. Bob Engelhart goes after Trump's egocentric response to the Orlando killings, showing The Donald to be a straight-jacketed crazy person—pretty elementary imagery. And Dan Wasserman resorts to presenting an image of the Trumpet that is easily as crude as his messages.
In our next exhibit, more fun and games at Trump's expense. (Who else should bear the cost?)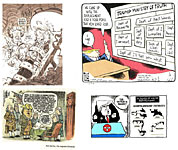 At the upper left, Australian Anton Emdin, who usually doesn't stray this far from home, does Trump as a Frankenstein monster. I am including it here not because of the brilliance of its conception but because of the mastery of caricature on display. Next, Tom Toles is back again with Trump's "Ministry of Truth"—a random collection of his meaningless self-affirmative fourth-grade utterances. The image isn't all that telling as an image; but as a condemnation of Trump's elementary school vocabulary and autocratic thinking, it works.
In Bob Engelhart's offering at the lower right, he uses Trump's oft-repeated assertion that the system is rigged to show us the rigging—namely, the gerrymandered districts in various states that assure a Republicon will be elected. In one of the districts (perhaps North Carolina's at the lower right), the "district" includes a river—no people or residents, just a flowing river that connects some of the populous areas of the district. Shameful? You bet.
At the lower left, Rick McKee does a superb caricature of the Trumpet—in both visual and verbal terms.
The next display attempts to deal with the GOP's distress in finding itself with a "presumptive nominee" that it cannot stand.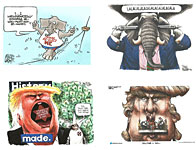 Chan Lowe shows us just how delicately Republicons must venture forth to endorse (or not) Trump. The t-shirt reveals the reason for the tight-rope walk: too many candidates believe they'll lose their election if they don't side with Trump and the Tea Baggers reputed to be supporting him. But Steve Benson gives us an even more memorable image (even if it is less complicated). It's the classic "lalalala" drone that shuts out all else, and whilst performing this bit of oral myopia, the Pachyderm is closing his ears with cocked and loaded pistols. The metaphor strenuously suggests that "lalalalala-ing" one's way through the thicket of this year's election is another way of committing suicide.
Below Benson, Michael Ramirez, as staunch a conservative as you can find, is clearly fed up with the Trumpet. The wall he depicts as being built is intended to shut Trump's mouth, thereby preventing his nonsensical pronouncements from reaching any listener.
With the next cartoon—another one by Benson—we approach July 5-10, bad days for both candidates, yet they both survived a week of public relations disasters that would doubtless have destroyed any other candidate: Hillary survived the FBI report on e-mail; Trump, the star of David and his speech to Republicon members of Congress, singling out a couple stalwarts for ridiculing vituperative contumely. (Mitch McConnell, the leader of the band, stood by and said nothing; any leader worth his salt ought to have stood up and said: You can't come in here and say nasty things about our members. But he said nothing. He was the very model of pandering timidity.)
Benson, who has been delighting in various ways of portraying the Donald's hair-knit, produces here a superbly haired cavernous mouth. With the star of David inside it.
Hillary is the target for the next batch of cartoons.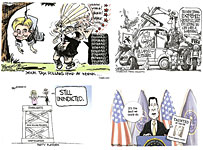 Milt Priggee gives us a hilarious portrait of the GOPachyderm, hard at work destroying ... Hillary? Not likely. "Your tax dollars hard at work" on another pointless investigation whose victims are the instigators. But the FBI's report on the e-mail fiasco was much more damaging. John Darkow supplies one of many metaphors that depicted extensive damage Hillary's e-mails did (or could have done)—despite which, the FBI lets her off with a slap on the hands. Clay Bennett makes a bigger joke of it: the best the FBI could do was to taunt Hillary. And then Chip Bok offers a metaphor for the Dem Party platform made of slapped together disasters, but Hillary, Bronco Bama assures us, is "still unindicted." "Still." I love that.
In our next visual aid, Hillary endures as the target.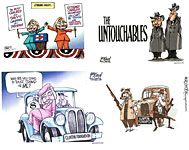 Nate Beeler shows us the running "mates," pairing competence with carelessness. And then Gary Varvel and Mike Lester become enamored of the image of Bonnie and Clyde as applicable to Hillary and Bill. Varvel is so smitten with the insight of the image that he does it twice. Well, it's a tempting image, but more than one of these is excessive, seems to me.
In the department of Other Things Going on in the World Besides the presidential race, we arrive at our final exhibit.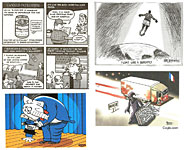 Jen Sorensen begins by ridiculing Budweiser's "canned patriotism," and by the time she gets to the end of her list of the ludicrous, she's taking on the Trumpet—not "the first inferior product to claim to represent the country."
Mike Luckovich's farewell to Muhammad Ali is peaceful. Nice. And it gives me pause to remember (which is what a good obit cartoon should do). Cartoonist Paresh offers a blood-stained comment on the slayings in Nice, the travel stickers on his suitcase remind us that this sort of slaughter has been going on for some time.
And finally, one last shot at the GOP preoccupation with Benghazi and the forever fruitless outcomes of the perpetual investigation. Walt Handelsman's metaphor is delightful—pungent with meaning as well as comedically appropriate. And the expression on the pachyderm's face is priceless.
T-SHIRT WISDOM
I'm not Democrat or Republican, I belong to the Cocktail Party.
I read a book on anti-gravity; I could not put it down.
I can't afford a vacation. So I'm just going to drink until I don't know where I am.
A balanced diet is a beer in each hand.
And then Satan said: "Put the alphabet in math."
GOSSIP & GARRULITIES
Name-Dropping & Tale-Bearing
June 16th
We're well beyond June 16, but it's never too late to celebrate. "Joyceans," saith Louis Menand at newyorker.com, "celebrate June 16th, Bloomsday. This is because [James Joyce's monstrous sea-changing novel, Ulysses] is set on June 16, 1904, and that is because that was the day, in a park on the south bank of the River Liffey, in Dublin, when Nora Barnacle put her hand inside Joyce's trousers and masturbated him. He was twenty-two years old; she was twenty. It was their first date." Later, they married.
In her biography Nora, Brenda Maddox,citing a letter from Joyce to Nora, phrases the incident somewhat more delicately: "The attraction between them was immediate, and Nora, who had to be back at Finn's [her place of employment, a saloon] by half past eleven, wasted no time. To Joyce's grateful astonishment, she unbuttoned his trousers, slipped in her hand, pushed his shirt aside, and, acting with some skill (according to his later account) made him a man."
One wonders about being made a man. Although this was their first date, Joyce had been frequenting prostitutes since he was fourteen. And Nora, although she resisted Joyce's importunings for a long time, was scarcely ignorant of the ways of men. Years later, Joyce reminded her of their first encounter, asking if she had never touched a penis before her fingers made their way to his. Clearly, if she had "some skill" at the act, she'd done it before.
MORE T-SHIRT WITTICISM
Real heroes don't wear capes. They wear dogtags.
It's not a hangover. It's wine flu.
Abs are cool, but have you tried donuts?
Rhinos are just chubby unicorns.
NEWSPAPER COMICS PAGE VIGIL
The Bump and Grind of Daily Stripping
MIKE PETERS, of Mother Goose and Grimm fame, is undoubtedly the best friend this corner of Rancid Raves has. He steadily assaults the redoubts of respectability and decorum in his strip, resorting to potty humor often enough to earn a bronzed trophy if we had one. Into that void, then, we substitute notoriety in lieu of knickknackery: herewith, we plunge once again into the shadowy realms of funnies page sinfulness, looking for timeless taboos being violated. And, sure enough, here's Peters.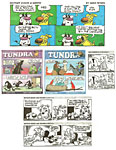 At the top of our visual aid, Grimm and his buddy Ralph, the two canine stars of the strip, are discussing their parentage, and as everyone is sure to remember after a few seconds, "bitch" is a term for a girl dog. Pretty risque, eh?
Below that, two fragments clipped from the Chad Carpenter's Sunday Tundra, which usually offers three independent panels of jokes. I clipped out two of them, hoping, by reducing the space needed here to show them off, to display them at a size large enough to read. In the one on the left, skip down to the lower panel with its skunks. This has to be a joke about smell, right? Why else cast one of the skunks as a grandfather? So old guys smell-up the lavatory? Is that the joke? Probably (unless you want to offer an alternative). Toilet odors have been banned from the funnies as long as I can remember. No longer.
In the next Tundra, it's the top panel that attracts our beady-eyed attention. I'm not sure why the cowboy on the left is riding a centaur instead of a horse. But the collar the centaur is wearing is supposed to—what? Prevent him from noticing that he's been castrated? Or to prevent him from licking the wound? That's the usual reason for such a collar. In any case, gelding is not a usual topic for jokes in the newspaper funnies.
And then in Free Range, here's Bill Whitehead, who has apparently discovered that a town in Michigan is named Hell, and with this off-beat knowledge manages to insert a fragment of profanity into the funnies.
Back to Mike Peters for our final couple. The first refers to dogs' well-known practice of getting acquainted by sniffing each other's butts. The second doubtless involves Grimm's having urinated on the floor, "accident" having an alternative meaning here. What we'd do without the irrepressible Peters, we haven't the foggiest.
AT THE TOP of our next exhibit is what I hope is the final refutation of the contention of some carping critics that Jim Davis' Garfield is visually static. That pictures never change from panel to panel, and that the comedy always arises from the verbiage, not the blending of words and pictures.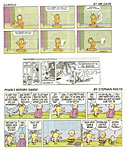 As any fool can plainly see (I can see), without the final panel—a wordless panel—there is no joke. The picture—the visual content—makes the comedy, which is rooted in the verbal setup that goeth before.
Below that, Don Wimmer supplies a little cheesecake in Rose Is Rose. That almost never happens in Rose Is Rose. Even when Rose is in her biker bimbo guise, we don't get a pin-up. Here, though—a rare occurrence. And one we are thankful for here at the Rancid Raves Intergalactic Wurlitzer.
Finally, in his Pearls Before Swine, Stephan Pastis does some serious desecration to the personna of Charles Schulz's Charlie Brown. Okay, it's funny. But the joke is at the expense of a comic strip icon. Pastis knew Schulz. (In fact, if memory serves, Schulz gave him a big boost into syndication—or, at least, encouraged him.) And I suspect he discussed this strip with someone at the Peanuts factory. What little I know of Pastis, I doubt he'd take off like this without a courtesy call to headquarters. But I'm still not persuaded that the joke is worth it.
IN OUR NEXT DISPLAY, we find word play and social criticism, both common enough in the funnies.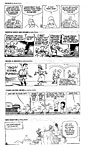 At the top, in Pickles, Brian Crane's grandpa and grandma engage in some verbal slight of hand, and below that, Mike Peters in Mother Goose and Grimm offers a smidgeon of social criticism.
In Bound & Gagged, Dana Summers picks up on one of the most repulsive tv commercials ever to be foisted off on an unsuspecting American public and, in conjuring up a old fairy tale, spins comedic gold from the commercial dross. I hope the anti-fungus ointment manufacturer goes broke and destroys the commercial when the American public finds out that Vick's VapoRub does every bit as good in removing toenail fungus as his costly product; please spread the word.
In Pearls Before Swine, Stephan Pastis strikes a blow for conversational clarity and precision. Not that it's likely to work, but it makes the grammarians among us feel smug.
And below that in Wiley Miller's Non Sequitur, the mountain-top guru makes a feminist point. To finish off with a masculine point, I was astonished to learn that Marcel Duchamp's "Nude Descending a Staircase" is male, not female. (I learned it from myself, by the way; no one told me. Who would dare such a desecration?)
DICK TRACY under the gentle, affectionate hands of writer Mike Curtis and cartoonist Joe Staton is a parade of picturesque grotesques as criminals, shades of creator Chester Gould's best years on the strip when the bad guys included the likes of Pruneface, the Mole, and Flattop (the latter's name taken from WWII aircraft carrier slang). Sometimes there are so many of these resurrected personages in the current incarnation of the strip that it's hard to find a story: the strip is more like a rogue's gallery parade.
But the latest to join the parade is no rogue: it's Fearless Fosdick, the parody creation of Al Capp, who used the character in his Li'l Abner to ridicule the storytelling conventions Gould explored in Tracy. Gould was once asked if he resented Capp's lampooning of his strip. He responded that he didn't mind at all: who else, he said, had a publicity department composed of one of the country's most popular strips (i.e., Li'l Abner). Gould, of course, was twisting the knife in Capp's side just a teense. Privately, he didn't like Capp's antic at all.
Recently, for a week ending July 3, Staton and Curtis did what Gould couldn't risk doing: they turned the tables on Capp, ridiculing his parody of Tracy.
Gould apparently never thought of a way to escape the (usually) serious rigid realities of his strip long enough to import a lampoon of Fosdick. Staton and Curtis resort to a hoary mechanism: Tracy dreams he's partnered with Fosdick.
Most of the week, the strips read like Capp's Fosdick strips; but at the end, Sunday July 3, Staton and Curtis get a laugh out of the razor-jaws of the two detectives, effectively ridiculing Fosdick (as well as Tracy). Nicely done.
Making their revenge even sweeter, they appropriate a character from Li'l Abner to effect it: Evil Eye Fleagle was Capp's invention.
They also nod to Al Capp, including a criminally abrupt biographical note in "Tracy's Hall of Creators" box (where the Crime Stoppers advisory used to appear). Kill with faint (brief) praise, eh?
THE FOURTH OF JULY transpired whilst the past month was passing us by. Used to be in the Days of Yore, that Independence Day—as well as Christmas and sometimes Hallowe'en—were celebrated in the nation's comic strips. Not so much anymore. But this year, some of the nation's strip cartooners rejoiced with special commemorative strips, and, in the spirit of patriotic solidarity, we've posted a few in this vicinity.
One of the most spectacular was Baldo by Hector Cantu and Carlos Castellanos, who deployed the American flag as the obstacle course Baldo and his buddy must climb in order to get to a holiday hot dog. The message: you gotta appreciate the flag, symbol of the country.
That was on Sunday, July 3; many cartoonists use the Sunday closest to a holiday to celebrate the occasion. On Monday, the actual Fourth, Cantu and Castellanos return to the holiday flag waving theme. Patrick McDonnell in Mutts focuses on the "independence" part of Independence Day, and across the bottom of our first exhibit, single panel cartoons set off fireworks—except Bill Whitehead in Free Range, whose "low energy" gag turns topical with an allusion to a bit of Trumpery left over from the Republicon Debates.
The next page offers two Gasoline Alleys, whose Jim Scancarelli, judging from the evidence before us, is one of the last strip cartoonists who loves to draw. The Mount Rushmore faces of Walt Wallet and Skeezix are lovingly rendered in the same hachured manner Jim uses with Thomas Jefferson and Abraham Lincoln. Then on Monday, Walt shows up on colonial costume to repeat the wish for a Happy Fourth.
The repetition is easily explained: some papers publish all 7 days of a 7-day strip; some, only the Sunday; some, only the weekdays. Gas Alley, with a celebratory strip on both Sunday and Monday, gets to everyone at least once.
Lalo Alcaraz in his La Cucaracha references the American flag in a display of diverse colors that is wonderfully appropriate to American aspirations.
On the last of our July Fourth exhibits, Francesco Marciuliano and Jim Keefe in Sally Forth perform a fascinating slight of hand. By using a common device, going backward in time, a step at a time, to reverse the order of events, they create mystery and suspense where neither would exist had the narrative proceeded in strict chronological order. And the joke would evaporate, too. Neatly done.
The remainder of this page is pretty much routine holiday celebration—but, in each case, firmly based upon the personalities of the strips' protagonists.
PEEVES & PRATFALLS
"It's hard to argue against cynics: they always sound smarter than optimists because the have so much evidence on their side."—Molly Ivins
"Acquaintance—a person we know well enough to borrow from but not well enough to lend to."—Ambrose Bierce
"With humans, it's an abortion, but with chickens, it's an omelet."—George Carlin
BOOK MARQUEE
Short Reviews and Proclamations of Coming Attractions
This department works like a visit to the bookstore. When you browse in a bookstore, you don't critique books. You don't even read books: you pick up one, riffle its pages, and stop here and there to look at whatever has momentarily attracted your eye. You may read the first page or glance through the table of contents. All of that is what we do here, starting with—:
Graphic Classics: H.G. Wells
Edited by Publisher Tom Pomplun
144 7x10-inch pages, b/w; third edition of 2014 Eureka Productions paperback, $12.95
THIS VOLUME is one of more than two dozen titles from Pomplun's Eureka imprint. The scheme in each of them is wonderfully simple, beautifully executed: Pomplun commissions writers and artists to adapt to the comics medium various short stories by noted authors. Here, five of Wells' stories are illustrated as follows: "The Time Machine" by Craig Wilson; "The Island of Dr. Moreau" by Reno Maniquis; "The Inexperienced Ghost" by Rich Tommaso; "The Star" by Brad Teare; and "The Invisible Man" by Simon Gane. Gane, a favorite of mine, gets the longest story in the book—40 pages.
The drawing styles vary wildly from Gane's quirky, cartoony mannerism to Tommaso's stark simplicity, from Maniquis's realism to Teare's woodcut simplicity in rendering "The Star" wordlessly.
Gane is British, by the way; lives in Bath and has illustrated several of the stories in various Graphic Classics books. Maniquis is in the Philippines.
Other authors in the Graphic Classics series include Edgar Allen Poe, Arthur Conan Doyle, H.P. Lovecraft, Jack London, Ambrose Bierce, Bram Stoker, Mark Twain, O. Henry, Oscar Wilde and so on. Some of the latest productions are not collections of a single author's works but stories on a common theme—horror, fantasy, gothic, westerns, etc. You can find the whole enterprise at graphicclassics.com, where the prices are lower than cover prices ($10 and $15 instead of $12.95 and $15.95/17.95 for the titles in color).
Yuge! 30 Years of Doonesbury on Trump
By G. B. Trudeau
112 8x9-inch pages, all in color; 2016 Andrews McMeel paperback, $9.19
TRUDEAU has been after the Trumpet for three decades, and with the publication of this volume of reprints, we are invited to appreciate his prescience. As the Amazon blurb says: "Ever since the release of the first Trump-for-President trial balloon in 1987, Trudeau has tirelessly tracked and highlighted the unsavory career of the most unqualified candidate to ever aspire to the White House. It's all there— the hilarious narcissism, the schoolyard bullying, the loathsome misogyny, the breathtaking ignorance; and a good portion of the Doonesbury cast has been tangled up in it. Join Duke, Honey, Earl, J.J., Mike, Mark, Roland, Boopsie, B.D., Sal, Alice, Elmont, Sid, Zonker, Sam, Bernie, Rev. Sloan, and even the Red Rascal as they cross storylines with the big, orange airhorn who's giving the GOP such fits."
And the Trumpster has had his shots at Trudeau, too: "Doonesbury is one of the most overrated strips out there. Mediocre at best," saith the Trumpet. Trudeau is the "sleazeball" "third-rate talent" who draws the "overrated" comic strip that "very few people read."
In his Preface to the book, Trudeau gets even:
By the 1980s, "Trump had already become the gold standard for big, honking hubris, and to ignore him would have been comedy malpractice. In New York City, he practically owned the 1980s, rocketing to the top as the Big Apple's loudest and most visible asshole, knocking off big-league rivals like Ed Koch, Julian Schnable, and Steve Rubell. To those of us in the ridicule industry, the man Spy dubbed 'a short-fingered vulgarian' was a gift beyond imagining."
Alluding to being a target of Trumpster vituperative, Trudeau continues: "I was one lucky tar baby, and remained so for years. ... Then came the extramarital affairs, both real and imagined, conducted under klieg lights, followed in rapid succession by the high-profile bankruptcies, his attempts to tear down a family restaurant to build a parking lot for limos, his various televised spectacles (the most storied of which featured him firing celebrities who were already out of work), his creepy sexual fantasies about his own daughter, the Truther debacle, his failed product lines, and on and on. ... You can't make this stuff up, so why try? Some people feel that Trump is beyond satire, but we professionals know he is satire, pure and uncut, free for all to use and enjoy, and for that we are not ungrateful. For our country, though, we can only weep."
The volume scrupulously dates each strip so you know exactly where in the continuum of Doonesbury mockery of the Trumpet each strip falls. The book, out July 5, is worth owning just for the intimate and detailed view Trudeau gives us of the Trumper's complex hair-knit.
BADINAGE AND BAGATELLES
I'm watching a PBS history of Jazz, and here comes a clip of Duke Ellington receiving his Presidential Medal of Freedom Award from Nixon. Ellington then remembered the four freedoms by which Billy Strayhorn, his long-time cohort who'd died a few years before, lived:
Freedom from hate, unconditionally
Freedom from self-pity
Freedom from fear of possibly doing something that may help someone else more than it will him
Freedom from the kind of pride that could make a man feel he's better than his brother
Ellington kissed Nixon four times. When asked why, he said, "One for each cheek."
BOOK REVIEWS
Critiques & Crotchets
Murder at the Hollywood Hotel
Graphic Novel by Rick Geary
54 8x10-inch pages, b/w; 2014 Home Town Press hardcover, $15
A VIOLENT DEPARTURE from Geary's usual genre, this book purports to be the "reminiscence" of an unnamed Kansan's 1915 attempt to get into the infant motion picture business by moving to Hollywood and taking a room in the Hollywood Hotel, all related by the protagonist in first person. The Hollywood Hotel is a real site in Hollywood, and it still exists; but I doubt that the narrator of this story is an actual personage.
The other departure the volume represents is in its format. It is not in comic strip or comic book form: instead, each page is a single illustration with typeset prose beneath it—somewhat in the manner of a children's book. No speech balloons.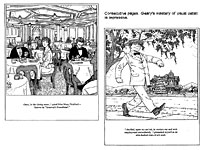 Geary fills the pages with highly detailed drawings, most embellished with all kinds of decorative hachuring and shading doodles.
Unlike most of Geary's other works—"treasuries" of historic murders— this tale does not seem to be history or biography; it seems to be fiction. The narrator is not particularly successful in breaking into movies: he gets a one-day gig as an extra, and that's about it. Before he can move on from this achievement, an aspiring young and beautiful movie actress who lives in the room next to his is found murdered one morning, stabbed between the shoulder blades. It's a classic locked-room crime. Because the narrator's room was next to the murder victim's, he is thoroughly investigated by the police. Not liking the experience at all, he returns to Kansas, where he lives the rest of his live, unmarried but "decent and useful."
About a year later, he tells us in the closing pages of the book, the murderer confessed, describing how he killed his victim by using a blowgun that he fired at her through the transom. His motive: a lady of her rarefied nature was "too fine and pure to exist on this corrupt planet."
The fascination of most of the Geary oeuvre is in the mystery of the murder of the title, which Geary explores in detail, examining every clue and aspect of the crime. The crime in this book—and its solution—consume relatively few pages. The attraction of the book is Geary's pictures, which, as always, delight.
Wallace Wood Presents Shattuck
By Wallace Wood; Afterword by J. David Spurlock
72 8z12-inch landscape pages, b/w; 2016 Fantagraphics hardcover, $24.99
IN HIS AFTERWORD, Spurlock calls Shattuck "the rarest strip" in the world. Undoubtedly. I'm something of a Wood enthusiast, and I'd never heard of it until I saw this book advertised. It was produced, like Wood's Sally Forth and Cannon, for the Overseas Weekly, a tabloid newspaper published for American servicemen—with an emphasis on "men" because all of Wood's strips for the paper featured a goodly assortment of barenekkidwimmin. Shattuck is no exception.
"Presents" is the operative word in the book's title because Wood only "supervised the strip's production," Spurlock tells us in his brief but informative essay, "—instructed his staff, plotted/wrote/co-wrote, produced rough layouts, inked some strips, and occasionally touched up the art" by others: Dave Cockrum, Nick Cuti, Jack Abel at one time or another, and, sometimes, Howard Chaykin and Syd Shores. It was for Shores, whose Golden Age work Wood admired, that Wood created Shattuck, Cuti said, "because he knew Syd liked working on Westerns."
The strip's protagonist, Merle Shattuck, is a cowboy gunfighter who frequents brothels and has an appreciative clientele at every one of them, and they are usually advertising with an ample display of product. Lots of shooting and sex. A Western for a mature (or developmentally arrested) male audience.
Apart from being the only reprinting of Shattuck ever, this book is remarkable because all the strips therein are shot from original art; you can see white-out and scratch marks. Originally published in Sunday tabloid newspaper page format, the strips appear on two facing pages, the top two-tier strip facing the bottom tiers across the gutter.
Towards the end of the strip's run, Shattuck falls in love with a "respectable" young woman, Karen, who returns his regard but without showing so much as a well-turned ankle.
Since the object of the strip was to get the girls out of their clothes as quickly as possible (according to Cockrum), Shattuck's change of heart effectively telegraphs the end of the strip.
Only 29 of these strips were produced in 1972. Wood's assistants were moving on to other work, and his marriage with his second wife was deteriorating, so he moved back to New York City, leaving his Long Island studio, and he dropped Shattuck from his repertoire at that time.
Oddly, the strip seems unintentionally cognizant of its pending demise: we've posted near here the final tier of the last strip, in which, at the end, Shattuck seems to have "skipped out."
The Tipping Point
By Various
130 8x11-inch pages, color; 2016 Humanoids hardcover, $29.95
THE TIPPING POINT, by custom, is that instant in the evolution of events that leads to a new and irreversible development. "That key moment," saith this book's back cover, "when a clear-cut split occurs, a mutation, a personal revolt, or a large-scale revolution tips us from one world to another, from one life to an entirely new one."
The volume offers thirteen tipping point stories by thirteen cartoonists of different nationalities: Taiyo Matsumoto, Emmanuel Lepage, Atsushi Kaneko, John Cassaday, Eddie Campbell, Naoki Ukrasawa, Bob Fingerman, Boulet, Paul Pope, Bastien Vilves, Keiichi Koike, Frederik Peeters, and Katsuya Terada. Finding the tipping point in each story is more of a parlor game than literary analysis.
Campbell's autobiographical story, "Cul de Sac," starts with him unpacking boxes as he moves into a new apartment. His cat has run off, and he spends time looking for the beast, wandering through and describing the new neighborhood. It concludes with his dreaming of a personage with the head of his cat. In the last picture, Campbell is seated at a table, eating his dinner. I don't see a tipping point in that sequence. Maybe it's when he apparently gives up looking for his cat. Or maybe it's when he moves in.
In Paul Pope's "Consort to the Destroyer," a man, a vicious pirate by the look of him, and a beautiful nearly naked woman, his prisoner, chained to him, are on an open boat at sea, survivors of ship that sank destroyed by fire. The boat is stalked by a shark. The pirate tugs on the chain, demanding that the woman come to him. She does, en route grabbing a knife stuck in the plank of the pirate's seat. She stabs him to death and jumps overboard, where the shark approaches. Repeating some of the same dialogue of the previous sequence, she stabs the shark and kills it. Then she swims to an island where there are some deserted buildings but no people. The tipping point may be when the pirate tugs on the chain.
Cassaday explores Huck Finn's decision not to turn Jim in to the slave-hunting authorities, one of literature's famous tipping points. The decision bonds the two for the rest of Mark Twain's book. Lepage's "The Awakening" records a youth's realization that he is gay. Bob Fingerman's "Unbeliever" meets God, who turns out to be a hoax. In Boulet's equally comical "I Want to Believe," the cartoonist is scornful of people who believe what they find on the Internet—until he experiences all sorts of encounters with Internet phenomenon (a lizard person, men in black, the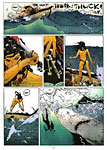 white woman who appears to drivers just before they have an accident) and makes $90 billion by investing in one of those "I am requesting your help" messages.
The tipping point in most of the stories is illusive. Or maybe it's just a matter of interpretation. Or not. In hisIntroduction, the publisher, Fabrice Giger, recounts a tipping point in his life and then says the contributors to this book "examine their own tipping points." But he also thinks there are fourteen contributors, not thirteen. Besides, only a couple of the stories are obviously autobiographical.
But it doesn't matter. The stories are mostly a little spooky, puzzling fragments of imaginary longer tales. They are beautifully drawn and fun to read. What more can we ask?
Walt Kelly's Fables and Funnies
Compiled by David W. Tosh; Introduction by John E. Petty
280 7x10.5-inch pages, color; 2016 Dark Horse hardcover, $49.99
THIS HAPPY SELECTION of Western/Dell work from 1942-1949 gives us better Walt Kelly than Pogo. Yes, such a thing is possible, and this book will prove it to you. Tosh has collected Kelly from many of the titles to which he contributed after leaving Disney in 1941 and before the newspaper version of Pogo started in 1948—Fairy Tale Parade, Raggedy Ann and Andy, Santa Claus Funnies, March of Comics, Our Gang, various Four Color Comics, and, of course, Animal Comics. Except in the latter, no Pogo here; no alligators either.
Under the heading "Animal Mother Goose," Kelly illustrated nursery rhymes using animals. One of the Our Gang stories herein is pretty grown-up violent stuff, people wielding rifles and the like. In the samples I've posted near here, we have only a hint of the most delightful and whimsical Kelly in this volume. He did vast quantities of superior pictorial comedy for kids (and their parents—adults were always the target audience). The pages brim with his antic visual invention: the pictures are the funnies. And it is all, surprisingly, much better drawn than the early Pogo.
The only blemish in this otherwise admirable and enjoyable book is foisted off on us by Petty, who, in his introductory essay, betrays a humorlessness that results in a serious misinterpretation of Kelly's attitudes.
Petty, unhappily, takes Kelly's autobiographical comments about his career seriously although they were undoubtedly intended as playful tongue-in-cheek comedy—albeit with a purpose. Petty quotes from Kelly's testimony before the 1954 Senate Subcommittee investigating juvenile delinquency (and comic books as the inspiration for such youthful criminality):
"I decided I would help clean up the comic book business at one time by introducing new features such as folklore stories and things having to do with little boys and little animals in red and blue pants and that sort of thing."
And Petty finds Kelly expressing bitter disappointment "with regard to the reaction his comic book work received: 'So when my comic book folded, the one I started doing that with, I realized there was more to it than met the eye. Perhaps this was the wrong medium for my particular efforts. Since then I have been in the strip business, the comic strip business which is distinguished from the comic books'" (my emphasis).
At the time of his testimony, Kelly was the newly elected president of the National Cartoonists Society, and he and Milton Caniff and a couple other NCS members appeared before the Senate Subcommittee with the express purpose of saving newspaper comics from the kind of scrutiny and censorship they feared would be applied to comic books—hence Kelly's remark, which I've emphasized above, aimed at separating comic strips from comic books. If comic books with their emphasis on crime and bloody horror (as Fredric Wertham kept pointing out those days) needed some sort of editorial supervision, comic strips, already subjected to editorial oversight by syndicate editors, did not. That was the position taken by Kelly and Caniff and other NCS members.
All of Kelly's comments, like those quoted above, are cloaked in sly, self-deprecating humor. But Petty takes him seriously. In Petty's view, Kelly wanted a career in comic books and was bitter about his failure to realize his ambition, turning to comic strips as a second choice. But the very quantity of work Kelly produced for Western/Dell indicates that he was resoundingly successful in comic books.
So why would he leave? Since his teenage years spent drawing and writing for the Bridgeport Post in his home town, Kelly had thought of himself as a newspaperman, a journalist. And he left comic books when he was offered a newspaper job—art editor and editorial cartoonist for the a-borning New York Star in the summer of 1948. This was not a last resort for Kelly: it was a stepping stone to realizing his life-long ambition to produce a newspaper comic strip. And within less than three months at the Star, he was, in addition to his other chores, doing a comic strip. Pogo.
While Petty is clearly wrong in his interpretation of Kelly's feelings about his comic book work, his essay is but 7 pages in the book's 280. You can easily skip over it and avoid the pitfall that it represents.
Reprinting Pogo is fashionable and lucrative these days. Fantagraphics is bringing out luxurious volumes of the newspaper strip (to which I am a paid contributor) and Hermes Press is publishing all of the Dell Pogo from Animal Comics and Pogo Comics. With this Tosh collection at hand, we realize that there's lots more of this kind of Kelly out there, a veritable trove for Kelly fans, just waiting to be collected and compiled. And in the current stampede to reprint all of Pogo, surely someone is going to take the hint Tosh supplies here and publish more of this delightful oeuvre. And maybe some truly dedicated soul will finally assemble and publish Kelly's editorial cartoons from the New York Star. We can hope.
PERSIFLAGE AND BADINAGE
Here's one for the history books. During Walt Kelly's sojourn at the Disney Studios in the 1930s, he and others on staff used to circulate among themselves sketches and caricatures, poking fun at each other. Some of these spontaneous generations were a little off-color, but Ward Kimball (one of Disney's "nine old men") says Kelly avoided such forays into comedic pornography: "He stuck with very innocent, basic humor" (quoted in Hermes Press' Walt Kelly: The Life and Art of the Creator of Pogo). But Kelly did allude in print to an old shady story at least once that I know of.
The daily strip for September 26, 1952 (the middle one in the array posted near here), echoes an ancient slightly racist joke about an old raggedy black man who fell asleep under a tree in the woods.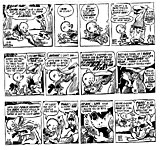 While he slept, a black snake crawled up under his tattered trouser leg. The snake kept on crawling up the pants leg, and when it got to a hole near the man's crotch, it emerged and raised up in front of the sleeping man's face, whereupon the man awoke. Staring sleepily at the snake weaving in front of him, he muttered: "My sakes! I knowed yo' was black, and I knowed yo' was long, but where did yo' get those baby blue eyes!"
Kelly was reputed to be squeamish about rude jokes of this kind, but it would appear that he repeated almost exactly this one's punchline, rude or not. And he may have done such jokes more than once, but this is the only instance I know of. In this case, I suspect that what Kelly found amusing was the black man's language, not anything else in the situation.
Assuming that Kelly deliberately evoked memories of this old chestnut, we must also realize that he was not unique among his cartooning colleagues. Cartoonists were widely regarded by syndicate and newspaper editors as adolescent pranksters constantly on the lookout for ways to insert scatological references or sexual innuendoes into their strips, sneaking them by their editors' scrupulous eyes into the unsuspecting world of newspaper readers beyond. There, certain readers would recognize the signs and symbols and potents; and they would laugh uproariously in appreciation of the cartoonist's daring and cleverness. So I've heard. (Milton Caniff told me; his Hotshot Charlie in Terry and the Pirates was an instance of this nefarious practice although Caniff never finished the allusion by quoting the punchline.)
Al Capp became notorious for such practices in his Li'l Abner, and then Joe Palooka's Ham Fisher blew the whistle on him. That whole story will be in the next print Comics Journal, whenever it comes out (at last). Or you can find the whole thing right here, in Harv's Hindsight for January 2013, "Hubris and Chutzpah."
The Kelly story, by the way, should have been in my "Swamp Talk" annotations for the first volume in Fantagraphics' complete reprinting of the Pogo comic strip. But it didn't make the cut. Too bad. The editors no doubt wished to avoid sullying Kelly's funny animal image.
LONG FORM PAGINATED CARTOON STRIPS
Called Graphic Novels for the Sake of Status
The Story of My Tits
By Jennifer Hayden
352 8x8-inch pages, b/w; 2015 Top Shelf paperback, $29.99
THE TITLE, naturally, drew me like flies on horse pucky. But this graphic novel is much more than the story of the author's breasts. It is, rather, her autobiography, starting, admittedly, with her flat-chestedness on the cusp of becoming a teenager and the agonies thereof. But she discovers sex despite this disadvantage, sleeps around, learns that boys are attracted to breasts, and hers finally show up. She pairs up with Jim, whom she eventually marries.
But there are other adventures. Her mother has a mastectomy, her father is discovered having an affair (which had gone on for five previous years), she moves in with Jim, and they move around, looking for work. He plays in a band; she writes. They go to Philly where they live with Jim's mom, who becomes Hayden's best friend. Then she, Jim's mom not Hayden, develops lung cancer of which she eventually dies but not until near the end of the book.
Jim gets steady gigs with his band, and, after seven years of living together, Hayden starts agitating to get married. After a long campaign of persuasion, Jim proposes, and they marry (but not until they go through the ordeal of making wedding plans). Then Hayden begins to wonder about having children. More campaigning. Then she gets pregnant and has a baby. A boy. Next she has a girl.
Then she gets breast cancer and has a double mastectomy and implants. Jim stays constant. Hayden discovers graphic novels and starts making one, the one we're reading.
The book offers ample insights into the various agonies of being female in America and of life in general and "the endlessly evolving definition of family," as the back cover blurb puts it. "Hayden's story is a much-needed breath of fresh air, an irresistible blend of sweetness and skepticism—rich with both symbolism and humor."
The story might be anyone's and everyone's. But the pictures in this graphic novel are unique. The story is told in the captions; and the pictures, in Hayden's quirky amateurish style, comment on the captions—expanding, footnoting, and supplying additional (often superfluous) detail. The panels are crowded, crammed, with visual information, a disorderly jumble of pictorial minutiae. The pictures seldom depict a continuous action from panel to panel. Most often, the panels and captions have the appearance of gag cartoons but they don't function that way. Sometimes the captions and their pictures blend for meaning, but most often, they run hand-in-hand, carrying Hayden's story from page to page, endless in their visual variety.
Here, we've posted a sample of the book's visual aspect.
BEEFS & BOFFOS
From the Curmudgeon by Jon Winokup on "The Great Perhaps"—:
"I go to seek the great perhaps." —Francois Rabelais on his deathbed
"Millions long for immortality who do not know what to do with themselves on a rainy Sunday afternoon." —Susan Ertz
"I don't want to achieve immortality through my work. I want to achieve it by not dying."—Woody Allen
"If there are no dogs in Heaven, then when I die, I want to go where they went."—Will Rogers
"When I think of the number of disagreeable people that I know who have gone to a better world, I am sure hell won't be so bad at all."—Mark Twain
ONWARD, THE SPREADING PUNDITRY
The Thing of It Is ...
WIDESPREAD JUBILATION greeted the Supreme Court's decision that put the kibosh on Texas' effort to extinguish abortion in the state by regulating abortion clinics out of existence. A victory for abortion rights everyone proclaimed. Not me. It was a victory but not just for abortion rights. To be entirely accurate, it was a victory for individual liberty. It was a victory for individuals who want to preserve their right to choose. With regard to abortion, the decision to have one or not properly belongs to the concerned individuals, not the government. And that's what the Supreme Court affirmed in their decision.
AT BLOOMBERG VIEW, Megan McArdle talks about the "Trump Brand"—the dubious success of the Trumpet in making money by licensing his name to various enterprises. "It is something of a mystery as to how the Trump brand has managed to stay so strong, given that [so many of the Trump-branded projects have ended badly]. Most companies undertake brand expansions pretty cautiously, after long thought, and with a lot of market testing to make sure that they are not alienating their core consumers. A badly done brand expansion can rapidly erode a profitable business, as consumers reject both the new products and the originals that are not tainted by association. The litany of failed Trump products—and lawsuits—testifies to the fact that Trump has been the opposite of cautious. 'Indiscriminate' seems like a closer word. Yet somehow, until this campaign, the brand remained strong. ... But I have to wonder if his attempt to expand into presidential politics won't ultimately prove to be the brand extension that undoes him."
IF THE KNIT-HAIRED Donalt Rump becomes Prez, his wife, the former Slovenian model Melania Knauss, will become the first foreign-born First Lady since Louisa Adams (although Louisa doesn't actually count because her father was American). And although no one is likely to vote for (or against) the Trumpet because of his wife, her non-candidacy and foreign origin is flimsy enough excuse for us to review her qualifications for the post.
She is, first of all, a very attractive, even sexy, woman. "Her husband," saith Lauren Collins in The New Yorker, "seems to define her largely by her physical advantages, which confer upon him an aura of sexual potency. 'Where's my supermodel?' he yelled from the stage at a town hall meeting at the University of Pennsylvania in 1966, shortly after ushering Melania onto the Howard Stern show to discuss the couple's 'incredible sex' and her lack of cellulite.'"
We've posted at the corner of your eye a few photos of the First-Lady-to-be.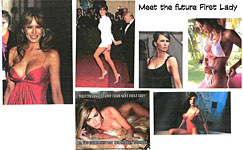 Collins goes on: "In the 'My World' section of her website, she characterizes herself as a former design and architecture student, 'a captivating presence in front of the camera,' 'an aqua-eyed beauty' a wife, a mother, a philanthropist, a New Yorker and a participant in 'numerous tv commercials, mostly for Aflac.'"
She holds no degree in design/architecture, having dropped out of the University of Ljubljana's architect program in her first year. But she is "a model with the past of a nun," said Collins. "Her story is so vacuous as to almost require the imagination to spackle its holes."
She has a jewelry line and a skin-care line. Her hobbies, she told People magazine, include Pilates and reading magazines.
End of Collins' cullings.
There. Just fuckin' leftist liberal rant and ridicule.
GEORGE WILL, the intellectual giant of Conservatism, has resigned from the Republicon Party, his home for many many years. The PJ Media report went as follows: After Trump went after the 'Mexican' judge from northern Indiana then (House Speaker) Paul Ryan endorsed him, I decided that in fact this was not my party anymore," Will said on "Fox News Sunday." Trump attacked Will on Twitter over his decision to leave the GOP, writing: "George Will, one of the most overrated political pundits (who lost his way long ago), has left the Republican Party. He's made many bad calls." Will responded on "Fox News Sunday," saying: "He has an advantage on me, because he can say everything he knows about any subject in 140 characters and I can't."
He said he'd joined the Republican Party in 1964, inspired by Arizona Senator Barry Goldwater, a founder of the conservative movement and a key figure in the party then. "I joined it because I was a conservative, and I leave it for the same reason: I'm a conservative," Will said.
TRUMPSTER DUMPSTER
Dottie Lamm, wife of a former governor of Colorado, occasionally takes to newsprint columns in the Denver Post to air a concern. Recently, she advised against putting the Trumpet in the White House, saying, among other things: "The possibility of electing such an egotistical, autocratic, violence-inspiring, gun-promoting, crude, boastful, know-nothing, xenophobic, racist and sexist candidate to the highest office in the land would be a tragedy, not just to the Republican Party, but to democracy itself." For good measure, a few paragraphs later, she called him a "self-promoting bully."
My prediction is that the GOP blowhard will be called even more names in the ensuing weeks, as we approach Election Day. In the spirit of public service for which Rancid Raves has become renowned, we'll do our best to assemble these steaming nuggets here, under the Trumpster Dumpster heading.
Collect them all. Watch for Trumpster Dumpster next time.
WE'RE ALL BROTHERS, AND WE'RE ONLY PASSIN' THROUGH
Sometimes happy, sometimes blue,
But I'm so glad I ran into you---
Tell the people that you saw me, passin' through
THIS TIME, we say a fond farewell to a couple of sentimental favorites.
Chester Krause, 1923 - 2016
"Chet" Krause died on June 25 of complications of congestive heart failure. He was 92. He was the publisher of the Comic Buyer's Guide in the last 30 years of its publication, starting with his purchase of the weekly in 1983. And he also published numerous other periodicals about collectibles.
He started with Numismatic News, a magazine for coin collectors that he began assembling on his parents' kitchen table in 1952. "He parlayed it into being the world's largest hobby publisher, greatly spurring development in his hometown of Iola, Wisconsin," said John Jackson Miller, one of the former editors of CBG. "The company's line grew not only to include his own hobby interests in coins and old cars, but also sportscards, records, toys, postcards, and comics." Krause also collected military vehicles from World War II.
Maggie Thompson, who, with her late husband Don, co-edited CBG in its last decades, tried to find words to describe Krause for people who never met him: "I start with nouns," she said, quoted in Scoop. "Collector. Businessman. Philanthropist. Pragmatist. (I don't think he'd have ever used the term "pragmatist," himself. But he always tried to figure out what would work best to meet his challenges—and that always meant keeping an open mind about what changes might offer better solutions.).
"Then, I go on to adjectives," she continued: "Loyal. Thoughtful. Caring. Involved. Plain-spoken. Brilliant. (I don't think he ever thought of himself as "brilliant," either. But he sure was)."
From the rest of Scoop's report—:
A lifelong resident of Iola, Wisconsin and perhaps its best-known citizen, Krause was born December 16, 1923 in nearby Helvetia Township, the youngest of six children.
Following his release from the Army in 1946, Krause returned to Iola where he worked on the family farm and set himself up as an independent builder. Through the early 1950s he constructed two dozen houses, two churches and a 105-foot ski jump in the Iola area.
In October, 1952, Chet published the first issue of Numismatic News. The paper was meant to fill a niche he had identified to serve coin collectors nationwide who were far removed from metropolitan areas. He was the prototypical customer for his new venture: a serious coin collector who was geographically cut off from that hobby's mainstream.
For the next five years the publication grew in advertising volume and circulation as Chet nurtured it on evenings, weekends and when inclement weather kept him away from current construction projects. In 1957, Krause finished the last building he would ever construct, a 40' x 40' brick and glass office a block off of Iola's Main Street. That would remain, with occasional additions as expansion dictated, the offices of Krause Publications for nearly two decades as Numismatic News and Krause Publications expanded through acquisitions and start-ups of periodicals to fill identified needs in the collecting community.
Krause's involvement with the car collecting fraternity led to one of the most significant contributions he would make to his hometown. In 1972, in conjunction with a pig roast and auction fundraiser sponsored by the Iola Lions Club, Chet invited two dozen area vintage car owners to display their vehicles at the cookout. That was the first Iola Old Car Show, an annual event that now draws tens of thousands of spectators to the village. The event has raised millions of dollars with profits benefiting dozens of area civic organizations that provide volunteer staffing for the largest collector car show in the Midwest.
THE CAR SHOW is only the most visible of the philanthropic activities that Chet engaged in over the years. Both personally and through a family foundation that he endowed, millions of dollars were spent on such projects as the development of Lake Iola, expansion of the local golf course, village park improvement, street renovation, removal of dilapidated buildings and the provision of assisted living housing for seniors.
Less visible support within the community was ongoing for decades, often unbeknownst to the general public. Over the years he made countless donations to local individuals and families in times of hardship.
Krause was instrumental in drawing resources into the community such as medical practices, outdoor winter sports facilities, a health and fitness center, housing for seniors, day care operations and other amenities not usually found in similarly sized rural Wisconsin locales.
Besides providing financial impetus for community improvements, Krause consistently gave of his time to the community as a member of local organizations.
Krause acquired Alan Light's advertising tabloid The Buyer's Guide to Comics Fandom (TBG) in 1983, and to edit it, he hired Don and Maggie Thompson, who had been operating a regular column of comics news and lore in TBG, "Beautiful Balloons." They changed the publication's name to the Comics' Buyer's Guide, shortening the title to re-focus it on the periodical's chief purpose, and they increased news coverage. Don Thompson died in May 1994; Maggie continued as editor and then as senior editor until CBG ended.
In June 2004 with No.1595 of the publication, Krause changed it from a weekly tabloid to a monthly perfect-bound magazine. But the changing comic book collecting and appreciating market was shifting to the Web, and CBG bowed to the inevitable with No.1699, ceasing publication on January 9, 2013. Some of us loud-mouthed fans protested, saying CBG ought to have continued at least one more issue, to round out its history with an even 1700. By then, of course, it was too late. The website CBGXtra was founded chiefly as an archive.
Krause guided the growth of his publishing company through the 1980s. In late 1986, at the age of 63 he stepped down as president of the firm, remaining as chairman of the board. In 1988, he converted the company to an Employee Stock Ownership Plan, eventually vesting the company's stock in the hands of its 400-plus employees. When he had completed the transition of his shares to the ESOP in 1992, Krause retired from active participation in the company.
While the ESOP was intended to insure that Krause Publications would remain in the hands of its employees, and thus in the Iola community, in 2002 a group of its largest shareholders voted to sell the company to an outside investment capital group. Krause severed all ties with the company at that point. He set up a retirement office from which he oversaw the disposition of his lifelong collections of numismatic material, vintage autos and a large personal collection of World War II U.S. Army vehicles.
Upon the 2007 completion of the Living Oaks assisted-living apartment complex for seniors, behind which Krause had been the driving force, he moved into an apartment there.
In January, 2014, Krause suffered a stroke that impaired his ability to read and write. He recovered much of his lost mobility and retained his generally upbeat attitude. He came nearly every day to his Main Street retirement office, remaining active behind the scenes in the planning and financing of village improvement projects. His office was a morning coffee-break meeting place for local friends, out of town visitors and former employees.
In February, 2016, using his walker in an icy parking lot, Krause took a hard fall to the pavement. While being treated for those injuries, it was discovered that the congestive heart failure that had plagued him in recent years had progressed to the point that it was irreversible.
He elected to enter hospice care, foregoing further medical treatments with the assistance of round the clock caregivers. He continued to live in his apartment until June 22, when advancing ill health required him to enter the nursing home facility at Iola Living Assistance.
Krause's life is a Horatio Alger story at its finest. Beginning as a young carpenter and coin collector who started his company on the kitchen table of his parents' home in the small village of Iola in 1952, he built a publishing empire. For that reason—as well as his publishing one of comics fandom's longest-running publications, we have devoted this space to saying farewell.
Shaw McCutcheon, 1922 - 2016
By Nina Culver ninac@spokesman.com
Former editorial cartoonist Shaw McCutcheon, who worked for the Spokesman-Review for 36 years before retiring in 1986, died July 6 in Spokane. He was 94. He was the son of the one-time "dean of American cartooning, " John T. McCutcheon (about which a Harv's Hindsight of November 2012 waxes at sufficient length.)
McCutcheon was unusual in that he also wrote editorials for the newspaper in addition to drawing cartoons. He also, by all accounts, played a mean game of golf.
When he retired in 1986, then-publisher W.H. Cowles, 3rd called him a "marvelous talent."
"He was an institution there before I started with the editorial board," said Doug Floyd, former S-R editorial board member.
While some cartoonists had a confrontational or antagonistic style, McCutcheon didn't, Floyd said. "What controversy he engendered was not deliberate," he said. [In that, he followed in his father's footsteps. —RCH]
McCutcheon had been living in Florida in the winter and Spokane the rest of the time for many years, said his daughter, Caren Furbeyre. In recent years, he lived with her and her family when he was in Spokane. He was doing well – and his golf game was still strong – until last month, when he got sick while she was out of town for a couple of days.
"He was out on the street and he collapsed," she said.
A passer-by called 911, and McCutcheon was found to have a gastrointestinal infection. He also developed pneumonia and meningitis, Furbeyre said.
McCutcheon was born and raised in Chicago, where his father John T. McCutcheon won a Pulitzer Prize for cartooning at the Chicago Tribune. Shaw McCutcheon got a degree in mathematics from Harvard University. After he served in the military in World War II, he decided to become a cartoonist.
In 1945, he married his wife, Nancy, who would become an accomplished artist. The couple moved to Spokane in 1950 when McCutcheon was hired at the Spokesman-Review. It's estimated that he drew more than 9,000 cartoons and wrote about 1,000 editorials during his career.
When he retired, McCutcheon taught himself computer programming and developed an accounting system that was used in the businesses run by his wife's family. That lasted about 15 years, and then he began playing the piano at local retirement centers for the "old people," as he called them.
"He didn't consider himself old," his daughter said. "He would play for old people, but he wasn't old."
McCutcheon and his wife were longtime supporters of education and were involved in St. George's School. McCutcheon was present earlier this year when the school named a building after the couple. It was a surprise to him, but one he enjoyed.
His wife died in 2009 at the age of 86 after he had been her caregiver for many years. "They really had a long, passionate marriage," Furbeyre said.
McCutcheon didn't slow down after his wife's death. He practiced golf and also traveled. He spent a lot of time with his four grandchildren.
"He continued to live a very active, robust, connected life," she said. "He had a deep curiosity about life. He was kind of ageless."
A few years ago, a television program sparked an avid interest in UFOs. Furbeyre said that for the past five years he would travel to Phoenix for an annual UFO convention. Furbeyre tagged along for the trip last year.
"It's a remarkable experience," she said.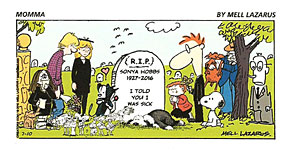 AND HERE is a fond farewell to Mell Lazarus's Momma, conducted by a number of comic strip characters whose creators loved Mell, who died May 24. Such a eulogy in the funny papers is highly unusual, a mark of the affection in which Mell was held by all. The strip at hand appeared on Sunday, July 10.
To find out about Harv's books, click here.