| | |
| --- | --- |
| Watching this video is an excellent way to learn what happens here at Rants & Raves. Talk. Talk is what happens. Harv loves to talk about comics, whether the talking is written or spoken. In the fortnightly issues of R&R, it's written talk. On this video, it's spoken. And it's free: it costs you nothing except time—an hour and ten minutes' worth. Once Harv starts talking comics, he doesn't know how to stop. And he laughs at his own jokes a lot, too. | |
Before clicking on the triangle to play the video, you may want to scroll down below the video screen to read the comic strips there.

Partway through his discussion, Harvey refers to one of his own comic strips to explain how words and pictures blend to achieve their narrative purpose. The strip he refers to is the second one here; we've included the others, before it and after, purely for the sake of context.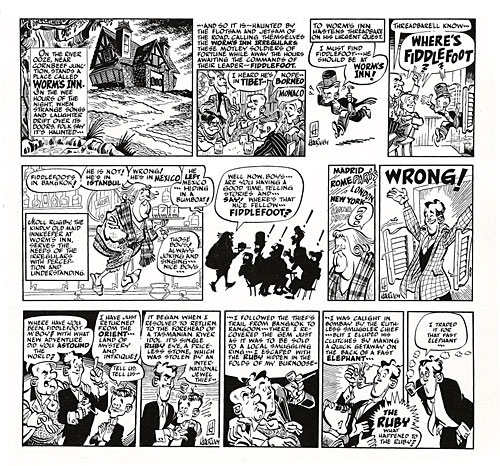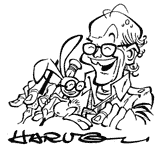 send e-mail to R.C. Harvey
Rants and Raves - Harv's Hindsights - Art of the Comic Book - Art of the Funnies - Accidental Ambassador Gordo - reviews - order form - main page