Opus 392A (May 15, 2019). Our Political Opus for this month—all the editoons we left out of Opus 392 because including them would have lengthened Opus 392 to Kansas City. Also: editoonist Chan Lowe's life and work and Turk editoonist Musa Kart's satirical testimony at the trial that sent him to jail for drawing cartoons critical of the current Turk prez, Recep Tayyip Erdogan. And a couple newsstories. Here's what's here, in order, by department—:
NOUS R US
Fiore Wins RFK
Chan Lowe Retires
Turk Kart Jailed for No Reason
Barr Sets the Mueller Report Loose
Trumperies
EDITOONERY
Gigantic Selection of the Last Month's
Editorial Cartooning and Anti-Semitism
Politics as Cartoons
Finally, our customary reminder: don't forget to activate the "Bathroom Button" by clicking on the "print friendly version" so you can print off a copy of just this installment for reading later, at your leisure while enthroned. Without further adieu, then, here we go—:
NOUS R US
Some of All the News That Gives Us Fits
HE NEWS THIS TIME is mostly that which is reflected in the editorial cartoons of the last month or so. The events of that month provoked editoonery in such profusion that we couldn't include any in our last posting except a few about the burning of Notre Dame. Thus it is with the Trumpet, a walking, blurting, fuming manufacturer of buffoonery and outrage (and sometimes both together, as outrageous buffoonery) that no editoonist can ignore. And so they don't. As we'll see in a trice. Just before that, however, we have a couple of announcements and news from abroad, from Turkey, where journalism in general and editorial cartooning in particular are being systematically suppressed. First, the announcements—:
FIORE WINS RFK FOR THE SECOND TIME
On May 3 by way of celebrating World Press Freedom Day, Robert F. Kennedy Center announced the winners of its 2019 Robert F. Kennedy Book & Journalism Awards. Mark Fiore won the editoon category for his series of child separation animations, his second RFK Award, the first in 2005.
The Robert F. Kennedy Awards for Excellence in Journalism is named after Robert F. Kennedy. The annual awards were established in December 1968 by a group of reporters who covered Kennedy's campaigns.
Fiore's RFK award joins a crowded shelf that includes Pulitzer and Herblock Prizes among others. In 2010, he was the first in a small but growing field of animating editoonists to win a Pulitzer Prize—"For his animated cartoons appearing on SFGate.com, the San Francisco Chronicle Web site, where his biting wit, extensive research and ability to distill complex issues set a high standard for an emerging form of commentary."
In 2011, Ann Telnaes, who animates her editoons for the Washington Post, was a finalist.
In 2016, the Herblock Award went to Fiore, who the Wall Street Journal has called "the undisputed guru of the form." In addition to appearing on the San Francisco Chronicle's web site, his animated editoons have appeared on Newsweek.com, Slate.com, CBSNews.com, MotherJones.com, NPR's web site and is currently being featured on online news sites ranging from KQED and Truthdig.com to The Progressive and DailyKos.com.
CHAN LOWE RETIRES AFTER 44 YEARS AT EDITOONING
On April 26, Chan Lowe, 66, retired from his job as deputy editorial page editor for The Berkshire Eagle. And he reflected upon his four decades of editooning by referring to a favorite cartoon.
"You can lead a reader to water," he said. "But you have to let them do the drinking. If it goes on inside them, they love the cartoon."
A cartoon's impact must happen in the reader's mind, he said.
His favorite, reported Larry Parness of The Eagle staff, showed three flag-draped military caskets against a white background. It was one of the simplest editorial cartoons Lowe ever drew. But in his 43 years of producing cartoons for newspaper opinion pages, the last two years in Pittsfield, Massachusetts from his base at The Eagle, this work from 2009 remains Lowe's favorite because its message must stew in a reader's mind.
Three silent caskets.
Then the hand-lettered caption: "Which Is the Gay One?"
Coming after years of debate about gays in the military, the line can be read as petty bias. Or, as Lowe anticipated, as a gut check. Here, plain evidence of a soldier's sacrifice says everything.
As with all the cartoons Lowe produced — three a week for the Tribune Content Agency over 34 years, more than 5,000 in all, plus local cartoons nearly every day — the one showing military caskets went out to media subscribers across the country. For a few seconds at countless breakfast tables, Lowe's work prodded the American psyche.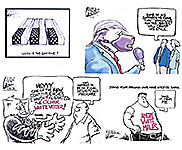 That's the job Lowe performed for years, sitting at a drafting table wielding a sable brush, and countless bottles of India ink, to give people who follow the news the shock of insight — or indigestion. Lowe's longest run was at the Sun-Sentinel in Florida, where he also created local cartoons above and beyond the works shared nationally. He was a finalist for a Pulitzer Prize at the Sun-Sentinel in 1990.
Perhaps the time spent in the unique locales of New York, Oklahoma, California, England and Florida helped Lowe stamp his editorial cartoons with his everyman perspective on events in the United States and throughout the world claimed his biography at the Tribune Agency site.
Lowe was born in New York City in 1953; attended school in New York, Los Angeles and England; and graduated from Williams College in 1975 with a degree in art history. Then he went to work as as staff artist and editorial cartoonist for the Shawnee News-Star in Shawnee, Oklahoma, from 1975 to 1977 and served as editorial cartoonist for the Oklahoma City Times from 1978 to 1984.
From there, he went to the Sun-Sentinel from 1984-2015. He also acted as an occasional feature writer, television columnist and classical music critic for the Daily Oklahoman during that time. In 1992, Lowe spent a year studying at Stanford University as a John S. Knight Journalism Fellow.
Lowe was a Pulitzer Prize finalist in 1990 and has won many awards for his work, including a 1996 John Fischetti Award and the 1992 Green Eyeshade Award.
Lowe's cartoons have appeared in Newsweek, The New York Times, The Washington Post and on network television. He was commissioned by the Library of Congress to design a poster, and he also illustrated the humor book Are You a Newrotic (Prentice-Hall). A kinetic sculpture by Lowe was exhibited in 1997 at the National Gallery for Caricature and Cartoon Art in Washington, D.C. Apart from cartooning, Lowe's interests include history, sailing, woodworking and playing the Baroque flute.
LOWE ADMITS that he's walking away from a rich subject for commentary — the administration of President Donald Trump.
But walk he did, Parness says, albeit not before a newsroom send-off from colleagues at The Eagle. Lowe stood in the afternoon hubbub, near the requisite sheet cake, as Executive Editor Kevin Moran praised a career spent "sticking up for the small people in the world." Moran said that Lowe's cartoons have appeared "in all the newspapers that matter."
One promise continues to bind Lowe to The Eagle: a pledge to come out of retirement to create a cartoon commenting on Trump's departure from office, whenever that comes.
"I was damned if I was going to let him control my life after three years," Lowe said of the president.
It took some time, Lowe says, for his caricature of Trump to jell. "At first, he was hard for me to draw. I just wanted to soak in the essence of Trump. I was trying to immerse myself in Trumpiness."
Lowe put up photos of the president around his drafting table at The Eagle — showing Trump laughing, angry, in repose, in a pout. The challenge of caricature, he says, is to show the essence of a person, filtered through the cartoonist's commentary.
Last month, after it emerged in the Robert Mueller report that White House spokeswoman Sarah Sanders had lied at briefings with reporters, she became the subject of one of Lowe's final cartoons. It was his first time drawing Sanders, and it meant taking stock of her features. Lowe found them surprisingly off-kilter, lifting the left side of his face to dramatize it.
"Her face is in conflict with itself. When I look at her, I think, `Catch the dichotomy, catch the schism — the difference between the good side and the less-than-good side.' She's a lot of fun to draw."
In the cartoon, Sanders sits in a sort of "kissing booth" of the kind made famous at county fairs of old. But the sign says, "Lies— $1."
A man looking on says, "Being a typical Trump staffer, she figured out a way to monetize it."
As with the caskets drawing, Lowe believes that the best cartoons are the simplest — those with few visual distractions.
"It took me decades to figure that out," he said. "Know when you're finished. And stop. Everything has to be directed at the point you're trying to make. The best cartoons have no words at all." ...
A NATIONAL PRESS FOUNDATION AWARD in 2000 noted that Lowe "has it in for people who are a little too full of themselves and social movements smacking of hypocrisy."
"So a couple smooching in a parked car and criticizing same-sex marriages turn out to be married — to other people," the citation reads. ...
The best cartoons, Lowe says, get their messages across almost instantly.
"In a flash to the reader, before they have a chance to be skeptical, or be bogged down in a column. Your message will at least stick to the wall. The message is instantaneous. It's an incredible power they give you," he said of the cartoonist's role.
Lowe's retirement further depletes the ranks of nationally known editorial cartoonists. Lowe estimates that while as many as 250 full-time editorial cartoonists were at work when he joined the field in 1975 at the Shawnee News-Star, in Shawnee, Okla., there are now fewer than 50.
He retires able to draw the White House and the Capitol from memory.
"If you can't do that," Lowe cracked, " you shouldn't be in the business."
TURKISH CARTOONIST JAILED FOR NO REASON AT ALL
Adapted from the New York Times report, April 25
IN A REPORT JUST REACHING US, Turkish cartoonist Musa Kart was returned to prison in February along with five other journalists. All were charged with inciting or aiding terrorism in one way or another, the charges entirely trumped up. The case is considered to have grave implications for freedom of the press in a country now dominated by its autocratic president, Recep Tayyip Erdogan, who has been imprisoning people he believes were supporting the 2016 coup that failed but cost the lives of 249 citizens and the injury of many others. And Erdogan has been suppressing news media who report news unfavorable to him.
Allies of Erdogan now control most of Turkey's news media. According to the Vienna-based International Press Institute, more than 150 journalists are in jail in Turkey. The country is ranked 157th out of 179 in the world press freedom index compiled by the advocacy group Reporters Without Borders.
The six who were returned to jail were among 13 employees of the newspaper Cumhuriyet, convicted last year and given sentences of two to seven years. All were detained for nine months before the trial, but then released after the trial during an appeals process. The appeals process has now reached its conclusion.
The journalists, their lawyers and media freedom organizations denounced the trial as politically motivated.
"It is a scandal, a huge injustice," said Tora Pekin, one of the lawyers for the journalists.
In February, an interim appeals court upheld the convictions of eight of the 13, sending six of them back to jail, including an accountant at the newspaper, one of its board members, a lawyer and its cartoonist. They have up to 18 months left to serve.
Cartoonist Kart told a meeting of journalists this week: "We all know that they are throwing us into jail, just to create a climate of fear in this country. I am waiting for an apology. If not today, in the future they will apologize to our children."
THE CASE BEGAN in 2016, part of a widespread crackdown after a failed coup for which the government blamed a United States-based cleric, Fethullah Gulen. The newspaper employees were accused of aiding Gulen's group, which Turkish officials refer to as FETO.
In an embarrassment for the government, it has since emerged that one of the prosecutors in the case had himself been officially accused of being a member of Gulen's group.
Another point of contention has been that the accusations of Gulenist links against Kart and two other journalists were based in part on phone calls they made for vacation reservations to the tourism company of a current cabinet minister, Mehmet Ersoy.
The indictment against the journalists said there had been an investigation of Ersoy's company to find links to the FETO. No luck. In a statement, the company denied any links to the group, and produced a document from a prosecutor's office saying it was not a suspect in any case.
Which prompted one of Kart's many sarcastic comments:
"Why did I spend nine months in jail if this company is not linked to FETO? If it is linked to FETO, then how did its boss become a minister? Shouldn't we solve this contradiction?"
AT HIS TRIAL, Kart, like the other co-accused from Cumhuriyet newspaper, read a prepared statement in his own defence. According to those there to hear them, Musa's wry comments were greeted with laughter in the public gallery. He also showed some of his cartoons as evidence of his impartiality. Excerpts from his presentation follow.
"I am a cartoonist. I have been drawing cartoons for thirty-five years. Instead of writing long and winding expositions, cartoonists pour out their feelings and thoughts directly, in a striking and energetic form.
"Today, I stand here as the respondent to allegations that are unjust, baseless and impossible to come to terms with, allegations the unfairness of which is quite extreme.
"I am facing a prison sentence of almost twenty-nine years. What is more, we also know that the prosecutor who is making these allegations is being tried on the grounds of 'Being a member of the Fettullah Gülen organization and of attempting a coup.'
"Yes, I am being tried on the grounds of 'Serving a terrorist organization to its benefit by way of one's actions, whilst not being a member of a terrorist organization and not committing a crime in the name of a terrorist organization'!
"My response to this will be both short and sweet:
"I return the exact same accusation!"
In effect, Kart accuses the prosecutor of helping a terrorist organization by attempting to silence one of its critics.
"Years ago," Kart continued reading from his statement, "I made some cartoons drawing attention to the fact that Fettullah Gülen was developing an organization within the state. How tragic it is, and also how comic, that I am being tried today by the testimony of people who were at Gülen's right hand.
"Yes, I have had the privilege of being Cumhuriyet newspaper's cartoonist for twenty-three years. If some unprejudiced research had been conducted in this case, it would have been seen that my signature is there, under the most scathing cartoons [critical] of terrorist organizations, primarily those of FETÖ. And the fact that these anti-terrorist cartoons have appeared on the front page for the last six years is further proof that my paper should not be held up as being aligned with a terrorist organisation.
"Essentially, the cartoon is an art form of an age in which a free mind and inquisitive freedom of thought began to express themselves. It is against the very nature of things for cartoons and their creators to align themselves with a culture of submissiveness [suppression] and with entities that are unbending and based upon crude hierarchical relations that promote violence.
"Courageous and independent view points that have broken free of cliché and standardized forms are what make for a true and effective cartoon. Conversely, organizational structures based upon strict hierarchical relations cannot create a platform upon which a cartoonist can seek the freedom they need. Whilst organizational structures that are based upon violence rely upon taboos, the role of humor and of cartoons is to categorically destroy taboo. For that reason, those opposed to democracy do not like humorists, and humorists, likewise, have no time for structures that worship violence. ...
"It was clear from day one that this indictment was loaded with inspirational material for a humorist. It was not just the opposition, but even the newspapers close to the government who drew attention to these farcical allegations.
"And now everybody knows that the prosecutor who prepared this indictment is facing two life sentences and is being tried as a FETÖ suspect and for instigating the coup."
Kart then listed the charges in his indictment, pointing out their absurdities; we post a couple here:
■ "Our colleague who had parquet flooring laid in his house was accused of being a member of FETÖ because another customer of the man who sold him the parquet was a FETÖ supporter!
■ "I rang [phoned] a well-known travel agent, one that has full-page adverts in all the papers, looking for a three-day holiday in Bodrum and this phone call has been listed as evidence against me that I made contact with a terrorist organisation.
■ "Whilst I had been hoping to spend three days in a room with a sea view in Bodrum, I ended up spending nine months in a cell with a concrete view in Silivri. I don't think that my experiences can be passed off as a mere reservation blunder!
"This indictment," Kart went on, "has severed all contact with objective reality, is beyond the bounds of reason and cannot be taken seriously. It is frowned upon even by all those people who are not encumbered with a heart and a brain. It's lost face even with them!
"You will appreciate of course, that I could have made my own jokes about this indictment, but I didn't. This is because good-mannered humourists know only too well, you don't hit a man when he's down! ...
"CAN YOU MAKE A CARTOONIST CONFESS? Let's see!
"Yes, in my life as a cartoonist I have aided and abetted only one organization. And the name of this organization is the ACC. Which is an acronym for All my Country's Children. Among the members is my granddaughter, who is two-and-a-half. I know for a fact that children of the members of your board and children of all of our friends who are present in the courtroom here today are among the members of this organization.
"I asked my granddaughter what the purpose of this organization was and she said:
"'Grandpa, we want to live like our friends in the West. We want our lives to be free and happy too. We want to live in nice stable homes and be taught in good schools. And we don't want anybody to die, or anything like that.'
"'So, will you make me a member of your organization too?' I asked.
"'No, I can't, Grandpa,' she said, 'Because you're not a child. ... But if you really want to, you can aid and abet us. You can draw for us.'
"There you have it, my confession. The truth of the matter is, aiding and abetting this children's organization has been the meaning of my life. Instead of the threat of punishment, I have always feared being an embarrassment to our children!"
"As you will know, in 2016, Turkey was in ninety-ninth position out of one hundred and thirteen countries in the index on the rule of law. And we can all see that the situation is getting even worse in 2017. In all of the debates on justice there is no one left saying 'There is Justice in this Country.' What we need to be able to live together is common ground and common justice!
"May the first hearing of this trial, that is being followed with interest by the whole world, be the miracle of a new era that will cause our faith in the law and in justice to blossom. I wish this not only for myself and for my colleagues, I wish it for my country.
"When our homes were searched with a fine-toothed comb, no safes full of money were found nor shoe boxes stuffed with dollars! The Financial Crimes Investigation Board and the Savings Deposit Insurance Fund examined the bank accounts and movement of monies of ourselves and our family members. But they did not find evidence of one penny's worth of irregularity.
"For months now, our personal electronic devices, the headlines that appeared in our newspaper, our news articles, photographs, opinion columns and cartoons have been examined in detail and yet not one shred of concrete evidence has been found to show that we have aided or abetted terrorist organizations.
"Yes, in this country everyone is very familiar with sentences that begin with a declamatory… 'O!'
"I would like my defense to be noted as, 'O, CONSCIENCE!'"
With that, Kart ended his reading of his statement.
A NEWSPAPER COLUMNIST, Yilmaz Ozdil, a friend of Kart's, wrote an appreciation of the cartoonist's struggle and placed it in the context of the long and difficult history of cartoonists and satirists in Turkey. Among this remarks are these (in italics)—:
The great leader of the 21st century, President Erdogan, sued over being drawn as a cartoon kitten by Musa Kart. He sued over being drawn as a giraffe, elephant, monkey, camel, frog, snake, cow and duck on the cover of Penguen magazine too. And he filed a lawsuit against the caricature as a blood-sucking tick on the cover of LeMan.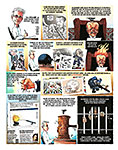 But Kart, who drew his last cartoon on Christmas Day 2017, became a singular obsession. Musa Kart escaped prosecution in normal times but the attempted coup of 2016 and subsequent state of emergency helped the president enormously.
Nine months of detention [for Kart], then out, but not over. The government regrouped, sleeping on it for a year. And as of yesterday the iron bars were put in place again. But on the contrary…
Take a look at this caricature of Kart's drawn in the early 2000s. When Fetullah Gulen leaked to the Turkish Armed Forces the authorities were obsequious but Musa was unconvinced. Time and again his cartoons were a warning. If we collect all his anti-FETO caricatures we'd have a book. Yet now, shamelessly, he is put in prison for the second time and all as a fetish to please an obsessive.
They're stealing another year from your life, my friend.
Nothing changes in Turkey.
We laugh our eyes out.
AND SO KART BEGINS to serve the remainder of his two-year sentence. Nearby are a couple of Kart's cartoons. The comedy and the satire work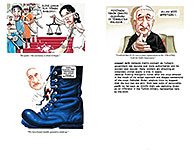 differently in cartoons in the Mideast, so I don't expect anyone to be destroyed by laughter at these. I'm including them here to demonstrate Kart's craft and the brilliant use of color at his newspaper.
Meanwhile, now, as they did two years ago, cartoonists worldwide are taking to their drawingboards, their publications and social media to show their support. The Cartoonists Rights Network International is spearheading a drive to cartoon for Kart's freedom. Terry Anderson, CRNI Deputy Executive Director, Regional Representative (Northern Europe) suggests that the cartoons will be most effective if they can be seen and used by colleagues in Turkey. For this reason the guidance given by the Kart family the last time there was a request for #FreeMusaKart cartoons is still applicable. Specifically, cartoons are less likely to be used in Turkey if they include:
● transformative portrayals of Erdogan as a monster, animal or object
● minarets or other Islamic iconography
● depictions of the Turkish flag ablaze, soiled or otherwise defaced or destroyed
We advise that the main subject of the cartoons should be Musa himself, not his tormentors. Concentrate on his struggle, his dignity, his courage. ...
To be absolutely clear: CRNI is an anti-censorship organisation and endorses the freedom of expression of all cartoonists, everywhere. The impulse to draw the things that Musa and others in Turkey are forbidden or unable to is natural and understandable and such drawings are a valid illumination of the absurdity of Erdogan and his government's hypersensitivity and vindictiveness.
However, if a cartoonist is going to be kind and generous enough to contribute a new cartoon in solidarity with Musa, we feel that there is no harm in maximizing its utility and providing material that can be used on Musa's behalf where it matters most. This is doubly important this year, as after the arrests of so many staff at Cumhuriyet and the subsequent change in management, the newspaper can no longer be relied upon as an ally. The chances of them printing any cartoons in support of their former colleague are negligible.
Finally, based on our experience with past campaigns such as the cartoons for Eaten Fish, a recurring motif or theme lends greater coherence. [Eaten Fish is a pen name; scan Opus 358 for details.] An idea might be to take our cue from LeMan magazine, itself a victim of censorship in Turkey, and include a cat in our cartoons. This is in reference to the drawing Musa did all those years ago that began his problems with Erdogan.
THE MUELLER REPORT
The next phase of the unrolling of the hysterically anticipated Mueller Report occurred, with much fanfare among the awaiting public and its duly elected representatives, on Thursday morning, April 18. Before turning loose of the 448-page document (in which portions have been "redacted"—crossed out because they violate some regulation or another), Attorney General William Barr gave a speech in which he not only said the Trumpet was not guilty of any criminal act but was also as innocent as a new-borne babe. Moreover, the Prez had been having all sorts of psychological and emotional problems whilst being menaced by Mueller, and we ought, therefore, to be sympathetic rather than condemnatory about his actions, most of which are outrageous manifestations of his persistent delusional state.
Thereafter, the Prez did not hold a press conference. Nor did his lawyers release the "counter report," the anticipated "rebuttal" to Mueller they'd prepared to defend and excuse the Trumpet's behaviors.
There was no need. Barr had done more that enough to protect the Prez.
But no one else was silent.
The Gasbag Brigades had a field day. All day long, hour after hour, they discussed what Barr had said (and how inappropriate it was and how partisan on behalf of the Prez) and what criminal acts they could find cited in the report. On and on.
Some were outraged. Some where baffled. All were talking.
Adam Schiff, the chair of the House Intelligence Committee, one of the two committees that will be doing more investigating, had, I thought, the best response.
Whether or not the report outlines actions that constitute criminal conduct, Schiff said, "they are unquestionably dishonest, unethical, immoral and unpatriotic and should be condemned by every American."
Bravo.
QUOTES & MOTS
From the Hightower Lowdown by Jim Hightower—:
OUR WHOLE COUNTRY is living through a reign of pure flimflam. ... Our media, politics, government, public discourse and civic focus have been captured by the mesmerizing All Things Trump sideshow—from the Putin bromance to the Saudi bone-saw horror, from constant Cabinet chaos to the caravan bugaboo, from his vanishing middle-class tax cut to his illusory wall, from peep-show vulgarity to full-monty corruption. ... and to the nonstop spectacles emanating from this White House. As we gape 24/7 at the amazing ridiculousness of The Donald, however, our pockets are being picked, not by scammers who are barely getting by themselves but by wildly rich, greedy and powerful corporations.
These members of the corporate elite in America profess dismay at Trump's ignorance, arrogance and all-around awfulness, but they're delighted to exploit his power of distraction, which helps them grab more power and wealthy at the expense of you and me. ...
The dominance of these profiteering interests did not, of course, begin with the Trump sideshow. For the past half-century, they and their acolytes have steadily spread the pernicious legalistic fiction that a corporation's sole obligation is to generate as much profit as possible for its shareholders. Every administration ... has essentially accepted this ridiculous fairy tale as fact. And, to one degree or another, each has taken steps that have incrementally advanced the supremacy of corporate interests over all others.
But when Trump Inc. crashed into Washington—KABLOOIE!—incrementalism exploded into a government of agencies almost wholly owned and run by Wall Street bankers , CEOs, industry lobbyists and corporate lackeys often plucked from the ranks of former Congress critters. Rather than seeking favors from government officials, corporate interests have now largely become the government. And while we gawk at the president's monkeyshines, these gluttons are looting the people's treasury and fast locking-in a permanent American oligarchy.
TRUMPERIES
A Preamble of Poltroonery and Outlandish Antics
OUR PREZ IS AGAIN being held up to ridicule— but only because he deserves it. Caught between a Wall and a hairpiece, the Trumpet defies common sense by pressing onward, ever onward, leaving behind a contrail of sentence fragments and thought fragments.
This department has a two-fold mission: to spotlight the Trumpet's various appearances on magazine covers that ridicule him for his ongoing triumphant nonsense and, second, to preserve the serious tone of the Editoonery Department by clustering all the purely personal ridicule editoons here where they can't do any more mischief. This is supposed to be the "fun place," aristotle—a place for all of us who despise the Trumpet to have a laugh.
We begin with the Trumpet's appearance on the cover of the news magazine The Week, the work of F. Harper, who has been decorating this magazine's covers from the beginning (which was 1995 in Britain; April 2001 in the U.S.).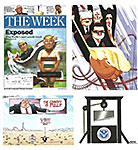 Here we see Robert Mueller stripping away the faux robes of monarchy and leaving the Trumpet naked as the day he was born (assuming he ever was). Critical parts of his anatomy are covered with labels —"Grand Jury," "Personal Privacy" and "Harm to Ongoing Matter," the redacted material in the Mueller Report—which is all that prevents him from total embarrassment.
Next to The Week cover is an illustration from The New Republic by Andre Carrilho, which is here chiefly because I admire his work—particularly the gauzy whip-cream treatment of the Trumpet's hair. Those riding the roller coaster of the Trumpet's trumperies are MSNBC stalwarts (clockwise) Lawrence O'Donnell, Chris Matthews, Rachel Maddow, and Chris Hayes, who can make a good living trying to figure out the latest Trumpery.
Then, continuing in a clockwise manner, we have two refugees from our already overflowing Editoonery Department. The first, by R.J. Matson, offers an apt visual metaphor for the Department of Homeland "Insecurity" now that Trump has started firing people there who don't conform to his idea of being "tough." Which idea is represented, in part, by Nate Beeler at the lower left, whose cartoon points out the ludicrousness of the Trumpet's latest pronouncement intended to keep immigrants from entering a country that is "full" but conspicuously empty at the border.
In the next array of Trumpery, we begin with Daryle Cagle's purely delicious representation of the relationship between the Trumpet and Congress at the upper left.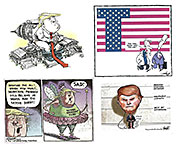 Next is a new U.S. flag design by the Trumpet (as rendered by an editoonist whose signature I cannot, alas, decipher). "Too far" indeed. Darrin Bell provides a diagram that can be used to measure the effect of the Trumpet's self-inflationary pronouncements, a telling image in which the Prez is seen inflating his reputation by pumping himself up all by himself, increasing the size of his head in that aged axiom about ego and "getting a big head."
Finally, here's Rob Rogers whose two-panel cartoon compares the Trumpet's disparaging remarks about Democrats with his own equally fantasy-based declarations of national emergency.
Well. Enough fun with Trump's irrepressible buffoonery. Onward to the serious stuff about his nonsense and the rest of the political landscape.
EDITOONERY
The Mock in Democracy
E OPEN with a cartoon that launched a thousand angry words, the cartoon at the upper left of our first visual aid. This cartoon by Antonio Moreira Antunes of the Lisbon, Portugal-based newspaper Expresso, aroused all sorts of raw disapproval and irate controversy. So what's to dislike?The dominant image is of a man walking a dog. Or is it a dog walking a man? Anyone who's taken a walk with a dog on a leash knows that the dog often controls the direction and speed of the expedition. But the leash in this drawing is loose, not strained, so the dog isn't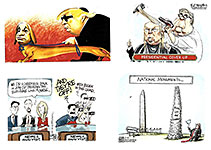 controlling the walk. Or is it?
The dog has the facial characteristics of Israel's prime minister Benjamin Netanyahu. The man on the other end of the leash is clearly Donald the Trumpet. He's wearing dark glasses. Perhaps he's blind? He's also wearing a traditional Jewish skullcap, or yarmulke, which links him to the Orthodox fair-right Israeli settlers whose views, we suppose, he espouses (or is at least sympathetic with). And the dog collar carries the Star of David, often used today as a symbol of Israel or the Jewish people.
Since the leash is not strained, the Bibi dog is probably intended as a kind of guide dog for the blind Trumpet—guidance that involves Israeli ideas, symbolized by the Star of David. That the Trumpet has partaken of those ideas is represented by the yarmulke. But the guide dog is not loose: he's constrained by the leash, so he can't go wherever he wants to go; he must have in mind the Trumpet's interests (ostensibly U.S. interests or perhaps U.S. military aid to Israel).
The overall impact of the image, then, is of mutual dependence, or connectedness, guide dog and leash-holding blind man. But the man has been converted to the dog's beliefs—as indicated by the yarmulke and Star of David. And so Trump's moving the U.S. embassy to Jerusalem and declaring the Golan Heights an Israeli territory are acts representing the Israeli point of view. The dark glasses suggest Trump's willful blindness in matters of international politics generally and Mideastern travails in particular. Both of his above-noted spectacular policy shifts favoring Israeli interests declare his ignorance (or arrogance) about Palestine and Palestinian concerns.
Seems a fair comment.
But then, all of a sudden—as soon as the cartoon appeared in the International edition of the New York Times—all hell broke loose.
The cartoon was immediately decried as anti-Semitic.
Anti-Defamation League chief Jonathan Greenblatt excoriated the New York Times for publishing a cartoon that depicted anti-Semitic tropes. "I thought the cartoon was disgusting. … I thought it was despicable.
"I wouldn't even credit it as a cartoon," Greenblatt continued. "It was anti-Semitic propaganda of the most vile sort. Not only does it not belong in the New York Times, but it in any credible news outlet. It was unconscionable."
It was more than the stunningly upright Donald Trump, Jr. could stomach. So he held forth, as follows: "Disgusting. I have no words for flagrant anti-Semitism on display here. Imagine this was in something other than a leftist newspaper?"
You will recognize immediately that we are on the brink of a long detour. Rather than take the detour here, we're moving it down the scroll to the end of the Editoonery Department where you can find it under the heading Editorial Cartooning and Anti-Semitism. There we'll prolong the discussion we've just begun. Until we get there, we'll turn to the second cartoon in the accompanying array, which we post again nearby for your convenience.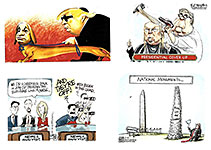 Among other controversies lately that are still transpiring is Attorney General William Barr's attempt to spin the Meuller Report in favor of the Trumpet. The Meuller Report and its numerous indications and implications will command our attention anon; for now, by way of preview, here's Ed Wexler's take on Barr's enterprise.Wexler's visual metaphor for the "Presidential Cover Up" is the Trumpet's outlandish hair-do, and he depicts Barr putting the whole elaborate construction together—with Trump's approval (thumbs up).
Next, Adam Zyglis commemorates another Trump milestone: the Washington Post, which has been keeping track of the Trumpet's lies and misrepresentations, reported recently that the Prez had passed the 10,000 mark. Trump loves to proclaim his accomplishments in terms of breaking records. He's done more in his first two years than any other Prez in history, he says. And the monument of his lies is higher than that of any other Prez.
At the lower left, Pat Bagley ridicules the so-called news media: in two panels, he contrasts their insightful self-analysis with their actual practice. True to form, very little broadcast time is devoted to reporting the policies or opinions of the 21 Democrat candidates compared to the time spent telling us how much money each candidate has raised and where they stand in the polls (a year away from the first primary!).
Bagley's caricaturing ability is on display here. I can't remember the name of the news analyst in the middle, but Bagley has him perfectly—even the few strands of hair the guy combs forward to make it appear he still has hair.
The cartoon conjures up unhappy memories of the conduct of the so-called "news" media over the last (at least) three-plus years. Their uncritical coverage of the 2016 presidential candidate they thought too farcical to be serious but farcical enough to be vastly entertaining—namely Donald J. Trumpet—resulted in giving that candidate huge swaths of air time. In effect, journalism was promoting Trump for Prez by enhancing his visibility (and, hence, his validity as a candidate).
When he astounded everyone by winning, the "news" media realized what they'd done and pounced to make up for their culpable complicity. Ever since, they've been hypercritical of the Trumpet, seizing upon every jot and tittle of his twittering to make him a laughing stock and a fulminating incompetent.
That's what he is, of course, but the "news" media have been slow to realize it: they should have come to this conclusion in 2015 when Trump was just one of several candidates, albeit the least qualified for the job.
But as matters prevail at present, the "news" media seems to be picking on the Trumpet. And indeed, they are. They're making up for their own dereliction in th past by picking on him in the present. Mostly, his outrageous behavior and nincompoop opinions deserve the scrutiny they're getting. But sometimes, the "news" media—still burning with embarrassment at their professional sins of 2016—go a bit too far for "fair" news coverage and/or analysis.
Well, enough. Onward—:
Joe Biden's joining the lists prompted more editoon coverage than accorded any other fresh announcement.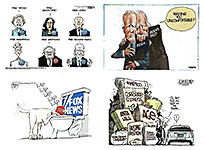 He is, after all, a former Vice Prez and has a longer record of public service than any other candidate. In our next display, Nate Beeler compares Biden's touchy-feely personality with the policies of five other candidates, displaying an impressive mastery of caricature. Bill Bramhall also ridicules Biden for his tendency to hug or otherwise touch people he runs into, whether he knows them or not. C'mon: that's just Biden being Biden. And Biden is scarcely the rapist of the week.
But Biden does have a long record of public service, and as John Cole indicates with a pile of luggage, Biden carries a lot of baggage into the campaign.
At the lower left, Pat Bagley offers a hilarious metaphor for the Make America Great Again stalwarts' allegiance to Fox News. Dogs often have the habit of drinking out of the toilet, and the toilet suggests the quality of what the MAGA stalwarts are imbibing.
IN OUR NEXT EXHIBIT, Ruben Bolling offers a full-page comic strip that takes a perverse view of the investigation of Russian interference in America politics.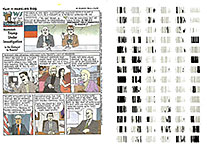 The first such investigation (very early in the Trump reign) was prompted by the suspicion that maybe Trump was an agent of Russia, and Bolling takes that supposition as fact and shows us how the Russians are reacting to the Trump administration.
The rest of this exhibit is devoted to a picture of the redacted Meuller report. You must turn the page on its side to see the pages as they are. Or maybe just a glimpse of those pages sideways is enough to make the point.
In the next visual aid, Walt Handelsman starts us off with a vivid depiction of how our expectations for the Mueller Report were suddenly deflated when the Report finally arrived.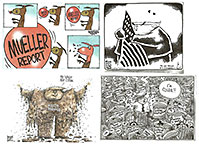 They popped like a burst balloon. Next around the clock, Tom Toles deploys a familiar Trump image, but this time, the flag he's hugging is the redacted parts of the Report. Joel Pett's metaphor for the Trumpet reaction to the Report is a bunch of trash cans, each labeled with one of Trump's sins, and Trump, sitting in one trash can like so much trash himself, announces that, all visual evidence to the contrary notwithstanding, he's clean. It's a conclusion he comes to, as determined by James Israel, editor of the Humor Times, "because he can't read." (I may have a column soon in Israel's monthly tabloid, to which I've subscribed to and recommended for years.)
Not only that: Trump can barely write. Remember all those White House stagings of Trump signing legislation? After signing the bill, Trump holds it up; he thinks this gesture proves to us that he can write. But when we see his signature, we know he can't.
The gesture proves the opposite of Trump's apparent intention: he can't write, and that suggests that he can't read either. But we knew that, right?
Matt Davies supplies the final proof of the Trumpet's delusions at the lower left. Trump's abuse of power and obstruction of justice and his cascade of lies (10,000 and counting, remember?) and other highly questionable behavior have covered him all over with the mud of immoral behavior, which Davies depicts as actual mud covering him all over. Despite this blatant evidence of shameless improbity, the delusional Trumpet can proclaim that his hands are clean. In Davies' picture, Trump's hands are all that is clean.
We're back to Bill Barr in our next display.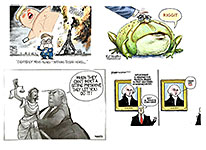 At the upper left, Pat Bagley characterizes Barr's various summaries of the Mueller Report. While the Report is exploding the hot air balloon that is Trump, Barr is telling the gathering crowd to move along in that classic policeman phrase, "Nothing to see here."
Ed Wexler depicts Barr as toadying to the Prez—an actual toad, in fact—saying "Rig it," rig the report on the Mueller Report.
Next around the clock, Steve Breen offers an interpretation of the Trumpet's claim that the Report "completely exonerates" him. A portrait of James Madison, fourth Prez of the U.S., is explaining impeachment, and what the Trumpet says is something completely opposite. So Madison contradicts him, but to no effect: the Trumpet is leaving the scene.
Bill Bramhall returns with a picture of Trump groping Lady Justice in exactly the way he has bragged in the past about groping other women. The cartoon's satirical barb is delivered by combining this visual with the verbal content in the speech balloon, which adapts Trump's famous remark about groping to his current situation. His invulnerability as a sitting Prez is the equivalent of his being "a star" because that status entitles him to grope without fear of reprisal.
In the next array of editoons, we're still focused on the Mueller Report.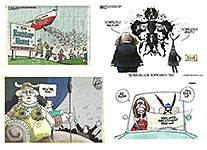 Lisa Benson conjures up an Easter egg hunt as a metaphor for the wildly exuberant expectations among the foes of Trump for what the Report will reveal. And Michael Ramirez presents the Report as a rorschach blot that the Republicons interpret one way; the Democrats, another—each contradicting the other. The caption totals the cost to taxpayers of a report that can mean anything to whoever reads it.
Bill Bramhall shows the Democrats reading the Mueller Report as if it's a road map that will lead to the impeachment of the Trumpet; Nancy Pelosi, ever cautious in such iffy matters, counsels against pursuing impeachment so soon.
Chan Lowe, meanwhile, reminds us that the Fat Lady hasn't burst into song just yet: the Southern District of New York is investigating a whole lot of questionable Trumpery. He hasn't escaped yet.
THE MUELLER REPORT was awaited with greater anticipation than the Magna Carta. We'd had more than a year of speculation about what might be in it. But during that year, we learned (albeit not from Mueller or any of his minions) about Trump's corruption and dishonesty and habitual fraud in every one of his endeavors before becoming Prez and in many of his endeavors after being inaugurated.
We learned about his campaign's contact with Russians, and it was clear the Russians wanted to help get Trump elected, and that his campaign was willing to take the help. That's collusion, we thought, even if the Trumpoles didn't, finally—as far as we knew—act on anything the Russians provided. But until the report, we didn't know how extensive the Trump-Russian contact had been.
We knew Trump had fired FBI Director James Comey because he wouldn't swear to be loyal to the Prez—and because the FBI investigation of the Trump-Russian thing was hampering Trump's plans. We suspected that firing was obstruction of justice but we weren't sure. We were waiting for a legal opinion—Mueller's. We didn't know how often Trump had tried to end the investigation by either firing Mueller or curtailing access to evidence.
So when the Mueller Report dropped, we rushed to read it, expecting to find the hangman's knot on page 3 or, at the latest, page 4. But there was no hangman's knot. There was no outright pronouncement of Trump's guilt. Indeed, he seemed to be innocent of all the crimes we'd suspected him of committing. Disappointment and anger swept rampant through the halls of Democrat Congress and among Trump foes nationwide.
Turns out, we read too fast. We skipped over the important, qualifying (and therefore revealing) parts. Except Rachel Maddow: she read carefully and saw that Mueller, while not being too overt about it, was, indeed, declaring Trump as guilty as Mueller's office and responsibility permitted him to declare.
About collusion, Mueller reported that he and his team did not search for collusion—a term without legal definition—but looked for coordination between Trump's campaign and the Russian government. And they found no evidence of it; hence, Trump was not guilty of collusion.
The Report's verdict on obstruction of justice was a little trickier. It concludes that "if we had confidence after a thorough investigation of the facts that the President clearly did not commit obstruction of justice, we would so state. Based on the facts and the applicable legal standards, we are unable to reach that judgment. Accordingly, while this report does not conclude that the President committed a crime, it also does not exonerate him."
We didn't find him guilty; but we didn't find him innocent.
But few of the mewling news media saw that meaning in the concluding sentences. They were looking for "guilty," and in their haste, all they found was "exonerate." That's what the Trumpet saw, too, and he began at once braying loudly that the report "exonerated" him. Which, of course, it didn't. In fact, buried in Mueller's careful clauses, it said exactly the opposite. But that didn't stop the Trumpet from trumpeting.
In the New York Review of Books for May 23, David Cole examines the 448-page redacted Report and draws different and damning conclusions.
The Report establishes "beyond doubt" that Russia engaged "in a systematic effort to subvert" the 2016 election. "One would think that any American president, regardless of ideology, would support a full-scale investigation to understand the extent of such interference and to help ward off future threats to our sovereignty and security. Mueller's report shows that Trump's concern was not for American democracy but for saving his own skin."
In reporting to Congress, William Barr is careful to say that Mueller "did not charge Trump with the crime of obstruction of justice" (my emphasis).
Cole continues: "What Barr did not say, however, was that Mueller declined to do so not because the evidence did not support the charge but because he concluded that it would be inappropriate to level such a charge against sitting president. The Department of Justice, Mueller noted, has taken the position that even a sitting president who had engaged in blatantly criminal activity cannot be indicted because a jury of twelve citizens should not have the power to remove an elected president from office by a guilty verdict.
"Presidential crimes should be assessed by Congress in impeachment proceedings or by the public at the ballot box.
"As special counsel, appointed by and reporting to the Justice Department, Mueller considered himself bound by its legal interpretation. He further reasoned that since he could not indict President Trump no matter how strong the evidence against him, it would be unfair to conclude in his report that Trump had committed a crime because without a trial, Trump would not have an opportunity to clear his name.
"Thus, Mueller's reticence stemmed from a concern for fairness not from any doubt about the evidence. He noted that had he concluded that the president had not obstructed justice, he would have said so. Instead, he wrote that the report 'does not exonerate' Trump.
"That is classic Muellerian understatment," says Cole. "The report dispassionately lays out the facts, which are an indictment in all but name."
He continues: "No reasonable reader can come away from the Report with anything but the conclusion that the president repeatedly sought to obstruct an investigation into one of the most significant breaches of our sovereignty in generations in order to avoid disclosure of embarrassing and illegal conduct by himself and his associates."
Had our feckless "news" media been more diligent and less rushed in its knee-jerk desire to beat everyone else with publication of a hangman's verdict about the Trumpet, we might have seen the Mueller Report for what it is (and what reportage is now, at last, pronouncing it to be)—a road map to impeachment.
But if that had happened, we wouldn't have had such a fruitful harvest of editoons on the subject. Before we get to them, however, we'll take a little break from the heavy-breathing commentary and ponder the following—:
T-SHIRT WISDOM FOR THE AGES
I really think that tossing and turning at night should be considered as exercise.
Men say that women should come with instructions. What's the point of that? Have you ever seen a man actually read the instructions?
Who left the bag of idiots open?
I should go to the gym, but it looks like all my cupcakes expire today.
I don't approve of political jokes. I've seen too many of them get elected.
Someone offered me grapes, but I declined. I don't consume wine in pill form.
Even duct tape can't fix stupid. But it can muffle the sound.
MEANWHILE, IN OUR NEXT VISUAL AID, we take up other subjects.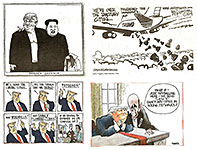 Joep Bertrams gives his verdict on the Trumpet-Kim summit of last month, and a clever metaphor it is: Trump, so proud of his self-determined "success," doesn't notice that Kim has removed his shirt and tie and thereby gained more for his country than Trump has for his. Next around the clock, Milt Priggee's image of a bomber dropping, not bombs but pawns, on sanctuary cities shows that the Trumpet's proposed plan is wholly vengeful and not at all intended as a practical solution to the nearly overwhelming problem at our southern border. Presumably, Trump will use these pawns to achieve some other, equally despicable, purpose.
Bill Bramhall takes the sanctuary cities dumping ground notion another step into the fantastic with Trumpole Stephen Miller's suggestion that is in the same entirely destructive spirit—and disposes of another annoyance, the questionable flight-worthiness of Boeing's huge passenger jet. And at the lower left, Dan Wasserman suggests a political posture for the mayors and city councils in the sanctuary cities. They missed a satirical bet: they should have risen up and held their arms open for the immigrant arrivals, blessing Trump for enriching their cities' populations with more workers and talent.
In international news, Rick McKee and Steve Breen remind us in the next exhibit of the tragedy at Sri Lanka where Christians were killed by terrorists as an act of revenge by hooligan Islamists for a Christian killing Muslims in New Zealand.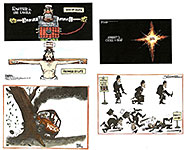 Both deploy Christian imagery—the cross upon which Christ gave his life for our salvation. McKee's crucifixion image mocks that of the radical Islamic terrorist, his arms outstretched to set off his vest of explosives; Breen's explosion of terrorism is, as he says, our cross to bear.
To portray England's Brexit dilemma, Joe Heller digs into iconic Monty Python shows for an image of awkward bumbling—silly walking that leads to stumbling. And Steve Benson has the Brexit bus crashing into a tree, effectively disabling it.
In the next display, Joe Heller produced an overweight Where's Waldo, turning a pun into an image of looming and ballooning national debt that will get a boost if Trump gets the money for his Wall.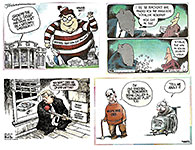 Noise about the Trumpet's Wall has subsided somewhat lately but that's because Trump has found funding for it.
When Congress turned him down firmly, appropriating only a fraction of the $5.7 billion that he wanted, Trump went to the Defense Department and started diverting a reported $6.1 billion from personnel budget accounts, a counter drug program, and about 150 military construction projects—"many of them urgent and long delayed," saith Jonathan Stevenson in the New York Review of Books. And he dispatched the Army Corps of Engineers to administer the construction of the Wall by private contractors.
These actions are unConstitutional. Said Stevenson: "No president has ever used his emergency powers to fund a project for which Congress has explicitly refused to appropriate money." And his deployment of troops to the border strains existing limitations on using the military in a domestic situation.
"By thereby challenging the separation of powers and exceeding his authority as commander in chief, Trump is continuing his derogation of constitutional governance."
A coalition of twenty states has filed a lawsuit to get him to stop. And the House is suing the Trump administration on the grounds that Trump has unconstitutionally usurped Congress' appropriation authority.
So far, I haven't seen any editoons on these matters. Too bad because we're approaching that Constitutional crisis everyone's talking about.
To the right of the ballooning national dept, Tom Toles takes up the subject of socialism, an ism that the Republicons are already invoking to defeat Democrats in the election still almost two years off. Democrat programs are "a socialist plot" the Great Obstructionist Pachyderm warns. But, as Toles' GOP elephant discovers, we're already into socialism: it's not a boogeyman to threaten us with: it's a boon we all enjoy.
And Bill Bramhall reminds us that Medicare, too, was "a socialist plot" that we now all enjoy after reaching a qualifying age. The term also reminds us that this manner of attack is hoary with failed maneuvers of yore. It's yesterday's politics, but the GOP is going to invoke it nevertheless. The Trumpet will make it work.
And then Jim Morin exaggerates the Trumpet's position on releasing his income tax records and business records to the Democrat House committees investigating various malodorous Trump activities. Morin's image is of a gangster holed up and defying the police (whose car is labeled "House"). Since Morin drew this one, Trump has added all White House employees, past and present, to his executive privileged hold-outs—plus all the Mueller Report— and Morin's metaphor becomes more realistic than exaggerated.
In the next array, we start with Pulitzer-winner Darrin Bell joining the multitudes attempting to explain why certain Semitic things are not anti-Semitic. (I'm one of those multitudes, as you'll eventually find out at the end of the Editoonery segment.)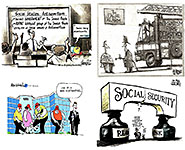 All of the non-equations on the blackboard are true: "criticism of these groups is not anti-Semitism" etc. But the kid at his desk mistakes the symbol for "not equal" for the hashtag of an anti-Semitic site.
As an old friend of mine (executive director of the Speech Communication Society) used to say: the most profound thing about communication is the illusion that it's been accomplished.
Next around the clock, Matt Davies takes up the same issue: the false alarm for the anti anti-Semitism fire department is a critic of Israel the nation, not of Jews the people. Anyone criticizing Israel runs the risk of being called anti-Semitic. Next, Scott Stantis reports on the financial status of Social Security, which, balanced on bottles of red ink, is crumbling and will soon, perhaps, fall apart. A confident Congressman thinks it will hold for a while, but not long enough for the next generation.
The Social Security scare surfaces every so often: "It's running out of money, it's running out of money" scream the Chicken Littles of Congress. But as another old friend of mine used to say: it'll never run out of money as long as the government has the power to tax. Indeed, a couple small adjustments to the existing regulations would preserve Social Security for the next and the next generation: raise the retirement age by a year, say, and raise the payroll deduction by half a percentage point. Neither adjustment would be drastic enough to cause panic or widespread protest; together, they'd inject enough money into the system to preserve it.
Mike Luckovich reports on the recent noisy upheaval at the National Rambo Association, when Oliver North declined to run for re-election to the presidency, protesting executive director Wayne LaPierre's possible mismanagement of NRA funds. LaPierre accused North of the same thing and wound up still executive director. The publicity surrounding the contentious dispute was bad publicity, and since it was self-inflicted, it was, as Luckovich points out, like shooting oneself in the foot. What else do we expect from these firearm advocates?
In our next visual aid, Tom Tomorrow (aka Dan Perkins) sharpens his sarcastic photocopier to produce a multi-panel cascade of snide comments on the conservative right and the Trumpet.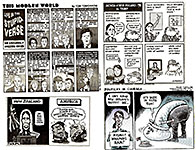 (It's not a comic strip because there's no narrative sequence.) Sarcasm is a tricky weapon for satirists: some people aren't capable of seeing sarcasm for what it is, a pose, and think it represents the actual opinions of the persons being satirized. I suspect there are folks who take Tomorrow literally, but he lays it on so heavily, I can't imagine the literalists last long.
Jen Sorensen in her multi-panel cartoon avoids sarcasm this time by comparing Jacinda of New Zealand to the Trumpet on the ways they react to national extremists in the wake of the mass murder at a Christchurch mosque. I like the scalp scarf and, particularly, the last panel, which plays with words in a laughably dramatic conclusion that evokes memories of Trump's infamous pussy-grabbing remarks.
Rob Rogers also compares New Zealand's leadership with America's. While Jacinda immediately advocated banning certain kinds of guns, the GOP ignores the issue, instead, burrowing itself deep into NRA support funding. Nice word play, too, with different meanings of "darkness." Steve Sack elaborates on the same theme, showing the shameful irresponsibility of the NRA and GOP reaction to any whiff of gun control wafting through the halls of government here.
IN THE NEXT EXHIBIT, Matt Davies uses several panels to report on the evolution of skeptical thinking about climate change.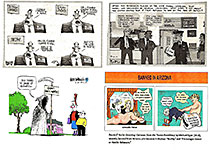 Yes, it's too late to stop it. I've held that position for some years. Repeatedly, I've said we'd more usefully spend our time figuring out how to cope with rising ocean levels and the ensuing impact than wasting time trying to stop the inevitable. Ted Rall gets off a sarcastic salvo at a capitalistic system that values Boeing's investment in the 737 Max more than the lives of its passengers. Rall also takes a dig at the notion that corporations are people, the contention of the Supreme Court's decision in Citizens v United: "Corporate-owned machines get the benefit of the doubt."
At the lower right, is a self-explanatory (and outrageous) news item we're just passing along.
Next, Mike Luckovich constructs a metaphorical image about vaccination in the age of measles. How many children have died from vaccination as opposed to those who've died from measles? Anyone asked that one yet?
Another hodge-podge of issues attracted the attention of our next group of editoonists.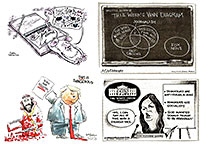 Daryl Cagle can't let Wikileaks' Julilan Assange get arrested without taking note of it with a memorable image. Matt Wuerker takes a look at modern journalistic practices and finds that Fox "News" is far outside the bounds of his Venn Diagram. And Dave Granlund offers a perfectly wonderful caricature of Press Secretary Sarah Huckabee Sanders. Her face, of course, is not at all straight: it's crooked, by any definition. She talks out of one side of her mouth and arches one eyebrow above see level. What she's pointing to on her visual aid are assertions that only the most fervid of Trumpoles (no more than a mere 40 percent of voters, not enough to elect him) can bring themselves to believe.
In the last editoon of this series, Nick Anderson shows the Trumpet holding aloft the Congressional resolution that tried to get us out of the war-making business in Yemen where U.S. weapons enable Saudi Arabia to kill or displace millions. Trump vetoed the legislation, and Congress was unable to muster the two-thirds necessary to override his veto. The legislation was dangerous to presidential power, as Trump allows here, but in waving the paper around, he evidently hopes we'll overlook the wholesale bloodshed going on behind him as MBS (Mohammed bin Salman), the reigning prince of Saudi Arabia, takes a bone saw to journalist Jamal Khashoggi and a sword to Yemen.
Financial corruptions of one sort or another are the topics of our next exhibit.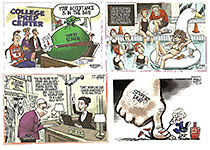 College entrance requirements are first—the chief requirement being, apparently, paying money to bribe someone to admit your child. Walt Handelsman's visual gives new meaning to an old expression —"having something in the bag" (meaning that you've nailed it, that any desired outcome in question is now assured). What's in the bag at hand is what counts, lots of money to pay off the right people. Dave Horsey takes up another aspect of the bribery scandal: some of the kids qualified for admittance based their application upon fake athletic achievements. The bathing beauty here (Horsey takes advantage of every opportunity to draw toothsome wenches) (not that I blame him; I'd do the same) was admitted as a star water polo player but is able to do no more than shirk her duty and wear a bikini.
The fuss caused by the revelation—Who knew?—that wealthy parents bribed officials to admit their children to prestigious colleges is ludicrous. For at least the last century, we've all known that wealthy alumni of an institution often give money to that institution to build a new wing on the chemistry building. Donors of this sort never have a problem getting their children—even their grandchildren—admitted to that institution.
This is what political comedian Will Durst called "the old fashioned ... traditional and tax-deductible method that Jared Kushner's father implemented by donating $2.5 million to Harvard. Of course, Jared did learn important lessons—such as how to marry into a richer family."
In some cases, not even wings on chemistry buildings are involved. If the alum is a giant celebrity or some other breed of national eminence whose name will lend luster to the university, sometimes just the alum's name alone is enough to gain admittance for his/her offspring. And what about admitting "legacy" students generally? The children of alumni whether the alum is famous or not.
In short, colleges and universities have for decades been accepting bribes of one sort or another and engaging in favoritism that will assure someone's relative matriculates on the campus of their choice. The difference in the current furor is that the amount of the bribe appears to have escalated into millions of dollars in raw cash, some of which winds up in the pocket of a shady intermediary. Otherwise, it's the same old game that's been played for years and years. Why, then, the fuss?
It's as if capitalism is somehow pure, and bribery is a pollution of its purity.
But none of that is true either.
Before we leave Horsey's cartoon, here's a news report that may inspire him to produce another editoon with a babe at the center. Actress Alyssa Milano ignited social media lately with a tweet urging women to stop having sex "until we get bodily autonomy back." Her tweet came days after Georgia become the fourth state to ban abortions after a fetal heartbeat is detected—about six weeks into a pregnancy and before many women even know they're pregnant.
Anti-abortion groups are successfully doing at the state level what Congress is failing to do nationally. Just a word to the wise, kimo sabe.
Student indebtedness and the cavalier manner of Secretary of Educaton Betsy DeVos toward it attracted the attention of Pat Bagley. In his metaphor, graduated college students are under the thumb of their debts, but DeVos does no more to relieve the situation than painting fingernails would do.
Horsey is back to explore the Trumpet and the emolument clause of the Constitution, which prohibits elected officials from making money off their positions in government. The Trump Hotel in Washington, D.C. is a notorious candidate in this regard: Trump supposedly takes an owner's share of all guest room rentals, so anyone seeking favors with Trump is obliged to take a room at the Trump Hotel. Horsey shows how all this is working.
And now, another of our highly amusing short breaks, to wit—:
MORE T-SHIRT WISDOM FOR THE AGED
At my age, "getting lucky" means walking into a room and remembering what I came in for.
I'm retired. This is as dressed up as I'm going to get.
You're only as old as you feel. Will someone feel me and tell me how old I am?
Today is the youngest day of the rest of my life.
Respect your elders. They graduated school before the Internet.
I'll never be over the hill. I'm too tired to climb it.
I've accepted I'll never get down to my original weight. I'm okay with that.
ANOTHER MISCELLANEOUS COLLECTION of topics with the next array.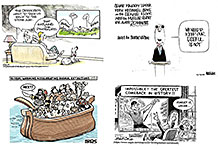 Dana Summers takes the conservative view of the Democrat line-up of presidential candidates, the tv screen picture on the wall giving fresh meaning to the husband's comment. Next around the clock, Ann Telnaes offers a translation of Mitch McConnell's 20-minute speech about the Mueller Report. Words perform all the essential comedy here, but her caricature of McConnell is a joy to behold.
Next, we return to South Africa where editoonist Jonathan Shapiro, who signs his cartoons Zapiro, takes a shot at his favorite target, former president Jacob Zuma. (For an explanation of the faucet on Zuma's head, scan Opus 262.) Zuma was forced to resign last year, ending a 9-year regime fraught with corruption. Zapiro takes time out from covering the recent election to poke fun at Zuma, who finds hope in Tiger Woods' resurrection. Zuma's party's candidate for president won, but that doesn't signal a come-back for Zuma: the new president, Cyril Ramaphosa, was elected at least partly because he vowed to clean up the government.
At the lower left, Steve Sack offers a visual metaphor to describe the plight of our planet. The issue is getting some attention in the public prints lately. Syndicated columnist Helaine Olen writes that a report released by the United Nations on Monday, May 6, declared "that upward of 1 million plant and animal forms of life are on track to become extinct within the next several decades as a result of human activity."
The scientist in charge of the report said: "We are indeed threatening the potential food security, water security, human health and social fabric" of our lives.
"Translation," offers Olen: "We are killing off the life that makes human life possible."
She continues: "Biodiversity is all life on Earth, from blue whales to the flies that buzz about us. It's the fish and large mammals many of us eat, but also the flora that protects the streams and oceans, and the microorganisms we cannot see but that are vital for the health of the planet. Many species are in increased jeopardy as a result of human actions such as industrial agriculture and claiming wetlands for real estate development."
Warming climate exacerbates "the effects of overfishing, widespread pesticide use, pollution and urban expansion into the natural world. 'All that, in turn, also kills off unique forms of life.'"
In "The Once and Future World," journalist J.B. MacKinnon cites records from recent centuries that hint at what has only just been lost—reports of flocks of birds that took three days to fly overhead, pods of sperm whales as far as the eye can see. The world's largest king penguin colony has shrunk by 88 percent in the last 35 years.
"The number of Sophie the Giraffe toys sold in France in a single year is nine times the number of all the giraffes that still live in Africa."
While Sack's cartoon is a memorable thumbnail image of the problem, the most dramatic demonstration can be found on your windshield. Twenty years ago—maybe even fewer years than that—if you went for a drive in the country, when you came home, your windshield was the squishy graveyard for a dozen or so insects that had been smashed onto the glass. Nowadays, no bugs on your windshield.
Why? Because they're growing increasingly scarce, approaching extinction. Or, as Brooke Jarvis headlined his report, "The Insect Apocalypse Is Here.'
Bugs are disappearing. That may seem a benefit—good riddance to an annoyance. But their disappearance can have disastrous effects.
From Jarvis: "Trillions of bugs flitting from flower to flower pollinate some three-quarters of our food crops, a service worth as much as $500 billion every year. (This doesn't count the 80 percent of wild flowering plants, the foundation blocks of life everywhere, that rely on insects for pollination.) If the monetary calculation sounds strange," Jarvis goes on to cite the insect shortage in the Maoxian Valley in China that has caused farmers to hire human workers "at a cost of up to $19 per worker per day to replace bees. Each person covers five to ten trees a day, pollinating apple blossoms by hand."
Jarvis continues: "By eating and being eaten, insects turn plants into protein and power the growth of all the uncountable species—including freshwater fish and a majority of birds—that rely on them for food, not to mention all the creatures that eat those creatures. We worry about saving the grizzly bear, says insect ecologist Scott Hoffman Black, but where is the grizzly without the bee that pollinates the berries it eats or the flies that sustain baby salmon. Where, for that matter, are we?
"If insects were to disappear completely, scientists say, we would have a flowerless world with silent forests, a world of dung and old leaves and rotting carcasses accumulating in cities and roadsides, a world of 'collapse or decay and erosion and loss that would spread through ecosystems.'
"Nature is resilient," they say, "but we're pushing her to such extremes that eventually it will cause a collapse of the system."
RATHER THAN END ON THAT GRIM NOTE, we turn quickly to our last visual aid that begins with an expedition onto the funnies page with several Dilbert comic strips.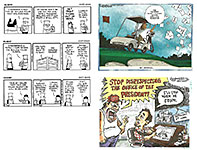 Our only point with these— Scott Adams is delving into criticism of basic capitalism. Like Al Capp's famed Shmoo in Li'l Abner a generation or so ago, Dilbert's invention, if adopted, would destroy civilization as we know it. The pointy-haired boss realizes this instantly and seeks to sideline Dilbert's invention—as does everyone else Dilbert shows it to.
Geez, I thought we were ending on a hilarious note; instead, we've unwittingly uncovered another grim one. Ah well, we'll push on to Drew Sheneman, whose picture of the Trumpet in his golf cart, joyfully distributing top secret clearances over his shoulder, recalls his apparent security policy. He casually ignores security warnings about his son-in-law and other White House staffers for whom he arranged clearances. And the caption reminds us of how sharply critical Trump was of the insecure way Hilary handled her e-mails. Ahhh, "hypocrisy" they name is "American politics."
Finally, here's Phil Hands, who explains why we have so many cartoons about the Trumpet.
EDITORIAL CARTOONING AND ANTI-SEMITISM
The Here We Go Again Trope
WE RESUME OUR EXAMINATION of anti-Semitism in editorial cartoons by posting again the editoon that started all this.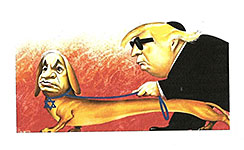 And we'll also repeat the paragraphs that we started out with—by way of reminding you about the origins and directions of the ensuing confabulation. This cartoon by Antonio Moreira Antunes of the Lisbon, Portugal-based newspaper Expresso, aroused all sorts of raw disapproval and irate controversy. So what's to dislike?
The dominant image is of a man walking a dog. Or is it a dog walking a man? Anyone who's taken a walk with a dog on a leash knows that the dog often controls the direction and speed of the expedition. But the leash in this drawing is loose, not strained, so the dog isn't controlling the walk. Or is it?
The dog has the facial characteristics of Israel's prime minister Benjamin Netanyahu. The man on the other end of the leash is clearly Donald the Trumpet. He's wearing dark glasses. Perhaps he's blind? He's also wearing a traditional Jewish skullcap, or yarmulke, which links him to the Orthodox fair-right Israeli settlers whose views, we suppose, he espouses (or is at least sympathetic with). And the dog collar carries the Star of David, often used today as a symbol of Israel or the Jewish people.
Since the leash is not strained, the Bibi dog is probably intended as a kind of guide dog for the blind Trumpet—guidance that involves Israeli ideas, symbolized by the Star of David. That the Trumpet has partaken of those ideas is represented by the yarmulke. But the guide dog is not loose: he's constrained by the leash, so he can't go wherever he wants to go; he must have in mind the Trumpet's interests (ostensibly U.S. interests or perhaps U.S. military aid to Israel).
The overall impact of the image, then, is of mutual dependence, or connectedness, guide dog and leash-holding blind man. But the man has been converted to the dog's beliefs—as indicated by the yarmulke and Star of David. And so Trump's moving the U.S. embassy to Jerusalem and declaring the Golan Heights an Israeli territory are acts representing the Israeli point of view. The dark glasses suggest Trump's willful blindness in matters of international politics generally and Mideastern travails in particular. Both of his above-noted spectacular policy shifts favoring Israeli interests declare his ignorance (or arrogance) about Palestine and Palestinian concerns.
Seems a fair comment.
But then, all of a sudden—as soon as the cartoon appeared in the International edition of the New York Times—all hell broke loose.
The cartoon was immediately decried as anti-Semitic.
ANTI-DEFAMATION LEAGUE chief Jonathan Greenblatt excoriated the New York Times for publishing a cartoon that depicted anti-Semitic tropes. "I thought the cartoon was disgusting. … I thought it was despicable.
"I wouldn't even credit it as a cartoon," Greenblatt continued. "It was anti-Semitic propaganda of the most vile sort. Not only does it not belong in the New York Times, but it in any credible news outlet. It was unconscionable."
It was more than the stunningly upright Donald Trump, Jr. could stomach. So he held forth, as follows: "Disgusting. I have no words for flagrant anti-Semitism on display here. Imagine this was in something other than a leftist newspaper?"
On the other side was this—:
"I was able to find the cartoon online and can see why some people might view it as distasteful. But anti-Semitic, I'm not sure. The cartoon appears to me to be a direct criticism of President Trump and the way he has unquestionably supported Benjamin Netanyahu, not just in the recent hotly contested Israeli election but in abandoning the nuclear treaty with Iran.
"If some folks perceive it as anti-Semitic, they are free to do so. But I don't see why criticism of Netanyahu (or Israel) has to be viewed as anti-Semitism. The cartoon itself might be in bad taste and terribly offensive, as is the growing anti-Semitism in Europe and elsewhere, but it appears to be legitimate criticism of two flawed national leaders and not of a religion and its supporters."
And this—:
"The cartoon is a highly effective attack on both political figures and, like all good graphic art, examines the hypocrisy and moral bankruptcy at the heart of its subjects' world-view. Trump's blindness in the cartoon is a comment on the president's obliviousness to the history of the Middle East and U.S. policy in the region. It also reflects his blindness to the plight and very existence of the Palestinian people. The yarmulke placed on his head links him to the Orthodox far-right settlers whose views he espouses. Remember also that his closest advisors, Kushner, Greenblatt and Friedman are themselves Orthodox pro-settler fanatics who have richly donated to the movement."
But the protests outnumbered by far the support. Several rabbis at New York City synagogues signed a joint protest—:
"We write you deeply concerned about the reprehensible cartoon published in your international print edition depicting Israel's prime minister, Benjamin Netanyahu, as a guide dog for a blind President Trump.
"Under the guise of political commentary, the caricature blatantly trafficked in age-old anti-Semitic tropes that have contributed to violence against Jews throughout history. How cruelly ironic that your cartoon was published the week of another synagogue shooting.
'Given the frightening rise in anti-Semitism around the globe today, your paper must exercise much greater judgment in recognizing the boundaries of acceptability."
And they were joined by—:
"The cartoon is reminiscent of Nazi propaganda in its style and message. It plays to rabid anti-Semitism, which has seen a frightening resurgence in the United States and in Europe.
"If the political message of the cartoon was to decry President Trump's acquiescence to Prime Minister Benjamin Netanyahu's demands, why the Jewish — rather than Israeli — symbolism? This cartoon is a very obvious expression of age-old anti-Semitic sentiment, the belief that a Jewish cabal secretly controls the world's political and financial systems with world leaders too blind to see that they are being led by Jews."
An "obvious expression of age-old anti-Semitic sentiment"?
If it's so obvious, why am I missing it?
What are the "tropes" that I fail to see?
Anshel Pfeffer tweeted: "The NY Times cartoon of Netanyahu as guide-dog for blind Trump would also have been a harsh but fair depiction of their relationship. But the moment Trump has a kippah and Netanyahu a Star of David, it veered sharply in to anti-Semitic territory."
So one of the "tropes" is the Star of David?
Why? Because the Star of David represents Judaism not Israel? And attaching it to Israel's right-swerving prime minister makes him a religious leader rather than a head of state? Even though the Star of David is the only emblem on the flag of Israel? Further diluting the "Jewish" meaning of the Star of David, according to St. Wikipedia, the Star of David was never a uniquely Jewish symbol; among Muslims, the same symbol is known as the Seal of Solomon.
I'M NOT PRETENDING to be confused. I am confused. Critics of the cartoon assume I and everyone else can recognize an "obvious" "trope" of anti-Semitism. And I obviously can't.
And I'm not the only one. Another of my ilk was the lower echelon editor who approved the publication of the cartoon. In its apology for printing the cartoon, the Times assumed responsibility by blaming it all on a hapless editor who didn't know an anti-Semitic trope from a heliotrope. Me too.
The Times' "apology" acknowledged that the cartoon "included anti-Semitic tropes," "was offensive," and that "it was an error of judgment to publish it." ... the Times issued an additional statement saying it was "deeply sorry" for the cartoon and that "significant changes" would be made in terms of internal processes and training.
At least one of those quoted about the cartoon endeavored to explain its unsavory elements.
Seth Frantzman tweeted: 'The NYT #antisemitic cartoon [has] numerous clear antisemitic elements 1. Putting a yarmulke on the U.S. President in negative way. 2. Putting the face of the PM of the Jewish state on a dog. 3. Using a Star of David on the collar. 4. Implying the U.S. is 'blindly' led by Jews and/or Israel."
That helps but not much.
Why is putting a yarmulke on Trump something negative? Or am I (as usual) missing something here?
What's wrong with using a dog to represent "the Jewish state" (why not "Israel"?).
The New York Times published a column by Bret Stephens who does a lot of the kind of explaining that I'm looking for.
The cartoon "was an image that, in another age, might have been published in the pages of Der Stürmer [an unofficial Nazi propaganda newspaper starting in about 1923; full of cartoons and articles that were anti-Semitic, anti-Catholic, and anti-Communism, it called for the extermination of Jews as early as 1933]. The Jew in the form of a dog. The small but wily Jew leading the dumb and trusting American. The hated Trump being Judaized with a skullcap. The nominal servant acting as the true master. The cartoon checked so many anti-Semitic boxes that the only thing missing was a dollar sign [i.e., Jews are associated in anti-Semitic messages with money-grasping underhandedness; maybe if there were dollar signs in Bibi's eyes, I would have seen the cartoon as anti-Semitic].
"The image also had an obvious political message: namely, that in the current administration, the United States follows wherever Israel wants to go. This is false — consider Israel's horrified reaction to Trump's announcement last year that he intended to withdraw U.S. forces from Syria — but it's beside the point. There are legitimate ways to criticize Trump's approach to Israel, in pictures as well as words. But there was nothing legitimate about this cartoon.
"For some readers," Stephens continues, the reason the Times published the cartoon lies deep in the paper's history, particularly during World War II when the Times "buried" news about the Holocaust, a bias that continues into the present day with "intensely adversarial coverage of Israel.
"For these readers, the cartoon would have come like the slip of the tongue that reveals the deeper institutional prejudice. What was long suspected is, at last, revealed."
But "these readers," Stephens allows, would lead us astray. He goes on to explain why.
"The problem with the cartoon isn't that its publication was a willful act of anti-Semitism. It wasn't. The problem is that its publication was an astonishing act of ignorance of anti-Semitism — and that, at a publication that is otherwise hyper-alert to nearly every conceivable expression of prejudice, from mansplaining to racial microaggressions to transphobia."
The ignorance and insensitivity, Stephens goes on, can be made obvious if we imagine that "the dog on a leash in the image hadn't been the Israeli prime minister but instead a prominent woman such as Nancy Pelosi, a person of color such as John Lewis, or a Muslim such as Ilhan Omar. Would that have gone unnoticed by ... the editor who, even if he were working in haste, selected it?
"The question answers itself," Stephens says. "And it raises a follow-on: how have even the most blatant expressions of anti-Semitism become almost undetectable to editors who think it's part of their job to stand up to bigotry?
"The reason is the almost torrential criticism of Israel and the mainstreaming of anti-Zionism, including by this paper, which has become so common that people have been desensitized to its inherent bigotry. So long as anti-Semitic arguments or images are framed, however speciously, as commentary about Israel, there will be a tendency to view them as a form of political opinion, not ethnic prejudice. But as I noted in a Sunday Review essay in February, anti-Zionism is all but indistinguishable from anti-Semitism in practice and often in intent, however much progressives try to deny this."
But even Stephens' lucid explanation is undermined early on when he says: "Lest there be any doubt as to the identity of the dog-man, it wears a collar from which hangs a Star of David."
If we need to be aware of "tropes" that signal anti-Semitism, we need to know what the Star of David represents. Is it short-hand for Israel? Or does it signal Judaism? In his remark about the dog-man, Stephens implies that the "identity" of the dog-man is determined by the Star of David. Since the dog-man's identity is as prime minister of Israel, the Star of David represents Israel, not Judaism. It's on the Israeli flag, after all. It cannot, therefore, be anti-Semitic because anti-Semitic implies bigotry about Jews and Judaism.
Doesn't it?
QUITE APART FROM THIS KIND OF CONFUSION is another kind. Editorial cartoonists stock-in-trade is stereotypical imagery. Certain images stand for certain groups, institutions, attitudes, and so on. And every one of those images is a "trope"— "a figurative or metaphorical use of a word or expression." Or an image.
Isn't the image of Netanyahu as a dog an anti-Semitic trope? Seeing a Jew as a dog—isn't that anti-Semitic?
If Trump's sun glasses indicted blindness, ignorance, and if the yarmulke indicates Judaism, then isn't this image an anti-Semitic trope—a metaphor for dumb Jews?
If we start down this path, we'll soon arrive at its logical conclusion: editorial cartoonists should never draw editoons that are critical about Israel. Why? Because the cartoon is by its very nature an image, full of tropes, with a metaphorical meaning that can be interpreted (mis-interpreted?) as anti-Semitic. Particularly if the cartoon is critical of Israel.
And most editorial cartoons are essentially critical commentary.
To put a reverse spin on one of Stephens' sentences: as long as arguments critical of Israel are made in cartoons using metaphorical imagery those cartoons will be seen as anti-Semitic.
But I doubt that Stephens intends us to go that far, to stifle critical commentary about Israel.
Interestingly, none of the news outlets that covered this story talked to the cartoonist to see what he might have to say. But the Jerusalem Post researched his history (a daunting task: he's been editooning for 45 years) and discovered that he "has a history of controversy."
What good editoonist doesn't have a history of controversy?
The editoonists function is to provoke—controversy, thinking critically, reform, etc.
The Post found a 1983 Antunes' cartoon—an award-wining cartoon as it happens—about Israel and Lebanon in which Israel was depicted harshly. That's right: they had to go back 36 years to find any evidence, albeit feeble evidence, of anything that might, by a stretch, be called anti-Semitic. So the effort to portray Antunes as a habitual anti-Semitic failed.
Antunes was represented in all this furor by what he said in the wake of the Charlie Hebdo killings in 2015: "The profession of cartoonist is a profession of risk, we make risks and take risks. There is always fear there, but there is no other option but to defend freedom of expression."
And with that admirable attitude, we abandon, for now, this fraught analysis and go on to happier topics.
POLITICS AS CARTOONING: WHAT'S TRUMP, DOC?
By Lance Morrow
This is an age of cartoons— a time of intense exaggerations and exaggerated personalities. Understanding politicians as cartoons is a way to appreciate the surreal quality of 2019. Once you start seeing public figures as cartoons, the spectacle becomes more frolicsome and vivid and entertaining.
The President is a master cartoonist, with a gift for caricature and ridicule: "Crooked Hillary," "Lyin' Ted," "Little Rocket Man,'' and so on. His instincts are hyperbolic. Not long ago he lampooned the House Intelligence Committee chairman as "Little Pencil-Neck Adam Schiff." His most interesting cartoon is himself, a work entirely of his own contriving, with a touch of the Tasmanian Devil.
The political landscape is alive with cartoons. With a former Nevada state legislator's accusation that Joe Biden kissed her inappropriately on the back of her head five years ago, the former vice president was confirmed in his reputation as the Pepe Le Pew of American politics-or, if you like, the friendliest man on the planet.
In a history of cartooning, you may learn that the 18th-century artist William Hogarth, a great allegorical caricaturist, had a favorite pug dog named Trump.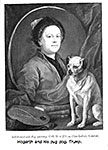 Out of sheer affection, Hogarth painted the dog into some of his scenes. It's fun to think that in a former life Donald Trump was Hogarth's pug.
Exaggeration is as American as cherry pie. Teddy Roosevelt was a cartoon.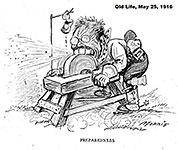 Cartooning has been the essence of the expansive American genius— in politics and patriotism, in humor and advertising. Today social media— the hectic democracy of smartphones, instantaneously responsive to any spurt of adrenaline— exaggerates the American tendency toward exaggeration. Cable television is organized as a smorgasbord of niche hyperbole. Diversity and identity politics produce yet an-other multiplier effect. Ideology is the most fantastic cartoonist of all.
Illos: TR with teeth getting sharpened
Donald Trump has a quality of the trickster-Houdini about him, one that has maddened his enemies. They did not conceive that he could, for example, survive his attack on John McCain as a loser, not a hero. Yet Trump sailed on, multiplying his affronts. Democrats on the earnest Cromwellian left should consider that the American spirit may indulge a sneaking admiration for the brash and outrageous and fraudulent and irrepressible. You see the quality in Daffy Duck, in Bugs Bunny.
The 2020 campaign is going to be long and exhausting and epic— historically consequential, but humorless on the whole and filled with the usual dreary chicanery. It will help now and then to appreciate the show as a cartoon.
Morrow is a senior fellow at the Ethics and Public Policy Center.
To find out about Harv's books, click here.