Opus 390 (March 31, 2019). Chattering is a way of mattering Adam Gopnik tells us (in The New Yorker), so here at Rancid Raves we chatter on nonstop about comics news and cartooning history and lore. And this time, all that happy talk has yielded another whopper of an opus (which really ought to matter, assuming size matters). We catch up on several funnybook titles and review four graphic novels, ending with a fond long farewell to T.K. Ryan (including a history of his comic strip, Tumbleweeds). To make it easier for you to wade through all this enrichment, we've listed everything that's here, in order, by department, as follows—:
NOUS R US
Diversity and Change in Comics
Matt Davies Wins Herblock —Again
Gahan Wilson Needs Help
Garfield Ubiquitous
Going Batshit
Crumb No Longer Slave to Raging Libido
Spider-Man Comic Strip Ended
Second Coming Has Comeback
Non Sequitur's Miller Explains
First Second's World Citizen Comics
Ballard Street Ended
Drabble Hits Forty
Usagi Yojimbo Hops to New Publisher—In Color
Good Things To Buy—Monthly Editoon Tabloids
Barbie's Birthday
Liz Donnelly: Visual Journalist
ODDS & ADDENDA
Harvey's The Spirit
Terry and Rachel Dodson Credits
Crossover Series
Stan Lee In Black
Frank Cho Batman Cover
Terms and Conditions Again
Senator Leahy, Batman Fan Extraordinaire
FURTHER ADO
Hate Groups On the Rise
FUNNYBOOK FAN FARE
First Issues Reviewed—:
Stronghold
Exciting Comics
Plus, Catching Up On—:
Invisible Republic
Savage Dragon
American Carnage
Cemetery Beach
Tank Girl
LECHERY AND THE PENILE PROMPT
Michael Jackson Unveiled
Due Process Revived
Trumperies
Antics and Absurdities of the Prez
EDITOONERY
Next Time
NEWSPAPER COMICS PAGE VIGIL
Sampling the Roguery in Daily Stripping
GOSSIP
John Hickenlooper for Prez
BOOK MARQUEE
Reviews and Previews Of—:
Black Panther (Little Golden Book)
Kevin Eastman's New Publishing Enterprise
BOOK REVIEWS
Longish Reviews Of—:
Knocked Out Loaded: Featuring The Norm
A-GAGGING WE SHALL GO
A Few Good Ones
GRAPHIC NOVELS
The Golden House of Samarkand: Corto Maltese
Tango: All at Half-Light (Another Corto Maltese)
Tyler Cross: Angola
ONWARD, THE SPREADING PUNDITRY
Lawrence O'Donnell Defends Liberals on "West Wing"
Why the British Dislike the Trumpet
PASSING THROUGH
T.K. Ryan of Tumbleweeds
QUOTE OF THE MONTH
If Not of A Lifetime
"Goddamn it, you've got to be kind."—Kurt Vonnegut
Our Motto: It takes all kinds. Live and let live.
Wear glasses if you need 'em.
But it's hard to live by this axiom in the Age of Tea Baggers,
so we've added another motto:
Seven days without comics makes one weak.
(You can't have too many mottos.)
And in the same spirit, here's—:
Chatter matters, so let's keep talking about comics.
And our customary reminder: don't forget to activate the "Bathroom Button" by clicking on the "print friendly version" so you can print off a copy of just this installment for reading later, at your leisure while enthroned. Without further adieu, then, here we go—:
NOUS R US
Some of All the News That Gives Us Fits
DIVERSITY AND CHANGE IN COMICS
Bob Wayne, for years in charge of sales and marketing for DC Comics, was keynoter at the annual meeting of the Comics Professional Retailers Organization in Charlotte, NC, February 21-23. His message: comics need diversity, and retailers should nurture change. Both are upon us, but sailing isn't likely to be smooth.
"Editors, designers and creators are often in search of new publishing formats," Wayne said, reported by Heidi MacDonald at comicsbeat.com. "But most longtime readers and retailers are not."
He remembered the burst of original graphic novels in the 1980s. We don't see them anymore because "they didn't fit on a spinner rack. They had to fight for space on a standard magazine rack. And they were so tall they often went to the back of that rack, or near the road atlas section.
"Change alone is not automatically an improvement. ... Relaunching every six months is almost always not going to be better. Change usually comes slowly to comics. Sometimes the change is obvious only after it has occurred. Comics history shows us that most of the time when a publisher introduces a new concept, imprint or format, it doesn't pan out. Your skepticism is warranted. Don't confuse desire with destiny."
But change is inevitable, no matter how often it may fail. Changes of the past that are currently upon us include the introduction of the trade paperback, the archival reprint and the continuing evolution of the printing business—the active engagement of computer assisted drawing in the artwork.
Change will be difficult. "But you may need to change how you operate your businesses. And how you interact with your trading partners. You'll need to watch for changes from those partners, especially positive changes that will benefit you. ... You'll need to encourage those changes, and you'll want to nurture them when they occur.
"One change in our industry to me is inarguably for the better, so let me be clear: I believe that inclusion is important to the future of comics, and I believe in the power of tolerance, diversity and representation. I don't believe that comics should be set in stone based on how they looked when any of us were children. ... So don't misconstrue any of my remarks as support for any reactionary, back to mono movements within our community. That ain't me."
MATT DAVIES WINS HERBLOCK—AGAIN
Newsday editorial cartoonist Davies is on his way to being the most decorated editoonist in the country. And Davies is an immigrant!
This marks the second time Davies has been honored with the Herblock Prize, named after the late Herb Block, longtime pace-setting cartoonist with the Washington Post. Davies is the first two-time recipient of the prestigious honor, reports Zachary R. Dowdy at newsday.com.
"Davies, who has been at Newsday since 2014, also won the award in 2004, the same year he took home a Pulitzer Prize," Dowdy said. "The Herblock Prize debuted that year as a way to recognize excellence in editorial cartooning. It was named after the late Herb Block, longtime editorial cartoonist at the Washington Post and himself a four-time Pulitzer Prize winner."
Born in London, England in 1966, Davies moved to the U.S. in 1983. He studied illustration and fine art at both the Savannah College of Art & Design and the School of Visual Arts in New York City.
He was cartooning at the Journal News in Westchester, New York, in 2001 when he received the Robert F. Kennedy Journalism Award. Then in 2004 came his first Pulitzer and the first Herblock. Next, astonishingly, he was laid off at the Journal News in 2009 in a cost-cutting maneuver that eliminated 30 jobs. But he survived: his editor pleaded with management, which then reinstated Davies.
Then he was laid off again, this time permanently, in 2010. At the time, he said: "I am crestfallen and angry, but also exhilarated."
The next year, Davies, freelancing without a home newspaper, was one of two Pulitzer finalists for "work notably original in concept and execution, offering sharp opinion without shrillness." The winner that year, 2011, was Mike Keefe of the Denver Post.
No longer on any newspaper's staff, Davies tried his hand at children's books. His first book, Ben Rides On, was a Kirkus Best book of 2013, and his subsequent children's literary work has been met with enthusiastic critical acclaim, including for his collaborations with Aaron Reynolds on Nerdy Birdy and Nerdy Birdy Tweets.
Once during his freelancing years, I ran into Davies, both of us waiting for the elevator at the 2012 annual convention of the Association of American Editorial Cartoonists (AAEC). He was exuberant about the fellowship of the meeting and the prospects that editoons enjoyed. He couldn't wait to find a place to work full-time. Although no longer on any paper's staff, he hadn't given up hope that he would find a berth again. And he did. To a fare-thee-well.
Newsday hired him in 2014, replacing Walt Handelsman who left the paper for the Advocate in New Orleans.
At Newsday, he was again a Pulitzer finalist in 2016, and the next year, he received the National Headliner Award. Then came his second Herblock this year. It was unexpected, reports Dowdy.
Said Davies: " The role of the editorial cartoonist is usually to provoke and mix things up. I'm in the business of upsetting people so usually when my phone rings, it's people who are not very pleased with me. This time, it was a nice surprise."
THE HERB BLOCK FOUNDATION ANNOUNCED Clay Jones, a cartoonist based in Fredericksburg, Virginia, as runner-up. Davies will receive a $15,000 after-tax cash prize and a sterling silver Tiffany trophy in a ceremony set for May 2 at the Library of Congress in Washington, D.C. Jake Tapper, CNN's chief Washington correspondent and himself a sometime political cartoonist, will deliver the annual Herblock Lecture at the ceremony.
Davies submitted 15 cartoons for the contest but said he couldn't decide his favorite.
"I would say all 15 of them are my favorite," he said. "I couldn't even begin to pick one out."
Rita Ciolli, Newsday's editorial page editor, also praised Davies' work.
"Matt is the picador to the bulls charging us every day," she said. "He makes us both think and smile."
Judges called Davies "a veteran cartoonist working at the top of his game," adding that they were impressed by the "strength and consistency" of his portfolio.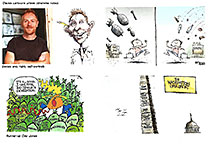 "Some stand-outs were the subtle pun of a monumental tower of paper identified as the Washington Emolument," the judges wrote, "the suggestion of a funeral with a bishop's mitre replaced with a coffin labeled "trust," and the rise in cost of medical expenses in a doctor's suggestion that a sick patient start a GoFundMe account."
His cartoons are syndicated internationally by Andrews McMeel Syndicate and his work has been featured in many publications including the New York Times, Washington Post, Los Angeles Times and USA Today. His work has also appeared in Newsweek, Time, U.S. News and World Report, on CNN and in Mad magazine. Davies is a past president of AAEC.
And there you have it—another immigrant success story.
GAHAN WILSON NEEDS HELP
The cartoonist created in his cartoons for Playboy, The New Yorker, and other publications a world both weird and comically horrifying. And we all enjoyed it. Wilson is now living in a world he no longer recognizes, and he needs help to get through his days.
Wilson is not alone: two years ago, he and his wife moved to Rio Verde, Arizona, to be with his step-son, filmmaker Paul Winters. He's suffering severe dementia, and his wife, who in recent years helped guide him in the world, died in early March.
"It's sad for all of us, the whole family," Winters said in a video on the GoFundMe page he set up for his step-father. "It's especially heartbreaking for him because he's in deep, deep dementia and she was his guide in the world. Without her, he's completely lost."
Peter Boody at sagharborexpress.com reports that Winters will soon be taking Wilson with the family to a ranch they have bought in Sante Fe, New Mexico, where Gahan will stay part of the week. The rest of the time, he will live in an expensive full-time "memory" care unit, which can easily cost $4,000 a month, Winters said, adding that's not a bill he can afford for long.
Wilson can't live full-time with the family because he is prone to wondering off into the desert, Winters said.
"I thought everybody in the world loves Gahan Wilson so why not get some help for him," he said. "The GoFundMe page is just a way to get a little help. Let's let him go out in style."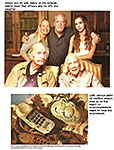 Winters said Gahan still draws every day but "I think he's pretty much done." His work has gotten "more primitive" and has "kind of shrunken," he said. The New Yorker, he added, has stopped buying his cartoons.
"He's outlived his market," Winters said.
"I would never leave him" he added, but "he doesn't know who I am now. I asked him one day if he remembered me. 'You know,' Gahan said, 'you look like you're very important to me.'"
Winters hopes to raise $100,000 to pay for his step-father's care. At www. gofundme.com/gahan-wilson-team-effort, more than $77,000 has been raised as of March 28.
GARFIELD UBIQUITOUS
Among the well-known things we know of, the presence everywhere of Jim Davis' orange fat cat Garfield is high on the list. But we didn't know about his ubiquity on the beaches of northwest France until just a few days ago. At the end of March, Meagan Flynn of the Washington Post reported that pieces of the plastic Garfield telephones have been washing ashore in that vicinity for the last 30 years.
Whence, almost everyone wanted to know, came this seemingly inexhaustible supply of Garfields?
The theory that eventually took first place among many is that somewhere in the briny depths is a sunken shipping container of Garfield phones that was partially damanged, and hence opened, when it sank to the bottom. Ever since, pieces of the phones have been steadily dislodged and have drifted to the surface and then to the northwest shore of France, where they accumulated in heaps until faithful environmentalists removed them.
It would be more efficient, everyone agreed, if the shipping container could be found and all the remaining Garfields confiscated and removed from the ocean.
They eventually discovered a local farmer who knew where the shipping container was lodged in a cave of a seaside cliff. And when they finally went into the cave, they found the container—and a few remaining phones.
Presumably, the contaminating Garfields won't show up again. But Meagan Flynn wasn't optimistic. She seems to think there are more shipping containers stuck in caves elsewhere.
She doesn't say that Garfield phones are continuing to wash ashore. But she doesn't say they've stopped either. Bad reporting or another unsolved mystery.
GOING BATSHIT FOR THE 80th
On March 15, 1.5 million bats were turned loose to fly over Austin, Texas, in commemoration of Batman's 80th anniversary. If that's not enough to drive you bats, consider the slate of celebratory events announced lately by Warner Bros and DC Comics— live events, convention plans, new exclusive merchandise, photo opportunities, and, in Austin, the unveiling of a mural by a local artist, plus the publication nationally of the landmark 1000th issue of Detective Comics and the hardcover Detective Comics: 80 Years of Batman—The Deluxe Edition, reports Graeme McMillan at hollywoodreporter.com.
Future events throughout the year, says McMillan, will include Batman-themed celebrations at Six Flags locations across North America in August, and in Warner Bros theme parks internationally; a May exhibition at the acclaimed MONDO gallery in Austin, Texas; September celebrations at Madame Tussaud's locations in Orlando and Sydney; and special Batman-centric programming in March and September on Cartoon Network, DC Universe and television broadcast partners across the world, including a Batman-branded channel across AT&T platforms.
Superman's anniversary didn't get this kind of play.
So now we know which superhero runs DC Comics. Not to mention Warner Bros. Partners for the ambitious birthday campaign include Amazon, Apple, LEGO, Mattel, Funko, Crunchyroll, Rooster Teeth and many more.
More information about the anniversary celebrations will be available on DC's social media throughout the year, with attention being lavished on March 30 — the official 80th anniversary date — and September 21, this year's annual Batman Day.
CRUMB SAYS HE'S NO LONGER SLAVE TO A RAGING LIBIDO
The latest exhibition of the work of Robert Crumb, notorious underground cartoonist, runs until April 19 at David Zwirner Gallery in New York. Showcasing old ug comic books from the 1960s to sketchbooks, a cartoon about Donald Trump and a portrait of Stormy Daniels, it traces Crumb's path "as pervert in chief – which marks the end of an era," said Nadja Sayej at theguardian.com, "—because Crumb has stopped drawing women."
"I don't even look at women any more," said Crumb. "I try not to even think about women any more. It helps that I'm now 75 years old and am no longer a slave to a raging libido.
"When I was young," he went on, "I was just obsessed with sexual desire, fantasizing about sex, masturbation, trying to figure out how to get laid. It was awful. Fortunately for me, I found a way to express this inner turbulence in my comics, otherwise I might've ended up in jail or in a mental institution. No exaggeration. I'm better now. I worked it all out somehow. Success and the love of real women helped me a lot. Aline really saved my dismal ass."
Aline is his wife of 41 years, Aline Kominsky-Crumb, a cartoonist in her own right (albeit not nearly as accomplished a draftsman as her husband) and sometime collaborator.
"But not everything has changed since the Summer of Love [1968]," said Sayej. "While pointing out the pretty portraits of his wife, Crumb reveals his other lovers, too.
"There are a lot of drawings in this show of other women I've been involved with intimately, both before and during my relationship with Aline," said Crumb. "We have a kind of 'open marriage,' bohemian artists and libertines that we are."
As for "sex object" art—"I'm sure I must've used the term ironically, a sort of self-accusation," he ponders. "Yes, I'm guilty of looking at women as 'sex objects,' I've done it thousands of times over the course of my life. I could not help it. The sight of a woman with a large ass and strong legs instantly electrified me. It was not something I could stop myself from feeling. I could only stop myself from acting on it, and therein lies Freud's Civilizations and its Discontents."
Crumb confessed that he doesn't draw much anymore. But in the context of his life's work, his constant drawing, day and night, "not much" is more than the phrase itself denotes.
He's drawn Stormy Daniels and even, in an issue of HUP, Prez Trump. In one issue of the magazine from 1989, he flushes Trump down the toilet after reading Trump's book, Art of the Deal, which Crumb found offensive.
"My opinion of Donald Trump has changed a bit since I did that strip about him in 1989," said Crumb. "Back then, I think I gave him a little too much credit for possessing a bit of class and sophistication. I now have a lower opinion of him than I did then. I now perceive a certain low, thuggish quality in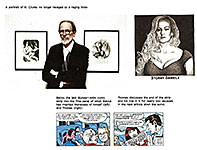 his character, a guy who can say with a totally straight face: 'Where's my fuckin' money? I want my fuckin' money!' It's a quote from Bob Woodward's book Fear."
When asked if he feels misunderstood, he said only if his audience thinks he believes everything he draws.
"I only feel 'misunderstood' when people react to my work as if I were advocating the things I drew— the crazy, violent sex images, the racist images," he said. "I think they're not getting it. I did not draw those images with the intention to hurt anyone or insult anyone, with the exception of the very few times I did strips making fun of specific individuals, like Donald Trump."
SPIDER-MAN COMIC STRIP ENDED MARCH 23 (OR DID IT?)
And Now It Can Be Told: Roy Thomas Wrote the Strip All These Years
By Roy Thomas at BleedingCool.com
Sometime in the first few months of 2000, I dropped Stan Lee a line saying I'd love to do some work for Stan Lee Media, Stan's well-publicized and multi-staffed dot-com company, if he could ever use me. He replied that, while he'd like to work with me again, I would've had to be around Los Angeles to work for SLM, but that, by coincidence, he really needed a writer to work with him on the Spider-Man newspaper comic strip— to plot out and do the first-draft script of the seven-days-a-week King Features strip. I said that sounded fine to me (even though I'd never really been wild about writing Spidey compared to the FF, Avengers, Conan, etc.).
He replied with a chuckle that maybe I should wait till I heard his offer, because the money was so minuscule— just $300 a week. I laughed, and told him that he had no idea how little money it cost me to live on my 40-acre place in the middle of South Carolina. The mortgage and both our vehicles were paid off, so Dann [his wife] and I had no expenses except what we spent month-to-month. So a deal was quickly struck, and I went to work, with my first strip (a Monday, of course) appearing on July 17, 2000.
As it turned out, although I never got a raise in 18 1/2 years, I basically ghost-wrote the strip (though, until recent years, with his often hands-on editing), it was a great gig. I spent maybe two days a month writing four weeks' worth of strips, and another day 2 or 3 times a year doing outlines for upcoming storylines. ...
And yes, I wrote a bit more text and dialogue than he did— but that was partly because, otherwise, I wasn't sure people could really follow the strip from day to day, or at least, no new readers would be brought in if it was hard to start reading the strip at any given point.
Mostly, Stan and I got along fine. For the most part, he liked what I submitted, accepted most (not all) of my ideas for stories, and until a few years ago often "suggested" (or insisted upon) alterations in them. For some years, he would rewrite a panel or balloon here and there, or even more, while other dailies or Sundays would sail through without a single word change. ...
In recent years, I had taken increasingly to using guest stars: Wolverine, Iron Man, Thor, Black Widow, Ant-Man, most recently Iron Fist and Luke Cage. We never bothered to try to follow the current Marvel comicbook continuity, which Stan didn't want to do— the more so, I suppose, as from time to time it was given increasingly to violent wrenches and re-starts, such as when MJ and Peter were abruptly uncoupled.
If there were eventually several Spider-Man universes in the comics (with different Spider-Men, a Spider-Girl, whatever), well, our comic strip universe was yet another one— just about the only one, in recent years, in which Peter and MJ were a married couple, continuing the original direction of decades of the comicbooks. We were all kind of proud of that.
When the strip died (i.e., was killed), the Mammon Theatre where MJ's hit play was running was shuttered by damage (in a Spidey-related fight, of course), and "Marvella II" had flopped, so the two of them took off to Australia for a vacation, and I wrote a couple of weeks of a continuity (along with a full outline approved by Michael Kelly) involving the villain the Kangaroo.
Then Marvel decided to kill the strip and not print the final couple of weeks, and I declined to rewrite the last published strip or two to turn it into a "goodbye" strip. My feeling was that I had accepted the snuffing of the strip, and didn't take it personally: it was just a business move (although when I was told the strip was being killed, I wasn't told—perhaps because those who informed me didn't know— that Marvel was planning to either revive the strip with a new team or to start a new strip that might not be a Spidey strip per se, but more the equivalent of DC's latter-day successor to its Superman strip, The World's Greatest Heroes, which had featured the whole panoply of DC heroes).
I felt that I had written what I had written for the strip, and they were welcome to do whatever they wanted to with the script (as long as I was paid for what I had done, naturally), but I preferred never to touch it again. When I'm done with something, I'm done with something.
[Artist] Alex Saviuk, bless him, graciously reworked the final strip to show the two of us in it, and to add a "'Nuff Said!" headline on the Daily Bugle. He was perhaps a better sport about things than I was— and I admire him for that, since he had spent well over two decades penciling the Sunday Spider-Man and then had only recently been promoted to seven-days-a-week penciler— only to see the strip almost immediately canceled so that he was out of a regular gig. I hope he finds one. He deserves it.
Naturally, I was sorry to see the strip end (the more so because it signaled the finale of the only long-lasting adventure strip launched in the past half century), just at the time when I could finally have begun to receive on-strip credit for the work I did— although of course I did have that for two years on the Conan the Barbarian comic strip at the end of the 1970s. But at least, once Stan wrote vaguely, maybe a decade ago in his introduction to the hardcover volume Marvel Visionaries: Roy Thomas, that I "help[ed]" him with the Spidey strip, everybody with half a brain knew what I was contributing to the strip anyway. That didn't bother Stan, and it didn't bother me. The strip was Stan's, and I was happy to co-write or write it under his name— although I wouldn't have been willing to go on writing it anonymously once he had passed on, had that alternative been suggested to me.
SECOND COMING HAS A COMEBACK
Second Coming, the controversial satirical comic book series about a modern Jesus Christ's return to Earth that was cancelled by DC Vertigo (see Opus 389, Part One) will be released this summer by Ahoy Comics, reports ICv2. DC had taken orders for the first two issues of the title, which was set to debut from the revived Vertigo imprint in early March, but protests from religious groups, plus an online petition with 230,000 signatures caused DC to cancel the book, though the publisher did give full rights to the property back to its creators, writer Mark Russell and artist Richard Pace, who found a home for the project at Ahoy Comics.
Ahoy Comics launched last fall with four comic book magazines that include full length comic book stories, plus poetry, prose fiction, and cartoons. Ahoy publisher Hart Seely noted that Second Coming will fit perfectly with Ahoy's superhero parody The Wrong Earth and its religious satire High Heaven.
Bill Maher and the rest of us irreverent crusaders rejoice.
NON SEQUITUR'S MILLER EXPLAINS AT LENGTH
As of February 15, five days after Wiley Miller hid a vulgarism ("We fondly say go fuck yourself to Trump") in his Sunday February 10 Non Sequitur strip (for details, see Opus 388b), his syndicate, Andrews McMeel, had received 110 cancellations, a spokesman for the syndicate said. The strip's client list before cancellations totaled more than 700 newspapers in the U.S.
Most of the papers dropped the strip not only because of the profanity but for the deception used to get it in the paper and for the artist's lack of honesty. At first, Miller said he wrote the insult, directed at President Donald Trump, but meant to remove it. However, he also had tweeted before that explanation that readers might find an Easter egg (the profanity) in the strip.
In contrast to the newspapers' gutless reaction, many readers saw nothing wrong in the strip. Several suggested a suspension, rather than a permanent drop. Readers also said they couldn't make out the vulgarity, anyway, it was so thoroughly disguised as a scribble. Others said it wasn't a big deal.
A few others used this logic: the president is deceptive and uses profanity, so it's appropriate for Miller to do the same in insulting the president.
Some readers wrote in supporting the move to drop the strip; most wanted it to return.
One reader captured one of the common sentiments: "It was the most astute, wittiest, and intelligent of [the paper's] comic strips."
The syndicate immediately sent out a letter, apologizing to client papers for missing the profanity in the editing process.
And that's where it stood until the end of the month, when Miller sent out a complete explanation for how it happened and apologized profoundly, to wit (in italics)—:
Dear Editors:
I greatly appreciate your allowing me the opportunity to explain and apologize for the strip that ran in Non Sequitur on Sunday, February 10th.
I drew the strip Christmas week. Because the strips are intricately drawn, I work seven days a week. That day, I took time to visit with our kids and grandson; it got late. I wanted to ink the Sunday so I could upload it the next morning. I was watching a late-night cable news station as I sat inking; a featured story got my ire up. I scribbled the epithet without thinking, intending, however, to white it out the next morning. I finished inking another strip, shut off the lights, and went to bed.
The next morning, in the hubbub of children's visit, the correction was forgotten — a mistake, I'm devastated to say, that I compounded six weeks later when the strip ran, and the oversight was pointed out by readers. My first thought was horror, and not apologizing immediately became my second mistake. Support for the epithet began rolling in; a way out suddenly appeared. In a tweet, I hinted that my oversight was intentional, an 'Easter egg,' a new misjudgment of shameful proportions — the dumbest and most dumbfounding thing I've done in my sixty-seven years on this planet.
Remorse is an understatement. I'm gutted by my own poor judgment.
Non Sequitur has been my pride and joy, as well as livelihood, in a cartooning career that has spanned forty-two years. The strip has been in print twenty-seven years, and garnered many awards [including the NCS Reuben]. During that time, I've drawn just shy of 10,000 strips, and not a single one contained such a vulgar, foolish, unprofessional 'venting.'
I apologize to you, my editors, for breaking trust with you, whom I owe a great debt for the many years you've run the strip. I'd also like to assure you that no such breach will ever happen again. I intend to work hard at regaining your trust.
Sincerely, Wiley Miller
Pretty much what I thought happened. First, he attempted to make a joke out of his first mistake, and that was his second mistake.
As far as I know, there's been no further activity. And I don't know if Non Sequitur has reclaimed any of the newspapers it lost. Maybe I'll know by next time.
FIRST SECOND TO LAUNCH WORLD CITIZEN COMICS
Driven by the current political climate in combination with the popularity of nonfiction comics, First Second Books, Macmillan's graphic novel imprint, is launching World Citizen Comics, a line of nonfiction graphic works focused on civic involvement and media literacy.
First Second editorial director Mark Siegel (a cartoonist himself) told Calvin Reid at publishersweekly.com that World Citizen Comics will launch with a line of seven works aimed at adults, young adults and middle grade readers, with more to follow. The first WCC work is slated to be released in 2020, but it is likely that in order to get going as quickly as possible, a number of WCC titles will be serialized online in advance of print publication.
The books will feature a variety of acclaimed nonfiction prose authors working with notable comics artists. In some cases WCC will adapt notable prose works into graphic nonfiction, among them Dan Rather's 2017 work What Unites Us, which will be adapted into comics by cartoonist Tim Foley.
The first title to be published in 2020 is Unrig: How to Fix Our Broken Democracy by Dan Newman, founder of Maplight.org, a nonpartisan organization that tracks money and politics, and cartoonist George O'Connor, creator of the bestselling Olympians graphic novel series.
"There's an incredible body of nonfiction comics out there," Siegel said. "The combination of the visual and words act almost like theater. And with adaptations we can open up these texts to readers in a different way than with prose. We believe we can produce a body of graphic works that will provide an understanding of civics and the idea of democracy and be fun to read," he said.
BALLARD STREET ENDED MARCH 30
Van Amerongen Bows Out After 40 Years In Syndication
The panel cartoon of odd but hilarious comedy, Ballard Street, successor to Jerry Van Amerongen's The Neighborhood, ended on March 30, capping the cartoonist's career at four decades. At the elbow of your eye is the first and last of the hysterical weirdness and Van Amerongen's summary of his career in the membership directory of the National Cartoonists Society, which bestowed upon Ballard Street the division award for Newspaper Panel Cartoon in 2003.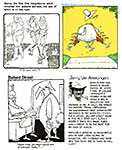 Van Amerongen posted a farewell at his blog site, as follows (in italics)—:
DEAR FRIENDS: We interrupt my normal posting for this announcement. After nearly 40 yrs. of syndicated cartooning, and a deadline each day of those 40 yrs., I'm announcing my retirement from syndicated newspaper cartooning. For me, the time has come to experience daily living without a daily deadline.
The final Ballard Street cartoon ran on Saturday, March 30th. After that date I have no plans, which is the most exhilarating part for me…
In 1978 I was living in Minneapolis with my wife and daughter. I was well along in my corporate Sales and Marketing career, 13 years and counting, when I was gripped by the need to get back to doing something creative with my hands. I just didn't know what! Back in college I completed a two-year Commercial Art curriculum, after bouncing around in the Liberal Arts for three years. Cartoon-like illustrations were always my strong suit, so I thought I'd try cartooning.
I took some gag cartoons to a monthly community newspaper located in my neighborhood, which was an all-volunteer enterprise, so they could hardly turn me down. After a year I took some of my better efforts to our daily newspaper, the Minneapolis Tribune, which agreed to publish my stuff on a weekly basis.
Within the next twelve months I sent some of the better work to three national syndicates. I never heard from one, I got a form letter rejection from another, and I got a phone call from the third, the Des Moines Register and Tribune Syndicate, with an offer to syndicate.
I am profoundly grateful to you the readers of Ballard Street and The Neighborhood for your years of continuous interest and support. None of this would have been possible without you.
Earlier in my working life, I never imagined I'd become a nationally syndicated cartoonist, and to have my work shown around the country (and the world!). It has been a life expanding and rewarding experience, and I'm only too aware of just how fortunate I've been. So, thank you again dear readers.
DRABBLE HITS FORTY
Kevin Fagan's comic strip Drabble may be the worst-drawn comic strip in syndication, and it's offended the eye of its readers for forty years as of March 5. Garry Trudeau has said that his signal accomplishment as a cartoonist was to make cartooning safe for bad drawing, but Doonesbury, when it began in 1970, was sketchily drawn, not badly drawn. (Well, maybe a little badly.) And it has improved since. But Drabble has always been, for forty years, badly drawn in a ragingly awkward manner with stiff anatomy and doughy heads and eyeballs that wander all over the skull as if looking for an oasis of some kind. Fagan agrees about his strip's appearance: "It's kind of crummy," he once said.
Peter Larsen at the Orange County Register in California remembered that Orange County native Kevin Fagan was a student at Sacramento State when he created Drabble, starring Normal Drabble. ("Drabble"—a word, incidentally, that perfectly describes Fagan's drawing style.)
Norman Drabble, a perpetual hapless college student, has in recent years faded from view, leaving the strip to his family. Fagan explains it this way: "The strip started when I was 21, and Norman was me. And then 10 or 15 years later, I turned into Ralph [Norman's father]. One of these days, I'll give him a grandpa, and that'll be me."
The strip's 40th anniversary would have slipped by unheralded were it not for Fagan's son Brian, who took it upon himself to alert Larsen to the landmark being passed.
"I am reaching out in regards to my dad, Kevin Fagan, the creator and cartoonist behind Drabble," Fagan wrote. "You wrote an awesome article about him a few years back. I just realized that the 40th anniversary of Drabble is next week.
"I don't think my dad has told anyone (that's just his nature), so I am taking it upon myself to let you know since you previously covered him. He doesn't know I am telling anyone."
AS A KID, Kevin avidly read the comics in the newspaper and collected reprint books, particularly Peanuts volumes. He tried copying the characters.
"They're very difficult to draw. I still can't (do good copies). I can't draw my own characters very well, now that I think of it," he said, with typical self-deprecation.
He drew cartoons for student publications in high school and in college. He was shy, but he enjoyed witnessing his classmates' response to his work.
At Sacramento State, he landed a gig as comic artist for the now-defunct Sacramento Union newspaper. It paid $5 a cartoon. That gave him the courage to write his hero, Peanuts' Charles M. Schulz, and send some samples of his work.
Schulz wrote back, encouraging Fagan:
"I hesitate to comment on art which is sent to me, Kevin, because it's not me that you have to impress. It's an editor somewhere."
And he included with his letter a list of newspaper syndicates, their addresses, and who to contact.
Fagan wrote them all, sending samples; all turned him down except United Feature, which suggested Fagan do a comic strip rather than a single-panel cartoon. Fagan responded at once, sending in 30 sample strips; no response. Thirty more strips; no response. Another 30, more silence.
Finally, nine months after the courtship started, as Larsen put it, he got a call from a United Feature vice president who said he was flying to Sacramento in order to sign up Fagan and his strip.
Drabble the character was cleaned up a little for syndication, losing his long-hair hippie look and sandals.
At the time, Fagan's mother worked as a waitress at a Laguna Beach restaurant where some cartoonists used to meet for drinks and conversation—Virgil Partch (the famed VIP), the Interlandi twins, Frank and Phil. Fagan's mother got to know them and told them about her son and his comic strip. Partch told her to get her son to come down so he could meet him.
"I went down and I met Partch," Fagan recalled for the article Larsen wrote in 2017 (from which I'm quoting hereabouts), "who couldn't have been a nicer guy. He sat there and he went over my strips and he gave me some advice that I never forgot. He said, 'When you're drawing cartoons, all of your lines don't have to connect. If they don't connect it gives it kind of a loose feel, and people like that, it makes the drawing look more spontaneous.'"
Fagan also met Schulz at a museum show. Schulz invited him to phone him at his studio, and after a while, they were talking on the phone a couple times a month. In 1999, Schulz invited Fagan to accompany him in his private plane to the National Cartoonists Society's Reuben awards weekend in San Antonio.
Bring your baseball glove, Schulz advised, "—and we'll play catch while we're out there." And they did.
After Schulz died a year or so later, his widow, Jean, asked Fagan if he'd like to have her late husband's baseball glove, on the strap of which he'd written his nickname, Sparky. The glove now sits in a place of honor in Fagan's studio.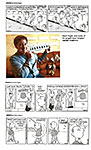 SAID FAGAN'S SON BRIAN: "My dad really is the modest cartooning legend who still gets excited to find out that someone has found joy in reading his cartoons over the years. Cartooning can be a relatively thankless job because you don't get to see or hear people reacting to your jokes. When it does come up (and never because he brings it up), I think it makes his day.
"And for whatever it's worth," Brian went on, "I'll add that my dad is the best human being I know. He's humble and generous, he is the best father and grandfather and husband you could imagine, and spends a ton of time serving the people in his community."
USAGI YOJIMBO HOPS TO A NEW PUBLISHER—IN COLOR
Stan Sakai and his 17th-century samurai rabbit, Usagi Yojimbo, are taking their monthly comic book series to a new publisher, IDW, starting in June—this time in color, reports George Gene Gustines at nytimes.com.
IDW Publishing is also planning a series of full-colored collected editions of the complete Usagi saga, which began in 1984. The series, winner of five Eisners, had been at Dark Horse Comics since 1995 and was published mostly in black-and-white.
In a telephone interview, Sakai, 65, told Gustines that the series is "mainly fantasy and action and adventure, but there's a lot of teaching there, too," as it is set in an anthropomorphic version of 17th-century Japan. "I draw from that history and culture and folklore to make my stories," he said.
GOOD THINGS TO BUY
In Humor Times, the tabloid that publishes 20 pages of editorial cartoons every month, the cartoons are in color on most pages. It's a stimulating treat every four weeks. Just $24.95 for a year's subscription, 12 issues, at Humor Times, P.O. Box 162429, Sacramento, CA 95816. You can get a free sample at humortimes.com and you can subscribe there, too; if you subscribe through this site, the sub is $2 less. In fact, unless I'm reading this all wrong, I think a "trial subscription" (dunno how many issues) is just $7.95 or thereabouts.
Another tabloid of the same ilk is the Comic News, in black-and-white but 32 pages; all editoons, front to back, except for a 2-page ecological report, "Diary of a Changing World," and another 2 pages for "News of the World" (outrageous and funny stuff). It's $29/year, 12 issues: Comic News Subs, P.O. Box 8543, Santa Cruz, CA 95061; or online at thcomicnews.com.
BARBIE'S BIRTHDAY
The infamous Barbie doll debuted at the American Toy Fair in New York on March 9, 1959, which means she's celebrating a 60th anniversary this month. Introduced by Ruth Handler, the co-founder of Mattel (she took her husband's place in a partnership when he became too ill), the Barbie doll has reputedly sold more than a billion of the leggy iterations. We're attaching the scan of a page from a recent issue of Parade, the Sunday supplement, that covers some of the major events in Barbie's life and mentions a special 96-page Barbie 60th Anniversary issue that you can order at Parade.com/barbie.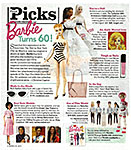 Handler was inspired to invent Barbie when she saw the Bild Lilli doll in Germany. Launched August 12, 1955, the doll was made of polystyrene, came in two sizes, and had an available wardrobe of 1950s fashion. Oddly (or perhaps not), she was intended as a figurine for men, who bought the dolls in tobacco shops.
And, if you're wondering why we're bringing that up here in a cartoonery venue, Bild Lilli was based on a cartoon character named Lilli, created by Reinhard Beuthien for the German tabloid newspaper Bild-Zeitukng in Hamburg. Introduced on June 24, 1952 as a "filler" in the newspaper, the cartoon Lilli was mildly risque. She became popular as a curvy, classy, sassy femme who knew what she wanted and made it her business to get it. Some say she was modeled on German movie star Marlene Dietrich.
Hence the interest she stimulated among male patrons of tobacco shops.
Prompted by Lilli's popularity, Beuthien decided to produce a doll version of the character. Hence, Bild Lilli; hence, Barbie.
Production of Bild Lilli ceased in 1964 when Mattel bought the copyright.
LIZA DONNELLY: VISUAL JOURNALIST
Liza Donnelly has been branching out. A New Yorker cartoonist for 40 years or so, she has lately taken pencil and iPad to meetings and various events to record her impressions of those happenings.
"I'm not a court reporter," she told Lisa Martin, who interviewed her recently at the 4th annual Women in Data Science Conference. "I'm an impressionist. I give people the feeling that they're there with me.
"I send the drawings out immediately," she went on. "I send them out on social media as soon as I do them so that people can see them immediately, so they feel like they're there. And it's a way to draw attention to whatever it is I'm drawing because on the Internet, there are so many words and so many photographs that when people see a drawing go by on their stream, they go like, 'Wait, what's that?'"
She's drawn the Red Carpet adventures at the Oscars, hoping to catch the stars. And she likes to go behind the scenes, too—drawing "the people taking out the trash, the guy painting the sideboard or the cameraman, things like that. I try to give a sense of what it's like to be there."
She insisted that her drawings are "cartoons"—not "illustrations."
She continued: "We know cartoons can be very controversial and problematic, and that's been true through the course of the history of our country, and I'm sure in England and other countries as well, but it's compounded now because of the Internet, I think. Cartoons can be misunderstood. They can be used as weapons.
"I'm going to be talking about this next week at the South by Southwest. I'm going to be talking about political cartoons, and what their impact has been in the past, and how they create an impact now, and why that is, and how we can use it to our— to good effect. You know, not a divisive tool, which, I think, is a problem that we're dealing with right now in our culture— everybody is so divided, and so opinionated, and so hateful towards each other. Can we use cartoons, not to perpetuate that, but to make things better in some way?"
She and Martin hope so.
Political cartoons, however, for all the impact they may have, do not usually change minds. But even preaching to the choir has an effect, persuading like-minded people that they're right and that they're not alone. I doubt that this kind of impact is likely to lesson the divisions that keep us separated.
Gag cartoons on the other hand—well, maybe there's hope in that genre for unifying people. Laughter is a universal balm after all.
ODDS & ADDENDA
In the spring of 1966, Harvey Comics published the first of two issues of The Spirit, reprinting Will Eisner classic stories. A third issue, although contemplated, never appeared because by then, the popularity of the astonishingly successful "Batman" tv show, which began in January 1966, had begun to wane by early 1967, and sales of the two issues were disappointing (according to a posting on the Facebook Comic Historian Page). ... In the Previews catalogue, DC credits both Terry and Rachel Dodson for their cover work; Marvel doesn't always, stopping with just Terry. ... Crossover circulation stunt books are still with us: Heroes in Crisis at DC; War of the Realms at Marvel; I have given up—I can't keep track anymore.
Stan Lee died last November, and Marvel's comics a month or so lately published a black page in memorium; nice. ... Frank Cho did an alternate cover for Batman No.71.
Tattoos on comic book characters? How'd you like to have to draw characters with those? You'd have to affix a microscope on your drawing board to see the details as you drew them.
A note from Mike Rhode about Sikoryak's Terms and Conditions "graphic novel" that we reviewed last time: "It's the late Steve Jobs of Apple, and the whole book is a metagag—when you use an Apple product, you agree to all of these 'terms and conditions' which no sane human could both read and understand. Sikoryak was illustrating a page a day as a webcomic, iirc, and then did a short self-published version, and the publisher picked it up and had him do the whole thing."
Senator Patrick Leahy is a big Batman fan. He's had small roles in five Caped Crusader flicks and has written the foreword to the coffee-table anniversary Batman book. During a discussion on copyright issues in Congress, Leahy corrected (accurately) a reference to an early Batman issue, down to the page.
Fascinating Footnit. Much of the news retailed in the foregoing segment is culled from articles indexed at https://www.facebook.com/comicsresearchbibliography/, and eventually compiled into the Comics Research Bibliography, by Michael Rhode, which covers comic books, comic strips, animation, caricature, cartoons, bandes dessinees and related topics. It also provides links to numerous other sites that delve deeply into cartooning topics. For even more comics news, consult these four other sites: Mark Evanier's povonline.com, Alan Gardner's DailyCartoonist.com, Tom Spurgeon's comicsreporter.com, and Michael Cavna at voices.washingtonpost.com./comic-riffs. For delving into the history of our beloved medium, you can't go wrong by visiting Allan Holtz's strippersguide.blogspot.com, where Allan regularly posts rare findings from his forays into the vast reaches of newspaper microfilm files hither and yon.
FURTHER ADO
From Southern Poverty Law Center's Spring 2019 Intelligence Report—:
"The [white supremacy] fears and frustrations, heightened by U.S. Census Bureau projections that white people will no longer be a majority by 2044, helped propel hate to a new high last year (2018). The total number of hate groups rose to 1,020 in 2018 , up about 7 percent from 2017. White nationalist groups alone surged b nearly 50 percent last year, growing from 100 chapters in 2017 to 148 in 2018. But at the same time, Trump has energized black nationalist hate groups—typically anti-Semitic and anti-LGBT organizations—with an increase to 264 from 233 in 2017. Overall, though, the great majority of hate groups are those that despise racial, ethnic or religious minorities and they, unlike black nationalist groups, have a firm foothold in the mainstream. ...
"Amid the era of Trump, hate groups have increased once again, rising 30 percent over the past four years. And last year marked the fourth year in a row that hate group numbers increased after a short period of decline. In the previous four-year period, the number of groups fell by 23 percent. ...
"The organized hate movement may be showing signs of disappointment with Donald Trump, but the president, aided and abetted by Fox News, continues to push his noxious anti-immigrant and anti-Muslim ideas into the public consciousness—fueling fears of a forthcoming white-minority country."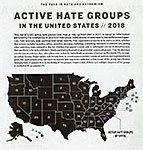 Re-visit the adjacent map at splcent.org/hate-map ; there, it is easy to navigate showing changes over time.
The Caravan Terror. Belief in "all sorts of rumors about the migrant caravan. ... rumors that it was filled not just with Central Americans seeking asylum but with people fro Venezuela, Nigeria and Syria—even Islamic militants. Rumors that caravan members were secretly trained by the United Nations. Rumors that it was funded by Jewish billionaire George Soros. Rumors that MS-13 was involved. Rumors of cartels. Rumors of violence. Rumors of death."
Militia leaders hyped up the threat. "In the process, the militias gorged on an array of hoaxes and conspiracy theories floated by conservative media—anti-immigrant groups and President Donald Trump himself, who released an ad about the caravan before the midterms that was deemed so racist that Fox News and other news channels pulled it off the air.
"The fantasies the militias embraced smeared the caravan as an invading army rather than a group of a few thousand desperate people fleeing poverty and violence."
FUNNYBOOK FAN FARE
Four-color Frolics
An admirable first issue must, above all else, contain such matter as will compel a reader to buy the second issue. At the same time, while provoking curiosity through mysteriousness, a good first issue must avoid being so mysterious as to be cryptic or incomprehensible. And, thirdly, it should introduce the title's principals, preferably in a way that makes us care about them. Fourth, a first issue should include a complete "episode"—that is, something should happen, a crisis of some kind, which is resolved by the end of the issue, without, at the same time, detracting from the cliffhanger aspect of the effort that will compel us to buy the next issue. A completed episode displays decisive action or attitude, telling us that the book's creators can manage their medium.
STRONGHOLD is one of those sf enterprises that I find a little too obscure for comfort. No.1 introduces the concept, weaving an explanation through several episodes. I'll lump together here what readers will find dribbled out through the book. Stronghold is a place or a religion of very powerful human-appearing entities, who, in their youth, are given a year on Earth to see if they want to remain Stongholders or give it all up and become normal, powerless humans. Claire has just returned from her year and decides, with prompting from her father, to "take the water" (?) and remain a Strongholder. But she has romantic feelings for "Michael," a man she met during her year who is actually the Stronghold divinity, The Primacy.
Subsequently, on a "date" (forbidden to Strongholders) with Michael, who doesn't know he's The Primacy, she explains the whole Stronghold thing to him. He can't reclaim his divinity—his memory and sense of self—because if he does, the entire Stronghold apparatus will collapse. And that apparatus is what keeps Good and Evil in suspension, a sort of cosmic truce.
The mission of the Strongholders is to prevent The Adversary, people working against the Strongholders, from provoking The Primacy into acts that will expose his true power thereby ending the truce and, over the next short time, the planet itself with all its inhabitants.
Unfortunately, Michael has already used his true power in the opening pages of the book where he jumps into a river to rescue a child trapped in a sinking automobile. He had the good sense, though, to jump back into the freezing river and walk along the bottom until he could escape public exposure—which he did without knowing why he did it. End of first episode plus first mystery.
Just as Claire finishes her explanation, the two are attacked by a biker gang; Michael, exercising his true power, whips them all, dismembering most of them. Claire, inexplicably, is last seen running away from these scene while Michael looks at his hands and mutters, "What are these?"
It's the romance that is the chief mechanism of the cliffhanger: we want to know whether Claire and Michael, both of whom have confessed feelings for the other, will hook up. We also want to know whether The Primacy will save the world or be destroyed by revealing himself.
Phil Hester, a 30-year veteran of writing and drawing comics, writes the story; Ryan Kelly, a 20-year vet, does the drawing. His work is realistic and painfully detailed, and his proportions are once in a while a little off, but he has a strong, flexing line, molded by finer lines. I prefer Hester's work, but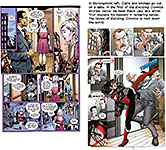 he's just writing here. And his story, while not of the sort I like, is deftly presented.
It's littered with mysteriousness which would condemn it were it not for Claire's expository impulse in her conversation with Michael. Thanks to that episode, enough mystery is removed to make the story comprehensible—with, still, enough mystery to create the issue's cliffhanger ending.
There are episodes enough—at least four—to reveal the personalities, mostly brave and noble, of the characters, and to help sort out the mysteries.
Last I saw of Hester's artwork was in Warren Ellis's Shipwreck—beautiful done and chipped with clogs of shadow—reviewed in Opus 359.
ANTARCTIC PRESS IS LAUNCHING itself with Exciting Comics, the first issue of which debuts three comic book characters in stories each taking only about 12 pages—enough to be titillating but not enough to make a case for any one of them. The opening story, "Revenge Syndicate," stars Black Jaq, a female costumed crime fighter who confronts the neighborhood protection racketeers. She has some sort of superpower, but it's not clear what, exactly, it is. It appears mostly as light blue radiations. She talks to herself in white letters on red blocks, and at the end of her twelve pages, she exclaims: "Oh, no—oh God, what have I done?" Maybe she's just killed the racketeer she's been fighting.
We see her in her civilian attire for a couple pages, but no explanation about what role she's taken on herself or why. And in civvies, she's auburn-haired; in costume, she's black-haired.
The second tale introduces the Crimson Scorpion, but this degenerates pretty fast into a complete maze. It opens with a truckload of archeologists driving across the desert to some ancient ruins. A professor, Dr. Kocian, has been recruited for the expedition because he knows where the ruins are. Led by the authoritarian Major, they arrive at the ruin, and all the team except Kocian, goes into the ruin, wearing gas masks and carrying boxes of explosives. When Kocian realizes that they intend to blow the place up, destroying all that invaluable archeological stuff, he runs after them to stop them.
Before he gets there, the Major and his crew are surrounded by another band of uniformed armed men, who want to kill the Major and his minions before blowing up the place. Just then, Kocian runs into this part of the ruin. He's been bitten by a scorpion, and he's now morphing into a large red version of the bug.
The problem with this introductory narrative is that we don't know which of the two bands of armed men are the good guys. We start out with one bunch and so are inclined to think we're with the good guys; but the behavior and appearance of the other crew's leader introduces doubt. He looks and behaves more like a good guy than the Major. But maybe once Kocian completes his transformation, it won't matter: he'll be all the good guy the ensuing stories need. Maybe.
In the last story, we meet the athletic young blonde woman who is destined to become Madam Mask. She is apparently some sort of costumed thief, stealing things for the money she gets by turning them over to her principal. But the explanation is a little on the cryptic side. Mostly, we see this woman clad in a skin-tight red suit and wearing glasses (a novelty) bounding across the pages, always in motion. She hears that her grandmother's rest home is ablaze and goes to rescue Geema, but that adventure is interrupted when she's transported to someplace where she's given the costume of Madam Mask, of whom neither she nor we have ever heard.
It's all action but no plot. We don't know exactly what enterprise she's engaged in; and the Madam Mask introduction doesn't answer any questions.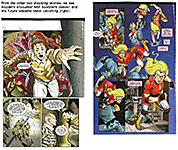 Black Jaq is written by Bradley Golden and John Crowther, and drawn by Carlos Tron, whose art is a little too pristine, clean to the point of antiseptic. His treatment of hands, however, is masterful.
Crimson Scorpion, written by David Furr, is drawn by Salvatore Caffari, who fusses a little too much with faces, adding meaningless little lines.
Madam Mask is written by David Doub, penciled by Spike Jarrell, and inked by Bill Marimon; they haven't quite got the face of their protagonist down yet, but the drawing style here is the best of the lot, confident linework and anatomy.
Antarctic publisher/editor Ben Dunn introduces this new line on the inside front cover, calling the new books of superheroic action "the Superverse." "So what makes this so different than any other super-powered universe?" he asks. "Well," he says, with astonishing originality, "—I'm glad you asked!"
And then he tells us that their mission is "to bring you the type of hero comics that we grew up with—stories that inspire and bring out the best in people."
Well, okay. But let's start with proofreading: furocity is not the way to spell ferocity.
As you can tell, I'm not keen on these titles.
INVISIBLE REPUBLIC, which I had been following religiously, called a time-out after the 15th issue. One of the authors, Gabriel Hardman, footnoted that issue with the disappointing announcement that the series is taking a hiatus for a few months so he can "finish another project," but he will resume the story, planned for 30 issues, after that. The other project, he implies, may be somehow relevant to "the chaos and authoritarianism" he sees in the opening months of 2017 with the commencement of the Trump regime. Current events, however, definitely have a connection to Invisible Republic: "I don't know that a comic book is important for the world, but it's important to us." So they'll definitely be back.
Well, okay. And when No.16 arrives, I'll have to re-read the previous 15 issues in order to get into the story again. Sigh.
WE CHECK IN TO Eric Larsen's Savage Dragon every once in a while to see what maniac adventures are transpiring. Whatever they are, they're always ample evidence of Larsen's sense of humor and his visual imagination. In short, a delight. We'd be regular perusers/buyers of this title if there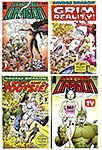 weren't so many other books on the market, especially the freshly hatched titles that demand that we review them. Alas, there are too many of them: we can't, any longer, review them all. So we don't try anymore. We pick a few that have artwork that appeals. Otherwise, we'll be doing over-view reporting like this.
As our first visual aid indicates, Larsen is into female nudity lately. That's naked Rapture on the cover at a discrete angle, but I don't know who the babes in panties and abbreviated tops are, scintillating though their appearances are. Finally, in a moment of extreme hilarity, there's Malcolm Dragon with his wife on his shoulder shaving.
More naked Rapture in the next display, a vivid demonstration that she fights best when naked. This display concludes with Malcolm and his wife in bed doing the old belly-bump (in a funnybook?!).
And then we have No.241 with Captain Tootsie on the cover and in a fistic encounter inside that goes on for a few fun-filled action pages.
Those over the age of 40 might remember Captain Tootsie, an invention of C.C. Beck and his chief assistant Pete Costanza, both deeply engaged in producing the Golden Age Captain Marvel (which may account for Tootsie's resemblance to the Big Red Cheese, as Cap Marvel was dubbed by his arch enemy, Doctor Sivana).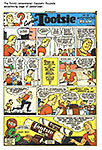 Tootsie was invented to promote the sale of a confection known as Tootsie Rolls, and the promotion took the form of one-page strips inserted into comic books. Captain Tootsie would battle some criminality and then celebrate victory by eating a Tootsie Roll with his juvenile entourage, the Secret Legion.
I always wondered why Captain Tootsie never graduated into his own comic book (contractual prohibitions, I suppose). But he did, eventually. Toby Press brought out two issues in 1950, as Larsen helpfully explains at the end of this issue. Tootsie Rolls are still around, but Captain Tootsie isn't. Except for No.421 of Savage Dragon.
Larsen's inspiration for including Captain Tootsie in Savage Dragon adventures came from an interview someone conducted with
Herb Trimpe in which Trimpe said his Doc Samson in Incredible Hulk was based upon Captain Tootsie. So Larsen's cover for this issue is in homage to Trimpe's cover for Incredible Hulk No.141. (Look again.)
But the fun in issues of Savage Dragon lately does not end with Malcolm's sexual exploits, Rapture's nakedness, skimpily attired female fighters, or homages to Captain Tootsie. At the back of the book are some one-, two-, or more-page comic strips of various drollery by the likes of such invaders as Nathan Bulmer, Tom King, and Christopher Giarrusso. Good fun, as you can plainly tell from the samples appended here.
Larsen and his minions always behave as if they're having great fun. And when we look in, we join them.
BRYAN HILL'S American Carnage as drawn by Leandro Fernandez is a superior enterprise. The protagonist is Richard Wright, "Rick," a former FBI agent, who is recruited by another agent to return to duty, unofficially, in order to find proof that a right-wing extremist fanatic named Wynn Morgan was the guy who arranged for the death of another FBI agent. Rick goes undercover: posing as poor white trash looking for some way to make a living, he insinuates himself into Morgan's operation. To do that, he first must impress Morgan's daughter, Jennifer, and then prove himself in physical combat with an assortment of bad guys in Morgann's employ.
The series is up to its third issue as I type this. In No.1, FBI agent Curry, a black woman, recruits Rick, Rick meets Jennifer, and we see Morgan spell-binding from a pulpit. In No.2, Morgan's thugs attack Rick as a kind of test of his mettle; and Rick meets Morgan. In No.3, Rick, who is half black, declines to maim a black guy, and that brings on a violent episode in which the black guy is killed. Rick fails this test (which further establishes him as a good guy), but Jennifer pulls him out of the awkward spot.
While they are talking at her home, the livingroom window is shattered by bullets. Rick shields Jennifer, then goes to make sure her daughter, Amy, who is deaf, is safe; she is. Rick and Jennifer look out the front door and see a burning cross on the lawn. Jennifer says she knows who put it there.
So far, then—through the third issue—Rick has managed to insinuate himself into Morgan's milieu. He hasn't yet found any evidence that Morgan master-minded the death of the FBI agent. But with the burning cross on the front lawn, the story seems to be taking a different turn.
Hill's story is nicely complicated, turning and twisting. But it's Fernandez's pictures that most appeal to me. In a manner akin to Eduardo Risso's
twerking, he makes impressive use of chiaroscuro (black shadowing), and he knows how to tell a story visually. Presumably, Hill knows, too. Many sequences are accomplished with no words or just a few, the pictures carrying the narrative. Like Risso, Fernandez varies page layouts and panel size for dramatic emphasis—and sometimes, just for pictorial variety, which creates visual excitement. The only conspicuous flaw in the books is in the lettering: Pat Brosseau makes his A's flat at the top instead of pointed, and they too often look like R's.
In short, Fernandez deploys all of the resources of the medium effectively and gives simple visuals dramatic power with deft touches of black solids for shadows. Hereabouts, a few pages by way of sampling his work.
ALL THE MADNESS AND HYSTERICAL RUNNING for their lives continues through all seven issues of Cemetery Beach. (Our review of No.1 is in Opus 385.) Mike Blackburn, a scout sent to this off-world colony to reconnoiter and find out why it's been forgotten, and Grace Moody, a spare-parts body native to the colony whom Blackburn has broken free of prison on his own dash to freedom, are pursued by prison guards, law enforcement personnel, and random military detachments and even a few monsters. The chase goes on for pages almost without a break—although they sometimes stop long enough to exchange notes and increase our understanding of the colony and their dilemma.
Residents of the colony, for instance, discovered a "germ pool" of wet fungus-like stuff which, when applied to the human body, makes it stronger and healthier. And makes it live longer. Most of the colonists have been on the planet for decades but grow no older in appearance. And they're invulnerable.
But one of the soldiers pursuing Mike and Grace apparently speaks for many other colonists when he says he thinks of the place as heaven. And that's why he's pursuing our hero and heroine: if Blackburn returns to Earth (Oldhome) with his report, Earthlings will flock to the colony and destroy it. Or so the colonists fear. That's announced in No.5; so you can see how far into the narrative writer Warren Ellis has taken us before divulging a central motive for some of the action in the title.
In No.2, though, he explains how the otherwise barren planet was turned into a life-supporting planet: says Moody, "My great grandparents had to shit on the ground to make soil and recycle their dead for food, tools, and fertilizer."
In the same issue we find out that Cemetery Beach is where Blackburn landed. "LZ"—landing zone—suddenly has meaning.
But it's Jason Howard's art that is my reason for returning for six issues (with the seventh on order). It is a delight, pure and simple. The gnarly anatomy and clotted line-work of his style make individual pictures unique renditions; we haven't seen his like before. And his rendering of deserted cityscape buildings is expert and still in his style.
It's the storytelling that is the endlessly rewarding attraction. The chase sometimes goes for 5-8 pages without words. Just pictorial storytelling of mad-dash activity. Any of the numerous pursuit sequences is a stunning lesson in how to vary distance and angle and visual elements for variety and therefore pictorial excitement as well as narrative coherence. Near here, I've included one such sequence (or maybe I've hooked two sequences together; it's hard to say)—plus other visual delights.
The chase finally ends in No.7 with portents for more excitement if the series continues. But you'll have to read it to get it. Or vice versa.
TANK GIRL comic books have always intrigued me. I've bought several issues of the sporadically produced title based upon cover art and a premise that lurks thereon. But I've never managed to wade all the way through any of the issues that I've purchased. Somehow, all the punk aesthetic turns me off before I get more than a couple pages along. Clearly, Tank Girl is an acquired taste. But Titan Comics in England is publishing 30th anniversary commemorative issues, the first of which (dated last June) clears my mind a little.
The 64-page No.1 issue reprints several of the maniac in-your-face outlandish no-holds-barred-for-the-sake-of-an-offbeat-joke stories from 1988 and 1989. Written by Alan Martin and drawn and then overdrawn by Jamie Hewlett (who adds Mad-like visual Elderisms in every panel), the hilarity of their dubious taste begins with the inaugural tale in which Tank Girl bests a kangaroo at his own game, then sleeps with him. It. Whatever. His name, it develops, is Booga.
In this issue, say the authors, "we reappraise the initial run of the comics, giving them a shiny new full-colour treatment in a style consistent with their age and original production." They also include some photographs of the "legendary" Deadline Magazine gang that generated the stories. More than that, it isn't prudent of us to say; so instead we show, hereabouts, some sample pages, many of which have lettering that is too small and cramped-looking.
FITNOOT. Just as I was finishing off this review, the second issue of the Tank Girl anniversary series arrived, embracing the years 1989-90. More outlandish pictures and madcap stories, from which we excerpt the first of the displays that loom next down the scroll. And a third commemorative issue is in the offing with stories from 1990-91. (It may, in fact, be on the shelves of your favorite comic book store even now; and perhaps earlier. As the butcher said when he backed into the meat slicer, I'm sorry but I've got a little behind in my work.)
On top of all that—in an irresistible spasm of commemoration—came Tank Girl All Stars last summer (dated July). And we've plundered it for some more illos, all clustered near here. And who could ask for more?
TICS & TROPES
Mountains are so majestic, immense, they make me feel small, but I'm still there—looking at them, and that makes me feel part of something bigger than I am.
LECHERY AND THE PENILE PROMPT
"God gave men both a penis and a brain, but unfortunately not enough blood supply to run both at the same time." —Robin Williams
The Art and the Artist. We knew all along that there was something seriously wrong with Michael Jackson, the King of Pop. At a time when most decent folk were trying in good faith to accept black people and ignore their skin color, his bleaching himself white was weird. And now here comes the 4-hour HBO documentary, "Leaving Neverland," in which two men, ages 36 ad 41, "recount in horrific, methodical detail how as young boys they were befriended—at 7 and 10 —and seduced into years of sexual abuse" by His Majesty.
Even after he was acquitted of child molestation in 2005, his fondness for little boys—sleeping with them in his bed—was another element of weirdness, this time, bordering on the unacceptable. And now we know: it was unacceptable.
Hence, we encounter what Hank Stuever in the Washington Post (quoted in The Week) calls "the big question": What do we do, as a culture, with Jackson's songs? "My answer?" he says, "—turn off the music and listen to these men."
Bullshit. That's a certain way to kill off an entire culture.
We encounter this question with every artist —movie star or painter— now presumed guilty of sexually abusing others. The temptation in the current all-or-nothing tilt of our moral system is to condemn the art as well as the artist. But that, I repeat, is dead wrong. Art is art; people are people. Despite an intimate connection in the production of art, these two aren't the same.
As Carl Wilson at Slate.com says: "Here are two facts: Jackson 'changed the sound of global pop,' bring joy to billions, and he almost certainly molested children. 'Neither fact alters the other.' Disavowing Jackson's music would be an 'empty rhetorical flourish' that would do nothing to repair the harm he caused his victims."
And it would deprive us of the pleasure of his music and performance thereof.
Keep the art and venerate it. That will foster cultural attainments. Forget the flawed man.
AND WHILE WE'RE ON THE SUBJECT of injustice, it's nice to hear that the whole #MeToo and #BelieveWomen effort is being chastised for ignoring "due process" as they gleefully plow men's reputations and livelihoods into oblivion. As reported in The Week, David French in NationalReview.com says that the "wisdom of centuries-old principles of Western jurisprudence" is re-emerging. "Judges are rebuking colleges and universities for establishing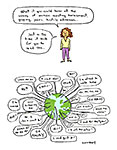 campus kangaroo courts that deny the accused rights such as the opportunity to cross-examine witnesses."
French goes on to relate the fate of Baylor football star Shawn Oakman, who was indicted in 2016 for sexual assault, derailing his pro career. Subsequently, a Texas jury took just two hours to acquit him. He's not the first person judged guilty "in the court of public opinion" only to be acquitted in a real court. Every victim should be heard. But "accusations should never equal conviction, and due process helps rather than hinders the search for truth."
"Accusation never equals conviction"—sounds like a good slogan.
But it's also a good idea to remember Liza Donnelly's cartoon, posted nearby.
Quotes & Mots
Comparison is the thief of joy.—Theodore Roosevelt
Not to worry: as long as there are math tests, there will be prayer in schools.—A Nony Mous
TRUMPERIES
The Antics and Absurdities of Our Nutso Prez
THE MUELLER REPORT landed March 22 or thereabouts, and excitement broke out on all sides. Attorney General William Barr delivered his interpretation of what Mueller and his minions had found. As Barr saw it, the evidence of collusion between Trump and/or his campaign and the Russian interference with the 2016 Election was not enough to justify prosecuting anyone. Note: this is an interpretation of Mueller's report not a direct quotation thereof. So maybe there is evidence of collusion—just not enough evidence.
Similarly, Barr said Mueller's team drew no conclusions about whether the Trumpet obstructed justice. Absent a recommendation from Mueller, Barr simply determined that there wasn't sufficient evidence to establish that the Prez committed a crime. Still, "while this report does not conclude that the President committed a crime, it also does not exonerate him."
The vocabulary-impaired Trumpet, always on the look-out for new words that might enrich his otherwise pedestrian utterances, immediately seized upon the word "exonerate," which he'd never seen or heard before. And with it, he blurted out his first lie of the post-Mueller report season, a gigantic falsehood: the report, he said, "is a complete and total exoneration."
That's right: he managed to claim precisely the opposite of what the report said. (According to Barr.) And he expects his devoted followers to believe him. And they will.
Elsewhere, the gasbag brigades on cable tv talk shows fell all over themselves in an effort to explain how Trump could be innocent after so many months during which his guilt had been a foregone conclusion. Explanations proliferated in every direction at once.
Meanwhile, the Trumpet is now in the ludicrous (but, for him, accustomed) position of having to reverse himself completely, 180 degrees. He has spent two years impugning the reputation and motives of Mueller and his team—they're all rabid Democrats (actually, Mueller is a registered Republican although probably apolitical) bent on destroying the Trump presidency by rigging their investigation—but now, overnight, Trump must pivot dramatically and pretend that Mueller and his team are honorable men whose perspicacity and acumen as investigators is beyond question, and whose conclusions must, therefore, be accepted as holy writ.
But as Daryl Cagle's cartoon at the upper left of the adjacent visual aid so memorably demonstrates, the Mueller report and Barr's interpretation thereof is something of a fizzle.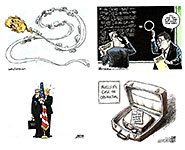 The wind went out of it even as it arrived. In any case, demonstrably for the moment, the Mueller report changes no minds.
Over the past two years, most Americans have become convinced one way or the other. Some believe that all the previous indictments coupled to voluminous reportage have demonstrated a conspiracy between the Trump campaign and the Kremlin. And others believe just as fervently that the whole investigation is, as the Trumpet has been claiming, nothing more than a politically moivated "witch hunt." Ditto on the question of obstruction of justice.
The only thing that is certain is that the Mueller report is going to dominate political life in this country for months to come.
Already, the Democrats in Congress are calling for the immediate release of the whole report: Barr's fractured interpretation has almost certainly twisted Mueller's findings, so we need to see all of the latter so we can make up our minds ourselves. The fact that Barr is known to believe that a sitting president cannot be indicted probably colored the way he read Mueller's conclusion on the question of obstruction. So we need to see what he saw.
While the Democrats are screaming for release of the full report, the Republicons are screaming that the Democrat investigations in the House be investigated.
And so it goes.
Back and forth, up and down, inside and outside. In short, we're now awash in what we've become accustomed to apprehending as "the usual."
We're going to skip the Editoonery Department this time (in the interest of getting this opus posted before the end of the month) (ah, the artificial urgency of self-imposed deadlines) but we'll review the past month's crop of editoons in a posting next week (or so). Under the heading of "Trumperies" however, we can rub our hands in fiendish glee over a couple specimens that dwell upon the Trumpet's entertaining antics.
Next to Cagle's deflating the Mueller balloon is Kevin Siers' characterization of Barr's summing up letter. Clearly, Barr has left something out. And below that, Adam Zyglis offers another visual metaphor for the Barr "report": the "nothing" is a locked briefcase containing—who knows?
Finally, at the lower left, R.J. Matson's return to the memorable moment during the Trumpet's presentation at the CPAC (Conservative Political Action Conference, sponsored by the American Conservative Union) when the Prez hugged the Flag. (Or is he humping it?) In Matson's do-over, Trump's embrace enfolds Mueller as well as the Flag. Mueller's report and the blatantly absurd hugging of the Flag will save the Presidential ass. For the time being. Love knows no bounds.
The Trumpet's excessive "speech" at the CPAC—a 2-hour harangue on the usual range of Trump subjects and targets (with a long attack on the late John McCain), including, especially, his love affair with the Flag—attracted the attention of several editoonists, who seized upon the Flag hug as a particularly apt characterization of the Trumpet's performance.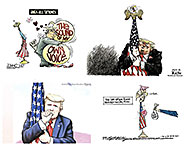 John Cole starts us off with an image that captures both the reason for Trump's excess and the Flag's distress at being hugged by this blowhard. Next around the clock, Jim Morin concentrates on the Flag's discomfort at being embraced by so questionable a character as the Trumpet.
Below that, David Fitzsimmons makes the Flag a crusader for #MeToo because it feels it has been sexually assaulted by Trump. But someone—some fixer for the Trumpet no doubt—is offering hush money. Finally, Clay Bennett provides yet another interpretation of the Flag-hugging incident. In this case, a week or two before being completely and totally exonerated by Mueller/Barr, Trump is feeling abused—by all the investigations poised to probe into his presidency, his motives, his business, his family, and, probably, his very manhood. Who knows what direction these things will take? For Bennett, hugging the flag was as infantile and as practical as sucking your thumb when feeling neglected.
Enough for now. We'll return to the fine arts of editorial cartooning in a week or so with most of the opus devoted to the subject. See you then.
PERSIFLAGE & FURBELOWS
From Remind—:
When Queen Elizabeth II, the current British monarch, married Prince Phillip in 1947, their wedding cake weighed 500 pounds.
When the Coca-Cola company first started marketing its product in China, the advertisements used Chinese symbols to spell out the brand's name phonetically. It was only after the ads had been published that the marketers learned that those symbols spelled out the phrase "bit the wax tadpole."
NEWSPAPER COMICS PAGE VIGIL
The Bump and Grind of Daily Stripping
A SELECTION OF VERBOTEN SUBJECTS surfaces in our first visual aid.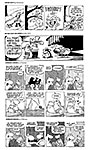 In Rick Detorie's One Big Happy, Ruthie uses a euphemism for urinating when she says her dog "tinkles" on the tree (as all dogs do)—not a subject for comedy in comic strips a generation ago. And in Mike Peters' Mother Goose and Grimm, the champion dog of the funnies gives himself away as the culprit by means of a unique reveal; the obvious invocation of an anatomical aperture violating some antique prohibition, no doubt.
In J.P. Toomey's Sherman's Lagoon, Sherman and Fillmore discuss snot, an unappetizing subject usually avoided in the comics section. They return to the topic in the bottom strip, which also is self-conscious —as it is in the previous instance with Sherman and the polar bear on an ice flow.
TO CONTINUE on the topic of self-conscious comic strips, here's that sequence in Brian Crane's Pickles wherein a "world famous cartoonist" shows up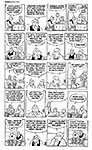 and pesters Earl. It's not exactly "self-conscious" in the sense that the characters are aware that they're in a comic strip, but it's close: Leon Pickles, the cartoonist, draws a strip in which Earl Pickles is, apparently, the star. In the penultimate strip in our line-up, Earl says Leon's strip has be going for almost 30 years. With this sly maneuver, Crane references his own strip, Pickles, which began almost 30 years ago on April 1 (Fools Day) 1990. Not an anniversary sequence exactly. But close.
AND NEAR HERE at the top of the page is the concluding installment of Crane's foray into self-conscious comic strippery in Pickles.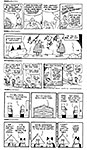 Next down the line-up is another discussion of cartooning in Chad Carpenter's Tundra, in which, as is often the case in our snooty culture, cartooning is treated as a less-than-art art; but below that, we wander off into verboten regions for comic strips. Years ago (and not too many, I'm chagrined to report) no comic strip cartoonist would allude to septic waste in his strip. Here, excerpted from Wiley Miller's memorable sequence in Non Sequitur, it's being dumped into a hole in which reside many hackers, plying their trade. And so they get their just desserts. (Is that last word misspelled?)
And marital infidelity would never NEVER be mentioned in a comic strip as casually as Scott Adams does in Dilbert. Ditto his invocation of Jesus in the next extract from his strip. Religion in general was never mentioned let alone the divinity of one of the world's religions.
But we've matured in the last 20 or so years. Now, nothing is sacred. Thank goodness.
WHEN I POSTED THIS PRECEDING EXTRACTION on my Facebook page, alert reader Rob Smith, Jr. pointed out that religion has been functional in many strips over the years— "especially in the various faith-based strips like Brother Juniper, the most high profile being Peanuts." And he included a Sunday Peanuts in which Linus is quoting verbatim from Luke. Well, true. I'd forgotten. A bad slip. But Peanuts was an exception, rather than the rule. And it treated religion respectfully. I had thought Brother Juniper was a magazine cartoon, not in newspapers. And it did, indeed, start in magazines: it began as a feature in Friar Magazine in 1953, then graduated to a daily panel cartoon on December 9, 1957 and ran until sometime in 1986, when it ceased. Justin McCarthy did it.
But in Peanuts and in Brother Juniper, religion is treated seriously. In the Dilbert strip at issue, the pointy-haired boss is being flip, invoking a commonplace crack (albeit without knowing whether he's being flip or not) to dodge an employee's comment.
The problem I was skirting around here is that a flip comment about Jesus in a newspaper comic strip would have inspired a boatload of protest a few years ago.
OKAY: I GIVE UP. Again. In his strip Pearls Before Swine, Stephan Pastis has made a ritual out of conjuring up outrageous puns. But in the Sunday Pearls before us, I can't figure out the pun. "Probe limbs" is "problems," probably, but the rest escapes me.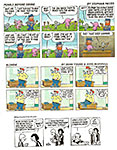 Maybe a popular song lyric that I've never heard. Maybe not.
John Marshall's Blondie strip is here for historic reasons. This is a rare Blondie without either Dagwood or Blondie (or Daisy, the family dog) in it. Clip it out and put it on your fridge. Dean Young, the strip's manager, and Marshall have be doing other historic releases lately—one-panel strips or two-panels, violations of the strip's long-standing three- and/or four-panel routine.
And then here's Zits, written by Jerry Scott and drawn by retired editoonist Jim Borgman. I've included it in this line-up just because it mentions Blondie, the world's longest-running top-circulation comic strip. Peanuts is probably second, but Charles Schulz's iconic strip, while equaling Blondie's circulation (and sometimes topping it) started nearly 20 years after Blondie.
GOSSIP & GARRULITIES
Name-Dropping & Tale-Bearing
JOHN HICKENLOOPER, former two-term mayor of Denver and freshly term-limited out of the governor's office in Colorado, gave his first speech as a presidential candidate on March 7, speaking to an estimated 5,000 people in the park between the City Hall and the State Capital in downtown Denver. Among his remarks was this one: "I understand I'm not the first person in this race or the most well-know person in this race. But let me tell you, at four syllables and 12 letters, 'Hickenlooper' is now the biggest name in the race."
With that remark alone, he's got my vote.
BOOK MARQUEE
Short Reviews and Previews of Coming Attractions
This department works like a visit to the bookstore. When you browse in a bookstore, you don't critique books. You don't even read books: you pick up one, riffle its pages, and stop here and there to look at whatever has momentarily attracted your eye. You may read the first page or glance through the table of contents. And that's about what you'll see here, beginning with—:
Black Panther: Warriors of Wakanda
By Frank Berriors; drawn by Simone Buonofantino, Davide Mastrolonardo, and Fabio Fachiulli
24 6.5x8-inch pages, color; 2018 Little Golden Book hardcover, $4.99
THE MOST REMARKABLE THING about this tiny volume is how many artists it took to tell the simple tale of who the Black Panther is, what Wakanda is, ditto Vibranium, why it needs to be protected, and how it is all menaced. There's also a confrontation between Black Panther and Klaw, who wants Vibranium for his own profit-motive purposes. But "Klaw is no match for the brave warriors of Wakanda! Working together, they quickly take down the villain. T'Challa smiles at Shuri—team work wins again!"
I'm surprised that the Little Golden Book folks haven't cashed in on other comic book superheroes before this. Maybe they have and I just haven't noticed. In any event, if this volume is a success, we can surely expect more—beginning, no doubt, with Marvel's Captain Marvel.
Forthcoming
LOOKING AHEAD A LITTLE, we see (thanks to the accompanying visual aid) that Red Sonja and Vampirella will be joining Betty and Veronica as charmingly depicted on the book's cover by Fay Dalton.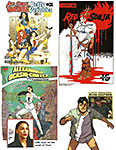 And the famed AOC (Alexandria Ocasio-Cortez, freshman senator from New York) gets a one-shot anthology from Devil's Due Comics. Alas, she's drawn a little too long in the waist, but we admire the woman and this rendering of her face nonetheless. We also admire the Amanda Conner cover for Red Sonja No.4 at the upper right—a delicious design, capitivatingly executed.
Finally, in a Previews illustration heralding the rebirth of Kevin Eastman in comics we have what might be (but probably isn't) a self-portrait of Eastman in his underwear. Pervert that we are, we observe the bulge at the crotch, and we herald it as a sign of growing maturity in comics: it recognizes, without unseemly exaggeration, a fact of anatomical and sexual life among the human species—something we lately bemoaned the absence of in Harv's Hindsight for March 14, 2019.
Eastman has launched his own publishing company, Kevin Eastman Studios, which is poised to produce Drawing Blood, a semi-autobiographical tale about a young cartoonist who creates a cult-hit comic book, Radically Rearranged Ronin Ragdolls (the other KES comicbook), which—adjective adjective adjective noun— echoes Teenage Mutant Ninja Turtles and is, I gather, the comicbook created by the hero of Drawing Blood. RRRR is, as Eastman tells it, "a straightforward, inspired heartfelt 1992-era homage/parody."
Eastman is still writing the cult-hit TMNT (launched in 1984), and, by the end of this year, he'll have written 100 issues.
In an interview in the current Previews, Eastman is effusive in praising David Avallone, who is co-creator of the new books, and Ben Bishop, the main artist, and Troy Little, who linked Bishop.
"David and I wrote the story," said Eastman. "I did the layouts, and David's script is perfect. ... We had to find the right artist to bring it to life, and we did: Ben Bishop brought this to life. Brilliant on every level, this kid can really, like REALLY, draw! His energy is infectious, and we are so fortunate to have him as part of this series. ... But Troy Little knocked it out of the park and then some. He put SO much into it, and I could not be prouder. ... A truly unique and wild ride that I think tons of all genres, especially comics, will completely dig."
Asked to reflect upon his career, Eastman said: 'All I ever wanted to do was to write and draw comics, and by the age of 21 or 22, the dream of doing it for a living ... had come true. ... I am still living that incredible dream. Thanks to the support of so many fans and my family. I get up every day and draw for a living.
"The life lessons have been epic and awesome," he went on, "—as well as heartbreaking and destructive, but I think that is the normal course of life for all of us, and the unexpected places it will take you—embrace them. I feel I have been more blessed than I deserve, and could not be more grateful for the life I have been given."
His advice? "If I had one piece of advice for anyone—if you have a friendship, a real one, creatively or otherwise—respect it and protect it—they don't come around often and you'll miss them if they go away."
How much of this outpouring is prompted by his relationship with his initial partner, Peter Laird, I can't say. Eastman mentions Laird only in passing.
Laird is still involved in various TMNT projects. Eastman sold his share of the franchise to Laird, and eventually, Laird sold it to Viacom/Nickelodeon; both Eastman and Laird have retained some rights to their creation and/or revenue streams that are generated. Both are millionaires.
I gather they don't work together anymore.
Bill Griffith's New Project. In an interview at tcj.com with Mark Newgarden (co-author with Paul Karasik of How to Read Nancy), Griffith said about his graphic novel ventures:
I think I'd been repressing the long-form narrative in me for decades, concentrating mainly on my daily strip, Zippy. When I started Invisible Ink [about his mother's affair with a cartoonist], it felt like a dam bursting. The book just flowed— not without the inevitable editing and rearranging, of course. Ever since Maus, I would keep asking myself, "Do I have a graphic novel in me?" Apparently, the answer is yes, at least three, and maybe more. After I finished Invisible Ink, I missed the immersion of the long, weaving narrative form, so after a few months, I started Nobody's Fool [about Schlitzie, the real-life pinhead who inspired Zippy]. Once Nobody's Fool was done, the same void opened up again so, a few months ago, I started my next book, a bio of Nancy cartoonist Ernie Bushmiller.
It's a deeply researched biography of Bushmiller— and the cartooning worlds he lived among in New York from the late 1910s to the 1970s— helped along considerably by interviews with Ernie's still-living friend Jim Carlsson and the generosity of yourself in giving me access to interviews and research you and Paul did for How to Read Nancy. I'll just add a line of mine from an introduction I wrote for a Nancy anthology: "Peanuts tells you what it's like to be a child. Nancy tells you what it's like to be a comic strip."
PITHY PRONOUNCEMENTS
Andy Rooney on sex—
What's an Australian kiss? The same thing as a French kiss only down under.
A couple just married wee happy with the whole thing. He was happy with the Hole, and she was happy with the Thing.
What are the three biggest tragedies in a man's life? Life sucks, job sucks, and the wife doesn't.
Andy—for shame! I never knew you were so determined on the subject.
BOOK REVIEWS
Longish and Analytical
Knocked Out Loaded
A Comic Art Novelty featuring The Norm
By Michael Jantze
204 8x8-inch pages, color; 2018 Jantze Studios paperback, $25 at http://bit.ly/KOL2018
JANTZE produced The Norm as a syndicated comic strip for eight years, August 1996 - September 12, 2004. He'd done earlier versions of The Norm, starting in 1982 in Cal State Northridge's campus newspaper, then in some local weekly newspapers, 1986-87. He ended the syndicated version because the strip wasn't going anywhere: it wasn't gaining in client papers.
Syndicated, The Norm was (is) not casually named: its protagonist, Norman Miller, did all the things normal people do. He worked in an office, hung out with friends (one of whom is such a Star Wars afficionado that he dresses like a wookie every day), dated girls, etc. One spectacular daily installment changed all that.
Norm usually woke up in the morning by falling out of bed. On a particular New Years Day, he fell out of bed and then heard a female voice telling him to get back in bed. The voice belonged to one of the women he dated, Reine, who was on the far side of the bed. Nothing lascivious: they are married. And had been married for, apparently, some time.
That's right: on December 31 in the strip, Norm went to bed a single guy; the next day's strip, presto, he awoke married.
So now, The Norm was about married life. Presto, like I said.
It was an exquisite narrative maneuver, perfectly suited to a story published in serial form. Beautiful. They'd been married, at least, for the whole missing year, or part of it, from New Year's Eve one year to New Year's Day the next year.
Knocked Out Loaded (or KOL, as Jantze has it) is similarly magical and similarly suited to its medium. The "events" it records—the daily doings like housekeeping chores—are bookended, so to speak, by two out-of-the-ordinary happenings: first, on pp. 34-35, Norm goes skiing and knocks himself out hitting a tree; then at the end of the book, his house burns down, and he and his friends re-build it.
What happens in-between is not entirely clear. It is dream-like, sometimes nightmarish. Ford, Norm's best friend from the office, drifts in and out of the narrative, accompanied, sometimes, by Norm's xgf (ex-girlfriend) Bronte (who is not sure she wants to let Norm go; but Norm is married, right?) and/or Ford's ex-wife, Jan (who has a fight with Bronte). Other events include a water-damaged kitchen, intrusive in-laws (Reine's parents, who live next door), Reine's miscarriage alluded to, their enduring desire to have a family, and Norm breaking the fourth wall all the time to talk to us.
What are we seeing here? Is what we see what Norm is experiencing, unconsciously, in the hospital where he's being treated or revived after knocking himself out while skiing? Could be.
What is clear, however, is that Jantze is experimenting with the form again. He's playing with it, exuberantly, joyfully, for the whole length of this book. The routine grid page layout is frequently disrupted, panel borders disappear in some sequences, colors change and change again, and characters morph into symbols of themselves. I've posted several instances of it just at the elbow of your eye. Enjoy.
And now, having finished that tour, here are some more instances of Jantze's playfully inventive mind. These come from his book reprinting the syndicated Sunday strips, The Norm In Color. Crazy stuff. Delightful. Evidence of the kind of cartooning mind we've been missing since The Norm ended fifteen years ago (sob).
. To appreciate the samples at hand, you'll have to enlarge each of them.
To buy this volume, visit AddAll.com, a book search service that'll lead you to places where copies are available for $5 or less— the Best Bargain on the Net.
But both books, limited runs, are available only at http://jantze.com for $30 each, signed; more for doodles and other add-ons (sketches, commissions). To pay by check, mail $30 checks to Michael Jantze, 4822 Hartford Way, Mukilteo, WA 98275.
And there's a new collection coming in June, The Norm 4.0, reprinting the weekly strip, published at http://gocomics. com/Jantze. In this iteration, Norm and Reine have two children, a boy and a girl, naturally.
I visited the gocomics.com site. The family Norm strip is engaging but does not much exploit the medium as was Jantze's wont ere now. And the gocomics management has sold advertising that is truly intrusive: every time I click to see another Norm strip, an ad pops up. And every fourth or fifth time, you have to answer questions before the ad stops blocking the view. Gruesome capitalism at its worst.
IRKS & CROTCHETS
At the time of the Brett Kavanaugh hearings about his nomination to the Supreme Court and Christine Blasey Ford's accusation that he'd sexually assaulted her when they were both in high school thirty-six years ago, I wondered why Kavanaugh's furious attempt to refute her allegations included not only accusations that it was all a "political hit" but also that the plot was inspired by the Clintons. What, for pete's sake, did the Clintons have to do with it?
Now I know, thanks to a book review in The New York Review of Books of a memoir by the infamous Ken Starr, the independent counsel appointed to investigate the Clintons' Whitewater investment, the suicide of Vincent Foster, and Bill Clinton's dalliance with Monica Lewinsky. Starr's report resulted in the impeachment of Prez Clinton. Kavanaugh was the co-author of the report. So he supposed the Ford allegation was drummed up by the Clintons as an act of revenge.
And that supposition tells us a great deal about Kavanaugh's character and its complete unsuitability for the job he was applying for, a job requiring not only independence but judicial objectivity, of which he, letting a fear of revenge fester for over two decades, is clearly incapable.
PERSIFLAGE & FURBELOWS
We live in a deranged age, more deranged than usual, because in spite of great scientific and technological advances, man has not the faintest idea of who he is or what he is doing.—Walker Percy
The entire history of mankind is, in any case, nothing but a prolonged fight to the death for the conquest of universal prestige and absolute power.—Albert Camus
The average man, who does not know what to do with his life, wants another one which will last forever.—Anatole France
A-GAGGING WE SHALL GO
Single Panel Magazine Cartooning
SEVEN DAYS WITHOUT A CARTOON makes one weak. So in the interest of reviving health universally, here are a few cartoons.
At the left, the first collage is punny. They say the pun is the lowest form of humor (by which some of us mean that it is the foundation upon which the entire edifice of hilarity is erected); but if verbal puns are the lowest, what are verbal-visual puns? Even more foundational, I'd say. One of this quartet is not a pun, exactly. See if you can pick it out.
The other display speaks for itself. Or does it?
READ & RELISH
In his book The Lexicon of Comicana, Mort Walker invented and defined several terms for the visual ephemeratti in comic strips. "Grawlix," for example, refers to the series of typographical symbols (such as @#$%&!) used to represent swear words. Plural: grawlixes. Richard Nordquist tells us that grawlixes are also known as jarns, nittles, and obscenicons. Well, I didn't know that, Richard; thanques.
RANCID RAVES GALLERY
Pictures Without Too Many Words
IT WAS BOUND TO HAPPEN. The comics being published with blank covers are a temptation to strenuous to resist, and so a friend asked me to draw something on the blank cover of his copy of Action No.1000. And I did, as you can plainly tell. Finished art and preliminary sketch herewith.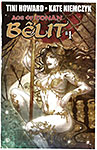 Alas, my cover art isn't nearly as attractive as the cover of the first issue of Belit, which we've posted near here just so the cruel contrast is vividly apparent. Apart from the visual appeal, this cover ought to serve as a firm rejection of the notion that funnybooks are for kids. What kid (which denominates any humanoid before the onset of puberty) gives a hoot for nearly barenekkidwimmin and hooters?
See? See how easy that age-old argument is settled?
READ & RELISH
It's human nature to think wisely and act foolishly.—Anatole France
Homo sapiens is the species that invents symbols in which to invest passion and authority, then forgets that symbols are inventions.—Joyce Carol Oates
We're all fucked. It helps to remember that.—George Carlin
LONG FORM PAGINATED CARTOON STRIPS
Called Graphic Novels for the Sake of Status
The Golden House of Samarkand
A Corto Maltese Graphic Novel
By Hugo Pratt; translated by Dean Mullaney and Simone Castraldi
145 9x12-inch pages, b/w; 2018 IDW Euro Comics paperback, $34.99
WITH THIS VOLUME, the IDW project of publishing all of Pratt's Corto Maltese adventures nears its conclusion. As nearly as I can tell, IDW is producing these books in the order that they were initially published. Samarkand is the 8th of the 12 volumes; the 9th, Tango, was next to be printed; reviewed below. Only three more to go.
Some years ago, NBM produced several Corto Maltese tales in magazine format, but the IDW books enjoy more sensitive translation and better reproduction.
According to St. Wikipedia, long before the term "graphic novel" entered the popular lexicon— ten years before Will Eisner's A Contract with God— Pratt pioneered the long-form "drawn literature" story. The Corto Maltese tales set the standard for all adult adventure comics in Europe. By the mid-1970s, Corto was the continent's most popular series and Hugo Pratt the world's leading graphic novelist.
Pratt's character debuted in the serial Ballad of the Salt Sea, one of several Pratt stories published in the first edition of the magazine Sergeant Kirk in July 1967. Corto Maltese (whose name derives from the Andalusian argot and means "quick hands") is a laconic usually unemployed sailor wandering the world during the first three decades of the 20th century.
The proverbial "rogue with a heart of gold," he is tolerant and sympathetic to the underdog. Born in Valletta on July 10, 1887, he is the son of a British sailor from Cornwall and an Andalusian-Romani witch and prostitute known as "La Niña de Gibraltar." As a boy growing up in the Jewish quarter of Córdoba, Maltese discovered that he had no fate line on his palm and therefore carved his own with his father's razor, having determined that his fate was his to choose.
Although maintaining a neutral position, Corto instinctively supports the disadvantaged and oppressed. The character embodies the author's skepticism of national, ideological and religious beliefs. Corto befriends people from all walks of life, including a murderous Russian named Rasputin (no relation with the historical figure, apart from physical resemblance and some character traits), British heir Tristan Bantam, voodoo priestess Gold Mouth and Czech academic Jeremiah Steiner.
He also has known (or through these volumes of his adventures meets) various real-life historical figures, including Jack London, Ernest Hemingway, Hermann Hesse, Butch Cassidy, James Joyce, Gabriele D'Annunzio, Frederick Rolfe, Joseph Conrad, Sukhbaatar, John Reed, White Russian general Roman von Ungern-Sternberg, Enver Pasha of Turkey and Sergei Semenov, modeled after Grigory Semyonov.
These acquaintances treat him with great respect. In the volume at hand, a telephone call to Joseph Stalin frees him from arrest when he is threatened with execution on the border of Turkey and Armenia. (I wonder about whether the invention of the telephone has spread into these hinterlands as early as 1921, the time of this book; but, no matter—the story's the thing.)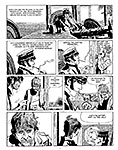 Corto Maltese stories range from straight historical adventure to occult dream sequences. He is present when the Red Baron is shot down, helps the Jívaro in South America, and flees Fascists in Venice, but also unwittingly helps Merlin and Oberon to defend Britain and helps Tristan Bantam to visit the lost continent of Mu in the last of Pratt's Corto Maltese stories, the 12th volume.
Corto wears a sea captain's cap but we almost never see him at sea. He is mostly at ease. His most characteristic posture is sitting on a veranda, over looking the harbor of an exotic port somewhere, his feet propped against the porch rail, a cigarillo smoldering between his lips or fingers. At ease. Not moving. Just watching the harbor. And then—
Then someone comes out on the porch and—
THE SAMARKAND ADVENTURE is a treasure hunt tale set in 1921-22. But the "golden house" is not a reference to the treasure: it is, instead, the name of a dreaded prison, near which, Corto believes, is buriend the fabled treasure of Alexander the Great.
He learned about the treasure in a Lord Byron manuscript that he discovered in a mosque on the isle of Rhodes. From there, Corto goes to Turkey, then to Azerbaijan, and hence to the Caspian Sea, tracing the path of the fabled Silk Road.
As usual with a Pratt tale, Corto encounters a parade of interesting characters—herein, the Whirling Dervishes, Joseph Stalin (with whom Corto is on a first-name basis, calling him, affectionately, "Bepi"), the Hashinin sect of assassins, the Turkish general Enver Pasha, and the return of Venexiana Stevenson and the foul-mouthed, lying conniving pirate and all-around villainous Rasputin (who was imprisoned in Golden House but secures his release on the basis of his reputation as a military genius: the prison management hires him to train the guards).
Pratt also explores the theme of dual personality. Corto hears about the Turkish revolutionary Timur Chevket, who looks so much like Corto that the sailor is often mistaken for him as he pursues his quest. Pondering his doppelganger, Corto is mindful of his mother's warning that coming face-to-face with his look-alike would mean disaster. But if disaster lurks, we never see it.
As usual, Corto finds numerous distractions as he continues his search for the treasure. A couple of damsels in distress require him to escort them; he does, losing one of them along the way. He promises to deliver an orphan Armenian girl to a destination. He runs into old acquaintances and new menaces. At every turn in the road, he hits a potential set-back—mostly, other soldiers of fortune with an eye on the main chance. And at every juncture, explanations are required, and the characters explain, filling the panels with hand-lettered verbiage in balloons.
In short, the tale is the customary Pratt excessively verbal enterprise, punctuated occasionally with murderous violence. The appeal is partly in Corto's enigmatic posture, absorbing everything around him and doing nothing until pushed to it. But we read on because his languid but dedicated personality commands our attention. We perpetually wonder what will happen next. The hero is wholly unperturbed.
He has no apparent means of support, and he's threatened on every side by mercenaries and murderers. And yet, he lounges on the porch, smoking his cigarillo. He engages in endless conversation with thugs who threaten his life. He listens. And he survives it all. Hence, his attraction.
The ending underscores the appealing ambiance of the book.
Rasputin and Corto are reunited. Rasputin makes threatening remarks. Corto responds but humorously. On the last page, they have joined a detachment of soldiers that will ensure their safe progress to the next city.
They sit alone together before a campfire in front of a tent. They have been in a cave wherein they saw, or think they saw, the treasure. But it vanishes before their eyes. Or maybe they didn't see it at all.
They discuss the phenomenon. Corto wonders aloud if he really resembles Chevket. In the last panel, Rasputin laughs. End.
The Armenian girl is presumably in the tent. But she has not yet been delivered to her destination. And the treasure remains a hallucination.
It seems to me that Pratt applied his brush laden with black ink more liberally in this book than in earlier volumes: some pages are fairly slavering with black solids. And his renderings of people, slopping in black, seem sketchier than usual. Earlier, Pratt's use of blacks resembled Milton Caniff's chiaroscuro mannerisms. But in this book, the black shadows do not define so much as they simply slobber over the shapes they adhere to. Or so it seems. But I may be simply wrong in my perceptions.
Tango: All at Half-Light
A Corto Maltese Graphic Novel
By Hugo Pratt; Translated by Dean Mullaney and Simone Castraldi
60 9x12-inch pages, b/w; 2018 IDW Euro Comics paperback, $19.99
THE STORY is a simple one on its face. Corto Maltese goes to Buenos Aires in 1923 to find his friend Louise Brookszowyc. He finds, instead, that she's dead, probably killed by one of several local criminal elements because she knows too much. She leaves behind a child, a girl, and Corto becomes her protector.
Corto's search for a way out with the girl is stalked by double-dealing and betrayals, and because the plot is complex, the pages are, as usual, overloaded with expository dialogue; speech balloons threaten to overwhelm pictures. And Corto, as always, participates in the conversations, unhurried and relaxed despite whatever menace hovers.
Butch Cassidy shows up—an old acquaintance of Corto's; and although he seems to be Corto's friend (he even saves the sailor's life in one sequence), the book's last page suggests that Butch is in on some of the double-dealing. We also meet a couple of Corto's other friends from his mysterious past.
Why Buenos Aires? Pratt lived there during his earliest period of success in the late 1940s and early 1950s. The book's front flap says: "The atmosphere of the story is steeped in the sensual music of the tango, whose melodies seem to emerge from the artwork, as Pratt frames close-ups of the dance steps with extraordinary effectiveness."
Well, I didn't hear any tango rhythms. None at all. I think the author of the book flap prose has allowed himself to be swept up in a wholly fanciful way of interpreting the sequential art of the graphic novel. But, no matter: we're here for Pratt's story and his storytelling, not flapping promos.
Solid blacks again clot Pratt's drawings, even moreso than in the Samarkand tale. Backgrounds, on the other hand, are exactingly detailed, as are the drawings of cars: the adventure includes two 3-page sequences of a "talking car" (Corto and someone else carrying on a conversation inside the auto while we watch the vehicle's progress through the streets of Bueno Aires), the car drawn with the exactitude of a mechanical engineer.
Tyler Cross: Angola
By Fabien Nury; drawn by Bruno
104 8x11-inch pages, color; 2018 Titan Comics hardcover, $24.99
THIS IS WITHOUT QUESTION THE BEST GRAPHIC NOVEL I've seen all year. The storytelling, both words and pictures, is terse, restrained. And Bruno's simple line art is enhanced with shrewdly deployed solid blacks for shadow and emphasis. This is reputedly the third Tyler Cross novel; the first may be entitled simply Tyler Cross, but I don't see an English version of it anywhere. The second is Tyler Cross: Black Rock, and I've just sent for it. And a fourth is apparently in the works. Nury is an award-winning French author and has been churning out graphic novels furiously since about 2012.
The lantern-jawed Tyler Cross is a professional crook, a genuine tight-lipped tough guy, an anti-hero in the 1940s, and herein he takes an assignment from the wealthy and powerful Hermann Van Geld. Cross thinks it's an insurance scam, but it turns out to be a trap: his accomplice is killed, and Cross is captured and tried for the murder, then sent to Angola, a high security prison, surrounded by swamps in Louisiana.
When he gets there, he learns that the prison Mafia has a contract out on him. He thwarts that scheme by gouging out the eyes of Fat Carmine, the ring leader, and tricking Carmine's second-in-command into joining him on a prison break. The third party in the break is a black guy named Billy Frachette.
During the break, Cross kills Carmine's lieutenant, and Billy is fatally wounded. Once free, Cross takes his revenge on those who set him up, killing both Van Geld and his lover, Iris. The money he uncovers he shares with Billy's mother, who is caring for Billy's children.
Along the way, several other narrative nuances are insinuated. Cross's check-in to Angola is handled with a minimum of words (but reeks of menace). Cross successfully bribes a guard who was taking him into the woods to kill him. Cross is whipped for the Fat Carmine incident, then thrown into the sweat box. At that point, the focus shifts to the beauteous Iris, who has made her getaway to a spa in Acapulco.
After his escape, Cross wends his way back into daily life by stopping at the swamp shack of an old guy, vaguely related to Billy. The codger tells the story of his escape from Angola, which begins when a guard makes the mistake of holding his rifle upright vertically during a lightning storm; the rifle is, perforce, a lightning rod, and the lightning it attracts fries the guard.
Altogether, a good story, cover to cover, but it's the art that sets me free. Bruno's treatment is stark in its simplicity, but he enhances it and gives it dramatic power through a careful deployment of chiaroscuro. And many passages throughout the book are accomplished with silent visuals, the pictures telling the story. Hereabouts, a few sample pages demonstrate his mastery.
BADINAGE & BAGATELLES
The world's most translated author, Samatha Weaver tells us in the nostalgia magazine Remind, is Agatha Christie. Shakespeare is merely third (who could translate the glories of his English blank verse into any other language?) after Jules Verne (from the French? Neyh). Three of the top ten—Enid Blyton, Hans Christian Andersen, and Jacob Grimm—wrote for children.
And Weaver goes on to tell us that the kilt originated in France, not, as you have doubtless supposed all these years, in Scotland.
ONWARD, THE SPREADING PUNDITRY
The Thing of It Is ...
ON LAWRENCE O'DONNELL's program the other night, he played a clip from a sequence in "West Wing," a television series for which he served, off and on, as executive producer. He also wrote sixteen of the episodes, including the one in which two presidential candidates debate. In the clip O'Donnell showed, the Democrat candidate makes a spirited defense of liberals, which, he says, the Republicans have turned into a dirty word.
By way of "defending" liberalism, he lists the historic achievements of liberals in American life. They ended slavery. (Well, it was Lincoln, a Republican, who ended slavery, but he was a liberal Republican. "Where have all of those gone?" the candidate, played by Jimmy Smits, asks.)
Liberals guaranteed the vote to former slaves. Liberals got women the vote. They created Social Security thereby assuring that elderly Americans do not spend their last years in abject poverty. They ended segregation in the military.
Liberals introduced the civil rights act, they ended segregation and legal discrimination, they sponsored the voting rights act. Liberals legislated for clean air and clean water. And they brought us Medicare and Medicaid.
And the conservatives? What did they do?
They opposed every one of the liberal achievements.
And that's all they did.
SOMEONE ASKED "Why do some British people not like Donald Trump?" Nate White, an articulate and witty writer from England, wrote this magnificent response:
"A few things spring to mind. Trump lacks certain qualities which the British traditionally esteem. For instance, he has no class, no charm, no coolness, no credibility, no compassion, no wit, no warmth, no wisdom, no subtlety, no sensitivity, no self-awareness, no humility, no honour and no grace— all qualities, funnily enough, with which his predecessor Mr. Obama was generously blessed.
So for us, the stark contrast does rather throw Trump's limitations into embarrassingly sharp relief. Plus, we like a laugh. And while Trump may be laughable, he has never once said anything wry, witty or even faintly amusing— not once, ever. I don't say that rhetorically, I mean it quite literally: not once, not ever. And that fact is particularly disturbing to the British sensibility— for us, to lack humour is almost inhuman. But with Trump, it's a fact. He doesn't even seem to understand what a joke is— his idea of a joke is a crass comment, an illiterate insult, a casual act of cruelty.
Trump is a troll. And like all trolls, he is never funny and he never laughs; he only crows or jeers. And scarily, he doesn't just talk in crude, witless insults— he actually thinks in them. His mind is a simple bot-like algorithm of petty prejudices and knee-jerk nastiness. There is never any under-layer of irony, complexity, nuance or depth. It's all surface. Some Americans might see this as refreshingly upfront. Well, we don't. We see it as having no inner world, no soul.
And in Britain we traditionally side with David, not Goliath. All our heroes are plucky underdogs: Robin Hood, Dick Whittington, Oliver Twist. Trump is neither plucky, nor an underdog. He is the exact opposite of that. He's not even a spoiled rich-boy, or a greedy fat-cat. He's more a fat white slug. A Jabba the Hutt of privilege. And worse, he is that most unforgivable of all things to the British: a bully. That is, except when he is among bullies; then he suddenly transforms into a snivelling sidekick instead.
There are unspoken rules to this stuff— the Queensberry rules of basic decency— and he breaks them all. He punches downwards— which a gentleman should, would, could never do— and every blow he aims is below the belt. He particularly likes to kick the vulnerable or voiceless— and he kicks them when they are down.
So the fact that a significant minority— perhaps a third— of Americans look at what he does, listen to what he says, and then think 'Yeah, he seems like my kind of guy' is a matter of some confusion and no little distress to British people, given that:
◆ Americans are supposed to be nicer than us, and mostly are.
◆ You don't need a particularly keen eye for detail to spot a few flaws in the man.
This last point is what especially confuses and dismays British people, and many other people too; his faults seem pretty bloody hard to miss. After all, it's impossible to read a single tweet, or hear him speak a sentence or two, without staring deep into the abyss. He turns being artless into an art form; he is a Picasso of pettiness; a Shakespeare of shit. His faults are fractal: even his flaws have flaws, and so on ad infinitum.
God knows there have always been stupid people in the world, and plenty of nasty people too. But rarely has stupidity been so nasty, or nastiness so stupid. He makes Nixon look trustworthy and George W look smart. In fact, if Frankenstein decided to make a monster assembled entirely from human flaws— he would make a Trump. And a remorseful Doctor Frankenstein would clutch out big clumpfuls of hair and scream in anguish:
'My God… what… have… I… created?'"
*****
"If being a twat (Eng: a stupid and obnoxious person) was a tv show, Trump would be the boxed set."
WE'RE ALL BROTHERS, AND WE'RE ONLY PASSIN' THROUGH
Sometimes happy, sometimes blue,
But I'm so glad I ran into you---
Tell the people that you saw me, passin' through
T. K. Ryan, 1928 - 2019
TOM KREUSCH RYAN DIED MARCH 12 IN FLORIDA. He had devoted 42 of his 92.8 years to the production of a daily comic strip that was among the bellwhethers of fresh comedy in newspaper comic strips in the middle of the 20th century. Westerns were all the rage in television of the 1950s and 1960s, and Ryan caught the wave with Tumbleweeds and helped turn comic strip humor in a new direction.
The first of the new style-setters was doubtless Charles Schulz's Peanuts, which, in the simplicity of its drawing style, was, eventually, widely emulated. But the comedy in Peanuts was also different. Humor arising from a dichotomy—what I call "non-sequitur humor"—is another aspect of Peanuts that set a new comic strip fashion. Or, if it did not exactly set the fashion (a debatable point since the "sick jokes" and "elephant jokes" of the fifties turned on a similar comic device), it was at least the first strip to capture and capitalize on a mode of humorous thinking then "in the air." Initially, the humor kin Peanuts arose from the discrepancy between the visual and the veral— little kids unexpectedly talking like adults.
Two other new strips that had at their core some adaptation of the principles of non-sequitur humor are B.C. and Tumbleweeds. In each strip, as in Peanuts, the adaptation is original, inventive, and highly individual, and in each strip, the reader found again the devices and techniques made familiar to him in Peanuts— artwork deceptively simple, personality traits sharpened nearly to the point of eccentricity, repetition of set prices, the running gag, animals with human aspirations.
When Johnny Hart's B.C. began in 1958 (February 17), the comedy at first sprang from our recognition of a discrepancy between the visual and the verbal, between the setting of the strip and the concerns of its characters. The setting was prehistoric; the concerns, the preoccupations, are ours of the twentieth century. Hence, even in this unlikely setting, we were delightfully surprised to discover— ourselves.
In Tumbleweeds, which began in September 1965, Ryan built up the ideal of the Old West and then punched holes in it. The discrepancy or dichotomy was between the myth of the Old West and its reality. Ryan's characters set the stage with their diminutive cuteness: they are so tiny and cute that we expect to encounter here a child's rosy version of the Old West. Ryan inflates the speech of his characters to match the yearnings that the pictures aspire to express, but the facts of life deflate this scenario.
The dialogue abounds in the cliches and doggerel mythology of the dime-novel Western, but reality is seldom as highflown as the prose. The title character's steed is not the noble cliche of yesterday's Roy Rogers movie: he's a moth-eaten army surplus sway-backed cayuse, and he can never quite live up to the aspirations of his master who celebrates in his mind's eye the wild and wooly West of Hollywood, not historical fact. And the fact is that his horse Epic can never jump across those gullies that yawn like chasms before him. Tumbleweeds, despite his hopes, must live in this world, not in his dreams.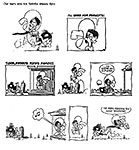 Ryan had aspirations of his own, and they included cartooning almost from the beginning. Born July 6, 1928, in Anderson, Indiana, he cartooned from the age of nine. But he also aspired to a college education: he received basketball scholarships, but chose another course. He studied business for a year at Notre Dame University and liberal arts for two years at the University of Cincinnati. Then he dropped out.
By then, Ryan was married and needed gainful employment to sustain his wife and growing family. He tried all sorts, reported Jud Hurd at Cartoonist Profiles. He worked in a factory, as a lineman for the phone company, and even sold furniture.
Eventually, he found a job in the art department of a printing company and that led to another job, this time in commercial art with an advertising agency. Ryan's specialty was cartoon advertising. He took a correspondence course in commercial art that helped him fine-tune his art and cartooning skills, according to thecartoonists.ca, and he spent the next 10-12 years in commercial art, first with a studio then on his own.
"During the fifties," said Hurd, "Ryan submitted, with little luck, a few gag cartoons to the major magazine markets. Although he was able to sell a limited number of panels to various trade magazines, the small pay was not encouraging."
He had better luck freelancing editorial and sports cartoons to newspapers in Anderson and nearby Muncie, Indiana.
And he also tried selling a comic strip. Entitled Benny Beans, the strip was entirely different from Tumbleweeds, Ryan told Hurd. "More corn," he said, probably tongue-in-cheek because Tumbleweeds is fraught with corn. He submitted the strip to all the syndicates. But no success. And he's never spoken about it since.
And then in the late 1950s, as tumbleweeds.com has it, "illness struck." It's not clear what the illness was because Ryan makes a joke out of it. Judging by the context, he may have been confined to bed for a time, and during that time, he found Zane Grey's classic western novels and "fell madly in love" with them. "The illness," as he says in a couple of places, "stayed with me the rest of my life."
The ailment that endured was an affection for the Old West, the same Old West that was playing out on the nation's tv sets. Ryan's fondness for the genre took shape as gentle and loving ridicule in Tumbleweeds. The strip was, as Ryan said, "the untold story, from suppressed archives, of the Old West. the epic saga that inspired those immortal words of Buffalo Bill: 'Go figure.'"
In concocting the strip, Ryan adopted a drawing style that he felt was distinctive, different from anything else on the funnies pages of the nation's newspapers. Angular anatomy, confident lines, static character appearance, tiny bodies, big heads—just right for the shrunken dimensions of newspaper comic strips at the time. In 1965, the Lew Little Syndicate picked up the strip, and at the age of 37, Ryan embarked upon his life's work.
LEW LITTLE WAS THE JOHNNY APPLESEED of the syndicate business. With a degree in journalism, he worked as an editor for the Los Angeles Times, then at the San Diego Union, and then at the San Francisco Chronicle. Then he became a salesman for the Chronicle's syndicate in 1962, leaving after two years to start his own syndicate with total resources of $1,200 in savings and a Volkswagen camper.
For the next several years, Little and his wife (journalist and author Mary Ellen Corbett) traveled the U.S. and Canada, living and working out of the camper, acquiring and selling newspaper features of all sorts, including comic strips. Little's first major strip acquisition was Morrie Turner's racially diverse strip, Wee Pals, which started early in 1965—the same year that Tumbleweeds joined Little's line-up.
In 1967, Little merged his tiny operation with the Des Moines Register and Tribune Syndicate, becoming vice president and then president-editor. After five years, he left to join King Features, taking Tumbleweeds and Wee Pals with him. And when he left King for United Feature Syndicate in 1977, he again took Tumbleweeds and Wee Pals with him. Little would eventually return to King, again taking his favorite strips with him.
Tumbleweeds started dailies only, not adding a Sunday strip until 1968. Henceforth, Ryan had to crank out jokes and pictures 365 days a year without fail. Asked once how he did it, he replied only: "It's a gift from God."
But Ryan didn't do it alone. He sometimes had assistants. From 1968 to 1978, his assistant was a Muncie kid named Jim Davis, who worked 3-4 days a week, inking backgrounds and details. Davis was also working up sample comic strips of his own. His first attempt, Gnorm Gnat, starred a bug and failed because syndicate officials believed most people don't like insects. Undeterred, Davis next employed a fat orange cat, and before long, Garfield was a household name, and Davis built a studio complex near Muncie to produce and control the spin-off merchandising empire. (See Harv's Hindsight for June 2008 for the whole sordid tale.)
Ryan toiled on with new, unnamed assistants.
OVER THE YEARS, Hurd observed, "Ryan has striven to improve the style and characterization in the strip. As an example, the artist points to feet which have gotten bigger [doubtless another tongue-in-cheek observation]. Other small changes have allowed the strip to keep pace with the times. The characters have developed to such an extent that subtle expressions and body language have become important facets of the jokes."
To help him conjure up gags, Ryan introduced nearly 40 characters, each a fountainhead of the kind of eccentricity that refutes the legends of the Old West. It starts with Tumbleweeds himself, a laconic cowpoke who might prefer to be somewhere other than Grimy Gulch—somewhere as heroic as a Hollywood western, say— but has no real ambition to do anything heroic and does it with all the enthusiastic lassitude he can muster to the task.
On every hand in Tumbleweeds, expectations built on the Old West of motion picture and legend are disappointed. The sheriff, the luxuriously moustachioed short-handed "long arm of the law," can capture the town hoodlum, but can't lock him up in jail. He is assisted by the extravagantly dim-witted Deputy Knuckles who can't be trusted to carry a gun so he has a yo-yo. Judge Horatio Curmudgeon Frump, a pompous windbag who boasts he cannot be bought but is open to rental, is blind to justice. The heroine, Hildegard Hamhocker, the town's only known fully-grown woman, is not a modestly blushing shy young desert blossom: she's painfully plain and aggressively desperate to catch a man.
Nearby at Fort Ridiculous, the 6 7/8 Cavalry is posted, commanded by Colonel G. Armageddon Fluster (a play on General Armstrong Custer of Little Bighorn infamy), whom the local Native Americans, the Poohawk tribesmen, call "Goldilocks" or "Poopsie."
Not even the Indians live up to our Hollywood expectations: hardly savages, they must go to school and take evening classes in the theory and practice of bloodthirsty warfare. The Poohawks are led by a chief who is always lamenting his tribe's pathetic standing as Indians.
He has a beautiful daughter—"a flower among the weeds"—named Little Pigeon, who is being courted by Limpid Lizard, a classic klutz, and Lotsa Luck, a very rich Poohawk (whose horse is "driven" by a chauffeur, Drudgeworth), and Bucolic Buffalo, the biggest and strongest Poohawk (but he isn't very smart).
Oddly in this day of easily bruised sensibilities, throughout the run of Tumbleweeds, Native Americans wrote Ryan to say how much they enjoyed the strip.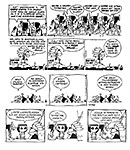 Other evidence of popularity was attained by Grimy Gulch's undertaker, Claude Clay, who was voted an honorary member of the Arizona Funeral Directors, Inc., in April 1977.
EVEN IF OUR FOND ANTICIPATIONS are destined to be blighted, the lesson of the strip is not bleak. Tumbleweeds' dreams may be doomed to disappointment, but there is no bitter disillusionment here— only a remarkable resilience. The characters turn quickly from their fancies to the facts and embrace reality. Hildegarde wants Tumbleweeds as her husband, but, in the last analysis, any man will do. The realities do not crush these pint-sized dreamers; nor do they quite wake them up.
The humor in the new midcentury strips like Tumbleweeds is more sophisticated than comic strip comedy had been in the past. The humor of Blondie was, and is, humor appropriate to the setting in which the characters are developed and appropriate to the characters themselves. The success of the punchline does not rest on our ability to recognize a dichotomy or discrepancy between characters and setting, dialogue and action.
The humor of Bugs Bunny or of Donald Duck does not originate in their being animals behaving like humans as it does with Snoopy in Peanuts. Bugs and Donald are critters behaving like humans but that's not the source of the comedy; the comedy ignores that. Nor, in these two strips, does the comedy come from the animals behaving like animals as it sometimes does in Pogo or in Animal Crackers.
The humor in the strips of this new tradition— Peanuts, B.C., The Wizard of Id, Tumbleweeds, Animal Crackers, to name a few— is more sophisticated because it depends on our recognizing something that is only implicit in the strip. We laugh at B.C. because we are shown childlike men, men just beginning to be men, trying out civilization, and we see what they do not: that, like a suit that's too large, civilization doesn't quite fit.
We laugh at Tumbleweeds much of the time because we recognize that the real Old West was quite different from the West that tiny Tumbleweeds tries to reenact whenever moved to action. If we didn't know that trains run on round wheels along smooth rails, Thor's choo-choo in B.C. wouldn't appear funny to us at all. If we didn't know that most cowboys' horses don't jump wide canyons in a single bound, Tumbleweeds' dashed hopes would be tragic instead of comic. But we do know these things, and upon that knowledge the humor of these strips is built.
At age 81, Ryan decided to lower the curtain on this satiric epic. He chose retiring himself and his strip instead of leaving it all to someone else to continue, ending its 42-year run with the last daily on December 29, 2007; the last Sunday, the next day. According to report (which I only vaguely remember), in the last daily, Tumbleweeds is astride Epic and they both are overlooking a canyon chasm while Tumbleweeds says something the double-meaning of which is lost on anyone who doesn't realize it's the farewell strip.
At the time of its cessation, Tumbleweeds appeared in about 200 newspapers; at its peak, it may have appeared in 400-700 papers, reports vary. An excellent reprint anthology is Presenting the Best of Tumbleweeds (140 8.5xc10-inch landscape pages, some color; 1993 Cool Hand Communications paperback).
Tumbleweeds and his diminutive gang worked outside the newspaper realm, too. One of the Tumbleweeds strips was animated for an appearance in "The Fabulous Funnies," a 1980 television special that showcased several comic strips. Tumbleweeds Gulch was an attraction at MCM Grand Adventures Theme Park, saith St. Wikipedia, and the strip was also the basis for a Las Vegas stage show. In 1983, Tumbleweeds was adapted into a musical comedy for high school productions.
But it was in ink on paper out of T.K. Ryan's possibly perverse mind that Tumbleweeds, Hildegard Hamhocker, the Poohawks and all the rest re-enacted an Old West that no one had ever seen before but that everyone could find him/herself in.
The humor of dichotomy— because it points to a discrepancy, a non-sequitur— is inevitably sobering. In Tumbleweeds it isn't just the Old West that the characters try to create with their language, and it isn't just the Old West that can't live up to its poetry. Man hovers between the lines here, and he is a bit short of his vision of himself too. Just as he is in B.C. and in Peanuts, the other pacesetters for a new age of comedy in comic strips. Seeing ourselves in comic strip comedy displays the spark of divinity in humanity: in laughing at ourselves, we rise above ourselves.
To find out about Harv's books, click here.