Opus 388 (January 9, 2019). HAPPY NEW YEAR and some of the egg that nogged you, kimo sabe!! The holidays just come thick and fast at this time of year, more rapidly than we can properly celebrate them. But we try. This time down the Rabbit Hole, f'instance, we are again doing an inordinate number of book reviews (thirty, albeit short) so you'll have guidance about how to spend the Christmas money your doting aunt Louise gave you.
We also defend Thomas Nast against the charge of bigotry, critique Time's Person of the Year, sample this year's Christmas comic strips, offer a lesson in how to avoid racism, review about a dozen funnybooks, and perform one of our celebrated rambling essays, this one on Mattachine and McCarthyism.
As always, to assist you in find your way through the plethora of goodies herein, we offer the list below so you can choose what to examine and what to dodge; here's what's here, in order, by department—:
NOUS R US
New Comics Publisher: TKO
New Peanuts Animations Coming
Update on Ted Rall v L.A. Times
Editoonist Gets Death Threats
A Lesson in Racism
Vast Overcount Alleged (Spoof)
Spirit of Feiffer's Christmas
FUNNYBOOK FAN FARE
Reviews of—:
U.S. vs. Murder Inc.
Murder Falcon
Dead Rabbit
Mr. & Mrs. X
Multiple Man
Archie 1941
Catwoman Tweety and Sylvester
The Joker and Daffy
Lone Ranger
Spillane's Mike Hammer
Zorro
Trumperies
Antics and Absurdities of the Trumpet
EDITOONERY
Some of the Best Editoons Reviewed
Wheels Falling Off the Trumpet
Stormy Daniels' Full Disclosure
Broken News (the very latest)
THE FROTH ESTATE
Time's Person of the Year—Bad Choice
NEWSPAPER COMICS PAGE VIGIL
Christmas Strips
THOMAS NAST SCRUBBED FROM OPC AWARD
But He Ain't a Bigot
Michael Dooley's 2012 Essay Defending Nast
Then Mine
Gossip & Garrulities
FROM MATTACHNE TO McCARTHY
One of Those Picturesque Rambles
RANCID RAVES GALLERY
Patterson and Price
BOOK MARQUEE
Short Reviews of—:
Stan Lee: The Man Behind Marvel
Slow Ball Cartoonist (John T. McCutcheon)
Walt Kelly's Pogo: Complete Dell Comics, Volume Six
Stan Lee: A Life of Marvel (Entertainment Weekly Special)
Mort Gerberg On the Scene: 50 Years of His Cartoons
The Labyrinth (Saul Steinberg's Memorable Sketches)
Pogo: Out of This World at Home
Volume 5 Reprinting the Syndicated Strip
TEN BEST GRAPHIC NOVELS OF 2018 from Comic Riffs
Recent Graphic Novels Recommended by Adrian Tomine
Books Recommended by Ryan North
FOUND ART
Restrooms
ONWARD, THE SPREADING PUNDITRY
Woodward Says Some Good Things about Trump
The Trumpet's All-time Record of Falsehooding
Passing Through
Audrey Geisel
QUOTE OF THE MONTH
If Not of A Lifetime
"Goddamn it, you've got to be kind."—Kurt Vonnegut
Our Motto: It takes all kinds. Live and let live.
Wear glasses if you need 'em.
But it's hard to live by this axiom in the Age of Tea Baggers,
so we've added another motto:.
Seven days without comics makes one weak.
(You can't have too many mottos.)
And our customary reminder: don't forget to activate the "Bathroom Button" by clicking on the "print friendly version" so you can print off a copy of just this installment for reading later, at your leisure while enthroned. Without further adieu, then, here we go—:
NOUS R US
Some of All the News That Gives Us Fits
ANOTHER ATTEMPT TO SUBVERT THE SYSTEM
Another new comic book publisher is attempting to break free of the current system of marketing comics. "In an industry where buying monthly serialized stories is the norm," George Gene Gustines explains at nytimes.com, "TKO is presenting an alternative: binge releasing its mini-series comic books, simultaneously selling collected editions of its titles, and offering the first issue of each collection free. TKO is also selling directly to readers and retailers from its website, not through normal distribution channels."
This sounds suspiciously like Sitcomics, which we discussed in Opus 377. Sitcomics, however, did not initially sell to retail stores; they sold only to individuals.
I just checked the Sitcomics website, and while there seem to be a few new titles, mostly, it's the same line-up that was there seven months ago. And when I asked my comic book store operative about Sitcomics, he said he'd never heard of it. Most of the stores carrying Sitcomics are in California, which is where the publisher is located. Otherwise, low visibility.
The traditional mode of operation is for publishers and stores is to work through Diamond Comic Distributors, which centralizes orders and shipments. Six-issue series, like those that TKO is offering, typically arrive in weekly installments in stores (on occasion) or monthly (which is the norm), with collected editions following months later.
TKO starts with the collected edition. You can buy all six issues of a TKO title at the website. You can read the first issue without charge but you must read it at the website; print versions of the single first issue do not exist.
TKO's comics are slightly taller and wider than usual and their six-issue bundle for $14.99 works out to about $2.50 per issue, which is less than the $3.99 price per issue of most comic book series these days.
TKO, which is also eschewing superheroes — the bread and butter of the industry — has recruited top talent for the comics. Stars like Garth Ennis and Steve Epting have collaborated on Sara, about Russian snipers battling Nazis during World War II. Sara is the only title that is presently available, the first issue ready to read online.
Other titles include: Goodnight Paradise, a murder mystery set in a poor community in California, is by Joshua Dysart and Alberto Ponticelli; The Banks by Roxane Gay and Ming Doyle, about three generations of black women pulling off a revenge heist; Sentient, by Jeff Lemire and Gabriel Hernández Walta, about a colony ship in space where an artificial-intelligence being looks after young passengers when all the adults die.
Other titles include The Fearsome Dr. Fang and The 7 Deadly Sins; creative teams not named.
TKO STUDIOS IS THE CREATION of Salvatore Simeone, chief executive and co-publisher, who comes from the tech industry, and Tze Chun, the co-publisher, who is also a film and TV writer, director and producer. They are committed to TKO full time. Chun has wanted to create comics since he was young: "It's the way I learned to tell stories." Rounding out the TKO team is Sebastian Girner, the editor in chief, and Cara McKenney, who is married to Chun, and who handles talent recruitment. None of whom I have ever heard of in the comics biz.
Milton Griepp, the chief executive of ICv2 quoted by Gustines, noted that there were ups and downs to forgoing the usual distribution methods. While there may be benefits from direct communication between publishers and buyers, there are higher costs.
"Both the publisher and the retailer are spending more to get the books in the store than they would if the comics moved through a distributor," he said.
The TKO publishers want to do everything to make the effort worth it for retailers, Simeone said, adding, "We can accommodate big stores and discounts," similar to Diamond, the sole distributor of comics in North America.
Smaller stores with limited resources can point their customers to TKO's website and receive a sales commission. "We want everyone in the smallest town, in the smallest country, to have access to our books," Simeone said.
Sounds all well and good. But who's gonna know about this new magnificence? Same people that know about Sitcomics? Just thee and me? How're they getting the word out? And if no one knows about this phenomenon, none of the TKO comic books will be ordered.
NEW PEANUTS ANIMATIONS IN THE OFFING
Apple has struck a deal with DHX Media to produce new series, specials and shorts based on the characters from the animated world created by Charles M. Schulz, a source familiar with the deal tells CNN.
Apple has yet to announce the name of its official television service, the cost of its content or details on how it will be accessed, even as it builds a trove of upcoming projects.
As part of the deal, DHX, which co-owns the world of Peanuts along with Sony Music Entertainment and the Schulz family, will create short-form STEM-related content for Apple. (Think astronaut Snoopy.)
UPDATE ON TED RALL'S SUIT AGAINST THE LOS ANGELES TIMES
By Ted Rall
More care goes into the making of a sandwich.
That's what I was thinking last Thursday as I watched oral arguments in the California Court of Appeals in Los Angeles.
Case after case came before a three-judge panel. They concerned a variety of matters. Hundreds of thousands of dollars, perhaps millions, were at stake. More importantly, so were hard-built professional careers and reputations. With so much that mattered hanging in the balance, you'd hope to see these cases handled with sensitivity, decorum and thoughtfulness—and you'd be sorely disappointed.
There was a real estate deal gone wrong that I would have needed to read up on in order to understand. A physician was resisting a subpoena for his patients' records filed by the state medical board, which suspected him of overprescribing opioids. And there was me, former editorial cartoonist for the Los Angeles Times, defending myself from an "anti-SLAPP" motion that, if successful, would end my lawsuit before it began and bankrupt me with a court order for me—the victim—to pay the Times hundreds of thousands of dollars for their legal fees.
It ought to be illegal for a police department to own a newspaper. But it's not. In 2015 the LAPD pension fund was a major shareholder of Tribune Publishing, owner of the Times. Annoyed at my cartoons about him, then-LAPD Chief Charlie Beck asked the Times then-publisher Austin Beutner, now LA schools superintendent, to fire me as a political favor. He did. Beck also wanted my reputation destroyed so I could never work again, in order to send a message to journalists: don't mess with the LAPD. Beutner, Beck's political ally and a man with ambitions to become mayor or governor, complied by ordering that the paper publish two libelous articles about me portraying me as a liar.
The second one was published after I proved I had told the truth.
I sued for defamation and wrongful termination in 2016.
Since then Times attorney Kelli Sager, who also represents the National Enquirer in its smear of gay icon Richard Simmons, has waged a scorched-earth litigation campaign designed to intimidate, harass and delay my quest to clear my name. Sager filed the anti-SLAPP, a law designed to be used by individuals to defend themselves against powerful corporate entities, against me. She convinced the court to force me to pay $75,000 just to be able to continue my case for something called a "Section 1030"—a law whose intent is to discriminate against out-of-state plaintiffs. (I live in New York.) Last week, during oral arguments in open court, she compared me to a "pedophile."
Last summer the lower court in L.A. ruled against me on the anti-SLAPP, saying that even though I showed that I was truthful and the Times was not, I must pay $330,000 (as of then) in legal fees to the Times. I appealed, which is why I was in court last Thursday.
WE KNEW IT WAS GOING TO BE TOUGH. Shortly beforehand the court issued a "tentative opinion" that indicated the Court of Appeals planned to buy Sager's arguments lock, stock and barrel. Those arguments were lengthy and complicated but they could be summarized as: the First Amendment allows newspapers to publish anything they want, the truth doesn't much matter and if you slap a veneer of officialdom on libel—in this case, the Times claimed it was merely reporting on what the LAPD said about me—it becomes "privileged," i.e. inactionable.
My attorney Jeff Lewis emphasized several points.
First, he pointed out, the tentative opinion disregarded California anti-SLAPP case law that requires that I be given the benefit of the doubt, not the Times, when considering their anti-SLAPP motion. In Overstock.com, Inc. v. Gradient Analytics, Inc. (2007), for example, the court ruled that "the plaintiff's burden of establishing a probability of prevailing is not high: We do not weigh credibility, nor do we evaluate the weight of the evidence. Instead, we accept as true all evidence favorable to the plaintiff and assess the defendant's evidence only to determine if it defeats the plaintiff's submission as a matter of law." The tentative opinion was rife with references to my supposed (in)credibility and purported to evaluate the evidence presented.
The justices seemed surprised by Jeff's argument. They asked him to cite case law examples. He did. They wrote them down.
I hope they take notice and change tack, still, anti-SLAPP motions are commonplace in California courts. How could any judge be unaware of important cases like Overstock or the standard that plaintiffs get the benefit of the doubt in anti-SLAPP?
Jeff countered the Times' argument that they were merely passing on what the LAPD records given to them said. It matters because "fair and true" journalistic reports about government records are "privileged." Much of the Times' hit pieces against me concerned the Times' own cursory sham investigation of me. One judge asked Sager whether the Times was arguing that both the LAPD and the Times' references were privileged. Sager repeated that the LAPD ones were, repeatedly ignoring the Times question until, after being pressed, she played dumb, insulting the court's intelligence by pretending not to understand the issue.
No one pressed her on that or on her "pedophile" remark. Whereas the judges expressed great concern for the reputation of the doctor in the previous case about overprescribing, none spoke against comparing a cartoonist to a pedophile, further slandering me.
Jeff asked why the court's tentative ruling ignored our most important anti-SLAPP case law precedent, Wilson v. CNN. There was no clear answer. Whether it was intentional or they forgot, people have been fired from far less prestigious jobs for considerably less shoddy work.
Jeff asked the court to consider the chilling message they would send to journalists at news outlets like the Times if they ruled for the Times against me: if you criticize the LAPD, you can be destroyed even though you did nothing wrong. And you can't sue. There is no redress. There is no justice.
We await the court's ruling.
EDITORIAL CARTOONIST GETS DEATH THREATS
Editoonists are always bobbing around in hot water because of readers who disagree strenuously with something they've drawn. Last fall, Chris Britt, formerly of the Illinois State Journal-Register (now, after a budget-induced layoff, freelancing), said he feared for his life because of reader reaction.
He told police that he'd received several death threats for drawing the cartoon nearby that depicts the praying 10-year-old daughter of U.S. Supreme Court nominee Brett Kavanaugh.
"The reaction is unbelievable," Britt said in an interview. "The vitriol has been poisonous. It's like a forest fire, and it's out of control."
But he doesn't regret drawing the cartoon.
"It's a perfectly defendable cartoon," said Britt.
The drawing, reported Dean Olsen at the State Journal-Register, was designed to "turn the tables" on a comment made by Kavanaugh in front of the Senate Judicial Committee.
Kavanaugh told the senators that his wife, Ashley, was with their daughter a few days before when the girl suggested that the family pray for Christine Blasey Ford, the psychology professor who testified that Kavanaugh had sexually assaulted her in the early 1980s when they both were in high school in suburban Washington, D.C. Kavanaugh has denied he assaulted Ford.
"Most people are saying it's completely inappropriate to include a child in a political discussion," Illinois Times publisher Michelle Ownbey said of the reaction. (The paper was drawn into the situation because, through a misunderstanding, its name appeared under Britt's signature in the cartoon posted on his website.)
By common practice, editorial cartoonists do not generally parody or lampoon the children of political figures if the children are minors
For violating this unwritten protocol Britt put the blame on Kavanaugh who used his daughter to attract sympathy. After all, Kavanaugh is the one who brought his daughter into the brouhaha.
The cartoon, Britt said, employs a common form of satire used by editorial cartoonists. "I used his story, and I flipped it," Britt said.
Britt said Prez Trump, who nominated Kavanaugh, has stoked contempt for the media.
"I hold Trump responsible for these hate-filled comments and death threats I'm receiving," Britt said. "For the first time in my life, I'm uneasy."
Many of the comments contained vulgarities and threats, Ownbey said.
"One said my entire staff should be lined up and shot," she said, adding that some comments referenced the June shooting deaths of five staff members at the Capitol Gazette newspaper in Annapolis, Maryland.
"It's pretty horrible," she said. "There's a lot of hatred toward the mainstream media. ... It's sad that people can't have a conversation about their differences without resorting to something so hateful."
Britt says he's undeterred by the death threats.
"These people are not going to silence me. I'm just going to continue to speak my mind. They're not going to shut me up."
But Kavanaugh's daughter probably won't be in future cartoons.
"It would be redundant," Britt said.
A LESSON IN RACISM
The 50th U.S. Tennis Open did not end the way anyone expected it to. In the middle of her final match against Naomi Osaka at Arthur Ashe Stadium, with a record-tying 24th Grand Slam singles title on the line, Serena Williams was standing on the court calling the chair umpire a thief.
This is not the way it was supposed to go for Williams, 36, said Ben Rotheberg at nytimes.com—"perhaps the greatest player her sport has seen, on a night that was supposed to be a celebration of her career and her comeback to the top of tennis a year after giving birth."
Instead of winning, Williams lost after an umpire accused her of cheating and stuck her with a number of penalties, include the loss of an entire game. The outcome was so upsetting that competitor Naomi Osaka, ultimately the winner, accepted her trophy in tears.
During the match, reported Opheli Garcia Lawler at thecut.com, a frustrated Williams lashed out at the umpire, Carlos Ramos, saying she would never cheat and demanding an apology. She later called him a thief for stealing a point from her — prompting him to give her yet another code violation. She lost because of his penalties.
Was Ramos being sexist? That's what Williams thought. Williams' explanation appears at the end of this article. For now, we drop that narrative to take up the one involving the editoons posted near here.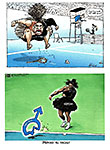 The cartoon at the top by Australian Mark Knight was published in Australia in Rupert Murdochs's Herald Sun tabloid. The cartoon was immediately accused of being racist in the worn-out, threadbare tradition of U.S. Jim Crow era imagery.
Speaking on ABC, Knight said he had "no knowledge of those cartoons or that period" and he thought people were "making stuff up".
"I'm upset that people are offended," he said, "but I'm not going to take the cartoon down. I can't undraw the cartoon. I think people have just misinterpreted. Maybe there's a different understanding of cartooning in Australia to America. ... It was a cartoon based on her tantrum on the day and that's all it was."
The National Association of Black Journalists said the cartoon was "repugnant" on many levels. "The cartoon not only exudes racist, sexist caricatures of both women, but Williams' depiction is unnecessarily sambo-like," the association said.
The caricature of Osaka was also criticized as making her appear a "white woman"; she's black.
The editor of the Herald Sun, Damon Johnston, defended Knight: "A champion tennis player had a mega tantrum on the world stage, and Mark's cartoon depicted that. It had nothing to do with gender or race."
Mark Miller, executive chairman of Murdoch's operation in Australia, tweeted that criticism of the cartoon "shows that the world has gone too PC and misunderstands the role of news media cartoons and satire. Poor behavior in any sport needs to be called out."
Maybe Knight didn't intend to ridicule race or gender, but to many observers, that's exactly what he did. That he didn't understand what he'd done is even more alarming. He works in a medium that achieves its objectives by deploying images, usually highly recognizable images, and yet he failed, apparently, to see that his cartoon used images that perpetuated an ugly stereotype of black women.
MICHAEL CAVNA at the Washington Post's Comic Riffs asked around to get the reactions of several award-winning cartoonists. We're reporting on two of them here.
He talked to Darrin Bell, an African American editoonist, winner of the RFK Award, and creator of two syndicated comic strips, Candorville and Rudy Park. Bell said: "It's not hard to caricature a black person. Just don't do it like they did it 100 years ago."
"If you're tempted to make their lips look like airbags, or to make their nose take up half their faces, you're being lazy. Especially when, as in the case of Serena, her lips and her nose aren't especially large.
"Caricature always exaggerates features that stand out. But that doesn't mean 'features that stand out when compared to white people.' If you look at Serena and you're inclined to exaggerate her nose and her lips, odds are that is why they stand out to you. And if you're not purposely trying to tap into those 100-year-old stereotypes, then as a professional, you're supposed to be aware of that impulse and put it in check. I go through that thought process when I draw anyone.
"When I drew President Obama, I always focused on his eyebrows, his chin, his ears and his mole. If I'd drawn Serena Williams, I'd have focused on her only really distinctive features: her eyebrows and her outfit, as well as her cheekbones, which, together with her strong chin and jawline, give her a diamond-shaped head. If I'd drawn her yelling, I'd have exaggerated her open mouth and not the lips surrounding it.
"But then, that's me. Others can do whatever they want. But they should expect a backlash if what they want to do is both reminiscent of well-known racist stereotypes and inaccurate in that it exaggerates features that are not distinctive in real life when compared with others of the same ethnicity."
Cavna also talked to white editoonist Nate Beller, who leans right and has won the Sigma Delta Chi and Berryman awards. Beeler said:
"When I first saw the headlines about Serena Williams's outburst at the U.S. Open, my initial reaction was that it was probably just another millionaire athlete throwing a tantrum. Ho-hum, no big deal. But after I watched the actual video of her behavior and read more to get context, I started to sympathize with her complaints. I don't like to use the label 'sexism' lightly, but I couldn't arrive at a different logical endpoint.
"I began sketching riffs off of the phrase 'double standard,' knocking out three or four ideas relatively quickly. After a couple more detours, I landed on one with the 'male' symbol as a tennis racket labeled 'sexism' that Serena was breaking. I liked it, but I wasn't sure I wanted to be that direct. Nevertheless, it just felt right.
"I didn't want the cartoon to be funny, so I avoided trying to caricature Serena. The message required portraying her as strong, not silly or foolish — that would detract from the commentary. It's a rare instance when my editorial cartoon commends rather than criticizes."
Beeler's editoon is the one below Knight's in our visual aid. Looking at the two cartoons, it is obvious that Knight was ridiculing Williams' temper tantrum. Beeler, on the other hand, picked up the sexism that Williams was protesting and produced an outstanding statement about it.
It turns out that Knight wasn't finished with Williams.
A couple weeks ago, he produced a year-in- review cartoon in which he drew her sitting at the bar having a drink with—Knight.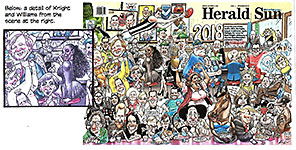 "I'd like to think this is a sort of a peace-offering from myself to Serena," Knight said during a radio interview. "I hope she likes the way I've drawn her."
Knight said he wanted to steer well clear of controversy this time around.
"Can I say, I drew her with great caution," he said.
Alas, he spoiled his own good intentions: if he hadn't colored her lips pink, he might have escaped criticism. But with pink (liver) lips, that part of her face is exaggerated, and his drawing of Williams looks just a little racist. Sigh.
IN THE POST-GAME PRESS CONFERENCE, Serena Williams was asked if she could go back in time, what would she do differently?
"I don't know," she said. "You definitely can't go back in time, but I can't sit here and say I wouldn't say he's a thief because I thought he took a game from me. I've seen other men call other umpires several things. And I'm here fighting for women's rights and for women's equality. ... For me to say 'thief' and for him to take a game? It made me feel like it was a sexist remark. He's never taken a game from a man 'cause they said 'thief.' For me, it blows my mind. But I'm going to continue to fight for women and to fight for us to have equal — like, Cornet should be able to take her shirt off without getting a fine. Like, this is outrageous."
In this last point, she was referring to Alizé Cornet, a French player who was recently given a warning for briefly taking off her shirt during a break, after realizing she had put it on backwards. (The U.S. Open later apologized for this.)
Fascinating Footnit. Much of the news retailed in the foregoing segment is culled from articles indexed at https://www.facebook.com/comicsresearchbibliography/, and eventually compiled into the Comics Research Bibliography, by Michael Rhode, which covers comic books, comic strips, animation, caricature, cartoons, bandes dessinees and related topics. It also provides links to numerous other sites that delve deeply into cartooning topics. For even more comics news, consult these four other sites: Mark Evanier's povonline.com, Alan Gardner's DailyCartoonist.com, Tom Spurgeon's comicsreporter.com, and Michael Cavna at voices.washingtonpost.com./comic-riffs . For delving into the history of our beloved medium, you can't go wrong by visiting Allan Holtz's strippersguide.blogspot.com, where Allan regularly posts rare findings from his forays into the vast reaches of newspaper microfilm files hither and yon.
FURTHER ADO
The 19th century was the century of gold: gold was where power originated and was concentrated. By the same token, the 20th century was the century of oil. The 21st century is the century of water.
Vast Overcount Alleged
as Con Con Unravels
Special to the Comics Journal: Reacting from beyond the grave (as befits the former Marvel marvel), Stan Lee fired off a fusillade of invective and legal threats against the San Diego Comic-Con just as it prepares to turn 50.
Lee's j'accuse has touched off an international firestorm over the work of mild-mannered comics chronicler R.C. Harvey, recipient of the San Diego Con's 2018 Fleshpot Award.
"It's a con," Lee fumed. "Worse, it's a Con con, and I won't stand for it," said the deceased mogul, recumbent in silk pajamas and surrounded by rosewood and satin.
"That puissant twit Harvey claimed an attendance of 60 at the awards ceremony, and Con organizers have touted that figure repeatedly. And no ... I most definitely did not call that hare-brained historian 'puissant.' I said, 'pissant,' damn it."
Contacted for comment by the Journal, Mr. Harvey responded in typically low-key fashion. "The attendance figure was derived from my having brought along approximately 80 copies of what we in the industry lovingly call a 'brag book.' My daughters and my grandson distributed them to attendees, and at the end of the day approximately 20 were left; ergo, I derived a pleasingly robust attendance figure of 60."
Contacted for comment by a medium, Mr. Lee would say only enigmatically, "Look for the tapes."
The Journal's crack investigative team spent hours going through Con dumpsters for discarded masking tape, measuring tapes, Scotch tape, crime-scene tape, and the like. Finally one exhausted reporter wondered aloud, "Do you think that dinosaur was stuck in the Cretaceous age and thought security cams still used videotape? Maybe we should check the archived security files on the mainframe."
Tracy Dick's query proved key to breaking the case wide open.
Security footage subsequently revealed that Mr. Harvey's session had been attended by just three fanboys and a little old lady. The little old lady apparently felt sorry for the Harvey grandson who was being almost totally ignored and approached him several times for yet another copy of the handout.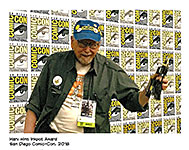 Meanwhile, the lascivious fanboys, apparently attracted by the Harvey daughters' pulchritude, cycled through, amassing 18 copies each. They appeared to be panting from the effort, although other contributing factors may have caused their tongues to be lolling out of their mouths.
In response to these revelations, the ever magisterial R.C. Harvey—pointedly referred to by Lee as "Arsie" Harvey—allowed as how the allegedly "vast" overcount was simply "another of Lee's half-vast conspiracy theories."
And in an apparent reference to the notorious Al Capp/Ham Fisher feud, Harvey added, "I doff my cap to Lee's ham-fisted attempt, but it looks as though I have had the last laugh," raising his Fleshpot trophy heavenward with a chuckle.
For those of you who haven't guessed yet, the foregoing news "report" is a sham, a wholly fictional bit of horseplay by Harvey's longtime friend and sometime co-conspirator, John Lansingh Bennett. We had fun reading it, and we thought you might, too. But under no circumstances regard any of it as truthful. Except the part about an attendance of 60 persons at Harvey's presentation where the Inkpot trophy was conferred. This wildly inappropriate essay was written, by the way, last summer—August probably—long before Stan Lee actually departed this storied vale.
THE SPIRIT OF FEIFFER'S CHRISTMAS
At Tablet, his hang-out these days, Jules Feiffer drew a cartoon that celebrated the season—Christmas, an unlikely subject in a Jewish periodical—and an old friend and influence.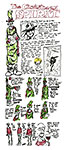 Alas, I couldn't find an image clear enough for you to read. So nearby, for the sake of flavor, I've posted the cartoon; and I've quoted its text herewith—:
Will Eisner's The Spirit was like no other. I first came across it in the mid-1950s in a local Bronx weekly published in a fancier neighborhood two subway stops uptown. It ran as a small comic-book insert that came with the Sunday color comics.
It couldn't help but draw attention. It looked like a storyboard for a new Orson Welles movie: high-contrast, multi-angled expressionist panels and overpowering with atmosphere: torrential rains, blinding snow, strong winds scattering scraps of paper, lettered with plot parts to every corner of the storm-tossed page.
I fell in love.
The Spirit was a presumed dead, masked crime fighter named Denny Colt. As with every other comics hero created by Jews, Eisner's Spirit was Irish-American.
Once a year, Eisner moved The Spirit off center stage to evoke seasonal sentiment. He created an annual staple that he called "The Christmas Spirit."
For that work, Orson Welles was out. Fist fights that went on for two or three pages were out. Dickens and O. Henry were in. Tiny Tim and "The Gift of the Magi" were in.
The Christmas Spirit was pure sentiment with an added touch of magic. Eisner drifted back into the late 19th century for his drawing style. His pages had a comforting old fashioned glow. He seemed to be saying to his readers: "For one week in the year, I offer you gentle reflective hope."
For that hope, Will, thanks. And for the larger debt that I owe you—what can I say? Without your early influence as a role model, and your later guidance as my boss—without you in my life, I wouldn't have had this life. So here's to you, dear Christmas Spirit, my old and treasured magi!
FUNNYBOOK FAN FARE
Four-color Frolics
An admirable first issue must, above all else, contain such matter as will compel a reader to buy the second issue. At the same time, while provoking curiosity through mysteriousness, a good first issue must avoid being so mysterious as to be cryptic or incomprehensible. And, thirdly, it should introduce the title's principals, preferably in a way that makes us care about them. Fourth, a first issue should include a complete "episode"—that is, something should happen, a crisis of some kind, which is resolved by the end of the issue, without, at the same time, detracting from the cliffhanger aspect of the effort that will compel us to buy the next issue. A completed episode displays decisive action or attitude, telling us that the book's creators can manage their medium.
United States vs. Murder Inc. No.1 created by Brian Michael Bendis and Michael Avon Oeming (art) is about the mob and the upbringing of an unusual enforcer: Jagger is but a girl when she passes her first test in qualifying for the job. Her Uncle Jake takes her to "meet" the man who shoved her father off a building to his death. The guy is tied up to a chair, and when Jagger finds out he's the one who killed her father, she attacks him with knife,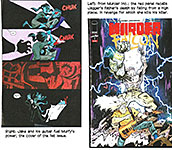 stabbing him in the eye and killing him.
Jagger is a teenager when Uncle Jake takes her on the next test: as a sniper from across the street, she kills a guy through a window.
And then when she's a young woman, she faces her final test: she is to engage in hand-to-hand life-or-death combat with a brute three times her size.
That's where the issue ends.
That's two-and-a-half episodes, enough to show us Jagger has grit even though she's a woman. An undercurrent concerns her gender: there's never been a mob enforcer who's female. And those cliffhangers are enough to bring me back.
Oeming's simple bold-line art is stunningly set off with solid blacks, an impressive performance.
Daniel Warren Johnson writes, draws and letters Murder Falcon, the first issue of which offers the debut of Jake and his guitar. The Murder Falcon ("Murf"), a giant with a mechanical arm and falcon-beak face, recruits Jake to play heavy metal guitar, which fuels Murf's energy and strength, making him powerful enough to slay the legions of monsters that lurk just at the edge of a passageway to Earth, where, under command of Magnum Khaos, they seek to enslave all humanity.
In successive episodes, Jake and Murf encounter and defeat several giant insect creatures and form a bond. That's enough for the first issue.
In a text page at the end, Johnson tells us that he's been playing guitar since he was eleven years old. And playing guitar convinced him of its magic.
"Whenever I felt a storm coming, I would play my guitar for hours and hours. ... There was always my guitar. There was always music. It never fixed anything, but it made things just a little bit better. Like there was hope for something, somewhere. That's why I love metal. It's brash, it's silly, and it's completely unafraid to yell into nothingness, even in the midst of suffering. Joyful in a sea of dark. And what better way to give the middle finger to our tragedies than to rip into a guitar solo? ... Thanks for being here. Get ready to shred."
Now we know how this title came about. And Johnson's artwork is simply great. Don't miss this one.
WE'RE NOT GOING TO SEE more of Dead Rabbit because the title infringes upon the trade-marked name of a saloon, so Image has recalled all of the two issues published so far. Too bad: John McCrea's art is deft and darkly atmospheric. Gerry Duggan's story is about the vigilante Dead Rabbit aka Martin, who wears a mask with red X's for eyeholes. He robs from the good guys as well as crooks. He's come out of retirement because he's run out of money, and with an invalid wife, he needs funds.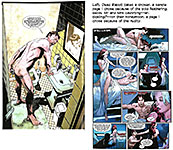 He works in a Walmartish sort of place, and on the day of this issue, his suspicions are aroused when a grumpy-looking man checks out, buying all the ingredients necessary to dispose of a dead body. Martin follows him, dons his mask, and enters the guy's house. Sure enough: foul play. But no corpses yet. He finds young girls, locked in the cellar. He kills the two guys running the sex traffic operation.
When he gets home, his wife has a seizure, and he phones 911.
Before we leave the issue, we meet a bad guy with a lumpy face who wants revenge on Dead Rabbit because the bad bunny stole all his money.
I DIDN'T KNOW Mr. & Mrs. X was an X-man title, and if I'd known, I wouldn't have bought No.1. The "X" in the title appears as a sort of backdrop behind "Mr. & Mrs.," unobtrusive. Hard for an old duffer like me to discern. I thought it was just Mr. & Mrs., about a married couple of superheroes. Well, it is. But I didn't see the "X" when I bought it. Still, the title has its good points.
First among them, we have here, at long last, a comic book in which the interior art by someone (Oscar Bazaldua) other than the cover artist (the Dodsons, Terry and Rachel) matches it in excellence. In this issue, X-men Rogue and Gambit get married amid ordinary nuptial wit in a series of set wedding tableaux. Something borrowed, something blue. And so on.
Then we get to see the happy couple naked and lusting after each other on their honeymoon. At last!—an excuse to show naked bodies. (See previous illo which includes another naked body—Dead Rabbit showering.)
Next, after a suitable interval of sweaty love-making, they get called away to duty, and Rogue is spirited off into space without gear. Won't she die?
Action sequence is a little confusing pictorially: copiously exacting detail gives everything equal visual impact so it's difficult to tell one thing from another.
So far, Kelly Thompson's story is not remarkable, but Bazaldua's art is spectacular, so I returned for issue Nos.2 and 3. In No.2, they find and seize the Egg, which hatches, later, into a beautiful woman. No.3 includes two 2-page spreads with the action spread over both pages in horizontal format. Oh, and Deadpool is in both issues.
Multiple Man is Jamie Madrox, who (we're told on the opening splash page) "was born with the ability to create exact duplicates of himself whenever there is physical impact upon his body. He can then absorb these duplicates through contact, taking their memories and skills. He was dead and buried until one of his dupes was discovered in a secret underground bunker. Alive, but still subject to the half-life of a duplicate, Jamie stole a time-travel device and went into the future for a cure. When he returned, so did four other duplicates, all with new, unique powers."
The concept takes the worst aspects of Marvel superheroing to its nearly incomprehensible extreme—character duplicates of each other and time travel. Too many characters, all unnamed in issue No.1, some in uniform, some not. The ones that look alike, we can't tell apart. Eventually, I suppose stories must be devised that create opportunties for each super power to be exercised. Endless ennui.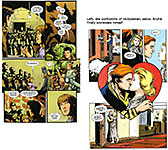 Writer Matt Rosenberg does his best, but this concept is really dumb. The first issue is devoted to showcasing Jamie's bafflement and explaining somewhat. F'instance, Jamie says:
"I just want to send some dupes into the future, farther into the future, to create versions of themselves to go into the past, not this past but the real past, and save me so I can come forward to this past and create those future dupes —in a little bit. I don't think that will mess things up."
Got that? Then, you're ready for Multiple Man. If not, not.
Andy MacDonald's drawings are crisp and clean, and his panels jammed with individually recognized characters. Dunno how he does it.
In Archie1941 No.2, everyone's moping around, discussing the war going on in Europe and reacting to Pearl Harbor. Not a joke or a laugh anywhere. And rendered realistically, painfully so, by Peter Krause. Archie, moping more than most, finally tells Betty he loves her, and then goes to the local recruiting office to enlist in the Army. That's what all patriotic young men did in those days. But no one in the original Archie stories, which started in December 1941 just in time for the Japanese attack on Pearl Harbor, ever enlisted. No one even acknowledged the war at all. But in this title, writers Brian Augustyn and Mark Waid, make up for lost history.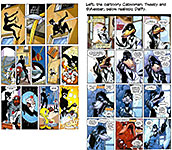 In Catwoman Tweety and Sylvester, Catwoman also meets Black Canary in a long fight scene. Otherwise, the story is masterfully confused. But the issuehas a second story, this one rendered in cartoony manner, and it makes more sense than the first tale.
A second story, also drawn in cartoony style, finishes The Joker and Daffy Duck; it, like the cartoony Tweety and Sylvester, is easier to follow than the realistically rendered opening story. In it, the Joker acts like a stand-up comedian; otherwise, typical confusion. Oddly, Daffy's feet are not obviously webbed: toe-nails are too pronounced.
Lone Ranger No.1, another reprise, this one by Mark Russell with art by Bob Q, is a big disappointment. The art is passable: Q does faces well, and his crisp angular style is pleasing to the eye, but he's weak on anatomy, and he can't draw horses, a skill you'd think would be essential to rendering the ol' Masked Man.
The plot concept is flawed. As barbed wire goes up across the West, we expect, in the usual drill, that resentment about the loss of open range would spring up. And Russell allows that barbed wire symbolizes plantation life not roaming herds of cattle. But the villains in this piece are those plutocrats who champion barbed wire and enclosing the once open spaces. When the Lone Ranger arrives on the scene, he attacks the villains—i.e., the people who, siding with barbed wire and enclosed space, represent the future. So how is the Lone Ranger going to get right with history?
And the Ranger is costumed in light blue, like the earliest tv version. Being an aged gaffer, I prefer the red shirt and white pants of the newspaper comic strip version in the 1940s.
Mickey Spillance's Mike Hammer No.4 by Spillane with an assist from Max Allan Collins (who's inherited all Spillane's files, unfinished manuscripts,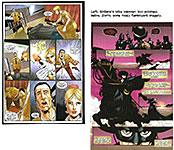 etc.), drawn by Marcelo Salaza and Marcio Freire, continues the story we first encountered with the inaugural issue in Opus 383. The art is still terrible: too clean-looking, polished rather than shadowy. And the anatomy is often entirely missing. The backgrounds are simplistic and sterile, created by a ruler and computer-generated patterns.
The story, like all Spillane tales, is convoluted, but there's much too much ritual death here. Hammer kills a woman while embracing her, a maneuver he first deployed in No.1.
Don't come here.
Zorro is back in Zorro: Swords of Hell by David Avallone, drawn by Roy Allan Martinez where he is fighting the undead, a milieu I simply can't abide. Great drawing by Martinez, though.
QUOTES & MOTS
Garry Trudeau's Doonesbury passed its 50th anniversary in September, and Michael Cavna at the Washington Post asked the cartoonist whether he sees ways in which the Nixon and Trump administrations are alike.
"The most similar, of course, is the corruption at the top—and the way the stain inexorably spread down into the ranks. But let's not leave out the Reagan administration, which still holds the record for sleaze—138 officials investigated, indicted or convicted."
Trudeau gives Nixon credit but Trump none.
""Let's give a shout out to a few big things that Nixon got right, like the creation of the EPA and the overture to China. If Trump has done anything to benefit anyone other than himself and a few special interests, it's escaped me."
Doonesbury is still in re-runs with its dailies, but Trudeau is producing fresh Sundays. At the occasion of the strip's golden anniversary, does Trudeau have a plan for how much longer he'll continue to mock politicians through the strip?
"Anniversary years aren't actually motivational for creativity," he said. "I'll quit when it's no longer fun."
TRUMPERIES
The Antics and Absurdities of the Trumpet
COLLUSION may not be illegal. "A secret agreement between two or more parties for a fraudulent, illegal or deceitful purpose" is not, in and of itself, illegal. Immoral perhaps. Despicable maybe. But not actually illegal.
But collusion with an antagonistic foreign power? Looks too much like treason, which is illegal.
And despite the bloviations from the Trumpet, it has been obvious for months that even if the Trump campaign did not actually enter into a bargain with the Russians to assist in electing Trump, the Trump people would have entered into that bargain if they thought it was to their advantage. When they met in July 2017 with the Russian lawyer who promised "dirt" on Hillary Clinton, their intention was clear: they intended to collude.
Donald Trump Jr.'s reaction to the prospect of dirt on Clinton was to rub his hands figuratively and gloat, "I love it."
That they didn't, apparently, collude was probably because the Russians weren't able to convince them that they had any dirt.
Maybe intention isn't enough to convict on, but in this case, it ought to be.
EDITOONERY
The Mock in Democracy
THE WEEK OR SO BEFORE CHRISTMAS, the Trumpet saw much of his power evaporate. His power, as Bob Woodward observed in titling his book Fear, depends upon people being frightened of him. Scared shitless is better. And several things converged lately to undermine the essential fear of Trump.
First, he was commanded to disperse and disband the Trump Foundation, the faux charitable fund he'd devised as a slush fund for various subrosa machinations.
Second, his former personal lawyer, Michael Cohen, gave testimony that implicated Trump in illegal maneuvers with campaign financing.
Third, Nancy Pelosi and Chuck Schumer, Democrat leaders in Congress, called his bluff about the border wall, and the Trumpet blinked. But then he unblinked as soon as he saw what Fox News dignitaries thought of his giving up on the wall. Government by Fox.
The weekend before Christmas, Trump's still holding his breath as the government shuts down 25 percent of its operation.
But no one's afraid anymore.
Then, in an attempt to revive fear, Trump announced he was withdrawing American troops from Syria—thereby alarming every modestly intelligent observer on the scene.
Trump claimed U.S. troops were no longer needed because ISIS had been destroyed. But ISIS hasn't been destroyed. So alarm was rampant. What recklessness would Trump commit next? And what about the Kurds? What about our international reputation?
The Syrian maneuver was, perhaps, a distraction, intended to make people overlook the loss of his power.
But no, it is, instead, another evidence of the Trumpet's overweening naivete. Just as he took Kim Jong Un's word for it and believed the North Korean dictator was actually dismantling the country's nuclear capability, so he took the word of Turkey's President Recep Tayyip Erdogan that he will take care of eliminating the remnants of ISIS forces still wandering the vicinity. So the U.S. didn't need to hang around any longer: Erdogan would do the job.
The fact that Erdogan has also vowed to destroy the Kurds, who were America's most dependable ally in the battle against ISIS, is something the Trumpet is choosing to overlook. The Kurds could well claim they've been betrayed.
So once again, the Trumpet has demonstrated to the entire world that the United States is no longer a reliable ally. It can no longer be depended upon. Not as long as the Trumpet holds sway.
And as long as Trump is calling the shots, he can't keep any adults in the room. Secretary of Defense, James Mattis, announced his retirement as soon as it became apparent that he would not be able to get the Trumpet to change his mind on the Syrian withdrawal. (Since then, Lindsey Graham has apparently convinced Trump to slow down the withdrawal.)
And then Brett McGurk, the U.S. special envoy in the fight against ISIS, announced his resignation.
And Trump's chief of staff, John Kelly, is also leaving.
Hovering over this entire debacle is the investigation by Robert Mueller, which is dribbling out, one condemnation and impeachable offense after another, seeping into the White House like bad weather.
Another sign of wholesale failure—those big tax cuts? They haven't produced. They were supposed to reduce deficits, supercharge the economy (and stocks and wages) and draw droves of grateful voters to the Republicon Party. None of this has happened in any conspicuous way.
And by 2027, most Americans will see a tax increase because the tax cuts for individuals will sunset that year. And that red wave? It didn't exactly swamp the country either: the GOP lost seats in the House of Representatives at midterm.
December 2018 may be the month that all the wheels came off the Trumpet, leaving his flaxen hair-do helpless by the side of the road.
Or so we hope.
SOME OF THESE RECENT EVENTS are reflected in our first visual aid.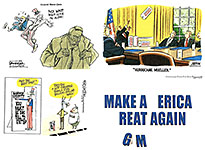 Jeff Danziger offers a comical tableau that tells us the immediate consequences of Mattis' departure: Uncle Sam really doesn't want to have to deal with the infantile, temper-tantrum prone Trumpet by himself. Next around the clock, R.J. Matson shows us how the Trumpet is expected to react to the Mueller investigation, once it is finally made public. And Clay Bennett provides an image that comments bitterly upon General Motors' shutting down several of its plants in order to move those operations overseas—infuriating the Trumpet in the process. Without GM, how can Trump expect to "Make America Great Again"?
Finally, Mike Lester takes up the border wall issue. Almost everyone is "this tall" so border security is virtually nonexistent as far as the Democrat donkey is concerned. As a matter of fact, the Democrats are not for "open borders" as this cartoon suggests. But Lester is a more-or-less avid conservative, so we must expect him to take an extreme view of Democrat positions (even if those positions, for the sake of a cartoon, are exaggerated into pure fiction).
Next, Bill Bramhall's visual metaphor for the Trumpet'd leaving Syria suggests that he's doing it at the behest of Russia's Putin.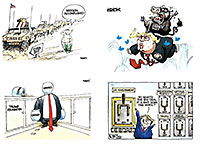 Several editoonists reacted in a similar fashion, some making Trump into Putin's hand puppet.
But no one that I saw dealt with what I believe are the most shameful of the consequences of the Trumpet's feckless decision: first, the demonstration of the abject unreliability of the U.S. in its foreign relations; second, the almost certain destruction of the Kurds (or, almost as bad, their leaving the field of battle in the war against ISIS); third, the idiotic assumption that Turkey will do the right thing in Syria just because Erdogan says so.
Bramhall, incidentally, cartoons for the New York Daily News, and he's been doing so for ten years. Until our last posting, I'd never seen any of his editoons. Why all of a sudden? Dunno. But he's a welcomed addition to our line-up.
Steve Sack's image shows the effect of the Trumpet's behavior on the stock market, which has achieved record lows in the week before Christmas—chiefly because of Trump's pronouncements (not the least of which is his attack on Jerome Powell, chair of the Fed, a position traditionally kept independent of politics; the threat to the Fed's independence made investors nervous, which created an uneasy and therefore wildly fluctuating market).
Next, Christopher Weyant provides an image of the Trump Shutdown (he claimed responsibility for it, remember?) that effectively condemns the Trumpet's destruction of presidential respect, civility, dignity, world standing, morality and truth itself.
Meanwhile, the national Christmas tree on the Ellipse near the White House went dark because of electrical problems associated with the Shutdown. Talk about symbolism.
Bramhall's back at the lower left with a wildly comic image of the Trumpet and his foundation, which he has treated as a cookie jar that's there for his financial convenience. But now he's been caught with his hand—er, both hands—and his head!—in the cookie jar. End of the Trumpet slush fund.
IN OUR NEXT EXHIBIT, Tom Toles offers a little drama that demonstrates Republicon motives.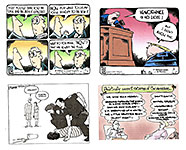 After shepherding through the Senate a reduction in government revenue by means of a $1.5 trillion tax cut and then increasing expenses with one of the largest budgets ever for the military ($675 billion), Mitch McConnell has the unmitigated gall to announce that the only way to reduce the record-high federal deficit is to cut entitlement programs like Medicare, Medicaid and (gasp) Social Security.
Wait a minute. What am I missing here? The deficit would be considerably less without the tax cut and the Defense Department budget. But Mitch ignores such obvious factoids.
He rambles on: "It's not a Republicon problem," he avers, insisting that the problem has nothing to do with a lack of revenue or increased spending and instead was due to entitlement and welfare programs.
Does he think we're all idiots? Guess so.
I can't remember the specific instance that inspired Toles' cartoon at the upper right, but no matter: it perfectly illustrates the Trumpet's modus operandi all around the house.
Next around the clock, Chan Lowe takes up the thorny matter of song lyrics that are too suggestive. It started, we understand, in Ohio, where a radio station stopped playing the song "Baby, It's Cold Outside," saying the lyrics of the tune didn't sit well with the #MeToo entourage, many of whom saw the lyrics as prelude to date rape.
Date rape is unequivocally wrong. But the song lyrics, composed in 1944, suggest romance—or they did then. And for many people, they still do. The man begs his date to stay because "baby, it's cold outside." So stay here, inside, where it's warm.
And she says "the answer is no." But she also says "maybe just half a drink more" or "maybe just a cigarette longer." She's obviously toying with the guy.
Old Tyme romance, kimo sabe.
A Denver radio station, beset by a few complaining listeners, stopped playing the song. Then had second thoughts: they polled their listeners, over 15,000 of whom responded, 95 percent voting to keep playing the tune. So they did.
And then Steve Breen finishes off this exhibit with a perfect picture of how law enforcement should deal with trouble-makers who persist in using plastic straws.
THE TRUMPET is back in his starring role in the next couple of editoons.
J Mike Luckovich vividly reminds us of just who it is who called Daniels "horseface." And Bill Bramhall shows us the "mushroom character" in the Mario Kart video game, angry because Stormy Daniels described the Trumpet's legendary dick as looking like the mushroom character in Mario Kart. (How she knows about Mario Kart is another of many unanswered questions.)
"His penis is distinctive in a certain way," Daniels writes in her book Full Disclosure. "He knows he has an unusual penis. It has a huge mushroom head. Like a toadstool."
(And for those of you who haven't consulted this tome, Daniels says sex with the Trumpet "lasted two to three minutes. It may have been the least impressive sex I'd ever had." And as an "adult" movie actress, she is clearly an authority on the matter. So now you know. As does the entire world.)
I've just finished reading Daniels' book. She's not a "writer": she was assisted by someone named Kevin Carr O"Leary, whom she doesn't mention in the book, which is strange: she mentions everyone else who's come into her life since she fucked the Trumpet. The book's prose is chatty, conversational but brisk. She comes across as smart and honest. And often funny.
She regales us with the story of the tampon which occurs on her way to witness a Michael Cohen court appearance. She's just arrived in New York after a longish flight followed immediately by a taxicab ride. She's having her period and is desperate to find a bathroom where she can change tampons. In the ensuing melee, she hands one of her bodyguards a fresh tampon to hold for her because she doesn't want to be carrying a purse.
They're delayed at the courtroom entry, and her bodyguard slips her the necessary equipment so she can deploy it in the nearby restroom.
Obviously, the book is not without a sense of humor.
One of the funniest chapters is about her giving birth to her daughter. She'd decided that she wants a home water birth with a midwife. She was leery of hospitals as hothouses for germs. She was a week late for her due date.
Friends urged her to go for an induction. But she didn't want to go that route.
"This baby's going to come out witih a driver's license," she quipped.
After a couple pains, she went to the tub of water and sat in it. Then came two days of contractions.
Finally, 24 hours after her water broke, the midwife has had it. She insisted they go to a hospital. Stormy is dehydrated and out of it. Her husband and the midwife took her and a popcorn bowl to put under her and headed for her Escalade. Stormy screamed:
"Not in my Escalade. We're taking your minivan," she told the midwife. "I'm not giving birth in my eighty-thousand dollar vehicle."
Her narrative continues: "So there I am in a minivan, sitting over this popcorn bowl.
"'If I have this baby in a popcorn bowl in a minivan..."
At the hospital, the doctor realized she was exhausted—too tired to push. So he gave her an epidural so she'd sleep and awaken refreshed and ready. Didn't happen.
Finally, at seven in the morning, they decided on a C-section.
From home water birth to C-section.
Well, you had to be there.
Her hooters, by the way, are of the manufactured sort. And she's named them—Thunder and Lightning. Better than Boob One and Boob Two.
ON TO OTHER TOPICS. Returning to the display we lately abandoned, Matt Wuerker takes a well-deserved jab at Trump's roll-back of environmental regulations. The picture, nearly a solid mass of air pollution, makes the point. And then Jeff Danziger wants to know who's paying for the tax cut. Uncle Sam is reduced to street begging, but it's the comments from two passersby that got my attention. Trump is apparently not a good risk for people with money to loan.
In fact, after six of his companies went bankrupt in the 1990s, no American bank would loan him money. So he went to Germany.
Meanwhile, Trump businesses aren't doing as well as might be expected. We expect him to profit from being president, but that seems not to be working out. According to the Associated Press, Trump golf resorts in Scotland have posted millions of dollars in losses, and one of his hotels in Panama City pulled his name off the front door and re-branded itself as a Marriott. And a hotel in the Soho section of Manhattan dropped his name off as did a Toronto property. Macy's and Univision severed ties with his brand; ditto NASCAR and the PGA, and the tv network that aired his "Apprentice" ended its relationship with him.
"From golf fees and licensing deals to prices for Trump condos, many metrics used to gauge his business in the first two years of his presidency are down as the divisive comments and policies so beloved by his political base have turned off a group just as dear to him—the affluent who fuel his businesses."
In our next visual aid, the Sesame Street puppets Bert and Ernie avoid confirming their sexuality by changing the subject.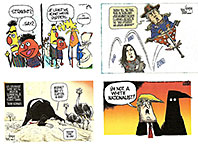 In the second panel, Clay Jones shows that Bert and Ernie aren't the only puppets on the scene: Putin's got his hand up Trump.
Speculation has long lurked about B&E's relationship. Large segments of the population believe that they're probably gay; other large segments believe they're not. But the cartoon at hand was prompted last fall when Sesame Street writer Mark Saltzman, who joined the crew in 1984, cleared up the mystery by claiming he wrote B&E as a gay couple. He's not crusading, he said; he just said the Sesame Street duo is a reflection of his own same-sex relationship.
A spokesman for Sesame Street countered Saltzman, saying: "As we have always said, Bert and Ernie are best friends. ... Even though they are identified as male characters and possess many human traits and characteristics (as most Sesame Street Muppets do), they remain puppets and do not have a sexual orientation."
Frank Oz, longtime puppeteer on the show, denounced Saltzman's claim.
"It's fine that he feels they are. They're not, of course. But why that question? Does it really matter? Why the need to define people as only gay? There's much more to a human being than just straightness or gayness."
More than one editoonist commented. One helped B&E evade the subject by having them point out that, as hand puppets, they have no existence below the belt. As if sex and sex alone were the determining factor with gays. Is sex the only element in a heterosexual relationship? There's also simple human warmth between two people, regardless of their sexual orientation.
Next, David Horsey offers a hilarious rendition of the Trumpet's taking security clearance away from John Brennan, former CIA chief, because of his "wild outbursts and erratic behavior"—announced by the Trumpet whose own behavior, boinging around on his pogo stick, up and down, up and down, is scarcely above reproach. Horsey's caricature of press secretary Sarah Huckabee Sanders is another visual joke.
Below Horsey is Mike Peters with a hysterical picture that contradicts what the Trumpet is saying.
And then at the lower left, we have Horsey again with a memorable visual metaphor depicting the Trumpet reacting to a government report predicting dire consequences from climate change. (The white text in the black box reads: "U.S. government report says the American economy will be hammered by climate change. Trump responds:") He sticks his head in the sand like a dutiful ostrich.
It's nice and cool in there, he reports. And then, the final fillip: "Ooooh! I think I see coal."
The picture of Trump's rump aloft is alone worth a few thousand words.
SLIPPING BACK A FEW MONTHS to events early in the fall, we find Mike Luckovich who takes only three panels to completely debunk Trump's claim that he created his fortune by himself without any sort of significant help from relatives.
Next around the clock, Chris Britt reminds us that Trump couldn't visit the American military cemetery in France because it was raining and his car had no roof. Or some such bullshit. It was widely rumored that he just didn't want to spoil his hair-do by getting it wet. But then, a week or so later, back in the U.S., he visited Arlington while it was raining just to disprove those rumors.
Britt makes his point, however, by contrasting Trump's wet-weather timidity with the courage of soldiers who fought—and many died—in the rain.
Luckovich returns with a visual comment on Trump's relationship with the Saudis in the wake of the murder and dismemberment of Saudi journalist Jamal Khashoggi in Turkey.
Grisly though the circumstance was, the Trumpet prefers to maintain good relations with the Saudis, with whom he has done business before—and will likely do more again in the future.
Then Marian Kamensky's sequence of pictures describes Trump's utterances as so bombastic that they're virtually explosive and he can set them alight as if they were a bomb. Nice idea.
Guns are the topic of most of the next display.
Joe Heller begins with a pictorial rendering that demonstrates why teachers should not be burdened with armament intended to enable them protect their proteges from assault by murderous gunmen. Obviously, teachers have more than enough to do: the burden they carry is plenty without adding guns to it.
And then Nate Beeler shows the impact upon classroom learning if the teachers were to be armed. Realistically speaking, teachers might not wave their weapon at students to get them to learn, but even a pistol in a holster can be intimidating to young pupils.
Dave Horsey finishes our sermon on guns with a portrait of two gun rights supporters that is both hilarious and scary. The guy with an eye patch (John Wayne?) will haunt my dreams for weeks. Or should.
The Peanuts strip at the lower left I ran across about the same time as I was clipping R.J. Matson's cartoon showing Trump flinging paper towels labeled "Pardon." Somehow, it all fit just right.
Broken News Dept. This just in: the Trumpet shuts down the government. Again. And the Republicon-controlled Senate once again demonstrates its invertebrate subservience to him. Mitch McConnell says he won't let any legislation come to a vote unless he knows Trump will sign it. What ever happened to the notion that the Congress was an independent branch of government? And all this time, I thought the Republicons were the ones who knew how to govern.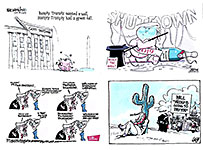 Mike Luckovich deploys an allusion to an antique rhyme to suggest that the Trumpet's maneuver is failing. He's not getting the Wall (so far) and the shutdown is, by his own loud admission, his fault. It may break him into as many pieces as ol' Humpty suffers.
But my motive for tacking this exhibit on at the last minute—claiming it's reflective of breaking news—is to show off R.J. Matson's New Year's Eve effort. As plainly as anyone could put it, he's given the Trumpet a blue face—as in, "he'll hold his breath until his face turns blue if he doesn't get his way on the Wall." His face is blue so he hasn't got his wish yet.
Matson adds to the visual metaphor by making Trump the New Year baby; after all, holding your breath until you get your way is an infantile, baby-ish trick. The blue-faced Trumpet is clearly having a tantrum like toddlers sometimes do. (That's the Prez—a tantrumpet.)
Next around the clock, Jos Collignon reminds us that Trump's original vow was that Mexico would pay for the Wall. (Yet here he is, holding his breath until the Congress spends our taxpayer money on it.) In Collignon's cartoon, the Wall is little more than a cement-mixer and a pile of bricks. And Mexico is shut down on the issue.
Finally, David Fitzsimmons heralds the arrival in the Presidential Race of 2020 of Elizabeth Warren, who displays the cool demeanor of an adult while the Trumpet can do no more than spit his exasperation. His caricature of Warren is perfect.
PERSIFLAGE & FURBELOWS
After the snow falls on the mountains, they look like dollops of whipped cream. But their appearance changes, depending upon the sun. Today at about three in the afternoon, the sun was moving westerly and, as always in winter, in the south, and it picked out those slopes with southwestern exposure and the snow shone bright. But on the northeastern side, the sun was casting shadows, so the ever rugged mountains, white and shadowed, looked like chunks of ice, floating along the front range.
LECHERY AND THE PENILE PROMPT
"God gave men both a penis and a brain, but unfortunately not enough blood supply to run both at the same time." —Robin Williams
TINA IS A HOMELESS WOMAN living on the streets of Denver. She has a blonde wig and red high-heel shoes that she wears occasionally. "I like to dress up, change clothes, keep people guessing," she told Denver Post photographer RJ Sangosti, "—just 'cause I live out here doesn't mean I don't like to look sexy."
Many other women doubtless shares this notion with Tina. Most of them probably don't live on the streets, but they like to look sexy anyway, #MeToo be damned.
THE FROTH ESTATE
The Alleged "News" Institution
ONCE AGAIN, as it has before more and more frequently, Time magazine picked several people—all in kindred endeavors—as its Person of the Year. This time, they were all journalists. Last year, they were all "silence breakers"—women who, in the spirit of #MeToo, went public in alleging sexual abuse by men around them. And in 2014, "ebola fighters" made the cover; "protesters" in 2011 and "whistleblowers" in 2002. The height of this group-think absurdity was achieved in 2006 when "you" (that is, thee and me, kimo sabe) was the Person of the Year.
In picking journalists for its end-of-the-year cover, Time abandoned its traditional formula for selecting the Person of the Year—that person who, for good or ill, most impacted the news in that year. Clearly, the Trumpet filled that bill admirably (or ignominiously) in 2018. (And Time agreed in 2016 when most of Trump's impact was achieved in winning the presidential election.) Trump in 2018, not the murdered Saudi journalist Jamal Khashoggi, the imprisoned Wa Lone and Kyaw Soe Oo in Myanmar, Maria Ressa of the online news site Rappler in the Philippines, or the five reporters at the Capital Gazette in Annapolis. But they, not Trump, got the nod.
These journalists all do yoeman work, good work. And Time is making them represent 52 journalists who were killed in 2018 while trying to tell the facts in pursuit of the truth about events in their worlds. Nearly half of the casualties were murdered.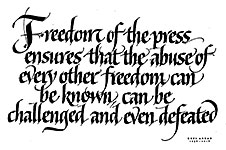 One was stabbed while stopped at a traffic light after reporting on local corruption; another was shot after criticizing local politicians; yet another was abducted, tortured and shot while reporting on life in a conflict zone; another was abducted and beaten to death after reporting on corruption. Other deaths came to journalists while working in a combat zone or stepping on a mine.
Time is focusing on journalists this year because the magazine sees facts and truth in danger of being suppressed or scoffed out of existence. And with that, democracy itself is in danger.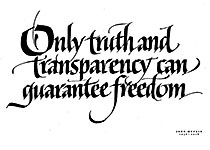 "It has long been the first move in the authoritarian playbook: controlling the flow of information and debate that is freedom's lifeblood. And in 2018, the playbook worked. Today, democracy around the world faces its biggest crisis in decades, its foundations undermined by invective from on high and toxins from below. ... From Russian to Riyadh to Silicon Valley, manipulation and abuse of truth is the common thread in so many of this year's major headlines, an insidious and growing threat to freedom."
The Persons of the Year, then, symbolize the struggle to discover and present the truth in a world grown hostile or indifferent to facts. In this regard, Trump is the leading crusader for distorting facts and belittling their function in a democracy. On two counts, then, he should have been the Person of the Year.
But I suspect that Time could not bring itself to honor the man who has done so much to undermine the power of the press, calling it "the enemy of the people." Time's treatment would doubtless not be honorific; but Trump would take it that way, regardless, and by doing so, belittle Time's pursuit of the truth.
As a journalist myself (trained and practicing), I appreciate the accolade this issue of Time is conferring upon the profession.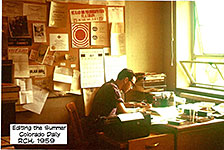 Still, while the motive for honoring journalists is understandable and justifiable in the current climate, it undercuts the philosophical purpose of the annual exercise.
The runners-up for 2018 are (in order, beginning with No.2): the Trumpet; Robert Mueller; the "activists" promoting stricter gun laws; Moon Jae-In, president of South Korea who has been behind much of the "progress" on resolving the North Korean dilemma; Ryan Coogler, director of "Black Panther" (another attempt to downgrade the Person of the Year category; okay, this movie proved a black superhero could make money, but if that's a criteria, why not Stan Lee, whose superheroes are making money hand over hand?); Meghan Markle, who married into the British Royal Family (right: she impacted the news all year long; sheesh).
READ AND RELISH
The heights by great men reached and kept
Were not attained by sudden flight,
But they, while their companions slept,
Were toiling upward in the night.—Henry Wadsworth Lonfellow
NEWSPAPER COMICS PAGE VIGIL
The Bump and Grind of Daily Stripping
Murray Crispness. I've always wanted to say that instead of the usual. We're here with Christmas comic strips today.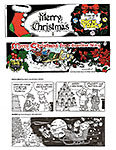 The first, Dick Tracy, is the more-or-less conventional Yuletide wish. Jim Scancarelli in Gasoline Alley (just below Dick Tracy) is much more ornate, but the sentiment is the same. Below that, Beetle Bailey! This strip doesn't usually celebrate the holiday, so it may be a historic first. Blondie is definitely historic. Never in my recollection has this strip deviated from its usual day-by-day plod to commemorate the holiday. And this is a Blondie without any of its main human characters. Unprecedented.
Blondie continues in an unconventional mode on our next visual aid.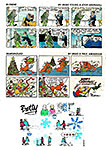 Jacob Marley in Blondie?! Unheard of. The rest of this page, the usual stuff. In Betty, by the way, there are lots more snowflakes, but they're a light blue and that color doesn't reproduce well. The starry curse words at the end complete the motif.
Cartoonists don't actually take the day off on Christmas despite what Chad Carpenter is saying in Tundra. Comic strip cartoonists resorted to wishing readers a merry Christmas because they couldn't offer their usual fare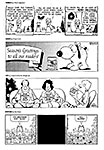 on the holiday: in Olden Tymes, too many newspapers didn't publish on Christmas, so cartoonists had to come up with something that no one would miss for those newspapers that skipped the day.
More of the same routine in the next exhibit, starting with Mutts. And then we get to 9 Chickweed Lane and a little drama starring Amos and his wife Edda in which he is unwrapping his present.
One Big Happy returns us, rudely, to a different reality. Not being a particularly religious person, I'm not disturbed that our foremost religious day has little religion about it. In fact, I go along with Santa on the next display.
Our holiday celebration concludes with Thomas Nast's drawing, known as "Merry Old Santa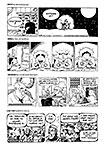 Claus." Nastinvented the Republican elephant and made popular the Democrat donkey, thereby earning the moniker "father of the American editorial cartoon."But his major contribution to our pictorial heritage is this rendition of Saint Nick.
But this famous portrait of Santa wasn't just all jollity.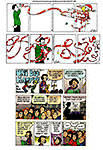 Nast was a staunch advocate for abolition, civil rights, and the Republicans, and he used his cartoons as propaganda to advance such causes. Even after the Civil War ended, he continued to propagandize. And here, he deployed his famous drawing of Santa to make a pointed political statement. The drawing at hand was published in 1881, and it contained subtle symbols that reminded readers of the government's indecisiveness about paying higher wages to members of the military.
To the casual observer, it looks like Santa, with his bag of toys, wearing his characteristic red suit. But Santa in this merry portrait is actually a member of the military. On his back isn't a sack full of toys: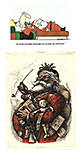 it's actually an army backpack of the sort enlisted men carry. He's holding a dress sword and belt buckle to represent the Army, and the toy horse recollects the Trojan horse, symbolizing the treachery of the government. The pocket watch showing ten minutes to midnight suggests that the U.S. Senate has little time left to give fair wages to the men of the Army and Navy.
So much for jolly Santa.
And now Thomas Nast himself is being attacked.
NAST SCRUBBED FROM OPC AWARD
And the Problem of Making the Past Conform to Present Moralities
The Overseas Press Club has awarded a prize for the best cartoons on international affairs since 1978. The award is named for Thomas Nast. But since Nast's legacy includes cartoons that "exhibited an ugly bias against immigrants, the Irish and Catholics," OPC Board of Governors has decided to drop Nast's name from the award.
"The Board had a thoughtful and robust conversation regarding the issues brought to light regarding some of Thomas Nast's editorial cartoons," said OPC President Pancho Bernasconi. "Once we became aware of how some groups and ethnicities were portrayed in a manner that is not consistent with how journalists work and view their role today, we voted to remove his name from the award."
Henceforth, the award will be known simply as the Best Cartoon Award. All the other OPC awards bear the name of a distinguished practitioner in the area of endeavor celebrated by the award.
The Overseas Press Club is an international association of journalists based in New York City that works to encourage the highest standards in journalism, to educate the next generation of foreign correspondents and to promote international press freedom and the well-being of colleagues in the field.
Scrubbing Nast's name from the cartoon category of awards isn't likely to encourage the highest standards in journalism or to improve the well-being of editoonists, many of whom roared their outrage on the Web. Said one:
"We welcome the Overseas Press Club to the War on Christmas as well, as their next logical step is to insist that Nast's Santa Claus be removed from all public displays."
Said another:
"Next, we'll find out that they can't name the award the 'Bill Mauldin Award' because Mauldin made light of soldiering during WWII and used racial slurs as he descended into dementia. And then rescind that because they'll realize you can't attack people with Alzheimer's."
The self-righteous who run the New Jersey Hall of Fame took Nast out of contention for induction for the same reasons. Nast lived in New Jersey for many years, but the Hall of Famers would rather consign a famous former resident to limbo than recognize a man whom we now call a bigot.
But was he?
Michael Dooley at printmag.com took up the issue several years ago when Nast was first snubbed by his fellow New Jerseyites, and what he said then seems purely applicable now, so we're quoting the pertinent parts of his essay here—:
Disrespectful. Offensive. All sterling job qualifications for any good editorial cartoonist. But "racist"? Woah!
Thomas Nast was the granddaddy of the American political cartoon. And having lived in New Jersey, he's been nominated for induction into the state's 2012 Hall of Fame. But last month, legislators of both political parties fought to take his name off the ballot.
Caricature is oversimplification, a type of dehumanization for speedy communication. It's also a tool of Nast's trade which he vigorously practiced during the 1800s, most notably for Harper's Weekly. For him, party Democrats were stubborn jackasses and murderous tigers. William "Boss" Tweed was a bloated bag of ill-gotten gains and his Tammany Hall cronies were predatory vultures.
But some of Nast's lesser known works have been singled out as evidence that he was anti-Catholic and anti-Irish.
And while some of those images have been disseminated in the press, hardly any of Nast's [PC] opponents have meaningfully dealt with their content in context.
Let's look at one of the supposedly anti-Catholic Nast cartoons. "The American River Ganges" depicts an army of bishops crawling onto our shores. Their miters have transformed into crocodile mouths, as they prepare to devour young children.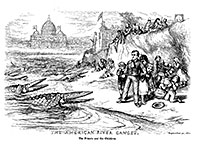 As a Catholic— okay, ex-Catholic—I don't see any problem here. "Ganges" isn't anti-Catholic; it's anti-Roman Catholic Church. Briefly stated, Nast was opposing state aid for parochial schools, and calling for church-state separation. And I consider his attack as justified as, for instance, contemporary editorial cartoons that condemn the Church's countless pedophile priest cover-ups.
The other cartoons in question – and there are several – portray the Irish as a bunch of drunken, violent apes. As an Irishman, if I saw such stereotypes today, isolated from any explanatory indicators, I'd be highly insulted.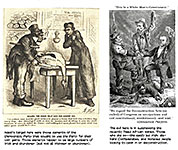 But typically, Nast was criticizing specific groups of Irishmen, and for a variety of specific reasons. For one thing, he felt that their majority support of Tweed's corrupt political machine in New York was foolish at best and downright stupid at worst.
As another example, in "The Chinese Question" he's drawn a noose and a burning building behind an ugly Irishman leading a gang of ruffians.
This was to reference the riots in which predominantly Irish American mobs protested President Lincoln's Emancipation Proclamation by lynching blacks and setting fire to a Colored Orphan Asylum. That's not racism on Nast's part, that's rage.
I've expressed my admiration for Nast in the past. And I really don't know the depth of his alleged anti-Irish prejudice. His flattering depiction of an Irishman at his "come one come all, free and equal" table is certainly cause for reflection.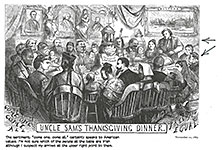 But I do know about his admiring and highly compelling portrayals of Chinese immigrants and other minorities.
And his depictions of blacks, whether courageous Buffalo Soldiers or emancipated slaves, rank among the most exemplary graphic representations of a woefully underacknowledged part of our country's history.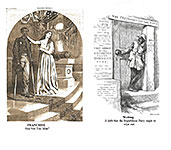 I also know that when many Southern blacks voted for corrupt administrations during post-Civil War Reconstruction, the same way the Irish had been voting for Tammany gangsters, Nast didn't hesitate to savagely ridicule both those groups. Totally unacceptable by today's standards, most certainly, but typical of the visual parlance one and a half centuries ago.
And speaking of voting, let's return to New Jersey. When the Hall of Fame winners are announced this month, I seriously doubt Nast will be mentioned, much less inducted. And it's not just that his chances were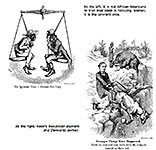 undermined by negative publicity. It's also that he was competing with names like Alexander Calder, Alfred Stieglitz, Dorothy Parker, Joyce Carol Oates, and even another cartoonist, Charles Addams. Woah!
Nevertheless, as a fellow former resident of New Jersey and a believer in counterbalancing what I feel was unfair treatment, I decided to cast my vote this year for the disrespectful and distinguished Mr. Nast.
RCH AGAIN: In my cursory review of a couple volumes of Nast cartoons with accompanying commentary, it was clear to me that Nast's supposed prejudice against Catholics and the Irish did not represent religious or ethnic bigotry. Rather, it was what those groups represented that provoked Nast's ire. And what they represented differed little from one group to the other. Nast's supposed anti-Catholic and anti-Irish cartoons were attacks on threats to American values.
It all began with Boss Tweed and "the Ring" that he commanded.
The Irish, John Adler (and Draper Hill) explain in Doomed by Cartoon, made up more than a quarter of the population of New York City by 1855. As soon as they arrived here, "they were trapped in poverty by a lack of skills, a glutted labor market, illiteracy, their Catholic religion and the desire to cling together." Their circumstance was exploited by Tammany Hall, Tweed's political arm, which quickly won their allegiance to the Democrat Party, Nast's bete noir.
Nast's prejudice against the Irish was rooted in what he believed to be their unquestioning devotion to the Democrat Party.
Catholics Nast saw as a threat to the Constitutional separation of church and state, as Dooley pointed out. In the "Ganges" cartoon, the crocodiles are threatening the children on the banks of the river—school children. At the time, it was a possibility that the Ring would use government money to fund catholic schools, "buying" the Irish vote by doing so. And that was what Nast opposed.
Moreover, if that happened, taxpayers would, in effect, be paying for their children to be converted to catholicism. Or so Nast may have believed.
Incidentally, one of the grown-ups dangling a kid over the cliff along the Ganges River is Boss Tweed.
Given Nast's antipathy toward Tweed, his ridicule of Irishmen is understandable. But it was not ridicule of the Irish because they were Irish; it was, in this case, because of what he regarded as their misguided political inclinations. As Dooley noted, the Irish attracted Nast's wrath because they were immediately recruited into Tweed's Democrat legions supporting corrupt government.
Unhappily, the PC-infected minds that have slammed the door on Nast at the New Jersey Hall of Fame and in the upper reaches of the Overseas Press Club are too ignorant to recognize the error of their ways—and to recognize the admirable stance Nast assumed in defending African Americans, the Chinese, and other minorities in the United States from those who would suppress and exploit them. As a champion for American values, he was their champion, and for him to be discarded in a fit of self-righteous but ill-informed PiCque brings shame upon both their houses.
We conclude with an array of Nasties most of which display his penchant for including self-caricatures in his cartoons. Nast loved to draw himself and he probably drew himself in his cartoons more than any other editoonist in history. In his cartoons, his self-caricature became as much an emblem as the Republicon elephant and the Democrat donkey: his likeness often symbolized a good American, dedicated to the principles he found enshrined in American institutions and somewhat alarmed by the corrupt politics around him.
GOSSIP & GARRULITIES
Name-Dropping & Tale-Bearing
One of Those Rambles Through the Rancid Raves Book Grotto
FROM MATTACHINE TO McCARTHY
THIS DIVERTING MEANDER from one thing to another began with a "Bar Tab" note in The New Yorker's front section of restaurant reviews in the June 26, 2018 issue, to wit—:
"On a balmy afternoon in the spring of 1966, three young men from the Mattachine Society, an early gay rights organization, entered Julius', a no-frills tavern in Greenwich Village, and announced to the bartender that they were homosexuals."
The bartender promptly refused to serve them. The next day, the New York Times ran a story about the incident, headlining it: "3 Deviates Invite Exclusion by Bars." The city's Commission on Human Rights met and vowed to put an end to the injustice. "Three years before the Stonewall riots, the LGBTQ movement's opening salvo had been fired."
It was the mention of the Mattachine Society that stopped me. I remembered hearing of it years ago, and now I wondered what the hell it meant. I knew it was a gay rights outfit, but "mattachine"? What's that?
I consulted St. Wikipedia and learned that the Mattachine Society had been founded in Los Angeles in 1950, "one of the earliest homophile (gay rights) organizations in the United States, probably second only to Chicago's Society for Human Rights." It was the idea of Harry Hay and a group of his friends, including James Gruber, who, at meeting in April 1951, suggested changing the name of the group from Society of Fools to the Mattachine Society. Hay bought it, and away they went.
"Mattachine" was the name given to "French secret societies of masked men who, through their anonymity, were empowered to criticize ruling monarchs in impunity. ...
"The French group was named in turn after Mattaccino (or the Anglicized Mattachino), a character in Italian theater" who "was a kind of court jester, who would speak the truth to the king when nobody else would. The 'mattachin' (from the arabic mutawajjihin, 'mask-wearers') were originally Moorish (Hispano-Arab) sword-dancers who wore elaborate, colorful costumes and masks."
The "masked" idea was well-suited for an organization of men whose essential sexual identity had to be kept secret in those distant days.
Wandering further in the Wikipedia article, I came across the Encyclopedia of Homosexuality and checked that out, and under the entry Mattachine Society, I found the following reference to the infamous Senator Joseph R. McCarthy, who, "at a Lincoln's Birthday dinner of a Republican League in Wheeling, West Virginia, on February 9, 1950 ... accused the Truman Administration of harboring 'loyalty and security risks' in government service. And the security risks, he told Congressional investigators, were in no small part 'sex perverts.'
"A subcommittee of the Senate was duly formed to investigate his charges, which amounted to little more than a list of government employees who had run afoul of the Washington vice squad, but such was the mentality of the time that ... the subcommittee endorsed McCarthy's accusations and called for more stringent measures to 'ferret out' homosexuals in government."
The reference to "a list" and Wheeling, West Virginia, reminded me that it was on this occasion that McCarthy started his crusade to expose communists in the Truman's State Department. In the course of his speech that February day, McCarthy had held aloft a piece of paper and said: "I have here in my hand a list of 205 [people] that were known to the Secretary of State as being members of the Communist Party and who nevertheless are still working and shaping the policy of the State Department."
This was the notorious "list of 205" that launched McCarthyism. McCarthy himself changed the number several times. It came up as 207 in a subsequent report on the speech, and McCarthy soon changed it during a radio interview to 57 "who appear to be either card-carrying members or loyal to the Communist party." Then on February 20, he gave "a near-six-hour speech in which he read details of not 57 but 81 'cases' of individuals he said were somehow subversive," saith Edwin R. Bayley in his 1981 book Joe McCarthy and the Press.
I had pulled Bayley's book off the shelf to refresh my memory about the "list." Was it a list of homosexuals not communists? Bayley supplied the answer—:
"One of McCarthy's documents [upon which his accusation was based] was a letter, dated 26 July 1946, from Secretary of State James F. Byrnes to Representative Adolph Sabath of Illinois, which said that of 3,000 government employees transferred into the State Department from other agencies at the end of World War II, a screening board had recommended against permanent employment in 284 cases, and that 79 of those had been separated from government service. Without any further information and assuming that nothing had changed since 1946, this could be interpreted as saying that 205 of those whose employment had not been recommended were actually [still] employed. The letter did not say, of course, that they were Communists."
They were, rather, "security risks." And, as the Encyclopedia of Homosexuality suggested, they were probably gay. That's why they were security risks: in those days of severely closeted gaiety, homosexuals could be blackmailed into doing some spying by threatening to reveal their sexual orientation.
Bayley makes no mention (that I could find in an admittedly casual search) of McCarthy's report to Congressional investigators about 'sex perverts' cited above. Incidently, McCarthy, a bachelor, was once accused of being gay.
So from Mattachine to McCarthy, I found out who the 205 people on the Red-baiting senator's list likely were.
Julius' is still there, by the way, in Greenwich Village, at 159 W. 10th Street. It's now a gay bar.
TICS & TROPES
Heterosexuality isn't normal. It's just common.—Dorothy Parker
After food, shelter, and sex—the basic ingredients for survival—what we all aspire to next falls under one or the other of two headings: safety and quality of life.
... a premise that is so far up my alley it is practically chopping onions in my kitchen.—Emily Nussbaum
On long distance road trips by car whereupon radio reception is often not clear, it becomes obvious that NPR needs closed captions.
When Wyatt Earp died, among his pall bearers were Thomas S. Hart and Tom Mix. Tom Mix wept.
And here's my favorite character—a whiskery old man yelling at a stop sign wearing grocery bags for pants.
RANCID RAVES GALLERY
Pictures Without Too Many Words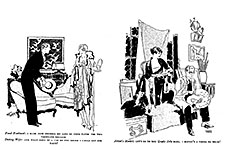 WANDERING THROUGH THE PAGES of the antique humor magazine Life, I came across these beauties.The incomparable Russell Patterson, on the left, is justly celebrated for his masterful deployment of solid blacks and his beauteous damsels—who are often garbed (when garbed) in clothes Patterson delineates with purely fragile lines (as here). Overlooked, perhaps, is Garrett Price, on the right, whose use of blacks and frail lines is nearly Patterson's match. Alas, Price didn't always devote himself to pictures such as this, and so Patterson passed him up.
PITHY PRONOUNCEMENTS
The theory is that the coffeehouses and salons of the 17th and 18th centuries helped lay the foundation for the liberal Enlightenment—a caffeinated pathway out of clan society into cosmopolitan society. Democracy was not made in the streets but among the saucers.—Adam Gopnik
BOOK MARQUEE
Short Reviews and Proclamations of Coming Attractions
This department works like a visit to the bookstore. When you browse in a bookstore, you don't critique books. You don't even read books: you pick up one, riffle its pages, and stop here and there to look at whatever has momentarily attracted your eye. You may read the first page or glance through the table of contents. And that's about what you'll see here, beginning with—:
An advisory for this posting: although these reviews live up to the billing above, a few of them include opinions, which, based upon the abbreviated scrutiny I've given the books, are highly suspect and should be regarded as such. Now, onward—:
Stan Lee: The Man Behind Marvel
By Bob Batchelor
230 6x9-inch pages, text and a few photos, no other illustrations; 2017 Rowman & Littlefield hardcover, $22.95
THIS BOOK MAY BE THE BEST new treatment of Stan Lee. It is, first of all, scholarly: it has footnotes. And it's written by a scholar: Batchelor is a cultural historian whose bibliography includes more than two dozen works of history and cultural significance, but not comics—the jazz age and bootleg society, The Great Gatsby, Bob Dylan, John Updike, television, sports, and more. He's not a comics fan; I think he took up Stan Lee (which he did before Lee died) because of the emergence of the graphic novel and Stan Lee's significance in stimulating the maturation of the funnybook form.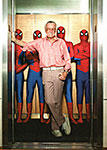 Batchelor is a scholar, but he doesn't write like one. No obscure highfalutin multi-syllabic lingo infects his straight-forward but engaging prose. And he takes up the difficult subjects as well as the routine ones.
For instance, on the dispute over whether Stan gave proper credit to Jack Kirby and to Steve Ditko, Batchelor explores possible explanations.
The ambitions of Stan and Kirby lay at the root of their problem. Both grew up poor, but Lee wanted recognition, and Kirby wanted a living—money enough for his family.
And Kirby early developed a dislike for Stan. When teenage Stan had just joined Martin Goodman's Timely, he followed Kirby and Joe Simon around, worshipfully. Once he followed them to the hotel room they were working in during noon hours and evenings, accidentally discovering that they were secretly doing work for DC. Simon swore him to secrecy, but when Goodman soon after fired Simon and Kirby, Kirby thought Stan and leaked their secret.
Much later, Kirby returned to help create the Marvel Universe in the 1960s, and when his contract came up for renewal in 1970, it was shortly after Goodman had sold his company to Perfect Film, which wasn't about to sign Kirby for the kind of money he felt he deserved for the pace-setting work he'd been doing. So Kirby turned to Stan, mistakenly assuming he could help. He couldn't. Harboring a lingering exasperation with Stan, Kirby thought he had sandbagged him and Kirby soon left for DC.
But there's no evidence that Stan could have helped. Although he'd inadvertently tried.
In an early interview, Stan praised Kirby "for mixing storytelling and visualization like no one else in the business. He explained that Kirby often plotted the comics himself, admitting, 'We're practically both the writers on the things.'"
Stan, who valued reputation, probably thought such praise was sufficient. But Kirby wanted money more than fame.
In a previously unpublished interview in Stan Lee Conversations edited by Jeff McLaughlin (240 6x9-inch pages, all text; 2007 University Press of Mississippi), syndicated columnist Leonard Pitts, Jr. asks Stan why Kirby is so bitter.
"He's a very bitter man," Pitts says. "Very angry. There were a lot of things he said about you that I would like you to have the opportunity to respond to, if you're of a mind to."
Kirby, Pitts says, claims Stan takes credit for creating the Marvel cast of superheroes that were actually created by him, Kirby. Stan gets all the fame and fortune and Kirby gets none. That's why he's bitter.
Stan says he has no idea why Kirby is so bitter. In Stan's view, the person who has the idea for a character is the one who created that character. And he, Stan, had the idea for the Fantastic Four, the Hulk, Spider-Man and all the rest.
"I could have given [the idea for the character] to anybody to draw," Stan says. "Jack was the best. I gave them to Jack. I never tried to deny Jack's great contribution in all of these, but for him to say he created them all. ..."
As the public face of Marvel, Stan was interviewed frequently once the sensation of the Marvel superhero books exploded. By then, I imagine that he was responding to reporters' questions, and although Batchelor says Stan mentioned other writers and artists generally, he probably should have mentioned names. Because of the focus the news media forced on him, Stan acquired the reputation of slighting his drawing collaborators. Even though, very early, he'd been effusive—and accurate—about Kirby.
So Stan got a bad rap, and Kirby was probably partly to blame. Although his belief was the result of "misjudgment rather than malice," Batchelor says.
I didn't find an equivalent discussion of Ditko's abrupt departure from Marvel. But the Kirby stuff is good enough to exemplify Batchelor's thoroughness.
Batchelor discusses the inaugural issues of The Fantastic Four, The Hulk (not an immediate success), Spider-Man, Dr. Strange, and the rest, examining characters and personalities and mythologies. He also reviews Stan's writing techniques and the emergence of the "Marvel method."
The book seems a solidly researched and insightful biography of Stan Lee— "insightful" because Batchelor is apparently not enthralled by comics and can see things as they are likely to have been. He makes a couple errors. Stan has said Dr. Strange is all Ditko's; Batchlor says Stan started the idea with memories of a radio program called "Chandu the Magician."
And Batchelor assumes the "heroes with human problems" notion had been hovering in the back of Stan's mind for years. Frankly, I doubt it: as I hope I've demonstrated in Opus 386, I think the Fantastic Four were Stan's satirical jab at superheroing. And then—surprise, surprise!—that treatment caught on and set the pace for superhero comics!
I haven't read the whole book. In fact, I've done very little more than scan certain topics with the book's index as my guide. But what I found, I liked. And if I ever want to read another book about Stan Lee, this'll be it.
Slow Ball Cartoonist
By Tony Garel-Frantzen
270 6x9-inch pages, text; 2016 Purdue University Press paperback, $22.95
THE CARTOONIST in question is John T. McCutcheon, who traveled the world while drawing editorial cartoons for the Chicago Tribune for the first forty years of the 20th century. But you wouldn't know this book was about a cartoonist if you were to judge from riffling its pages. There are only four pictures in it: one of McCutcheon's gravestone, another of his death certificate (why that needed to be included as the "definitive" statement of his death is beyond me), and just two cartoons, his most famous ones, both poorly reproduced (and one so small that the things about it that made it famous are barely discernible).
How, you might wonder, someone could write a biography of a cartoonist's life and 60-year career without including more than two cartoons is a question Garel-Frantzen answers with this volume. The answer is: not very satisfactorily.
While Garel-Frantzen's affection for his subject (he was for a time a newspaperman and editorial cartoonist) is evident, so are his sources—chief among them, McCutcheon's autobiography, Drawn from Memory, which was published in 1949, the year of his death. At the urging of his wife, a woman he had known from her birth until they married, he, at 48, she, 23, and then until his death, McCutcheon had begun writing the story of his life, a little here and a little there. He never quite finished. The book was assembled by his widow from long passages he'd written and letters and notes and her own diary.
Drawn from Memory is still available from used book sources (see AddALL.com), and Gare-Frantzen has drawn so extensively from it (Ibid footnotes sometimes fill whole pages) that another good question about his book is: why wouldn't we just go to the horse's mouth and read his source, McCutcheon's book?
For one thing, the McCutcheon book ends in the 1920s; but then, so does Garel-Frantzen's. And McCutcheon's book also lacks evidence of the cartoonist's editorial cartoonery; it is decorated by many drawings illustrative of the text, but no editorial cartoons.
It is, however, full of McCutcheon, a kindly, thoughtful cartoonist about whom the book's jacket says: "His was 'a life spent in the sunshine; he made the sunshine.'"
The title of Garel-frantzen's book is taken from what McCutcheon's successor at the Tribune said of him: editoonist Carey Orr, alluding to his youth spent in semi-pro baseball, said:
"McCutcheon brought change of pace. He was the first to throw the slow ball in cartooning, to draw the human interest picture that was not produced to change votes or to amend morals but solely to amuse or to sympathize."
In writing his book, Garel-Frantzen has added somewhat to McCutcheon's autobiographical effort, fleshing out his source occasionally by referencing history and newspaper reports and rewording and shortening some of McCutcheon's longer, meandering passages. And he's re-arranged McCutcheon's book a little, converting a "rambling memoir" to a chronological narrative. That makes the book a worthwhile read and a valuable cartoonist's life to have on your shelf. Think of it as an elaborately annotated version of Drawn from Memory.
When I was living within a half-day's drive of Chicago, I once visited the Fine Arts Building on Michigan Avenue where McCutcheon had a studio from about 1895 until he moved to a studio in the Tribune Tower in 1925 (where he remained until he retired in 1947). And I found McCutcheon's former studio, still in just about the same configuration that appears in photos of it (minus McCutcheon's clutter). I felt, for a moment, as if I were standing in a shrine.
Here's a photo of the Fine Arts Building studio and McCutcheon's cover drawing of his studio in the Tribune Tower and scans of the two cartoons Garel-Frantzen butchers in their reproduction which I've placed next to the way they appear in a large collection of McCutchon art entitled John McCutcheon's Book. For more—and for my exhaustive rehearsal of the McCutcheon story—visit Harv's Hindsight for November 2012.
Walt Kelly's Pogo: The Complete Dell Comics, Volume Six
By Walt Kelly; Introduction by Thomas Andrae
178 8x10-inch pages, color; 2018 Hermes Press hardcover, $50
THIS VOLUME COMPLETES the Hermes Dell Comics Pogo project by reprinting Pogo Possum Nos.15 and 16. It also adds considerably to the Pogo canon: it presents a previously unpublished 6-page story, "Giants of Siants," focusing on the usual confused confrontation between Owl and Turtle; and under the heading "The Art of Pogo," a penciled Pogo model sheet, and the original art for "The Flatboat Flunky" from Pogo No.5 plus a few other visual treats. Reproduction is superlative.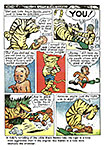 And that's about all there is to a short review. Hereafter, what we have is me engaging in a drawn-out fit of pique because I don't have a high opinion of Andrae as a literary critic. So if you're averse to witnessing fits of pique, you can skip down the scroll to the next book review and avoid all the impending unpleasantness.
Andrae's introduction has almost nothing to do with the book he's introducing. He is apparently writing a treatise on Walt Kelly, and he is offering it up a piece at a time as introductions to the Hermes books. None of them apply directly to the content of the books.
In Volume 4, Andrae's introduction is about Lewis Carroll's Alice's Adventures in Wonderland and how Kelly deployed its concluding trial sequence as satirical parody about Joseph R. McCarthy in one of the Pogo books, The Pogo Stepmother Goose.
In Volume 5, Andrae discusses Kelly's parodies of Mickey Spillane's Mike Hammer stories and then gets around to claiming Kelly was subtly critiquing crime comic books because he was resentful that the popularity of crime comics had been responsible for the collapse of Animal Comics, where he had plied his comedic trade for all 30 issues of the title. In arriving at this conclusion, Andrae mistakes Kelly's tongue-in-cheek testimony before the Senate subcommittee investigating comics and juvenile delinquency as serious criticism. It isn't, but Andrae evidently can't tell.
In Volume 6, Andrae's introduction is about racism and how Kelly attacked it in Pogo and elsewhere.
If you want to know the history of Little Black Sambo and the criticism of it as racist and Kelly's adaptation of this children's tale, this is a place to begin. But nothing in the rest of the book's content is about Sambo or racism.
Andrae's essay, as usual, is laced with purely factual errors, which he then compounds through sheer wrong-headed interpretations.
Andrae claims Pogo is the only comics feature to begin in comic books and then graduate to newspapers. He's over-looking Superman.
Andrae goes off in a long apostrophe about the black crows in the Walt Disney animated cartoon "Dumbo," saying (without any internal evidence from the film) that the black crows have been persecuted for their "race" (i.e., blackness) and in their encounter with big-eared Dumbo, they rescue another persecuted being—Dumbo, whose big ears have made him the object of ridicule at the circus—by teaching him to use his ears as wings and to fly (and thereby to earn the respect of others).
The movie Andrae says, is a "satiric subversion of the blandness, repression, and conformity of the fifties." Except that the movie debuted in 1941.
Andrae's enthusiasms often lead him astray.
Little Sambo's appetite for pancakes, Andrae says, "prefigures Albert's voracious appetite in Animal Comics." I think, however, that alligators in general (and Albert in particular as a representative of the species) may be assumed to have voracious appetites without any other prefiguring than hungry fellow carnivors.
Andrae wants Kelly to have been inspired by Sambo in the creation of Bumbazine, the little black boy who hobnobs with the animals in the Animal Comics swampland. Perhaps. But it's going too far to say that Pogo becomes Bumbazine after the black kid leaves the comic: Bumbazine is Kelly's trickster figure, the highly intelligent leader of the animals; Pogo is not a trickster. He represents reason and warmth and humanity.
Andrae too often overleaps himself. Beginning with one acceptable proposition—that the black pied piper in Kelly's revamp of that fairy tale is "a subtle indictment of the color bar in European fairy tale tradition that included only whites in its ranks"—Andrae goes to Brown v. Board of Education that legally ended school segregation to the civil rights movement to a "culture of dissent" that found expression in the counterculture, which, in turn, was inspired by rock and roll music out of African American musical styles including gospel, jump blues, jazz, boogie woogie, etc.—all of which means, "as Kelly glimpsed from the beginning of his career to the pied piper story, black and white liberation are always inextricably tied together."
The sentiment is admirable. Black and white liberation are always linked. But the pied piper story Andrae references at great length is about oppression and conformity, not racism. The piper is black, but that's all there is about race in the story.
Well. Enough. My pique is evaporating. And whatever rampant wrong thinking Andrae is guilty of, his part of the book is minuscule compared to Kelly's parts. And it's for Kelly that we want this book on our shelves.
Stan Lee: A Life of Marvel
Entertainment Weakly's "Commemorative Edition"
80 8x11-inch pages, color and b/w; magazine format, $14.99
MOSTLY PHOTOGRAPHS, as we have by now come to expect from EW—and all of the famed Marvel heroes appear as enacted by movie actors. There are no comic book drawn versions of the characters. None. It's as if the Marvel Universe did not exist in four-color print on pulp paper but only on celluloid. If a movie hasn't yet been made of one of them, they don't appear in this magazine. Unless a cover of their book appears in one of the collages on the inside front and back covers.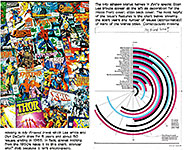 But there are lots and lots of good photos of Lee, usually mugging outrageously. Nice.
Chapters include a short biography of Lee, origin stories of the heroes, a history of comics (written by 9 people), glimpses of the movies, Lee's being the face of Marvel, some of Lee's cameos in the movies, and tribute quotes from pictured actors and writers and other celebrities—many with Lee standing next to them.
A Life magazine 2017 special about superheroes was introduced by a short Lee essay which includes this gem: "Timely Comics introduced the Human Torch, a hero created by Carl Burgos, who could burst into flame and fly." Burgos could do that? Why isn't he the superhero?
Lee theorizes about the enduring popularity of superheroes (probably accurately): "We become too old for fairy tales, but I believe we never lose our love for those tales of people who are bigger than life."
And he concludes by urging people not to write "comic book" as two words: that means a funny book, which is not its intention. It should always be written as one word, "comicbook," which signals a specific type of reading material.
Mort Gerberg On the Scene: A 50-year Cartoon Chronicle
By Mort Gerberg; Preface by Ann Telnaes
112 8x11-inch pages, b/w; 2019 F.U. Press (Fantagraphics), paperback, $25
GERBERG is a magazine gag cartoonist whose work is most closely associated with The New Yorker (but not exclusively), and this volume is a collection of his cartoons about the City and the issues that animated it and the rest of us, wherever we lived, over the last half-century.
The book is divided into chapters about various topics (music, New York, women's rights, sports, politics, social commentary). Gerberg introduces each chapter with a short essay followed by some sketches that he made in the field on the topic—and then by finished cartoons on the same topic.
The Labyrinth
By Saul Steinberg
270 giant 9x10-inch pages, b/w; 2018 New York Review hardcover, $39.95
THIS VOLUME was first published in 1960 and has long been out of print. For it to be back in bookstores is a benefit to all mankind—but, particularly, to people who enjoy inventive exercises in drawing. Harold Rosenberg recently reviewed the book at theparisreview.org, and I can scarcely improve upon his masterful performance, from which I quote short sentences, herewith—:
"Steinberg's line is the line of a master penman and artist. It is also a 'line'—that is, a kind of organized talk. The pen of this artist-monologuist brings into being pictures that are also words, e.g., the odd birds at a cocktail party. Or they are visualizations of things said, as in the drawings in his book The Labyrinth, where people utter flowers, strings of beads, heraldic decorations."
Rosenberg spends a good deal of effort on Steinberg's "penmanship," but I disagree with that term as a descriptor of the work at hand. Steinberg's line is subtle and brittle by tell-tale turns, but it's his conceptual contours, realized through line, that captivate. With that demurer, let's continue with Rosenberg—:
"To build his labyrinth, Steinberg had only to draw a line from A to B on the principle that the truth is the longest distance between two points: the result is an enormous scrawl within which the original two dots appear as the eyes of the Minotaur. ...
"Logician of stereotypes and repetitive social situations, Steinberg brings to life dramas of abstract entities masquerading as people, animals, landscapes. All his formulas, comical mainly through their magical terseness, have deep contemporary reference. ...
"In Steinberg's conceptual realm, words have the substantiality of things. Elaborating on the speech balloons of the comic strips, the series of word-visualizations mentioned above shows ephemeral persons enunciating huge constructions, solid grills, architectural designs; a dog barks a zigzag, while on a mountain of gibberish he is in the process of emitting gesticulates an orator who is a scribble.
"Counterpointing this theme of the materiality of speech is that of words behaving as 'characters,' as in the incomparable group where SICK lies flattened out on a cot, HELP topples off a cliff, TANTRUM explodes into a rocket display.
"Irresistible as a juggling act, Steinberg never satisfied himself with the merely entertaining—the reason, I should say, why his vein has shown no sign of running out. His translations of words into pictures and pictures into writing continuously scoop meaning out of platitudinous situations and set phrases. This is a labor of philosophy. Specifically, Steinberg is a philosopher of identity, a subject he dreams about all day and reasons about in his dreams. ...
"Since his drawings are themselves 'words,' their meanings flowing, as in Baudelaire's Correspondences, from sense to sense and from thought into materiality, captions would be superfluous and Steinberg never supplies any. His images retain their silence, and this is a source of their pathos, even when the joke is strongest."
Here is a too brief sampling. Every page is as brimming with lines for thought.
Pogo: Out of This World At Home
The Complete Syndicated Comic Strips: Volume 5
By Walt Kelly; Foreword by Jake Tapper
350 9x11-inch landscape pages, b/w and color; 2018 Fantagrahics hardcover, $45
BY 1957-1958, THE YEARS EMBRACED BY THIS VOLUME, the political steam had gone out of Kelly's comic strip. After a spectacular couple of years, 1952-53 (Volumes 2 and 3 of this series), satirizing Senator Joseph R. McCarthy, Kelly backed off political satire for a while. Who can blame him? McCarthy was such a fertile field for plowing that doubtless after he was no longer a political power (he was censored by the Senate in 1954), all else subsequently seemed trivial and not worth attending to.
Instead of political satire, in these pages, we have the usual nonsense that blooms so enthusiastically in Pogo as the cast wanders the swamp, taking each other's utterances literally and plunging therefore into mistaken motives and misunderstood plots—all in good fun.
As in the previous four volumes, I provide a gloss on allusions made in the strip that are no longer understandable to contemporary readers. For the most part in this volume, these are no longer political: they are instead literary or cultural. Kelly was adept at rounding up all shades of second meanings to prompt his characters' bungling behavior.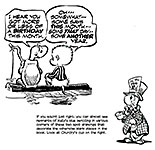 But when Arkansas's governor, Orval Faubus, closed public schools in Little Rock rather than desegregate them, Kelly took notice, and Pogo and a butterfly discuss opening up "speakeasy" schools with bootleg books "as long as prohibition is back."
The generous format of the book permits printing three dailies (or one Sunday) to a page, with the color Sunday strips all lumped together after all the dailies have been presented. The book concludes with Noteworthy Quotes ("I'm not stingy—never stung nobody in my life," Albert) and an index to topics covered in the strips. Occasional scraps of original art decorate the margins, Kelly's blue-penciling usually visible through the final inking (but, alas, not very visible in the drawings we conclude with).
TEN BEST GRAPHIC NOVELS OF 2018
By Michael Cavna, Washington Post's Comic Riffs
Berlin
By Jason Lutes (Drawn and Quarterly)
Lutes spent two decades carving out his historical-fiction epic about citizens who try to survive after the fall of the Weimar Republic. The towering Berlin reads like not just a masterwork but also a life's work. [And Lutes is already at work on another, similarly daunting task, recording fragments of the history and life in the American West.—RCH]
Hey, Kiddo
By Jarrett J. Krosoczka (Graphix)
Krosoczka's precisely loose lines and evocative sepia-and-gray brushwork stunningly pair with a memoir about the vicissitudes of the author's childhood — one spiced with moments of wonder and shadowed by a parent's inescapable addiction.
Home After Dark
By David Small (Liveright)
Whether crafting memoir (Stitches) or fiction, few creators mine the pathos of a dark midcentury childhood like Small, who paints a sense of toxic masculinity as masterfully as he brings characters to life in sparse, chilling prose.
I Am Young
By M. Dean (Fantagraphics)
Dean's beguiling art pulls the reader trippingly into a 1960s teen romance that begins with the "I Want to Hold Your Hand" stage. But where can a relationship that mirrors the Beatles' own go by the time the band breaks up?
Monstress
By Marjorie Liu and Sana Takeda (Image Comics)
This fantasy epic brilliantly peels back questions of humanity and friendship set against the perils of war and racism, all illustrated in a style that nods to East and West.
On a Sunbeam
By Tillie Walden (First Second)
Walden showed in her Eisner-winning graphic novel Spinning that she can tenderly render love and loss. In Sunbeam, she conveys such feelings while tripping between timelines — and her interstellar boarding school is a beautifully realized world.
The Prince and the Dressmaker
By Jen Wang (First Second)
Leave it to such a gifted artist to create this love letter to aesthetic design set against the story of a relationship blossoming between seamstress and prince. Universal has wisely already scooped up the feature film rights.
Sabrina
By Nick Drnaso (Drawn and Quarterly)
Drnaso is a master of controlled, panel-to-panel pacing as his clean linework and muted palettes only intensify how deeply unnerving a tale of trauma, mourning and Internet "fake news" can be. His talent landed this title as the first graphic novel to be longlisted for the Man Booker Prize.
Vision (The Vision)
By Tom King and Gabriel Hernandez Walta (Marvel)
King's brilliant writing of this Avenger as he wrestles with matters of domesticity and authentic identity only heightens our high anticipation for DC's King-authored Mister Miracle graphic novel, due out in February.
X-Men: Grand Design
By Ed Piskor (Marvel)
Piskor is a one-man tour de force as he reimagines Marvel's X-history with deep cuts, knowing nods and a magnetic passion for the source.
RECENT GRAPHIC NOVELS RECOMMENDED BY ADRIAN TOMINE
Tomine, whose drawings appear often in The New Yorker, is perhaps best known as the creator of the on-going Optic Nerve series of mini-comics.
The Girl From H.O.P.P.E.R.S. by Jaime Hernandez (Fantagraphics, $20).
These beautifully drawn stories feature some of the most believable, diverse, and indelible characters in the history of comics. "The Return of Ray D." and "Spring 1982" changed my life, and are still among my favorite short stories in any medium.
RAW edited by Art Spiegelman and Françoise and Françoise Mouly (out of print).
Including this anthology is a bit of a cheat, since the work in it ranges across various formats, but this book gave me my introduction to international comics, art comics, and comics as literary short stories. It's arguably the most significant compendium of modern cartooning, and certainly the one that most deserves re-publication.
My New York Diary by Julie Doucet (Drawn and Quarterly, $17).
This is a collection of bracingly honest and unsentimental stories about the artist's teen years and brief residence in New York City. As with all the best comics, the drawing and writing are completely inextricable, and even the most mundane moments are transformed by Doucet's style.
Rusty Brown by Chris Ware.
This serial about a bullied schoolboy who seeks solace by collecting toys hasn't been completed yet, but four chapters have been published as part of Ware's Acme Novelty Library series, and those are already more than sufficient justification for the work's appearance on this list. The stories contained in Acme's Volume 19, in particular, are a high-water mark for both comics and fiction.
Abandon the Old in Tokyo by Yoshihiro Tatsumi (Drawn and Quarterly, $17).
Originally published in 1970 in Japan, this collection of stories veers wildly between outrageous melodrama and delicate quotidian observation. The book is a furious examination of the lingering aftershocks of war and the side effects of the country's "high-growth" economic period.
Caricature by Daniel Clowes (Fantagraphics, $17).
I wish every one of my favorite cartoonists would produce a version of this book: a handful of short stories, all distinct in style, yet all unified by the artist's singular sensibility. A master class in concision and characterization, with seemingly endless tectonic layers of implication.
NON-COMICS BOOKS AND A GRAPHIC NOVEL
RECOMMENDED BY RYAN NORTH
North, creator of Dinosaur Comics and the award-winning writer of Marvel's Unbeatable Squirrel Girl, annotated his favorite sf books in The Week (September 28, 2018)—:
The Time Machine by H.G. Wells (1895)
Though not the first time-travel story, Wells' novel gave us the term "time machine." It's not my favorite book in terms of structure, but its ending — the time traveler prepares for a new journey, promises to return shortly, and then never does — still gives me chills.
All Our Wrong Todays by Elan Mastai (2017).
One of the great allures of time travel is the chance to go back and fix things, and this novel builds on that brilliantly: Someone from a utopia of jetpacks and flying cars goes back with the best intentions and accidentally makes things so much worse that the time line that results ... is ours.
The First Fifteen Lives of Harry August by Claire North (2014).
It's hard to do something new with time travel, but North (no relation) had me gasping at tricks I'd never imagined before. Harry August is born in 1919, dies, and is reborn in 1919 with all his memories intact. From this simple premise, North spins a wild story that escalates logically until the fate of the world hangs in the balance. I made everyone in my book club read it.
Slaughterhouse-Five by Kurt Vonnegut (1969).
Vonnegut's novel is brilliant, heartbreaking, hilarious, and features space aliens who look like toilet plungers. There's literally nothing not to like here. My friend who owns a bookstore once told me that this is one of the most perennially shoplifted books.
The Thrilling Adventures of Lovelace and Babbage by Sydney Padua (201
A graphic novel about Ada Lovelace (the world's first programmer) and Charles Babbage (who conceived of what we'd now consider to be the first mechanical computer), the book begins with the truth: both Charles and Ada died before realizing their work's full potential. But then it goes back and explores what could've happened if things had gone differently, while illuminating the intricacies of computational machinery in a fun, thoroughly accessible way. (We reviewed this unusual and accomplished tome in Opus 347.)
"The Last Question" by Isaac Asimov (1956).
This is a short story that's only a few pages long but spans many millennia and stays with you for a long while. Asimov considered it the best thing he ever wrote.
FOUND ART
Our everyday environment is littered with Art of the capital A kind. And sometimes—albeit rarely—the Art is comical and therefore enthusiastically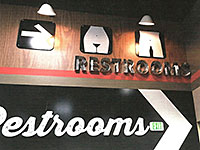 applauded by a wannawuz cartoonist like moi.
This example I found in a local liquor store. I was looking for the restroom, and I found it, thanks to this conspicuous display on the far wall of the place. Two "Restrooms" signs and an arrow. But, more to my point, two images, each made with an intoxicating emblem. Above the E in the upper "Restroom," is a curvaceous image with a martini glass placed strategically. In the same place on the image to the right, a bottle dangles. The images tell us that the restrooms are for men and women.
And who could ask for more? As the antique jingle goes: I have a pretty girlfriend, and who could ask for more? She's deaf and dumb and oversexed—and owns a liquor store.
Emblematic of the sexist crudeness of male relationship aspirations, it nonetheless lurks forever in the back of my mind.
And in the pragmatic if vaguely crude restroom signs I'm displaying from a liquor store, who could ask for more?
BADINAGE & BAGATELLES
Rachel Maddow on the Trumpet and the shutdown—:
I will say, though, that the whole reason we are going through this ridiculous exercise is so the president won't be embarrassed when he watches the Fox News channel, and they remind him about his campaign promise in which he said he was going to build a wall. I will just point out if that will be the basis on which we shut down the federal government, there is an issue his campaign promised, remember?—technically that Mexico was going to pay for the wall, right? If this whole fight right now was about Mexico shutting down their government rather than pay for the wall, that would be relevant to his previous campaign promises.
ONWARD, THE SPREADING PUNDITRY
The Thing of It Is ...
ALTHOUGH BOB WOODWARD castigated the Trumpet fore and aft in his book Fear, in a few instances, Trump came off pretty well in Woodward's hands. Here are the few cases I made note of while reading the book—:
■ Phoning families of killed servicemen, Trump said: "I've got the record here. There are reports here that say how much he was loved. He was a great leader." Some in the Oval Office had copies of the services records. None of what Trump cited was there. He was just making it up. He knew what the families wanted to hear.
■ James Comey testified under oath publicly that the original New York Times story on the Trump campaign aides' contacts with senior Russian intelligence officials "in the main was not true."
■ Eventually Porter developed a routine and would bring in to the Oval Office two to 10 decision memos for Trump to sign each day. Trump liked signing. It meant he was doing things, and he had an up-and-down penmanship that looked authoritative in black Magic Marker.
■ "I know I'm right," Trump said. "If you disagree with me, you're wrong."
■ During the 2016 campaign, Trump had visited Little Haiti in Miami. ... After the event, in private, Trump seemed down. "I really felt for these people," he said, "—they came from such a shithole."
■ [Trump would have a hell of an argument with Dowd] but when they were done, on the phone or in person, Trump would say, "Thank you. I appreciate everything you're doing." In a lifetime of law, Dowd maybe had only five clients who had so graciously expressed their thanks.
WE'RE COMING TO THE END OF A YEAR of unprecedented lying by the Trumpet, who has become "increasingly unmoored from the truth," said Glenn Kessler at the Washington Post. When 2018 began, Kessler went on, the president had made 1,989 false and misleading claims, according to The Fact Checker's database, which tracks every suspect statement uttered by the Prez. By the end of the year, Trump had accumulated more than 7,600 untruths during his presidency — averaging more than 15 erroneous claims a day during 2018, almost triple the rate from the year before.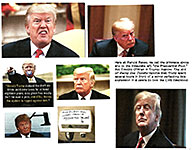 Even as Trump's fact-free statements proliferate, Kessler continues, there is growing evidence that his approach is failing.
Fewer than 3 in 10 Americans believe many of his most common false statements, according to a Fact Checker poll from earlier this month. Only among a pool of strong Trump approvers — about 1 in 6 adults in the survey — did large majorities accept several, though not all, of his falsehoods as true.
Similarly, a November Quinnipiac poll found 58 percent of voters saying Trump wasn't honest, compared to just 36 percent who said he was honest. The same poll found 50 percent saying he is "less honest" than most previous presidents, tying his own record for the highest share of registered voters saying so in Quinnipiac polling.
"When before have we seen a president so indifferent to the distinction between truth and falsehood, or so eager to blur that distinction?" presidential historian Michael R. Beschloss said of Trump in 2018.
... The president misled Americans about issues big and small. He told a series of lies about payments that his now-convicted lawyer says Trump authorized to silence women alleging affairs with him. He routinely exaggerates his accomplishments, such as claiming he passed the biggest tax cut ever, presided over the best economy in history, scored massive deals for jobs with Saudi Arabia and all but solved the North Korean nuclear crisis.
... He attacks his perceived enemies with abandon, falsely accusing Clinton of colluding with the Russians, former FBI Director James B. Comey of leaking classified information and Democrats of seeking to let undocumented immigrants swamp the U.S. borders.
The president often makes statements that are disconnected from his policies. He said his administration did not have a family separation policy on the border, when it did. Then he said the policy was required because of existing laws, when it was not.
The president also simply invents faux facts. He repeatedly said U.S. Steel is building six to eight new steel plants, but that's not true. He said that as president, Barack Obama gave citizenship to 2,500 Iranians during the nuclear-deal negotiations, but that's false. Over and over, Trump claimed that the Uzbek-born man who in 2017 was accused of killing eight people with a pickup truck in New York brought two dozen relatives to the United States through "chain migration." The real number is zero.
In one of his more preposterous statements of 2018, Trump labeled the Palm Beach Post as "fake news" for blaming him for traffic jams across the nation — when an article about the impact of low gas prices on driving habits never mentioned his name.
... Sometimes, Trump simply attempts to create his own reality. ... Trump exaggerates even when the facts are on his side.
... And although there's no question Trump can draw supporters to his rallies by the thousands, he often claims pumped-up numbers that have no basis in fact. At a Tampa rally, he declared that "thousands of people" who could not get in are watching outside on a "tremendous movie screen." Neither a crowd of that size nor the movie screen existed.
And sometimes the Trumpet manufactures a fresh reality that even those he's talking to know is false.
He visited the troops in Iraq over the holidays, and he spoke about the raises they received.
"You haven't gotten one in more than 10 years," he blurted out. "And we got you a big one. I got you a big one. I got you a big one."
He continued: "They told me, 'You know, we could make it smaller. We could make it 3 percent. We could make it 2 percent. We could make it 4 percent.' I said, 'No—make it 10 percent. Make it more than 10 percent."
The problem with the Trumpet's assertions: they aren't true.
The pay raise Trump authorized this year amounted to 2.6 percent, not 10 percent. And active members of the military have received a pay increase every year since 1983.
But in Trump's mind, he always gives them a 10 percent raise. He repeated the same mantra in May while speaking to Naval Academy graduates. The raise, however, that was approved in Trump's first year in office for 2018 was 2.4 percent, not 10 percent. He had initially proposed 2.1 percent, but lawmakers approved the higher 2.4 percent.
What a guy.
IRKS & CROTCHETS
A numbers game from The Nation—:
28 years since Prez George H.W. Bush signed the Chief Financial Officers Act, which requires 24 federal agencies to submit to an annual audit
23 agencies that have done so successfully
1 —the number of times the Department of Defense has submitted to a full audit
0 —number of times it has passed
$21 trillion in funds that can't be accounted for in the DOD's records since 1999
Think the DOD needs an audit? So do I.
WE'RE ALL BROTHERS, AND WE'RE ONLY PASSIN' THROUGH
Sometimes happy, sometimes blue,
But I'm so glad I ran into you---
Tell the people that you saw me, passin' through
Audrey Geisel, 1921 - 2018
Geisel, the widow of children's author Dr. Seuss and longtime overseer of his literary estate who championed the commercial potential of the work for stage and screen, died December 19 at her home in La Jolla, Calif. She was 97.
Dr. Seuss, whose real name was Theodor Geisel, died in 1991, and two years later, Audrey Geisel founded Dr. Seuss Enterprises. Over the past quarter-century "Dr. Seuss" has proved a highly profitable, multimedia brand, including books, films, theme park rides and the Broadway show "Seussical."
According to Random House, more than 10 million Dr. Seuss books sell each year and new works continue to come out, such as last spring's "Dr. Seuss's 100 First Words." The 2000 film version of "How the Grinch Stole Christmas," which starred Jim Carrey, was a box-office smash. But the 2003 adaptation of "The Cat In the Hat" that starred Mike Myers of "Austin Powers" fame was despised by critics and Mrs. Geisel alike.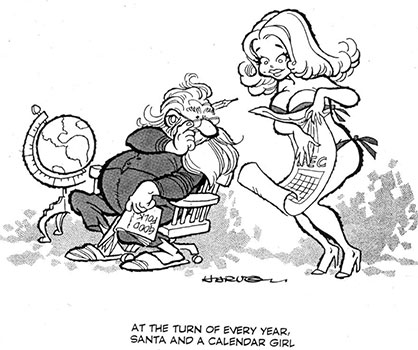 To find out about Harv's books, click here.