Opus 385 (finished November 1, 2018). Once again, we got carried away and wrote twice as much as an ordinary opus requires. So, considerate of our readers always, we simply cut the thing in half to make it readable in one sitting, and in this half, we report the news of the last seven weeks— particularly Stan Lee's situation, Jane's gay marriage, and the Pittsburgh Post-Gazette's hiring of editoonist Steve Kelley, Alley Oop's comeback, Tijuana Trumpet, and the annual meeting of the Association of American Editorial Cartoonits (AAEC), plus reviews of first issues of half a dozen funnybooks.
Next time, we'll do book reviews— among them, IDW's Bungle Family, Tarzan, Dan Dunn, Baron Bean and the Library of American Comics Essentials; Sad! Doonesbury in the Time of Trump, Garfield: the Complete Works (Volume 1, 1978-79), The Art of Walt Disney's Mickey Mouse (it's his 90th birthday), Friedman's More Heroes of the Comics, Mike Luckovich's "A Very Stable Genius"; Talking Mort Walker: A Life in Comics and more.
But this time, we have another Monster Posting. And, considerate of our readers always (as I said), we offer the listing of the contents immediately below so you can scan the lot and pick out those articles you're most interested in and not waste time wading through matters that don't interest you. Here's what's here, in order, by department, concluding with a Surprise Ending—:
NOUS R US
Stan Lee Seems Okay
Denver Con Bullied Into Name Change?
Pittsburgh Massacre: Why the Jews?
Jane's Gay Marriage
Ted Rall Case Update
Comics Journal Returns to Print
Feiffer Continues
Famed Chef Wrote Graphic Novels
Oop's Comeback
The Nib Is Five
$10,000 Overnight for the Trumpet's Portrait
Tijuana Trumpet
Mankoff Up To His Old Trick
STEVE KELLEY HIRED AT POST-GAZETTE
Telgemeier's Two New Ones
Odds & Addenda
Robert Ariail Laid Off
Scooby-Doo Stamps
New York Comic-Con Attendance Record
Wimpy Kid Tour
EDITORIAL CARTOONISTS MEET
AAEC Convention Swan Song?
FUNNYBOOK FAN FARE
Number Ones Reviewed—
Cemetery Beach
Dick Tracy
MCMLVII
SOLDIER SUPREME in the Infinity Wars
Chaykin's Hey Kids! Comics
Archie 1941
Batman Damned
Batman's Dick
THE FIRST COMICS?
NEWSPAPER COMICS PAGE VIGIL
Luann Sunday and Peanuts Sunday—Critiques of Kavanaugh?
Garfield and Mutts (Cats and Dogs?)
Only In the Comics
Self-Referential Comics
TRUMPERIES
Foolishnesses of Our Beloved Leader
Trump Makes the Covers Again
THE FOURTH ESTATE
Killing Journalists
RANCID RAVES GALLERY
Old Life Cartoon Illustrations
ONWARD, THE SPREADING PUNDITRY
Climate Change and We're All Gonna Drown
PASSIN' THROUGH
John Wilcock
QUOTE OF THE MONTH
If Not of A Lifetime
"Goddamn it, you've got to be kind."—Kurt Vonnegut
Our Motto: It takes all kinds. Live and let live.
Wear glasses if you need 'em.
But it's hard to live by this axiom in the Age of Tea Baggers,
so we've added another motto:.
Seven days without comics makes one weak.
(You can't have too many mottos.)
And our customary reminder: don't forget to activate the "Bathroom Button" by clicking on the "print friendly version" so you can print off a copy of just this installment for reading later, at your leisure while enthroned. Without further adieu, then, here we go—:
NOUS R US
Some of All the News That Gives Us Fits
STAN LEE SEEMS, WELL—OLD AND A LITTLE FEEBLE
But Otherwise Okay
Excerpts from Another Daily Beast Interview
LAST WINTER, WE STARTED HEARING horrifying stories about how Stan Lee was being preyed upon by members of his so-called staff and his daughter, J.C. (Joan Celia), who were stealing money from the aged (95 years old) millionaire, threatening to drain the comic book legend's bank account and leave him penniless in what remains of his old age. Lee, still grieving over the loss of his beloved wife Joan of nearly 70 years, seemed helpless in the hands of these shysters.
The Daily Beast sent a reporter around to see how much of this story was true. Mostly the stories were accurate, but the facts of the matter had been somewhat exaggerated. In early October, the Daily Beast returned, reporting on another visit to the Stan Lee mountaintop mansion, seeking verification of the latest rumors.
According to the Beast's reporter, Mark Ebner, Lee has fired the staff members who were conducting their elder abuse and thievery, and Lee now seems in control of his life—thanks to the shepherding care of his daughter and her lawyer. Ebner picks up the story, and the rest of this Rancid Raves report is all his, albeit excerpts.
Complicating matters further was a lengthy piece in The Hollywood Reporter alleging that Lee's 67-year-old daughter was "a prodigious shopper with an ill-tempered personality" who was not only bleeding his estate dry, spending tens of thousands of dollars a month, but had also verbally and physically abused her father and late mother. The THR piece cited former nurses who claim that J.C. often placed "insulting phone calls" to her father, and Brad Herman, Lee's former business manager, told the publication that he once witnessed the following incident: "In 'a rage,' J.C. took hold of Lee's neck, slamming his head against the [wheelchair's] wooden backing. Joanie [Lee's wife] suffered a large bruise on her arm and burst blood vessels on her legs; Lee had a contusion on the rear of his skull." (J.C. denies this.)
Enter Kirk Schenck, the attorney for J.C. and the son of George Schenck, executive producer of the CBS series "NCIS." Schenck is concerned about the negative press alleging elder abuse of the comic book icon at the hands of his client, so he's invited me [Ebner] to Lee's $25 million aerie, nestled in-between the Winklevoss twins and Dr. Dre on the "bird streets," high above the Sunset Strip, for a friendly sit-down to set the record straight. ...
Today, Lee's hearing is almost shot, his breathing labored, and his voice frequently fails him. [And his vision isn't too good either.—RCH] He'd rather be reclining in his comfy chair—gazing out across his swimming pool at the canyon view, reminiscing about times with his late beloved wife Joan. But before I can sit with Lee, Schenck pulls me into the parlor to try and set the tone for the story he and J.C. want to see.
"The closest thing I can say is that they [Lee and J.C.] have a Kennedyesque relationship. They yell at each other sometimes, but she is the love of his life, and she has gotten a bad rap because [of those four guys]—Max Anderson, Jerry Olivares, Keya Morgan and Brad Herman. All of them have been kicked out because she is essentially the only one forcing the bad guys away from him," Schenck tells me.
"She is the avenger; she is the person who protects that man. She would jump across the table and stab someone if someone came after him. That's the gist of it. He's not in great shape. You have to speak loud. Don't ask him about specific finances."
Everyone in the room is manic, save for me and Lee. With Schenck frantically stage-managing Lee and his daughter throughout our conversation, it feels as though I'm [being featured] in one of the many hostage-style videos of Lee that have been leaked to the media by bad actors with worse agendas (one of which featured Lee—being coached by Keya Morgan off-screen—alleging that Schenck was manipulating J.C. and supplying her with drugs). If it weren't for the narcotics mellowing him, I'd like to believe that Lee would immediately eject himself from his recliner and demand a handler-free conservatorship.
There are five phones recording video and audio of our chat, and J.C. spends half the interview like a puppet master—inches from her father's weary visage.
With that, I'm introduced all around and—with the aid of a voice amplifier—we begin our chat. [The chat goes on for quite some time, but I'm going to quote only the tiniest fragments that seem the gist of the story, redeeming the reputations of J.C. and her father.—RCH]
STAN RESPONDS to Ebner's comment that he's sorry Lee had to go through all the "chaos and drama" of recent months by saying: "There really isn't that much drama. As far as I'm concerned, we have a wonderful life. I'm pretty damn lucky. I love my daughter, I'm hoping that she loves me, and I couldn't ask for a better life. If only my wife was still with us. I don't know what this is all about. ... I wish that everyone would be as abusive to me as JC."
J.C. Lee: [Interjecting] He wishes everyone was so abusive.
Stan: She is a wonderful daughter. I like her. We have occasional spats. But I have occasional spats with everyone. I'll probably have one with you, where I'll be saying, "I didn't say that!" But, that's life. ...
Asked if she's ever yelled at her dad, J.C. says: "Unfortunately, I didn't until the last ten years or so—never before. Having someone not being able to hear, and also having a strong personality that—you know, he's a strong guy. But, you know, he can't hear. We're not alone, and there's always other people and influences, and I find that, yes, I've been raising my voice for several years. And I've had these horrible people in my family's home, telling my parents the worst things: "Do you know what Kirk does? He's buying them drugs!" Everyone is talking dirt like you've never heard. This poor man is worried about his only daughter. He's sitting up here, and Keya [Morgan] had him so afraid—he was calling 911!
"It's all about divide and conquer," she continues. "Divide, conquer, destroy—and it's been a horrible situation. And they turn my father so against me that he didn't know he had a daughter. He thought he had a son named Keya! I was never a child that ever yelled, but I also have to say, I've been damn angry. I've had Keya, and Max before him, take over this house, where they're not allowed to talk on the phone with me. Scientology. Don't want to mention it, but you better believe, it's right there. ...
Asked about reports of his daughter's lavish spending and the way money is now being managed, Stan said: "I decided my daughter is no longer a teenager. This money will be left to her, and instead of waiting until I die, I will give her as much as I can for her to enjoy now. And that's what I'm trying to do. Sometimes we have a few discussions. 'Dad, can I ever have another few bucks?' And I say, 'Are you sure you'll be left with enough?' But there's no problem. There's no problem at all. ...
J.C. (to her father): ... "You were always the good guy, and there were just creeps around you, and it was this town. Never you.
Stan: "I learned later on in life, you need advisors if you're making any money at all. I did everything myself. The first years of my career when I wrote Super Rabbit [an early cartoon character he created], and when I wrote all those characters, and I wrote the Hulk—I handled everything. I paid all the bills, I did all the bookkeeping, I handled everything. But then, a little money started coming in, and I realized I needed help. And I needed people I could trust. And I had made some big mistakes. And my first bunch of people [the vultures that he eventually fired] were people that I shouldn't have trusted.
J.C.: "And the second, and the third bunch. We are still looking.. He is still young enough to still be looking." ...
Asked if he missed attending comic conventions with the hoards of admiring fans, Stan said: "I don't miss the signings. I miss the creating. And that's the writing I'm waiting to do."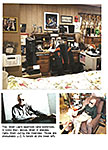 RCH AGAIN: REVIEWING THE INTERVIEW, it looks as if Stan Lee is being carefully managed by his daughter and her lawyer. Stan seems quite content with the present arrangement. He doesn't seem the victim in this interview, which clears his daughter of allegations of elder abuse. And if she and her lawyer are bleeding his fortune dry, that seems to be okay with Stan, who is not enough of a financial manager to know. But they're all friendly; no animosity is evident in any of the exchanges between Ebner and Lee and J.C. That, of course, is what Schenck and J.C. want us to think. And judging solely on Ebner's report, what they want us to think is probably the truth.
THE AGE OF INTIMIDATION
The Bullies Are Winning
The Denver Comic-Con is changing its name. Next year's gathering (May 31-June 2) will go by the name "Denver Pop Culture Con." This maneuver is designed, presumably, to avoid a law suit from the San Diego Comic-Con people, who, you'll recall from Opus 383, successfully sued the Salt Lake Comic-Con, winning nearly $4 million in attorney's fees in addition to a judgment award of $20,000 and a permanent injunction preventing the Salt Lakers from ever again using any of San Diego's trademarks, "confusingly similar marks (i.e. Comicon or Comiccon), or any phonetic equivalents (i.e. ComiKon or ComicKon) for any event."
The Denver organizers were considering a name change long before all the legal maneuvering, and the Salt Lake decision merely accelerated the process.
I think the Denver folks acted prematurely: I don't think they have anything to fear from Sandy Eggo. First, the term "comic con" has proliferated nation-wide—perhaps even worldwide—and is in common use, much like "kleenex," originally the name of a specific product, now denominates any facial tissue; and I therefore doubt that the Sandy Eggans would pursue the matter everywhere. Second, the Salt Lake situation was different: the Salt Lakers didn't just use the term "comic con"; they also deliberately, cynically, deployed it and other echoes of the San Diego Con to confuse people into thinking that somehow the Salt Lake Con was the famous Sandy Eggo Con.
But—wotthehell wotthehell—better safe that sorry. The name change, after all, more accurately reflects the kind of convention the Denverites are staging. Moreover, the new name is buried in the history of the Denver Con. The Con has been sponsored and run by the Denver Popular Culture Classroom since the beginning. When not running the Comic Con, the Pop Culture Classroom devises and presents in area schools programs that will stimulate creativity and involvement in popular culture.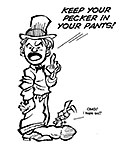 Still, I hate to see the bullying tactics of the Sandy Eggo entity winning. Bullying is winning everywhere—notably, in the #MeToo lynch-mob-rule movement in which the mere mention of an allegation of sexual harassment is enough to get a man's livelihood suspended. Bullying and mob rule undermine the rule of law and judicial process in which one is presumed innocent until proven guilty.
Yes, women have been subjected to a lot of bad-mannered men eager to show off their peckers. The solution to the problem, however, is to re-institute good manners as an aspect of civilization even if it impinges somewhat upon the presumed right of an individual to do his own thing.
The Pittsburgh Massacre
WHY THE JEWS?
My daughter is reading Anne Frank's The Diary of a Young Girl to her son, my eleven-year-old grandson Braeden. To explain the Holocaust, my daughter said that some people fear other people so much that they hate them and persecute them. Fear grows into hatred, then persecution. Pretty good shorthand explanation.
Years ago, Jules Feiffer was in Denver to open a show of his original art. I went to the opening, and Jules asked me to join him for dinner later that week after another appearance at a local bookstore. At dinner, our conversation began when Jules asked me what I thought of David Michaelis's biography of Charles Schulz (Charles Schulz and Peanuts). I said I didn't like it because Michaelis didn't understand cartooning or cartoonists. And he spent far too much of the book on Schulz's extra-marital affair, distorting the over-all effect of the work. Later in the evening, I approached another subject—why Jews are hated.
We had touched on the subject some years before. We'd encountered each other at a cocktail party shortly after Will Eisner's book about that colossally scurrilous humbug, The Protocols of the Elders of Zion, had been published, and we talked briefly about Eisner's book, to which Eisner gave a marvelously sinister (and wholly accurate) title, The Plot. I had a good opinion of the book despite a couple of its minor flaws (see Opus 160), and when I explained that to Jules, he said I was letting my Jewishness influence my literary judgement. I laughed and told him I wasn't Jewish, which sort of stopped him momentarily. "Well," he said ... and continued his critique of Eisner's book, probably a sounder verdict than mine (although I don't remember it, alas).
Since then, I'd developed a theory about why Jews are hated, and at our dinner together, I tried it out on him. It started, I said, during the early years of Christianity. At issue during those formative days when most followers of Christ were Jews was whether gentile converts had to be circumcised in order to be Christians. The gentile objection to circumcision inspired the hatred that has followed Jews ever since.
Jules pooh-poohed that notion. Jews have always been hated, he said—for centuries before Christ's arrival on the scene.
So much for my theory, I thought.
BUT MY CURIOSITY had been whetted long before that, and I kept looking for an answer. I think I found it in a book that directly addressed the issue— Why the Jews? The Reason for Antisemitism by Dennis Prager and Joseph Telushkin. Prager, the back of the book tells us, is "one of America's most respected thinkers"; and Telushkin is a rabbi and scholar and a senior associate of the National Jewish Center for Learning and Leadership. Turns out that both my daughter and Jules Feiffer are right about antisemitism: it has its roots in fear, and it began long before Christianity.
According to Prager and Telushkin, hatred of Jews began with what made them Jews. Their monotheism started it all. "By affirming what they considered to be the one and only God of all humankind, thereby implying illegitimacy to everyone else's gods" in those early, polytheistic ages, "the Jews entered history—and have often been since—at war with other people's most cherished beliefs."
And the laws that Jews formulated based upon monotheism, set them apart. "Because the Jews also asserted their own national identity, Jews intensified antisemitic passions among those who viewed this identity as threatening their own nationalism."
Jews then intensified the matter by claiming to be "chosen by God ... to bring the world to God and His moral law (i.e., ethical monotheism). This doctrine of the Jews' divine election has been a major cause of antisemitism."
"The attempt to change the world, to challenge the gods, religious or secular, of the societies around them, and to make moral demands upon others (even when not done expressly in the name of Judaism) has constantly been a source of tension."
Though I am not Jewish, I am moved, as is William Falk, editor of The Week, by the concept of tikkun olam —the rabbinical teaching that we each have a duty to "repair the world."
And finally, Judaism demanded of Jews that they aspire to higher quality lives: as a result, they were, generally, better educated with stable family life. And this, too, "provoked profound envy and hostility among many non-Jews."
In short, everything that distinguishes Judaism from other beliefs and ways of life—everything that makes Jews Jews—has, from ancient times on, prompted fear, envy, antagonism and, eventually, hatred.
And none of it justifies the ages of persecution.
I'M QUOTING HERE from the earliest pages in the book. Prager and Telushkin go on for another 200 pages to elaborate upon their thesis. The foregoing abbreviated analysis of Judaism in the ancient world provides a broad foundation upon which, century after century, antisemitism built, laminating on freshly cooked-up prejudices and new wholly specious biases to create a monstrous misapprehension of Judaism and Jews, arousing passions that no other religion or nation or political entity has inspired and making Jews the object of the most enduring and universal hatred in history.
And that hatred has, throughout history, taken murderous forms like the slaughter of eleven people in the Tree of Life synagogue in Pittsburgh and six million in concentration camps during World War II.
Falk reported in The Week (November 9) that when Robert Bowers, the synagogue murderer, arrived at an emergency room with several bullet wounds needing treatment, he shouted, "I want to kill all the Jews!" The doctor and the nurse waiting to treat him at Allegheny General Hospital were Jews; the hospital's president, Jeffrey Cohen, belongs to the Tree of Life congregation.
They tended to Bowers as they would any other patient.
Cohen, however, made a point of talking to Bowers, "to see what kind of person could turn an AR-15 on grandfathers and grandmothers and two disabled men. He saw not a monster but a 'very lost guy' who'd listened to the 'noise' telling him that white, Christian America was being invaded by Jews, by a caravan of Central Americans, by foreign vermin. 'Words mean things,' Cohen said. 'Words are leading people to do things like this.'"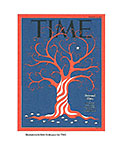 Edward Felsenthal, the editor of Time, himself a Jew, wrote about Edel Rodriguez's rendition of the Tree of Life on the cover of the magazine that week (November 12). "The roots of the Tree of Life ... run deep in America," Felsenthal said, then he quoted George Washington who wrote in his famous letter to the Jews of Newport, R.I.: "Everyone shall sit in safety under his own vine and fig tree, and there shall be none to make him afraid."
The thirteen stars on the ground represent the eleven killed at the synogogue plus the two African Americans in Jeffersontown, Kentucky, whom a gunman chanced upon and killed after he tried to enter a church and found it locked. One star remains on a branch of the tree. Hope.
Fitnoot on November 7, the day after Election Day. As if to repudiate the antisemitism of the Tree of Life murders and to affirm by practice an otherwise theoretical principle of nondiscriminatory humanity, Colorado elected its first Jewish governor yesterday. And Jared Polis is not only a Jew: he's also gay, the first openly gay man to serve as a governor in any state. Rejoice: all is not lost in the era of the Trumpet.
And Tolerance Grows Elsewhere
JANE GETS MARRIED AND DISAPPEARS
A lesbian marriage ends the 20-year run of Paige Braddock's Jane's World, perhaps the first gay life comic strip in wide circulation. "After years of on-and-off-again dating," as George Gene Gustines reports at nytimes.com, "Jane and Dorothy take their relationship to the next level in the final (for now, at least) installment" of Braddock's strip on Friday, October 19, as "they seal their union with a kiss."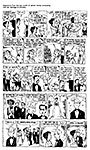 But the kiss and the marriage are more than just a kiss and a marriage, Guistines writes: The strip "ends on a note that shows how much times have changed since the strip first began." He continues by quoting Braddock: "When I started the comic, two women could not have been married; it would have been pure fiction," she said in a telephone interview. "This shows how much has changed for the LGBT community in 20 years. It's sort of staggering."
The rest of our report is all Gustines.
Braddock's strip faced early rejections. One criticism was that "it wasn't gender-specific enough," the cartoonist recalled.
"Back in the '90s, a comic about a woman had to be about topics that women would be interested in: kids, family, husbands and bathing suits."
Undeterred, she began posting her cartoons on her own website as "See Jane" in 1995, and it built a following as it evolved into "Jane's World" in 1998. The strip was published in some alternative weeklies and received a tryout in the Atlanta Journal-Constitution, where Braddock once worked as an illustrator. In general, however, "mainstream papers considered Jane too radical," Braddock said. "I sometimes think I was just 15 years too soon."
Reader reaction to Jane's World has always been generally positive — and the gay story lines would sometimes take readers by surprise, Braddock said.
"What would happen is that people wouldn't realize it was a gay comic," she explained "That content wasn't always front and center."
When a story line would focus on Jane getting a girlfriend, some readers would write in: "Wait a minute. She's gay?"
A more appreciative response, Braddock said, came from a father who recently learned his daughter is a lesbian: "He had started reading Jane's World and it made him think that his daughter was going to be okay."
A big break for Braddock came from Amy Lago, then the editor of Charles M. Schulz's Peanuts at United Feature Syndicate. Lago was working on starting an online syndicate of comic strips. Lago thought Jane's World was worth a try. (Braddock's affiliation with the Peanuts gang would be a long-lasting one: in 1999, she became the creative director at Charles M. Schulz Creative Associates, and this year she took on the role of chief creative officer.)
The strip also got an audience via Yahoo!, which often promoted comics.
Braddock gives Schulz a lot of credit for shaping her into the cartoonist she is.
"Until I started working directly with him, I'm not sure I had the courage to put my real authentic self into my work," she said. "That's one of the things I always liked about Peanuts and why I think it still resonates today: Schulz's authenticity."
Over the years, she had wondered how she would know when to end the strip. With the 20th anniversary and the wedding, the timing seemed right. "I felt I could go out on a high note," she said.
This does not necessarily spell the end for Jane, Dorothy and friends. "Maybe five years from now, I'll jump back and see where they are," Braddock said.
Braddock continued to reflect: "Yesterday was a weirdly sad and happy day as I contemplated today's reveal of the last Jane's World strip. And I'd like to say thank you to a few people. Because a comic succeeds through the support of great editors and publishers, like John Glynn, Shena Wolf, Céline Lion, Joel Enos, Amy Brunger Lago, Frank Rizzo, Celina De León, Andrea Colvin, Jeremy Atkins, Devin Funches, and the whole crew at Lion Forge.* And to my loyal, patient, kind and always supportive readers— what can I say?— Thank you. Here's to love. Here's to forever. Thanks to George Gene Gustines for sharing Jane's story. And to my wife, Evelyn, for being okay with all the late nights spent inking comics.
* RCH (just to finish things off properly)—: Lion Forge is the publisher of Love Letters to Jane's World, a 2018 collection of Jane strips from the beginning until August 23, 2017 (304 8.5x10-inch page paperback, b/w with some color; $22.99). We get to watch as Braddock's drawing and lettering skills improve in short stories of Jane's various misadventures (including getting kidnaped by an alien from outer space) and wannabe love affairs, plus some letters from fans and some anecdotes like this one—:
There was a hotel room. At a conference. Tequila was involved—the expensive, silver kind. What do three lesbians do when it gets to that point in the night? Scratch that. What do three lesbians who have girlfriends at home do when it gets to that time of the night? They arm wrestle. Or two of them do—one takes pictures on her flip phone. Biceps bulged. Teeth were clenched. Noises came from deep in their throats. Their conjoined fist shook as one arm tried desperately to lower itself onto the other ... Who won that night? We all did. Watching Alison Bechdel and Paige Braddock duke it out—the two cartoonists who best capture lesbian desire in the comics—I realized I was not simply a fan of Jane's World. I was inside a double-page spread.— Hilary Price, who draws a comic strip called Rhymes with Orange.
SLOWLY SLOWLY
The Rall Case May Never End and Its Relevance Remains
Update from Ted Rall, who is suing the Los Angeles Times for defamation of character and other slurs and slanders (see Opus 342a and Opus 373 for details)—:
Now we're waiting for the court to rule. Guesstimate is that it will happen in early 2019. If they rule for me (the plaintiff in Ted Rall v. LA Times et al.), anti-SLAPP is no longer an issue, the Times is out of stalling tactics, and we begin discovery: subpoenaing the Times' secret documents and deposing their employees in preparation for trial in LA Superior Court.
If they rule for the Times (the defendant), my defamation and wrongful termination case ends. I will have to pay the Times hundreds of thousands of dollars in their padded $715-an-hour fees.
More importantly, losing my case would be a major defeat for anyone who works for what a California court defines as an employer of a "media company" with First Amendment rights: a newspaper, a magazine, a website, a social media platform, any number of Silicon Valley tech companies. If I lose, it means the Times' argument that they can defame, retaliate and discriminate against their employers — even for sexist, racist or homophobic reasons — would become case law. Any "media" company in the state would become exempt from these important protections.
That's why I'm fighting so hard. It's not just for me. Tens of thousands of California workers, most of whom have never heard of me or my case, are in danger of losing their rights because of the Times' reckless arguments.
COMICS JOURNAL RETURNS TO PRINT
At Least for the Immediate Future
The current print The Comics Journal, which is renowned for its in-depth interviews, comics criticism, and thought-provoking editorials (it sez rightchere, in the magazine's very own promo), features Gary Groth in frank and often hilarious discussion with the satirist and children's book author Tomi Ungerer. Ungerer talks about the entire trajectory of his life and career: growing up in France during the Nazi occupation, creating controversial work, being blacklisted as a children's book author due to a backlash against his erotica.
This issue, No.303, the first in its new twice-a-year print format, covers the "new mainstream" in American comics — how the marketplace and overall perception of the medium has drastically shifted since the "graphic novel boom" of the early 2000s and massive hits like Persepolis, Fun Home, and Smile. It also includes sketchbook pages from French-born cartoonist Antoine Cossé, an introduction to homoerotic gag cartoons out of the U.S. Navy, Your Black Friend cartoonist Ben Passmore's examination of the role art and comics have in gentrification, a reconsideration of the comics canon by Eisner Award-winner Dr. Sheena C. Howard, and more.
Dunno about subscription, but you can order No.303 at fantagraphics.com/tcj-303/ for $14.99.
FEIFFER CONTINUES
Jules Feiffer has begun contributing to Tablet magazine, announced Paul Berman, the magazine's critic-at-large, who went on: "The editors have not told me what these contributions will be, and neither has Feiffer. I am in the dark. And yet, I know, and everyone knows, and the cosmos agrees, that his contributions will be brilliant. It will be a matter of exquisite ink lines. There will be humor. The dialogue will be pitched to a human voice. I trust that, politically speaking, he will do his best to overthrow the government.
"Will he do this by drawing cartoons? It could well be so, though for all I know, he may write a play, or a screenplay, or a serial graphic novel. If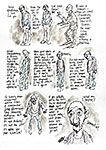 he composes sermons, they will be okay with me. I hope he denounces his critics, if, by chance, he has critics (but who would criticize him?). ...
"Jules has told me that, when he was a young boy, he was inspired to pursue his career as political cartoonist by studying cartoons from the old socialist magazine from Greenwich Village in the 1910s, The Masses, where the cartoons were immortally great. A line is thus drawn from The Masses to Tablet magazine, which may seem like a quirky line. But history is a quirky line, for which we should be grateful."
And we should be grateful for Feiffer, too. Hereabouts, a strip he did recently for Tablet.
QUOTES & MOTS
In Germany, Rice Krispies don't say "Snap, Crackle, Pop"; they say "Knisper, Knasper, Knusper."
And—:
The skin of the African elephant, the largest living land animal, weighs 2,000 pounds by itself, and there are more than 60,000 musceles in its trunk alone.
Now, back to Serious Journalism.
TV CHEF WROTE GRAPHIC NOVELS. WHO KNEW?
The late Anthony Bourdain, acclaimed writer, chef, and tv host, wrote graphic novels. Michael Dooley in printmag.com asserts that Bourdain was "once an aspiring comics artist, who had a passion for the medium in its myriad forms. He loved and collected adventure newspaper strips like Milton Caniff's Terry and the Pirates and Will Eisner's The Spirit, action superhero artists such as Jim Steranko and Neal Adams, and Harvey Kurtzman's Mad and Robert Crumb's Zap. And his latest graphic novel, the just-published Hungry Ghosts, blends together his tastes in food, comics, and Japanese culture, sprinkled with a generous helping of the supernatural."
Co-written with Joel Rose, the novel is from the Dark Horse imprint Berger Books and is apparently drawn by several artists. The editor, Karen Berger, founded DC Comics' Vertigo, the line that had published the pair's 2012 debut graphic novel – and New York Times No.1 bestseller – Get Jiro! – which is dedicated to Jack Kirby – and its 2016 follow-up, Get Jiro: Blood and Sushi.
Dooley goes on: "When I interviewed the book's art director Richard Bruning about his design approach to the handsomely-packaged hardcover, he replied: 'Hungry Ghosts was an interesting challenge due to both the unusual editorial material and the diverse range of artists with their singular styles. Although the monstrous legends and ghostly spirits come from Japanese folklore, the actual stories take place in a wide variety of cultural settings. This caused me not to go too heavily into Japanese motifs. The logo was a deliberate attempt to evoke a Japanese flavor but keep it otherwise clean and not ornamental in any way."
OOP's COMEBACK
As intimated last time (in Opus 384), Alley Oop is destined to return to the nation's funny pages. His hiatus will be over in January when he'll resume his exploits at the hands of writer Joey Alison and artist Jonathan Lemon. Monday through Saturday, they'll give us the old Oop; on Sundays, they'll tell the story of Li'l Oop, a new preteen version of our taciturn hero that will focus on his early middle-school years.
Middle school? In cave-man times? I don't think that promises much, but that's why I never got a comic strip into production.
Sayers said she hopes to add more humor to the strip: "I want to make it a little zanier and just have a little more fun and draw readers in," Sayers said. The Sunday installments, she said, would likely not involve time travel. They will be a little more slice-of-life and coming-of-age-type stories, she said.
Sayers, who usually draws her own comics, will be working with Lemon on the strip. "All of my own strips start out as scripts anyway," she said. "I'm excited to see someone else take that and put their own spin on it."
Lemon, who has been working daily on his comic strip, Rabbits Against Magic, since its debut in May 2008, is looking forward to the challenge.
A page of his character sketches shows the evolution of the appearance of Alley Oop and Lemon's approach to drawing the character. (Sharp eyes will also note the playful inclusion of one of his magic rabbits.)
He said he believes "purists will be happy with the fact that the characters are not radically changed and also excited that the freshness of the heyday of the Alley Oop universe is being revived.."
The syndicate's announcement alluded to time travel in the strip, and I'm glad to hear that: the prehistoric sequences were never as much fun as traveling through time to Rome in Caesar's time or the old American West during the gold rush. I'm eager to see how this comes over.
NIB CELEBRATES FIVE YEARS
A Message from Founder Matt Bors—:
Five years ago, I launched The Nib as an online destination for the kinds of comics I wanted to see more of in the world: scathing political satire, great journalism, and powerful non-fiction.
The Nib was going to exist in defiance of print and online trends and carve out a space for cartoonists. And if you told me back then that in five years we would have published thousands of comics from over 300 cartoonists and just launched a print magazine, I would have said to you, "Well, shit, that's my plan exactly. Must be easy getting there."
It has not been easy getting here.
We've had ups and downs, great successes, and near-death experiences. We've had comics reach over a million people in a single day and we've had the rug pulled out from under us and publishing halted. We've re-launched and re-tooled, animated and live-drawn.
And now we've launched our most ambitious project: a quarterly print magazine and membership program called The Inkwell to support The Nib for the long haul.
Members of The Inkwell also get our special newsletter, which features a behind-the-scenes look into the goings on at The Nib. ...
Here's a small sampling of the work your membership will support:
Raw and real comics on the issues of the day from a diverse range of creators, like "I'm Tired of Performing Trauma: Five Cartoonists on #MeToo."
Weekly cartoons tearing down Trump from the likes of Tom Tomorrow and Pia Guerra.
Comics journalism on under-covered issues like the homeless are politically organizing.
New voices like Chelsea Saunders, who started drawing for us this year and has already become a regular contributor.
Our first print issue's theme is Death, and we came at it from every angle for 112 pages, from the personal to the political to the absurd.
RCH: I joined, and I just received the promised special newsletter via e-mail. It is interesting in the manner of what's-online info notices. Nothing extensive or penetrating.
QUICK RESPONSE
Remember this one? Opus 382? When the Associated Press reported that the Colorado capitol's wall of presidential portraits is missing one—the Trumpet's? Presidential portraits cost about $10,000 and are paid for through donations. A local tv station learned that the group that collects private donations for the portraits hasn't received a single dollar for Trump's picture. Not a dollar. He apparently does not inspire Colorado Republicons. But Trump's blank space on the wall didn't remain blank: a prankster placed a portrait of Putin on an easel below the space where Trump's portrait would go.
Well, the day after this newsstory appeared inn the Denver Post, Trump's minions got busy, and within 24 hours, they collected the requisite $10,000.
TIJUANA TRUMPET
Here it is, kimo sabe—excerpts from the 8 (not including covers) "sweaty 3x4-inch pages of palm pounding fun as our Prez and the lovely Superpornstar Stormy Daniels (plus a surprise love interest) get it up, get down and get it on!" as Mitch O'Connell sez in promoting this masterpiece. Yeh, I couldn't help myself: I sent off for the whole thing. But in posting it hereabouts, I've withheld the engrossingly significant concluding page in order to encourage you to send for your very own in order to behold its wonders.
But before I tell you where to find your copy, I can't help but applaud the artwork, which, as you can plainly tell, is much much better than we usually find in those celebrated Tijuana Bibles of yore. Probably drawn by O'Connell "the world's best artist" (as he attests). For the low price of $5/copy at Etsy.com/shop/MitchOConnell.
MANKOFF UP TO HIS OLD TRICK
Bob Mankoff, erstwhile cartoon editor at The New Yorker and now cartoon/humor editor at Esquire, evidently hasn't enough to do in that job. To fill up the days, he has revived the idea that got him the cartoon editor's chair at The New Yorker —the Cartoon Bank. The Cartoon Bank is an online platform for selling or licensing cartoons to people who might have a use for a cartoon—in, say, a company magazine or, framed, on their office wall. Mankoff founded it in 1991 as a way for cartoonists to sell cartoons that had been rejected. He theorized that nine out of ten cartoons concocted by cartoonists didn't sell, but many (if not most) of them were still pretty good cartoons. The Cartoon Bank would provide a vehicle for selling those unused cartoons.
In about 1997, Mankoff sold the Cartoon Bank to The New Yorker. He attached two conditions to the sale: first, he would continue as president of the Cartoon Bank; second, The New Yorker would hire him as cartoon editor. Astonishingly, this extortion worked: the magazine agreed to both conditions, the second of which would require it to fire its current cartoon editor, Lee Lorenz. Luckily for Mankoff and the magazine management, Lorenz decided to retire the next year, and Mankoff inherited Lorenz's throne without being accused of extorting his position.
Management of the Cartoon Bank deteriorated. Mankoff apparently gave up being an active president, and the Cartoon Bank acquired complications. In short, it no longer works in the way Mankoff had designed it to work. And so now, he's rejuvenating the idea as Cartoon Collections which will offer Mankoff pieces and material from famed sources including The New Yorker, Esquire, Playboy, National Enquirer, and others—presumably, all unsold material looking for a home that'll bring cartoonists a little additional income.
STEVE KELLEY HIRED BY PITTSBURGH POST-GAZETTE
The Trump-loving powers-that-be at the Pittsburgh Post-Gazette should now be happy: to replace Rob Rogers, the left-leaning editoonist whom they fired in June for regularly lambasting the Trumpet (see Opus 381), they've hired Steve Kelley, a right-leaning cartoonist who has been freelancing with Creators Syndicate since being laid off in 2012 by the New Orleans Times-Picayune in a budget-trimming maneuver.
Michael Cavna at the Washington Post's Comic Riff asked Kelley how he felt about doing cartoons in the Trump Era.
"My preference has always been to have [as targets] political figures who make declarative statements rather than those who parse and obfuscate," Kelley said. "It's easier to make fun of someone who says exactly what he thinks anytime the impulse reaches his brain. Unfiltered bombast is the kind of gift that few politicians give because it's impossible to get elected that way.
"So it's easy to beat up on Trump because he's always kind of swinging a chain saw around," he noted. "The difficult part is that he tends to represent my point of view on a lot of central issues."
Kelley's being hired by the Post-Gazette probably surprised a lot of people (including me) who had grown used to newspapers dropping the staff editoonist position entirely in these financially-challenging times.
Kelley thinks the paper should be commended for hiring any cartoonist.
"The Post-Gazette's continued commitment to publishing the work of a staff political cartoonist stands in distinct contrast to the impulse of most newspapers to reduce costs by simply running syndicated work," Kelley told Cavna. "The publisher really likes cartoons and thinks they can make a difference to the public."
As both a syndicated freelance cartoonist and a former staff cartoonist, Kelley has survived in a profession in which the number of such staff positions has dwindled from a high of about 150 to less than 50 in just 10 years.
In a press release over the weekend, Publisher and Editor-in-Chief John Block wrote, "Since my grandfather acquired the Post-Gazette in 1923, cartooning has been a hallowed tradition of this newspaper. It is with great pride and pleasure that I welcome Steve Kelley. I am confident that he will be worthy of the legacy of the great Cy Hungerford."
He rather pointedly left out the names of the two cartoonists who followed Hungerford, who drew for the Post-Gazette during an impressive 50 years from 1927 to 1977. He was succeeded, first, by Tim Menees, and then by Rogers.
Judging from my short (and therefore inherently unfair) survey of Hungerford's work, his greatness appears to reside in his producing patriotic cartoons fostering a rather nonincendiary pedestrian sentiment. But then, I've seen only a half-dozen or so of his cartoons—and all from the 1970s, when he may have been relaxing as he contemplated retirement. Most observers of the genre dub Hungerford "great" without hesitation.
KELLEY, A RARE CONSERVATIVE VOICE in the predominantly liberal editorial cartooning profession, moved to Pittsburgh and joined the Post-Gazette staff. "I figure if you're going to tame a lion, you need to be in the cage," he said. Plus, "I like newsrooms and those who inhabit them."
He's been drawing five cartoons a week, beginning on November 4.
In a brief phone interview with J.P. Trostle, Kelley talked about his new opportunity. "I'm just thankful to have another gig," said Kelley, who thought he might never have a staff job after being laid off from the Times-Picayune in 2012.
Kelley and his predecessor, Rob Rogers, have been friends for nearly 40 years, Kelly told Cavna.
"We have not spoken in a while, and I'm very sorry to see him leaving a job he has held for so long—25 years. I suspect he has no hard feelings for me in this situation — he's not that type," Kelley continued.
Moreover, Kelley is sympathetic: "I was fired from the Union-Tribune in San Diego after 20 years. I didn't want to leave that job but have flourished nonetheless. Certainly," he added, Rogers "has the rare talent and skills to prosper wherever he goes next."
Kelley got his start drawing cartoons in college at Dartmouth, said Trostle, reviewing the cartoonist's career. He landed at the San Diego Union-Tribune in 1981 and stayed there for 20 years until he was fired because of a misunderstanding with one of his editors, who thought he had rejected a Kelley cartoon while Kelley thought all that was needed was to correct part of the image and then it would be acceptable. He corrected the image, then, the editor being out of the office, Kelley took it to the composing room and left it.
Later, when the editor saw the cartoon dummied into the newspaper, he yanked it, and then he and Kelley had harsh words, resulting in Kelly being fired (see Opus 62 for the details).
San Diegans, fans of Kelley's work, protested his firing to no avail.
Subsequently, Kelley was involved in other contentious matters with the paper. He planned with his successor to partner in producing a comic strip; but the successor, Steven Breen, withdrew from the arrangement because, it seems, the Union-Tribune objected to one of its staff members working with Kelley. Kelley sued; dunno how that came out, but Kelley subsequently partnered in 2010 with fellow cartooner Jeff Parker, who now draws the strip that Kelley writes, Dustin.
And then there was the love affair Kelley conducted with Shelia Davis Lawrence, widow of multimillion-dollar Bill Clinton fundraiser and Hotel del Coronado owner Larry Lawrence, who died in 1996. Following the hotelier's demise, Kelley and Shelia moved into Lawrence's Crown Manor, with eight bedrooms and 17 bathrooms on Coronado's beachfront Ocean Boulevard. The son they'd conceived together in 1999 became the center of a heated 2001 custody battle following the couple's breakup. But that's a tale for another newsmagazine—not this one. Perhaps National Enquirer.
In 2002, Kelley joined the New Orleans Times-Picayune, working long-distance from San Diego, where he continued moonlighting as a stand-up comedian. (He has appeared on the "Tonight Show" seven times.)
After losing his position with the Times-Picayune in 2012 in a mass layoff at Advance Publications, Kelley continued editooning through Creators Syndicate, and he continued to write Dustin. He plans to continue both the daily comic strip and his comedy writing after moving to Pittsburgh.
Steve Kelley has also won numerous cartooning and journalism awards, was a finalist for the Pulitzer Prize in 1999, and served as the president of the Association of American Editorial Cartoonists (AAEC), 2010-2011.
Kelley looked forward to residing in Pittsburgh. Said he: "I've been the world's most devoted Steelers fan for days now."
And on the day after he arrived at the Post-Gazette, the paper added Dustin to its comic strip line-up.
TELGEMEIER'S TWO NEW ONES
During the New York Comic-Con, Raina Telgemeier escaped the record-breaking crowd long enough to hold forth at midtown Manhattan's Shop Studios, where she answered questions from a crowd of her youthful admirers. "In less than a decade," reports Abraham Riesman at vulture.com, "the cartoonist has gone from being a virtual unknown to being one of the most successful creators in the entire comics industry — and she's done it without the help of superheroes."
"Her works are tenderly observed pieces of fiction and memoir about the trials of youth, whether it's learning to confront mortality in Ghosts or dealing with braces in Smile. Telgemeier is the undisputed queen of the youth-comics explosion, selling books by the crate and touring the world to interact with her youthful fans."
Her newest books, due in 2019, are Share Your Smile, scheduled for release on April 30, and a new graphic memoir called Guts, slated for sometime in September.
Said Telgemeir: "Share Your Smile is kind of a how-to-journal book. It'll have writing prompts and journal prompts and ways to build stories, and a little bit of insight into my own comic speaking process. And then Guts is a memoir in the vein of Smile and Sisters.
"It takes place before Smile. It's the true story of my struggle with anxiety as a young person. In fourth and fifth grades, I developed a bit of an anxiety disorder and started having panic attacks and phobia, specifically regarding food and stomachaches and bodily functions. So the story walks you through that experience and tries to get inside what it's like to have a panic attack. It sees young Raina through therapy, which was a bit of a taboo subject at the time. It feels to me like a bit of a prequel to Smile. The inner workings of young Raina's head before she was in middle school."
ODDS & ADDENDA
In an email following up on his entry in this year's Rex Babin Memorial Award for Excellence in Local Cartooning, Robert Ariail noted he had been let go in June from his long-time newspaper The State. This was the second time the cartoonist had been laid off from the South Carolina paper for budgetary reasons, having been rehired back a few years ago at a reduced salary. ... Meanwhile, conservative 'tooner Michael Ramirez was picked up by the Las Vegas Journal Review.
Scooby-Doo for some absolutely inexplicable reason got himself on a first class U.S. postage stamp. Crazy canine forever.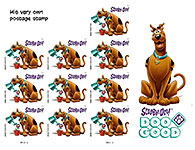 According to Calvin Reid at publishersweekly.com, "more than 250,000 fans purchased tickets to attend New York Comic Con, held October 4-7 at the Javits Convention Center, marking another year of impressive growth for the show. NYCC reported about 200,000 fans in attendance a year ago." Does this mean it had a greater attendance than the famed Sandy Eggo Comic-Con? Dunno. Depends on how you count, and neither Reid nor the NYCC is talking although Reid is circumspect in saying the reported number is of people who "purchased tickets" (and maybe didn't actually attend?).
With book 13 in his popular Wimpy Kid series out on October 30, author-illustrator Jeff Kinney set out on an eight-city East Coast bus tour fit for a middle-grade rock star. "Wimpy Kid Live: The Meltdown Show" is arriving in Boston and Plainville, Mass.; Rhinebeck, N.Y.; Madison, Conn.; Princeton, N.J.; Washington, D.C.; Raleigh, N.C.; and Decatur, Ga. At each of the tour stops, Kinney will perform a live, interactive show in celebration of The Meltdown.
Fascinating Footnit. Much of the news retailed in the foregoing segment is culled from articles indexed at https://www.facebook.com/comicsresearchbibliography/, and eventually compiled into the Comics Research Bibliography, by Michael Rhode, which covers comic books, comic strips, animation, caricature, cartoons, bandes dessinees and related topics. It also provides links to numerous other sites that delve deeply into cartooning topics. For even more comics news, consult these four other sites: Mark Evanier's povonline.com, Alan Gardner's DailyCartoonist.com, Tom Spurgeon's comicsreporter.com, and Michael Cavna at voices.washingtonpost.com./comic-riffs . For delving into the history of our beloved medium, you can't go wrong by visiting Allan Holtz's strippersguide.blogspot.com, where Allan regularly posts rare findings from his forays into the vast reaches of newspaper microfilm files hither and yon.
FURTHER ADO
Vice Prez Mike Pence is "America's most repulsive public figure," saith former Republicon George Will, and should never be president. Trump "is what he is"—a floundering, inarticulate jumble of gnawing insecurities." But Pence has chosen to be an obsequious toady—an "oleaginous" man for whom no amount of brown-nosing is too much. "It is the greatest privilege of my life to serve as vice president to President Trump," he's said on several occasions, and in Israel recently, he compared Trump to King David.
EDITORIAL CARTOONISTS MEET
Swan Song for AAEC?
The Association of American Editorial Cartoonists, now in its 61st year, met September 21-22 in Sacramento, California—probably for the last time as a stand-alone convention. Next year, AAEC will meet in Columbus, Ohio, in conjunction with CXC, Cartoon Crossroads Columbus, a free, citywide art festival hosted, albeit indirectly, by the Billy Ireland Cartoon Library & Museum at Ohio State University just up the street from downtown Columbus.
The gathering at Sacramento lasted for just two days this year; usually it's a 3-day affair with sessions in the mornings and afternoons free for sight-seeing. I usually went searching for second-hand bookstores in the afternoons, sites (ha!) enough for me. But not this year. This year, we were all business—sessions morning and afternoon.
The hotel we stayed in, the Citizen, was a picturesque locale for editorial cartooners: on the walls in every room and in some public spaces were framed original art editorial cartoons by Newton Pratt (1901-1985), who was the editoonist for the local paper, the Sacramento Bee, for 33 years, ending in 1971. (Oddly enough perhaps, I know all three of the cartoonists who succeeded him. Currently, it's Jack Ohman.)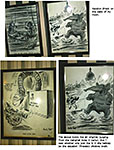 Cartoonists from New Zealand and Australia and Canada for some reason dominated the program. Among the latter was Terry Mosher, who talked about the relations between his country and ours. Among his visual aids were 19th century drawings of Uncle Sam by the U.S.'s Thomas Nast and Canada's Henri Jullien, who, it was obvious, had been using Nast's pictures as models for his own Uncle Sams.
Mosher displayed dozens of contemporary editorial cartoons, one of which, displayed nearby, was by Graham Harrop in Vancouver, British Columbia.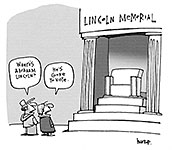 The cartoon stayed on the projection screen for several minutes, and as I looked at it, I got a lump and a tear, a lump in my throat and a tear in mine eye. Later, when I wrote Harrop about my response to the cartoon, he said it was "exactly the reaction I would hope for."
Among the so-called American presenters was Ward Sutton, winner of the Herblock Prize last year. Accepting the award, Sutton made a short speech, from which I have excerpted the following (in italics)—:
After nearly two decades in New York City, my family recently moved to the middle of the country—to Fort Collins, Colorado. I don't own a printer, so to enter the Herblock Awards I emailed my cartoon files to the local Office Max to be printed. Within minutes I got a phone call. The guy at Office Max wanted to know: Was I part of some group with some kind of agenda? He said he was pretty sure company policy wouldn't allow him to print my cartoons.
Still new to the area, I was shocked. To get a phone call so quickly from a printer: You never get that kind of service in New York!
I told the guy I was a professional cartoonist entering a prestigious competition and drove over there. When I arrived he said, "I talked to my manager and he said it's okay. Free speech."
It's heartening to know, isn't it? —that in these challenging times, Office Max stands as a bulwark to all we hold dear in our democracy. ...
Freedom of expression is a wonderful thing that we can't take for granted.
I have a friend here tonight who is a federal employee who told me that the government has now blocked federal employees from seeing my website. She said it wasn't that way under Obama, but it is now.
I'm just going to leave that there.
And so am I.
At Sacramento, Sutton gave an altogether different speech. He spoke about "fake cartooning in the age of fake news." He is a fake cartoonist. In addition to legitimate "real" cartoons he produces under his own name, he does a weekly cartoon by "Kelly" for The Onion. Like everything else in The Onion, Kelly (Stan Kelly, to give his complete name) is fake. He's false, an imaginary editoonist. And that's how he is appropriate for The Onion.
The Onion, as everyone by now knows, is a parody newspaper, and falsity is what parody is all about. At its core, parody is imitation: it achieves its satire by posing as the thing it satirizes. The better the imitation—the better the falsity— the more ridiculous the object imitated becomes. By way of example, here are some of the headlines that ran recently in The Onion:
Conspiracy Theorist Convinced Neil Armstrong Moon Landing Was Faked
Planned Parenthood Opens $8 Million Abortionplex
Gallup Poll: Rural Whites Prefer Ahmadinejad to Obama
Obama Openly Asks Nation Why On Earth He Would Want To Serve For Another Term
Congress Passes Americans With No Abilities Act
And here, in the elbow of your eye, are a few of Stan Kelly's cartoons.
Notice that one of Kelly's subjects, intended as parody, urges solving the school shooting situation by arming the teachers and students. Only in America, parody become reality.
As unnerving as these specimens are, it is even more disorienting when we realize that cartoonist Kelly is himself a parody. He is not real. His self-caricature appears in the lower right-hand corner of every cartoon, but that isn't him. Since he doesn't exist, he can't be caricatured.
The rumor is that the Kelly parody ridicules Ward Sutton and all other editorial cartoonists. The rumor is true. Kelly assumes a righteous posture (and a right-wing attitude, which is also ridiculed).
I reviewed a book of Kelly cartoons in Opus 358. The title of the book is Kelly: The Cartoonist America Turns To— 50th Anniversary Platinum Collection.
The book is a parody of collections of editorial cartoons. The anniversary it celebrates is not the 50th. Even if the Kelly kartoon had debuted with the first issue of The Onion in 1988, it will be 2038 before it could have an actual 50th anniversary.
On the 9th page of the book, we realize someone is having us on: the collection reprints kartoons from "the fifth decade of the Kelly Kanon, 2006-2016."
What a surprise.
ALSO ON THE PROGRAM at Sacramento was Rob Rogers, who was fired last June for drawing too many anti-Trump cartoons at the Pittsburgh Post-Gazette. He'd been at the paper for 25 years. Suddenly—fired. Rogers told the whole story of how his publisher leaned increasingly right-ward and, increasingly, disliked Rob's cartoons about the Trumpet. Finally fired him. (For all the sordid details, see Opus 381, as I said before.)
In the wake of his firing, Rogers got married after 20 years with Sylvia: they had to get married in order to qualify for new insurance coverage for the house they live in. Rogers is also working on a book, Enemy of the People, with IDW; out in a couple of months, it will offer, among an assortment of Trumpet cartoons, an expanded version of the comic strip history of his firing at the Post-Gazette (see Opus 381).
His cartoons are still being distributed by his syndicate, Andrews McMeel, and a local monthly newspaper, the Pittsburgh Current, is running his cartoons.
ANOTHER PRESENTATION was by a cartoonist who is not an editorial cartoonist— Brian Fies, who has been producing graphic novels on grim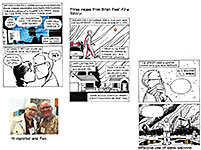 subjects. One was about his mother's cancer. Another is entitled Whatever Happened to the World of Tomorrow. And then when his house was destroyed in one of California's fires, he did a graphic novel about that experience, Fire Story.
Readers compliment him, saying his books have helped them cope with similar tragedies. Nearby, we've posted a sample from Fire Story.
Another personage at the podium was Malaysia's Zunar, the free speech hero who faced 40 years of imprisonment for sedition in his home country. For drawing cartoons. With the election of a new president, all charges against the cartoonist were dropped forthwith—proving how bogus they were. Zunar gave a brief speech in which he said, "In a country with no media freedom, cartooning is the only medium we have. ... No dictator can withstand laughter."
ONE OF THE PRESENTERS was not a cartoonist: McCay Coppins is a writer for the Atlantic. And he discussed the current state of the news media.
Incidentally, he also revealed what many have long suspected: Trump never expected to get to be a serious candidate for President. His campaign, beginning in the summer of 2015,was launched as a publicity stunt. The plan was to campaign all summer and then pull the plug that fall in time to renew his "Apprentice" deal. As reported elsewhere, Trump wanted to renegotiate his salary, which, he'd discovered, was less than Gwen Stefani was getting paid at "The Voice." Trump didn't need the money: he just couldn't stand not being the highest paid star on the network. His campaign for president would demonstrate his popularity, and that, in turn, he could use to leverage his pay to something bigger than Stefani's.
But, somehow—being the ravening egotist that he is— he got caught up in all the excitement, particularly when people started cheering him and it began to appear he might secure the GOP nomination.
Coppins said Trump suffers from "statis anxiety," and he has all his life. He wants to win the approval of the Manhattan elite. Whatever he does, it is a performance intended to achieve that result.
Among his other comments, Coppins revealed that Vice President Mike Pence was a cartoonist in law school!
The problem with the press, Coppins went on, is that public confidence in the news media is fading. And it's fading because facts—the reality that editors once deployed in order to act as a referee—have disappeared. Factual reality served as a regulating force; but, no longer. There are no facts anymore that everyone can agree on.
Social media, the mouthpiece of a dubious reality, has taken over. To combat the "echo chamber" of social media, Coppins said, we must start with our own media-consumer habits. He recommended that we read sources that we don't agree with. And be skeptical of headlines that seem tailored to fit our beliefs.
I have another, additional, suggestion. For the news media.
The news media, particularly television, dotes on sensational "footage"—film that shows a spectacular event. A few weeks ago, we watched on the evening network news programs lots of spectacular footage of the collapse of a bridge in Italy. In Italy? How is that going to make us more informed voters in America? Entertaining maybe—terrifying— but scarcely instructive.
(Okay: we have aged infrastructure needing restoration in this country, and the Italian bridge collapse serves as a sort of reminder that we have work to do around here. But there are other ways to get this message across: try interviewing engineers who've inspected old bridges. Won't work: interviews make for dull footage.)
My suggestion for the news media: be self-aware enough to know your hubris, your penchant for airing sensational pictures or opinions instead of more mundane but informative material. Particularly on 24/7 cable news which needs something every minute of every hour—and sensation fills the bill better than anything else.
If you are serious journalists and aware of your weakness, then don't indulge that weakness. Avoid sensational footage in favor of informed reportage.
If you get back to covering serious rather than sensational news, viewers/readers' attitudes about the news media will change. But you must demonstrate that you are worthy of consumers' good opinions.
I ENJOY the editorial cartoonists' convention—even though my career as an editorial cartoonist came in brief moonlit stints and is long gone. Quite apart from the intellectual stimulation that the program sessions prompt, there's also friendship. I see people at AAEC who I see only once a year. This year, a guy I met 5-6 years ago came up to me to renew our acquaintance— arms open in greeting. We spent enjoyable hours together those years ago, and we did again this year.
The crowd is small at AAEC. Only 81 people registered this year—fairly typical. I know most of them, and they know me. You become a minor-order celebrity amongst them by simply attending every year. Which I've done. Every year since 1999 with two exceptions. So, for 18 years, I've attended. I've become a "fixture" at AAEC.
Simple aging is a factor: the longer you live, the more people recognize you. And the more people recognize you, the more comfortable you are at the convention. Hence, my enjoyment.
IF NEXT year's AAEC meeting at CXC is a success, it is likely that the Association will continue indefinitely to meet with CXC. The editooning profession is an endangered species, and the smaller the number of full-time staff positions, the more difficult it is to finance an annual convention. Meeting with CXC will presumably reduce those costs.
And while AAEC can partake of CXC's program (and its exhibit), it can also run a parallel series of programs just for editoonists. Combining the two annual events will energize AAEC and thereby preserve its yearly conclave for a few more years while the profession slowly deteriorates as newspapers themselves evaporate.
I don't think newspapers will disappear (as I've said before). But a lot of journalistic people do. So I'll shut up for the duration.
Well. Hoot! Enough. We close with an array of photographs of people and events in Sacramento.
PERSIFLAGE & FURBELOWS
Trump has been warning supporters that Democrats elected to Congress will—in his words—"throw open our borders and set loose vicious predators and violent criminals." This is a lie, saith Fred Hiatt at the Washington Post (quoted in The Week). Democrats do not support open borders, and as the percentage of foreign-born people in the U.S. increased from 7 percent to 13 percent between 1990 and 2015, "violent-crime rates fell 48 percent."
Yet while "Dreamers" remain in limbo, farms are desperate for workers, and "families are being needlessly torn apart" at the border, Trump continues to spread anti-immigrant vitriol as a means of "survival by distraction." When Trump finally exists the White House, he will leave an enduring legacy: "the poison" of racial division.
FUNNYBOOK FAN FARE
Four-color Frolics
An admirable first issue must, above all else, contain such matter as will compel a reader to buy the second issue. At the same time, while provoking curiosity through mysteriousness, a good first issue must avoid being so mysterious as to be cryptic or incomprehensible. And, thirdly, it should introduce the title's principals, preferably in a way that makes us care about them. Fourth, a first issue should include a complete "episode"—that is, something should happen, a crisis of some kind, which is resolved by the end of the issue, without, at the same time, detracting from the cliffhanger aspect of the effort that will compel us to buy the next issue. A completed episode displays decisive action or attitude, telling us that the book's creators can manage their medium.
CEMETERY BEACH No.1 has a lot that keeps me interested. First, is Jason Howard's drawing. Angular anatomy and varying line width modulated with flecks of black and tiny lines. Delicious. And Warren Ellis's story is also appealing and packed with action. The situation setup is short and sweet: Mike Blackburn, who is a native of Portland, Maine, is held captive off-world somewhere by what appears to be the dregs of a much earlier interplanetary expeditionary force. He's being tortured, but he escapes by overpowering his guard/inquisitor in the book's completed episode, which shows him to be resourceful and merciless.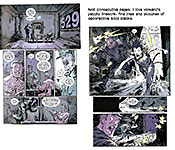 On his way out, he liberates another prisoner, a sharp-featured woman named Grace Moody, who, Mike says, he needs to guide him where he wants to go—namely, away.
That consumes about 8 pages of the book; the rest of it, another 10 pages, is devoted to depicting their escape, complete with headlong running and exploding bombs or grenades or other visual excitements. At the end of the book, they're making a mad dash in a WWII jeep when the scene shifts for the last page, which shows a fat man sitting at a typewriter—the mayor. Who, when informed of the escapes of two prisoners, is afraid: "Oldhome is finally coming for us," he murmurs. "And I will not allow it."
I'll be back for Howard's pictures, but Ellis' cliffhanger is also a magnet.
SOMEONE HAD THE BRIGHT IDEA of reviving Chester Gould's Dick Tracy for an up-to-date caper. Written by Lee and Michael Allred, penciled by Rich Tommaso, and inked by Michael Allread, the book is a disaster from the first page. Everything is wrong.
Although the story is apparently set in modern times (Tracy's first villain is a software mogul), Tommaso surrounds the characters with 1930s vintage aircraft and automobiles. I was initially persuaded to buy the book by the cover's somewhat realistic rendering of Tracy (which we show hereabouts), but once I got into the book, it was all simple cartoony art, badly drawn. Tommaso can't get Tracy's face right, as you can see from the page on display nearby; in fact, he can't even get Tracy's hat to fit on his head.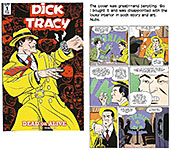 Then there's the characterization of Tracy, who is revealed, immediately, as a tough-talking cop of action overpowering thinking. He calls one bad guy "a stuffed sack of sewage," and he rejoices in the electric chair execution of Big Boy, promising to join Sam for drinks afterward—"boiler-makers every time we fry one," he says, grinning.
He ain't Gould's thoughtful, analytical gentlemanly hero by a long shot.
The story itself is a crumbling mess of corrupt civic officials with Tracy out to arrest them all (which he does as soon as he meets them after moving into a new city). The completed episode that opens the book shows Tracy to be a roughneck rather than the law-animated police officer he says he is.
The major narrative strand follows the leader of corruption, Big Boy (coincidentally, the name of one of Gould's first villains), as he first sets in motion the corruption of Tracy, then is arrested and jailed and sent to the electric chair on an old murder conviction. This all happens without the saving grace of the slightest sophistication: it's biff, bam, plot development, and biff again. Big Boy is fried (in Tracy's heartless terminology) but the execution seems, as the book closes, to be a sham: his fingers are twitching. End of book.
I'd come back just to find out whether Big Boy's twitch signals sentient life, but the clumsy art makes me throw up, and I can't afford the weight loss.
MCMLVII translates to 1957, but it's hard to say why this book, written by Joe Casey and drawn by Ian Macewan, should bear that allusion as a title. And Casey's story seems to go nowhere. His heroine is a New York African-American cab driver, Pamela Evans, whose boyfriend is a dj named Prefect Patterson, who jabbers on through the night every night. Meanwhile, Pam encounters picturesque street gangs and resolutely beats them up—all of the members, one at a time—with a tire iron. Then, come the dawn, she joins Prefect for a reunion, often in a prone position in bed.
The book includes two complete episodes: one of the gang whippings, and Pam's morning meeting with Prefect. These establish her ability as a fighter and her personality and intentions. Then the book just seems to repeat itself: Pam goes on another night-time drive, and when she encounters another street gang, she cautions her fare to stay in the car, and she picks up her tire iron and heads for the bad guys.
Then just when we think its all a repeat of past performance, some kind of monster or menace rears up and threatens our heroine. End of issue.
Macewan's art is expertly achieved, every line in place, and fight scenes and romancing well staged and executed.
But I can't tell what all this is up to. Where's it all going? We ought to have some glimmer by the end of the first issue, but we don't. Is it all just street fighting?
SOLDIER SUPREME No.1 is one I shoulda stayed out of. I noticed too late that it was one of the infernal, interminable "infinity wars" series. This one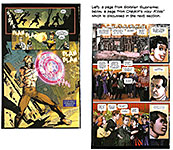 seems to be about a Captain America who's part Dr. Strange, who leads Dum Dum Fury and Bucky Wong into battle against the Nazis until Hitler is dead and then takes on the Red Skull in the form of Dormammu Red. It looks as if Red is winning the battle until the Winter Soldier shows up as a sort of wraith of wrath, but Red isn't finished: he manages to condemn both Cap and Bucky to Hell before he leaves.
Where it goes from here is anybody's guess, but I think writer Gerry Duggan had to have his hat on crooked to cook this stuff up. Adam Kubert's pictures are, as always, expert, and he does visual tricks with Cap's shield that are fun to watch, but this is too deeply ingroup for me; I won't be back.
I'LL BE BACK for No.3 of Howie Chaykin's Hey Kids! Comics just to see what new outrages he commits by recasting the history of comic books as a Jew-baiting game. The narrative goes from 1945 and the post-war disappearance of many comic book publishers to 1955 Senate subcommittee hearings on the juvenile delinquency caused by comics to 1965 and the rebirth of funnybooks under the influence of Stan Lee and Jack Kirby ("Bob Rose" and "Sid Mitchell" in Chaykin's history) to 2001 and the growth of comic cons. But we get no insightful understanding of any of these events: in this book, they serve merely to stimulate nasty conversation among the characters.
And none of Chaykin's characters are people you'd like to meet. They're all grasping, greedy schemers talking shit and anti-Semitism (or, as one of his creations might say, anti-kike-ism). Chaykin, himself a Jew, seems to delight on a construct of American culture in which Jews are systematically discriminated against. And he throws in an occasional African American just to be even-handed (sarcastically calling him Ted Whitman, "White-man"—get it?).
Chaykin persists in a layout maneuver he's now over-used forever—running close-up individual-speaker panels inset in scene-setting long shots. It's effective storytelling but not forever (see the demonstration in the previous visual aid).
But I wish he wouldn't conduct so much of the nasty-talk in one of my favorite Manhattan saloons, McSweeney's, which, for as long as I've known it, never had a gaudy sign over the door like Chaykin portrays.
CHAYKIN ON CHAYKIN. Writing on Facebook, Chaykin extolled the supposed virtues of Hey Kids—:
Not to be too reductive, but as many people have noted, in that Hollywood way, it's a roman a clef, a bit like Mad Men in the comic book business. Yes, there are avatars, conflations and composites of the real men and women who invented comics.
Suffice to say I've been amused and even bemused by some of the suggestions of who my fictional characters' real life counterparts might be. Several have hit the nail on the head, and just as many have been way off the mark. As much as I don't encourage guessing games, who am I to stand in the way of that sort of thing, right? Regardless, I'd like to think that with fiction, I've come around to a brush stroke of truth.
I've been deeply gratified by the wonderful response the book has garnered from colleagues and enthusiasts alike. ... For anyone with an interest in the history of our curious medium, a good time is guaranteed.
Trust me on this.
RCH again: Well, I trusted him and bought the first two issues, and I'll buy the third, as I said. But it isn't because I expect to find in it even "a brush stroke of truth." Howie's on a tear, and he's mustered all the rumors he's heard over the years about the comics industry and laminated onto them whatever resentments he harbors because of his own fate drawing funnybooks and has produced—as he says— a fiction.
BEGINNING, with one of five different covers—the one reminiscent of the Saturday Evening Post design—Archie 1941 No.1 takes us all the way back to the eve of America's entry into World War II. Archie and Jughead and Betty and Veronica all graduate from high school, and Archie and Jug contemplate one last summer of leisure in 1941. Archie is in the sulky dumps, however—caused, we are persuaded, by the newsreels and front page headlines about the war in Europe. In the grip of his doldrums, Archie attacks a rival on the beach, then sulks and walks away from Veronica, just back from a shopping spree in Paris. (Must've been fun: the Germans captured Paris in June 1940, year before the events of this comic book—and before Veronica's shopping trip—take place. So, did she stock up on swastikas?) We last see Archie in a movie house, brooding, we assume, about the war. And his possible role in it.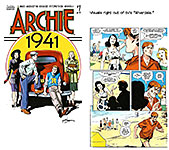 His father has been nagging him about what he plans for his future. Perhaps the army?
I'm amused by Brian Augustyn and Mark Waid putting Kresge's into one speech balloon. I visited that five-and-dime on Denver's 16th Street many times in my youth; but it's gone now. Another attempt at bringing "reel" life into the story, the Rialto's playbill advertising "Andy Hardy Meets the Debutante," isn't real about an actual movie: it's a faux Mickey Rooney film.
The visuals, "line art" by Peter Krause, are now thoroughly realistic and the characters rendered in blatant imitation of the "Riverdale" cast. All beautifully done, mind you. But where or where did ol' Archie go?
BATMAN DAMNED No.1 is the first of the new DC Black Label imprint that has been created expressly for that brand. Other books have been shoe-horned in after their publication just to give the infant imprint an impressive lift-off (see Opus 382). And "black" is the appropriate color for this inaugural tale that so deliberately keeps us all in the dark.
The only part of this tale that makes any outright overt sense is the opening sequence in which Batman, wounded and in the supposed care of a medic and watched by a cop, objects physically to the removal of his mask and dashes out of their custody into the night, falling, helplessly, off a bridge at the end of his run through the streets.
After that, it's all poetry—or, rather, cynical poetic affectation in John Constantine's voice-over narrative.
"Evil, it's real, and its coils wind around every heart that beats," Constantine intones. And elsewhere: "The devil, he admits what the angels won't—that God is insane." Or—"Free will, the noose we're all born with."
Where is your inspiration, Brian Azzarello? Out of what dark hole has it crept?
With a narrator masquerading as profundity incarnate, it's no wonder that most of this first installment in the series is more baffling than informative.
Upon reflection, the story seems to be about the Joker (again), who has been found dead, floating in the Gotham River, and who his murderer might be. It's a detective story, kimo sabe.
Batman, being on a bridge over the river on the night the murder presumably transpired, becomes a candidate for the murderer, as Constantine muses. But wait—we've been with him all night, confused and muddled though he is by his wound (which the story never takes the time to heal). We know he didn't do it.
A witness, perhaps mad, runs off into the night (the whole book is night), and Batman follows while Constantine mumbles on about evil, death, God, insanity and bad shaggy dog jokes that he can't quite remember.
The interior pages of this tome aren't much help in sorting out a story, but the back cover blurb is:
"The Joker is dead. There is no doubt about that. But whether Batman finally snapped his scrawny neck or some other sinister force in Gotham City did the deed is still a mystery. Problem is, Batman can't remember—and the more he digs into this labyrinthine case, the more his mind starts to doubt everything he's uncovering.
"So who better to set him straight than John Constantine? Problem with that is as much as John loves a good mystery, he loves messing with people's heads even more."
Our heads included, we assume (judging, again, from the convoluted miasma of this tale so far). To further complicate the complications, the tale is infected with an occasional flashback to Bruce's childhood, painted in a hue that distinguishes this narrative from the main story but without clarifying anything in either tale or subplot.
Azzarello's story is painfully, spectacularly, copiously, exactingly, illustrated by Lee Bermejo. It's absolutely photographic so detailed is it. Nothing is left out, although much is merely suggested in the deep shadows that cloak its every page. Bruce Wayne's naked genitalia, for instance, which Stephen Colbert extolled on his late night broadcast, in effect complimenting the book by revealing the revelation of Batman's dick. (Ooops: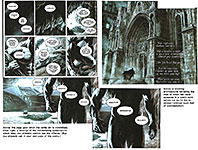 his penis, not to be confused with his sidekick's maiden name, Dick Grayson.)
And, yes, you can just about make it out—once someone has called your attention to it (which we, dutiful reporter always, rush to do). Batman—or, rather, Bruce Wayne as he's known without his cowl—stands facing us, entirely naked, and although his pecker is deeply in shadow, if you know what you're looking for, you can just make out an outline of one side of it (the other side being, as I said, deeply in shadow). (And yes, he's circumcised, or so it appears upon close examination—close enough that the examiner qualifies as a pervert.)
This book may be the most ambitious, raveningly pretentious comic book ever published. You should rush right out and buy your copy before they're all sold. You'll need it to complete your collection.
BERMEJO's RENDERING OF BATMAN'S PENIS aroused more consternation and excitement than Azzarello's story. The tut-tut generation tut-tutted and allowed as how their grandparents had been correct about the corrupting influence of comic books: seeing a penis would undoubtedly lead American youth to lives of crime. (As if comic book readers, most of whom are male, had never seen a penis before.)
A younger generation rejoiced. For years, they'd giggled and pointed at the crotches of superheroes in tights, marveling (so to speak) that the tights had no bulge where the superhero's superprick must be. And now, with Batman's dick, we realize that they all had penises, regardless of what the pictures had previously been dutifully leaving out (or to our imaginations).
The news media carried on as if they'd discovered the truth about the Trumpet's prick. (Oh, wait: Stormy Daniels has already revealed that it is both tiny and has a mushroom-shaped head. Until the disclosure of that truth, journalists delighted simply in having any sensational story that wasn't about the many Trumpet scandals— tax evasion, tariff, or environmental deregulation.)
And at DC Comics—well, another emotion prevailed. Chagrin, perhaps. And back-pedaling prevailed as the Responsible Persons tried to escape the glare of the news media.
The Black Label imprint was to be defined by three factors— big name creators, big name superheroes, and big helpings of creative freedom, including freedom from DC's main continuity. But that message was lost in the din when the first book built expressly for the imprint hit the stands, having gone to print with full-frontal nudity. Are we to suppose that exposing genitalia is part of the new creative freedom?
Well, no.
DC promptly, hurriedly, edited panels of a naked Bruce Wayne/Batman in digital and further print editions of Damned, but conversation around the issue was irrevocably centered on the maturity of content in Black Label—what did maturity of content mean, actually? pictures of peckers?— rather than the work of the artists behind it or the potential offered by Black Label's open space for creativity
DC Comics co-publishers Jim Lee and Dan DiDio stepped up and did their best to defend or apologize for what they termed was a "production error."
And the rest of us smiled contentedly as we watched them try to discuss the matter without saying "penis."
Both Lee and DiDio say (and profoundly hope) that, ultimately, the book would bring readers back to read issue Nos.2 and 3 on the strength of the title's overall content so far, not just a few salacious panels.
"I think we made some choices after it went out," Lee said, "and there were some production errors that led to the book being published the way it was ... that ended up being a big story. But thankfully people were very pleased with the story and the content, the beautiful art, and the story that Brian [Azzarello] and Lee [Bermejo] had come up with really resonated with readers."
Sorry: it didn't "resonate" with me: it was all too dark and the narrative full of meaningless menace.
BUT THE RECEPTION of Batman: Damned No.1 has prompted some rethinking at DC, even if it's just a more cautious approach.
"It's made us, certainly, look at what Black Label is and think about whether these elements are additive to the story," Lee said. "And that's something that we'll be mindful of going forward, because I don't think we want necessarily a repeat of what happened with the first issue."
"It's something we wished never happened," DiDio chimed in, "because it really took the attention away from what we thought was quality storytelling, and that's not the way we see this imprint. As a matter of fact, we're excited by all the books that we have under Black Label. And it's an important line for us, so much so that we're actually repositioning some of our older material that has that same tonality and bringing it in and reprinting it under the Black Label name."
Those reprinted titles, announced in June, include books as old as Frank Miller and David Mazzucchelli's Batman: Year One and Darwyn Cooke's DC: The New Frontier — and books as young as Sean Murphy's Batman: White Knight. All of which have already been published and are on remainder shelves worldwide.
Other upcoming original Black Label titles include Scott Snyder and Greg Capullo's Batman: Last Knight on Earth, which finds Batman wandering in a strange wasteland accompanied only by the Joker's talking severed head; Frank Miller and John Romita Jr.'s Superman: Year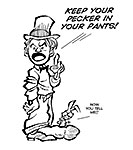 One, about the first year of Clark Kent's work as Superman; John Ridley's The Other History of the DC Universe, about major events in DC History seen through the eyes heroes who belong to marginalized identities; and Kelly Sue DeConnick and Phil Jimenez's Wonder Woman Historia: The Amazons, the lost history of Wonder Woman's Amazonian forebears as told in their own words.
But none of this line-up will depict peckers or pudendum, Superman's dick or the Joker's asshole. DC learned its lesson. Funnybooks can't be too realistic regardless of the color of their label. Superheroic life will go on, crotches without bulges.
But it was fun while it lasted.
TINY HORSES
A federal judge threw out Stormy Daniels' defamation lawsuit against the Trumpet (filed when he tweeted that her claim that she'd been threatened to keep quiet was "a total con job"), saying that the Prez's remarks amounted to the kind of "ordinary rhetorical hyperbole" that infects everyday politics as a matter of course. The Trumpet promptly called Daniels "Horseface," and she responded by tweeting, "Game on, Tiny."
THE FIRST COMICS
Proclaimed by Fandom
In an ancient Roman tomb that was recently rummaged in Jordan, a colorful mural offers a comics-like glimpse of what life may have been like in the bustling city of Capitolias thousands of years ago. Hundreds of illustrated figures — humans, animals and gods — appear in the paintings, reported the French National Center for Scientific Research (CNRS). Their poses demonstrate routine activities, such as harvesting crops and building a defensive wall, in a city that was a thriving center of commerce and culture during the second century A.D.
But the mural doesn't just contain pictures. Dozens of inscriptions appear alongside the figures; they describe the action in the local language of Aramaic (though written in Greek letters), and they seem to serve the same purpose as speech bubbles do in comics, CNRS recently claimed.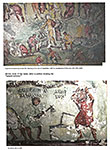 "The inscriptions are actually similar to speech bubbles in comic books because they describe the activities of the characters, who offer explanations of what they are doing ('I am cutting (stone),' 'Alas for me! I am dead!'), which is also extraordinary," Jean-Baptiste Yon, a researcher with the History and Sources of Ancient Worlds Laboratory (HiSoMA) in France, told CNRS.
Naturally, comics scholars immediately seized upon the news (and the pictures of the adorned walls) as evidence that comics were common centuries ago. Comics, in short, are an ancient and enduring art form.
First unearthed in 2016 in the town of Beyt Ras, the tomb and its remarkable artwork were recently revealed by the Department of Antiquities of Jordan, according to CNRS. Researchers with CNRS were among the international team of archaeologists working to excavate and interpret the contents of the ancient tomb.
But the "first" comics?
This discussion— about whether or not this work of art or that is the "first comic strip"— can go on forever. Some years ago, I sought to table all such endless albeit engaging confabulations. Using a maneuver like film buffs use, I arbitrarily (almost) set a date—January 1900—before which all so-called "comic strips" are not ipso facto "comic strips": they're "prototypes."
Why January 1900? Because that's the year that Frederick Burr Opper began his comic strip Happy Hooligan, and all the ingredients of the formal comic strip were there within a couple weeks of the strip's debut on March 11. Sequence of pictures, speech balloons. The whole shmear. So, 1900 is the pivotal year, and I picked January to locate the pivot so the whole year would be designated, no quibbles about February or March or April Fools'. Before January 1900, all so-called "comic strips" are "prototypes." They're almost but not quite comic strips in form. Almost. Like all prototypes, they come close but they're not there yet.
This recently discovered bunch of murals falls handily into the prototype category: it's a prototype of a comic strip. Obviously, it set no precedent that anyone followed. No other scrawler on cave walls (or any other perpendicular surface) resorted to speech balloons. No imitators. It set no fashion that anyone wanted to follow. But it's still a prototype.
READ & RELISH
"I love deadlines. I like the whooshing sound they make as they fly by."—Author Douglas Adams
"You can only hold your stomach in for so many years."—Burt Reynolds
NEWSPAPER COMICS PAGE VIGIL
The Bump and Grind of Daily Stripping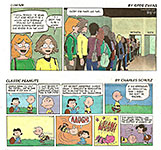 THE TWO COMIC STRIPS AT HAND, published in the midst of the Kavanaugh sexual assault brouhaha, tempt me to ascribe political import to their otherwise purely comedic meanings.Of course, neither strip intends such meanings. Charles Schulz's Peanuts was produced years and years ago, too far in the past to apply to anything political today. And Greg Evans' LuAnn was doubtless produced at least a month ago—perhaps more. So practically speaking, neither has anything to do with Kavanaugh or #MeToo or any of that. But it's fun (or criminal) to ponder the possibilities.
OKAY: FOR ONE LAST TIME. Critics of the funnies have lambasted Jim Davis for the alleged static nature of Garfield. The cat just sits and talks and never moves, and the pictures contribute nothing to the comedy.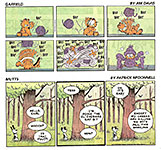 Yet here's Garfield in today's funnies: all motion and no talk. The comedy arises entirely from the pictures, which change from panel to panel. So there.
Another strip from today's comics section, Patrick McDonnell's Mutts, is static. Same picture; different words. In fact, you don't, really—if you remember the Cheshire cat—need the pictures. So there.
I WAS TEMPTED TO CALL this next exhibit "Only In The Comics" because several of these strips achieve their comedy by devices that can be found only in the comics.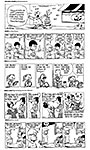 But the first strip on display, Dana Summers' Bound & Gagged, doesn't fall into that category. It's a lovely blurt of sarcasm that needs to be enshrined while we're still in the vicinity of Hallowe'en, so I hasten to air it here, now.
The next two strips, though, are "only in the comics" candidates. Both Rob Harrell's Adam and Jef Mallett's Fraz deal with spelling and the sound of words, aspects of language that are advantageously dealt with in a comic strip where a sequence of panels permit the gradual development of the joke in which sound dos not exist except in the way a word is spelled.
By the way, what happened to the other end of the hose in Harrell's strip? It's there in the first panel but goes missing in the rest.
I put Don Wimmer's Rose Is Rose on display because it offers such a splendid notion.
Back to Harrell's Adam for a finish—yes, only in comics can a nose have a capacity to rest itself on a table as Adam's is doing. Only in the comics.
SELF-REFERENTIAL strips are popular, apparently—if we judge from the number of times we see a comic strip in which the characters seem aware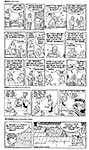 of being in a comic strip. A couple weeks ago, Brian Crane did almost a week's worth of the Pickles with the cast being conscious of itself as being in a comic strip.
Blondie frequently has an installment in which Dagwood is looking out at us in the last panel; he may not know he's in a comic strip, but he knows we're out here, looking at him. The example at hand, however, is of a different sort: it makes fun of all of Dagwood's comic strip oddities—the cowlicks, the one-button shirt. That short list leaves out one other: his eyeballs are larger and more oval than anyone else's in the strip (except his son, Alexander, who is a carbon copy of Dagwood, and the family dog, Daisy).
Beetle Bailey does not quite achieve a self-aware release here. But Snoopy on the passing doghouse floating out to sea is something we all recognize as being in a different comic strip, so that's close.
OUR NEXT SERMON falls again under the general heading of "Only In The Comics."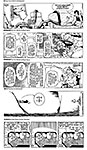 In Zits, Jerry Scott (writer) and Jim Borgman show how lanky Jeremy's teenage form is by depicting it sprawled all over the strip—er, livingroom. The width of the strip helps emphasize how sprawling his form is.
Tom Batiuk frequently of late resorts to a vertical rather than horizontal layout for his strips, Funky Winkerbean and Crankshaft, the latter on display here in two installments. I can't help feeling that he uses this device just to minimize the amount of drawing necessary for his artist, Dan Davis these days (not Chuck Ayers as the byline would have us believe). Admittedly, it's a shorthand way of dealing with a lot of speech balloons without having to draw the speaker for each balloon.
But Patrick McDonnell in Mutts uses the verticality of his strip in the way I think more legitimate: the verticality here emphasizes the height of the limb from which the cat is dangling. There's no such vertical dimension in the Crankshaft examples. Just a drawing shortcut.
Blondie isn't here as an example of "only in the comics." Just a tiny quibble, but it seems Dagwood's legs in the last panel aren't as long as they appear in the first panels. Maybe it's just me.
AT GASOLINE ALLEY, cartooner Jim Scancarelli is fast approaching the Grand 100th Anniversary of the strip's debut (which happens on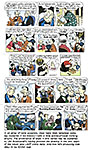 November 24, two days after Thanksgiving. The celebration in the strip began several months ago when Walt Wallet went to the Old Comics Retirement Home thinking he was going to emcee a party for someone else. (Little Orphan Annie?) And then he found out that emcee invitation was a ruse designed simply to get him there.
To celebrate Gasoline Alley's 100th, Mutt (of Mutt and Jeff fame) started interviewing Walt about all the events that had transpired in the strip since its beginning. Hereabouts we've posted a sampling of some of those strips.
TICS & TROPES
The truth is that Helsinki was nothing but an embarrassing spectacle said Leonid Bershidsky in Bloomberg.com (quoted in The Week). Trump has been "reduced to admitting that nothing happened at the summit while simultaneously insisting that it was successful."
On April Fool's Day in 1973, John Lennon and Yoko Ono formed a conceptual new country called Nutopia with "no laws other than cosmic" and a silent national anthem.
TRUMPERIES
Quirks and Antics of the Prez
IN HIS RECENT ADDRESS to the United Nations (which the Trumpet evidently thought was another of his "daddy needs love" rallies), the Prez made the colossal mistake of heaping scorn upon the ideology of globalism—apparently not aware that he was talking to a group that is the very embodiment of globalism.
But he also behaved, in one short, fleeting instant, more maturely, more like an adult, than I've ever seen him.
He bragged about how in less than two years his administration had done more than any other administration in American history. (More misplaced rally rhetoric.) As soon as the sentence was out of his mouth, the audience—world leaders every one—started laughing. At him. At him!
Trump, suddenly aware that he was being laughed at, smiled and—unbelievable— joked: "Not what I was expecting," he quipped, "—but that's all right," he concluded with a wry grin.
The fool, our national clown, has never looked more like a grown-up. But then, soon after that triumph, he reverted to his usual infantile braggart persona: he brushed aside the episode, telling reporters a big fib— "Oh, it was great. Well, that was meant to get some laughter, so it was great."
BUT THE TRUMPERIES for celebrating the season occurred on magazine covers—namely, those of The Week and The New Yorker.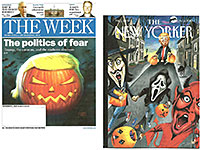 Both deploy Hallowe'en images to characterize the Trumpet's behavior as we approach the Election: with hysterical determination, he's set out to scare his legions of deplorables into voting so his party won't loose seats in the House or the Senate. The Week's portrait of Trump as a scary jack-o-lantern is suitably frightening, but The New Yorker captured both his role and his method. As he carries jack-o-lanterns full of loot from trickle treating down the street, he is accompanied by the imaginary hordes of evil trick-or-treating immigrants from Central America—an invading army of specters and thugs, all of them, plus infiltrating undercover Middle Eastern terrorists and pregnant women hoping to give birth (and therefore U.S. citizenship to their offspring) as soon as they set foot on this side of the southern border. With this blatant, gross and ugly deception, Trump's propensity for lying has achieved monstrous dimensions.
It's obvious to even casual observers that the highly touted caravan of migrants moving north towards our southern border is financed by Trump minions. The timing is too perfect for sheer coincidence: the caravan made it into the headlines just as the Trumpet needed something new to use to frighten his base into obedient voting. Trump says the caravan is inspired by the Democrats who want all those migrants to become democratic voters. Pshaw. That's a mere distracting episode in the Trumpet campaign. But here at Rancid Raves, we are not distracted: we know the Trumpet, and we know the caravan of invaders is paid for by Trump who continues to advertise the mob's intentions to corrupt our cities and rape our daughters.
THE FOURTH ESTATE
An Endangered Species?
Journalists Killed
WHILE WE'RE ALL SHOCKED at the undoubted murder of Jamal Khashoggi, a Saudi Arabian journalist who occasionally wrote columns for the Washington Post, the news of his death in the Middle East should not be a surprise. That region is the most dangerous for a journalist to work in. In the last 15 years, 1,035 journalists have been killed worldwide, most of them in the Middle East.
According to Reporters Without Borders, a total of 65 journalists (including professional journalists, citizen-journalists and media workers) were killed in 2017. Twenty-six of them were killed in the course of their work, the collateral victims of a deadly situation such as an air strike, an artillery bombardment, or a suicide bombing. The other 39 were murdered, deliberately targeted because their reporting threatened political, economic, or criminal interests.
As in 2016, most of the deaths were targeted (60%). The aim in each case was to silence the reporters. So far in 2018, 45 journalists have been killed; 5 of them at the Capital Gazette newsroom in Maryland last June.
RWB notes that 2017 has been the least deadly year for professional journalists in 14 years.
As has been the case for the past six years, Syria continued in 2017 to be the world's deadliest country for journalists with 12 killed, but Mexico was close behind with 11 killed. All of them were deliberately targeted. Of countries not at war, Mexico was the deadliest for reporters in 2017, as it was in 2016.
In the land of drug cartels, journalists who cover political corruption or organized crime are almost systematically targeted, threatened, and often gunned down in cold blood. Most of these murders remain unpunished, an impunity attributable to Mexico's widespread corruption, especially at the local level where officials are often directly linked to the cartels.
Torn by a never-ending bloody war, Syria has been the world's deadliest country for journalists since 2012. There is danger everywhere on the ground and journalists, professional or not, are permanently exposed to sniper fire, missiles, improvised explosive devices or suicide bombers. Syrian journalists are the most exposed, especially as the presence of foreign reporters has fallen sharply in recent years. Foreign reporters have nonetheless begun to return, especially to the north, to the Rojava region to cover the battles waged by Arab and Kurdish forces against Islamic State in Raqqa and Deir ez-Zor.
So why all the fuss over one journalist, Jamal Khashoggi? Perhaps because his tenuous association with the Washington Post gives news media the opportunity to headline at least one of the deaths the profession seems plagued by for simply covering the news. We never hear about the others.
And then, of course, there's the probable connection with the Saudi strongman, crown price Mohammed bin Salman, and the dubious relationship between MBS and the Trumpet.
It's all a bloody mess.
READ & RELISH
Joseph J. Ellis was asked what will finally unite Americans. He responded: "A great crisis that leaves us no choice but to come together. When the coastal areas have to be evacuated, when the real implications of climate change begin to hit, we're going to be forced to come together."
RANCID RAVES GALLERY
Pictures Without Too Many Words
I'VE BEEN THUMBING THE PAGES of the old humor magazine Life, which was published from late 1883 to the mid-1930s (when the title was taken over by Henry Luce for his big photo magazine). Here's a cartoon by Hy Mayer that I thumbed into. Delicious. The woman's starkly black and white dress just jumps out at you. Brilliant linework. Published in 1896.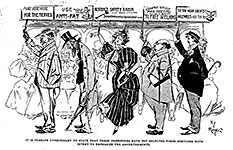 Here's another great drawing from the old Life, sometime in the latter half of 1898.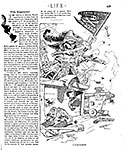 By Will Crawford, I think; hard to make out a signature, but the elaborate shading is typical of his work. The amount of detail is stunning, but the main point, the "star boarder" boarding, is never overwhelmed. Great stuff. The accompanying text is about General Leonard Wood in Cuba. The alleged "comedy" is achieved entirely by sarcasm, always a risky exercise.
Still culling pictures from issues of the old humor magazine, here's a charming portrait of someone named Hall Caine by Clyde Newman in an issue dated November 29, 1902.Fantastic linework. Notice that even his left eyeball is shaded a little.
The accompanying article is a sarcastic treatment of its subject, emphasizing what the writer, Tom Masson, suggests is Caine's colossally good opinion of himself. And well Caine might have such an opinion.
As a former high school English teacher with a Ph.D in English literature, I was astounded to learn that Hall Caine (May 14, 1853 – August 13, 1931) was a British novelist, dramatist, short story writer, poet and critic of the late nineteenth and early twentieth century.
Caine's popularity during his lifetime was unprecedented. Writing fifteen novels on such ordinarily verboten subjects as adultery, divorce,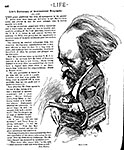 domestic violence, illegitimacy, infanticide, religious bigotry and women's rights, he became an international literary celebrity, selling ten million books.
Caine was the most highly paid novelist of his day. The Eternal City is the first novel to sell over a million copies worldwide. In addition to his books, Caine is the author of more than a dozen plays and was one of the most commercially successful dramatists of his time; many were West End (London) and Broadway (New York) productions. Most of his novels were adapted to silent films.
And yet—Ph.D and all—I'd never heard of him until I landed on the accompanying portrait.
Well, you live and learn, as they say.
ONWARD, THE SPREADING PUNDITRY
The Thing of It Is ...
Climate Change
The United Nations Intergovernmental Panel on Climate Change issued a dire report on climate change a few weeks ago, and according to the report, we'll all be underwater by the end of the century. Probably. And while reducing greenhouse gases was the objective of the Paris accords, it's probably too late. Cutting back on automobile emissions actually won't help much because that effort, well-meaning as it is, ignores another equally threatening cause of greenhouse gas emissions. Cows.
According to some experts (who've all known this for decades), the meat and dairy industry (cows) is responsible creating more dangerous pollution than the entire transportation sector. The worldwide population of 1.5 billion cows burping and farting methane gas causes more damage to the atmosphere than the world's 1.2 billion automobiles.
So why aren't we doing something about it?
For the same reason, I suspect, that we let people board airplanes while in possession of a lethal weapon. Credit cards. Yup: those can be weapons. Break a credit card in half, and you'll have two hard plastic cards with jagged, cutting edges, sharp enough to slit the throat of a pilot at the controls. (We've know about this weapon since the first season of the tv series "24.")
We don't fix the credit card threat because—well, imagine telling the entire air-traveling population of the U.S. that they can't take their credit cards with them.
The bovine methane gas problem is similar.
Imagine telling people to give up eating meat and cheese so we can reduce the cow population. And there are powerful interests who would oppose that effort. The cattle industry to start. Then on to restaurants and fast-food outlets.
So climate change is underway and will soon finish destroying the world's coral reefs, displace millions of people by sea-level rise, and reduce global crop yields. Saith The New Yorker (Elizabeth Kolbert): "In addition to transforming the way that electricity is generated and distributed around the world, fundamental changes would be needed in transportation, agriculture, housing and infrastructure." Among other disasters and adjustments.
We can no longer hope to do anything to prevent these unhappy outcomes.
It's time, now, to begin to plan instead for our future on the planet.
Among the first things we need to plan for is the raising of the sea levels and the effects on seaside cities like New York and San Francisco and Los Angeles, not to mention, even, Houston.
Instead of running around with our hair on fire over climate change, we should be sitting down and planning how to protect our civilization from wholesale flooding.
Not likely to happen, of course. Human beings are reactive creatures, not proactive. We wait for disasters to happen before we react to them.
P.S. A friend of mine attempted to shoot down the bovine belch-and-fart argument by remembering that before there were herds of cattle in this country there were herds of buffalo. And lots more elk and deer than we have now. And since all these animals digest their food in the same way as cattle, they'd be creating as much pollution and earth warmth as today's herds of cattle. So why didn't the earth warm up and the oceans flood the seashores then?
Fewer—or no—automobiles or airplanes, I guess. Which have simply added to the problem. So we're right back where we started. The earth is warming and the waters are rising.
RESOURCES YOU CAN TRUST
From the AARP Bulletin
(And if you can't trust AARP, who can you trust?)
These four organizations are dedicated to providing fair, nonpartisan election information:
Votesmart.org, RealClearPolitics.com, Ballotpedia.org, and PolitiFact.org.
WE'RE ALL BROTHERS, AND WE'RE ONLY PASSIN' THROUGH
Sometimes happy, sometimes blue,
But I'm so glad I ran into you—
Tell the people that you saw me, passin' through
John Wilcock, 1927 - 2018
By Robert D. McFadden, nytimes.com
JOHN WILCOCK, A BRITISH JOURNALIST and travel writer who played a major role in the emergence of the alternative press at the Village Voice, the East Village Other and the Underground Press Syndicate, died September 13 at a care facility in Ojai, Calif. He was 91.
He died after several strokes, said his biographer, Ethan Persoff.
In the 1960s and early '70s, a freewheeling age of psychedelic drugs and antiwar protests, Wilcock led two lives. He was both the author of many "$5 a day" travel books and a driving force behind underground publications that, spurning traditional journalism, attacked political, social and cultural norms with bawdy language and comic-book imagery, all of it financed by sexually explicit advertising.
Wilcock had worked for news organizations in Britain, Canada and the United States, including the Times, and was the first news editor of the Village Voice before he helped found the East Village Other in 1965. The paper was named for Carl Jung's definition of "the other" as "one who is outside society."
The Other, known as EVO to its devotees, was one of the nation's first underground newspapers. Published biweekly in New York until it folded in 1972, it had a circulation of 60,000 at its peak.
In its pages one might typically find a picture of President Lyndon B. Johnson's head in a toilet; recipes for concoctions made with marijuana and hashish; cartoons by Art Spiegelman and R. Crumb; reports on Andy Warhol, Timothy Leary and Abbie Hoffman; and personal advertisements like "Frenchman, graduate student, writer, will happily share his East Village apt. with swinging chick."
In 1966, as underground newspapers spread to urban areas throughout the country, Wilcock helped found the Underground Press Syndicate, which shared news and features. Based in New York, it was initially a network of five publications: the East Village Other; the Los Angeles Free Press; the Berkeley Barb; The Paper of East Lansing, Mich.; and the Fifth Estate of Detroit. By 1974 the boom was over, with underground papers giving way to less radical alternative weeklies.
John Wilcock was born in Sheffield, England, on August 4, 1927. He became a cub reporter at 16 for the Sheffield Telegraph and worked for the mass-market London tabloids the Daily Mail and the Daily Mirror. In the early 1950s he was an editor for British United Press before moving first to Toronto, where he worked at Saturday Night magazine, and then to New York, where he settled in Greenwich Village.
In 1955, Wilcock was present at the creation of the Village Voice, a weekly tabloid covering politics and the arts that was America's first alternative newspaper — although whether he should be considered a founder is a matter of some dispute. [I've listed him as a founder in these posts.—RCH]
The Voice discontinued its print edition last year and ceased publication entirely just weeks ago.
Wilcock wrote a column for the Voice, "The Village Square," for a decade, reporting on neighborhood events and trivia and depicting himself as an innocent who yearns for young women with ponytails in Washington Square Park and collects lavatory graffiti, like "Electra loves Agamemnon," at the White Horse Tavern. ...
In 1963, Wilcock, a photographer and a nude model were arrested on a Sunday afternoon at Liberty Street and Broadway in Lower Manhattan on a charge of disturbing the peace. A judge acquitted them on grounds that in that location, which as part of the financial district was normally deserted on weekends, there was no one around to be disturbed, except the detective who had nabbed them.
In 2016 Persoff and Scott Marshall published the first volume of a biography in graphic-novel form, John Wilcock: New York Years, 1954-1971. A second volume is in the works and is being serialized on the culture website Boing Boing..
Wilcock settled in Ojai in 2001 and there began publishing an online monthly magazine, the Ojai Orange. The magazine included a column, which he continued to write until recently. He called it "The Column of Lasting Insignificance."
Daniel E. Slotnik contributed reporting.
And now, the astonishing finish. Surprise Ending: Surprise! It's ending!
To find out about Harv's books, click here.