Opus 379 (completed May 23, 2018). The nominal birth of underground comix occurred about 50 years ago this last winter, and we celebrate with a review of Underground Classics: The Transformation of Comics Into Comix, which immediately deteriorates into a short history and analysis of ugs. We also review Action Comics No.1000 and Captain America No.700 plus several recent issues of Savage Dragon in which sex and nudity are hilariously indulged. We take a long look at the Life and Legend of Wallace Wood, Vol.2 and Eddie Campbell's off-beat history Goat Getters, which shows how sports cartooning in San Francisco circa 1905 turned out comic strip cartoonists who "reinvented comics." We report on FCBD at Mile High Comics and the surprising long life of Elfquest and the conning of Stan Lee and a new cartoonist on Nancy. and we reveal the origin of Tom the Dancing Bug and and make a fond farewell to Lee Holley.
Plus editoons of the last month of Spanky's antics in the White House. Here's what's here, in order, by department—:
DiNK Weekend Correction
NOUS R US
Stan Lee Conned
New Comic-Con Cancelled
Turk Cartoonist Jailed
Spillane's Mike Hammer Goes Graphic
Oliphant Papers at University of Virginia
Tom the Dancing Bug Gets RFK Award
Free Comic Book Day at Mile High Comics
Elfquest Is Alive and Well
New Nancy
Wayno on Bizarro
Rancid Raves Going On Twenty
AAEC's Make-Over
Odds & Addenda
ACLU Sues Trump
Previews 2,553 new comics et al
Sixteen School Shootings This Year
FUNNYBOOK FAN FARE
Action Comics No.1000
Captain America No.700
Catching Up With Savage Dragon (Surprises)
Silver No.1
REMEMBERING MORT WALKER
Beetle Bailey and 8 Other Comic Strip Creations
EDITOONERY
History's Most Outrageous Editoons
Last Month's Issues and Trump Events
NEWSPAPER COMICS PAGE VIGIL
Notable Strips Recently
ACCERETION OF INTENTION DEPARTMENT
Review of Underground Classics: The Transformation of Comics into Comix
RANTS & RAVES GALLERY
Obscene Scene?
Deadpool Gets a Mouth
BOOK MARQUEE
Short Review of—:
She Changed Comics:
Untold Story of Women Who Changed Free Expression in Comics
BOOK REVIEWS
Long Opinionated Reviews of—:
The Life and Legend of Wallace Wood: Volume 2
The Goat Getters: Jack Johnson, the Fight of the Century, and How a Bunch of Raucous Cartoonists Reinvented Comics
A-GAGGING WE SHALL GO
The State of Magazine Cartooning in—:
Esquire, The New Yorker, Playboy, and Boys' Life
PASSING THROUGH
Lee Holley
QUOTE OF THE MONTH
If Not of A Lifetime
"Goddamn it, you've got to be kind."—Kurt Vonnegut
Our Motto: It takes all kinds. Live and let live.
Wear glasses if you need 'em.
But it's hard to live by this axiom in the Age of Tea Baggers,
so we've added another motto:.
Seven days without comics makes one weak.
(You can't have too many mottos.)
And our customary reminder: don't forget to activate the "Bathroom Button" by clicking on the "print friendly version" so you can print off a copy of just this installment for reading later, at your leisure while enthroned. Without further adieu, then, here we go—:
CORRECTION
Unhappily, I didn't include all of the founders' names when reporting on my DiNK Weekend in Opus 378. Here's a substitute opening paragraph for the article, this one including them all (plus) in boldface—:
A DiNK WEEKEND
Your Rancid Raves reporter spent April 14-15 at the third annual Denver Independent Comic Art Expo, or DiNK, the acronym into which the founders inexplicably conflate the name. Co-founded by Denver's Charlie La Greca, Jeff La Greca, Dan Crosier and Jim Norris with the able operational labors of Bonnie Graham. DiNK studiously avoids the trappings of the big comic-cons—no celebrity appearances, no Hollywood stars, no animation voice-overers, no video games or cosplay contests (well, one of those, about which, more anon). DiNK proclaims itself a "boutique comic-con." Various corners of it have a distinctly "hippie" flavor, and the clientele is extensively tattooed. ...etc.
NOUS R US
Some of All the News That Gives Us Fits
STAN LEE CONNED INTO SIGNING OVER HIS NAME AND LIKENESS RIGHTS
The Hollywood Reporter reports (all that follows): The epic battles in Stan Lee's comics may be nothing compared to the array of legal fights he's waging — which now includes a billion-dollar lawsuit against the company he co-founded.
Lee is suing POW! Entertainment for fraud and conversion, claiming the company and two of its officers conspired to steal his identity, name and likeness in a "nefarious scheme" involving a "sham" sale to a Chinese company.
Lee's POW! was acquired in 2017 by Hong Kong-based Camsing International, and Lee says POW! CEO Shane Duffy and co-founder Gill Champion didn't disclose the terms of the deal to him before it closed. At the time, Lee claims, he was devastated because his wife was on her deathbed and they took advantage of his despair — and his macular degeneration, which rendered him legally blind in 2015.
Lee says last year Duffy and Champion, along with his ex-business manager Jerardo Olivarez, whom he's currently suing for fraud, asked him to sign a non-exclusive license with POW! for the use of his name and likeness in connection with creative works owned by the company. Instead, what he purportedly signed was a "fraudulent" intellectual property assignment agreement that granted POW! "the exclusive right to use Lee's name, identity, image and likeness on a worldwide basis in perpetuity."
According to the complaint filed Tuesday in Los Angeles County Superior Court, Lee has been selective about licensing his name and likeness and will only authorize the use on a non-exclusive basis.
"Lee does not recall anyone reading the Illegitimate Document to him, and, due to his advanced macular degeneration, he could not have read it himself," writes attorney Adam Grant in the complaint. "While the Illegitimate Document purports to contain Lee's signature, Lee never knowingly signed it. Either Duffy, Champion, Oliveraz [sic] or POW! (1) forged Lee's signatures; (2) lifted Lee's signature from another document and imposed it on the Illegitimate Document; or, (3) someone, likely one of the Defendants, induced Lee to sign the Illegitimate Document by using a bait and switch tactic: telling Lee it was something else."
Lee also claims POW! took control of his social media accounts and has been impersonating him — something he's recently addressed on Twitter.
Lee is seeking an injunction declaring the agreement invalid and unenforceable and damages in excess of $1 billion.
A representative for POW! has not yet responded to a request for comment on the complaint. The company in April released an open letter to fans saying it was concerned about "the upheaval within [Lee's] personal management and life" following an investigative report by The Hollywood Reporter that included allegations of elder abuse.
RCH: I doubt these con-men can come up with a billion bucks, so what, realistically, is the penalty they'll face?
NEW COMIC-CON CANCELLED AT BALTIMORE
Just a week before it was to open, the Universal Fan Con was cancelled—or, "postponed," as the organizers prefer, saith Talia Rilchman at baltimoresun.com
Billed as the "first multi-fandom Con dedicated to inclusion, highlighting Women, LGBTQ, the Disabled and Persons of Color," the event was supposed to run April 27 - 29. But organizers announced on Twitter they couldn't secure enough financial backing to hold the convention. They said they hope to reschedule eventually and "put forward the type of event our fans deserve."
"As we built out our floorplan, invited guests, figured out lodging/travel arrangements, and confirmed activities, our costs started to grow exponentially," organizers wrote in a statement posted on the convention's website. "Unfortunately, the support we were anticipating in terms of ticket sales and sponsorships did not materialize."
TURK CARTOONIST JAILED
From AAEC: Cartoonist Musa Kart and 13 other journalists from the Cumhuriyet newspaper, were found guilty in a politically-motivated trial in Turkey. The trial is seen as a crackdown on opposition by the country's current president, Recep Tayyip Erdogen, who aspires to absolute rule. Kart was sentenced to 3-plus years for drawing cartoons (some of which were critical of Erdogen), while fellow journalists got up to 8 years. The verdict can be appealed, but given the show trial aspect of the case so far, there is valid concern for their eventual fate.
SPILLANE'S MIKE HAMMER GOES GRAPHIC
Mike Hammer is venturing into a new print medium. Mickey Spillane's hard-nosed private eye will appear in a graphic novel later this year in Titan Books' Hard Case Crime imprint—in time for the 100th anniversary of the author's birth. It's the latest release in the Hard Case graphic novel list.
Spillane died in 2006, Brigid Alverson tells us in the April 23 issue of Publishers Weekly. But the graphic novel is based on an unproduced screenplay he wrote in the 1950s. Novelist and comics writer Max Allan Collins, who has edited and completed other Mike Hammer novels, is writing the adaptation, with art by Marcelo Salaza and colorist Marcio Freire. The story will be published as a four-issue comic miniseries starting in July and will then be compiled and published as a collection in October.
"Mickey started his writing career as a comic book writer: he wrote for Captain America and the Human Torch and the Sub-mariner" in the 1940s, said Charles Ardai, editor and founder of the Hard Case Crime imprint and its novel and comics lines. "He originally conceived Mike Hammer as a comic book character called Mike Danger before deciding to try his hand at a prose novel instead. So this really is returning Hammer to his roots, and I think Mickey would have been delighted.
"It's the classic Hammer you know and love," he continued, "— beautiful women, hardened gangsters, bullets flying, and maybe a tender moment or two, and Hammer's beautiful assistant, Velda, clad only in lingerie, has to shoot her way out of a house full of criminals. It's moments like that that were made to be immortalized in comics."
OLIPHANT AT UNIVERSITY OF VIRGINIA
The University of Virginia is the new home of the papers of Pulitzer Prize-winning editorial cartoonist Pat Oliphant. The archive, to be housed in the Albert and Shirley Small Special Collections Library, includes more than 6,000 of Oliphant's daily political cartoon and the plate used by the Denver Post to print the cartoon that earned him the Pulitzer.
University Librarian John Unsworth said the addition is both a complement to the library's current holdings and an unparalleled collection in its own right.
"We expect it to become a major resource for scholars at the University and beyond," Unsworth said. "It's not only of historical significance, but also of great artistic merit and value to students of the human condition, and we feel very fortunate to have it here."
The choice of the archive location is slightly baffling. Oliphant cartooned from Washington, D.C., for years before moving to Arizona, where he retired. He also spent years in the West at the Denver Post, where he landed after leaving his native Australia. Why an eastern college then? Dunno.
Oliphant said he considered options for where to leave his archive for scholarly use before settling on UVA. "UVA stands out as something else," he said. "It seemed a natural thing to do."
A FICTIOUS EDITOONIST GETS THE RFK
The Tom the Dancing Bug cartoon by "Ruben Bolling" (aka Ken Fisher) won the Robert F. Kennedy Journalism Award last month. In a press release, Fisher said: "It's a special honor for me both because of the accomplishments and legacy of Robert F. Kennedy, and also because the Award recognizes work in the area of human rights and social justice.
"I'm especially looking forward to receiving the handsome bust of Robert F. Kennedy, whose stern countenance in my office will no doubt provide a constant reminder for me not to engage in organized crime."
That'll give you an idea of the kind of humor and satire he trades in. Last year, Bolling won the Herb Block Prize for editorial cartooning. No joke.
Bolling's metier for editooning is the comic strip form, which he deploys on a weekly basis to express concern about the power of large corporations and to satirize the way government has been corrupted by money, according to St. Wikipedia. "Particularly since 9/11, Bolling's work often concerns war. Many of his strips admit no political interpretation, instead featuring absurdist humor or parodying comic strip conventions."
And he draws in whatever style seems appropriate to the satire he's committing.
Bolling started Tom the Dancing Bug while in law school, from which he graduated in 1987. He'd been toying with making comics, and then he saw Bill Griffith's Zippy and Garry Trudeau's Doonesbury and was inspired to try "a much more free and open, sarcastic, goofy, absurdist or minimalist approach," he said in an interview in The Comics Journal (No.247, October 2002).
"A major influence on me in terms of humor is obviously television humor. ... sketch comedy."
His second year at Harvard Law, he answered a Harvard Law Review ad for a cartoonist and submitted the strip that became Tom the Dancing Bug. But when he submitted it, it had no name—deliberately.
"I didn't want it to have a name at all. I just wanted to be as clever and funny as possible but with total flexibility, with nothing, not even a title, tying it down. I wanted to do my own Mad with different characters, different themes, different art styles each time. I would be the Don Martin and the Mort Drucker and everybody— the whole staff.
"When I approached the Law Review with the strip, they said they wanted to run it. But they hated the idea of the strip having no title, and they said they wouldn't ruin it unless it had a name. So, on the spot I came up with the dumbest name I could think of."
He said he loved the name almost immediately. "I thought it up out of spite," but later, walking home, he thought: "That's perfect."
He adopted the pseudonym as self-defense. He didn't want anyone to know who did the strip, the wisdom of which was confirmed almost at once when he attacked a dean who later came around to the Law Review offices wanting to know who Ruben Bolling was.
"The editor refused to reveal my identity, and I kept it a real secret thereafter."
He now thinks of the pen name as a metaphor for the sort of double life he leads with "Ken Fisher having a job and a family, and Ruben Bolling drawing the comic strip."
At the end of the first year, he photocopied all the Bug strips, stapled them together, and sold the "pamphlet" for three bucks each. It was a roaring success. "I couldn't photocopy enough of them."
He said he's the only alternative cartoonist he can think of who has never put himself in his comic strip. "You have to have a really good reason for autobiographical work," he said. "I don't think that the fact that you just smelled your own armpit is a good reason for doing an autobiographical comic."
The strip first appeared in a commercial newspaper in June 1990, in the New York Perspectives. Then Bolling began self-syndicating. By the time Perspectives went under in 1994 or 1995, Tom the Dancing Bug was in 30-40 newspapers around the country. It was picked up by the San Jose Mercury News, Washington Post and the St. Louis Post Dispatch. He was in about 60 papers. Then syndicates took notice. He started with Universal in 1997.
Here are samples of Tom the Dancing Bug over the last few months.
ADVENTURES ON FREE COMIC BOOK DAY
Rozanski's High and the Amazing Life of Elfquest
I spent Free Comic Book Day at the main store of Chuck Rozanski's Mile High Comics in Denver. He has two other stores in Denver, and I don't know what he was doing at each of them, but at the main store—called the megastore— he set up a dozen exhibit tables and invited a few local artists/artisans/cartoonists to sell their wares. I was one of those. (Didn't sell much; it wasn't a comic-con crowd: they were there for the free comics.)
Rozanski has been in the comic book selling business since 1969, when, at the age of 13, he was running a mail-order operation, selling back issues out of the basement of his parents' home in Colorado Springs. In 1974, opened his first store in Boulder, Colorado with $800 in cash and 10,000 comics. By 1977, saith St. Wikipedia, he had expanded to four stores in the greater Denver area.
"In December of that year, he purchased the Edgar Church Collection, the largest and highest-quality Golden Age comics collection ever discovered. The cache had been preserved due to the unvarying 60-degree temperature and minimal humidity, and consisted of 16,000 comic books dating from 1937 to 1955, including the first Superman comic and the first Marvel Comic. The purchase of the Church Collection helped Mile High Comics expand its influence nationally, and helped bring a geometric rise to the price of rare comic books, which became a legitimate investment. Rozanski once sold a batch of comics from the Church Collection for enough to put a down payment on a 22,000 square-foot warehouse."
Rozanksi subsequently opened eight stores in Colorado; now, in Denver, it's down to three, but he still boasts having the world's largest mail-order comics business, and I doubt that anyone could contest him for the accolade.
Legalized marijuana in Colorado recently prompted Rozanski to sell one of his warehouses. In Denver, the burgeoning cannabiz has boosted the value of warehouses. "In most states even where it's legal to grow marijuana, it must be done indoors." And that creates a demand for big empty buildings with space for a grow.
Rozanski suddently realized one of his warehouses was worth $1.6 million. He sold it and moved all its contents to his megastore, which is where I spent FCBD. The building is a little cramped for space nowadays what with all the warehousing, but Rozanski managed to cram everything from his warehouse into it with enough floor space left over for a dozen exhibit tables plus room for people to line up to get their free comic books.
Incidentally, Rozanski's maryjane connection goes beyond the sale of the warehouse. The name of his business, Mile High, is no accident. Yes, it's located in Denver, the Mile High City, but when Rozanski opened his first store in Boulder, he was in college and a practicing stoner. "High," particularly "mile high," had more than one meaning, he says with a knowing smile.
Getting a free comic book on FCBD involved an elaborate process at Rozanski's megastore. The line ran out into the street. Upon entering the store, you picked up a clipboard with an order form on it. The form was simply a list of numbers and instructions.
The line then ran by a huge bulletinboard where all the 54 free comic books were posted behind a sheet of transparent plastic (so you couldn't touch them) with numbers under each title. You could pick three for free, circling the corresponding number on the order sheet. If you wanted more than three, you could buy them for $1 each; the money went to a local charity. You could even buy all 54 in a packet priced at $40; again, the money went to a charity.
The line next went to a counter in the back of the store where a team of staffers were taking the order forms and issuing the comic books accordingly. One staffer's job was to collect the clipboards as they were turned in and take them to the front of the store where another staffer clipped order forms to them and stacked them on a table where they could be picked up by the never-ending line.
BUT THERE WAS ANOTHER LONG LINE—this one, ending at an exhibit table where Wendy and Richard Pini were autographing copies of their long-running Elfquest series.
I was astonished to realize that Elfquest was still going. I thought, since I'd heard nothing about it for years, that it had gone the way of all independent publishing enterprises—pffft. But, no, it's still going strong.
It started as a comic book in 1978, and it became a cult hit. The series tells a fantasy story about a community of elves and other fictional species who struggle to survive and coexist on a primitive Earth-like planet with two moons. Several published volumes of prose fiction also share the same setting.
Elfquest is created by Wendy Pini and her husband Richard (who became WaRP Graphics, Wendy and Richard Pini, when they started self-publishing). Over the years, they've also been associated with Marvel Comics, DC, and Dark Horse. A display of the Elfquest titles filled two huge bulletin boards behind the authors' table, as you can discern (I hope) from the accompanying photos.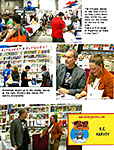 The early success of the series helped establish an offshoot of underground comix publishing, eventually dubbed "alterantive." Elfquest was highly praised for its innovative themes, said St. Wikipedia. "The fact that a female artist/writer was the creative principal of the series was also notable."
I went over to talk to Richard and Wendy during a lull in the line of autograph seekers. Richard told me that after 40 years, the Elfquest story that they started with has reached its conclusion—the conclusion that they had in mind at the onset. They'll be doing other Elfquest books, he thought, but the original storyline has ended.
All issues of Elfquest published before 2013 are available free at elfquest.com. Amazing. And/or you can order the complete 700-page Elfquest on Kindle or paperback for less than $20 (it sez here; but when I clicked on it, that wasn't, exactly, the case; or so it seemed to me upon a cursory glance—maybe $22).
Apart from the Elfquest display, the other big attraction among the exhibit tables appeared to be the one across from mine—where a couple guys in faux armor were demonstrating light sabres and other sharp accouterments. But an artist selling original art at the table next to mine went home after a couple hours of no sales.
Free Comic Book Day is just that—free comic books, no more, no less.
I picked up a couple. One was the usual "preview" enterprise: instead of offering a complete story, it "sampled" 6-8 pages of a "forthcoming" issue of the title, teasing us into wanting to buy the whole story when it comes out.
This is a cheap maneuver by funnybook publishers. Comic book stores already pay publishers for the "free" comic books, so the publisher has forfeited nothing with a "free" comic book. They could afford to publish actual full stories instead of such scanty remnants.
I'm irritated enough by this dodge that I almost never join in the FCBD frenzy.
But the other title I picked up, Silver, written and drawn by Stephan Franck, was a little better than a sample: it was, I gather, all of the "first chapter" in a graphic novel already on the stands. More about this down the scroll in Funnybook Fan Fare.
NEW NANCY
The comic strip character Nancy was introduced as a bit player in Ernie Bushmiller's Fritzi Ritz strip on January 2, 1933. As Fritzi's niece, the frizzy-haired kid pretty soon dominated the strip, and on October 30, 1938, her name replaced flapper Fritzi's in the title. Bushmiller did the strip until he died August 15, 1982, albeit assisted in the last years by Will Johnson. Nancy was continued by several other cartoonists (most notably, the co-creator of Zits and Baby Blues, Jerry Scott, July 11, 1983 - September 2, 1995) until it was taken over by Guy Gilchrist on September 3, 1995; Gilchrist has produced the strip ever since until February 18, 2018, when he stepped down and turned the job over to a successor.
The last Gilchrist strip was a Sunday, and Fritzi, who had appeared only occasionally through the years since 1933, married, finally, her long-suffering boyfriend, Phil Phumble, an authentic nebbish whose luck with the statuesque Fritzi gives hope to all us nebbishes.
On the following Monday, the strip appeared under the byline Olivia Jaimes (pen name), marking the first (and only so far) time that Nancy has been rendered by a cartoonist of the same gender persuasion, who will doubtless offer a "21st-century female perspective," says John Glynn, president and editorial director of Andrews McMeel, the distributing syndicate.
"Nancy has been my favorite sassy grouch for a long time," Jaimes says in a syndicate release. "I'm excited to be sassy and grouchy through her voice instead of just mine, and I can complain to the whole world about things that bother me instead of just to my friends and family."
Nancy is syndicated these days to about 75 newspaper clients (it ran in nearly 900 papers during Bushmiller's heyday) and enjoys a unique fandom among some professional cartoonists, who hold up examples of the strip at midcentury as a pinnacle of formal minimalism, giving Nancy a cult status, which is celebrated in the recent book, How to Read Nancy: The Elements of Comics in Three Easy Panels, by Paul Karasik and Mark Newgarden.
"There's something warm and silly and magical in the facial expressions, the rhythm and the body language," Glynn said to Michael Cavna at the Washington Post's Comics Riffs. "Olivia is channeling Ernie Bushmiller while giving it her own unique, 21st-century voice. I think the fates led us to Olivia," he added about Jaimes, who previously worked in webcomics. "She's got the gift."
Not everyone agrees, and Jaimes is getting feedback.
"Olivia must be channeling her inner Bushmiller," wrote one positive commenter on the syndicate's website. Another noted how Jaimes nods to the comic's tradition even while including modern touches, writing: "It is refreshing to see a return to its original style and humor." And wrote another: "Nancy Goes Millennial."
Others have not been as pleased. One commenter wrote on April 16: "This is ridiculous. You'd never catch Ernie Bushmiller doing a joke about Snap Chat. Bring back, Ernie!" Another reader expressed to the Washington Post, "Since the characters have not aged in 85 years I don't think it's necessary to change them now."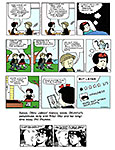 Jaimes had forewarned readers that her version of the strip would bring technological change. Now, she says, "Nancy's going to use all the social media and technology I use. People will be able to figure out exactly how behind the times I am by watching what apps she's using," continued, Jaimes, who is in her 20s. "It took me until last month to try Spotify, so that should give you an idea of where I'm at."
So now that she's several weeks into her Nancy, how does she feel about the massive reaction — does all the feedback affect her?
"It's exciting, but since I've also been avoiding the Internet a lot over the last couple weeks, it's not changed my approach or perspective much," says Jaimes, noting that she hasn't yet seen the reader comments and has stayed off all social media since her launch.
Jaimes brings a love for the vintage Bushmiller work to her Nancy, Glynn says, but with a voice that he hopes will resonate today.
ANOTHER BIZARRO CARTOONER
Dan Piraro continues to do the Sunday version of Bizarro, the panel cartoon he created in January 1985, but he's given the daily panel to One-name Wayno, with the release for January 1, 2018. Piraro plans to occasionally create gags for the daily, and some of the comedy will be collaborations between the two cartoonists. Wayno has contributed some 150 gags to the panel over the years, and he was "guest cartoonist" on Bizarro for two separate weeks while Piraro took some time off.
Said Wayno: "Dan and I have nearly identical comic sensibilities, which enables us to bounce ideas and details back and forth to edit and refine the work. We both want each cartoon to be as good as we can make it, so our process is highly collaborative, not to mention fun."
Oughta be easy: both their names end in 'o.'
Will Wayno go political? How much kinship with Piraro does he feel?
Piraro doesn't think of himself as a political cartoonist, but when he occasionally floated a cartoon with a political edge in the early days, his syndicate would phone and ask him if the risk of losing readers and/or newspaper clients was worth it. Piraro usually took the risk.
But Bizarro delivers more political digs these days.
"I'm not a balls-to-the-wall political activist," Piraro said, "but with my cartoon, I have a growing audience and a sense of obligation to address some issues that seemed to me to be social injustices that could be repaired with changes in attitude. When I started doing cartoons on Donald Trump, I expected a similar response as to when I was doing George W. Bush cartoons. Lose a paper here or there, but with Trump, nothing happened. They didn't mind that I was taking these pot shots at Trump even though I'm technically not allowed to delve into politics."
Piraro claims his readership has increased since Trump took office. But he's not allowing anti-Trump material to dominate the cartoon any time soon. He limits himself to one Trump cartoon for every seven he produces.
"My cartoons are an artistic representation of the way I think and imagine things," he said. "That's one of the reasons I'm not a millionaire."
GOING ON TWENTY
This opus of Rancid Raves marks the end of our nineteenth year of producing it, twice a month (either R&R or Harv's Hindsight) without fail. By way of commemorating this dubious achievement, we're posting a couple of caricatures made of Yr Rancidness, one by noted editoonist Milt Priggee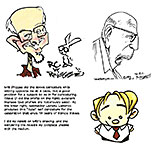 and one by a wholly innocent passerby at a cartoonists meeting last year—Steve D, who makes a living doing caricatures at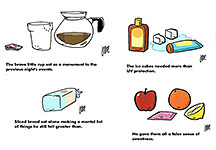 parties in Portland and thereabouts. We've also included a self-caricature of our webmaster, Jeremy Lambros (who calls it "cute"), who's been with the project since the beginning. A madman, just like me.
Jeremy is a cartoonist as well as a computer mechanic. At GoComics.com, he does a regular single panel cartoon called Domestic Abuse, which is about what abused kitchen utensils, fruits and vegetables, bottles of milk and cups of coffee might have to say if they could talk. Here are a couple examples.
AAEC's MAKE-OVER
The Association of American Editorial Cartoonists, a professional organization that promotes the interests of political cartoonists and comics journalists in the U.S., Canada and Mexico, has unveiled its new logo, it announced via news release.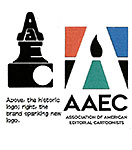 "After sixty years of distinguished service we are retiring the old ink bottle logo," said Salt Lake Tribune cartoonist and AAEC President Pat Bagley. "It was iconic and carried us for decades, but it was also archaic."
The ink bottle logo was designed by Karl Hubenthal (1917 - 1998), who started his post-World War II career in 1949 by drawing sports cartoons at the Los Angeles Examiner; he began editorial cartooning in 1956 but he still occasionally did sports cartoons. He also designed the helmet, uniforms and the original Norseman logo for the Minnesota Vikings.
The AAEC was formed in the spring of 1957 by a cadre of newspaper staff editoonists who were disgruntled by a Saturday Review article entitled "The Rise and Fall of the Political Cartoon." Apparently, they hoped a professional society would start the political cartoon rising again. Hubenthal was president in 1963-64.
Bagley continued: "Our progenitors universally worked in black and white; an updated color logo reflects the reality that we experience today as cartoonists where most of us seem to work in, well, color, and are rarely ink-stained anymore. We're going with something that better captures our twenty-first century selves."
The logo, designed by graphic artist JP Trostle, is the first element of a new look for the organization. A new website is planned for later this year in the run up to its annual convention, when editorial cartoonists and graphic journalists from around the world gather for a three-day confab. This fall, it'll be in Sacramento, California.
ODDS & ADDENDA
The American Civil Liberty Union has filed over 128 legal actions against the Trumpet's administration. ... If you ordered one of each of the 2,553 new comics, graphic novels, T-shirts, toys and other collectibles in the April issue of Previews, you'd spend $59,640.39. ... With the shooting at the school in Santa Fe, Texas, several days ago, we've suffered 16 school shootings in the first 20 weeks of this year; that's about one every 8.6 days.
Fascinating Footnit. Much of the news retailed in the foregoing segment is culled from articles indexed at https://www.facebook.com/comicsresearchbibliography/, and eventually compiled into the Comics Research Bibliography, by Michael Rhode, which covers comic books, comic strips, animation, caricature, cartoons, bandes dessinees and related topics. It also provides links to numerous other sites that delve deeply into cartooning topics. For even more comics news, consult these four other sites: Mark Evanier's povonline.com, Alan Gardner's DailyCartoonist.com, Tom Spurgeon's comicsreporter.com, and Michael Cavna at voices.washingtonpost.com./comic-riffs . For delving into the history of our beloved medium, you can't go wrong by visiting Allan Holtz's strippersguide.blogspot.com, where Allan regularly posts rare findings from his forays into the vast reaches of newspaper microfilm files hither and yon.
FURTHER ADO
According to Parade's annual income survey, Sean Hannity, 56, big mouth star on radio and Fox tv, makes $36 million/year (estimate); Debra Welker, 61, an elementary school cafeteria worker, makes $16,204; Sarah Smarrelli, 50, teacher of English as a second language, makes $45,463; Andrea Barber, 36, an elementary school teacher, makes $35,000; and a tour driver, Dennis McClintick, 64, makes $18,000. The NCIS star, Mark Harmon, 66, makes an estimated $19 million.
Jobs threatened by the emergence of artificial intelligence "bots"—cashiers, fast-food chefs, telemarketers, book-keepers, receptionists, compensation and benefits managers, proofreaders, bus drivers and computer support specialists. Jobs that are safe—writers, editors, software developers and graphic designers.
FUNNYBOOK FAN FARE
Four-color Frolics
Milestones: Superman and Captain America
Action Comics, the comic book that launched a thousand imitations and virtually established an American industry, just reached its 1,000th issue, which the publisher, DC Comics, celebrated with an 80-page "Landmark Issue" that I finally succeeded in reading yesterday, struggling to stay awake the whole time. The issue features 10 stories, many of which are told in the first person by Superman. Several extol the wondrousness of his patriotism and fortitude with speeches like this:
"Citizens of Metropolis, we are here today to recognize the man who has done more than we can ever thank him for —the man who has saved us time and time again and sacrificed for us in ways that we probably can't begin to imagine—Superman!"
I haven't read much Superman for years: when the protagonist in a story is a person with unlimited power who can do things with beams from his eyes that whole armies with their assembled high-tech weaponry can't do, the stories don't have much suspense—or interest. Why should I care about a guy so completely indestructible and all powerful that he's absolutely nothing like me? Can't identify at all.
Because I haven't been keeping up, I didn't know, f'instance, that Superman's now married to Lois Lane and they have a son named Jon. (We suppose this was achieved in the usual way; for a graphic demonstration of how it works, see Savage Dragon at "Catching Up With" below.)
In the 1,000th issue's book's first story, in which the massed multitudes of Metropolis have gathered to honor Superman, Lois says to her son: "Your father is the most understanding man I've ever met, Jon. He knows he shares a bond with Metropolis and that every now and then, in appreciation for all he's given them, the people get to return the gesture. That's what makes him Superman."
That's what makes him Superman? He's willing to let people thank him? Geez.
One story consists of 15 full-page pictures of Superman battling the various forces of Vandal Savage, muttering to himself all the way, invoking wisdoms like this: "The past informs us, teaches us, and most of all, strengthens us."
In another story, Superman visits the grave of foster parents Jonathan and Martha Kent and ponders Large Truths: "Science, religion, myth—stories. We're all stardust fallen. And so we look to the sky, and we wait to be reclaimed."
Amid such portentous poetic prattle, I'm glad to see Mr. Mxyzptlk, who shows up with a babe in her underwear.
The best story in the book is a 5-page epic entitled "Faster Than a Speeding Bullet" by Brad Meltzer, expertly rendered by John Cassaday. Superman somehow "senses" that a young woman is being held hostage by a bad guy, who has a gun pointed at her head. Even at a great distance, Superman hears the trigger being pulled, so he knows he has but micro-seconds to get to the girl before the bullet pierces her brain and kills her. Alternating between pictures of the bad guy and the woman and pictures of Superman in flight, the narrative, Superman in the first person, clocks the passage of time: "I watch the gunpowder ignite ... a femtosecond later, the bullet rotates along the grooves of the barrel. ... I know my top speed ... I know the distance ... I'm close ... but this is math. ..."
At the last instant, the woman helps Superman: she pushes her head against the gun barrel, and the gun makes a microscopic move, so the bullet has just a little further to go, taking just long enough that Superman gets there in time to put his hand between the bullet as it exits gun barrel and the woman's head.
Thankfully, no glorious speeches. And no pin-up style grandstanding poses of Superman inflating his chest and frowning at the evils of the world.
The last story sets the stage for the next issue of The Man of Steel (which will be written by new arrival Brian Michael Bendis): Supes is being beaten up by a monster named Rogol Zaar, who wants to destroy Earth in the same way he destroyed Krypton.
No.1000 of Action Comics did nothing to change my mind about a character who cannot be defeated or destroyed. He's boring.
A "deluxe edition" commemorative hardcover tome is soon to hit the stands. Edited by Paul Levitz, former prez of DC, it will compile essays and tributes and classic Superman stories. I have high hopes, but they're wholly unwarranted by Action Comics No.1000. (The litmus test is: will the commemorate volume include stories by Wayne Boring, the classic renderer of the Man of Steel?)
| | |
| --- | --- |
| | |
IN CONTRAST TO THE SUPERMAN ANNIVERSARY, we have the 700th issue of Captain America which concludes a 3-issue sequence in which Captain America actually demonstrates patriotism rather than just fulminating endlessly about it. My appreciation of the series arises, no doubt, from my admiration for the storytelling skills of writer Mark Waid and artist Chris Samnee, who share in the creation of the tale to such an extent that they are billed, together, jointly, as storytellers. And looking through these books, you can easily see that Samnee's visualizing talent carries at least half the narrative load. The stories, in short, are vivid demonstrations of the visual-verbal blending that characterizes the best comics storytelling.
In No.698, Cap breaks out of a block of ice, where, as once before, he's been frozen for some time. The world in which he finds himself is a Rampart dictatorship ruled by King Babbington; ordinary citizens have been reduced to wholesale homelessness and unemployed poverty. Cap can't believe it. And it's all the more unbelievable when he realizes that he's been frozen for only about six years. All that change in just six years.
He joins a muscular, determined young woman named Liang, leader of the underground rebels (who, albeit, are nearly helpless against the Babbington forces mustered against them to see that they all submit to his rule). She tells Cap that the change that put Babbington in power was the result of a 40-minute war that gave Rampart, "an anti-egalitarian cesspool," control with Babbington at its head.
Cap resolves to "take my country back," as he says. "I took an oath to defend my country no matter the personal cost."
Yes, Cap raves on about patriotism, but he doesn't elevate it to intergallatic metaphysical momentousness as Superman does in his many rants in Action Comics No.1,000. Besides, Cap gets right to work. First, he disposes of the King in No.699, setting the stage for the action in the commemorative No.700.
In that issue, Cap sets out to rebuild the nation. But he also has to contend with Rampart, which, even without its king, is a marauding force. Finally, exhausted, Cap realizes he, even supported by Liang and her troops, can't do everything. He doesn't get just one problem at a time: he gets a dozen every time. He's outgunned and outmanned. It's impossible.
To undo the disastrous Rampart rule, he consents to being transported back in time to a few days before the 40-minute war began, hoping he can destroy Rampart's armament, defeat its intentions, and prevent the war that destroys America. He says a fond farewell to Liang, who says, as he disappears into the mists of Previous Time, "Look me up sometime."
It ain't easy, but Cap accomplishes his mission. In the last pages of the book, peace and the traditional way of American life restored, Cap takes off his uniform and, as Steve Rogers, writes a letter to Sharon Carter (his paramour, I assume), and when he mails it at the post office, we see that the postmistress is Liang—his former, future, comrade in arms, who cannot, of course, recognize him: she knew him in the future.
Nice ironic wind-up.
In the ensuing No.701, Mark Waid is back, but Samnee has been replaced by Leonardo Romero, whose style is akin to Samnee's—simple linework, adorned with judiciously placed shadows. Adam Hughes and J.G. Jones do a few pages, but their work is too realistic in the Romero/Samnee context.
But No.700, the commemorative issue, is a memorable one. All the more so for Samnee's pictures, which, in their shadowed simplicity, he breaks down the narrative and lays out pages to tell a story—creating suspense and enhancing drama. This is the way comics should be.
Catching Up With—: I picked up three recent issues (Nos. 229-231) of Eric Larsen's Savage Dragon last fall but didn't get around to reading them until just last month. The title has changed somewhat since we last looked in. Malcolm, the original finhead's now grown-up son, is the focus of the action, but the action is interrupted regularly by Malcolm's home life. He's now married to Maxine, a tiny woman, and she's pregnant. Dunno what's become of his father, who makes no recognizable appearance in these issues. (Maybe he's the skeletal guy— friend of the family?—who has three finhead offspring of toddler age. Probably.)
The other regular interruption involves three naked women battling (for no discernible reason) some monsters in some other dimension. They started out as costumed superheroines, but lost their duds in the ensuing melee. And that brings us to a major change in Larsen's stories. He didn't used to have barenekkidwimmin in his books; now he does.
And No.329 includes a scene of Malcolm and Maxine at the climax of their coitus. We've all speculated in jest about how sex works when the male partner is superpowered, and Larsen shows us: Maxine gets blown across the room. I've included this stunning page among the samples down the scroll a bit.
That scene proves Larsen hasn't lost his sense of humor amid all the fisticuffs exploding on every other page. It was a comedic episode that attracted me to the title several centuries ago. The Dragon had fallen into a chimney and broke several bones in the process. His quick-healing factor kicked in, but since he was all bent out of shape in this cramped chimney, when he healed, he healed in his bent shape: unsplinted, his limbs were all akimbo, bent and twisted out of shape. When he finally got out of the chimney, he had to go to a hospital to get his bones broken again so they could heal splinted this time, returning his limbs to normal.
That's genuine superhero comedy.
Another discernible difference is evident in Larsen's line, which is nearly out-of-control in some panels. Facial close-ups are carefully done, but some of the figure drawing at mid-range and long-distance gets pretty casual. That isn't a flaw: Larsen's style is exuberant enough that variations in line quality merely add to the visual excitement.
Now, here are scans of some of the pages from all three issues.
An admirable first issue must, above all else, contain such matter as will compel a reader to buy the second issue. At the same time, while provoking curiosity through mysteriousness, a good first issue must avoid being so mysterious as to be cryptic or incomprehensible. And, thirdly, it should introduce the title's principals, preferably in a way that makes us care about them. Fourth, a first issue should include a complete "episode"—that is, something should happen, a crisis of some kind, which is resolved by the end of the issue, without, at the same time, detracting from the cliffhanger aspect of the effort that will compel us to buy the next issue. A completed episode displays decisive action or attitude, telling us that the book's creators can manage their medium.
Silver No.1, which I picked up during FCBD at Mile High Comics a few weeks ago, is a masterfully accomplished exercise in black-and-white drawing. The pictures are heavily shadowed, and many of the characters are dressed in black. To all of this, writer/artist Stephan Franck adds gray tone for polish.
The hero of the tale, which takes place in 1931, is James Finnigan, a thief, and this issue takes him through the steps of thieving something, guided by an outside henchman, who communicates to Finnigan via a headset. The suspense is palpable and the drawings superb.
In the book's completed episode, Finnigan escapes from the police, who dash en masse into the mansion he's burgling, thanks to the help of a young boy, who tells him which locker to hide in. Turns out, that's the only locker that the police don't look into. We witness Finnigan's basic humanity as he thanks the kid, which he does with self-deprecating humor, revealing yet another aspect of his personality. We want to see more of this guy—so we'll pick up what comes next.
What comes next is a graphic novel sized-tome. As usual with Free Comic Book Day comics, the free item is a teaser. Silver No.1 is longer than most of the chintzy teases, but what we've read is but Chapter One of the first book in a 4-volume mini-series, the first two volumes of which are, it sez here, presently at your neighborhood comic book shop. I'm going out to get mine now.
QUOTES & MOTS
"I like pigs. Dogs look up tous. Cts look down on us Pigs streat us as equals."—Winston Churchill
"Dogs lead a nice life. You never see a dog with a wristwatch."—George Carlin
"Scientists tell us that the fastest animal on Earth, with a top speed of 120 feet per second, is a cow that has been dropped out of a helicopter."—Dave Barry
REMEMBERING MORT WALKER
National Cartoonists Society, in which the late Mort Walker (who died Janauary 27; see Harv's Hindsight for January 2018) was a familiar and influential member, devotes several pages in the most recent issue of its newsletter, The Cartoonist, to Walker and his works. On two facing pages appear the eight other comic strips Walker invented, assisted by other cartoonists who took over the strips after Walker worked with them to develop the features.
The tribute also includes several pages of Walker's musings about his life and his craft. Here are a few brief extracts—:
I'm not after the Pulitzer Prize. I'm after the bulletin board prize. That's where I want my strips to appear. I want people to tape them to the cash register, put them on the bulletin board, cut them out and send them to their friends. That's what I'm after.
I don't consider myself an artist. In other words, I don't wear a beret or live in a garret or anything like that, and I don't get off on ethereal thoughts and that line of thought as an artist might. I work nine to five every day. I treat it like a business in the respect that I work while I'm at the desk. I quit at five, right on the dot usually, and my workday is over.
I feel like I've had a good day when I end up with a full wastebasket. ...
I think humor is God's greatest gift to man. Humor saves us from so many lousy situations and disappointments. It makes reality palatable. Humor is sanity, the fearful truth. It strips pomposity to the bone and shakes out the sham. We make friends with laughter. ...
I have never regretted my choice to pursue cartooning. My life has been full and fun and exciting every day that I sit down to "work"—without the stress that other jobs have. I "commute" to a room in my home, sit down, and draw funny pictures, and they send me money and give me awards. I'm also glad that my work has made other people happy and won me friends around the world. I can't think of a better way to live.
EDITOONERY
The Mock in Democracy
BY WAY OF CELEBRATING EDITORIAL CARTOONING (for no particular reason, all of them good), here are a few of history's more outrageous—er, famous—editorial cartoons, clockwise from the upper left: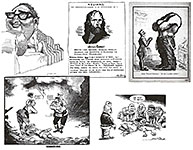 David Levine's Henry Kissinger screwing the world; Art Young's Jesus Christ, wanted for vagrancy and agitating to overthrow the government; Robert Minor's "The Perfect Soldier" (also the perfect cartoon: neither words nor picture make the same sense alone without the other); South Africa's Zapiro, who always depicted the country's erstwhile president, Jacob Zuma, with a shower head affixed to his skull (here, he's getting ready to screw the Justice System); David Low's famous Hitler meeting Stalin, both models of politeness (Hitler is saying: "The scum of the earth, I believe"; and Stalin, tipping his hat in response, replies, "The bloody assassin of the workers, I presume").
The Trumpet, meanwhile—our happy Spanky of song and dalliance—is inspiring some classic editoons on his own.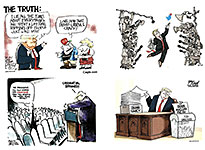 The first two cartoons in our first exhibit admirably depict the essential Trumpet. Pat Bagley shows his squat Spanky uttering "the truth," something he rarely does. But even when he does, as in this vignette, his appeal to his "base" of Deplorables changes not a whit. He can simply lie all he wants, and they love him for getting away with it.
Next around the clock, Robert Rousso, a French cartoonist, captures another vision of the basic Trumpet, a classic interpretation. Here's Spanky, dancing carefree and joyful to the tune of media coverage that surrounds him all the time, setting li'l bluebirdies free to tweet worldwide.
Trump undeniably enjoys the attention, and the news media seem delighted to oblige. It will cover anything that increases ratings/readership, a tendency that leads to unconscionably irresponsible journalism. The media's fascination with the antic Trumpet gave him so much free coverage during the 2016 Election that Hillary was shut out; and Trump won as a consequence.
Chagrined to realize they'd help elect a jackass to the U.S. Presidency, the media subsequently became hyper critical of the Prez. Virtually everything he does (and some things he doesn't do) comes in for wall-to-wall 24/7 criticism. The latest spurt of journalism resulted in a week of gasbag fulmination on cable tv about why the Trumpet or someone in the White House won't apologize for a tasteless joke some staff member made about John McCain during a closed-door meeting.
True, it was a heartless remark—something to the effect that we don't need to consider McCain's views on anything because he's dying and won't be around much longer. But to spend hours—days!—talking about it is an abdication of journalistic responsibility.
Those hours and days could have been better expended exploring how to end the opioid crisis or how to convince taxpayers to permit a tax increase in order to repair infrastructure or how to fix the Veteran's Administration so it can take much much better care of the people we blithely send off to battlefields around the world, perhaps to die or possibly to be maimed forever or how to stop the Trumpet and his Trumpistas from dismantling civil rights until we are once again the great land of white supremacy or how to control the ever-increasing cost of health care—all of which could be intelligently examined in order to reach pragmatic solutions. Aren't those issues of more moment than a silly, inconsiderate remark?
Sorry. Back to business.
Gary Varvel's comment in the lower right corner creates an image that convincingly explains why Spanky is so determined to undo the Iran Deal (as he did our involvement in the Trans-Pacific Partnership and the Paris Accord). He hates Bronco Bama and has apparently dedicated himself to shredding the man's legacy. DACA, clean air and water acts, LGBT rights—the list of the shredded is still accumulating.
And then comes the Nobel Prize. The Trumpet must get the Nobel Peace Prize in order to out-do Obama. Or at least, match him. Several editoons lately have given us Spanky the aspiring Nobel laureate. Here, at the lower left, Steve Stantis combines that Trump aspiration with another of his hangups—his disdain for the news media.
Lately, the Trumpet threatened to deny White House press credentials to journalists whose newspapers traded in what Trump calls "fake news"—that is, any news that doesn't compliment him or that speaks ill of him. Stantis shows Trump approving credentials for a sufficiently sycophantic journalist who is earning Spanky's momentary regard by touting him for the Nobel.
Trump needs to be ridiculed about his "fake news" crusade. We need to laugh it out of existence. Journalism is threatened enough without Trump's phony crusade.
THE TRUMPET'S MENACING TREATMENT OF NEWS MEDIA reminds me of an article we posted here in Opus 377, which I'm now going to reprise in order to explain the next exhibit of cartoons, which was supposed to accompany the disquisition in Opus 377 but, somehow, got lost. So, the reprise—:
On Sunday April 8, I was astonished to see the major headline in the editorial section of the Denver Post: "News Matters—Colorado Should Demand the Newspaper It Deserves."
Every article in the 6-page section was about journalism and the looming extinction of the Post. In article after article, the writers went after the Post's corporate owner, a New York hedge fund called Alden Global Capital, as "one of the most ruthless of the corporate strip-miners seemingly intent on destroying local journalism." It "is systematically gutting the Denver Post and other Pulitzer-winning newspapers throughout the country." Alden owns over 50 daily newspapers (including the Boston Herald, the San Jose Mercury and other major metropolitan newspapers) with a combined circulation that is second highest in the nation.
Alden is a "vulture capitalist" and the newspapers it owns "are being ground down and hollowed out by an owner who cares nothing for journalism but sees only more profits."
It was astounding to see a newspaper attacking its owner. But that's what the Post was doing. Attacking and smearing.
What prompted this extraordinary—even suicidal— behavior?
Another demand from Alden to reduce staff.
The Post has been steadily cutting staff since 2010 when Alden acquired Digital First Media (the previous corporate owner of the Post) and began demanding cuts in order to improve the bottom line. The newsroom staff once numbered about 250. Today, it stands at about 100—and Alden wants yet another thirty-percent cut by July, and the biggest bite took place on Monday, April 9, the day after the editorial section's all-out attack on the paper's owner.
Journalists know that the Post will not be able to adequately cover local news in Denver with a newsroom staff of only about 60 reporters. So the paper will be reduced to publishing wire service stories from the Associated Press, Washington Post, and the New York Times. All national stories, nothing local. No local government watchdog coverage, in other words.
Wire service stories will permit the paper to continue publishing—and selling advertising, which will be the chief source of profit that Alden will mine, leaving nothing for investment in journalistic growth and development.
The Post is not in trouble financially: reports argue that the paper is enjoying a healthy profit. But if circulation begins to falter because Denver's citizens can't find local news in the Post, then the whole structure will begin to collapse, a brick at a time.
The future? Several of the writers hope that a buyer can be found with the resources of Jeff Bazos, the CEO of Amazon who took his money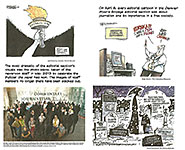 and bought the Washington Post and then spent even more money to revitalize the paper. Failing that in Denver, perhaps some sort of private-public partnership can be created. Or a foundation. Or a trust.
Otherwise, without local news coverage, the Denver Post —with a history that is both proud and wildly, eccentrically flamboyant (as are most institutions of the West)—will become little more than a bulletinboard for national news services.
Accompanying the Post's text assault on Alden were the editorial cartoons on display at the elbow of your eye. One of the pictures in that section is a photograph of the newsroom staff in May 2013, celebrating the Pulitzer the paper had just won. The images of staff members no longer employed at the Post have been blacked out. Dramatically, only a few people are visible in the sea of black.
THE TRUMPET'S STAFFING PROBLEMS is the opening topic in our next exhibit.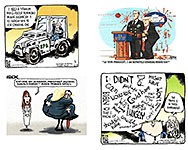 Tom Toles gets us going with a vicious image of EPA administrator Scott Pruitt riding around in his bullet-proof portable telephone booth. Laughable enough though that picture is, Pruitt's explanation is a revealing joke in itself. Next around the clock, R.J. Matson offers a memorable image of how the Trumpet protected his nominee to head the Veterans Administration.
Then Toles is back with a speech balloon metaphor of the Trumpet's crystal clear utterances in which Rudy Giuliani is trying to find Truth. And then Steve Sack ridicules Spanky's warm reception of the French President, who, on a recent state visit, was nearly suffocated by the Trumpet's embraces and fond hand-holding. Sack's picture, in other words, is not much of an exaggeration of what actually transpired.
The Trumpet's jackass foreign policy gets attention again in the next display.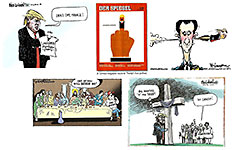 Mike Luckovich takes Trump's penchant for tearing up deals he doesn't like to a ludicrous extreme. Unhappily, it takes almost no imagination to envision Spanky wanting to re-negotiate the Louisiana Purchase.
The cover on a recent issue of Der Spiegel magazine hints at Europe's view of Spanky's antics: in breaking the Iran Deal, the Trumpet is effectively flipping Europe the bird. The Week paraphrased Der Spiegel's reaction: "By pulling out of the Iran Deal—and the Paris climate accord—Trump has torpedoed 70 years' worth of trans-Atlantic trust and cooperation."
Portugal's Publico said: "By trampling the fruits of painstaking diplomacy, Trump has shown Europeans that the U.S. can no longer be trusted from one presidential election to the next."
In France's Marianne, Alexandra Saviana writes: "If the U.S. makes good on its threat to sanction European firms that keep doing business with Iran, French firms could lose big. Oil giant Total has a $1.5 billion contract to exploit Iran's South Pars, the largest natural gas field in the world. ... These companies are now trapped 'between the hammer and the anvil': either they keep trading with Iran and get hit with U.S. sanctions, or they 'stop and lose all of their investments.'"
As for Assad's bombing his own people with chemicals, Trump undoubtedly believes his response was not only dramatic (everything Spanky does he believes is highly dramatic) but effective. Milt Priggee believes otherwise, and his imagery shows that Trump has had no effect on Assad: Trump's effort just went in one proverbial ear and out the other. The picture also suggests that Assad isn't any too bright: there's nothing between his ears to hinder Trump's passage through Assad's skull.
The Trumpet's intimate relationship with America's Evangelicals is ridiculed in Luckovich's neatly complex image at the lower right. Spanky is shown worshipping a 'T' that, for him, stands for Trump; the observing Evangelicals see the big 'T' as a cross and take Trump's worship of it as Christian devotion. That's how dim the Evangelicals are. (Of course, they have ulterior motives: they support Trump because they believe he'll appoint conservative judges to federal benches, thereby guaranteeing the prolongation of religious righteousness in the public square, one Hobby Lobby victory after another and the ultimate outlawing of abortion and a host of other basic rights and freedoms.)
At the lower left, Bob Englehart deploys the familiar scene of the Last Supper as a visual metaphor for looking (hopefully?) forward to the day when the Evangelicals come to their so-called senses and see the Trumpet for the fraud he is.
IN THE NEXT ARRAY, Pat Bagley uses the metaphor of a plumber fixing the sink to explain why Congress does nothing: Mitch McConnell, the traffic controller in the Senate, prevents all meaningful actions, effectively clogging the governmental drainpipes.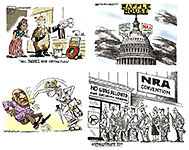 The latest shooting at a Waffle House restaurant gives Kevin Siers the visual metaphor to denounce the inability of Congress to act to reduce violence. He turns the capitol building into a Waffle House, suggesting a second meaning of "waffle," and shows what the waffling is ("thoughts and prayers") and why ("NRA served all day").
Dave Granlund's cartoon references the National Rambo Association (NRA) meeting in Dallas on May 5. Members were not allowed to bring guns to the assembly hearing Vice Prez Mike Pence or the other meeting, later, addressed by the Trumpet. The NRA explained that security for these events was in the hands of the Secret Service, and that misguided agency prohibited "firearms, firearm accessories, knives or weapons of any kind."
This policy being enforced by the NRA naturally provoked advocates for gun control, one of whom tweeted: "The NRA has evolved into such a hilarious parody of itself." Another said: "On so many levels, this is enlightening. According to the NRA, we should want everyone to have weapons when we are in public. But when they put on a convention, the weapons are a concern? I thought buying everyone a gun was supposed to enhance safety. Am I missing something."
Well, yes. Of course. You're missing the hypocrisy that informs almost all NRA pronouncements and policies, and Granlund's picture vividly points up the hypocisy.
For his comment on the Bill Cosby verdict, Daryl Cagle brings Lady Justice to life. That the symbol for justice is female makes the verdict all the sweeter as an act of revenge. See also our Lechery Department below.
In our next display, we ponder a miscellany of adventures.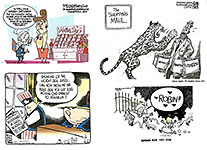 David Fitzsimmons take the opportunity that Mother's Day affords him to declare how heartless is the Attorney General's current policy about families of illegal immigrants, separating mothers from their children—often for months, sometimes years. Adam Zyglis offers a metaphor and a pun that suggest the damage the brick-and-mortar shopping malls experience being mauled by Amazon.
Marshall Ramsey's obit cartoon for the passing of Barbara Bush went viral by turning an unhappy event into a happy one: in Heaven, Barbara will meet her daughter Robin, who died of leukemia at the tender age of three.
After pausing to wipe a tear from the corner of my eye, I return again to the Trumpet's ill-conceived foreign policies. His moving the U.S. Embassy from Tel Aviv to Jerusalem brought no peace to the Middle East. In fact, it brought violence and—perhaps—war. Surely that qualifies the maneuver as the "worst deal ever" as Tom Toles tells us while reading a newspaper headline.
Or maybe reneging on the Iran Deal qualifies. It is clearly a betrayal of America's European allies.
In our next exhibit, Joe Heller creates a nicely complicated diagrammatic visual metaphor to suggest the effects of the Trumpet's maneuvering of our Embassy in Israel: the ribbon-cutting ceremony to open the new Embassy in Jerusalem has the effect of cutting free the dogs of war with the certain consequence of starting a dog fight.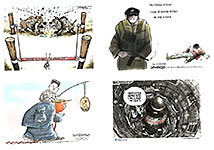 The events at the Gaza-Israeli border had been planned for weeks in advance so there is little or no connection; but making a connection yields effective propoganda for those opposed to the move.
Jeff Danziger's assessment of the events along the Gaza-Israeli border after the Embassy move is blunter and bitterly caustic, a supremely memorable image. According to one report, 50 of the 62 killed were Hamas terrorists, making the Israeli response one of the most surgical military actions in history. But the other 12 were unarmed civilians, throwing rocks.
Initially, I was infuriated by Spanky's move into the Jerusalem dilemma. It clearly discredits the U.S. as an honest broker in the never-ending Israeli-Palestinian dispute. But if it weren't for that miserable result, the move is otherwise not so bad. It's very likely that whatever settlement Israel and Palestine come to, it will wind up with the Israeli capital being in West Jerusalem and the Palestinian capital being in East Jerusalem. So with the Trumpet's move, we're half-way there.
How to get the rest of the way without U.S. brokerage is a new problem, perhaps a more difficult one thanks to Spanky.
The Week quotes Paul Waldman at WashingtonPost.com: "By relocating the embassy, Trump has stripped America's Israel-Palestinian policy of 'all nuance.' He has made it clear 'we care only about Israel's interests.' What this means is grimly obvious: the U.S. is no longer working toward 'the eventual creation of a Palestinian state,' Netanyahu can do whatever he likes without fear of U.S. objection, and the Palestinians have no reason for hope."
And what do people without hope do? They don't behave like civilized citizens.
Next around the clock, Michael Ramsey takes the Iran-is-cheating position on the Iran Deal with a picture that is a vivid demonstration of the cheaters at work—while at the same time, shamelessly expressing alarm that the Trumpet is cancelling the Deal. Hypocrisy writ large.
At the lower left is Nick Anderson's metaphor for the talks with North Korea. Kim is luring the Trumpet to the conference table with the Nobel Prize that Spanky will doubtless be nominated for because of his North Korea "initiative." I suspect, though, that Kim is the more deserving since he initiated the process. Or so I understand. Trump will be delighted to take advantage of it all, however, if he can get in line for a Nobel. (Take that, Obama.) Anderson's image puts a large question-mark over the negotiations: will Trump act in the best interests of the U.S. and the world? Or will he act in a way that will assure him the Nobel Prize?
We can scarcely know. And his sudden stunning about-face on China only increases our doubt and anxiety. Suddenly, Spanky is concerned about how many jobs were being lost in China—when less than a year ago, he was foaming at the mouth about how China was stealing jobs from the U.S. C'mon: which is it? Or does he even know?
What we do know is that the Trumpet has reasons for doing China a favor. As reported in The Week, two days before he flip-flopped on his so-called China Policy, a Chinese state-owned company approved a $500 million loan to Indonesian developers for a Trump-branded resort outside Jakarta. "'Under normal political circumstances,' it would be outlandish to suggest the President is being bribed by a foreign country for his own personal gain. But in 2018, nothing is normal."
So, henceforth, our policy on North Korea will be guided by Trump's hopes for a Nobel Prize, and our policy on China by his plans for an Indonesian Trump Tower. (Wouldn't examining these matters be worthy of gasbag time?)
This man is dangerous. Not only is he a braying jackass but he is a double-dealing, two-faced, swindling bamboozler. And, of course,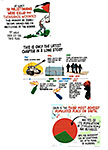 President of the United States, the most powerful man in the world.
I have nothing to add to the message Rachel Dukes issued at The Nib, displayed next. It's not an editorial cartoon: it is, instead, a chart. And its message indicts Israel for its treatment of Palestinians since 1967.
Yes, Israel has a right to defend itself. And, yes, Palestinians have been consistent in attacking Israel. If nothing else, this chart shows that Israel is far from being the only victim in the relations between the two entities.
Yes, the mob at the border fence on the Gaza side included terrorists as well as unarmed citizens protesting. The Palestinian posture on this matter is no more guilt-free than the Israelis'. But surely there are ways short of lethal that a sophisticated military like Israel's could have dealt with the issue.
PERSIFLAGE & FURBELOWS
The White House Correspondents' oh-so-offended reaction to Michelle Wolf's stint at their recent annual dinner reveals what we all probably suspected: they have no sense of humor. It was her biting humor that launched her as a star—for example, her on-air take on the Harvey Weinstein scandal: "Every time a guy gets caught sexually harassing someone, you don't just fire him. You have to replace him with a woman. It's a policy that I call 'Pull out your d—, get replaced by a chick.'"
White House correspondents may not realize it, but they need Michelle Wolf.
LECHERY AND THE PENILE PROMPT
"God gave men both a penis and a brain, but unfortunately not enough blood supply to run both at the same time." —Robin Williams
So Marlon Brando was having sex with Richard Pryor, James Baldwin, and Marvin Gaye. To this revelation, Pryor's widow said: "It was the 70s! If you did enough cocaine, you'd fuck a radiator and send it flowers in the morning."
BILL COSBY WAS FOUND GUILTY. Small wonder: he was guilty. But before jumping to final judgement, go back to Opus 348 and read the essay there on the Cosby case. We don't know, as of this writing, what Cosby's sentence will be. One hopes (this one does) that his massive contributions to society in elevating the status of African Americans will be taken into consideration. Even if we've disowned him now, at the time of his tv achievements, they were ground-breaking, and we should remember him for that.
So let the punishment fit the crime. Don't send him to spend his last years behind bars. Just chop his dick off.
READ & RELISH
"Do any of us have a single fuck left to give? Haven't we used up our lifetime quota?" —Cartoonist Donna Barr
NEWSPAPER COMICS PAGE VIGIL
The Bump and Grind of Daily Stripping
JEF MALLETT seems never content with the traditional way of laying out the Sunday version of his comic strip Frazz. We've posted three of his exceptional variants near here.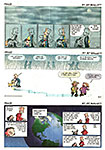 In the first, the punchline depends upon the color. The top "panel" shows us a cloudy day, and everything is a dim gray-blue except for those splashes of color that drift across the panels at the bottom half of the strip. The punchline explains what we've just witnessed: "We just got scanned." And "scanning" explains the movement of color across the panels.
In olden times before cartoonists could color their strips on their own computers and ship them off to their syndicates for distribution—distribution by electronic means to newspapers or printing plants with digital printing equipment—a gag that depended upon color would be extremely risky. Would the engravers "catch" the joke and do the color engraving as instructed? Or would they miss it and wreck the joke.
Gus Arriola once did a Sunday gag in his Gordo the punchline of which involved the old saying about the grass being greener on the other side, and the picture was colored accordingly—with the grass greener on one side of a fence than on the other. And the joke depended on the picture having two shades of green in it. He told me he held his breath until he saw the strip in print—and then he saw that the engravers had done as he'd instructed and produced two shades of green. But he knew he'd taken a risk.
In our next Frazz, the gag gets reinforcement from the picture, which shows a delicately etched puddle of water—"slime"—that the kids are trailing across the broad, white expanse of the strip. Not as tricky as the "scanning" joke, but not without some risk.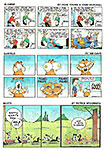 In the last Frazz, Mallett's layout celebrates Earth Day with the picture of Earth dominating the scene. Not tricky at all this time, but a nice touch for the occasion.
SOMETIMES THE FUNDAY SUNNIES offer up slightly different routines for our enjoyment, and we've posted near here a few examples.The comedy in Blondie is a little off the strip's beaten path. We are required to pause and think. So Mister Dithers (pictured in the last panel) knew Dagwood would tear up the check? Apparently.
As for Jim Davis' Garfield, once again, a vivid demonstration that, contrary to the widely circulated notion, the pictures do, often, contribute to the comedy in the strip. No laughs here without the pictures.
Finally, Patrick McDonnell deploys color in an unusual but nicely warming way in Mutts. The flowers' color defines them; no black line to outline them.
IN FUNKY WINKERBEAN, Tom Batiuk and his artist Rick Burchett have resorted, several times over the last year or so, to tipping the strip sideways.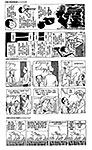 The maneuver is unabashedly promotional: it's a way of attracting attention: perhaps funnies readers who haven't, yet, been following the strip will be curious about the vertical formatting they see in the middle of the otherwise horizontally formatted comics page and will read the strip that day and get addicted.
Sometimes the verticality of the tipped strip serves to emphasize some aspect of that day's storyline—as it does in the uppermost example in our display. The monster who emerges at the bottom of the installment gains some height in the verticality, height and awesomeness.
But the next example seems to me mostly just a time-saver: tipping the strip sideways permits Burchett to get away with drawing just one picture that day. It's also an eye-stopper, so it serves that purpose, too.
In the next two strips, Les Moore is selling books again. And since the book he's selling, the Legacy Trilogy, actually exists as a collection of strips about the death of cancer-stricken Lisa, Batiuk is selling books, too. I think some of the revenue generated by this dodge goes into cancer research. Otherwise, this narrative is simply mercantile. (By the way, if Les is Moore, think of how much more more is.)
At the bottom of our exhibit is a typical Pearls strip from Stephan Pastis. His characters are often lined up behind a wall as they are here (invoking memories of Peanuts characters who used to do the same, with a wall; a sort of tribute to Charles Schulz, who encouraged Pastis to pursue a cartooning career instead of a legal one) (not that cartooning isn't legal) or at a counter in the local saloon or diner. Lots of visual given to depicting bricks in the wall setting; when it's a counter, Pastis relieves the visual monotony with plates and cups or a beer stein.
THE TOP STRIP in this exhibit reinforces the notion that Jim Davis' Garfield is a visually static enterprise in which the pictures contribute nothing to the comedy.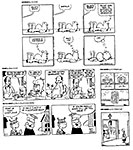 Three identical pictures. We know, of course, that this criticism is not true. We've just seen a Garfield in which pictures are all of the comedy. Besides, in the example at hand, the lack of motion is an element of the gag.
Still, a few days every week of this sort of comedy is a bit much. And in the second Garfield here, Davis demonstrates that he knows about the criticism—and can even joke about it. Nicely done, Jim.
Oddly, on the same day this Garfield appeared, Rob Harrell also deployed a sketchy drawing for his joke in Adam. Incidentally, Brian Basset, who gets the byline here, no longer has anything to do with Adam. He created the strip in 1984, but then left it to Harrell on February 23, 2009 to produce his strip about a boy and his dog, Red and Rover, which had debuted May 7, 2000.
In Mort Walker's Beetle Bailey, the gag just knocks me over. Neither character betrays any understanding of what a halo usually represents—divinity—and that's what makes it funny.
I've posted two of Bill Whitehead's Free Range panels, partly in order to demonstrate how chintzy the Denver Post is with space. The paper redesigned its funnies section a few months ago to print the strips at a larger (read "readable") size. But the editors apparently didn't think that panel cartoons needed the size; in fact, ironically, to make them fit the new design, they shrunk the panels to the infinitesimal dimension we see here. Too small to see the pictures, which often effectively destroys the gag.
The top cartoon (in three panels) I can see. Just barely. And the comedy makes me wonder why no one has thought of this before. But in the bottom Free Range, I can't make out the picture. Squinting painfully, I finally saw that the passengers in the elevator are standing on all sides of it, ignoring gravity and the location of the actual "bottom" of the elevator car.
TICS & TROPES
A woman without a man is like a fish without a bicycle.
ACCRETION OF INTENTION DEPARTMENT
Books In Need of Good Reviews
THE RANCID RAVES Book Grotto is littered, literally, with books we acquired with the intention of reviewing them. Alas, they've piled up over the years, and it has become increasingly apparent that we'll never give most of them the kind of intensive examination they deserve. So rather than let the accretion be entirely in vain, we've started this new department wherein we'll briefly describe books by way of urging them upon you, beginning, this time, with—:
Underground Classics:
The Transformation of Comics into Comix
By James Danky and Denis Kitchen with Introduction by Jay Lynch and Additional Essays by Patrick Rosenkranz, Trina Robbins, and Paul Buhle
150 9x12-inch pages, a few in color; 2009 Abrams ComicArts hardcover, $29.95
PRODUCED AS THE CATALOG for an exhibition of underground comix art held in the spring of 2009 at the Chazen Museum of Art in Madison, Wisconsin, this volume prints from the original art samples of the work of the 57 ug cartoonists that was on display, from Vaugh Bode and Roger Brand, Robert Crumb and Howard Cruse to Bill Griffith and Rand Holmes, Harvey Pekar and Gilbert Shelton, Frank Stack, Art Spiegelman and Skip Williamson, S. Clay Wilson and Kate Worley, to name a few. We've posted examples at the end of this disquisition.
But neither the artwork nor the essays actually trace the transformation of comics into comix as the title claims—although Buhle comes close.
Lynch describes underground comix and how they came to be without discussing their evolution. He notes that the term "underground" came via Time magazine from Andy Warhol, known for his "underground" movies; Time applied the term to underground newspapers and, hence, to the irreverent comic books that grew out of the papers. Lynch dates the first ug, Crumb's Zap Comix No.1, to 1967, but it was published in early 1968, albeit using material Crumb drew in the fall of 1967. Lynch's essay is accompanied by a charming photo of himself (wearing a coat and tie!), and although he mentions his and Williamson's comix book, Bijou Funnies, we have to deduce its debut date, 1968, because he doesn't nail it specifically.
Danky, founder of the Center for the History of Print Culture at Madison, and Kitchen entitle their essay "Underground Classics: The Transformation of Comics into Comix, 1963-1990," but most of their effort simply describes ugs. They offer some history but scarcely illuminate a "transformation" from ordinary, newsstand comic books to comix. They offer a
description of ugs and some history but not "transformation."
"A central purpose of the Underground Classics exhibition," they say, "is to show the rich diversity of individuals and styles that comprise the movement, including many artists whose comix are largely out of print and seldom seen today. ... Robert Crumb and Art Spiegelman have emerged as the preeminent artists of the underground comix movment. ..."
The exhibition (and the book) also includes works by Harvey Kurtzman, Will Elder, and Will Eisner "because of their profound influence on many comix artists and because each produced the crossover works included here."
Comix most profoundly did something mainstream comic books carefully did not do: comix offered cartoonists the chance for self-expression. They drew for themselves not for the company dollar.
"Today, some of these cheerfully demented comix and their offspring have made it into the mainstream or, at any rate, tributaries of the mainstream. They are no longer relegated to head shops or dimly lit comic stores; many are in public libraries. ... We hope that the struggle by comix artists and, by extension, their fans, to gain acceptance (not something that was a universal aspiration by any means) finds some resolution in this book."
IN HIS ESSAY, "The Limited Legacy of Underground Comix," Rosenkranz explains that "catharsis was often a motivation for comix. Flaunting fears, shedding demons, confession, confrontation and revenge were often behind the creativity. Spain Rodriguez said that underground comix allowed him to exact his revenge on the Comic Code Authority which killed of his favorite EC Comics in 1954."
Comix suited the period of their birth and blooming: in an age of anti-war protestation and drug use, comix were vehicles of protest, chiefly against the mores of conventional American middle class life.
The change that ended ugs was the Supreme Court decision in 1973 that declared that local standards could determine obscenity. The chief distribution means of ugs, head shops, couldn't risk it anymore: their connection with drugs already made them a threatened species. Without distribution, comix slowly died.
By choosing rebellion and confrontation with the power structure of conventional life, ugs sowed the seeds of their own destruction. Said Kurtzman, who inspired most comix cartoonists: "The underground was doomed to self-destruction. Like the Shakers who didn't believe in sex, the underground didn't believe in survival. As Gilbert Shelton, creator of The Fabulous Furry Freak Brothers and Wonder Wart-hog: the Hog of Steel, put it: 'If we succeed, we've failed. But if we fail, we're successful.'
"The underground cartoonists had a suicidal philosophy, and the ones I knew were all very frustrated guys, torn between a desire for material success and a contempt for it."
In her essay, Robbins complains about the misogynist comix of male cartoonists and makes the case that women cartoonists produced comix in protest against male preoccupation with abusive sex. She produced the first all-women comic book, It Ain't Me, Babe, in 1970, and was deeply involved in Wimmens Comix, the first all-woman underground comix. She traces the growth of comix by women and notes that comix were in part reacting against the repressive Comics Code Authority that had destroyed imaginative works in mainstream comics and in part embracing the hippie dogma to "let it all hang out."
Ugs offered females first opportunity to enter the medium, say Kitchen and Danky. Said Trina: "We tackled subjects that the guys wouldn't touch with a ten-foot pole—subjects like abortion, lesbianism, menstruation, and childhood sexual abuse."
IN THE BOOK'S LONGEST ESSAY, "The Undergrounds," Buhle peels the onion, a layer at a time, to show interrelationships and, also, completely independent sproutings, thereby coming close to tracing the transformation of comics to comix. Skimming the surface of his essay to scoop up the nutshells, we learn that the origin of comix can be discerned in college humor magazines, which inspired Harvey Kurtzman in founding Mad, and Mad, in turn, manifesting the superior artwork of EC Comics as well as a manic satirical humor, fueled many ug cartoonists.
College humor magazines, which were produced without any restraints until they offended ruling faculties, set the pace. And sometimes the connection to comix was direct: both Stack and Shelton were once editors of The Ranger, the campus humor magazine at the University of Texas.
The earliest manifestation of the irreverent sensibility of comix found its outlet in underground tabloid newspapers, most of which had a comics section. The tabloid counterculture
was nurtured in the East Village, San Francisco, and Austin, Texas, not along Madison Avenue in New York, where, until comix, most publishing was done. Papers like the East Village Other, Los Angeles Free Press, Gothic Blimp Works, Yarrowstalks, Yellow Dog and a few fugitive others fostered the form and the attitude.
And from these, comix emerged in "a frantic combination of talent, energy, dope and almost hand-to-hand distribution.
"The marvel of it all," says Buhle, "is that suddenly, almost anything seemed possible. From the beginning, a requisite dose of sex would be sure to add to sales. Most artists, male and female alike, had long wanted to work with a sexual content hitherto forbidden. ...
"Underground comix deftly united the most vernacular of all arts, the comic book, with political rebellion and a reflective critique of American culture."
Comix might be seen as a mid-century reincarnation of The Masses, that Greenwich Village radical magazine that promoted art and poetry and social revolution except that the ug comix had no serious, prevailing philosophical underpinning: they were just laughing uproariously at the jokes they made that they knew would offend conventional America.
The counterculture's preoccupation with the Vietnam War, the draft, racism, environmental devastation, corporate greed and the heartless capitalistic "anything for a profit" system—all influenced a spirit of rebellion that embraced comix, which brimmed with anti-establishment protest in support of the Chicago Eight and "other prisoners of the mainstream culure."
And comix offered the quick thrills of visually explicit sex and other transgressive acts. Underground comix reached somewhere comics had not gone, "with a leap not likely to be made again."
Enabled by the advance of printing technology that gave small publishers—and individual cartoonists—the means to publish short-run comic books and still turn a small profit, comix had their heyday from 1968 until the mid-1970s. Protypes started earlier in the 1960s, and vestiges lasted long after the 1970s, the most notable being the so-called "alternative" press, which carried the publishing legacy of comix forward.
But comix had a profound and lasting impact upon the mainstream comic book industry. Very early, comix pubishers responded to cartoonists' need to own their own material. And soon, the mainstream publishers—Dark Horse and Marvel and DC and others—responded. First, by returning the artwork to the artists; second, by sharing profits. These adjustments invariably led to better product: more accomplished writers and artists were attracted to comics and produced work in them.
And comix affected the form itself, too. The autobiographical nature of many of the comix stories led, at least indirectly, to the emergence of the graphic novel. But the graphic novel was also the beneficiary of other aspects of the post-comix world. The improving quality of comics led to increased circulation and sales, which permitted and encouraged longer works—graphic novels.
Would graphic novels have come about without ug comix? Probably—under the influence of European comics, which, with the gradual ascent of comics up the social approval scale, began to have an effect on comic book artists and publishers. But the wild excesses of comix doubtless hastened the development.
And now, a sample of the art on display in the Chazen Museum that prompted the catalog.
MORE T-SHIRT WISDOM
If all is not lost, where is it?
Two wrongs do not make a right, but three rights make a left.
If I agreed with you, we'd both be wrong.
'I' before 'e' except after 'c'—weird.
Eschew obfuscation.
The universe is comprised of protons, neutrons, electrons, and morons.
A clear conscience is the result of a bad memory.
Why is abbreviation such a long word?
What's another word for synonym?
Despite the high cost of living, it still continues to be popular.
RANCID RAVES GALLERY
Pictures Without Too Many Words
DUNNO WHAT THIS IS. At first glance, it looks vaguely obscene—picture of an orgy? But upon close examination, there's nothing obscene about it.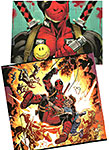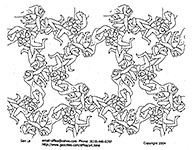 No faces, no genitals, no gender identification. The author deliberately avoided all such things. An orgy without sex.
In our next exhibit, it looks as if Deadpool is getting a mouth, that slight line below the nose bulge.The character needs something. And so does Spider-Man. Both wear masks that obscure facial features that artists rely upon to convey emotion—eyes, mouths. So Deadpool getting a mouth is an advance in civilization.
Now let's see how the movie does it.
CIVILIZATION'S LAST OUTPOST
One of a kind beats everything. —Dennis Miller adv.
I HAVEN'T WORRIED much about Facebook and whatever data they've mined from my use of it. I've maintained for years that anyone who thinks any information on the Web is confidential is terribly naive. Then last week, I had this adventure.
I've been working on an article about the "new" Mad magazine, and in its latest iteration (produced now from the West Coast instead of New York, where it's been headquartered for over 60 years), the word "potrzebie" is revived. It's Polish, but it functioned in the old Mad as a nonsense word. I thought I should try to find out what it meant in Polish, so I surfed the Net, where I eventually found that it means "need" or "want."
No problem there. But at the end of one site that I consulted, came this message: Get a Potrzebie Mug for your daughter Julia.
Okay. How'd they know I have a daughter named Julia? That they knew the person reading the site was me, R.C. Harvey, is not so surprising. But how did they connect "me" to my daughter. To the best of my knowledge, I haven't attached "R.C. Harvey" to any of my relatives.
So what's going on?
What else do they know about me?
I'VE ALWAYS THOUGHT that "piss" was a masculine usage; "pee," a feminine. Men say "piss"; women say "pee." Because it's feminine, "pee" seems somehow gentler, less crude, less offensive. And the other day, a newspaper headline confirmed my belief: "New Prostate Pill Reduces Urge to Pee Especially During the Night." There it is: "pee" in a newspaper headline, bold, black 62-point type. Nothing to be ashamed of. Not offensive. Somehow, I can't imagine the same headline with "piss" in it.
BOOK MARQUEE
Previews and Proclamations of Coming Attractions
This department works like a visit to the bookstore. When you browse in a bookstore, you don't critique books. You don't even read books: you pick up one, riffle its pages, and stop here and there to look at whatever has momentarily attracted your eye. You may read the first page or glance through the table of contents. And that's about what you'll see here, beginning with—:
She Changed Comics
The Untold Story of the Women Who Changed Free Expression in Comics
Edited by Betsy Gomez for the Comic Book Legal Defense Fund
170 6x9-inch pages, color; 2016 Image Comics paperback, $14.99
A HANDY, ATTRACTIVE and highly usable compendium of women who worked in comics, this slim volume lists 154 women cartoonists, editors, writers and publishers, beginning with Golden Agers (which casts the widest net, with 1900's Nell Brinkley, 1920's Edwina Dumm, 1920-30's Ethel Hays, 1940's Jackie Ormes, 1940-50's Dale Messick and Marjorie "Little Lulu" Henderson Buell) through Underground Comix (Shary Flenniken, Trina Robbins, Lee Marrs, Diane Noomin, Alin Kominsky-Crumb) and Silver Age (Ramona Fradon, Marie Severin, Hilda Terry) and Alternative Comics (Lynda Barry, Alison Bechdel, Claire Bretecher, Roz Chast, Colleen Doran, Carol Lay, Phoebe Gloeckner) to Bronze and Modern Age ( Louise Simonson, Gail Simone, Jill Thompson) to Women in Charge (Jenette Kahn, Francoise Mouly, Diana Schutz)—to name a few.
Entries are arranged historically by period (as named above), each 2-3 page entry is illustrated by one or two pictures, and every entry clearly states at the onset the role the subject played (cartoonist, writer, editor, etc.) and concludes with a short list of "Further Reading." And the book itself ends with another "Additional Reading" list.
At the end of the book is a section of interviews (Sophie Campbell, Trina Robbins, Gail Simone, Raina Telgemeier, G. Willow Wilson), some of whose subjects have appeared in the historical sections too.
In addition to giving biographical and bibliographic information, most entries also assess the role of the subject in creating opportunities for women in comics: Jackie Ormes was "the first Black woman to make a living as a cartoonist"; Rosie O'Neill "used her artistic talents to campaign for the equality of women and minorities across the U.S."; Lee Marrs was "a shining beacon in the mainstream"; "For Noomin and Kominskky-Crumb, 'we preferred to have our flaws and show them.' Their Twisted Sisters would become a unique and revolutionary publication in that it was a series about women and their stories, but operated outside the comics spaces fashioned by women creators."
PERSIFLAGE & BADINAGE
Dan Coats, director of National Intelligence, says the U.S. is under attack by Russia. "Russia perceives its past efforts as successful," he said. And yet, the Trumpet does nothing. NSA director Mike Rogers said: "I can't say I've been specifically directed to blunt or actually stop" Russian meddling. The Week reports that despite broad agreement among intelligence agencies, Trump has repeatedly rejected the idea that Russia inteferred in the 2016 election. That's because he's afraid if he acknowledges that they did, that would be tantamount to admitting that it wasn't just his overwhelming charisma and political acumen that won the election for him. And no ego maniac will ever give up the spotlight willingly.
BOOK REVIEWS
Critiques & Crotchets & Long Reviews
The Life and Legend of Wallace Wood: Volume 2
Edited by Bhob Stewart and J. Michael Catron
272 10x12-inch pages, color occasionally; 2018 Fantagraphics hardcover, $39.99
THIS BOOK TAKES UP where Volume 1, left off—in the 1960s. Neither book is, strictly speaking, a biography: both consist of generous samples of Woodwork, photographs, and essays by people who knew Wood—friends and studio assistants through the years. The essays reflect the periods in Wood's career during which the authors of the essays worked with him or knew him, and there's a good deal of back and forth and chronological leapfrog in the essays, so the chronology in these two volumes is rough. Volume 1 covers Wood's youthful work and his years at EC Comics, continuing into his post-EC 1960s. Volume 2 includes his work after EC collapsed—his self-published Witzend, Wizard King, Lunar Tunes; and his work for Overseas Weekly, a miliary newspaper (for which he created Cannon and Sally Forth), Heroes Inc., and his stint on Daredevil for Marvel, stories done for Warren and cartoons for men's magazines, ending with a sample of the porn material he produced in covers for Screw and in a comic book entitled Gang Bang.
At this point, passionate Wood fans may want to revisit my review of Volume 1 in Opus 363 (also, reviews of Against the Grain and two other Wood books in Opus 312 and Shattuck in Opus 355). The Opus 363 review includes, among other things, a timetable of Wood's life, helpful aid otherwise missing from both volumes. What I say in general about Volume 1 could be simply repeated here for the book at hand, adding a few specific comments about Volume 2's failure to adequately represent the fun-loving nudity in Sally Forth; ditto, but less fun-loving, in Cannon. In both, done for the readership in what Wood doubtless presumed was all-male military, the female characters are disrobed as quickly as possible to run hither and yon through the remainder of an installment as naked as birdjays.
If you don't own both of these Fantagraphic Wood books, you can scarcely count yourself a Wood fan. The two volumes offer a grand feast of Wood art and rich veins of anecdotal information about the way the man lived his life and did his work. I can't recommend them more than that, which I do with nearly breathless enthusiasm.
Catron, who took on the task of putting the books together after Stewart died, traced the fascinating history of the project in a statement that came over the e-transome on March 19.
The book—a biographical appreciation of Wallace Wood and his art—was the inspiration of Bhob Stewart, who began the project at Fantagraphics, and chapters of the book began appearing in the Comics Journal. But then Stewart was seduced away from Fantagraphics by another Wood fan and collector, "impatient at the slow pace of things," who "persuaded Bhob to jump ship and take the project elsewhere"—to TwoMorrows, who published it as Against the Grain in 2003.
"Bhob," says Catron, "ultimately came to regard the version of it that saw print from a different publisher as a profound and bitter disappointment. ... Most of all — the thing that made him grind his teeth the hardest — was the censoring of Wood's art. Bhob never got over that.
"The other publisher required him to go through all of Wood's art and delete anything the publisher felt was improper. Particular words had to be deleted or printed with asterisks, even when part of a direct quote. He was allowed to print semi-nude figures, but only if certain body parts were whited out — even when only shown in silhouette. Some of the Wood art he wanted to use was summarily rejected outright as unredeemable, and he had to scramble to find innocuous replacements that weren't even relevant.
"This was especially evident in a chapter devoted to Wood's infamous 'Disneyland Memorial Orgy.' It offered some amusing panels poking fun at Disney characters that Wood had drawn for Mad magazine — but nothing at all from the "'Orgy,' which was the subject of the discussion."
Ultimately, Stewart, who had continued to assemble material on Wood, "returned to Fantagraphics with all his new material and asked for a second chance. Wood deserved it, he argued, and we agreed," says Catron. "We began planning a book that would do Wood (and Bhob) proud."
Then Stewart died. "Bhob had been in poor health and was living in a nursing home, but he was in frequent contact with the editor at Fantagraphics who had been assigned to help him, and the two of them were working on the outline of the book, deciding on where the new material would fit in, what the sequence of chapters would be, and what more was still to come.
At the time of Bhob's death, we had enough material to make a book (a very good book) but quite not the book we were all envisioning. Then that editor left Fantagraphics for another opportunity."
"THE PROJECT WAS TURNED OVER TO ME," Catron says, "and I began working with a designer, trying to pull everything together and to figure out how to cover the gaps in the Wallace Wood story that Bhob hadn't been able to get to. The book we all wanted to see demanded it, and the writers I approached came through with significant new insights about Wood and his work.
Then that designer left for greener pastures. No, this was no simple reprint project. But we persevered, and when everything finally came together, one book couldn't hold it all. And so one book became two."
Catron then lists a few highlights of the 2-volume work, which I'm repeating here, verbatim—:
◆ The only two EC cover re-creation paintings Wood ever did gracing the covers of Volume 1 and Volume 2.
◆ Howard Chaykin's bittersweet introduction in Volume 1, Ed Piskor's wistful introduction in Volume 2.
◆ Mark Evanier's previously unpublished interview with Wood about working at Marvel in Volume 1, Paul Levitz's personal recollections of working with Wood at DC in Volume 2 (accompanied by some exceptional Wood original art from All-Star Comics).
◆ Bhob Stewart's lament over the censorship problems he had with Against the Grain in Volume 1, Ben Saunders's detailed look at the making of Wood's most famous story, "My World," in Volume 2.
◆ Paul Krassner's behind-the-scenes story of Wood's infamous "Disneyland Memorial Orgy" (this time with the art!) in Volume 1, Paul Kirchner's behind-the-scenes story of Wood's rarely seen Screw covers in Volume 2 (reproducing almost all of them).
◆ Larry Hama's funny memoir-disguised-as-fiction about working as Wood's assistant in Volume 1 and his additional thoughts in Volume 2; Fershid Bharucha's tragicomic account of Wood's 1977 visit to France in Volume 2.
◆ Ralph Reese's expanded memoir of his days with Wood in Volume 1; Wood's full-on rant against editors, art directors, and publishers in Volume 2. (Thanks to the Wallace Wood Estate for that, and much else, too.)
◆ Amusing self-portraits of Wood at various stages of his career in both volumes — and Bhob's own personal and touching memoir of Wood in Volume 2.
Then there are the artistic tributes — caricatures and portraits of Wood by his EC colleagues, one of his assistants, and other famed artists who see him as a guiding light for their own work.
"Several images appear in this two-volume set for the first time anywhere, including Wood's 1978 painting re-creating a Weird Science cover that adorns the cover of Volume 1 and a never-before-seen photo of Wood in Volume 2 that he likely used for his famous self-portrait in the classic 'My World' (compared side-by-side). There's also a historic shot of Wood with two other 20th Century comics giants — Bernard Krigstein and Harvey Kurtzman — published for the first time in color, and a photo of Wood with comics legend Jerry Robinson at New York City's Playboy Club."
And, as we are wont to say, more—much more.
Catron finishes: "Despite the twists and turns of unkind fate and various detours and setbacks along the way, The Life and Legend of Wallace Wood — at last, after more than 30 years of hope and toil and tears — is as good as Bhob Stewart and I, all the writers and artists involved, and all the hard-working folks at Fantagraphics can make it. We hope you find it engaging, insightful, funny, tragic, cautionary, quirky, and inspiring — as I did in reflecting upon Wallace Wood and in the incredible generosity of spirit displayed by all the men and women who helped pull this project together. It has been, literally, a labor of love. Thank you, one and all.
"Rest well, Bhob. You earned it."
Now for some samples of the artwork on display in Volume 2.
The Goat Getters:
Jack Johnson, the Fight of the Century, and How a Bunch of Raucous Cartoonists Reinvented Comics
By Eddie Campbell, who also designed the book (which has the elite literary symbol, a ribbon bookmark)
320 9x12-inch landscape pages, b/w; 2018 Ohio State University Press & IDW co-published hardcover, $49.99
THE BEST WAY TO DESCRIBE this monumental contribution to the history of comics is to quote from inside the dust jacket, to wit—: "The Goat Getters is an arresting narrative of the origin of the comic strip told from a new perspective by one of the leading cartoon storytellers of our time. It features a wild bunch of early Twentieth Century cartoonists based on the West Coast, including Jimmy Swinnerton, Tad Dorgan, George Herriman, and Rube Goldberg, whose domain was the sports pages. There they fashioned a bold, tough style, invented their own goofy slang that enriched the popular lexicon (to which the title of the book refers), and created characters such as Silk Hat Harry and the indomitable Krazy Kat.
"This exhaustively researched book is also an account, shown through original newspaper cartoons of the era, of the subjects of those cartoons. These include the landmark 1910 boxing match in Reno, Nevada between Jim Jeffries, the 'Great White Hope,' and Jack Johnson, the first African-American world heavyweight champion; the nationwide race riots that followed; the San Francisco graft trials that culminated in the shooting of the federal attorney prosecuting the case; and the trial of Harry Thaw for the murder of architect Stanford White, a crime of passion that centered on Thaw's wife, showgirl Evelyn Nesbitt Thaw, whose beauty was celebrated by cartoonist Nell Brinkley.
"Campbell shows how these early cartoons developed the kind of dynamic anatomy and adult-oriented subjects that continue to influence comics and graphic novels today."
Campbell, a Scot cartoonist now living in Australia, has produced a series of graphic novel-style works, beginning with the multi-part Bacchus in 1995 and including the autobiographical Alec and From Hell (the latter, an examination of the Jack the Ripper myth, written by Alan Moore), and many others.
Campbell has entertained for some years the notion that the American newspaper comic strip has its genesis on the sports pages of San Francisco newspapers, and in this volume, he successfully elaborates on the theory.
There's little new in the basic idea: we've known for decades that Bud Fisher's Mutt and Jeff, ostensibly the first newspaper daily comic strip, started on the sports pages of the San Francisco Chronicle before Fisher was hijacked a few weeks later by William Randolph Hearst to continue the strip at the Examiner. And Fisher set the pace for a host of other cartoonists, many of whom were sports cartoonists, who followed with "strips" of their cartoons that ran across pages rather than down them.
But Campbell puts flesh on these bare bones with this lavishly illustrated tome, which makes a more-than-convincing case for his theory: every page carries at least one sports cartoon or, later in the book, comic strip. We learn more about the early years of cartooning at Campbell's hands than we have learned anywhere else. I haven't read the whole book yet, but I've browsed and read enough to realize what a treasure Campbell has produced.
THE BOOK IS METICULOUSLY RESEARCHED and scrupulously referenced throughout in captions and footnotes. An impressive achievement. In his final edit, Campbell was clearly working from page proofs: he alludes to other aspects of his subject by quoting page numbers fore and aft.
His purpose, Campbell says, is to show "how and why" the sports page was the logical place for comic strips to begin "and, more specifically, why San Francisco was the place it had to happen."
Not being an American, Campbell sees things that have long evaded our attention. And that's invaluable in an enterprise such as this. But he also sees things that aren't worth seeing. Goat getters, for instance.
Campbell explains the book's title: "To get a person's goat, meaning to aggravate and upset them, originated in the custom of keeping a goat in a racehorse's stable to calm the horse." Unscrupulous personages, aiming to affect adversely the horse's performance, would steal the goat and "thus unsettle the horse in order to gain a betting advantage in the next day's race."
The phrase, Campbell says, was coined on the sports pages where it was a fad for a few years until it eventually entered common parlance. All that is true, but I don't think "getting someone's goat" is as common an expression as Campbell thinks it is. Not common enough, say, so that cartoonists can be described as "goat getters"—although that is what some cartoonists assuredly do. They get the goats of those they satirize thereby unsettling them.
During the years of the popularity of the phrase, numerous drawings of cartoony goats adorned newspaper sports sections. A comic strip by the Chicago Tribune's Sidney Smith evolved out of the practice: Old Doc Yak was a goat, and when Smith launched his more famous strip, The Gumps, it took Old Doc Yak's place in the Trib.
Campbell scatters miniature goats in the margins of the book through the last half. But I still wonder at the assumption he made about the popularity of the phrase when he employed it in the title of the book.
So obscure are some of the gems of history unearthed herein that we can scarcely be certain of their authenticity. Campbell makes one debatable "mistake" that I know of. He says Bud Fisher copyrighted his strip A. Mutt on the first day it ran in Hearst's San Francisco Examiner; but Fisher himself says he jotted "Copyright 1907 by H.C. Fisher" in the corner of the last panel of the last strip he did for the Chronicle.
Fisher had consulted a copyright lawyer, who told him he should make the copyright declaration on three printed strips, but Mutt had only that last day to run in the Chronicle. So Fisher also jotted the same message on the first two of his strips to run in the Examiner, making the requisite three notifications.
Obviously, Campbell is close enough, and if he's that close on everything (and on most, he's undoubtedly right on the money), we've got a magisterial history here.
HAVING NOT, YET, READ all of Campbell's tome, I'm not sure why San Francisco was the only place sports cartoons could evolve into comic strips. But the evolution is undeniable: sports cartoons frequently—almost by definition—included a large picture, usually a realistic portrait of the athlete that was the subject, surrounded by smaller cartoony pictures (famed sports cartoonist Willard Mullin called them "goomies") that expanded upon the subject. The comic strip, Campbell demonstrates, "grew out of this marginal byplay" taking place in the sports cartoon. He has assembled an impressive array of persuasive evidence.
Sometimes when the sporting news of the day included only an impending event and not a famous athlete, a sports cartoonist would do a series of "goomies" commenting on the coming event. And the goomies often appeared in a horizonal strip across the top of the page.
We've known that Mutt's betting on horse races was the original purpose of Fisher's strip, which ran in the sports section, betting on horses being a sport. And Billy DeBeck's Barney Google originated as a way for sports cartoonist DeBeck to comment on an upcoming prize fight.
Even in my haphazard browsing, I discovered gems of comics history that I had never uncovered. For years, I'd run across the name Hype Igoe in connection with Tad. But I knew nothing about Igoe, and found no references elsewhere. Campbell shows us some of Igoe's cartoons and explains his name: it was given to him by an elevator operator in Igoe's newspaper's building who thought Igoe was so skinny he looked like a hypodermic needle.
WHEN NELL BRINKLEY, FRESH IN NEW YORK from a little town in Colorado (Edgewater, my home town), started covering the famous "trial of the century" of Harry Thaw, gaining instant fame with her frilly portraits of the "wronged woman," Evelyn Nesbitt, she did a short elegant pictorial biography by way of introducing herself to the paper's readers. Tad, also on the paper (Hearst's Evening Journal), mimicked her treatment with a visual biography of his own. And he did encores on other topics for several days following, every time a Brinkley picture appeared in the paper. He also mocked the Journal's daily breathless coverage of the trial by putting his pet dog in the docket.
Mutt and Jeff wasn't six months old (and before Jeff showed up) when Bud Fisher borrowed Tad's device, making a local court case his centerpiece. He plunged Mutt into a trial for stealing money to support his wagering compulsion. The trial quickly degenerated into farce, ridiculing various court officials, and I've always wondered what local events it must have been referring to.
Turns out, Fisher was mocking a notorious trial currently taking place in San Francisco about municipal graft. Campbell decodes some of the satire by giving us the names of some of the persons Fisher was mocking: lawyer Beany in the strip was a stand-in for federal prosecutor Francis J. Heney, who had been imported for the task of taking down the grafters. (He was shot for his trouble but recovered.)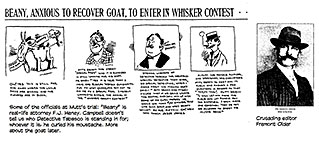 The leading crusader against the graft was Fremont Older, editor of San Franciso's Bulletin, but he never appeared in Fisher's strip. According to his biographer Evelyn Wells in Fremont Older (1936), the fiery editor wanted to take down San Francisco's corrupt mayor, Eugene Schmitz, and the brains behind the major, boss Abe Ruef. Older succeeded, but, afterwards, began to feel bad about Ruef. Suddenly, he saw Ruef as a scapegoat.
"Ruef is in prison because he has confessed to taking money from a corporation president many times richer than himself," Older said. "Then why isn't the corporation head in prison for bribing Ruef? Fourteen years in a cell is too heavy a penalty to pay for another man's crime."
Odler launched another crusade—this time, to get Ruef out of prison. But Fisher had moved beyond ridiculing local politics: by the end of the year, Mutt was being nominated to run for President of the United States. And he'd met "little Jeff," who, an inmate in an insane asylum, imagined himself to be James Jeffries, the heavyweight boxing champion. Before long, the relationship between the scheming Mutt and the idiotically innocent Jeff would take the strip out of political satire altogether and put Jeff's name with Mutt's in the marquee.
Campbell tells how Bud Fisher went on the vaudeville stage, assisted by a former St. Louis cartoonist named Tom Mack. This could be the Mack that eventually ghosted the strip for Fisher from about 1915 until Mack died in 1932 (after which his assistant, Al Smith, took over the production)? (See Harv's Hindsight for November 2007 for the history of Mutt and Jeff.) Most sources say Mack's given name was Ed, but since it's all clouded in vagaries, maybe it was Tom.
Campbell gives us lots more to savor. And his writing manner is casual and conversational with occasional diverting detours but laden with obscure tidbits at every turn. Don't miss it.
PEEVES & PRATFALLS
"A tragic element of history is that every advance must contend with forces of reaction."—Jon Meacham
"You return to that earlier time armed with the present, and no matter how dark that world was, you do not leave it unlit. You take your adult self with you. It is not to be a reliving but a rewitnessing."—Michael Ondaatje
A-GAGGING WE SHALL GO
Single Panel Magazine Cartooning
NONE OF THE MAGAZINES we've been tracking lately—hoping for a glimmer of an appropriate future for single-panel gag cartoons—have performed any differently than we've reported before. The New Yorker plunges on with a steady diet of "weird" comedy cartoons—cartoons the humor which is in their inexplicability. Four or five of these in each issue. But, encouragingly, the average number of cartoons per issue is a little greater than in the years before Emma Allen.
Esquire continues in the latest issue with cartoon editor Bob Mankoff's idea of "new humor": the cartoons showcase mildly amusing aspects of contemporary life. (In their defense, none of these humorous aspects of ordinary life would be funny if there were no cartoons about them.) Mankoff, promoting his arrival at the magazine last year, said he would find new talent, but so far, he's confined himself to buying cartoons from New Yorker cartoonists whose work he knew from his stint there as cartoon editor. There are two full-page color efforts and a smattering of Seth Fleishman's mysterious "spots."
The New Yorker's Drew Dernavich again has a "column" of text and pictures in the early pages of this issue of Esquire. He has one of the full-pagers, too, devoted entirely to his love-affair with sneakers.
Playboy hasn't changed much since the last issue either. The same lame renderings of less than lusty comedy. The drawing is a little better than a year ago when the magazine emerged from its "no nudes" fiasco, but too often the cartoon is by a New Yorker cartoonist not known for his interest or ability in limning feminine architecture. The book ends, as is its habit nowadays, with a selection of "classic cartoons" that have the effect of reminding us all how good Playboy's cartoons used to be compared to the feeble stuff the magazine is foisting off on us these days.
The cover of the May/June issue echoes a pose I'm sure I've seen LeRoy Neiman do with one of his charming femlins but without giving him his due. Hereabouts, I've posted the current cover with a femlin in a martini glass and a sample of other glass-bound femlins of the past.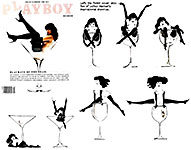 Playboy also continues to publish a "graphic novelish" short story. An attempt, no doubt, at keeping up with the times. This issue does itself proud with a 6-page Hellboy tale by Mike Mignola, drawn by Ben Stenbeck. And these guys no how to tell a graphic story. I've posted a couple pages nearby, vintage Hellboy visuals.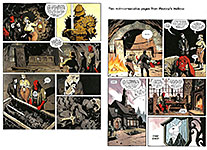 Entitled "Hellboy: Return of the Lambton Worm," the tale consists mostly of Hellboy's fight with the dragon (the "worm") that emerges from the spikey body armor encasing the rotted body of Lambton. After the fight, Hellboy and the professor retire for a soothing drink at an inn under the sign of the rabbit, an invocation of the magazine's mascot, of course. And a bunny appears on the opening page, too, in a field of flowers outside the church where they discover Lambton's coffin. Nice touch.
Our exploration of magazine cartooning prompts me to comment on a recent issue of Boys' Life. Its most notable cartooning was done, in the early days, with the mailroom delivery donkey, Pedro, as we rehearsed in Harv's Hindsight for January 2016. And Pedro, as we see in the accompanying exhibit, is still around, still answering the mail. He's also the star of a full-page comic strip in every issue. This strip and the sprinkling of a few others represent the most puerile, predictable comedy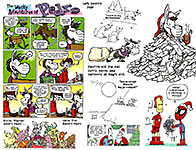 possible. But Boys' Life also has a 2-page "Think and Grin" section at the back of the book, and some of its single-panel cartoons there are a little sharper than the comic strips. In fact, some of these gag cartoons are on a par with the best we see in The New Yorker and Playboy.
Incidently, Pedro is now drawn by Stephen Gilpin. Tom Eaton, who drew the donkey for more than 30 years, died December 11, 2017, at 76. While in college, Eaton shelved a career in engineering to pursue cartooning, believing that he'd make an only "mediocre engineer" but by following his passion would make a better cartoonist. He started at Hallmark Cards, worked on Scholastic magazine, and then found himself at Boys' Life. He took pains with the language in Pedro, which often featured alliteration and elaborate word plays such as "queasy quadruped" and "entrepreneurial edible innovation."
BEEFS & BOFFOS
Why is patience a virtue? Why can't "hurry the fuck up" be a virtue?
I'm not saying let's go kill all the stupid people. I'm just saying letl'ss remove all the warning labels and let the problem sort itself out.
To me, "drink responsibly" means don't spill it.
Not to get technical, but according to chemistry, alcohol is a solution.
I've got to stop saying "How stupid can you get?" Too many people are taking it as a challenge.
Camouflage condoms: they'll never see you coming.
I hate it when people are at your house and ask "Do you have a bathroom?" No, we shit in the yard.
"No matter how cynical you become, it's never enough to keep up."—Lily Tomlin
ONWARD, THE SPREADING PUNDITRY
The Thing of It Is ...
More than 1 in 3 of the Trumpet's White House staffers left their positions in the first year. The 34 percent departure rate is more than triple Bronco Bama's.
IN THEIR BOOK HOW DEMOCRACIES DIE, authors Steven Levitsky an Daniel Ziblatt write: "If one thing is clear from studying breakdowns throughout history, it's that extreme polarization can kill democracies." To which Carolyn O'Hara, managing editor of The Week, adds: "When there are no principles and norms that everyone can agree on, and anything goes in the struggle for power, we're headed for trouble."
"THE AMERICAN EXPERIMENT is not just worth the fight—it is the fight. With passion always strained, the pursuit of prosperity, freedom and belonging is an endless battle, an enterprise in equal measures exhausting and exhilarating."—Carlos Lozada, Washington Post
WE'RE ALL BROTHERS, AND WE'RE ONLY PASSIN' THROUGH
Sometimes happy, sometimes blue,
But I'm so glad I ran into you---
Tell the people that you saw me, passin' through
Lee Holley, 1932 - 2018
Lee Holley, who assisted on Dennis the Menace and subsequently created an idyllic picture of postwar American teenage life through his Ponytail syndicated daily cartoon panel and the accompanying Sunday strip that appeared in hundreds of newspapers around the world, died on March 26 in a plane crash in Marina, Califorinia. He was 85.
Holley, an amateur pilot, was flying his single-engine plane when it crashed at Marina's municipal airport on the morning of the 26th, reported Matthew Sedacca at nytimes.com. There were no passengers aboard. Marina is about 10 miles north of Monterey, where Holley lived.
Gordon Leroy Holley was born on April 20, 1932, Sedacca continues, in Phoenix but grew up, with a brother and sister, in Watsonville, California. Lee showed artistic talent from a young age. In high school he began taking on commissioned work and painted wall murals for local businesses.
"Word got around that I did this, and one of the main themes featured teenagers," he told Mark Arnold in Pocket Full of Dennis the Menace.
In his junior year, a man came into his art class and offered him $100 to paint a wall in a former smoke shop that the man was converting to a teenage "hamburger hangout with a jukebox" and ice cream. Holley took the job and spent a couple months painting murals of high school activities—"cars, football, basketball, sharing a milkshake with two straws—you name it. It caught on. The kids loved it. It gave me some identity and the stores next door hired me to do similar things," Lee finished.
Just as he graduated from highschool in June 1950, the Korean War started, and Holley enlisted in the Navy in 1951 and was stationed on an aircraft carrier as a weapons inspector.
"I spent two tours off the coast of North Korea near the bombs and rockets and all that. In my spare time, I continued to draw cartoons," eventually being published in Our Navy and All Hands. He created a nautical character called Seaman Deuce after the lowest enlisted rating in the service.
UPON RELEASE FROM THE NAVY, Holley took advantage of the GI bill and enrolled in famed
Chouinard Art Institute in Los Angeles and was later hired by Warner Bros Studios.
"I was surrounded for the first time with people who were professional artists and cartoonists," Holley remembered. Although he aspired to do a comic strip, doing animation was a great experience.
"I was working with the most talented people in the animation business, and it was a fun environment. I was an inbetweener for a couple of months when they moved me into Friz Feleng's [award-winning] unit as assistant to Virgil Ross. Neat guy. He was a great animator, very quiet and low key. Virgil worked real rough, and my job was to clean it up. I worked hard at it for years. The animators from that era really couldn't draw well, but they could animate like gangbusters."
For Chuck Jones, he worked on "What's Opera, Doc?" in which Elmer Fudd is singing "Kill the wabbit!"
"I later found out that Chuck asked for me and another fellow to help because we could draw so well."
Over four years, Holley worked on three cartoons that won Academy Awards—one with Yosemite Sam, another with Sylvester and Tweety, and another with Speedy Gonzales.
Holley moved up from assistant animator to a 'B' animator and got small scenes to animate. "It was really great training," he said, "but I persisted in dreaming about a comic strip."
And he kept working in off hours on the characters he'd drawn as a teenager—teenage boys, girls, cars, boyfriends, others, football—"the whole nine yards."
Another cartoonist at Warners saw his efforts and urged him to show his work to Hank Ketcham. So Holley drove up to Ketcham's ranch in Carmel Valley. Ketcham immediately found out Holley had been in the Navy; and he knew Holley was in animation. Ketcham had done both and before the interview was over, he gave Holley a three-day try-out.
At the end of the three days, Ketcham extended the try-out period and soon hired Holley.
"I like your work," Ketcham said, "—you're going to be my assistant."
He put Holley to work on the Sunday Dennis the Menace. Al Wiseman, who had been doing the Sunday Dennis, moved on to the Dennis comic book.
"Nobody touches the daily," Ketcham ttold Holley. "The reason that I'm having the Sunday page done by somebody else is that the daily panel is the heart and soul of Dennis the Menace. That's where the money is. ... The Sunday is created as a great supplement, but I prefer the daily."
KETCHAM WAS A LEGENDARY EXACTING TASK MASTER. Holley's cubicle was on the other side of a half-wall the separated him from Ketcham, and Ketcham was always looking over his shoulder, making suggestions and sometimes brutally critiquing Holley work.
But Ketcham liked Holley. In a 2005 autobiography, Ketcham described Holley as a "young fitness nut and a clever cartoonist with a special affinity for the younger generation."
Holley was soon relieved of the pressure of working directly under Ketcham's eye: Ketcham moved to Europe where he stayed for most of Holley's stint on the strip. And Holley did all sorts of promotional work in connection with the Dennis tv show, just then getting started— Kellogg's cereal box illustrations and Little Golden Books artwork. But he still dreamed of doing his own comic strip.
Working in his spare time on a comic strip concept, Holley had taken a friend's suggestion and turned his teenage comic strip hero into a ponytailed heroine. He'd been moonlighting gag cartoons for Teen magazine, and he often drew a teenage girl character with a ponytail. "The reason for the ponytail," Holley explained, "was to make her a little more distinctive than the other kids."
As Sedacca put it: in his new cartoon idea, "Holley depicted a lanky teenage girl immersed in postwar suburban life: cruising in hot rods to drive-in movie theaters and burger joints, attending school football games, negotiating with teachers at Watson Hill High School (about completing her homework), and managing diplomatic concerns with her parents (like the size of her allowance)."
And he had taken Ketcham's advice: "Why draw four or five panels when you can say it all in one?"
In his panel cartoon, Holley's line is crisp and clean, his compositions casual—simply drawn but full of telling visual details with solid blacks lending accents—and his figures are supple and lively. There's a Ketcham quality to Ponytail (as Holley christened the panel), but Holley had boiled it down and condensed it.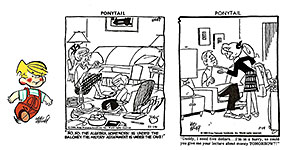 Dennis and 2 panels
Without telling Ketcham (who was in Switzerland) about it, Holley submitted his Ponytail panel cartoon for syndication, and King Features took it. It started November 7, 1960.
When Holley finally told Ketcham, they met for drinks at the St. Francis Hotel in San Francisco on one of Ketcham's trips to the States. "He was very pleased for me," Holley remembered. "Very generous and kind, and told me I was with a great outfit. He wished me a lot of luck and said I was going to make a million dollars. He said I could even go on doing the Dennis Sunday page, and if I cold maintain the quality, the job was still mine."
So Holley continued until late 1961 when King wanted him to do a Sunday version of Ponytail in comic strip form. He was soon overwhelmed. And Ketcham knew it, said Holley. So they parted ways.
Years later, Ketcham said: "Lee was a really neat guy. I felt he quit me too early. I wanted to train him a little bit more. But he sold Ponytail and it went okay."
Holley had done the Sunday Dennis for four years, 1958-1962. The Sunday Ponytail was launched January 7, 1962.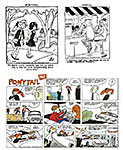 MANY OF PONYTAIL'S NARRATIVES revolved around dating, with her focus on her main beau, Donald Dawson. By high school hallway lockers she tells him: "Of course I'll love you forever, Donald. … Well, at least until someone with a better car comes along!"
Newspapers liked Ponytail because it attracted younger readers, Greg Beda, who is writing a biography of Holley, said in a phone interview with Sedaca.
Although Emmy Lou and Penny predated Ponytail in focusing on American teenagers, Holley's dialogue was often considered the most authentic.
In 1963, he revealed on the television game show "To Tell the Truth" that he conducted field research by chatting up teenagers at pizza parlors and attending dances. He subscribed to publications like Teen Beat and Seventeen and even went back to his own high school to sit in on classes, he told John Province in an interview in Hogan's Alley. He also wove his own family members into the story lines.
"Ponytail's boyfriend, Donald, was our brother Donald; Ponytail's father was like our dad," his sister, Donna Roberts, said in an interview. "He drew on those memories."
Ponytail wasn't Holley's only work. He continued moonlighting. He drew characters for Gold Key Comics' Looney Tunes and Porky Pig books during the 1970s, and succeeded Greg Walker in drawing the Bugs Bunny newspaper comic from 1980 to 1988.
By 1988, the number of newspapers still publishing Ponytail had dwindled.
"These things have a life to them," Holley said. "They build, reach a peak, and eventually peter out. I realized I wasn't doing an Archie that was going to outlive its creator. I had about 300 papers for most of the run, and I learned that panel cartoons didn't stay fixed the way strips did. They float around and appear in different places in the newspaper, and that's how you lose your readership.
"Bill Yates [King's comics editor] phoned me," Holly continued. "He was very nice but said, 'Lee, I've been looking at the client list, and it's not what it once was. How are you fixed?'
"I knew it was coming and said, 'Bill, there's nothing you need to be concerned about. If you want to pull the plug, it's okay with me.'"
Holly had invested widely and very successfully in real estate. He said his income from Ponytail was down to around $20,000 a year, but he "didn't need a dime of it. The cartoon didn't take much time, so I'd just kept doing it."
Yates pulled the plug, and Ponytail ended with the October 15, 1988 release.
What Holley enjoyed most about his career was the freedom it gave him, he told Province.
"There was no one telling me what to do," he said. "I had deadlines, but other than that I was on my own. It really wasn't work to me."
In addition to his career and love of drawing, the Montrey Herald's obit noted, Holley had a passion for flying. He loved to fly his own plane, and enjoyed flying over the Monterey Bay. One of his favorite experiences was renting a plane in New Zealand and flying from the North Island to South Island.
Holley was also an avid runner. He ran over 50 marathons, including ten Boston Marathons. In addition to running, Lee loved playing tennis, and would spend hours on the courts whether at Seascape or the Palm Springs Tennis Club. Lee also enjoyed traveling and was ardent reader, especially anything pertaining to WWII history.
Lee truly enjoyed life, the Herald said, and enjoyed making others happy. He took great pleasure in doing sketches for anyone who asked, whether it was for single person or for a class full of children.
In addition to Matthew Sedacca's report in the New York Times and an obit in the Monterey Herald, I've relied for this fond farewell mostly upon Holley's own words, recorded in Pocket Full of Dennis the Menace by Mark Arnold (pp. 64-78).
To find out about Harv's books, click here.