Opus 376 (completed on February 27, 2018). We celebrate Black History Month with reports on the box office successes of the "Black Panther" movie, but 30% of this posting is devoted to a continuation of the symposium on sexual harassment that we started in early January. We begin with a collection of classic sexual harassment cliche cartoons and end by offering a cure for the malady (for us, not for cartoons). We also examine editoons on the Trumpet's military parade proposal, the shooting at a Florida high school, and our rabid gun culture, and we resume our usual reports on the unusual and oft verboten antics in newspaper funnies. We review six new books, including several John Cullen Murphy related tomes and Jeff Lemire's graphic novel, Roughneck. To help you find what you'd like to read about (and what you'd like to avoid in this lengthy disquisition), here's what's here, in order, by department—:
NOUS R US
Black Panther Sets New Box Office Records
Sequel to John Lewis's March Trilogy
Report on the Rall Case
Marvel Escapes the Missile
Black Panther and Racial Education
FUNNYBOOK FAN FARE
Catching Up With—:
Motor Girl
Batman White Knight
Doomsday Clock
Kill or Be Killed
EDITOONERY
Shenanigans of the Month—:
Zapiro Zaps Zuma One Last Time
The Trumpet's Military Parade
Mass Murder at Florida High School
Gun Culture: Who's Crazier?
Two Editoonists Respond
NEWSPAPER COMICS PAGE VIGIL
The Unusual and Verboten in the Funnies
BOOK MARQUEE
Short Reviews of—:
The Art of James Montgomery Flagg
The Best of Hagar the Horrible
Cartoon County (Fairfield, Connecticut Cartoonists)
Big Ben Bolt (reprints of the strip)
The Prince Valiant Page
(And a Valiant Try-Out that Failed)
GAGGING
Recent Single Panel Magazine Cartooning in—:
Esquire
The New Yorker
GRAPHIC NOVELS
Review of—:
Jeff Lemire's Roughneck
COLLECTOR'S CORNICHE
William Overgard's Rudy and His Shanghai Tango Novel
ONWARD, THE SPREADING PUNDITRY
Another Classic Sexual Harassment Cliche
More Cases of Sexual Harassment
What To Do
Thinking With Your Pecker
Shaun White and Excellence v Bad Behavior
QUOTE OF THE MONTH
If Not of A Lifetime
"Goddamn it, you've got to be kind."—Kurt Vonnegut
Our Motto: It takes all kinds. Live and let live.
Wear glasses if you need 'em.
But it's hard to live by this axiom in the Age of Tea Baggers,
so we've added another motto:.
Seven days without comics makes one weak.
(You can't have too many mottos.)
And our customary reminder: don't forget to activate the "Bathroom Button" by clicking on the "print friendly version" so you can print off a copy of just this installment for reading later, at your leisure while enthroned. Without further adieu, then, here we go—:
NOUS R US
Some of All the News That Gives Us Fits
"BLACK PANTHER" GIVES "BLOCKBUSTER" A NEW DIMENSION
February is Black History Month and "Black Panther" is making a big chunk of it. The box office records that the movie has set on its opening weekend are almost too many to mention: the best February opening ever, best President's Day weekend total ever, best solo superhero launch ever, and the biggest non-sequel launch of all-time.
At Comic Riffs, Michael Cavna toted up the numbers that support these extravagant claims—:
The Disney/Marvel movie overperformed massively by grossing $201.7 million over the three-day weekend, according to Box Office Mojo — the biggest domestic debut for any film that's not a character team-up movie or part of a sequel trilogy.
Directed by Ryan Coogler, "Black Panther" is the 18th film in the Marvel Cinematic Universe — all of which have opened at No.1 — but it is not connected to the studio's other superhero characters.
"Black Panther" also scored the biggest pre-summer three-day debut, and is just the fifth film to debut north of $200 million (not adjusting for inflation), topped only by "Star Wars: The Force Awakens" ($248 million), "Star Wars: The Last Jedi" ($220 million), "Jurassic World" ($208.8 million) and "The Avengers" ($207.4 million).
"Black Panther" opened on more than 4,000 screens and enjoyed the biggest Presidents' Day four-day opening ever, with a domestic debut of at least $235 million, reports Box Office Mojo. The film was powered in part by the second-largest Thursday preview night ever ($25.2 million), as well as the second-biggest Sunday in film history ($60.1 million), notching just behind "The Force Awakens" ($60.6 million), reports Variety.
Overseas "Black Panther" earned $169 million to bring its 3-day global total to $361 million. Coogler's film is yet to open in China, Japan, or Russia, but don't be surprised if "Black Panther" does the majority of its damage in North America, a pattern that is typical of superhero films that introduce relatively new characters to the world audience.
AND IT KEEPS ON KEEPING ON, through the second weekend. "Black Panther" is expected to reach the $400 million mark on Sunday, February 25, posting an estimated $108 million on its second weekend. That gives it a new record for the best pre-summer second weekend in box office history, and beats the Marvel Cinematic Universe record for second weekends held by "The Avengers" with $103 million. The only film ever to post a bigger second frame is "Star Wars: The Force Awakens" with $149.2 million.
After just ten days in theaters, "Black Panther" has surpassed the domestic runs of all of last year's Marvel films, including the $389 million made by "Guardians of the Galaxy Vol. 2." It currently ranks fifth among all MCU films, and will pass "Iron Man 3" for the No. 3 spot on the list by Tuesday at the latest.
Worldwide, "Black Panther" now has a total of $704 million, keeping its overseas drop to 42 percent with $83.8 million grossed in 49 markets. The film now ranks tenth globally among all MCU films, passing "Doctor Strange" and "Ant-Man" on the charts and putting it in position to pass the $714 million total for "Captain America: The Winter Soldier" tomorrow. It is also the fastest MCU film to gross $50 million on IMAX screens worldwide, adding $15 million this weekend to bring its total to $54.6 million. Japan is the next to get release this weekend, followed by China on March 9.
If the numbers make you dizzy, you can always just do a happy dance while sitting down. I do it all the time.
This year's Free Comic Book Day is May 5, the first Saturday in May. To celebrate, your local comic shop will have various selections of funnybooks that the publishers have printed just to give away.
CONTINUING THE MARCH OF JOHN LEWIS
Abrams ComicArts is piggybacking on the success of Congressman John Lewis's acclaimed National Book Award-winning civil rights graphic memoir, the March trilogy: on August 14, 2018, Abrams will bring out a sequel, Run: Book One, which takes up Lewis's life where March left off.
Calvin Reid at publishersweekly.com reports that the forthcoming multiple-volume graphic memoir will focus on the years that Lewis led the Student Nonviolent Coordinating Committee (SNCC), one of the most important organizations of the Civil Rights Movement. The book will focus on the aftermath of the enactment of the Voting Rights Act of 1965, including events around one of the largest Ku Klux Klan marches of the time, disputes over SNCC tactics, the Vietnam War and the rise of the Black Power movement.
In a statement, Congressman Lewis said: "In sharing my story, it is my hope that a new generation will be inspired by Run to actively participate in the democratic process and help build a more perfect union here in America."
Run: Book One will also add a new member to Lewis's creative team: artist Afua Richardson will succeed Nate Powell, who created the artwork for March, and who will also contribute to the new work. Richardson is an award-winning comics artist who has created art for such works as Genius, Black Panther: World of Wakanda, and Attack on Titan.
RALL'S REPORT ON HIS CASE
Ted Rall provides the following update on the progress (or on the legal maneuverings) of his case against the Los Angeles Times, which defamed him and then fired him in the summer of 2015; for the whole ugly story, visit Opus 342a. Here's Rall's report—:
My new legal team has filed an Appellate Brief with the California Court of Appeals in a bid to overturn a lower-court ruling in favor of the Tronc/ LA Times' anti-SLAPP motion, as well as an order that I pay the Times $350,000 for their legal fees. Anti-SLAPP rulings are automatically appealable in California, and are viewed "de novo" (with fresh eyes) by the higher court.
There were numerous errors of law and fact in the lower-court ruling, some of them substantial. For example, the judge ruled that the enhanced tape proves that I told the truth in my blog post, not the Los Angeles Police Department or the Times. If it stands, his ruling would mark a radical change in California case law because it states that media outlets have an absolute privilege to fire people and defame them as part of their First Amendment protections. It would even allow newspapers to discriminate by race or gender or sexual orientation without recourse. So even if I were willing to let this matter go, there is too much at stake for me to do so. It would mark the end of libel and defamation law in the state.
The Times has at least 90 days to respond. Then we have 20 days to respond to their response. We do not anticipate the Court of Appeals to hear my appeal before 2019.
What happens next: If the Times wins, I will owe them the $350,000 plus hundreds of
thousands in additional fees. My case will be dismissed. If I win, the judgement will be vacated and a trial date will be set in LA Superior Court. Discovery, depositions, etc. will take a considerable amount of time. I would be surprised if a trial date occurs before 2020 or 2021.
MARVEL ESCAPES THE MISSILE
It's difficult to imagine what sort of response Marvel expected when it announced a partnership with Northrop Grumman, the fifth largest defense contractor in the world. But, reports Charles Pulliam-Moore at io9.gizmodo.com, "the publisher's decision to axe the deal following a swift wave of backlash suggests that it didn't anticipate people being turned off."
The proposed comic was supposed to be the sort of promotional explicitly-branded tie-in that Marvel did with Mars to promote M&Ms by having the candy characters team up with Iron Man. But, said Pulliam-Moore, "there's a very big difference between advertising candy and advertising missiles, one of Northrop Grumman's more widely-known products."
In a public statement, Marvel explained that the planned comic book that would have seen the Avengers team up with a group of Northrop Grumman employees, was "meant to focus on aerospace technology and exploration in a positive way." Critics of the partnership insisted that in partnering with a defense contracting company, Marvel was effectively marketing the military to a young audience—a message decidedly at odds with characters like Tony Stark's views on the military-industrial complex.
So Marvel abandoned the project.
"BLACK PANTHER" AND THE DILEMMAS OF RACIAL EDUCATION
In a racist society like ours, the success of a movie about a black superhero is bound to raise racist hackles. Of one kind or another. But the kind that caught our eye seems almost refreshing. White kids are buying Black Panther costumes and dressing up as the character as if race where not at all a factor. The costumes were in toy stores before the movie opened (and on Amazon).
"At best," observes Kwame Opam at nytimes.com, "the character get-ups speak to the enthusiastic embrace of a black superhero. At worst, they could be perceived as an unwitting form of cultural appropriation, which has in recent years become a subject of freighted discourse."
"As parents, or even as the people creating costumes, we need to be very aware of what that says," said Brigitte Vittrup, an associate professor of early childhood development and education at Texas Woman's University. "There's not a whole lot of black superheroes, so this is a really important thing, especially for black kids growing up."
Many parents are split on how Black Panther's blackness should figure into their children's relationship to the character. Some argue that placing racial boundaries around expressions of fandom is unnecessary.
"I'm actually wondering now what it might be like for that parent who's not of color if his kid comes home and says, 'I want to dress up like Black Panther,'" said Katrina Jones, 39, the director of human resources at Vimeo. "When I look at it, I see no reason why a kid who's not black can't dress like Black Panther. Just like our kid who's not white dresses up like Captain America. I think the beautiful thing about comics is they do transcend race in a lot of ways."
"For a white kid to be so open and judge based on the character's story and the personality and history, I think that's what's important," said Mary Dimacali, 29, a social media and marketing manager. "But on the flip side, I think it's also great to have a black superhero you can identify and connect to."
"Kids are not colorblind," Vittrup said. "There's a lot of structural inequality in our society, and kids are noticing that. By not mentioning it, by not talking about it, we're essentially preserving the status quo."
She was careful to add that dressing as Black Panther isn't inherently appropriative or offensive. The character comes from an invented African country, and to wear his mask isn't quite the same as wearing blackface. However, in a moment where even more black heroes, like Luke Cage and Black Lightning, are finding their way into the limelight, Black Panther's relationship with the black community and its history creates an opportunity to teach nonblack children about the black experience.
Fascinating Footnit. Much of the news retailed in the foregoing segment is culled from articles indexed at https://www.facebook.com/comicsresearchbibliography/, and eventually compiled into the Comics Research Bibliography, by Michael Rhode, which covers comic books, comic strips, animation, caricature, cartoons, bandes dessinees and related topics. It also provides links to numerous other sites that delve deeply into cartooning topics. For even more comics news, consult these four other sites: Mark Evanier's povonline.com, Alan Gardner's DailyCartoonist.com, Tom Spurgeon's comicsreporter.com, and Michael Cavna at voices.washingtonpost.com./comic-riffs . For delving into the history of our beloved medium, you can't go wrong by visiting Allan Holtz's strippersguide.blogspot.com, where Allan regularly posts rare findings from his forays into the vast reaches of newspaper microfilm files hither and yon.
FURTHER ADO
You can't shame or humiliate modern celebrities. What used to be called shame and humiliation is now called publicity. And forget traditional character assassination. If you say a modern celebrity is an adulterer, a pervert and a drug addict, all it means is that you've read his autobiography. —P.J. O'Rourke
Often celebrity is a lead weight around your neck. It's like you pointing at the moon, but people are looking at your finger. —Sting
FUNNYBOOK FAN FARE
Four-color Frolics
Catching Up: First Chorus
FOR THE LAST NINE ISSUES of Terry Moore's Motor Girl, we've watched as heroine Sam's life running an automobile junkyard in the middle of what appears to be a desert got more and more complicated. (See Opus 361 for the setup.) Cute little aliens landed in a flying saucer. A couple thugs showed up. But Sam and her buddy, a talking gorrilla named Mike, kept soldiering on. Not a bad metaphor: Sam is a vet who's served three tours of duty, including imprisonment for a year in solitary confinement.
With the 10th issue, Moore wraps it up, and it is one of the most satisfying conclusions I've encountered in a few decades. Sam was badly wounded whilst on duty—shrapnel in her head—and the little old lady who owns the junkyard, Libby, comes upon her unconscious body and takes her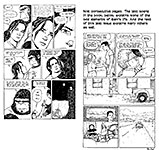 to the hospital where an operation finally removes the shrapnel. And with that, all of the oddities of Sam's life—the midget aliens, the thugs, a guy who treats the flying saucer as if it were Moby Dick—and Mike—they all disappear, and Sam is normal again.
At the elbow of your eye, we've posted the last few pages, showing how Moore does it, moving up to the final pictorial reveal.But the rest of this issue—the entire issue—is just as skillfully achieved. Moore ties it all together, mostly with pictures, in a swirl of images that hint at the resolution. Then it all falls into place on the last page.
Yeh, I've included the last page here, so it's a spoiler. But Moore ends the tale so adroitly that I must show you even if it diminishes the experience for you if you pick up the series. Besides, there are other surprises in store that I've only hinted at.
Catching Up: Second Chorus
SEAN MURPHY draws beautifully, and we've seen him perform some bravura storytelling, but his 8-issue series BatmanWhite Knight is, so far, a disappointment. First, he often draws too small: the characters are so far in the distance that we can't see who they are. And to complicate comprehension, much of the action takes place in dim light, which makes deciphering the pictures even more difficult.
And the story keeps getting more and more complex—more characters and more and more explication.
The premise is that the Joker (i.e., Jack Napier) has, seemingly, reformed. Batman's vigilantism has become the corrupt tool of his control over the city, which has amassed a fund to pay for the damage Batman causes as he apprehends the criminal element—the Batman Devastation Fund. Since the Dark Knight no longer works to save the city, Napier decides to take his place as the savior of Gotham—as the White Knight. (See Opus 373 for more detail.) Most of the second and third issues feature Napier explaining and explaining and explaining.
Harley Quinn shows up, still in love with the Joker/Napier. But so does a broad named Marian Drews, who, we learn in No.4, is impersonating Harley because she's fallen in love herself with Napier. More explanation.
Napier is running for the city council, and he proposes to Police Commission Jim Gordon that they take the Batman Devastation Fund and use it to build an elite task force that unites the best cops with the best vigilantes and supplies them with the best crime-fighting equipment, creating the Gotham Terror Oppression unit, GTO. Batman would be invited in but he'd have to work with the police instead of along side them.
Gordon approaches Batman, saying, "If you really wanted to stop crime, you'd give me a fleet of Batmobiles and a thousand utility belts so I could distribute them to the real heroes out there"—ordinary cops.
By the end of the book, the GTO is operating.
Then on the last page, ancient history—the Waynes, Bruce/Batman's parents, show up, shaking hands with the father of Victor Fries ("Freeze"?), who is a Nazi.
Geez.
Murphy's drawings, what we can see of them, are still exquisite. And he's constructed an elaborate concept for his White Knight tale. Even piece-by-piece it's ingenious. But the complexity requires too much verbiage. The pictures, already too small, are overwhelmed with word balloons. And not much action at all—except when Batman, the Dark Knight, drops in, rampaging across the pages but not saying anything. The absence of the verbal is a relief, but it only adds to the puzzle, which, eventually, Murphy will have to explain and explain and explain. Too bad. But I'm on for the ride regardless.
| | |
| --- | --- |
| | |
In issue No.5, Batman finally shows up in a speaking role. He quarrels with Dick Grayson and then dashes off to recruit Harley to help him "save" the Joker. She declines. Then Marian Drews and Poison Ivy and some other super villains go on a rampage, and when Batman arrives on the scene, he's too late: the GTO is in control under Gordon's direction. The resulting chaos and destruction convinces him that Batman is no longer a vigilante: he's a super criminal, and he puts out an APB on the Caped Crusader.
Marian Drews, meanwhile, has figured out the Joker's psyche. When ever he took over Gotham, it was an expression of his love for the city. But he always gave the city back. And that's when he and Batman were closest. She's sure Napier will want to give Gotham back.
Meanwhile, Batman approaches Alfred, demanding an explanation for the Nazi influence on the Waynes. Or so it seems.
Catching Up: Third Rumble
THE SECOND ISSUE of DC's Doomsday Clock is pretty straightforward compared to the first issue. Rorschach and Adrian Veidt (Ozymandias) take the Owl Ship to a parallel world where they intend to interview the "smartest person" to find out where Dr. Manhattan is. Veidt has identified Bruce Wayne and Lex Luther as the smartest, and Rorschach takes Batman and goes to the Wayne Mansion to talk to Wayne.
Wayne, incidentally, is undergoing psychiatric examination. His dilemma, perhaps, is the same as being explored in Batman White Knight: Gotham is fed up with Batman's expensive and destructive vigilantism.
Veidt, meanwhile, encounters Luther but has no luck, particularly, and the interview is cut short by the arrival of the Comedian, who shoots Luther, perhaps not fatally. The Comedian's face is scarred but he ain't dead, so this adventure takes place before his death in Watchmen. But we already knew that.
In the other narrative strand, Erika Manson and her mute husband suit up as costumed criminals named Marionette and Mime. They rob a bank where they also encounter Manhattan, who may be an illusion; but they're taken captive by Veidt, who wants Marionette along because she was something in Manhattan's past that might be used to advantage.
Issue No.3 is somewhat more cryptic and therefore more baffling than the previous two issues. Rorschach meets Batman and gives him Kovacs' journal to read, telling him it will explain everything. Batman takes so long reading the journal that he invites Rorschach to spend the night at Wayne Manor. Getting ready for bed, Rorschach takes a shower, and we see that he's a black guy. Without a name, as far as I know. But I may be missing something.
The next section of the book focuses on Marionette and Mime as they kill everyone in a seedy bar. Then we're back with Batman and Rorschach. Batman tells him that after reading Kovacs' journal, he knows where Dr. Manhattan is, and the two go off into the night to find him. It's a trick: Batman puts Rorschach behind bars.
The opening sequence in the book continues the confrontation between the Comedian and Ozymandias. Ending the episode, the two fall from great height but, apparently, survive.
None of this seems to make coherent sense. Four episodes, none connected, seemingly, to any of the others. Writer Geoff Johns drops them, one after the other, like the pearls of a necklace without anything stringing them together: each is a separate, apparently disconnected but precious part of a larger narrative, which Johns hints at but doesn't tell us enough that we can find our way.
And he sprinkles other allusions throughout each of the four episodic scraps. This was Moore's method in Watchmen although Moore was a little less cryptic.
It's a risky kind of storytelling. And its success in this case depends entirely upon how dedicated we are to the Watchmen mythos. Are we patient enough to wait around for Johns to pull together all the pieces and present a resolution of sorts that knits them all together?
And how much am I missing because I haven't read Moore's Watchmen this year? Are Marionette and Mime people I'm supposed to remember from some previous outing of Moore's characters?
The only thing holding this together so far is the search for Dr. Manhattan. And the slow introduction into Moore's mythos of the DC universe. We're had Superman; now Batman. Next, Wonder Woman, no doubt.
Gary Frank's artwork continues to impress. He is competent beyond mere competence. Where did he come from? Why haven't I seen him before? Because I haven't been reading everything that Marvel and DC publish, is why.
He's a British comic book artist who began drawing comics in 1991 when he was 22, and the next year, he was recruited by Marvel. He went on to draw DC comics and Image titles. In other words, he's been around for quite some time. I just missed him because I can't see everything. (I know: you don't believe it, right?)
Doomsday Clock is worth buying just to see Frank in action. Otherwise, the only reason to pick up the title is to prolong your bafflement at what is going on.
Catching Up: The Last Refrain
DYLAN, the deranged assassin in Kill or Be Killed by Ed Brubaker (story) and Sean Phillips (art), finds himself in a mental institution in No.15 of the series. The cliffhanger is that his psychologist doesn't believe his confession about being the vigilante killer because there've been three killings while Dylan has been in the nuthouse. Brubaker's story is, as always, fascinating and engaging, and Phillips' drawings are superb. But the stunner in this series is the coloring by Elizabeth Breitweiser, whose work is so superior that she gets cover billing with the writer and the artist. A sample Breitweiser-colored page appears in the display above. Exquisite.
QUOTES & MOTS
Instead of a wall along the U.S./Mexico border, serious immigration restrictionists would much rather see mandatory E-verify, a program requiring employers to check on job seekers' immigration status. If illegal immigrants can't get jobs, they'll stop overstaying their visas. E-verify would be far cheaper than any wall—and more effective, saith The Week, quoting Jonah Goldberg in NationalReview.com.
Nebraska tried something like this once, but the operation had to be abandoned: employers objected strenuously because they needed the cheap labor. Fact is, our capitalistic economy, founded on slavery, doesn't want to get rid of illegal immigrants who work for slave wages.
EDITOONERY
The Mock in Democracy
INSTEAD OF BEGINNING, as we have in recent months, with a gallery of the flaxen-coifed Trumpet committing his usual unspeakable antics, we'll start this time with recent developments in the life and career of another of the world's most corrupt leaders. In February, Jacob Zuma, erstwhile Prez of South Africa, resigned in disgrace after over 8 years in office. Zuma's presidency was stalked throughout by an endless parade of charges of corruption and moral turpitude. He was able to manipulate the legal system to delay or otherwise frustrate justice, but last December he lost the support of his party, the African National Congress.
Zuma was a frequent target of South Africa's premiere editoonist, Jonathan Shapiro aka "Zapiro."
In the run-up to the 2009 presidential election in South Africa, reported Shamiela Fisher, "Zuma was simultaneously battling allegations of rape and corruption. He has been in and out of court ever since. His problems began four years earlier."
In 2005, he was charged with corruption for allegedly accepting bribes from French arms company Thint Holdings. But it was at the end of the year that the rape charge appeared that would distinguish his life in Zapiro's cartoons. In December, Zuma was charged with raping an HIV-positive family friend. The following April, he was acquitted of rape (claiming she wanted the encounter), but during the proceedings, he had told the court that he had avoided catching HIV by showering after sex. This fragment of ignorance would haunt him throughout his presidency.
Zapiro immediately launched his iconic caricature of Zuma—showing a shower head protruding from Zuma's skull. Whenever thereafter Zuma was in a Zapiro cartoon, the tell-tale shower head would be there, revealing over and over again the man's ludicrous stupidity. The cartoons were popular and infuriated Zuma, who subsequently brought suit against the cartoonist on at least two occasions; neither was successful.
One of the cartoons that prompted Zuma's legal action (a $700,000 defamation lawsuit) was a 2008 effort that portrayed him raping a female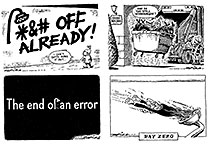 figure symbolizing justice. More about this adventure and other Zapiro triumphs can be found in Opus 263, "Zapiro: Thorn in the Side."
Despite all his peccadillos and predations, Zuma remained popular. He was re-elected in 2014. But when three months ago he lost the ANC, which he had once headed, the handwriting scrawled the wall. Here, we've collected a few of Zapiro's final digs at his favorite target. The shower head is conspicuous, as it has been since Zuma's election in 2009. And in the editoon a the upper right, Zuma is depicted in a dumpster, a strenuouspictorial implication that nothing he achieved is worth saving. I particularly like the pun at the "end of an error." And the drip. Love the drip.
AMONG THE LATEST PREOCCUPATIONS of our Clown in Chief has been his proposal to stage a monstrous military parade. Enamored as he was of the military might he saw paraded before him on his trip to Paris, he wants the same glorifying halo for himself and, incidentally, his country.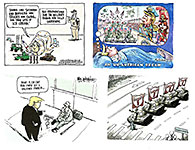 Mostly, of course, the parade would indulge the juvenile personality of our Prez, as Dan Wasserman at the upper left observes in his telling image of the childlike Trumpet playing with toys. Next around the clock, Matt Wuerker offers a visual metaphor of Trump's dream—and labels it, accurately, as an "un-American" dream: we never have done military parades, and the only ones we've witnessed with any regularity have been those staged by warlike dictatorships. Not the company we'd like to be seen keeping.
At the lower right, Adam Zyglis conjures up the haunting "parade-like" image of the Tiananmen Square confrontation between one lonely student and a threatening armada of tanks during the student-led demonstration in Beijing, China in 1989. The "student" in Zyglis' cartoon is the Statue of Liberty, and the tanks represent Trump's chest-beating militaristic bravado which, in the pictorial logic of the editoon, threaten liberty. But to finish the metaphor, the student obstructionist in Tiananmen Square wasn't destroyed. Hence, Liberty, despite the menace of militaristic might, will survive.
Next, Mike Luckovich's image of a wounded, homeless veteran reminds us of where we might better spend the $20 million that the parade will cost.
The topic of the next quartet of editoons is the Russian interference with the 2016 election.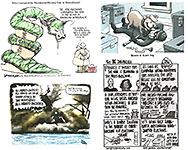 Jeff Danziger starts us off by pondering a somewhat larger issue—the corruption of the democratic process by gerrymandering (configuring voting district boundaries in ways that favor the election of a particular group). That's the state of Pennsylvania that the gerrymander is squeezing in its coils, but gerrymandering is common through the nation, in effect guaranteeing that the party in power will remain in power because of the way it draws the district lines to favor its candidates. To get excited about the vague influence of Russian hackers in this circumstance seems just a little foolish.
But the Russians could upset even the outcomes predicted by gerrymandering, so the issue is a real one. But not, as Clay Bennett shows us in the next cartoon, an issue that much engages the Trumpet, who, here depicted as an affectionate lap dog, welcomes the Russian safe-cracker. Next, Keith Knight takes us off in another direction. If cyber-hackers can influence elections because they can tamper with computers, the solution, he ingeniously proposes here, is to return to the old un-electrified ballot box. The strip format permits Keef to develop his argument, something a single-panel image could not do as well.
Finally, Steve Benson's editoon is a visual metaphor of a ship (of state) sinking under the attack of some foreign power (Russian cyber-hackers?). Despite the alarm being sounded, the Trumpet (he of the golden coif on the bridge of the ship) concludes there is no danger—"No collusion"—so he heads off for another weekend at his Florida golf club, Mar-a-Lago, effectively ignoring the danger and abdicating his responsibility as the leader of the country. Once again, we have a vivid demonstration of Trump's unfitness for office.
By almost any measure, the Trumpet is an infantile inarticulate delusional narcisist whose driving ambition is to be the center of attention always. His policies as Prez are designed solely to keep his ego fully inflated. He sees reports of the Russian effort to influence our elections as an attack on the validity of his victory in 2016, so he rejects everything about it. His ego demands that he see his election as the result of his superior grasp of the issues and management of his campaign.
The heads of American intelligence agencies insist that we should be devoting attention to this matter, but the Prez ignores it because to admit any truth to the allegations is to usher in some aspect of the election that he sees as undermining his win. His ego is therefore driving U.S. policy—and dangerously so.
All presidents and other elected officials are driven, to some extent, by their egos. But we have never had one whose motives are so transparent, so childish—and so dangerous. Will our elections be sabotaged by Russians (or someone else) simply because Trump's ego won't tolerate admitting that foreign influence through cyber-hacking is possible?
Without his admission and subsequent call to battle, the federal agencies that could be working to frustrate future designs on our processes stand idle. Waiting for their leader to lead. But he's playing golf.
THE MOST NUMBINGLY HORRENDOUS of the events of the last couple weeks has been the Valentine's Day mass murder of 14 students and three staff members at the Marjory Stoneman Douglas High School in Parkland, Florida, by a 19-year-old former student, Nikolas Cruz, who had been in trouble off-and-on for years before entering the school building with an AR-15 assault-style rifle and opening fire.
The cartoon you see nearby is not by a full-time editorial cartoonist: Pia Guerra, a 46-year-old Vancouver-based artist, does mostly comic books (most famously, Y. The Last Man with Brian K. Vaughan), but, as reported by Samantha Schmidt at the Washington Post, when the news of the Florida slaughter reached her, "she felt helpless and couldn't bring herself to sleep, so she began to draw." What she drew we see here.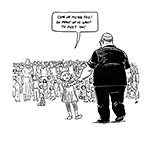 It is, as the Post headlined the story, "a single-panel cartoon about school shooting that is breaking people's hearts."
Schmidt continues her report (verbatim)—:
About 6 a.m., she came up with an idea. One of the first victims identified among the 17 people killed was Aaron Feis, an assistant football coach and security guard. Feis was shot after reportedly throwing himself in front of students during the rampage to protect them from the onslaught of gunfire. Guerra was moved by the thought of this heroic man, the father of a young child, standing in front of bullets for students.
"It's not often that an image pops in your brain and you feel a lump in your throat," Guerra told the Washington Post.
"I need to get this down before time dilutes it," she recalled thinking as she began to sketch the image.
Around midday, Guerra posted her editorial cartoon on Twitter. She called it "Hero's Welcome."
Guerra's cartoon evoked striking responses across social media. By Tuesday morning [almost a week after the shooting], the image had been retweeted more than 18,290 times, and Guerra's Twitter account had been overwhelmed with emotional messages.
"I saw this earlier, and I sat in front of my students and cried," one teacher tweeted on Friday. "And then I showed it to them, and they cried, too. Very powerful. The most beautiful thing I've ever seen."
"When I saw your drawing, I cried hysterically for a half-hour and I couldn't stop," another person posted on Twitter.. Guerra even said she heard from a parent of a girl who died in the Sandy Hook massacre.
To many, Guerra said, the cartoon depicted the children and teachers welcoming Feis to heaven. Guerra knew before she posted the image that many may interpret it in a religious way, and "that's fine," she said. But that was not her intention.
Guerra describes herself as an atheist. After a tragedy, she said, she grows tired of always hearing about angels and heaven and the idea that the dead all end up in a better place.
"Wherever all these wonderful people are, they're not here," she said. But the message, she said, "is beyond that."
She wanted to show the immense collective magnitude of the loss, a visual tally of just how many people have been killed in mass school shootings. She also wanted to evoke the nature of the youngest victims of these massacres — the wide-eyed, gentle essence of a child.
"This is who they are," she said in a phone interview, her voice catching. "This is all that we lost."
The simplicity of the cartoon, she said, means it may carry different meanings for different people. "When you leave something open enough to interpretation, more people can find something in it," she said.
In addition to significant praise, Guerra's cartoon also drew a wave of criticism for seemingly portraying only white children and adults, despite the fact that many people of color have died in these shootings.
"That was a direct result of rushing and not paying more attention to the makeup of the crowd, and maybe making a point about how these things always seem to happen in white suburbia and totally mucking it up," Guerra said. She lamented the lack of representation in the image.
"I'm taking the note and I promise to do better," said Guerra, whose father is Chilean and mother is Finnish. She was born in New Jersey and moved to Canada when she was 6 years old.
Guerra's is a rare cartoon, something we don't see very often. And it demonstrates, more emphatically than most editoons, the power of the visual-verbal medium. We're grateful to have seen it.
TRADITIONALLY, editoons express anger and frustration in humorous ways that ridicule the follies of human nature and political life. They have wit but little heart, not the kind of heart Guerra's expressed. While they may not be as powerful as Guerra's work in this single instance, they are usually hard-hitting. They might make us laugh, but they also aim to make us think—as do the four we have immediately at hand.
Jim Morin's pun with the three R's makes us think about what schools are supposed to be about—and what they've become in the 19 years since Columbine High School in Colorado, the first modern school massacre to get national attention. The pun is telling, but the picture surrounds the comedy with bloodshed, giving powerful poignance to the verbal gyration.
Nick Anderson is next with three panels that point out the rampant idiocy of our regulatory custom. We don't permit a youth to drink, but we allow him to buy powerful weapons (as Cruz did—several of them).
In six repetitive panels, Kevin Siers shows the insanity the NRA displays by repeating again and again and again its so-called solution to the problem. Following this horrendous advice, we'd turn our streets and malls into shooting galleries. Even the mythological "Old West" didn't bristle with firearms that much. (Incidentally, most of the shooting in the Old West didn't take place in mainstreet standoffs: it took place in saloons, where one of two participants in an argument decided to settle the issue with a gun. Pretty shabby stuff compared to the mythology. You can find corroboration in Jeremy A. Agnew's Smoking Gun: The True Story about Gunfighting in the Old West.)
In advocating for more guns, the National Rambo Association reveals its hidden agenda: it is supported largely not by individual sportsmen but by gun manufacturers—who, naturally, want to sell more guns.
At the lower left, Steve Sack creates a visual metaphor that shows the relationship between the NRA and our elected representatives. The NRA finances much of American politics. But the largesse is being doled out by a vulture, which is waiting to pounce. So no one dares do anything but feast on the crumbs.
In our next visual aid, Lalo Alcaraz alludes to Cruz's history of mental problems.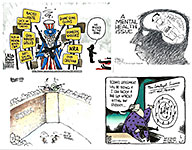 Cruz was a troubled, gun-obsessed loner who posted pictures of weapons and dead animals on social media. He was kicked out of Douglas High School fo fighting and making threats, and attended a school for kids with emotional problems. The local sheriff's office "received more than 20 calls" about his behavior, in addition to the two tips to the FBI (which, tragically, the agency didn't follow up on).
Plenty of signs of trouble brewing. We missed them all? No: we know what they are. We just don't act on them. Our traditions inveigh heavily against acting to deprive a person of his/her liberty. Much proof of some sort is necessary before a person can be confined involuntarily.
And if the suspicious person is a teenager? Teenagers are famous for their peculiar behavior. How can we tell?
Meanwhile, the signs are still there—signs that in any civilized society would be thundering for change. But not, apparently, in an NRA-controlled Congress.
Next around the clock, Pat Bagley's cutaway image of the inside of a person's head reveals what the mental health issue is—the National Rambo Association and its glorification of guns.
To make schools safe the NRA favors arming teachers. Oh, sure. Why not? We've foisted off onto teachers K-12 all of the tasks of creating civilization, why not give them the assignment of saving it? We expect teachers to do much more than teach the legendary 3 R's. In addition to all of the traditional subjects, we want teachers to teach our children patriotism, fashion sense, good manners, budgeting skills, and telephone etiquette, to name a few. So let'ls add guard-duty to the list.
When this idea first emerged in the wake of the Columbine shooting, policemen—professional gunslingers—scoffed at its sheer impossibility. Cops re-qualify on their weapons at regular intervals; so, too, would armed teachers. But is that enough? Even cops hesitate to shoot people. Wouldn't teachers?
An armed security guard on duty at Douglas High School hesitated to enter the building Cruz was shooting up. Why? Wouldn't a teacher hesitate too? (The Trumpet, incidentally, said recently that if he'd been the guard, he would have rushed into the building, armed or not. Oh, sure. Bone spur bravado, just the behavior that kept him out of military service.)
Particularly when we consider that teacher psychology is not guard psychology. Teachers become teachers for reasons that are pretty far away from the reasons cops become cops. Are they now, suddenly, ready to shoot people?
To be an effective teacher, one must wear many different hats—instructor, disciplinarian, counselor, coach, psychologist and advocate. This set of skills is vastly different from that required for an armed security guard.
Tom Toles at the lower right gets at the problem at the heart of the scheme: how can we be sure that an armed teacher—or an armed policeman for that matter—is going to be skillful enough at target shooting to kill the bad guy rather than wounding a few random students that might be wanderings the halls?
Well, the teachers would be highly trained, saith the Trumpet when he fastened onto this idea. We don't want untrained people handling firearms do we? No, of course not: that's why we require training for everyone who buys a gun. Right.
The contradictions in this so-called "thinking" are too many to indulge.
But Matt Davies at the lower left offers a visual metaphor that captures the essence of our objections to arming teachers. Pistol-packing teachers would give schools the aura of armed camps. Is that what we want?
What would be taught in that environment is that life is warfare.
Moreover, once we resort to arming teachers, we have effectively given up on finding a less violent solution to our problem. We have accepted warfare as a permanent state in schools across the nation. Good guys with guns lining up to protect us against a few lone bad guys with guns. The Rambo solution.
And gun manufacturers go to the bank more often.
And after we "harden up" the soft target of schools, what is the next "soft target" that we need to harden up? Churches? The pews filled with armed parishioners, worshipping God whenever they can spare a glance from looking over their shoulders for a gunman? After churches, what? Theaters, golf courses, shopping malls.
"So then," said a citizen in a letter to the Denver Post, "this country, home of the brave and land of the free would become land of the armed, home of the 'we are only brave and free if we carry a gun.' Not much different from countries with failed governments, not much different from shithole countries."
IN OUR NEXT VISUAL AID, we examine, briefly, the gun culture that controls our lives.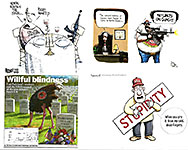 Matt Davies begins at the upper left with a portrait of the home life of a gun advocate. And in two panels next around the clock, Steve Benson shows us the mental health of a person who wants "no limits on guns." The speaker in the first panel is saying: "The national epidemic of firearm mass murder is rooted in mental health. ..." And the next panel shows us the exemplar of mental health he's discussing.
Just below Benson, Clay Bennett drops all pretense at subtlety. Quoting NRA president Charlton Heston's famous utterance, Bennett's NRA guy clings to his stupidity.
The cover of The Week magazine is always a fully painted political cartoon, and the March 2 issue showed an ostrich with its head in the ground, ignoring the reminders of mass murder all around it. Drawn by Howard McWilliam, the ostrich is labeled "National Rifle Association." It is a much kinder statement than any other I've seen on the subject. For McWilliam, the NRA is not willfully an obstruction to sensible gun laws—it is simply ignorant of the consequences of its rhetorical position. McWilliam gives it the benefit of the doubt.
William Falk, Editor-in-Chief of The Week, summarizes the problem (in italics)—:
When Nikolas Cruz decided to turn his former high school into a slaughterhouse, he went to the Sunrise Tactical Supply store in a Parkland strip mall, put down $1,000 in cash, and pointed to an AR-15. He could have chosen a different semiautomatic rifle, or a handgun, or a knife, but he wanted a weapon designed for war. It was the same choice made by the Las Vegas shooter (who shot more than 400 people in 10 minutes), the Sutherland Springs shooter, the Newtown shooter, and so many others.
A civilian knockoff of a weapon designed for battlefields, AR-15–style rifles are the perfect tools for mass killings — easy even for a novice Rambo to fire accurately, with little recoil, and customizable with handgrips, sights, and magazines of 30 to 100 rounds. For 10 years, the federal government banned assault-style weapons and large-capacity magazines, but that law expired in 2004. Now the NRA and its allies fiercely oppose any renewal of the ban. Why?
You'll hear various disingenuous arguments, but in TheFederalist.com this week, John Davidson provides the answer that is the bedrock of all gun-control opposition. The Second Amendment, Davidson says, was not meant to merely protect hunting and self-defense. No: "The right to bear arms stems from the right of revolution."
Weapons designed for war must remain legal, Davidson says, so that Americans can "overthrow their government if it becomes tyrannical." It's a terrible shame, he concedes, that AR-15s have been used to shoot up schools, concerts, workplaces, and churches—but the Second Amendment "is worth dying for."
Seen from this perspective, the bullet-riddled dead of Parkland, Newtown, Las Vegas et al are necessary sacrifices; their slaughter enables liberty-loving Americans to maintain the option of armed rebellion. This core belief, which drives the intractable opposition to any form of gun control, is not often publicly discussed; until it's addressed and confronted, the carnage will continue.
"WHO'S CRAZIER?" asks Andres Oppenheimer in the Miami Herald: Nikolas Cruz, 19, the troubled former student who shot 17 people dead last week at Marjory stoneman Douglas High School? Or the society that let him buy an AR-15 rifle?"
A gun enthusiast, George Skelton in the Los Angeles Times (quoted in The Week), assures us that the short-barreled AR-15 is not a good hunting weapon. And for self-defense, a shotgun or a handgun is much more practical. The only real tactical reason to own an AR-15 with a 50-round magazine is to kill lots of people in a few minutes. That's why the AR and its variants have become the weapon of choice for mass killers and why fully 68 percent of Americans, including 48 percent of gun owners, want them banned. It's simple: if we want to curtail mass schootings in America, the first step is to ban mass-shooting weapons.
But it ain't, really, that simple. Americans own about 15 million AR-15-style rifles. If the weapon is banned, all those 15 million must be confiscated.
But even the late Justice Antonin Scalia would support a ban. The government, he said, quoth Alan Steinberg in Newark's Star Ledger (and quoted in The Week), could properly ban "dangerous and unusual weapons." It's for this reason that the sale of fully automatic weapons, sawed-off shotguns, and bazookas is banned. Assault rifles are every bit as dangerous and should be added to the list. Let's remember that "the first civil right of Americans is the right to be free of domestic violence." As long as the nation remains awash in weapons of war, that most basic "right is imperiled."
AMERICA'S EDITORIAL CARTOONISTS have been struggling to portray the outage at mass school shootings for more than two decades, observes David Beard at poynter.org. "How do they make each one different? Will this latest shooting in Parkland — and the #NeverAgain movement — lead to change?"
He asked editoonists Ann Telnaes and Rob Rogers if was hard to figure out what to do in their cartoons.
Said Telnaes: "Yes, I've done so many gun cartoons in my 25-year career I can't remember them all. And while the gut-wrenching illustrations that deal with the tragedy of lives lost can be powerful, an editorial cartoonist's job is to criticize the actions and policies of the politicians and institutions who are protecting their own interests.
"I've also addressed the apathy of Americans about shootings in past cartoons, but the Parkland mass shootings are different because of the fierce outspokenness of the high school students."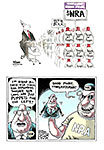 Rogers said: "The first shooting that I remember drawing multiple cartoons about was Columbine. In that case there was an attempt to blame everything from violent video games to the 'Matrix' movie and trench coats. What makes Parkland different, at least at this point, is the fact that the surviving students have become very actively involved in the discussion about gun control. And they aren't just going on camera to grieve and ask why, they are demonstrating and speaking out in an articulate way about how gun laws and politicians have failed them. If any real change happens this time, it will be because of those kids.
"I believe the best political cartoons come from a place of outrage and anger," he went on. "This issue definitely fills me with both. Sure, I wonder to myself, as I am sure most journalists covering this issue do, how in the world will I ever be able to come up with something new and fresh on this issue that will adequately express the anger and outrage? There is a numbness that sets in. I am sure cartoonists thought the same thing during the civil rights era or the Vietnam War. How many times can I draw about this? When will the madness or injustice end?
"At least as a cartoonist I have an outlet for my frustration and anger. But it is difficult to draw about tragedy, especially for someone who usually deals in satirical humor. There is nothing funny about school shootings.
"I do think school shootings will keep reverberating because the issue reveals real people with real stories," he continued. "No matter how numb we get to the headlines of shootings in America, it will never be okay as long as children and loved ones are dying for no reason.
"As for the topics it brings up, there are many," he said. "The biggest one for me is money in politics. The government is controlled (held hostage) by special interests. If we had serious campaign finance reform, politicians would not be beholden to or so frightened of the NRA. Gun lobbies would not be allowed to have the kind of influence they have now. This would allow Washington to pass sensible gun laws, like going back to a ban on assault weapons, background checks, etc."
Beard asked another question: Over the past year or so, commentators tell us that political norms have been shattered. Have norms for cartoonists been shattered, too? Are you covering things a different, blunter way than you used to?
"Yes," said Telnaes. "I think editorial cartoonists are operating in a different political climate now than the profession has been in for many years — but in an environment where we come up with our best work. Historically the role of an editorial cartoonist is to target through satire and ridicule the abuses of power by our leaders and institutions and to hold them accountable to the people they are supposed to serve — 'puncturing pomposity,' as Herblock once said.
"While this isn't the first time we've seen corruption in higher office or political parties pushing policies to benefit their interests, this is the first time we've had a president who doesn't understand or willfully disregards things like separation of powers or the role of a free press in a democracy, and is doing it openly. This is what editorial cartoonists are born to expose and point their pens at."
Rogers took up the issue: "When people find out I am an editorial cartoonist they say, 'Wow, you must be loving Trump!' or 'You've got it made' with him in the White House. Yes and no. They don't realize that it isn't as easy as it looks. An important tool for any satirist is exaggeration. Trump is already so exaggerated it is difficult to stretch that to get the element of surprise."
PERSIFLAGE AND FURBELOWS
Mehdi Hasan of TheIntercept.com has an intriguing idea that could fundamentallly change the nature of the gun debate. Herewith, what he said (as paraphrased sometimes by The Week):
All of America's Muslims should join the NRA. There are 3 million to 7 million Muslims in the country, and only 5 million NRA members so a mass membership drive by Muslim-Americans "could effectively give them control of the organization." More importantly, the prospect of millions of Muslims armed with AR-15s and other weapons of war would "petrify conservatives." Just think of it: "glossy photos of hijab-clad women wielding AR-15 assault rifles at their local gun range; billboard ads claiming that 'the only way to stop a bad guy with a gun is with a good Muslim with a gun.'"
Panicked Republicans would suddenly see the wisdom of universal background checks, longer waiting times on purchases, and other restrictions. You might even see some right-wingers "start questioning the hallowed Second Amendment itself." Despite claiming to stand for all Americans' gun rights, the NRA only cares about arming white Americans against their fear of dark-skinned criminals and terrorists. "So if your name is Muhammad or Ali or Omar, go strike a patriotic blow for gun control Go sign up with NRA."
NEWSPAPER COMICS PAGE VIGIL
The Bump and Grind of Daily Stripping
FATUOUS AS IT MAY BE to claim it, but it looks as if I may have been right when I said Tom Batiuk is selling books in his strip Funky Winkerbean —namely, copies of Lisa's Legacy Trilogy, a slip-cased, three hardcover book collection that includes Prelude: Lisa's Story Begins, Lisa's Story: The Other Shoe, and The Last Leaf: Lisa's Story Concludes.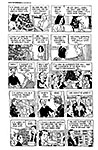 Excerpts from the strip's run the week before Christmas show the fictional author of the book, Les Moore, autographing copies of the set at a local bookstore. (What a great idea for a Christmas gift! Lisa's Legacy Trilogy! Kent State University Press, $80.)
But the story of Lisa's Legacy is a good deal less grasping and mercenary than I've just made it sound. Roxanne Washington at the Cleveland Plain Dealer recently rehearsed the main events, and what follows, until you see my brief contributions in italicized type, is from her.
Ten years ago, fans of the Funky Winkerbean comic strip said goodbye to Lisa when her character died of breast cancer. Some were unhappy about Lisa's death, and perhaps still are. But Lisa's demise came at a time when the strip's creator, Tom Batiuk, had put what he calls "a gag a day" themes behind him and was melding humor with heavier, real-life issues, through Lisa, Les and the other characters who had become young adults in the script.
"In my own life at the time, I was starting to hear about people who were dealing with the illness of breast cancer, either in my own family or with friends," Batiuk said in the telephone interview from his home outside Akron. "I kind of internalized all of that stuff, along with messages that were being put out by groups that were raising awareness about breast cancer. So it was kind of in the air."
And Batiuk plucked it out of the air and put it into his strip. Then, later, he reprinted the relevant strips in book form; and, even later, after he'd continued Lisa's story, in two more volumes. —RCH
The first, Prelude, has early strips that bring Lisa and Les together. Introduced to readers of Funky Winkerbean in late 1984, as she experiences SAT test anxiety, Lisa becomes Les Moore's best friend and a pivotal character in Funky. Lisa and Les (originally, the strip's nerdish character) go to the prom together, date and then break up.
But Les, realizing that he misses Lisa, goes to her house and discovers that Lisa is pregnant, also not your typical "funny pages" fodder. Lisa, who no longer is with the child's father, asks Les to be her coach in childbirth classes, and their friendship explodes. Prelude finishes up with the birth of Lisa's baby and the baby's adoption.
In 1999, after having married Les, Lisa finishes her law degree, opens a practice and has another baby. Then she discovers she has breast cancer, and she and Les face the ensuing physical, psychological and social issues that come with the disease. Lisa's Story is about Lisa's initial battle with cancer, including a mastectomy and chemotherapy, and finally learning that she is cancer-free. But the cancer returns and claims Lisa's life.
The Last Leaf is the sequel after Lisa's death, and it recounts how Les and family cope with the death and continue their lives. Lisa lives on in Les's imagination as she helps him work out difficulties and decisions in his life and the life of their daughter, Summer.
Asked why, much to some fans' chagrin, he decided to bring Lisa's cancer back at the time, Batiuk explained that while Lisa's cancer was in remission in the story line, he himself was diagnosed with cancer.
"I had written Lisa's story, but I realized that what I described was empathizing," he said. "I had only skimmed the surface of the cancer experience. So, armed with this deeper emotion and better understanding, I went back to the story, but to a different place."
While Lisa's story was unfolding in the strip, her bout with cancer moved beyond the comic pages.
"When Lisa's cancer story started, University Hospitals created the Lisa's Legacy Fund for cancer research and education," Batiuk said of the ongoing fund. What's more, the Funky Winkerbean 5K run and walk in Mentor, benefitting the fund, also continues.
Said Batiuk, "It's amazing that her character stepped off the comics pages and is doing something good in the real world."
And there you have it, the story of how a comic strip became a public service.—RCH
Funky Winkerbean, which revolved around the mishaps of the central character and his classmates, began in 1972. The strip is one of the longest-running with the original writer, said Batiuk. It runs in 400 newspapers worldwide.
The tall blond guy in the strips at hand, is Darin, Lisa's natural son, her first-born who was put up for adoption. He apparently "illustrated" the Lisa books.—RCH
OVER AT SALLY FORTH, Francesco Marciuliano and Jim Keefe are still struggling with Ted's father's death—a month after he died.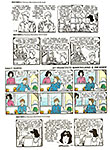 Seems a little excessive in a comic strip, but in the real world—and Marciuliano is dipping into the real world for this sequence and the previous one about the death itself—the death of a parent hangs around for a long time. Some of these strips allude to Thanksgiving, a "family holiday" at which, this year, Ted's father won't be present. So the occasion is appropriate.
Same sentiments hovered a little over Christmas, too.
In the bottom strip here, Sally, prompted by her husband's gloominess, is remembering how she deal with her father's death.
MORE SERIOUS, REAL WORLD STUFF transpired in a 2-week sequence in Hector Cantu and Carlos Castellanos' Baldo, a strip that deals with a Latino family in which the title character is the teenager. Baldo works at a hardware or auto repair shop, and as the accompanying sequence begins, an immigration official has dropped by to see if any of the employees are illegals. Subsequently, Baldo's best friend, Cruz, reveals that he's undocumented and tells his story.
Interviewed at the Dallas Morning News where he was once an editor, Cantú said that while the strip goes for a laugh most days, the stories from its Latino characters can "show a slice of life."
"We don't ignore the issues they face, whether it's their culture, language or prejudice — or even immigration. If you are Latino in this country, those are the issues you likely face," Cantú said.
He and Castellanos decided to include immigration politics as a way to highlight what nearly 800,000 people are facing as the future of DACA remains uncertain. Those who are DACA recipients have deportation protection through the program, which began in 2012.
Cantú said they'll take up the story line again as the government decides the future of the program.
"We are going to follow the news," Cantú said. "If this country starts deporting children, we are going to deal with that. We will have [Cruz] be in that group."
It's beyond a joke-a-day, but it's a worthy and successful attempt to give the immigration issue a human dimension.
BACK AGAIN at Tom Batiuk's Funky Winkerbean, we see Funky making one of this periodic appearances at an AA meeting, where he seizes the opportunity to unload several of Batiuk's political issue arguments.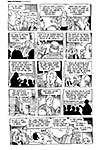 Since at least Doonesbury, political satire in comic strips has become almost commonplace. But this sequence doesn't get to the comedy that satire is supposed to deploy to make its point until the last strip. Until then, Funky's speechifying is pretty much straightforward belly-aching about the current political climate in this country.
Readers may agree with Funky, but we've gone beyond satire in this sequence.
ONE JANUARY Sunday funnies included two HISTORIC events and one admonishing one.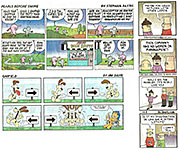 In Stephan Pastis' Pearls Before Swine, we have several panels with backgrounds drawn in. And in one, there are trees and rolling hills. Unprecedented.
I didn't find this Pearls particularly funny. And then I realized it isn't intended to make me laugh: it's a political message about how the Internet Industry has shut down brick-and-mortar businesses. Or so I see it.
In the excerpt from Dilbert, Scott Adams has drawn three characters are full length—head to toe! Unheard of. Until now.
Finally, Jim Davis' Garfield demonstrates that the strip is not always just talking heads. Here, the gag depends entirely upon the pictures. Wonderful.
MAYBE YOU LAUGH at the accompanying Pearls Before Swine. Maybe you don't. If you don't, it's probably because you recognize that Stephan Pastis has taken a big bite out of Albert Camus.
It was Camus who said that the only really philosophical question is the one about suicide: if life is as seemingly meaningless as it appears, why go on living? Camus, I think, decided that you go on living to "keep the faith." What faith? The faith that your fellow beings have that life has some kind of meaning and purpose. Faith requires no proofs, no evidence. Pig would understand.
WELL, IT HAD TO HAPPEN. All the other barriers are down. The taboos of yesteryear have long ago evaporated, poof'd away by another whisper of permissiveness. Comic strips joke about farts and sex and alimentary matters. What's left? God.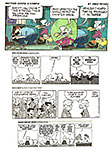 And now, as we see in the exhibit at hand, even God gets joked about. I can't imagine that Mike Peters didn't get irate letters about this Sunday Mother Goose and Grimm. Sounds a little sacrilegious to me.
And of course Stephan Pastis has to tinker with the Almighty, too. He's tinkered with almost every other thing in Pearls Before Swine, so why not? And I suppose the Walkers got complaints, too, for having Zero wonder about whether God comes to the chaplain's parties in Beetle Bailey.
God isn't in the dialogue of our last specimen, Pastis' Pearls again, but a member of the clergy, once as sacrosanct as the Big Man Himself, admits to being an arsonist. Somewhere there's some pure soul who's taken offense at this slur against all the members of the cloth, who he or she imagines are holier than thou. Probably.
GOSSIP & GARRULITIES
Name-Dropping & Tale-Bearing
Wayne LaPierre, the head of the NRA (i.e., National Rambo Association), broke his silence a week after the Florida school shooting with an unrepentant defense of gun rights and an aggressive attack on political elites who "hate individual freedom."
LaPierre, who usually drools a little at the corner of his mouth whilst in the heat of his pitch, might also have said that more gun regulations wouldn't reduce mass shootings because there's no such thing as a law-abiding homicidal maniac. That sounds sensible but it isn't. Most of the mass shooters lately have been law-abiding until they start shooting. And they're not usually "homicidal maniacs": a little unbalanced, certainly, but scarcely of the "maniac" sort.
LaPierre has been replaced as NRA's spokesman by Dana Loesch. It's a smart public relations move: she's an attractive woman. And now she's playing a sexist role—willingly.
BOOK MARQUEE
Short Reviews and Scraps of Lore
This department works like a visit to the bookstore. When you browse in a bookstore, you don't critique books. You don't even read books: you pick up one, riffle its pages, and stop here and there to look at whatever has momentarily attracted your eye. You may read the first page or glance through the table of contents. And that's about what you'll see here, beginning with—:
The Art of James Montgomery Flagg
By Daniel Zimmer
80 8.5x11-inch pages, color; Illustration Magazine, No. 58, November 2017, $15.
ZIMMER, the editor of this 16-year-old magazine, says: "I've wanted to feature Flagg's work in these pages for many years, and I've always felt that nothing sort of a deluxe full-length treatment would be appropriate for such a larger-than-life character and career." And in this issue, he does the deluxe. Page after page after page, the drawings and paintings of one of the most remarkable illustrators in American history. Some of them, I've posted just a paragraph down the scroll. And among them is a charcoal drawing Flagg made of Ham Fisher, creator of the comic strip Joe Palooka, in 1931, just about the time the Palooka strip debuted. (It started April 21, 1930.)
Fisher, Zimmer says, was one of Flagg's best-loved friends. Fisher hung out with Flagg at his studio, and the two often went to dinner together. Some have supposed that Flagg tolerated Fisher's presence on such occasions because Fisher went into the restaurant ahead of Flagg and announced his arrival. But Zimmer quotes Flagg on Fisher, and the illustrator's affection and respect for the cartoonist is readily apparent:
"I have known Ham many years, and we've had continuous pleasure insulting each other in private and in public. His mind is like a steel trap ... he is so keen, so well informed; his wit is sharp and his imaginative humor is boundless—it is incredible that none of all this ever gets into his strip of 'comic stuff' called Palooka. It is a series that millions of otherwise intelligent people look forward to with bated breath. The babyish excitement all these newspaper 'funnies' evoke is a phenomenon I can't understand. I vaguely know the names of some of them— Awful Annie, Dysentery and the Pirates—it's a national disease ... Ham's Palooka is so Palookrative that I do not need to apologize."
Flagg always spoke disparagingly of cartooning—conveniently forgetting that his own career began with cartoons in one of the national humor magazines, Judge or Life. And his first splash in the public prints was with a full-page comic strip about a hobo called Nervy Nat, which he did for Judge from 1903 to 1907.
Near here, I've posted a sample Nervy Nat and a scan of what is reputedly Flagg's first cartoon, followed by other Flagg art clipped from Illustration's full-length treatment of the artist.
The Best of Hagar the Horrible:
Chronicling the First Ten Epic Yers of Marauding Mayhem, Merriment and Mirth
By Dik Browne
240 9x9-inch pages, b/w; 2017 Titan Comics hardcover, $29.99
HAGAR began February 4, 1973 in 200 newspapers. At the time, Browne was doing Hi and Lois with Mort Walker but, according to the introduction by Brian Walker, felt the need for greater financial security for his family in the event of his death or disabling illness: he didn't own Hi and Lois and would be entitled to nothing from it if he quit doing it. So he started Hagar, which was his. Before long Hagar almost equaled Hi and Lois in circulation. When Browne died in 1989, his sons Chris and Chance took over the production of Hagar. In addition to Walker's history of the strip, the introductory material includes essays by Chris Browne.
The volume at hand prints a selection of three daily strips to a page, no Sundays, each strip still carrying copyright notice and date of publication. In the early years of the strip, much of the comedy originated on the battlefield, Hagar being a warlike Viking as well as being "horrible." As time warped on, the gags increasingly dealt with more domestic travail. Titan has produced other Hagar books—eight of them, each a complete reprint of two years of the strip, from 1973-1974 through 1983-1984. (And Titan has also lately done "Best of" compilations for B.C., Shoe, and Crock, all listed in the back of this book.)
Cartoon County:
My Father and His Friends in the Golden Age of Make-Believe
By Cullen Murphy
240 8x9-inch pages, b/w some color; 2017 Farrar, Straus and Giroux hardcover, $27.
THIS IS A BOOK OF STORIES, anecdotes culled (pardon) from the author's youth, growing up in Fairfield County, Connecticut, to which dozens of cartoonists had somehow gravitated—including the author's father, John Cullen Murphy, with whom the son worked, writing Prince Valiant for about twenty-five years. Some of the book is biographical, father and son, about the ways of producing an iconic comic strip and its predecessor, the less iconic Big Ben Bolt (see review below), and some of it is history; but much of the volume rehearses the antics of the cartoonists in the wilds of Connecticut, just a train ride away from New York City. The volume is extensively illuminated with photographs, sketches, finished drawings, scraps of strips and even samples of Murphy's paintings.
Reading Cullen's stories is like overhearing shop talk at a cartoonists' bull session at the Palm, the legendary cartoonists hangout on New York's Second Avenue. Here are a few, quoted directly from the book—:
◆ Cartoonist James Stevenson began his New Yorker career as a gag writer, thinking up ideas and giving them to others to draw. This was an actual job and came with an actual office at the magazine; it also came with this injunction from the art editor: "You must not tell anybody at the office or anywhere else what you do."
◆ [Cullen's father's] reservoirs of arcane knowledge, odd prejudice, and unexpected enmity were astonishing. He could talk with equal authority about the incidence of hemophilia among the Romanovs and the success of Fordham football teams from the 1930s, recalling the scores, game after game, season after season. ... When he saw someone with bad table manners, he would say, "You can always tell a Princeton man"—an insight passed down verbatim from his own father, and based on nothing whatsoever.
◆ Some cartoonists were experimenters, saith Cullen, illustrating the statement with a story about Stan Drake: at one point Drake was taking medication that had the effect of turning his urine blue; he played about with the dosage in order to make it green on St. Patrick's Day.
◆ Cartoonists were quick to come to one another's assistance—stepping in to meet deadlines, for instance, when one of the group was sidelined by illness or accident. Bob Lubbers who worked on Tarzan and The Saint, among other strips, did all the drawing on Juliet Jones when Stan Drake recovered from the auto accident that had killed Alex Raymond. When Drake took over Big Ben Bolt for a month as my father battled pneumonia, I remember being surprised that one cartoonist could so closely mimic the style of another, even to the point of crossing genres. This was a chameleonlike talent that many cartoonists had. Drake himself, an acknowledged master of the dramatic [realistically rendered] strip, would go on to draw Blondie, a classic bigfoot feature, complaining all the while about how much harder it was. He claimed that Dagwood alone had four hundred
facial expressions, and he didn't even want to talk about the hand gestures.
Sometimes, inevitably, the anecdotes are not exactly entirely accurate reflections of the events they purport to report. Anecdotes after all are folklore not history. But Cullen's anecdotes always represent the best recollections of the hovering lore. The pornographic images Ham Fisheraccused Al Capp of drawing in Li'l Abner, for instance, were at first thought to be clumsy doctoring of Capp's strips—presumably by Fisher. We know now, however, that Fisher did no doctoring and that he was right about Capp. (See Harv's Hindsight for January 2013, "Hubris and Chutzpah.")
Others in the Connecticut covey of cartoonists included Jerry Dumas, Roy Doty, John Prentice, Dik Browne, Jerry Marcus, Dick Cavalli, Ernie Bushmiller, Otto Soglow, Leonard Starr, Orlando Busino, Charles Saxon, Curt Swan, and Fred Lasswell, Bob Dunn, Bud Sagendorf —from time to time.
Big Ben Bolt
Dailies, Volume One: February 20, 1950 - May 24, 1952
By John Cullen Murphy (art) and Eliot Caplin (script); Introduction by Cullen Murphy
250 8.5x11-inch landscape pages, b/w; 2010 Classic Comics Press, paperback, $24.95
WHEN THIS STRIP debuted, there were two other strips about prize fighters—Ham Fisher's Joe Palooka (the best) and Curly Kayo, which had begun June 4, 1917 as Joe's Car (about a guy's preoccupation with automobiles) and evolved into Joe Jinks before Curly's name went up on the marquee in December 1945; the Leff brothers, Sam and Mo, were doing the strip,
Sam penciling and Mo inking. Mo was also working on Joe Palooka, which may be why Don Markstein's Toonopedia says Mo's name never showed up on Curly Kayo. Like the other two prize fighters, hunky Ben Bolt is something of a naive innocent although not quite as stupid as the other two.
Ben Bolt had been born of American parents working in Europe, and as the strip begins, he's coming to America for the first time. On board ship, Ben accidentally bumps into a roughneck who turns out to be a boxer; to get even, the boxer challenges Ben to an exhibition boxing match. Ben is befriended by Spider, who becomes his life-long pal and trainer. Although getting beat up himself pretty significantly, Ben beats his tough-talking opponent, and attracts the attention of Charity O'Hara, who becomes his life-long girlfriend. She, like other attractive single women in the strip, talks a snappy, masculine slangy lingo. Evidence of even-handed early feminism, I suppose.
When Ben gets home at last, he enrolls in Harvard, but when he finds out his uncle, who is ostensibly paying for college, is broke, Ben takes up moonlighting as a boxer. He does all right but nothing spectacular: mostly, he proves he can take a punch better than most. He's befriended and trained by a former champion, Kid Jericho, and works his way up to become the ranking challenger.
This collection culminates in Ben's facing the reigning champ and—shockingly for a comic strip boxer—losing! Why? Nice twist: turns out the night before the fight, Ben gave two pints of blood to a sick kid and stayed up all night attending to the kid. He was in no shape to fight. When the champ finds out, he vows to give Ben a return match, something he's never done before. And then we plunge on into the rest of the spring of 1952.
Caplin's stories are gripping, with enough unanticipated twists to keep us on the edge of the chair, including rival girlfriends for Ben. Murphy's art is magnificent—at least as good as if not better than Alex Raymond.
After serving in World War II as an artist (finishing in General Douglas MacArthur's inner circle), Murphy had taken up commercial illustration,
doing promotional work for movie studios and illustrating sporting events. Caplin had admired some of Murphy's paintings of boxers and phoned him to see if he'd be interested in drawing a comic strip about a boxer. He was. And they were off.
Unfortunately, Classic Comics Press was unable to get good proofs until May 1951, so the pictures in the first third of the book are lousy: sometimes muddy and sometimes dropping out fine lines altogether. Given Murphy's exquisite linework, that's a crime. The publisher promises better in subsequent volumes. Meanwhile, here is a gallery of Murphy's work on Big Ben Bolt with several samples of his surpassing treatments.
The Prince Valiant Page
By Gary Gianni; Foreword by Mike Mignola; Introduction by Robert Wagner
112 gigantic 9x12-inch pages, b/w with a couple fold-out pages in color; 2008 Flesk Publications hardcover, $29.95
THE TITLE IS RIGIDLY DESCRIPTIVE: this is a book about how the most celebrated page in the Sunday funnies was created by the artist who succeeded John Cullen Murphy, Hal Foster's immediate successor, in drawing Prince Valiant. Gianni is a fine artist, but his style was never suited to today's color newspaper comics. He shades and hachures meticulously, creating beautiful black-and-white drawings. But when severely reduced to fit today's chintzy-sized Sunday comics, all that shading congeals into blotches, disfiguring the art. In this book, however, the artwork is mostly beautiful because it is reproduced at a respectable size.
Gianni traces his apprenticeship under Murphy's tutelage, accurately describing the book on his first page into it: "I will explain the mechanics of going about illustrating Prince Valiant in this ongoing journal of sorts—thoughts jotted down during the production of sequences, descriptions of materials and techniques, a word about models and other reference sources, plus a brief look at my work leading up to Prince Valiant."
Prince Valiant has been in print since Foster conceived it in 1937. Eighty-one years; 71 as of the publication date of this book. Foster wrote and illustrated the full-page feature for 34 years, handing it over to Murphy in 1971; but Foster continued writing and laying out the page for 9 more years. Then Murphy's son Cullen (an editor at The Atlantic) took on the writing, and the father-son duo produced the strip until 2001, when Gianni began to assist Murphy pere with the art. Three years later, Murphy gave it up and Gianni was solo on the feature. Cullen Murphy continued to write until Mark Schultz took over in November 2004.
The book offers several instances comparing Gianni's treatment with Murphy's and sequences showing how Gianni developed a page from rough sketches through final art.
Alas, reproduction of Gianni's distinctive fine lines is a little too tentative sometimes, resulting in some of the drawings having a ghostly appearance herein. But the pencil work, of which there is quite a lot, is magnificent.
Gianni, who was conscious of his style's limitations in the reduced circumstances of today's Sunday funnies, gave up Prince Valiant in 2012, and Tom Yeates took it over with the April 1 page. Yeates has a stronger line. Schultz continues to write the feature.
Another Valiant Try-Out Faded
SOME YEARS AGO (it was in 2014), Jim Scancarelli, who does Gasoline Alley (which, I should remind you, is in its 100th year—to be celebrated in the fall), wrote me about another artist who tried out with John Cullen Murphy to do Prince Valiant. This try-out took place in about 1997, just before Gary Gianni entered the picture. Here's Jim's account—:
I first met Lee Kolbe in 1954. I was 12 years old and he was 28. Lee was an illustrator, painter and model builder. Our mutual interests in steam engine railroads and drawing cemented the friendship for life.
Prince Valiant was Lee's favorite comic strip from childhood He naturally drew in a style similar to Hal Foster's and enjoyed delving into history. He often said he would love to work on that strip but was making a decent living here in Charlotte, North Carolina, as a commercial artist and didn't care to move to New York. It was sort of the Big Fish in a Little Pond syndrome.
In 1963, Lee got to illustrate the Bible, as shown in the accompanying examples.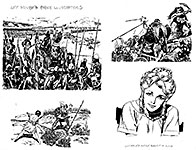 Compositions, costuming, drapery and accuracy of weaponry was very Fosteresque.
Now move the clock up to 1997. I had to call John Cullen Murphy, and during the phone call, he casually mentioned that he was looking for an assistant. He said 40 artists had applied but none suited him. I quickly told him about Lee Kolbe, and he said for him to send samples. Lee was overwhelmed and jumped at the chance to fulfill his life-long dream. He sent copies of the Bible illustrations and a pen-and-ink portrait of Val and the Aleta drawing that appears near here. (I lent the Val drawing out and, of course, never got it back; so all that's on display in the above visual aid here is Aleta.)
Murphy was impressed and asked Lee to send more samples and gave him a few lines of copy for him to illustrate. Murphy said they looked too much like Foster and not enough like Murphy, so Lee knuckled down and tried to do the art in the sketchy, loose John Cullen Murphy style. I always thought John's take on the honorable Prince looked like Big Ben Bolt [Murphy's earlier comic strip] in drag, or, at worst, like Moe of the Three Stooges.
John kept up his critiques and Lee kept trying to, as he put it, "dumb down the art." At one point, John criticized Lee's rendition of Val on horseback and snidely said that Lee should study horse anatomy. (Let me inject here that Lee owned a horsefarm and knew how to draw equines in any position. To prove this to me, he drew a horse leaping in the air and the angle of viewing was from underneath the animal.)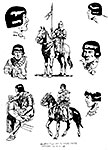 Lee bit his tongue and kept on sending in try-outs. One day, Lee called me and said he saw Murphy had drawn a galloping horse, and if a real horse could get his legs in that position, he would fall over. Study horse anatomy, indeed. Humph.
After two years of rejections and corrections, Murphy told Lee that [if they went ahead on the project] he (Murphy) would do one page one week then alternate with Lee the next so readers might not be able to detect any differences in line or style. Lee was elated.
Now during this time, Murphy had a cartonist penciling for him. I can't remember who it was—John Celardo? No, that's not right. It was someone who had worked on soap opera strips. [Probably Ken Bald] And Murphy's son Cullen was writing Prince Valiant, and both Lee and I felt Val's adventures were watered down considerably from Foster's poetic, heroic exploits. The current story at that time was very lackluster and boring about a bed on wheels or some such.
Lee, who was quite a writer, concocted two Sunday pages and sent them to John for perusal. Murphy wanted to know where Lee got the story because he (Murphy) hadn't sent it to him. When Lee told him he (Lee) had written them, Murphy said his son was the writer and for Lee not to bother with that aspect. I saw both of Lee's pages and Lee had injected life back into the venerable strip, and the verbiage flowed as if Foster himself was behind the pen.
But the green light to go ahead never came, and no further copy or requests for try-outs ensued. Lee was disappointed but deeply appreciative to have had a chance to attain his dream job. Alas, it was just as well it didn't happen for Lee passed away in 2000, and Murphy some time afterward.
Most of Lee's art was stored away in one of the horse barns, and as fate would have it, over the years, the roof leaked and turned most of the paper to pulp.
Years later, I had occasion to talk with Jay Kennedy (then cartoon editor at King Features which syndicated Prince Valiant), and I mentioned the Lee Kole try-out saga. Jay was infuriated that Murphy had not consulted him or King Features about wanting an assistant. He couldn't believe Murphy went over his head, and it wasn't too long after that, Jay Kennedy died.
So there you have it. A little-known sliver of history in the annals of "Prince Valiant in the Days of King Arthur." I firmly believe had Lee gotten to put his stamp on things and turned the look and feel back toward Foster—. Well, things would be different.
RCH: And hereabouts, more samples of Kolbe's Prince Valiant artwork. Kolbe drew more like Foster than Murphy did. Foster deployed a continuous line, no breaks; Murphy, however, drew with a non-continuous line, breaking off here and there, creating a sketchy appearance compared to Foster.
HARPER'S INDEX
◆ Number of U.S. veterans who have been waiting more than thirty years for decisions on disability-benefits appeals: 22
◆ Who have been waiting more than fifty years: 2
◆ Number of helicopters the United States announced that it would give to Afghanistan's air force: 159
◆ Number of trained flight crews in the Afghan military: 4
GAGGING
Single Panel Magazine Cartooning
The March issue of Esquire has only 3 cartoons, all of the small "Spot On" series by Seth Fleishman. The last page is probably intended to be a cartoon of the new "essay" style being explored by cartoon editor Bob Mankoff. It's a full page but it's mostly text, which Charlie Hankin uses to offer modern interpretations of the signs of the Zodiac. The interpretations are illustrated with new symbols. While the pictures add to text, the words and the pictures are not interdependent in the usual fashion of a cartoon.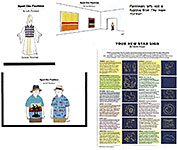 At The New Yorker, we have yet another example of gag cartooning gone awry. These specimens in which drawing exists only vaguely are not cartoons.
In the days of old tyme journalism, these thought fragments would be the province of the "paragrapher," a verbal humorist whose column was filled with the flotsam and jetsam of the passing scene and wry observation thereof. Too bad the breed has vanished: were paragraphers still around, they'd do things like these without insulting the cartooning medium.
PEEVES & PRATFALLS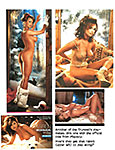 The Trumpet's latest reported peccadillo was with a Playboy Playmate, Karen McDougal, which took place about the same time as his cheating with Stormy Daniels—that is, shortly after Melania gave birth to Barron Trump, the last of the Trump offspring. Trump offered to pay McDougal, but she declined, saying she slept with him because she liked him. Thought you might like to witness the McDougal epidermis.
LONG FORM PAGINATED CARTOON STRIPS
Called Graphic Novels for the Sake of Status
Roughneck
By Jeff Lemire
272 7x10-inch pages, w/color; 2017 Gallery 13 (Simon & Schuster) hardcover, $29.99
THE ROUGHNECK is Derek Ouelette, who was forced out of a promising hockey career because he was too violent; he now whiles away his time in a remote Canadian community, drinking too much and fighting anyone who ruffles his feathers. He works as a cook in a fast-food diner and lives in the janitor's locker room at the local rink. Then his little sister, Beth, shows up with a black eye. He'd left her behind and homeless more than ten years ago to pursue his career on the ice. She's run away from an abusive boyfriend named Wade. And, it turns out, she's a junkie. Derek goes after the thugs who sold her the oxycontin and beats them up, nearly killing them. He's a tough cookie with his fists.
Derek takes Beth to An isolated cabin in the woods where she can get clean. She tells Derek she's pregnant. He stays with her, encourages her to kick the habit and to decide whether to have the baby. She gets better, no longer craves oxy. The two become closer although the increasing mutual affection is conveyed more in pictures than in words.
Then Derek finds out Wade has come to town to get Beth. Derek wants to go after him, to punish him as he did the oxy-sellers; Beth pleads with him not to. But he goes tearing off to find Wade. Beth begs their cop friend Ray to take her into town after Derek: "He's going to kill Wade," she says.
In town, Derek finds Wade and picks a fight with him, but when Wade attacks, Derek doesn't fight back. Wade pounds him repeatedly and knocks him down. Beth arrives and kneels next to Derek, prone on the ground and bleeding.
"Derek," she says, "—what did you do?"
"I let it go, Bethy," he says. And then dies.
The book jacket flap says this is the "story of family, heritage, and the desire to break the cycle of violence at any cost."
Family and heritage, yes. But it's not all that evident that Derek wants to break the cycle of violence "at any cost." Beth, yes; but not Derek. He may be thinking about giving up his thug life, but he never says anything about it until he does it. Then dies.
We watch, however, as he assumes the role of care-giver to Beth, becoming thoughtful and kind. So when he says "I let it go," it isn't entirely a surprise. The sense of family has asserted itself with him.
Lemire's storytelling is very cinematic. Dialogue is minimal, and the narrative is frequently carried by the pictures alone, pages of the silent images. Lemire moves his story forward, slowly, the pictures closing in for close-ups, then dropping back, increasing the distance by degrees, panel after panel. Derek is often pictured alone, outside, smoking by himself with picturesque forest wilderness as a backdrop. Lots of silent close-ups of faces as the characters think and ponder their situation.
Lemire's drawing style is crude here, intentionally rough; the raw linework is almost sketchy but too bold for that. The narrative is told with black lines, tinted blue with a wash. Except when Lemire lets his characters remember something; then the pictures are in color.
Lemire is clearly conscious of the medium's capabilities, and he exploits them deftly.
A dog serves as a thematic device in the book. After Derek's victorious brawl in a bar, he goes outside and urinates, and a dog shows up, panting and wagging its tail. Derek says, "What are you looking at?" And the dog goes away.
The dog shows up again when Derek and Beth move to the cabin in the woods. Again, Derek scowls at the creature, and it runs off.
The dog reappears when Derek is thinking about how he almost killed (or perhaps did) that hockey-player from an opposing team. And when Beth remembers how her mother died in an auto accident, a dog appears, licking the blood that drips from her mother's body in the wreck. And when Derek goes after Wade, he's accompanied by a barking dog.
Derek's death, lying on the ground, is followed by facing pages of solid black.
Then there's a silent sequence of 8 pages. A couple panels show Beth being taken somewhere by a friend, Al; she's shown holding her pregnant belly, so we assume they're going to the hospital. Several panels show Derek walking alone. Then he comes upon a dog. This time, he kneels and beckons the dog, which comes up to him and licks his face.
The last page in the book shows Derek walking into the woods, followed by the dog. The picture is partly colored.
BEEFS & BOFFOS
Common sense and a sense of humor are the same thing.—Clive James
It ain't what they call you, it's what you answer to. —W.C. Fields
COLLECTORS' CORNICHE
Welcome to our sentimental section where I muse and marvel about antique volumes on the shelf and rare finds in old bookstores and the like. Nothing major. Skip over this if you're busy.
A FEW MONTHS AGO, someone on Facebook mentioned a comic strip by William Overgard— Rudy, starring a talking bonono ape who had retired from vaudeville. It was an exceptional strip, comical with some slow burning continuity. The most remarkable thing about it is that every daily installment had about its speeches the rhythm of one of those tired old vaudeville routines that featured two comedians, who exchanged words, one of them finishing (badaboom) with the punchline. Extraordinary achievement. I love the strip. It's been reprinted in book form as Rudy in Hollywood.
Rudy wasn't the only bonono ape in Overgard's oeuvre. He wrote a novel about what he once termed "Milton Caniff's China." The name of the book is Shanghai Tango (not, as some Facebooker said, "Yellow Peril"). From the dust jacket: After the death of his father, whom he worshiped, Adrian Reed swears he will regain a treasure his father lost in China. (There's a kinship here to Caniff's Terry and the Pirates.)
So Adrian goes to China and meets and falls in love with Lola, a smart-mouthed sexy dancer who works at Frisky's, a waterfront dive, where she performs a Beauty and the Beast number, dancing the tango with a tuxedo-clad bonono ape named Ramon.
And that could be Rudy. Except Ramon doesn't talk.
Below, a photo of dashing Overgard from the back of the book jacket. The book was published in 1987; Overgard died three years later at the youthful age of 64. There's also a picture of the Rudy book cover on which, at the lower left, he's shown sharing good times with "Ronnie," Reagan, of course, then in the last years of his presidency—plus the first Rudy strips and the last, three too brief years later.
BADINAGE AND BAGATELLES
I wonder how much support I'd get if I were elected a town clerk but refused to issue gun licenses because guns are against my religion.—Benjamin L. Corey
I tried to catch some fog. I mist.
Jokes about German sausage are the wurst.
I know a guy who's addicted to brake fluid. He says he can stop any time.
ONWARD, THE SPREADING PUNDITRY
The Thing of It Is ...
A Very Looong and Tedious Apostrophe
ANOTHER CLASSIC SEXUAL HARASSMENT CLICHE
THE CLICHE OF THE CASTING COUCH in the movie industry has, in effect, enabled sexual harassment in Hollywood, but another cliche, illustrated forthwith, does the same for the office workplace.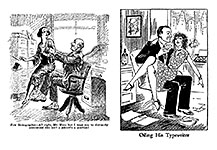 The cartoon on the left, by Donald McKee, is from a 1924 issue of Judge, a humor magazine of the day. The other, unsigned, is, judging from the secretary's attire, doubtless from the same period. More recent examples—including cartoons by E. Simms Campbell and Bill Wenzel and Dick Ericson— follow.
The boss-secretary comedy has roots that reach far back, according to Rebecca Onion, a Slate staff writer and the author of Innocent Experiments.
Onion writes: "When Matt Lauer was fired last month, TMZ [a celebrity news site] dug up a 2012 clip from the show 'Watch What Happens Live,' in which Katie Couric told Andy Cohen that her then-co-host Lauer's most annoying habit was 'he pinched me on the ass a lot.' Cohen and the audience laughed, and that was the end of it. How is it possible that we thought this was funny so recently? The answer is in our history."
Onion continues: "Between the turn of the 20th century and the advent of second-wave feminism in the 1970s, men took the uneasiness they felt about the incursion of 'respectable' women into formerly male office spaces, and made it into comedy. The most firmly established genre of 'women in the workplace' humor is the secretary joke, in which a lecherous boss or co-worker 'flirts' with a woman by pursuing her around an office or making cracks about her body."
Onion goes on aT some length about this "venerable tradition in American humor," quoting historian Julie Berebitsky, who wrote Sex in the Office: A History of Gender, Power, and Desire, and I quote forthwith from Onion on Berebitsky (always in italics)—:
Berebitsky told me that she chose to research the history of secretaries, stenographers, and typewriters because their entry into the office in the early 20th century was a watershed moment in gender relations. For the first time in American history, many middle-class women were sharing workspaces with men. Poor women, who had long worked alongside men in factories, in domestic service, and in slavery, were abused as a matter of fact, and their abuse was generally of little note.
Secretaries, on the other hand, were well-educated women who might be accorded some respect, Berebitsky said. The tension between this expectation of respect and women's new status as co-workers became a source of uneasy humor. Newspapers ran funny secretary stories; advertisements for office products played on sexy-secretary stereotypes; the plots of movies featured gold-digging secretaries on the make.
Berebitsky collected comic postcards from the middle of the 20th century that featured men in suits—often older men, with bald heads and preposterous fringes of hair—appreciating the view of a woman sitting on a pile of papers on his desk ("I got a little behind on my dictation.") or chasing comely secretaries around offices ("This overtime work is keeping me thin!") "The Chase" was to become a trope of this kind of boss-secretary humor, and it crossed over between popular representations and real life.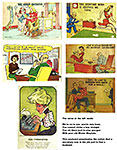 The idea that the stenographer or secretary was in the job only to find a husband was widespread. ... Some secretaries did marry their bosses—after all, as Berebitsky said, "If you were a stenographer, you had no way to get anywhere beyond being a stenographer," since there was no career ladder to climb up from that job. "As you got older, if you didn't have a husband, you'd be poor."
Young, pretty women had a much easier time getting jobs in the field. Berebitsky found that as early as 1895, women recognized the perils of this dynamic. An article in a stenography journal published that year detailed the Catch-22 secretaries faced: attractive women, Berebitsky wrote, "would have to fend off their employers' dinner invitations," while less attractive women "would have a difficult time landing a position or securing a promotion." Jokes about the secretary out to catch a man—a staple of this kind of workplace humor from an early date—punished women for being caught in a system that sexualized them. ...
MIDCENTURY JOKES skewered secretaries' skills as well as their bodies. Milton Berle, the comedian who hosted the enormously popular tv show "Texaco Star Theater" in the 1940s and 1950s, made secretary jokes that were about sexuality: "I know a boss who's so dedicated he keeps his secretary at his bedside all night in case he wants to send a letter!" But they were also about secretaries' lack of aptitude at their jobs: "My secretary saves me money. She orders correction fluid by the six-pack!" "My secretary is great in math. She added up a column of a dozen numbers 10 times and showed me all 10 answers!"
The dumb secretary was everywhere and made sexier by her stupidity. ... The women in the office are there for decoration and intrigue. Their inefficient brains are a trial men would put up with in order to continue to have access to their bodies.
In the seventies, feminists started protesting secretary jokes. ... Judy Blemesrud described the image the women were combating in a memorable lede: "Gum-chewing sex kitten; husband hunter; mini-skirted ding-a-ling; slow-witted pencil pusher; office 'go-fer,'; reliable old shoe."
Feminists had some success in altering the stereotype—famously in Mort Walker's Beetle Bailey. Walker had introduced what Cullen Murphy in Atlantic called "a lissome airhead," Miss Buxley, whose stupidity her boss, General Amos T. Halftrack, tolerated because she was pretty (sexy). Feminists objected. Readers wrote letters to the editor. Newspaper staffers pressured their bosses to refuse to publish strips with Miss Buxley in them.
Finally, Walker gave up. He gave Miss Buxley a brain and sent General Halftrack to sensitivity training. And sexist jokes disappeared from the strip. Onion continues—:
If the ditzy secretary stereotype couldn't weather the years when second-wave feminism was at its height, the trope of "The Chase"—an aggressive man using his workplace as a hunting ground—was more durable. When the Clarence Thomas hearings aired on television in 1991, almost 20 years after feminists began to make their case against the Miss Buxleys of the world, many sexual-harassment plotlines still drove sitcoms. Television critic Tom Jicha observed at that time that Sam Malone, played by Ted Danson on "Cheers," was totally "relentless" in his pursuit of sometime-employees Diane and Rebecca, and in both cases his relentlessness was rewarded. Jicha also cited "Major Dad," "Murphy Brown," "L.A. Law," and "Taxi" in a list of shows featuring aggressive, lecherous men whose inability to take "no" for an answer in the workplace was a bottomless well of comedy. ...
THE BOSS-SECRETARY GENRE of cartoon is ripe for exploitation, as we see in the accompanying visual aids.
Art Hurric's girlies are among the most attractive in the genre, so we've included a couple non-boss cartoons here before graduating to Bill Ward and his preoccupation with sofa-sized knockers—so extreme in the first example that we've added a couple more just to make sure we make the point (so to speak).
Ward once explained that editors at magazines that bought his cartoons kept after him to increase the size of the tits on his girlies. And he, ever the dutiful capitalist, obliged.
With the passage of years, the boss-secretary cartoon has become less suggestive and more explicit, and with that, cartoon comedy is diminished.
As the perpetrator of a goodly number of girlie cartoons myself (note, in particular, a recent Hindsight that examines a batch of my "hooker" cartoons), I'm scarcely an unvarnished innocent in any discussion of these matters. In my defense, I mention the dogs and cats that I deployed with the hookers to add a non-sexual element of humor. Supposedly. A feeble defense, I admit, but I cling to it nonetheless.
But I also realize that the more explicit the drawings, the less comedy they embody. Let me slam the door on this facet of our discussion by posting near here a quartet of my girlie cartoons and leave the final verdict to you. Does the sexiness of the bimbos detract from the comedy?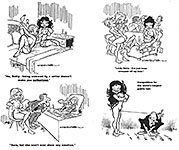 The sexy secretary syndrome has been perpetuated beyond cartoons as portions of society have lost some inhibition—women particularly. The sexy secretary shows up in photographs, too.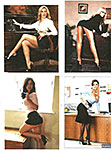 GIVEN OUR BIOLOGY, it's hard to escape sexiness. It's all around us. And women knowingly contribute.
Take the case of golfer Paige Spiranac, whose epidermis is on display in the annual Swimsuit issue of Sports Illustrated. ESPN reporter Britt McHenry said that appearing in a bikini makes it harder for female athletes to be taken seriously. Siranac responded—:
"I'm not saying every woman has to be in a bikini to feel empowered, but some women feel empowered that way, and it's not your right to tell them they can't do that if that's how they feel at their best. And on our side, we can't tell people they have to strip down to feel powerful."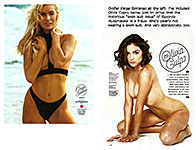 Beautiful women invite admiration. But not, necessarily, sexual harassment. Sexual harassment, in fact, has more to do with the male member than it has to do with female appearance, as we'll see in a trice.
In the meantime, I admit to being of at least two minds on the issue of sexual harassment. Maybe three. And we'll get to them all in the next essay down the scroll. Until then, I'll give the last word in this segment to Onion (in italics)—:
In recent weeks, plenty of comedians have managed to satisfyingly skewer Harvey Weinstein in ways that were pointed and funny. But these subtler, fresher takes aside, it's clear that the cheesy old-school hot secretary/lecherous boss joke is still around. You can find them all over internet forums that post user-submitted humor, like netjokes.net or kickasshumor.com, though such gags aren't simply the province of amateur jerkoffs. As recently as October, James Corden made light of Harvey Weinstein's chase tactics while emceeing a gala, with quips including: "It's a beautiful night here in L.A. It's so beautiful, Harvey Weinstein has already asked tonight up to his hotel to give him a massage."
Weinstein's accusers, particularly Asia Argento and Rose McGowan, found Corden's routine infuriating. Their anger at these anodyne-seeming goofs becomes easier to understand when you consider how often in our history toothless jokes about workplace sex that paint the harasser as a bumbling, benign lech have helped keep women in their place. An ass-pinch or a hot-body jest aren't low-stakes. They give a woman who's just trying to work an impossible choice: go along to get along, or murder the moment by stepping into the role of feminist killjoy. Since last fall, more and more of us seem to be choosing the latter.
EVEN MORE YET SEXUAL HARASSMENT
Where We Really Go Off the Rails
THE RUNAWAY EXPRESS TRAIN of sexual harassment reports continues, although somewhat abated since the surge after Harvey Weinstein was, er, exposed. Among the latest is movie star Michael Douglas.
A former employee, Susan Braudy, now a journalist and respected author, has accused the actor of using foul and sexually-charged language around her when she worked for him in the 1980s. During a session with him in his New York apartment, which doubled as his office, she claimed that he masturbated in front of her.
"Michael unzipped his chinos and I registered something amiss," she wrote about the 1989 incident. "I peered at him and saw he'd inserted both hands into his unzipped pants. I realized to my horror that he was rubbing his private parts. Within seconds, his voice cracked and it appeared to me he'd had an orgasm."
Douglas denies Braudy's accusation, saying that at no time did she "express or display even the slightest feeling of discomfort working in our environment. That is because at no time, and under no circumstance, did I behave inappropriately toward her."
He acknowledged using inappropriate language sometimes but refuted her claim of a hostile workplace. "Coarse language or overheard private conversations with my friends that may have troubled her are a far cry from harassment," he said in a statement. "Suggesting so does a true disservice to those who have actually endured sexual harassment and intimidation."
Douglas's wife, the spectacular Catherine Zeta-Jones, stands by her husband. Whatever happened, she says, happened thirty years ago "B.C.—before Catherine." The couple married in 2000.
So far, Douglas hasn't been fired from anything, but since he's self-employed and more-or-less retired, I suspect he'll escape retribution.
In any case, I doubt Braudy's story. The grossest part of it anyway. I can't imagine any man masturbating in the way she describes, ejaculating in his pants. It would be messy. And according to her story, when she left the room, almost in tears, Douglas followed her down the hall, zipping up his pants and thanking her for her efforts. In zipping up his pants, he's containing the mess. Not likely.
She may have exaggerated. Douglas may have been scratching himself not masturbating.
There were, of course, no witnesses. And no one else lined up to accuse Douglas of sexual misconduct, creating thereby the incriminating "pattern of behavior." Braudy made notes for herself immediately afterward and told some friends. But none of that constitutes proof. Douglas will probably escape.
Woody Allen, on the other hand, may come in, at last, for comeuppence. He was accused in 1992 of molesting his 7-year-old adopted daughter, Dyland Farrow. He was subsequently cleared by two thorough and expert investigations, which concluded that "the incident described by Dylan never happened."
Still, since that time, Allen has manifested "a creepy obsession with young, barely legal women in his films." Actors, studios and investors have "tolerated his fixation for years," said Adam Epstein in Qz.com, but in the spirit of the #MeToo tsunami, stars of his new film, "A Rainy Day in New York," have expressed regret that they worked with him. That movie may be his last, saith Epstein.
And then there's Republican U.S. Representative Patrick Meehan, who has helped lead a recent effort to combat sexual harassment in Congress but who, it seems, used taxpayer money to settle his own sexual misconduct complaint with a former aide last year, reported The Week (February 2).
And there are more, seeping into the public prints day-by-day.
AS I SAID EARLIER, I am of at least two minds about the issue. In one of them, I hear the words of a friend of mine, Pulitzer- and Reuben-winning editoonist Ann Telnaes, who during a Q&A at Politics and Prose last month, talked about #MeToo and her hopes for it.
"Women are mad. I speak to my friends who are my age, and they're mad, really mad. ... It's funny to hear people talk about sexual harassment and sexual discrimination. There are all forms. I've dealt with it my entire career. I laugh when I hear people express doubt about it. Every woman has gone through it one way or another. It's not all rape, but it's a lot of forms of assault.
"I'm going to give a personal example that I've never told anywhere. I'm in my fifties. When I had just turned fifty, I was walking down the streets of Washington, D.C. [where she lives] in broad daylight, and I had a guy come up from behind and grab me like Trump grabs people. In broad daylight. I'm not a young woman. [She is, however, very attractive.—RCH] I was floored. To deal with the police after that? Two female police officers took down everything and did nothing. I was furious. That's just unacceptable. It was some thirty-something guy just thinking he could do it. It's a problem. And it's not just for young women; it's for older women, too. There—now I'm really mad."
When I hear stories like this, I get mad, too. Women should be able to function—to get through their daily lives, at work and everywhere else—as individual personages, not as bodies to be ogled or grabbed.
IN ONE OF MY OTHER MINDS, I see the recent social media lynching of comedian Aziz Ansari. Babe.net published a woman's humiliating and potentially career-destroying account of a sexual encounter with Ansari. He met the woman, who referred to herself as "Grace," at an Emmys party in California, they flirted and exchanged cell numbers, and when they realized they both lived in New York, they arranged a date.
Grace was excited at the prospect of a date with a celebrity. She worn a fancy outfit. They went to a swank oyster bar and ended up in Ansari's apartment. They got naked and engaged in oral sex. When Ansari wanted more, she rebuffed him. When she finally said "no," he called her a taxi and she cried all the way home.
Then she went on the Web about it. And the story went viral and was the buzz of the social media.
Said Bari Weiss in the New York Times: "There's a useful term for what Grace experienced. It's called 'bad sex.'"
And it happens. But it's not sexual harassment. There's no workplace. But Grace, in a fever, no doubt, to join the #MeToo sisterhood, has put Ansari in the same class as Matt Lauer and Charlie Rose—where he most certainly does not belong.
Elizabeth Wellington at the Philadelphia Inquirer wrote about Grace's disclosure.
"I've been on some dates that have led to some uncomfortable situations. During said situations, I was hopeful the dinner, movies, drinks, heavy petting, and sex would lead to something, well, meaningful. And although the Old Boy (insert name of random dude here) may have been interested in slightly more than a hookup, he clearly wasn't in it for the long term. So after the dinner, the movie, the drinks, the heavy petting and the sex—let's be clear, at no point were any of the aforementioned Old Boys holding a gun to my head—I felt hurt and, yes, icky. ...
"We were simply two people who weren't whole. I was looking for a relationship to create a sense of togetherness in my life. He wanted sex to create the same feeling in his."
Wellington writes in a casual, breezy manner with frequent displays of a biting wit. Discussing the oral sex that Ansari and Grace indulged in, she says: "I hear that's like French kissing in the world of millennial hookups. Deal with it, dear reader, and stop clutching your pearls. I've let go of mine."
She goes on: "In no way does the Ansari/Grace situation rise to the same level as the allegations against Harvey Weinstein. But in this truth-standing era when we are forced to rethink how we value women, it makes sense that the conversations are moving beyond the workplace to our most basic interactions. That can be tough. In rethinking how men and women live and grow together, both sexes have to be honest about our expectations and change the way we look at dating by acknowledging its power dynamics. ...
"Ladies, it's okay to want more. It's okay to go to his apartment ... but the moment your gut screams at you that things are whack, don't hang around waiting for it to get better. ... And if you do stay around and play, you can't call up a magazine and cry sexual harassment. That's not fair to him. You're giving your power away.
"And guys, just because she goes back to your apartment, don't assume she's down for whatever."
Indulging in a man-woman relationship requires "common sense, support, and empathy from the men and women in our lives. This is the only way those icky feelings will go away."
In other words, in my second mind, situations like the Ansair/Grace encounter do not constitute sexual harassment. Men can behave like assholes, salivating sex maniacs; women, ditto. But bad behavior in and of itself isn't sexual harassment.
IN STILL ANOTHER OF MY MINDS (or perhaps just in a darker corner of one we've already visited), I see the whole #MeToo pendulum swinging too far. Andrew Sullivan in NYMag.com details a list of bad male behaviors—rape, assault and clumsy come-ons; but "to equate them all—and subject men to anonymous character and career destruction—is true 'McCarthyism.' As women bravely and rightfully redefine acceptable behavior in the workplace and outside of it, let's not forget that 'nuance, context, and specifics matter.'"
Rape is a crime. But insistent or clumsy or crude flirting is not. Neither is leering, pinching, groping or kissing—unsavory as they may be. Nor is gallantry a chauvinist aggression. Winking should not be confused with lechery.
"Liberals have become true distinction deniers," said Bill Maher on his HBO "Real Time" show recently, "—who can't tell the difference between assault or groping on the back seat of a van and a backrub by the water cooler in the office. We can't seem to agree that groping and rape are both unacceptable but one is worse than the other."
He quotes Senator Kirsten Gillibrand: "You need to draw a line in the sand and say none of it is okay."
Maher differs: "We usually agree that shit is measurably different than shinola," he quipped. "There are facts," he went on, "—have we given up the idea that even bad things have degrees? There are four degrees of murder and three degrees of burn."
Similarly, there are degrees of sexual harassment. We just haven't defined or named them.
So What to Do?
ESQUIRE MAGAZINE, acting, perhaps, out of a sense of guilt for having published painted pin-ups in calendars back in the 1940s before Playboy inaugurated a photographic pin-up calendar, devoted ten pages of its March issue to a seminar on sexual harassment.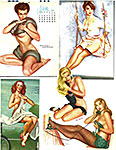 Twenty-one seminarians held forth on various aspects of the matter; most, however, did little more than express gratitude that women are at last speaking out, insisting that women be believed. But here and there are some gems worth noting.
A.O. Scott, film critic at the New York Times, focused for a moment on the Trumpet's notorious "Access Hollywood" tape, particularly the "less quoted 'When you're a star' explanation" as "an accurate description of the workings of male entitlement." Men who say "I would never do that" may be simply admitting "I could never get away with it."
Gloria Allred, victims' rights attorney, offers advice on what a woman should do if she feels victimized. Say something. Report it. Call in the experts. And more.
Emma Carmichael, former editor of Jezebel, lists and explains "words men use to undermine women in the workplace"—bossy, difficult to work with, big personality ("too loud for their liking"), hard to read (despite seeming interest in your advances, never goes for it—"probable lesbian"), and more.
Vanessa Grigoriadis author of Blurred Lines discusses "drunk sex and assault" and how to avoid the first morphing into the latter. "She seemed fine," says an imaginary male, post-coitus. "She wasn't unconscious. How'm I supposed to know how drunk she was?" Each of us needs to figure out how to go on. "A question like, 'You seem really drunk. Are you sure you're cool with doing this?" might go a long way toward setting boundaries before nary a jacket is doffed. Otherwise, we'll need to install Breathalyzer test on underwear that cannot be removed unless you blow below a certain BAC. And there's nothing sexy about that."
Novelist Emily Gould (Friendship: A Novel) writes: "My cynical side expects redemption to come the way it always does: the passage of time will erode our memory of these men's trespasses until it's acceptable to hire them again. But my idealistic side hopes that they will decide not just to behave better in the future, but also to make concrete reparations for the past. Wealthy transgressors should be writing checks to their victims, to abortion-rights groups, to policy makers fighting for universal child care and paid parental leave. Influential transgressors should be using their freed-up time to advance the same goals."
Suggesting possible punishments, author Rebecca Traister (All the Single Ladies) says that since male predators seem ignorant of the damage they do, they should "be required to listen to, say, a hundred women's stories of abuse and respond fully and thoughtfully to each." Guys who maybe shouldn't lose their jobs but who've been repeat offenders on a smaller scale should be stripped of their titles and seniority—"especially over women."
Former supermodel Paulina Porizkova's candor was refreshing: "My living consisted of the way I looked, and if I didn't get sexually harassed, I would be upset. I'd go, 'Shit, what's wrong with me? Why is he not trying to get me to bed? Or at least to touch his penis or something?'" Later, watching Oprah on the issue of sexual harassment with a model friend, "we looked at each other and said, 'We call that compliments.' That's when it dawned on me that it wasn't right. ... It flabbergasted me that I thought of myself as a feminist all those years but saw sexual harassment as compliments."
Insightful as many of the comments are, no one except Traister made practical suggestions about how to find the way out of our predicament.
Mathew Belloni at Hollywood Reporter outlined what he looks for in evaluating claims of sexual harassment: "Whether there has been an alleged abuse of power, whether there are witnesses to the alleged behavior or people who were told about it in the aftermath and will say so, and whether there is any other corroborating evidence. Our lawyers also are consulted on each story. Many accounts don't survive the vetting process. Some do, such as past articles revealing claims against Dustin Hoffman, Russell Simmons, Roy Price, Robert Knepper and others."
That's a start.
But the whole dilemma, as it mutates from workplace to apartment, is beginning to look like humanity needs a thorough overhaul. And it's not likely to get it. Men will be men, and women will be women. And that's the way the survival of the species is assured.
Still, we should make some adjustments. When male behavior goes beyond whistling at a passing woman or simple flirting at the drinking fountain—and when men press for sexual favors in exchange for job security or advancement—then the mechanisms of retribution should come into play.
But if the offenders are the kind of jerks that think masturbating is some sort of courting ritual, then an appeal to common sense is not likely to go very far in getting them to change their behavior. Let us remember Robin Williams' analysis: "God gave men both a penis and a brain, but unfortunately not enough blood supply to run both at the same time."
THINKING WITH YOUR PECKER
And What That Means for Your Future
IN HIS TREATISE God's Doodle: The Life and Times of the Penis, Tom Hickman reports that cults of phallus worship have mostly disappeared in the West, but not in India. "In the more mystical tantric reaches of Hinduism and Buddhism, devotees are still said to regard themselves as merely 'phallus bearers,' each the servant of his sex organ, which he regards as a separate living entity, a divinity even, in its own right."
The cults may have disappeared in the West, but the worship remains, saith Hickman:
"The penis-possessor's erection is his lion's mane and his peacock's tail, the source of his identity, the psychological and physical center of his being, the very badge of his masculinity. To the penis-possessor, his erection is a thing as wondrous as the metamorphosis of a caterpillar into a butterfly, even a recurrent miracle. His erection is 'a marvel of hydraulic engineering.' ... What they want from women on their erect penis's behalf, and which almost certainly they cannot articulate, is awe. ... At its greatest intensity, a man may feel he is all erection and, perhaps, like James Boswell, feel a 'godlike vigor' in its possession."
Hickman continues: "It is a truth universally acknowledged that a man in possession of a penis will do some of his thinking with it. ... The possessor is possessed—a comic fellow dragged along by the mischievous lecher between his legs."
Thus, the core of the problem: the offenders are not thinking beings. They're ambulatory erections, rampant peckers prowling the world.
Under these circumstances, the #MeToo threat of losing a job, a career, a reputation isn't going to have much effect on behavior. The threat addresses the mind, not the pecker. Besides, the threat looks too much like lynching. In a country committed to rule by law, the laws are too readily disregarded by social media bent on revenge. Aren't we innocent until proven guilty? What constitutes "proof"?
To achieve something akin to the traditions of American justice, we should make a few modifications in our present procedures.
Here are some suggestions for dealing with sexual harassment as defined strictly as taking place in a workplace context. Supervisors cannot expect sexual favors in exchange for job security or advancement, and they cannot tolerate anything that creates a hostile work environment. Beyond the workplace, men may be salivating, walking erections or refined gentlemen in their treatment of women. We can hope for better than clumsy rudeness but we can't demand it. In the workplace, we must demand it. But we need to remodel the mechanisms of our demand.
First, we ought to revise the method of indictment somewhat. One woman's complaint should not be sufficient to ruin a man's life—except for such overt criminal behavior as rape or other kinds of sexual violence. In other instances of sexual harassment, there should be enough accusers to confirm a pattern of bad behavior. How many then? Six? Eight? Twenty? What arbitrary number of accusers does it take? I say, twelve—twelve because it echoes American judicial tradition with its juries of twelve good citizens and true. That's how many it takes to find a person guilty.
And to restore another value of our tradition, the accusers should not count if they want to be anonymous. Our judicial custom guarantees that we can confront our accusers, and we can't confront them if we don't know who they are.
Such innovations as these would let off the hook Al Franken, Garrison Keillor, and Aziz Ansari. And probably a few of the countless others who've been McCarthyized.
On the other side of the ledger, we must remove all hindrances to a woman's speaking out. They should be able to speak out without fear of reprisal. We should eliminate the most obvious instruments of suppression—confidentiality and nondisclosure agreements. They should simply be outlawed.
And how do we know if they're still in use in particular cases? We'll have to devise a way of shutting them down.
F'instance: any complainant whose allegation is supported by a signed and dated confidentiality/nondisclosure document can sue the employer for requiring that kind of documentation, and the employer must pay all costs whether the suit is successful or not.
After these modifications are made, the current punishment is still not adequate. It punishes but does not deter. And it does not acknowledge degrees of difference—in the offense as well as the punishment.
Let us pause to consider the predicament from another angle.
FOR THE SAKE OF ARGUMENT, let us say that the behavior we seek to control or eliminate manifests two aspects of the human condition: society and biology. The group and the individual. Individuals thrive only in social groups, but individuals are also single entities, and they act singly as well as in groups.
On the one hand, society inhibits the individual behavior: one fears beings rejected because of bad behavior. On the other hand, society enables the behavior. Society, arranged by hierarchies of power, creates the means by which fear of rejection fails to inhibit: one who enjoys power enough believes that power will permit him to do whatever he wants—that society, in his case, will overlook the abuses. He can escape because he is powerful. And because he is powerful, he can follow his biology, wherever lustful urges take him.
The Victorian "Walter," writing My Secret Life, put it this way: "Your prick is a restless article which will insist on the buttocks pushing it somewhere or somehow till the stiffness is taken out of it."
Biology creates the urge, and it would seem that we're not likely to be able to do much about that. Biology, the objective of which is propagation of the species, doesn't seem amenable to any sort of modification. Or so it would seem. In other words, we cannot stop biological urges.
Or can we?
Perhaps we can, at least, inhibit them.
The biological urge is what gets us going. Once the formidable pecker begins to swell with self-importance, there's no stopping it. Blood drains from the brain into the dick, and inhibition fades. The all-powerful pecker guides the man behind it. He sees the object of his desire, the urge propels him toward it.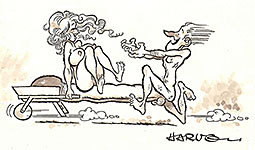 Disclosure by women of the bad behavior in men around them can result in a societal consequence: the guy loses his job. But even in cases where society has chastened the miscreant by causing him to lose his job, biology is still in charge. He'll have those urges again. How we can overcome biological urges in order to achieve a societal goal is another matter altogether.
The urge at issue is, let us remember, a good thing. Its purpose is biological. We dare not eliminate it. But society demands that we somehow control it. Mostly, control is achieved by inhibition: we fear retribution, so we behave.
Those who don't—those men whose relationship with the opposing sex is determined almost entirely by their erections in the service of which they discard civilized behavior—they need to be inhibited by more than mere societal rejection.
The most effective way to remove the biological urge that is the root (so to speak) of the problem is to remove the cause of the urge. Simple: chop off the cock.
Dismembering is undoubtedly a severe solution. But the threat of it may well induce a kind of penile paralysis that will result in the restoration of civilized behavior.
In practice, to temper the severity, culprits can be given a choice: we fire you, or we cut off your prick. Take your choice.
Here is a punishment horrible enough that even the threat of it hanging over the head of a potential miscreants might actually deter the bad behavior we're seeking to eliminate or, at least, change.
Ahh, but what about degrees? Just as there are first, second, third and fourth degrees of murder, so should there be degrees of sexual harassment. Ditto punishment. And the punishment should fit the crime.
But formulating those subtleties is a task for another day. For now, I'm exhausted.
Exellence v Bad Behavior
AND THEN there's the Shaun White question. Or maybe the Garrison Keillor question.
On his third run at the winter games in Pyeong Chang, Champion snowboarder White linked two of the hardest tricks possible—a pair of gargantuan double-cork 1440s. "He'd never practiced those back-to-back 1440s," wrote the Denver Post's Jason Blevins. "It's of such high consequence that it's not something a rider would repeat over and over in the pipe. The first time he'd ever tried it was on his second lap in the Olympics."
At the bottom of the halfpipe after his third run, White knew he'd nailed it. White clenched his whole body in a victorious "YES!" Then he stood awaiting the judges' verdict. And when it came—97.75, nearly perfect—he lost it. He flung his snowboard aloft and nearly fell over backward in joyful exuberance.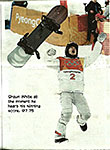 Picking his way through the crowd, he wiped tears of joy and relief from his face. It was a splendid moment of triumph.
It was White's third gold medal, following wins in 2006, his first try, and again in 2010.
And it came after a string of misfortunes— an ankle that required surgery; a grisly crash last fall in New Zealand that required him to be airlifted off the mountain, 62 stitches in his face and five days in ICU; a slew of competitive young snowboarders taking the sport to unseen heights. White almost gave up the sport. But he returned for (at least) one more try. And won spectacularly.
Then came the ugly rumors, supported, quickly, by ugly facts.
As reported by Josh Levin at Slate.com, two years after the 2014 Sochi Games at which White had come in fourth, the drummer in his band Bad Things, Lena Zawaideh, filed a civil suit alleging White failed to pay her for her work. Three months later, in August 2016, Zawaideh filed an amended complaint alleging White had sexually harassed her over a period of several years.
The complaint claimed that "White sent to Zawaideh sexually explicit and graphic images of engorged and erect penises, forced her to watch sexually disturbing videos, including videos sexualizing human fecal matter, and made vulgar sexual remarks to her such as, 'Don't forget to suck his balls!' when commenting on her boyfriend."
He showed her video of a couple having sex on top of a bear that the man had shot dead, reported Jeff Passan at Yahoo Sports, and another "hardcore porn" video involving a priest, a nun and feces at the time she was 17 or 18 years old. According to the Associated Press report, the lawsuit also said White grabbed Zawaideh's buttocks shortly after leaving a band practice and that he once shoved a bottle of vodka into her mouth and forced her to drink from it. It also said that "White stuck his hands down his pants, approached Zawaideh, and stuck his hands in her face trying to make her smell them." The lawsuit also says White tried to kiss Zawaideh at a Halloween party.
As the financier of Bad Things, White used his role to impose a strict regime over Zawaideh, going so far as to demand that she cut her hair, wear sexually revealing clothes and underwear, and refrain from wearing red lipstick." When she refused, White fired her. (Actually, he fired the entire band, then re-hired all of them except Zawaideh.)
The complaint alleges White's behavior got worse after he failed to win a medal in Sochi in 2014—that he "became increasingly hostile and threatening, especially toward Zawaideh. For example, on a few occasions when the band was practicing, White gestured that he was going to backhand Zawaideh. He yelled out uncalled for remarks such as, 'I'll fucking slap you.' Zawaideh was fearful that White would hit her due to his irrational behavior at the time."
Geez. Well, it's a rock band. Rock bands do dope and stay up late. You want respectable behavior? Don't look for it in a rock band.
IN FEBRUARY 2017, White requested that the San Diego Superior Court compel Zawaideh to undergo a mental health evaluation. Three months after that, the two parties reached an undisclosed settlement.
All of this began to surface in the wake of White's halfpipe triumph. Questioned about it at a news conference, White said he was there to talk about the Olympics not about "gossip." Later, he apologized for using the word "gossip" to describe the allegations.
"It was a poor choice of words to describe such a sensitive subject in the world today," he said, "and I'm just truly sorry."
During a subsequent interview on NBC's "Today," White added: "I've grown as a person over the years. I definitely feel like I'm a much more changed person than I was when I was younger. I'm proud of who I am today."
Asked if he thought his reputation would be tarnished by the sexual harassment report, White said: "I am who I am, and I'm proud of who I am. And my friends love me and vouch for me, and I think that stands on its own."
In its coverage of the snowboarding event, NBC refused to be drawn into the controversy. Nick Alexakos, the U.S. Snowboarding and Freeskiing employee who moderated the briefing at the Main Press Center, quickly extricated White, demanding reporters inquire only about the competition, said Mark Kiszla, Denver Post columnist.
"During the 14-minute interview," Kiszla went on, "no questions were granted to female journalists, despite the persistent effort of Christine Brennan from USA Today to get recognized by Alexakos. A mere coincidence? Perhaps."
"As the fallout of the #MeToo movement reverberates across America," noted Passan, "cases such as White's can confuse those who want to appreciate achievement and yet find themselves abhorred by the behavior of those who achieve."
Exactly.
And that's the Shaun White / Garrison Keillor question.
It's the question Kiszla leaves us with:
"I can tell you the goose bumps that popped on the back of my neck were real when White went big and bold, posting an insane score of 97.75 in the clutch. Just because White has talked his craft with me on three continents, however, it doesn't qualify me as a judge of his character. So I will let you review the stirring video of his Olympic triumphs and wade through the allegations detailed in the lawsuit, then decide for yourself.
"This much I do know is true: how we pick our heroes and villains says as much about us as it does them."
In the Esquire symposium, Roxane Gay, author of Bad Feminist, recalls the tv Bill Cosby of her growing up years and her shock at the later revelation of his sexual misadventures. "As the extent of his predation was laid bare, the sheer number of women Cosby victimized staggered me nearly as much as some people's willingness to still consider his artistic legacy, despite the damage he did. ... To me, Cosby's artistic legacy is rendered meaningless in the face of the pain he caused. ... The responsibility for the destruction [of his art] is his and his alone. We are free to lament it, but not at the expense of his victims."
To agonize over a predator's artistic legacy, she continues, "would mean there is some price I am willing to let victims pay for the sake of good art," but when she thinks of the women's careers were ruined, "it's quite easy for me to think nothing of the supposedly great art of bad men."
Okay: I get it. I understand her passion. But I think in another direction.
I'm no more qualified as a judge of White's character than Kiszla is. But my lack of qualifications has never stopped me before, and it won't now.
Was White's bad behavior as it is described bad? Yes. No question. What, then, of his good behavior? His championship behavior?
We must let excellence speak for itself. The excellence itself is what we admire, not the person who achieves it. Excellence in one area of human accomplishment does not mean excellence in all areas. And if we demand high moral character of our achievers before we will recognize achievement, we doubtless won't have many achievements to celebrate.
Will the Olympic Committee withdraw Shaun White's gold medals?
I trust not.
And no other punishment seems likely. White is self-employed. Can't be fired. He's one of the richest winter Olympians with a net worth ranging between $20 million and $40 million, earned through endorsements and by aggressively investing in real estate.
As a legal matter, the case against him has been settled. Whatever punishment he deserved under the law, he's endured. Or not. But it's over.
The rest of us will have to deal with Garrison Keillor, whose "Prairie Home Companion" record has been deleted at Minnesota Public Radio. He's effectively been "disappeared."
Henceforth, his achievement will be remembered, if at all, as a fading rumor.
And that scarcely seems fair. Among the things we must eventually attend to, then, is how we address the matter of achievement by persons who otherwise demonstrate less than admirable behavior in other parts of their lives.
And before we forget: what about Harvey Weinstein's achievement?
THE SUGGESTIONS I've made hereabouts, even if implemented, may not be adequate. Probably I've left out some critical consideration. But perhaps this foray can start a conversation that goes beyond "believe the women." At the least, we must eliminate lynching as well as unwanted sexual attentions.
I'm not sure how it will all be resolved—except for one thing: women deserve to be treated as sentient individuals not as bodies.
Such massive rearrangement of social priorities has been achieved in other areas. We no longer settle disputes by killing our opponent. Usually. We can no longer smoke in most restaurants, an unthinkable situation fifty years ago.
Our awareness of sexual misbehaviors is attached to complaints by famous women, actresses mostly. But there are other vocations that are at least as vulnerable. Hotel housekeepers, for instance, who regularly enter rooms that could be occupied by predatory males. And waitresses, whose income depends largely upon tips—and what male misbehavior must they tolerate to earn tips?
I don't think the #MeToo activity will last much longer. I think it'll fade by summer—if for no other reason than the impossibility of adjusting human nature violently enough to influence behavior among the few whose behavior is truly repulsive—those who masturbate in potted plants, f'instance, or who demand sexual favors on the desktops of their offices. The rest of us might be cowed enough by possible exposure to refrain from any activity more overt than tipping our hat to a pretty passerby on the sidewalk.
Women's complaints about how men treat them as bodies rather than as individuals are valid. Women must be believed. Of course. But that imperative should not grant them a license to lynch men who've behaved crudely towards women or men they simply don't like. A possibility. We must devise a way to balance the competing sides on this issue. #MeToo is not the way. But we haven't anything better yet.
Oh, one more thing: let's call it what it is: not "sexual harassment" but "lechery," impure but simple.
That's enough for now.
To find out about Harv's books, click here.