Opus 375 (February 15, 2018). Inspecting 44 editoons from the last month or so, we celebrate the end of the Trumpet's first year (which he finished by uttering his two-thousandth lie on the 355th day of his administration). We list the winners of the "Fakies," announce the arrival of a new comic book publisher, review tv's "Black Lightning" and marvel at "Black Panther," ponder gag cartooning in the three premier magazines publishing them, and review 7 new books, among them Watchmen Annotated and The Realist Cartoons, another watershed moment in comics. We also have photos of Stormy Daniels.
This is a somewhat longish posting, so rather than wade through it at one sitting, you might want to scan what's here and choose the articles that most interest you. To assist you in this preview, here's what's here, in order, by department—:
Happy New Year
Prelude: Don't' Lose Hope
NOUS R US
Playboy Out of Print?
First Black Cowboy in Comics
Editooning Casualties—
Two More: Lee Judge and Cullum Rogers
The Other Stan Lee (in Syndicated Comic Strips)
Film About a Cartoonist on Wheels
Corben Wins Grand Prix (and It's About Time)
Words of the Year ("complicit," "youth quake")
Stan Lee, Another Dirty Old Man? Not Likely
New Funnybook Publisher: Binge Books
Odds & Addenda
Archie's Dick Tracy Scrubbed
Player vs Player Now 20
Silberkleit's Anti-bullying "Archies"
Young Men Losing Interest in Breasts?
OppArt, New Satirical Art at The Nation Website
Graphic Medicine
Wolff's Fire and Fury
FUNNYBOOK FAN FARE
Review of TV Series on Black Lightning
Tony Isabella's Role
Black Panther Movie Promises Much
THE FROTH ESTATE
The Trumpet's "Fakies" Listed
EDITOONERY
Trumperies: Trump on Magazine Covers
Trump's First Year Triumphs: 5-6 Lies/Day
Forty-four Editoons of the Last Month Examined
Stormy Daniels Exposes Trump
Inspiration from Joe Kennedy
NEWSPAPER COMICS PAGE VIGIL
Camus in Pearls
BOOK MARQUEE
Short Reviews of—:
The Realist Cartoons
Trump's ABCs
Playboy: Celebrating Hef
Borb (Comic Strips from the Web)
Painting with a Broad Brush: Rick McKee's Editoons
The First and Only Book of Sack: Steve Sack's Editoons
BOOK REVIEW
Watchmen Annotated
GAGGING
Reviewing the State of Magazine Cartooning In—:
Playboy
Esquire
The New Yorker
QUOTE OF THE MONTH
If Not of A Lifetime
"Goddamn it, you've got to be kind."—Kurt Vonnegut
Our Motto: It takes all kinds. Live and let live.
Wear glasses if you need 'em.
But it's hard to live by this axiom in the Age of Tea Baggers,
so we've added another motto:.
Seven days without comics makes one weak.
(You can't have too many mottos.)
And our customary reminder: don't forget to activate the "Bathroom Button" by clicking on the "print friendly version" so you can print off a copy of just this installment for reading later, at your leisure while enthroned. Without further adieu, then, here we go—:
Prelude
HAPPY NEW YEAR
William Falk, Editor-in-Chief of The Week wrote this, and I'm inclined to agree, so I'm quoting it herewith, verbatim—:
This is the 16th time since The Week launched in 2001 that I've used this little space to try to make some sense of the world at year's end. Through this exercise, I've been surprised to discover that I'm an optimist, despite my veneer of journalistic cynicism. My livelihood has immersed me in the rich, colorful evidence of our species' foolishness, selfishness, and cruelty — sins I sometimes suffer from myself. Yet like many Americans, I am the descendant of immigrant strivers, bred to believe that tomorrow will be better than today, that human ingenuity can surmount all obstacles, that goodness wins out over evil in the end. (A corollary: Bad people eventually get what's coming to them. Right, Harvey?) Even when confronted with evidence that the universe is not just, I cling to my core conviction the way a shipwrecked man hugs a chunk of floating wood. But after one of the strangest, most tumultuous, and most disorienting years in our history, I must confess to moments of doubt and fear.
Never in my lifetime, even in the 1960s, has the country felt so fractured — so close to a civil war. Our one nation, allegedly indivisible, has cracked open along fault lines of culture, class, religion, and partisan identity, creating chasms of mutual incomprehension and disdain. Politics has devolved into a winner-take-all blood sport. Virtually everything is politicized, from football to wedding cakes. In the coming year, Special Counsel Robert Mueller would seem likely to conclude that President Trump obstructed justice in the Russia investigation. Mueller may point to other high crimes and misdemeanors as well. It's impossible to predict how Congress and the nation will respond — or what will happen if Trump decides to fire Mueller — except that what follows will be convulsive. Our democracy will be sorely tested; in the crucible, we will discover whether character, decency, truth, and the rule of law still matter. I'd like to think we will pass the test. Happy New Year, friends.
NOUS R US
Some of All the News That Gives Us Fits
PLAYBOY OUT OF PRINT?
Discussions are underway at Playboy Enterprises that may result in the demise of Hugh Hefner's iconic skin magazine. Playboy's new owner, Rizvi Travese, a private equity firm, wants to get out of the losing magazine publishing business and concentrate on brand management.
Rizvi helped Hef take Playboy private in 2011, saith Jim Puzzanghera at Tribune News Service, and received in return control of nearly two thirds of the company. "As part of the deal, Rizvi agreed to keep publishing the magazine for as long as Hefner lived." When Hef died last September, Rizvi began to make moves.
Can't say I'd blame it. Playboy the magazine's U.S. circulation has dropped from a peak of 5.6 million in 1975 to a mere 500,000. And to keep costs down, the magazine comes out only six times year.
Rizvi is now in talks to acquire the 35 percent stake in the company that Hefner left in trust to his heirs, chief among them, I suppose, is Hef's son Cooper, who is now the company's chief creative officer, whose earliest act was to restore photographs of barenekkidwimmin to the magazine following an abortive, year-long experiment with nudes artfully draped to conceal more than to reveal.
Meanwhile, Playboy (Cooper and other siblings?) wants to raise $25-100 million early this year to help buy back the shares Rizvi controls. How Cooper figures in all this, I dunno. But the story Pazzanghera told suggests the money Playboy wants to raise will fund future partnership deals—not with Rizvi?
Down the scroll, we turn to other Playboy matters—namely, the magazine's current crop of lame cartoons. See Gagging.
JUST IN TIME FOR BLACK HISTORY MONTH
The Chisholm Kid was the first black cowboy in a comic strip in the 1950s, says Rene A. Guzman at mysanantonio.com/lifestyle. "And you thought Black Panther was the first black hero of sequential art." Guzman continues—:
More than a decade before T'Challa first prowled through the panels of Marvel comic books, the Chisholm Kid rode through the funny pages of the Pittsburgh Courier, an African American newspaper. Starting in 1950, he was the first black cowboy in a comic strip.
Now the Chisholm Kid rides again in San Antonio. The Institute of Texan Cultures celebrates that "Lone Fighter for Justice for All" with an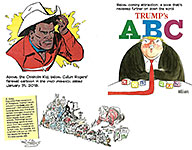 exhibit of colorful panels from the original strip, courtesy of the virtual Museum of UnCut Funk, along with supplemental Chisholm Trail material from the institute and the Texas Historical Commission. The exhibit runs through April 1.
According to the Museum of UnCut Funk, "The Chisholm Kid" exhibit pays homage to the more than 5,000 black cowboys who drove cattle along the historic Chisholm Trail, which stretched from Texas to Kansas after the Civil War. The museum notes the Chisholm Kid also was known as Rod Stone, an outrider with a wagon train on the Chisholm Trail.
Carl Pfeufer wrote and illustrated the strip, which wrapped in 1956. Pfeufer, who is not black, is perhaps best known for his early art of Marvel's Sub-Mariner, as well as Don Dixon, a character much in the vein of Flash Gordon, who debuted in 1935. [My favorite Pfeufer work is his stint on the Tom Mix comic book—energetic and stylish.—RCH]
MORE EDITOONING CASUALTIES
From the Notebook of the Association of American Editorial Cartoonists
After 37 years at the Kansas City Star, Lee Judge was shown the door at the end of 2017. At Opus 361, you can see a generous sample of his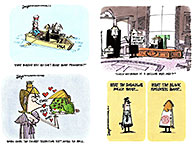 unique style of fire-hydrant-like characters, looking dashed off, even sloppily executed. And that's what I love about it: its loose and casual flavor is worth savoring.Judge discussed his departure online in December: "You can curse the changes or adjust and move on. And I plan to adjust and move on."
He then expresses his appreciation for the 37 years of employment and once-in-a-lifetime experiences at the Star.
"April 1, 1981 was my first day at the Star, and back then my boss was editorial page editor Jim Scott. Not long after I arrived, Jim taught me a valuable lesson. One day I drew a cartoon that upset some people, and Jim was getting phone calls of complaint. I dropped by his office to apologize; he was having a rough day because of something I'd done. Jim said I shouldn't worry: he'd fought in World War II, and once you had someone try to shoot you with a machine gun, nothing else seemed that bad.
"Good point.
"Over the years, the Star has paid for my house, sent my kids to school, and allowed me to travel the country on their dime. Back when there were enough political cartoonists to have a yearly convention, the Star sent me to those conventions and allowed me to spend a week hanging out with my friends and colleagues.
"Because I worked at the Star, I've been invited to lecture at dozens of schools and universities. One year, I was invited to lecture at the John F. Kenney School of Politics at Harvard University and spent a week roaming Cambridge—and one night sleeping in JFK's old dorm room.
"Harvard has kept Kennedy's dorm room just like it was when he was a student, and if you get invited to spend the night there, you sign a register for posterity. I looked through the list of celebrities who had bunked down in JFK's room and was most impressed that I was sharing the space that had once housed my childhood hero—the King of the Cowboys, Roy Rogers.
"No word on where his horse Trigger spent the night.
"Because I worked at the Star, I won an award given out by the Columbia college in Chicago and was seated at a table along with newspaper legend Mike Royko. After the awards were over, Mike took us to hear jazz pianist Art Hodes and bought me one of Art's albums.
"On another trip to Chicago—once again, financed by the Star—I shared a cab with Jim Belushi. We hit if off, and he invited me and a friend to visit his bar and hang out with the guys from Second City.
"The only reason I had those experiences was because I worked at the Kansas City Star.
"Frankly, I'll be okay. As Jim Scott taught me all those years ago, it's really not that bad: nobody is trying to shoot me with a machine gun."
A graceful finish.
P.S. The number of full-time staff editoonists at daily newspapers now stands at 48; ten years ago, it was 101.
Yet Another. Rancid Raves just got news that freelancer Cullum Rogers is being dropped by Indy Week — after 21 years. The paper canned Cullum (along with at least 2 other staffers) even though he won first place for editorial cartooning last year from the Association of Alternative Newsmedia — meaning he was the altiest of the alties in the eyes of the industry. You've already seen his last cartoon for the Indy, published January 31, in a "Coming Attractions" display we posted a few paragraphs ago.
Cullum is a long-time active member of the Association of American Editorial Cartoonists, a sort of walking (and talking) history of the AAEC and of editorial cartooning. Not surprisingly, the AAEC issued a statement, to wit (in italics)—:
While cutting off essential body parts is an effective weight-loss strategy, it tends to have bad long-term health consequences. So it is that yet another cartoonist is let go and the position eliminated, all in the name of cost-cutting. North Carolina-based Indy Week is dropping its long-time political cartoonist Cullum Rogers without plans for a replacement.
Rogers, who has drawn for the alt-weekly newspaper for 21 years under the name VC Rogers, was just last year named best cartoonist by the Association of Alternative Newsmedia. In addition, Indy Week has a long history of publishing and supporting editorial cartoons, most recently as a sponsor of the 2016 Political Cartoon & Satire Festival at Duke University.
Soon after buying the paper in 2012, Mark Zusman told Romensko, "The Indy [is] situated in a great market, filled with readers who care about local news. … We hope to continue that arc."
The Association of American Editorial Cartoonists is disappointed that Zusman and co-owner Richard Meeker seem to have forgotten what makes local, local. Cartoonists dealing with local issues are often one of the few features that give a newspaper identity and character. A good, local cartoon can hit like a Great White Shark attack. It leaves scars.
We all know publishers face challenges, but eliminating original, local content is not the answer. It's cutting off one's nose (or some other body part) to spite your readership.
Meeker and Zusman also own Portland's Willamette Weekly, described in a recent Columbia Journalism Review article as "…smart, gutsy, colorful, conversational, self-aware, funny, buttressed by context and background, and fueled by righteous anger against Orwellian privacy invasions and the hypocrisy of public officials."
Sounds like a job custom-made for cartoonists.
The AAEC hopes that, even if they do not hire back VC Rogers, Indy Week restores the position and invests in another editorial cartoonist.
THE OTHER STAN LEE
Turns out that the revered Stan Lee tried to escape the comic book ghetto for years—the years 1956-1967, to be exact. The current issue of Alter Ego, the Stan Lee Birthday Celebration in No.150, presents a detailed history of Lee's attempts to get into syndicated newspaper comic strips. In an exhaustive report, Ger Apeldoom details Lee's efforts from Clay Murdock, V.P. to Willie Lumpkin (which actually ran for a while in 1960) with stops along the way for Mrs. Lyons' Den (Cub Scouts), Life with Lizzie and For the Love of Linda and others. Lee worked with Vince Colletta, Joe Maneely, and, most often, Dan DeCarlo. Copiously illustrated; don't miss it if you can.
Another older Stan Lee compendium, The Stan Lee Universe (2011) edited by Danny Fingeroth and Roy Thomas for TwoMurrows, offers other glimpses of Lee's encounters with the world and with comics, including a 1968 radio encounter with Hilde Mosse, a onetime colleague of Frederic Wertham. Their exchange, sometimes a little testy, is worth the price of the book. She, as Wertham and other comic book critics do, keeps harping on the evil effects of violence in comics (and tv) upon young readers, and Lee points out that all kinds of children's literature (fairy tales, conspicuously) not to mention the Bible have episodes of violence. If, as she maintains, Superman is a bad role model and should be banned, then what are we to do with other superheroes in the culture—those in legends, for example. Hercules. Samson. Are they next to be banned?
FILM ABOUT A CARTOONIST ON WHEELS
In Park City, Utah, the annual Sundance film preview festival January 18-28 included a movie entitled "Don't Worry. He Won't Get Far On Foot," about which Entertainment Weekly's Chris Nashawaty said, briefly, that its title flaunted marquees, then adding that the Joaquin Phoenix drama was "about a paralyzed cartoonist." Judging from the title, which is the title of John Callahan's first autobiography, the movie is about Callahan, a quadriplegic cartoonist who taught himself to draw by holding a pencil between two spastic hands, pressed together as if in prayer.
Callahan died July 24, 2010, in Portland, Oregon, the town where he lived most of his life and through which he roared daily on his wheelchair. He was 59, and he'd been a quadriplegic since he was 21 (the result of a drunken car accident)—that's 38 years in a wheelchair; an alcoholic since he was 12. And a cartoonist since he was 32.
Often compared to Charles Addams and Gahan Wilson, Callahan was neither: they were much more playful than he. Callahan drew praise from Simpsons creator Matt Groening, who said Callahan's works were "rude" and "depraved"—in short, Groening said, "all the adjectives that cartoonists crave to hear." Callahan's cartoons appeared in nearly 300 publications worldwide, including Omni, The New Yorker, National Lampoon, Whole Earth Review, Lear's, American Health, Penthouse and Esquire to name a few, and he was, for a time, syndicated.
There's more about Callahan at Opus 265, wherein we gathered tributes from several colleagues. Here we're replaying some of his shocking tastelessly hilarious cartoons we used to illustrate the obit.
CORBEN WINS GRAND PRIX
After Art Spiegelman (2011) and Bill Watterson (2014), American author and counter-culture icon since the late 1960s Richard Corben won the Angouleme International Comics Festival's Grand Prix 2018 after a vote that brought together 1,341 cartoonists. The news release announcement continues forthwith, verbatim—:
Born in 1940 in Anderson, Missouri, Corben began publishing stories in underground magazines before joining Warren Publishing, where he rose to fame for his horror and science-fiction illustrations. He thus became one of the major contributors to cult magazines Creepy and Eerie.
Corben's lush drawings are immediately recognizable. The master of "mauvais genre" (disreputable) imagery depicts horror, fantasy, and hallucinated and psychedelic sci-fi tales, often with an acid touch of humor. Virtuoso Corben is drawn to graphic experiments and admired by image professionals from all walks of life; he carves highly expressive bodies and faces with an astonishing attention to detail, amidst hauntingly chimerical creatures and settings. His compositions are shaped by unreal light as well as vivid, quasi-saturated color gradients in the author's longstanding airbrushed style.
Corben was one of a kind among the 1960s-1970s generation of independent American cartoonists who inspired many. In the early 1970s, he contributed to French magazine Actuel before working for both Métal Hurlant and its American version, Heavy Metal. Influenced by great authors such as H. P. Lovecraft, Robert E. Howard, and Edgar Allan Poe, he published the sagas Den, Vic & Blood, and Mondes Mutants.
Corben now collaborates with major publishing groups such as DC/Vertigo, Marvel, or Dark Horse, and his unique style stands out in Luke Cage, The Punisher, Hulk, and Hellboy to name but a few. Winner of the "Prix du dessinateur étranger" (Foreign Cartoonist Award) in the third edition of the Angoulême Festival in 1976, Richard Corben was also recently honored by the Festival's selection committees (Esprits des morts & autres récits d'Edgar Allan Poe and Ratgod, published by Delirium).
ANNUAL WORD LISTS
As 2017 slips past its official closing, it's time for us to reflect on the words that impacted all of us this year—for better or for worse. At Dictionary.com, the Word of the Year serves as a symbol of the year's most meaningful events and lookup trends. The Word of the Year 2017 is "complicit." Complicit means "choosing to be involved in an illegal or questionable act, especially with others; having partnership or involvement in wrongdoing." Or, put simply, it means being, at some level, responsible for something . . . even if indirectly.
Not everyone agrees, of course.
At Oxford Dictionaries, where one word has been judged as not only reflective of the ethos, mood, or preoccupations of this past year, but as having lasting potential as a word of cultural significance, the 2017 Word is "youthquake." The noun, youthquake, is defined as "a significant cultural, political, or social change arising from the actions or influence of young people."
But the Word of the Year game I like best is the one played by the wordsmiths at Lake Superior State University where they've just released the 43rd annual List of Words Banished from the Queen's English for Mis-use, Over-use and General Uselessness. Among the words listed this time is my favorite, "fake news."
"We've drilled down and unpacked tons of pre-owned words and phrases deemed impactful by hundreds of nominators during 2017. Let that sink in," said an LSSU spokesperson in a news release from which we quote copiously.
LSSU's word banishment tradition is now in its fifth decade, and was started by the late W. T. Rabe, a public relations director at Lake Superior State University. Rabe and fellow LSSU faculty and staff came up with the first list of words and phrases that people love to hate at a New Year's Eve party in 1975, publishing it on January 1, 1976.
Through the years, LSSU has received tens of thousands of nominations for the list, which now includes almost 900 entries. Word-watchers target pet peeves from everyday speech, as well as from the news, fields of education, technology, advertising, politics and more. An editor makes a final cut in late December.
And now, the 2018 list:
Unpack – Misused word for analyze, consider, assess. Concepts or positions are not packed, so they don't need to be unpacked.
Tons – Refers to an exaggerated quantity, as in tons of sunshine or tons of work. 'Lots' would surely suffice.
Dish – As in to dish out the latest rumor on someone. Let's go back to 'talks about' and leave dishes in the cupboard.
Pre-owned – What is so disgraceful about owning a used car now and then?
Onboarding / Offboarding – Creature from the HR Lagoon. We used to have hiring, training and orientation. Now we need to have an "onboarding" process. Firings, quitting, and retirements are streamlined into "offboarding."
Nothingburger – Says nothing that 'nothing' doesn't already. I'll take a quarter-pound of something in mine.
Let that sink in – One could say shocking, profound, or important. Let that sink in.
Let me ask you this – Wholly unnecessary statement. Just ask the question already. Impactful – A frivolous word groping for something 'effective' or 'influential.'
Covfefe – An impulsive typo, born into a 140-character universe, somehow missed by the autocorrect feature.
Drill Down – Instead of expanding on a statement, we "drill down on it."
Fake News – Once upon a time newsstories could be empirically disproved. Now 'fake news' is any story you disagree with.
Hot Water Heater – Hot water does not need to be heated. 'Water heater' or 'hot water maker' will keep us out of hot water.
Gig Economy – Gigs are for musicians and stand-up comedians. Now expanded to imply a sense of freedom and a lifestyle that rejects tradition in a changing economic culture. Runs a risk of sharecropping.
RCH—I know: it's not comics. We just do this for the fun of it.
Department of Dubious (Dare We Say "Fake") News: Part One
STAN LEE, ANOTHER DIRTY OLD MAN?
I hesitate even to bring this tale to the surface here in the otherwise reputable confines of Rancid Raves. I severely doubt that the salacious parts of it are true. But bringing it up here does two things: it shows how allegations of sexual harassment are likely to leap into view if the alleged perpetrator is famous; and it gives me a chance to destroy the allegations.
The 95-year-old Stan Lee has hired home care from nursing companies. So far, we know of two of them. The first, which hasn't worked for him since the end of 2016 (that is, a whole year ago), has nurses who have accused Lee of groping them and harassing them. A representative of the second company (Vitale Nursing) that has been caring for Lee for the last year said the comics legend has been "polite, kind and respectful" to the nurses.
The story surfaced in two of Britain's tabloid newspapers, a genre known for perpetrating salacious gossip whenever it can—the Daily Mail and the Independent.
That's all we know for sure.
Sources for the Daily Mail story (probably the first of Lee's home care companies) said Lee walks around naked, has "lost his filter," and sometimes asks his female nurses "for oral sex in the shower and wants to be pleasured in his bedroom."
Lee's lawyer has responded to the allegations in a statement saying,"Mr. Lee categorically denies these false and despicable allegations and he fully intends to fight to protect his stellar good name and impeccable character. We are not aware of anyone filing a civil action, or reporting these issues to the police, which for any genuine claim would be the more appropriate way for it to be handled. Instead, Mr. Lee has received demands to pay money and threats that if he does not do so, the accuser will go to the media. Mr. Lee will not be extorted or blackmailed, and will pay no money to anyone because he has done absolutely nothing wrong."
The latter Mr. Lee sounds more like the man we've been watching for decades than the naked wanderer.
By responding publicly, Lee has disarmed the supposed blackmailers and has probably revealed the allegations as false.
ICv2 reported this story, and it is no more persuaded of its truth than I am. It's possible, ICv2 allows, that the harassment allegations are true and are part of a lifelong pattern of behavior by Lee. "If that's the case, we'll know in the next couple of days; Lee's nearly constant public exposure over a period in excess of 50 years created many opportunities for bad behavior if that's who he was."
This newsstory was posted online January 9, 2018; I'm writing this on January 26, over two weeks later, and so far, no news has surfaced suggesting that sexual harassment is "part of a lifelong pattern of behavior by Lee."
It's also possible, ICv2 continues, that the harassment allegations are true but are reflective of dementia, which often leads to reduced filters on behavior and speech. If so, his harassing behavior may be recent and limited. And a couple fraudulent check-writing transactions victimizing Lee could also be a sign of deteriorating faculties.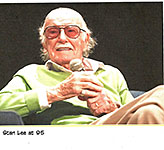 "Or the harassment allegations could be false and an attempt to get money out of a rich old man, as the fraudulent transactions appear to be. Those could be related, both a sign of Lee's vulnerability."
The first fraudulent financial transaction, for $300,000, was reported to the Beverly Hills Police Department as a fraudulent check drawn on Lee's account made out as a loan to Hands of Respect, an organization he started to "promote a culture of respect among all communities across the nation." A second unauthorized check, used for an $850,000 West Hollywood condo, was discovered by money managers as they researched the first check, according to the TMZ report.
I'm reciting here this highly questionable report of Lee's alleged harassing (even though it is undoubtedly not true) because I want to expose it as untrue. To give the accusers the benefit of the doubt, they may be just trying to be socially responsible by jumping on the #MeToo bandwagon. Or they may be blackmailers who saw a chance to make money off an old man, who, at 95, they may have presumed is demented enough to fall victim to their scheme.
But this shameful episode is also an example of how the current anti-lechery epidemic can easily get out-of-hand. Social media makes it too easy to gang up and damage the reputations of wholly respectable, innocent persons. Women have every justification for wanting better treatment, but we ought to be able to achieve that without trading bad behaviors.
More on this issue will be ground out in our next Opus. For now, just hold your breath.
Part Two: Other Dubious News
IS THERE A NEW FUNNYBOOK PUBLISHER?
According to a news release that floated in over the internet transom a week or two ago, a new comic book publisher has just emerged on the West Coast. A Santa Monica outfit called Sitcomics reportedly introduced "Binge Books" in January. But when I consulted the Colorado comic book shop the Sitcomics website directed me to—Mile High Comics—there were no Sitcomics books there, Binge or otherwise.
But there weren't supposed to be.
What was there was a promotional brochure full of ambiguous detail—that no one I talked to there knew much about. Sitcomics does exist, though: I've exchanged e-mails with its founder. Here's the rest of the dope—:
Binge Books, it sez in the news release, are new affordable 64-page comic books with self-contained stories—"three times the usual amount of story and art" for the same price as newsstand comics, $3.99 each. Complete stories in each issue—hence the name "binge": each issue is a single-issue "binge" of comics reading.
Apart from the quantity and the price, Binge Books deploys a unique "Sell-Through Distribution" system by which books are sold directly to readers—"putting the buying power back in the hands of reader," the brochure exclaims, jubilantly.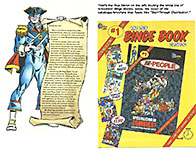 The brochure includes an order blank, which, we are advised, buyers should fill out, indicating their choices, then give to participating shops, which will then order the books and have them on hand within a week. No 3-week waiting period.
Seems to me that's the weakness in the system: it depends upon your comic book shop being willing to cut Diamond out of the process. But, as I said, no one at the "help desk" at my "participating shop"—where you'd expect to find knowledge—knew anything about Binge Books or the "Sell-Through Distribution" system. I doubtless asked the wrong person.
There's an alternative: you can mail the order blank, with your check made out to The Henry Farm, at 171 Pier Avenue, #207, Santa Monica, CA 90405. I tried that, and it seems to be working: my binge is now on the way.
THE COMPANY IS THE BRAINCHILD of Darin Henry, a tv sitcom writer with shows like Seinfeld, Muppets Tonight, Futurama, and a slew of other sitcoms under his belt.
Sitcomics is offering 4 new comics titles ranging from superhero to humorous, "slice of life" to horror based. Henry has written a variety of stories that blend the idea of episodic television sitcoms with self contained humorous and semi-serious comic books. Each is a little different but still playing off the standard comic book industry as well as tv tropes. Near here, I've posted the covers of the inaugural issues of each title.
◆ Henry's superhero book, The Blue Baron, with art by Ron Frenz (The Amazing Spider-Man) and inked by legendary Sal Buscema (The Incredible Hulk) is a mix of Shazam! and Freaky Friday where a 300-year-old super hero from the colonial days of Philadelphia has a body switcheroo with a loser high school kid. Each learns how hard it is to be the other while learning to be both themselves AND the other until they can figure out a way to get back their respective bodies.
The other books are described in the news release as follows—:
◆ Startup, featuring the art of Craig Rousseau (Perhapnauts), is a classic origin story book with a twist as a hapless 300-pound single mom struggles with her weight as well as raising a son in the city. She is made fun of and, at the same time, ignored by the people around her. She finally looks to a crazy scientist that tells her he can make her thin instantaneously. The magic elixir he has concocted is able to transform her into a svelte hot mamma. There are side effects though as she now has super speed from all the energy released when the weight is compacted into a tiny frame.
◆ Then there is Super Suckers, a humorous teenage vampire tale with lots of hijinks, á la Archie comics. Makes sense seeing as the book is drawn by Archie Comics veteran, Jeff Shultz. It is literally like watching an Archie comics version of Buffy the Vampire Slayer.
◆ Finally Z-People is a humorous tale of a zombie apocalypse that is captured before a live audience when a news reporter and a bunch of town folk have to contend with the undead, with art by Mad magazine caricature and comic artist Tom Richmond. Think Home Improvement and Entertainment Tonight meets The Walking Dead.
With the order blank, you can order the first two issues of each title (or 4 with Super Suckers). Without an order blank, you could just write a letter and send a check—$3.99/title (check to The Henry Farm, Inc.) plus shipping and handling $7.50.
ODDS & ADDENDA
The Dick Tracy funnybook that was announced by Archie Comics a month or so ago has been cancelled before it even appeared. The problem is that the syndicate controlling the rights to the feature discovered a pre-existing deal that made it impossible for the new series to proceed. The Tribune Content Agency has screwed up like this before—with actor Warren Beatty, who directed and starred in the 1990 film adaptation, which allegedly was leading to a planned series by Brian Michael Bendis and Mike Oeming, which was subsequently cancelled.
◆ Scott Kurtz's online comic strip Player vs. Player (PvP) turns 20 in May. Kurtz took note recently: "I started this comic strip in 1998 and I quit my day job to be a full-time cartoonist in 2000. I really don't have a sense of how important this comic strip is to anyone in comparison to previous years. All I know is that the correspondence we get lets us know that it still means a lot to many of you and that's the most amazing thing. I remember starting this comic strip. I remember being afraid to quit my day job. I remember Rich Stevens telling me over AIM that he was quitting his day job and how much that scared me for him. It all seems like a lifetime ago."
◆ Nancy Silberkleit, the disposessed co-CEO of Archie Comics who is involved in various internal disputes in the company, is going outside Archie to produce Archie-like comics addressing such issues as bullying and autism.
◆ Playboy (January/February) reports: Young men apparently aren't into breasts so much: male porn consumers ages 18-24 search for breast-related content nearly 20 percent less than older men do, a Pornhub study found. Frankly, I doubt it. How are they counting? I looked up Stormy Daniels for this posting, but I wasn't asked my age anywhere along the way.
◆ At TheNation.com/OppArt, a new visual aids department started a month or so ago—"Artistic Dispatches from the Frontlines of Resistance"—prefaced by this: "At this dangerous moment in history, our actions will determine our very survival. As artists, we use our pens, our pencils, our brushes, and our ideas to cast a light on darkness and combat the forces that are driving us towards a precipice." Curated by Andrea Arroyo, Steve Brodner, and Peter Kuper, here is a sampling of recent offerings—:
◆ In works of graphic medicine —an emerging field of medical literature—patients and their loved ones, caregivers, and health professionals tell stories about health and illness through the medium of comics. Erika Mills reports that artists and authors use the medium's combination of words and images to present emotionally-impactful narratives and digestible health information. As an approach to understanding illness and health care for both patients and professionals, graphic medicine fosters effective treatment, health literacy, and healing. Graphic Medicine: Ill-Conceived and Well-Drawn!, a new traveling exhibition, special display, and online exhibition, explores this increasingly-popular genre and showcases the National Library of Medicine's growing collection of graphic medicine works.
◆ From syndicated columnist Timothy O'Brien: Quoted in the new tell-all book by Michael Wolfe, Fire and Fury,"Steve Bannon painted Trump as someone surrounded by ignorant, scheming relatives, lacking any interest in governing, pursuing the presidency as a marketing lark, and an empty vessel that others could fill with their own ideas — in other words, exactly the guy who's been occupying the Oval Office for the last year. ... It never takes long for the president to lash back when someone makes the mistake of criticizing him, belittling the first family or usurping the spotlight. Bannon hit the trifecta and did all three."
Fascinating Footnit. Much of the news retailed in the foregoing segment is culled from articles indexed at https://www.facebook.com/comicsresearchbibliography/, and eventually compiled into the Comics Research Bibliography, by Michael Rhode, which covers comic books, comic strips, animation, caricature, cartoons, bandes dessinees and related topics. It also provides links to numerous other sites that delve deeply into cartooning topics. For even more comics news, consult these four other sites: Mark Evanier's povonline.com, Alan Gardner's DailyCartoonist.com, Tom Spurgeon's comicsreporter.com, and Michael Cavna at voices.washingtonpost.com./comic-riffs . For delving into the history of our beloved medium, you can't go wrong by visiting Allan Holtz's strippersguide.blogspot.com, where Allan regularly posts rare findings from his forays into the vast reaches of newspaper microfilm files hither and yon.
FURTHER ADO
There have been at least 11 shootings on school campuses in the U.S. in the first 23 days of the new year.
"Gossip is just news running ahead of itself in a red satin dress."—Columnist Liz Smith.
I'd have said "a tight red satin dress."—RCH
FUNNYBOOK FAN FARE
Four-color Frolics
Instead of funnybooks this time, we ponder a new tv series about a comic book character—:
BLACK LIGHTNING STRIKES IN LIVE ACTION
In case you somehow missed all the hoopla, Black Lightning is an African American superhero whose power—super strength—stems somehow from electricity that has infected his body. I've never seen the comic book version of this character, and I've seen only the first two installments of the new tv incarnation, starring Cress Williams. So far, the tv version that debuted on January 16 lives up to its creator's vision of it: it's more about people than it is about deeds of super deering-do.
Andrew Smith at Tribune News Service remembers (in italics hereafter) that Black Lightning was the first major black character in comics and DC's first black headliner.
He was created in 1977, when Tony Isabella —who had written Luke Cage and Black Goliath at Marvel Comics [but who is not black]—was brought in by DC to write an African American character. They had two issues of a character called the Black Bomber written, and they wanted Isabella to punch up the scripts.
Isabella was appalled.
The Black Bomber was actually a white racist, who—due to the time-honored comic book origin of 'scientific experiment gone awry'—could become a black supehero. That's weird enough, but weirder still, the white guy and the black guy had separate personalities and were initially unaware of each other.
And, shockingly, the white aspect is horrified when he discovers he risked his life to save a black baby, whom he refers to as —no lie— a 'jungle bunny.'
To complete this picture of clueless, casual racism, the Bomber's superhero outfit was essentially a basketball uniform.
That was more than Isabella could stomach.
"I told (DC), you cannot publish these scripts. And they go, 'Why?' 'Because they're offensive. People will come to your offices with pitchforks and torches.' And they go, 'How can you know that?' 'I'll be leading them,' Isabella finished."
With the higher-ups permission, Isabella went off and created a new character, no Black Bomber. Isabella wanted Black Lightning to reflect the everyday lives of black readers. "If you're asking readers to believe the fantastic," said Isabella, "— as we do every time we write a superhero comic book— it's good to have the reality stuff be as real as possible."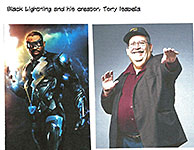 The first issue of the new funnybook introduced a school teacher, Jefferson Pierce, who had inborn electrical abilities that he had always kept hidden.
Pierce becomes principal of his alma mater Garfield High in Metropolis' Suicide Slum neighborhood, and in reaction to the urban ills affecting his students, he reluctantly dons a mask, uniform and Afro to fight the organized crime group called the "One Hundred" and corrupt politicians led by Tobias Whale."
The first series of the comic book lasted 11 issues, folding during an industry financial down-turn. The second series ran only 13 issues, ending because of "creative differences." A third series, written by Jen Van Meter, lasted only six issues.
Pierce aged (gracefully) in the comic book, with two daughters being added to his story—both of whom have inherited super-powers. Youngest daughter Jennifer is most like daddy, employing almost identical powers as the superhero Lightning. Eldest daughter Anissa can become almost indestructible and create shock waves and goes by the name Thunder.
But not in the newest series, once again written by Isabella. "Black Lightning: Cold Dead Hands" is a 6-issue mini-series featuring a 28-year-old Jefferson Pierce. He doesn't have any daughters (yet), but his new home town is Cleveland (like Isabella) and, Isabella told sliceofscifi, "We're trying to do a superhero story in a real-world setting.
"We're dealing with gun violence," Isabella continued, "but, of course, in a superhero world that gets invaded every other week, this is super weapons."
He went on in an Entertainment Weekly interview (October 31): "We're dealing with police violence. We're dealing with crime. We're dealing with education. We're dealing with racism. All of those are part of the story. They enrich the story without making the comic books all about the issues."
Much of that is present in the tv show, for which Isabella wrote a description of Black Lightning's core values. Jefferson Pierce is once again a reluctant superhero but will be much older than his current comic book counterpart. Once again he will have two daughters.
Isabella is not otherwise officially involved with the tv Black Lightning, but he visited the Los Angeles set, he told Michael Wu at clevelandmagazine.com. "You spend a few hours with the writers and they ask you questions about comics you wrote 40 years ago. You realize they didn't just read your comic books, they studied them."
Executive producer of the tv show Salim Akil said: "Jefferson Pierce is the epitome of what black men are. He loves his wife. He loves his children. He loves his community. ... this is going to come from an authentic black male voice. ... [The stories are] beyond color. ... [The show] is about universal things that we're all going to relate to."
SUMMARIZING THE SHOW at washingtonpost.com, David Betancourt says: "Black Lightning is a retired hero when we meet him. He's put the cool supersuit and mask away and has convinced himself that the best way to help his city of Freeland isn't lightning blasts but education, to give kids a fair shot. He's the principal of a predominately black school who's trying to serve as the barrier between his students and the One Hundred gang-controlled city waiting for them once they graduate.
"As the show begins, Pierce is trying to leave the mask behind for good because of what it took away from him—the love of his life. He'd co-raising his two daughters alone after his wife, the love of his life, Lynn Pierce (played by Christine Adams), leaves him because he wouldn't let Black Lightning go."
She still loves him, but "his attempts at reconciliation are stalled when he realizes Black Lightning must return."
None of the tensions in the first two airings of the show are superhero-based. All are based in personality and the human dilemma.
Pierce, school principal by day and reluctant hero by night, struggles to avoid being Black Lightning because only by shedding that identity can he hope to be reunited with Lynn. At the same time, the marauding of the One Hundred demands that Black Lightning return to tame the city.
The first two airings of "Black Lightning" are clusters of questions. Will Pierce return to Black Lightning to save the city? Can he rescue the city? Will he win his wife back if he persists in donning Black Lightning's duds?
As James Poniewozik said at nytimes.com in critiquing the show: "Here, the image—a powerful black man quelling his emotion and struggling to present as calm, smaller, nonthreatening—has the strength of parable."
Meanwhile, Pierce's daughters are discovering their inherited superpowers. How will that happen? What will they do? And how will their mother react?
So far, the show focuses on Pierce and his predicament. Each of the two first installments ends when Black Lightning shows up to bash the bad guys in the One Hundred. But these episodes are brief.
Doing a superhero this way is undeniably an ambitious undertaking, and it looks like it is succeeding. The Black Lightning costume is a little too flashy for my taste: the luminous glow-in-the-dark lightning bolts on the chest are distracting. And since they only work in the dark, all the Black Lightning sequences are at night, and we can't see much except flung bodies and flashes of electricity.
And I'm not a Cress Williams fan. I don't like his face, which has a peering aspect that is off-putting for me. I don't like John Travolta's face either. I don't have to like an actor's face, of course, to enjoy his performance, but it's better that I don't dislike it. And I dislike Travolta's face and Williams'. So I probably won't become a regular viewer of the series.
On the other hand, I like I like Christine Adams' face, so I might continue to tune in.
Regardless of my personal preferences, I can see that "Black Lightning" is better than the average tv show and should attract an enthusiastic following.
AND, SPEAKING, AS WE ARE, OF BLACK COMIC BOOK HEROES in the movies, early buzz about "Black Panther" hails it as a "defining movie moment." Although reviewers couldn't go whole hog in evaluating the flick until its official release date of February 6, "the first wave of responses after the January 29 red-carpet rollout in Los Angeles contain superlatives that are rare for even the best Marvel movies," said Michael Cavna at the Washington Post.
He went on: "While some industry skeptics have repeatedly warned that 'superhero fatigue' will soon plague the multiplex, 'Black Panther' is striking some viewers as an invigorating shot in the arm to superhero cinema—at least rivaling the cultural moment that Warner Bros/DC's 'Wonder Woman' became last year."
Los Angeles Times writer Jen Yamato praised the film for forcefully depicting issues of representation and identity.
And the box office looks as promising as critical applause. Following premiere on January 29, advance ticket sales on Fandango are "outpacing all other superhero films," saith Frank Pallotta at money.cnn.com. The movie opens February 16 (right about the time you're reading this, no doubt).
And just before post time, Time magazine arrived with a "Black Panther" cover story by Jamil Smith. Of African ancestry himself, Smith sees the movie as the strongest representation yet of what it means to be black: "Relating to characters onscreen is necessary not merely for us to feel seen and understood, but also for others who need to see and understand us. When it doesn't happen, we are all the poorer for it. This is one of the many reasons 'Black Panther' is significant.
"What seems like just another entry in an endless parade of superhero movies is actually something much bigger. It hasn't even hit theaters yet and its cultural footprint is already enormous. It's a movie about what it means to be black in both America and Africa—and, more broadly, in the world. Rather than dodge complicated themes about race and identity, the film grapples head-on with the issues affecting modern-day black life. It is also incredibly entertaining, filled with timely comedy, sharply choreographed action and gorgeously lit people of all colors."
The 18th movie in the Marvel Cinematic Universe, "Black Panther" with an African-American director and "a predominantly black cast" arrives "in the midst of a regressive cultural and political moment fueled in part by the white-nativist movement, the very existence of "Black Panther" feels like resistance. Its themes challenge institutional bias, its characters take unsubtle digs at oppressors, and its narrative includes prismatic perspectives on black life and tradition. The fact that 'Black Panther' is excellent only helps.
"So what does it mean to see this film, a vision of unmitigated black excellence, in a moment when the Commander in Chief reportedly, in a recent meeting, dismissed the 54 nations of Africa as 'shithole' countries? ... 'Black Panther' is emblematic of the most productive responses to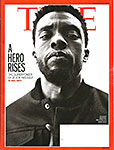 bigotry: rather than going for hearts and minds of racists, it celebrates what those who choose to prohibit equal representation and rights are ignoring, willfully or not. They are missing out on the full possibility of the world and the very American they seek to make 'great.'"
Smith traces the history of Marvel's Black Panther, who was born in the civil rights era, a month after Stokely Carmichael's Black Power declaration and a just few months before the Black Panther Party was founded in Oakland, California.
"Hollywood has never produced a blockbuster this splendidly black," Smith says, and its likely success in "the most bankable movie franchise in history ... will offer proof that a depiction of a reality of something other than whiteness can make a ton of money."
Incidentally, Chadwick Boseman, the actor who plays the Black Panther in the movie, gets a close-up on Time's cover. And it's a face I like, for whatever pittance that's worth.
QUOTES & MOTS
"I think I am a liberal. I believe that government is a manifestation of the social contract. It's a way we ought to work together as our best selves to make things better for the least among us and improve society as a whole."—Rachel Maddow
THE FROTH ESTATE
The Alleged "News" Institution
The Fakies. The Trumpet named the winners of the 2017 Fake News Awards one day in January. The list, published on GOP.com, noted that "studies have shown that over 90 percent of the media's coverage of President Trump is negative." It went on to call 2017 "a year of unrelenting bias, unfair news coverage and even downright fake news."
No question that the news media is ganging up on the Trumpet. There are two reasons for this. First, the media is trying to make up for the free ride they gave him during the campaign. In those days, no one thought he had a chance of winning even the Republicon nomination, so he was viewed as political entertainment which entitled him to extensive coverage as long as he continued to be entertaining. And he proved expert at producing new entertainment nearly every day. That coverage resulted in his being elected much to the consternation of the news media. So ganging up on him now evens the score. Second, with his continual lying and thin-skinned narcissism, he's such a ripe target for a news organization supposedly devoted to truth-telling.
In a 30-minute interview with the New York Times on December 28, Trump made false or misleading statements or dubious claims 24 times, the Washington Post reported. That's "one every 75 seconds." The Post, which has been keeping scrupulous track of the Trumpet's mendacities, says that just short of completing his first year in office—that is, on the 355th day of the Trump reign—he told his two thousandth lie (i.e., "false or misleading").
So we must suppose that since it takes one to know one, the Trumpet is more than qualified to point out "fake news" wherever he sees it.
Here's the list of his call of "Fakies" and their errors; CNN, with 4 citations, more often than anyone reported erroneous news.
1) The New York Times' Paul Krugman claiming markets would 'never' recover from a Trump presidency. In a bit of irony, noted Paulina Dedaj of Fox News, the Dow Jones industrial average closed above 26,000 for the first time just about the time the Fakies were announced.
2) ABC News' Brian Ross' bungled report on former National Security Adviser Michael Flynn, claiming Trump told him to do it.
3) CNN reporting the Trump campaign had early access to hacked documents from WikiLeaks.
4) Time report that Trump removed a bust of Martin Luther King, Jr. from the Oval Office.
5) The Washington Post's Dave Weigel tweeting that Trump's December rally in Pensacola, Fla., wasn't packed with supporters.
6) CNN's video suggesting Trump overfed fish during a visit with Japanese Prime Minister Shinzo Abe.
7) CNN's retracted report claiming Anthony Scaramucci-Russia ties.
8) Newsweek report that Polish First Lady Agata Kornhauser-Duda did not shake Trump's hand.
9) CNN report that former FBI Director James Comey would dispute President Trump's claim he was told he was not under investigation.
10) The New York Times report that the Trump administration had hidden a climate-change study.
11) In Trump's words, "'RUSSIA COLLUSION!' Russian collusion is perhaps the greatest hoax perpetrated on the American people. THERE IS NO COLLUSION!"
The website carrying the results of the "Fake News Awards" crashed because it was flooded with visitors after Trump tweeted out the link.
Without naming anyone, Trump also tweeted out his praise for the "many great reporters."
He continued, "Despite some very corrupt and dishonest media coverage, there are many great reporters I respect and lots of GOOD NEWS for the American people to be proud of!"
EDITOONERY
The Mock in Democracy
Trumperies. The gasbag class—and, wotthehell, all of America—begins each day assaulted by the latest trumpery from the twitterpated Trumpet, whose main goal in office appears to be to attract as much attention to himself as he can. To that end, when he gets up in the morning (astonishingly early), he tweets. His success in being the center of national attention can be gauged by his frequent appearance on the covers of national magazines. Here's a selection of recent performances.
The Week, a weekly newsmagazine in the mold of the original 1920s Time magazine, routinely displays caricatures in fully painted covers. And just as routinely, the covers feature out self-absorbed Prez. Time in its "Year One" cover echoed two previous Trumpet covers, all using his golden hair-do and luminous orange facial tan to illustrate "Meltdown" (August 24) and "Total Meltdown" (October 22).
At the lower left of the visual aid, Steve Brodner doesn't get a cover for his shark-like Trump, shown about to devour the Grandstanding Obstructionist Pachyderm, an editooon-comment on the GOP's fatal willingness to let the Trumpet do whatever he wants regardless of the damage he does to the Republicon image and tradition. GOP leaders are complicit simply because they want to have someone in the White House who will sign into law whatever they send over there; alas, they haven't been able to agree on much, thus forfeiting a Grand Old oPportunity without equal in recent history. Meanwhile, as Brodner demonstrates, the Trumpet is taking over the party.
And what makes the GOP elders believe Trump will sign what they put before him? He has amply demonstrated how unreliable he is, changing his mind willy-nilly, depending upon who he listened to last.
At the lower right, Gerald Scrafe offers one of his recent characterizations of the Trumpet, just about to press the button that will result in the world being consumed in nuclear flames. Scrafe continues on the next page, showing the vicious gape-mouthed Trump busily engaged in wrecking the country (which he does by dividing it rather than smashing it, as Scrafe has it here). Below that, we have The New Yorker's comment on Trump's notorious "shithole" characterization of Haiti and African countries. This time, the assault on the Trumpet is not conducted by the magazine's favorite political cartoonist, Barry Blitt (whose pictures of Trump have decorated at least fourteen of New Yorker covers); instead, the artist is Anthony Russo, whose stark cover entitled "In the Hole" reveals that it's Trump who's in the shithole as a result of his racist-tinged comment.
Next to The New Yorker cover is a photo illustration by Darrow for Vanity Fair's James Wolcott column comparing the Trumpet to Hugh Hefner. "Did Playboy magazine's gospel of monogrammed hedonism ultimately produce the tufted warlock in the White House much as Charles Manson rattlesnaked out of the hippie ethos of free love?" asks Wolcott to get things going. He decides not. "Where the rabbit ears in the Playboy logo double as a peace sign, Trump's red Make America Great Again cap serves as a warbonnet."
But the picture of Trump dressed as a Playboy bunny was simply too deliciously silly for me to pass up. It's connection to Wolcott's argument is tenuous if not, actually, nonexistent. But it makes the Trumpet look ridiculous, and since that's my over-arching goal here, I've simply seized upon it and stuck it in here. Just for the derisive laughs.
Finally, in the last of our series of cover portraits, we have the fat-faced and flying hair picture on the cover of The Nation by Victor Juhasz, followed immediately by another Scarfe characterization, this one, a comment on the "shithole" slander. It's the flies that complete the portrait.
THE END OF TRUMP'S FIRST YEAR IN OFFICE—or, as the former reality tv star doubtless thinks of it, the first season of "The Trump Show" in the White House— prompted a number of assessments of his presidency so far. Foremost among these was Trump's, delivered as if it were the State of the Union address.
The Teleprompter Trumpet who regaled the nation with the wonders of his achievements in the debut year of his reign emerged somewhat "presidential" at last. In tone, at least. Not in substance. In substance, it was all fog and mirrors and self-congratulation. Fact-checkers quickly demonstrated that most of his claims and assertions are either misleading or downright false.
F'instance: he claimed that wages are "finally" going up, but they've been on a generally upward path since the 1990s. He said many car companies are now building and expanding plants in the U.S., something we haven't seen "for decades"; actually, two new assembly plants were announced in the nine years before the Trumpet took office. It's true that exports of oil and gas are rising, but that trend began a decade ago. And he claimed credit for 2.4 million new jobs "since the election" when more than half ot them were created under then-Prez Bronco Bama.
Trump inaccurately described the Diversity Immigrant Visa Program as "a program that randomly hands out green cards without any regard for skill, merit, or the safety of American people." But in order to be eligible for the lottery, applicants must have a high school education or two years of work experience, and if selected they must go through a vigorous safety background check—the same as all legal immigrants.
Trump claims to have drastically reduced cumbersome regulations, but he's taking credit for killing or delaying rules that were pending and hadn't gone into effect, including more than 100 that were already dead under Obama.
The Trumpet claimed that he is "restoring our ... standing abroad," but a recent Gallup Poll found "approval of U.S. leadership across 134 nations and areas stands at a new low."
And so on and on and on.
Where are Trump's advisors when he "writes" a speech like this? Surely they know he's lying every time he opens his mouth. Sometimes all he does is misapprehend the facts of the world. As some wag said long ago, "What does he mean when he says words?"
Mostly, though, he's lying. At the rate of 5-6 lies a day.
JUST TO GIVE THE OPPOSING TEAM SOME ATTENTION, we turn to Washington Post columnist Marc A. Thiessen, who I presume is more conservative than liberal. He listed the "ten best things Trump has done in his first year" and "the ten worst things." The ten best, beginning at the end, are: 10) he enforced Obama's red line against Syria's use of chemical weapons; 9) he's taken a surprisingly tough line with Russia; 8) he recognized Jerusalem as Israel's capital, something four previous U.S. presidents promised to do but didn't; 7) he withdrew from the Paris climate agreement; 6) he got NATO allies to kick in $12 billion more toward our collective security; 5) he has nearly eliminated the physical presence of the cutthroat caliphate ISIS; 4) he admitted he was wrong on Afghanistan and reversed Obama's withdrawal; 3) he enacted historic tax and regulatory reform that has unleashed economic growth (or promises to); 2) he is installing conservative judges up and down the federal court system; and 1) by getting elected, he ended "the corrupt, dishonest Clinton political machine."
(Fine thing for Thiessen to say about the Clintons when it's Trump who's corruption and dishonesty incarnate. But many of Trump's supporters share the same myopia.)
The "ten worst things" are: 10) he has made virtually no effort at reaching across the aisle for bipartisanship; 9) he has spent more time attacking Republicons than Dems; 8) by forging a de facto alliance with Russia and Iran to defeat the Islamic State, he is driving Sunni Arabs into the arms of al-Qaeda; 7) he is giving Miranda rights to captured terrorists, extending Obama's criminal justice approach to terrorist detention; 6) he is attacking the FBI and the intelligence community; 5) he undermines the dignity and authority of the presidency with his foul-smelling tweets; 4) he fired James Comey; 3) he dismisses Russian interference in the 2016 election because (small-minded and ego-centric as he is) he thinks if he admits their influence, he'll diminish his "decisive" role in winning his own election; 2) he stood by Roy Moore when he could have simply stayed out of it; and 1) he has failed to condemn the alt-right, leading white supremacists to believe he's one of them. (And he probably is.)
Then here's Laila Lalami at The Nation: "At the end of the first season, Trump has failed to drain the swamp, but he is making money for himself through tie-ins and merchandising. The second season promises even more twists and turns, with members of his own team questioning his mental capacity, to which his response is that he is 'a very stable genius.' What would have once been merely an exercise in the suspension of disbelief is now our national nightmare. This president appears to have neither the interest nor the ability to govern."
Robert Borosage, also at The Nation, sees Trump as "an orange menace of terrifying impulsiveness. With his tweet-spasms spewing venom on adversaries, his reckless fomenting of racial division, his unending lies, and his predilection for vulgar schoolyard taunts, Trump fuels range and resistance. ... His erratic immaturity makes him a constant peril. In the end, however, he is a weak president, more clown than despot." Well, that's a comfort.
At The New Yorker, Amy Davidson Sorkin said in December: "In less than a year in office, Trump has led the GOP into situations and alliances so degraded that the Party may never fully recover. ... Each day dawns with a possibility that Trump will disgrace the presidency more than he has already, whether he is insulting Native Americans or mangling relationships with our most trusted allies."
The Trumpet finished his first year in office with the lowest average approval rating of any elected president in his first year, 39 percent. The previous lowest was Bill Clinton's, which was 10 points higher than Trump's. The Prez also took his first physical exam and was pronounced overweight but otherwise fit, as fit as a 239-pound 71-year-old man with high cholesterol can be who subsists on fast food and exercises very little except for weekends of golf.
The exam included a cognitive test to determine whether Trump was insane or not. Alas, he isn't. In fact, he did "exceedingly well" on the test, receiving a score of 30 out of 30.
According to an NBC News report, the 30-point test includes drawings of a lion and a rhinoceros, which patients must name. Test-takers are also asked to copy a simple line sketch of a cube; match the letter A to the number 1, the letter B to the number 2 and so on. They are asked to recall a list of five words and repeat very short lists of numbers forward and backwards and draw hands on a clock to show a specific time. It's one of several quick tests that can screen people for MCI or dementia.
"We picked one of the ones that was a little longer, a little more involved," said the White House physician who conducted the exam. "It was a more difficult one of all of them. It took significantly longer to complete, and the president did extremely well on it."
The test did rule out dementia but not attention deficit disorder or rampaging narcissism. Or stupidity. What if he were subjected to an intelligence test? I doubt he'd pass so easily.
IN REACTING TO The Trumpet's State of the Union message, the nation's editoonists covered only a few of his gaffes and self-adorations.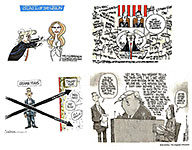 David Fitzsimmons addresses the state of another union at the upper left, offering an image of Melania Trump's response to the news of her husband's fling with porn star Stormy Daniels that had been bandied about just the week before his speech; at the Stormy point in their marriage, they'd been wed just a little more than a year, and Melania had just given birth to their son. No wonder if she's a little standoffish. Next around the clock, Fitz continues his critique by showing Trump delivering his speech from a toilet (that's where he gets all this shit), surrounded by the slogans he's been foisting off on us. His deft caricatures of Vice Prez Mike Pence and Speaker Paul Ryan hover over the Trumpet in their traditional positions during the State of the Union—in Fitz, atop the water tank of the toilet.
Rick McKee chooses to comment on the veracity of the Trumpet's remarks, deploying all the bromides of preening braggart's public utterances. Trump is simply too easy to poke fun at: he's a joke without trying, the clown prince of American politics. And Joe Heller finishes this exhibit with an ingenious image that compares the Obama Years to the Trump Year: the big X with which Trump seeks to cancel Obama is made up of two trends that began during the Obama years—rising stock market and declining unemployment. (Incidentally, the week after the stock market broke 26,000, it experienced a drop of more than 1,200 points in one day. It bounced back a little, but then two days later, it dropped another 1,000 points. But the Trumpet chose not to take credit for any of that.)
As a nifty grace note, Heller includes suggestion of all the Trumpist cheerleading of the Trump Year, everything the Trumpet loves most about it. And himself.
At the upper left of our next visual aid, Tom Toles takes a poke at the Trumpet and his fling with Stormy Daniels. He shows them about to enter or leave a room—a building? —before or after their roll in the hay. But he makes fuller use of the assignation by alluding to the hypocrisy of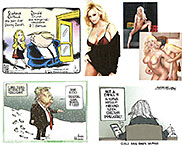 evangelicals who worship Trump even though much of what he stands for is entirely unChristian. P.T. Barnum, like Trump, is all show and hyperbole and is celebrated for promoting hoaxes. A fitting comparison. And Toles gets another allusion to the past into the subtext of the tiny Trumpet down below, saying: "Evangelicals let me because I'm a star." (Just as women let him grab them by the pussy—"if you're a star, you can do anything.")
And in case you missed the overdeveloped porn star's appearance in the Jimmy Kimmel show on Tuesday just after Trump delivered his State of the Union talk, I've laminated into our display a few of her promotional photos.
But pictures alone don't tell all the tale.
IN A 2011 INTERVIEW quoted in the January 17 issue of In Touch magazine, Daniels revealed all. Among other things, she said that after having sex with the Trumpet in a hotel room, Trump told her she was "beautiful and smart just like his daughter." The Trumpet loves incest.
These days, Daniels is being coy about admitting or denying whether the encounter ever took place. She deftly avoided committing herself either way during the Kimmel show, January 30. She seemed a little overweight—or maybe just top-heavy. As long as she can keep the ball of ambiguity in the air, she can keep herself in the news—and continue to cash in on this new-found celebrity. No dummy, she.
Daniels is exploiting the ravening publicity over their encounter on her "Make America Horny Again" burlesque tour. A South Carolina strip club where she recently performed featured a poster of both Trump and the porn star that says "He saw her live. You can too!"
Her romp with the postpartumTrumpet supposedly occurred following a charity golf tournament in July 2006, the same year Trump's son by Melania was born, March 20, a little over a year after Trump married Melania (January 2005). Daniels is alleged to have been paid $130,000 in 2016 to keep quiet about the 2006 Trumpian canoodle. The In Touch interview took place long before the hush money was paid (or even thought of: until Trump became a candidate for the Presidency, he was proud of publicity about his dalliances; as a candidate for the highest office in the land, he wanted to appear somewhat less promiscuous). Today, everyone denies everything.
To no avail. The entire transcript of the interview excerpted in In Touch has been posted on the Web (see intouchweekly.com/posts/stormy-daniels-full-interview), and no one can deny anything anymore.
According to Daniels, the encounter began when Trump, eyeballing Stormy on the golf course, invited her to dinner. When she got to his hotel room to meet him, he was lounging on the sofa in his pajamas. They had dinner in the room and talked for hours.
When she had to pee, she went to the bathroom in his bedroom.
"When I came out," she said, "he was sitting on the bed and he was like, 'Come here.' And I was like, 'Ugh, here we go.' And we started kissing. I actually don't even know why I did it but I do remember while we were having sex, I was like, 'Please don't try to pay me.' And then I remember thinking, 'But I bet if he did, it would be a lot.'
"The sex was nothing crazy," Stormy continued. "He didn't, like, chain me to the bed or anything. It was one position. I can definitely describe his junk perfectly, if I ever have to. He definitely seemed smitten after that. He was like, 'I wanna see you again, when can I see you again?'"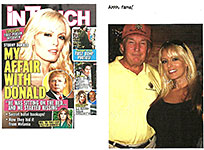 She met him only once more (no sex), but they continued a relationship over the phone for the next year or so, she said.
No wonder Melania wasn't applauding very enthusiastically during the Trumpet's State of the Union address: reports about the $130,000 Storm had just passed, leaving a few ruffled feathers.
The interview was conducted by Bauer Publishing reporter Jordi Lippe-McGraw. Subsequently, Daniels took and passed a polygraph test. (More than the Trumpet has ever done.)
The amazing thing about these revelations is that we are neither shocked nor outraged, said Michelle Goldberg in the New York Times, quoted in The Week. "In any other administration, evidence that the president paid hush money to the star of 'Good Will Humping' during the election would be a scandal." But under Trump, the Stormy Daniels saga has elicited nothing more than a 'collective shrug.'"
That's because this story "fits into much of what American voters already know about Trump," said Ryan Teague Beckwith in Time.com. He's not ashamed of infidelity, having embarked on a very public affair with his future second wife while still married to his first. As for the much bigger hush money question, Trump long ago convinced Americans that he didn't have any "values" whatsoever, thanks to his long history of lying, defrauding ordinary citizens, sexual harassment, and boasting in public about the size of his genitals. (Maybe Daniels can help us with testimony on the latter matter.)
And many Christians who used to care deeply about sexual morality are quiet, said Tim Morris in the New Orleans Times-Picayune—because of "political expediency," knowing that Trump can deliver them conservative Supreme Court justices and pro-religious liberty policies. "That leaves a lonely space for people who think it's wrong to cheat on your new wife with porn stars." But plenty of room for hypocrites, as we've witnessed.
FOR THE REMAINDER OF THIS EXHIBIT (and the next), we take a look at other achievements of the Trumpet's first year.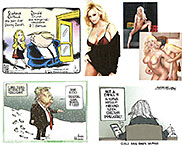 Beginning with Chip Bok's examination of the Hawaiian missile fiasco just below our photos of Stormy, we realize that, indeed, it "could have been worse." Next, David Horsey reviews the sheer genius of the Trumpet's analysis of climate change. (Sorry: sarcasm is tricky satire, and I ought not to engage in it even if Horsey is willing to take the risk. He's deploying here what has become a traditional dodge of the deniers, which everyone with more than a nodding acquaintance of such matters knows is wrong-headed. Weather and climate are not the same, but the deniers pretend they are. Or maybe they don't know the difference.)
In the next display, we get Tom Tomorrow's help in understanding Donald Trump's Guide to Crisis Management.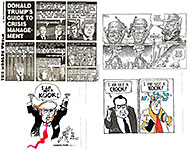 The comic strip format permits piling up instances of the Trumpet strategy as they become increasingly absurd, then the absurdity becomes satirical by reason of its excess. Next on the clock, Kevin "Kal" Kalaugher provides a visual metaphor for the Trumpet's Afghanistan policy. His predecessors, even though taller than Trump, cannot escape the clutching hands of Death below the water's surface. And Trump, being short as well as fat, can scarcely expect to prevail in these dangerous waters: he's not tall enough to reach the bottom. Unless he can—as he thinks he can—walk on water thereby avoiding the peril of sinking below the surface. But he can't, really, walk on water, so the logic of this picture dooms him to a worse fate than his predecessors experienced.
Across the bottom of this visual aid are two cartoons comparing the criminalities of the Trumpet and the Nixon years—Dan Wasserman's and (badaboom) mine. Naturally, I think mine is the better of the two: it's not quite so obvious, more subtle. By way of clarifying the allusion, I show the Trumpet in a classic Nixon pose—both arms up, hands over his head. But the coup de grace is delivered by the rabbit, whose comment, "Nix on the hands," makes the necessary connection. Subtle, as I say. Vague, maybe. Mine is at least a year old; Wasserman's is fresh.
The Trumpet's ludicrous self-assessment of his superior mental capacities offered endless opportunities for ridicule, and editoonists were quick to take advantage of them.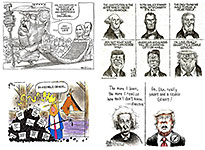 Kevin "Kal" Kalaugher starts us off by invoking that wonderful old saw of the emperor being convinced that he's attired in stunning raiment when, in fact, he is actually naked. Unto that image, Kal laminates a critique of Trump's critique of Michael Wolff's new book and, for good measure, gets the Prez's daughter Ivanka and her miracle-working husband Jared Kushner into the act. (He, and perhaps she, is as naked as the emperor—in other words, similarly deluded.)
Next around the clock, Jim Morin ridicules the simple-minded idiocy of the Trumpet's
claim to intellectual superiority by comparing his lame self-assessment to the much more community-minded patriotic remarks of previous Prezes. And below that, Adam Zyglis compares Trump to Albert Einstein, whose humility shows up the glaring stupidity and self-absorption of the Trumpet's remark. Then at the lower left, Clay Jones' image gives Trump's "stable" genius its other meaning, which Jones then converts to a criticism of Trump's attacks on American institutions—showing them to be just so much horse shit that Trump's is shoveling. I love Jones' treatment of Trump's hair, which, long ago, expanded from hair-do to fluttering banner.
OTHER ISSUES that the Trumpet dealt with over the last month or so are the topics of our next exhibit.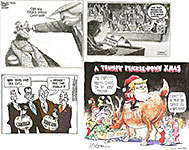 Matt Davies offers a telling image of the effect on Palestinians of Trump's recognition of Jerusalem as Israel's capital. A finger poke in the eye indeed. Patrick Chappatte takes the issue a step further, explaining the U.N.'s action condemning Trump's declaration.
In his State of the Union, the Trumpet claimed that the U.S. does "more than any other country—anywhere in the world—to help the needy, the struggling, and the underprivileged all over the world." Actually, as a proportion of gross national income, a measure of a country's wealth, the U.S. ranked 22nd in 2016, according to fact checkers. But after the U.N. vote on the Jerusalem decision, any country that voted against the U.S. on Jerusalem won't get any aid. So much for doing "more than any other country to help the needy ....etc."
Taking the Trumpet at his word about the seasonal appropriateness of the give-away tax bill, Matt Wuerker dresses up the GOP's highly touted tax "reform" as a Christmas gift from Santa Claus in which the discredited "trickle-down" function is translated into reindeer droppings. That's all we get "trickling down," a memorably alimentary image. Then Dan Wasserman's caustic picture of a cynical quartet explains how the tax cut pays for itself .
Then came the shithole episode.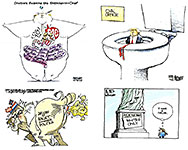 Ann Telnaes links Trump's verbal garbage to his physical exam, giving us the x-ray image of the Shithole-in-Chief: his head is full of fluttering tweets, his heart is all "Me," his lungs are crammed with bats, his stomach with cheesebergers and fast-foot, and his intestines with lies, sexism, bigotry and racism.
Next, Matt Davies shows us a real shithole—that is, a toilet—which he labels after its shape, the "oval office." (I might've said "oval orifice"; but it's his cartoon.) And Trump, of course, is up to his waist in it. Christopher Weyant, sometime New Yorker cartooner, translates Trump's ugly utterance into what the words mean, and he pins the translation to the base of the Statue of Liberty, which, until Trump, asked the world for its tired, its poor, its huddled masses yearning to breathe free. Alas, that's not what the Trumpet dreams of.
And then David Fitzsimmons gives us another image of a shithole—that which comes at the butt of the Republicon elephant. It's how the GOP shits. And Fitz then takes the visual metaphor further and shows that the shitting butt-hole is actually the Trumpet himself, who when he talks, showers us all with shit. A crude but memorable image, which Fitz labels "Decades of Racist Dog Whistle Politics."
The button contest also transpired during the last month.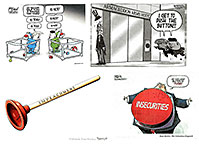 And because Trump and North Korea's Kim were behaving as little kids in an argument, that image prevailed. Gary Varvel gives the childish contestants the trappings they deserve—in their respective play pens. Walt Handelsman, next around the clock, takes the childish metaphor to the next step—physical action. Then Nate Beeler's metaphor shows the real cause of the contest—the Trumpet's huge insecurity.
Clay Bennett at the lower left gives metaphorical expression to his disgust —and his hopes—deploying the instrument by which clogged drains (toilets, usually) are unclogged to suggest the solution to our problem in the White House. Much as we might wish for impeachment, it's not likely to happen. The Trumpet is more likely to leave on his own, resigning when charged with money laundering.
The environment and kindred abuses attracted editoon attention over the last few weeks.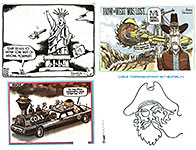 Tom Toles resorts to the Statue of Liberty as a visual metaphor for monuments that Trump's partially withdrawing national monument status from in a couple of western sites. The result is disfiguring as we can plainly see, but Trump's intention is to create business opportunities for the oil and gas industry and other entrepreneurs, as David Horsey testifies next, depicting Interior Secretary Ryan Zinke as the man who lost the West—and showing to whom it was lost.
On another topic, the evaporation of the neutral Internet, Steve Breen offers an ingenious visual, arranging for an electrical chord (like the one that connects your computer to the outlet in the wall) to picture, in one continuous chord-like line, cable companies in a world without net neutrality. Piracy in the cloud.
Then at the lower left, Steve Sack offers a visual that suggests where we are headed by finding our energy solutions in coal. Just imagine—a coal-powered limousine! And the passenger in this one knows exactly where we'll be going. The ingenuity of Sack's image is thorough: he's even made a place in the vehicle for an engineer to shovel coal into the machine.
THE TRUMPET IS BACK, headlining our next visual aid—mostly because the comedy in Nate Beeler's cartoon is so rich. And so very Trumpish.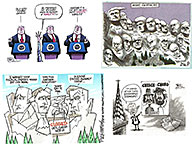 As editoonists have been demonstrating for months, Trump is a walking taking cartoon: just imitating something he says makes the comedy. And the satire. At the upper right, Steve Benson is sculpting another national monument—this time, to the gropers and other sexual offenders who've surfaced over the last few months. The parade of lechers, however, has slowed somewhat lately: the so-called "news" media, having exploited it for all the imagery that viewers at home can tolerate, have moved on to fresher, riper scandals—political ones.
Immediately below, Chris Britt explains Attorney General Jeff Sessions' obsession with dangerous potheads, and while he concentrates on Cheech and Chong—comedians, remember? scarcely dangerous at all— the opioid crisis, violent crime, and terrorist languish unattended to in the corner like castaway scraps of paper. Then David Fitzsimmons returns with another Mount Rushmore, this one, "closed until further notice" because, perhaps, we've been ignoring what it stands for—championship of democratic principles.
A stoney-faced George Washington nails it: "I warned them political parties would be our ruin." The founders' name for political parties was "faction." Promoting the adoption of the present Constitution, James Madison, Alexander Hamilton and John Jay wrote essays that have been collected under the title The Federalist.
In one of his essays, Madison described "faction": "By a faction, I understand a number of citizens whether amounting to a majority or minority of the whole, who are united and actuated by some common impulse of passion, or of interest, adverse to the rights of other citizens, or to the permanent and aggregate interests of the community."
Only factions, the founders believed, could destroy the government because they'd put factional interests ahead of the greater welfare. Party ahead of country. And that's just about where we are and have been for some years. If it continues, the future doesn't look too cheery. As Abraham Lincoln says in Fitz's cartoon: "A house divided against itself"—cannot stand, he finishes.
For David Frum, the divisiveness fostered by the Trumpet is not as fatal to the nation as other aspects of his behavior. In his new book, Trumpocracy: The Corruption of the American Republic, Frum says: "The thing to fear from the Trump presidency is not the bold overthrow of the Constitution but the stealthy paralysis of governance; not the open defiance of law but an accumulating subversion of norms; not the deployment ot state power to intimidate dissidents but the incitement of private violence to radicalize supporters."
JEFF SESSIONS RETURNS in our next visual aid to lecture on the evils of maryjane.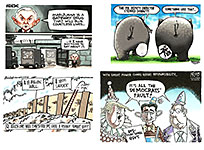 As Steve Sack's imagery shows, by criminalizing pot, Sessions will make more criminals. (But the real reason I've posted this editoon is that Sack is so expert at capturing the chipmunk-like visage of our Attorney General. He's just so cute: how can he be so wrong-headed?) Walt Handelsman is next on the clock with a visual metaphor that perfectly tells us what happened with FBI's deputy director Andrew McCabe: he didn't "step down" exactly: more like, the Grand Old Pachyderm squashed him by stepping on him.
At the lower right, Rob Rogers arranges for his picture to contradict his words. Dressed as a bunch of clowns, the image shows that the Republicons can scarcely stand for anything but dysfunctional government, a circumstance that contradicts their statement that blames the Dems.
Next, Mike Keefe comes out of retirement long enough to show us why an $18 billion wall won't work to keep immigrants out. Then in his caption, he tags the self-proclaimed "really smart guy" as the culprit whose so-called reasoning dreamed up the wall.
In our last exhibit, we turn to a happy miscellany of political machinations of late.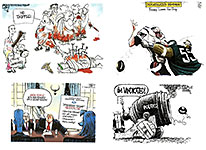 Pat Bagley starts us off with a comment on the Republicon effort to kill Obamacare. By removing the mandate requiring everyone to buy health insurance, the GOP has crippled the Affordable Care Act. Millions of Americans affected by this insensitive maneuver aren't likely to be very happy, and that's how Bagley depicts them at the left. But the Republicons blithely seek to avoid taking the blame for their unpopular action by explaining that Obamacare just "tripped." The visual evidence denies their explanation: with all those daggers in his back, Obamacare can scarcely be expiring because he merely tripped.
Next, Steve Benson smiles at the ironic fate of Tom Brady at the Super Bowl. Remember that Brady wanted footballs to be slightly underinflated because that enabled him to hold onto them better. "Deflategate" was the term employed to describe his sin. And, judging from his failure to catch a pass during the game with Philadelphia's Eagles, Brady obviously needed an especially deflated football in order to get a grip on it.
The Trumpet described California Representative Devin Nunes' memo as a "bombshell" that "vindicated" Trump's long-held conviction that the FBI is biased against him. And while it's true that the memo seems to discredit the FBI's ability to conduct impartially an investigation of the alleged Trump-Russia collusion, it does so by cherry-picking evidence to support that conclusion. No one was surprised by this. It was universally assumed that Nunes picked the evidence in consultation with Trump. The bombshell is thus something of a dud, and next in this display, John Darkow's metaphor of a monster canon and blip canon ball turns the dud into visual comedy that mocks Trump's vindication.
Finally, here's Nate Beeler with a cartoon that demonstrates how the Trumpet thinks of his time in the White House. It's a performance. His presidency is a reality tv program. Trump starred in a reality tv program before, and now he's starring in another one. And now that the first "season" is over, it's time to think of what to do for the next season because the show has been "renewed." Perfect.
MOTS & QUOTES
Saint Augustine says: "If you understand it, it's not God."
A FEW INSPIRING WORDS FROM THE OPPOSITION
And here's Joe Kennedy's Democrat so-called "response" to the Trumpet's State of the Union speech on January 30. It's not a "response" at all: it's a call to battle. Just something to temper Falk's over-arching optimism that prefaced this posting.
We see an economy that makes stocks soar, investor portfolios bulge and corporate profits climb but fails to give workers their fair share of the reward. A government that struggles to keep itself open. Russia knee-deep in our democracy. An all-out war on environmental protection. A Justice Department rolling back civil rights by the day. Hatred and supremacy proudly marching in our streets. Bullets tearing through our classrooms, concerts, and congregations. Targeting our safest, sacred places.
And that nagging, sinking feeling, no matter your political beliefs: this is not right. This is not who we are. ...
This administration isn't just targeting the laws that protect us – they are targeting the very idea that we are all worthy of protection. ...
Their record is a rebuke of our highest American ideal: the belief that we are all worthy, we are all equal and we all count. In the eyes of our law and our leaders, our God and our government.
That is the American promise. But today that promise is being broken. ...
They are turning American life into a zero-sum game. Where, in order for one to win, another must lose. ... We can cut taxes for corporations today if we raise them for families tomorrow. We can take care of sick kids if we sacrifice Dreamers.
We are bombarded with one false choice after another: coal miners or single moms. Rural communities or inner cities. The coast or the heartland. As if the mechanic in Pittsburgh and the teacher in Tulsa and the daycare worker in Birmingham are somehow bitter rivals, rather than mutual casualties of a system forcefully rigged for those at the top.
So here is the answer Democrats offer tonight: we choose both. We fight for both. Because the strongest, richest, greatest nation in the world shouldn't leave any one behind.
PERSIFLAGE AND FURBELOWS
Actress Betty White, 96, a six-time Emmy winner, has been working in show business consistently for more than 75 years, and hers is the longest television career of any female entertainer in history.
NEWSPAPER COMICS PAGE VIGIL
The Bump and Grind of Daily Stripping
We're postponing this department until next time, Opus 376. But after reading the Sunday funnies on February 4, I can't help but post that day's effort from Stephan Pastis.Maybe you laugh at this Pearls Before Swine. Maybe you don't. If you don't, it's probably because you recognize that Pastis has taken a big bite out of Albert Camus. It was Camus who said that the only really philosophical question is the one about suicide: if life is as seemingly meaningless as it appears, why go on living? Camus, I think, decided that you go on living to "keep the faith." What faith? The faith that your fellow beings have that life has some kind of meaning and purpose despite the overwhelming evidence to the contrary. Faith requires no proofs, no evidence. Pig would understand.
PITHY PRONOUNCEMENTS
Denver Post columnist Krista Kafer wrote about the recent Women's March, saying that the purpose of the march was not clear. It's message was blurred because there were so many of them. "There were signs advocating for equal pay, DACA, environmental protections, a response to climate change, and abortion and signs advocating against euthanasia, abortion, sexual harassment, racism and the death penalty." Her favorite sign read: "Is this the line for 'Hamilton' tickets?"
CIVILIZATION'S LAST OUTPOST
One of a kind beats everything. —Dennis Miller adv.
Playboy (January/February) reports: Young men apparently aren't into breasts so much: male porn consumers ages 18-24 search for breast-related content nearly 20 percent less than older men do, a Pornhub study found. Frankly, I doubt it. How are they counting? I looked up Stormy Daniels for this report, but I wasn't asked my age anywhere along the way.
But if young men aren't as interested in female protrudences as much as their fathers, that accounts for Playboy's de-emphasis of the bosom in its numerous nude photo layouts these days.
GOSSIP & GARRULITIES
Name Dropping & Tale Bearing
The Trumpet White House wrote to the Guggenheim Museum in New York asking if Vincent Van Gogh's "Landscape with Snow" painting could be loaned for display in the family living quarters. The Guggenheim said, politely but firmly, "No." But, the response continued, the Museum would be happy to loan another work—an 18-karat, fully functioning, solid gold toilet, for which it would provide instructions for installation and care. At present, the gold toilet is in a public restroom on the Museum's fifth floor for visitors to use. The interactive work of art is entitled "America," and critics have described it as pointed satire aimed at the excess of wealth in this country.
Beautiful. We can't think of a better place for a solid gold toilet to reside than the Trumpet White House.
And Trump probably can't think of any other appropriate place either.
Maurizio Cattelan, the Italian sculptor who made the golden potty, commented on the offer: "Everything seems absurd until we die, and then it makes sense."
Right.
BOOK MARQUEE
Previews and Proclamations of Coming Attractions
This department works like a visit to the bookstore. When you browse in a bookstore, you don't critique books. You don't even read books: you pick up one, riffle its pages, and stop here and there to look at whatever has momentarily attracted your eye. You may read the first page or glance through the table of contents. And that's about what you'll see here, beginning with—:
The Realist Cartoons
Edited by Paul Krassner and Ethan Persoff
298 11x12-inch pages, b/w; 2016 Fantagraphics hardcover, $44.99
"PERHAPS THE SATIRE MAGAZINE that most closely resembles Charlie Hebdo in terms of inflammatory imagery was The Realist," saith Time magazine once upon a time. "Inflamatory imagery" is an effete, socially acceptable way of saying that the cartoons in The Realist were nasty, tasteless, and an offense to Western civilization. And funny. Usually. Very funny. The only cartoon it published that I didn't like was the Peanuts Memorial Orgy cartoon, which editor/founder Paul Krassner clearly hoped would spark that same worldwide fiendishly joyful reception as his notorious Disneyland Memorial Orgy. Both conceived by Krassner but executed by someone who could draw.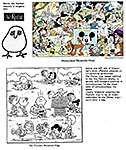 Supplied with only generalities as instruction, Wally Wood did the Disneyland expose, "a magnificently degenerate montage," Krassner called it. He was right.
For my much more detailed negative response to the Peanuts cartoon, which was published shortly after the death of Peanuts creator Charles Schulz, see Opus 292; or Opus 22, for something shorter.
Otherwise, I love the cartoons The Realist published, a selection of which—"the best, the wittiest, and the most vicious and provocative"—are in the book at hand.
Krassner—provocateur, radical, yippie, prankster—launched The Realist in the spring of 1958 (dated June) from the same building in which Mad had its offices. (Perhaps even from the Mad offices: Krassner was working for Lyle Stuart at the time, writing a column in Stuart's The Independent, and Stuart was general manager of Bill Gaines' EC operation and had offices in the same building; or perhaps his offices were also Mad's offices.)
The Realist— published on cheap newsprint, never on slick paper—appeared fairly regularly through the 1960s (which is when I first encountered it in a Greenwich Village magazine shop). After achieving a pinnacle of ignominious infamy through that decade, it appeared only irregularly after the early 1970s. In 1984, it was revived as a much smaller newsletter. It's last issue was No.146, published in the spring of 2001.
Rather than explain anything about Krassner, I will quote just two things. The first is the title of the second chapter in his autobiography, Confessions of a Raving, Unconfined Nut. The chapter's title: "The fire hydrant of the underdog."
It's about Krassner's starting The Realist. It also details his first carnal experience of the fair sex, which happened on the floor of Gaines' office at Mad headquarters. Krassner was living with his parents at the time and had nowhere to take a girlfriend for the purpose of losing his virginity.
Krassner also quotes a Portuguese saying: "If shit ever gets to have any value, the poor will be born without assholes."
A mind like that we must respect and, even, revere —despite his attitude about Peanuts and Charles Schulz. And his entirely fictional story about Lyndon B. Johnson fucking the assassinated JFK in the hole in his neck as the presidential corpse was being flown from Dallas to Washington, D.C., is another reason to pause over Krassner. (More about that at Opus 292.)
The cartoons are dated and arranged in chronological order. Many were initially offered to other magazines but were rejected because they were too outrageous for consumption by normal people. However perverted their senses of humor, many of the cartoonists were temporary fugitives from the mainstream—Ed Fisher, Sam Gross. In the early days, the cartoons of Richard Guindon are the most frequently published in The Realist. In the later years, Kalynn Campbell was the signature most apparent; later still, the undergrounders, lead by S. Clay Wilson and Dan O'Neill.
But the best way to review a book of cartoons is to show some cartoons; herewith, some of the cartoons from The Realist, including portions of an absolutely spectacular dust jacket by Jay Lynch, perhaps the last major work of his life.
Trump's ABC
By Ann Telnaes
26 6x6-inch pages, color; 2018 Fantagraphics boards, $12.99
ON THE BACK COVER of this weighty little tome, fellow editoonist Mike Peters says: "Ann Telnaes is a cartoonist for the Washington Post. She won the Pulitzer Prize. She won the Reuben Award as America's top cartoonist. She did everything Herblock did, but backwards and in high heels."
The Notebook newsletter of the Association of American Editorial Cartoonists (AAEC) greeted the book with this:
"Just in time to end Trump's first (and only?) year in office comes this children's book for adults that chronicles Donald Trump's first six months in office. Featuring sing-songy rhymes and beguiling watercolor drawings, Trump's ABC is a miniature critique and expose of Trump and his janissaries, poltroons, and dissemblers, illustrating his public policies, his personal defects, his ethical dysfunction and the consequences of his presidency on the lives of Americans—in a format that is cleverly designed to reflect the commander-in-chief's attention span and mental level."
And here's how Telnaes describes the genesis and eventual accomplishment of the book: "I did not plan to do an ABC book. I had done a lot of sketches in 2016, especially during the primaries and debates, and I originally tried to get a book published of those sketches. My book agent went around, still during the primaries when most people thought Hillary was going to win the presidency (myself included), and couldn't get any interest. People were already tired of it, and thought Hillary was going to win, so the feedback from publishers was, 'We'd like to see a Hillary book.'
"I thought, 'Ok, I can try that— this will be interesting—first female president'— but for some reason, I had this nagging feeling and I just couldn't come up with something. Of course then the election happened and most of us were surprised, and I thought everybody would be interested in a Trump book. But you'd be amazed at how many publishers didn't want to do a Trump book – at least an editorial cartooning book.
"I put it aside and I happened to take a road trip down to Savannah during the holidays. I had a nine hour drive down and a nine hour drive back. I was driving, because my dog doesn't, and I didn't have my hands free to do any sketches. I was thinking about a suggestion a friend had given me, which was to do a political ABC book. Since my hands weren't free, I put my phone on, and started to recite, 'A is for blah, B is for blah ...' and I kept doing that all the way down to Savannah and all the way back up. By the time I got back to D.C. I had a book.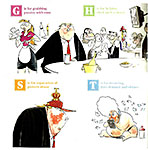 "Which was amazing, because the hardest thing for me is to let go and let that new thing happen. When you get something in your head – I had a different type of book in my head – but once I let go of it, and I went with what I was thinking, it just came. That was a surprise, a nice surprise. I took a few hours and did some sketching.
"The rhymes were done by the beginning of 2017, and the artwork was finished by May, and I was a little concerned that it wouldn't hold up. There are some things that obviously aren't in there, but I'm pretty pleased with it. I'm happy I did it."
So am I. And so will you be—as you can probably tell from the samples here.
Playboy: Celebrating Hef
By Various
120 9x11-inch pages, color; 2017 Playboy paperback, $17.99
BILLED AS A "SPECIAL TRIBUTE EDITION" of Hugh Hefner's iconic magazine, this version of Playboy is probably not available on the newsstand. Dunno for sure: haven't looked. But you can find it at playboyshop.com. Mostly, it's a scrapbook of photos and other imagery arranged in chronological order, beginning with a few pictures of Hef as a child (including some of his teenage cartoons and some he drew while in the army) but concentrating on the life of the publisher/playboy. Lots of photos of Hef with beautiful women but few of the women in the altogether.
The parade of photos is broken up throughout by short essays by those who knew Hef or worked with him or admired him—Reverend Jesse Jackson, Larry King, Norman Lear, Jenny McCarthy (plus short paragraphs by Playmates remembering), Christie Hefner, Cindy Crawford, Kim Bassinger, and more.
Bassinger, after crediting her father's good taste in subscribing to Playboy, thereby turning her on to the magazine, explains that she'd resisted using her own glamor as a way into the acting profession, but in 1983 finally agreed to pose for Playboy, an offer she'd previously turned down.
"I've never done nudity. In exercising that part of me, embracing it and rejoicing in it I opened my heart to a lot of other opportunities that I would have shut myself out of otherwise. And the shoot did exactly what I wanted it to do: it created a little silent film of me. I got four or five calls from directors right after the issue came out."
Art Paul, who was the magazine's art director from the first issue for the next thirty years and designed the rabbit logo, remembers the early years, "working closely together, just the two of us, both very young and new at what we were doing, we explained to each other what an editor does and what an art director does. ... [For that first adventurous issue], Hef boldly agreed to run my cover design, which contained several elements that were no-no's in those days: it was black and white, had few cover blurbs and was a very open design. ... I have vivid memories of how Hef made an adventure of every project he initiated—not in the racy way people imagine but in the way he allowed people to do their best work, which is the best of adventures."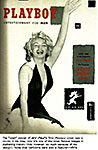 (A propos? When I first started freelancing gag cartoons to magazine in the late 1970s, an agent volunteered to try to sell for me. His name, if I recall, was Art Paul. Same guy? Probably not. He didn't sell any of my cartoons anyway.)
Bill Maher champions Hefner by attacking those who slandered him when he died. "And what were the crimes of which he was guilty? ... When the Harvey Weinstein story broke right after Hef's death, I couldn't help thinking that it was poetic justice for those who had just shit on Hef: it said, 'Now, here's a real pig.' ... Can we stop saying things like 'Playboy created an unattainable ideal' for women? Barbie had a more ridiculous body than any Playmate, and she as for children."
Thinking of Weinstein makes me eager to see what Playboy will do with the surge of #MeToo and its related justices and injustices.
Borb
By Jason Little
96 4x9-inch pages, b/w; 2015 Uncivilized Books hardcover, $19.95
THE BACK COVER BLURB identifies the categories into which this book falls— humor/tragedy/comics. And that's all true. This is the grim and sad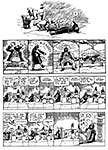 story of a "severely alcoholic homeless man, a downtrodden urban Candide whose misfortunes pile up at an alarming rate. ... At once hilarious, horrifying and full of heart."
The narrative takes shape as daily comic strips, which originally appeared at act-i-vate.com, and the book's size and dimensions are determined by printing one strip to a page.
When we first meet Borb, his teeth hurt so much that he can't eat. He gets new teeth (how is not indicated) but almost immediately loses them when he vomits after a binge of eating and drinking. That sets the pattern. Everything he attempts or does is destroyed, usually as a result of his overindulgence, which he does to a barfalous farethewell.
Little's drawings are comfortably hachured and shaded like old timey comics. Here are samples of Borb's progress.
Painting with a Broad Brush: A Collection of Cartoons
By Rick McKee
224 8x11-inch landscape pages, with color; 2015 Pediment hardcover, $39.95
COVERING 18 YEARS OF HIS TENURE with the Augusta Chronicle, McKee starts with the last years of the Clinton administration and gets all the way through most of Obama's, with short sidetrips to sports and social issues that are not political. The book includes a short autobiography and a brief description of how McKee conjures up a cartoon every day. McKee says he's conservative, but he's not zealous about it, and many of his cartoons even I, flaming liberal that I am, enthusiastically applaud. The political section of the book (the longest at 148 pages) is arranged chronologically; in the early years, McKee's cartoons were published in black-and white, but, starting on page 51 with the Obama years, the cartoons are in full color, and all the cartoons get full-page treatment. Here are samples.
The First and Only Book of Sack: 36 Years of Cartoons for the Star Tribune
By Steve Sack
200 7x9-inch landscape pages, with color; 2017 Star Tribune hardcover, $15
PERHAPS THE MOST FASCINATING THING about Sack's work for afficionados of cartooning is how he experimented with ways of drawing through the years. He was among the very first (if not, in fact, the first) editoonist to take advantage of the developing printing technology that permitted him to draw in pencil rather than ink. Then he graduated to colored pencil. But he also toyed with watercolor, charcoal, Sharpie marker, digital tablet and, most recently, an iPad. Beginning in pen-and-ink with the Reagan and Clinton years, the book takes us through both Bushes and Obama in pencil, charcoal and, finally, luminous color. The concentration begins with GeeDubya and continues with Obama, together taking 168 of the volume's pages. Beyond that count is a section printing the cartoons of Sack's winning 2013 Pulitzer Prize portfolio and a short section displaying his "personal" art, sculpture and painting. Most of the cartoons are printed full-page, but many pages display 2-4 cartoons.
The book begins with introductory matter from many of Sack's admirers (including Senator Al Franken, who contributes what he calls "a pretty good" caricature of Nixon). In a 3-page section midway through the volume, Sack discusses "the work of a cartoonist"—style, caricaturing, the deteriorating editooning business (down to less than 50 editoonists these days), the power of editoons (not much compared to, say, Thomas Nast), and the power of cuteness. Here, at the corner of your eye, are samples from the book.
Sack was a finalist for the 2017 Pulitzer and won the Overseas Press Club's 2017 Thomas Nast Award for the best cartoons on international affairs. The judges said: "Sack successfully harnessed all the cartoonist's tools—caricature, composition, biting wit and solid journalism—in his impressive portfolio."
The cartoonist said he was "immensely honored" to be recognized by the OPC, adding: "Technology may be shrinking our world, but without the work of professional journalists to sort out what's truly of value, we'd be left with nothing but gibberish, commercial pablum and government spin. The press is my window to the world. And to have my cartoons recognized by those whose efforts I depend on every day is most gratifying."
Interviewed at his own paper, the Minneapolis Star Tribune, Sack said his job description is "to read the paper, crack a joke, draw picture, and turn it in."
As Sack told the Star Tribune's Jana Shortal, "he fell into the job of editorial/political cartoonist when he was hard up for work in college. He took a job as illustrator at the campus paper, the Minnesota Daily, when he got word that the staff cartoonist made more money. So when that job opened up, he moved into it and has been doing it ever since. For nearly forty years."
Said Sack, wryly explaining that he's not a traditional journalist: "I guess I look at myself more as a reader—just a typical reader who happens to be a smarty pants and knows how to draw."
PERSIFLAGE & BADINAGE
David Remnick, editor of the esteemed New Yorker, was finally pissed off enough about the Trumpet that he blew off steam for more than two pages in the January 15 issue. The magazine's editorial is normally confined to a page-and-a-half, and Remnick usually leaves the editorializing to others. But he's clearly had enough. Among Remnick's opinions:
Trump's tweets are most valuable as a record of his inner life: his obsessions, his rages, his guilty conscience. No bile goes unexpectorated.
... with a record sixteen-tweet day, he behaved less like a President than like a teen-ager locked in his room with an ounce of Purple Skunk, three Happy Meals, and a cell phone.
To the astonishment of our traditional allies, Trump humiliates and weakens a country he pretends to lead.
[Michael] Wolff's book [Fire and Fury] makes it plain that pretty much everyone in the President's circle agrees that he is, in terms of character and intellect, fantastically limited. ... Each day is at once preposterous, poisonous, and dangerous.
There is little doubt about who Donald Trump is, the harm he has done already, and the greater harm he threatens. He is unfit to hold any public office, much less the highest in the land. This is not merely an orthodoxy of the opposition; his panicked courtiers have been leaking word of it from his first weeks in office. The President of the United States has become a leading security threat to the United States.
[And this, mind you, is before he called Haiti and African nations "shitholes."—RCH]
BOOK REVIEWS
Critiques & Crotchets
Watchmen Annotated
Edited with Introduction and Notes by Leslie S. Klinger; Foreword by Dave Gibbons
424 12x12-inch pages, b/w; 2017 DC Comics hardcover, $49.99
ALAN MOORE and Dave Gibbons' entire Watchmen is reprinted in black-and-white, each page 7x10 inches, leaving the outside margin of 4 inches for Klinger's annotations, which are, as his annotated Sherlock Holmes was, "awesome in scope and erudition" as says Martin Gardner, author of the Annotated Alice (Lewis Carroll). The reason for annotating a work like Watchmen is not merely to explain otherwise obscure references (although it does that) but to enhance our appreciation of the work.
Some of the annotations are rather trivial. Commenting upon the yellow smiley-face button that appears on the first page of the first issue in the series, Klinger tells us that the smiley-face button "apparently first appeared as a commercial product in 1963, the work of a graphic artist named Harvey Ross Ball."
As a compiler of trivia, I'm happy to know that. But knowing that is not necessary to appreciate Watchmen.
On the other hand, when Klinger footnotes a newspaper headline in Chapter Six— "Woman Killed While Neighbors Look On"—by citing the real-life murder of Kitty Genovese, who was stabbed to death outside her apartment while 37 or 38 neighbors witnessed the attack and did nothing, he's explaining a grisly reference that occurs in Rorschach's making of his mask.
In the same annotation, Klinger explains that Moore's inspiration for Rorschach's uncompromising nature was the characters the Question and Mr. A. But Rorschach's mask, being both black and white rather than just white or just black, represented a modification of the absolutism that governed the actions of the earlier characters.
(Subsequent reporting on the Genovese case, by the way—as Klinger tells us—changed the initial report, saying that while some neighbors ignored cries for help, nothing like 37 or 38 were fully aware of the crime.)
Interestingly, while the book's jacket depicts the clock face and dripping blood, underneath the jacket, the book's cover depicts Rorschach's mask.
Klinger also annotates the supplemental sections at the end of every issue. His note on the Black Freighter quotes Moore extensively about Jenny's song in "The Threepenny Opera," concluding: "The idea of death that you can do nothing about just coming in on the tide just seemed to tie in so nicely that I thought, 'I'll rip that off. I'll take the 'Black Freighter' and bring it into the Watchmen as one of the pirate comics,' using it as a counterpoint."
Klinger's comments are not confined to explaining obscure references. He also comments on the images in the panels, pointing out echoes and emphases that are likely to evade us upon an initial reading.
The book's ultimate achievement is in showing how complex Watchmen is, both in story and image. Without Klinger—or something just like him—we cannot possibly appreciate the full accomplishment of the Moore-Gibbons masterpiece.
IRKS & CROTCHETS
David Letterman said to John Lewis: "We know what racism is, but what causes it?"
"Skin color," said Lewis.
He went on to say that the Supreme Court's recent decision, gutting the voting rights act, set us back in race relations one hundred years.
GAGGING
Single Panel Magazine Cartooning
MAGAZINE CARTOONING was once a major cartoon industry. Dozens of magazines published cartoons—chief among them, the Saturday Evening Post and Collier's, both weeklies, and together they ran about 50-60 cartoons every week. That alone was a market worth shooting for. And there were other magazines that published cartoons, too. Look, ostensibly a somewhat lighter version of Life, printed 5-10 cartoons every week. So did Saturday Review. Then the monthlies—men's magazines, mostly, True and Argosy, Esquire. And many more. With that many possibilities for a sale, a cartoonist could imagine subsisting on his cartoon earnings alone. Most did not; they had day jobs in commercial art.
But it all came crashing down in the dozen years between the mid-fifties and mid-sixties. Collier's was the first to go: its last issue was January 4, 1957. Then Saturday Evening Post: a weekly until 1963, it survived as a twice-monthly magazine until 1969, when it shut down for two years. It revived as a quarterly in 1971. Look stopped in 1971; American Weekly, 1966; American, 1956. Magazine cartooning was dying out.
Except at Playboy and The New Yorker. Playboy faltered briefly as a cartoon market a year or so ago; The New Yorker got a new cartoon editor with a different comedic sensibility. And then the erstwhile cartoon editor at The New Yorker took up residence at Esquire as "humor and cartoon editor," promising a new kind of cartoon at that magazine.
Playboy is slowly making a comeback—we hope. These days, we have only these three magazines as well-paying markets that give magazine cartoons a decent showcase. Each of them, for all practical purposes, brand new. We'll sample their latest wares below.
Playboy. After more than six decades, Hugh Hefner's magazine attempted a drastic change—all out in plain view of the public. In 2016, it announced that it was abandoning barenekkidwimmin. Since one can find all the nudity one wants on the Internet—and a lot of it in motion— why do anything naked in print, the so-called reasoning ran. Actually, even in the so-called non-nude Playboy, girls were photographed naked, but drapery, artfully arranged, covered their breasts and crotch so they weren't, the so rant went, "fully nude."
At the same time, Playboy stopped publishing cartoons. Just flat-out quit. A shocker. Hefner had assiduously cultivated the most luxurious cartoons in the world—full-page, full-color. Then, all of a sudden, nothing.
A chagrined year later, Playboy had learned its lesson. Nudes returned albeit without the gynecological lessons. Fine. And it started publishing cartoons again, but, as we've seen in this corner, pretty lame cartoons, compared to the sumptuous masterworks it once ran.
The photos of naked ladies seem to give more emphasis to butts than to boobs, and the boobs on display are more often of the normal human female sort, not the spectacular specimens of yore. The women seem more lithe than lascivious. And that's fine too: we need to worship at realistic shrines.
These days, there are more nude layouts: each issue offers two Playmates (one for each of the two months listed on the magazine's cover) plus another 2-3 spreads (4-5 pages each) of feminine nakedness.
Nudity, then, is back with a vengeance. And LeRoy Neiman's femlin is back, too, as is the Party Jokes page she always occupies. The Playboy Philosophy is also making a comeback with occasional essays by Hef's son Cooper, whose most recent topic is the environment. In the most recent issue, Hef's daughter, Christie Hefner, once president of Playboy, is interviewed, and there's an article on Art Paul, the man who designed the rabbit logo.
But cartoons aren't doing so well. In recent issues, they're full-page and full-color. Alas, the drawing is often studied simplicity rather than painterly. And the small back-of-the-book cartoons of yesteryear have yet to put in an appearance.
In an obvious attempt to appeal to a new audience and its supposed attachment to the graphic novel form, Playboy has published 5- or 6-page "comic book stories" in recent issues. At first glance, they seem to be fragments of larger wholes, and while the drawing is usually pretty good, the storytelling sometimes falters.
A recent production seems lifted from a graphic novel about Kingsman, as we see near here. But upon perusal, the tale is clearly manufactured for Playboy. Ditto another "graphic short story" starring Bettie Page, who has been appearing in her own comic book of late, limned by Joseph Michael Linsner. Here, too, the story is concocted expressly for Playboy.
For her appearances in funnybook format, Bettie has become a secret agent, and in this story, she's sent to foil some Communistic plot, which turns out not to be Communistic at all: the subject of Bettie's surveillance is meeting the publisher of sleazy magazines to whom he is about to give a magic rock. Then the party is crashed by a Commie spy, who nearly tears Bettie's gown off, but our heroine manages to destroy him—and the possessor of the magic rock.
The rock, as we see in our excerpt, falls into the hands of the sleazy pipe-smoking publisher, who looks more and more like Hugh Hefner as the story unravels to its conclusion. The story ends as Bettie gives the publisher a lecture on what's wrong with his magazines. Ha. In-group joke. Not bad.
And it was published in the November/December 2017 issue, the one commemorating the recently deceased Hefner by putting his picture on the cover.
Apart from this flash of comedic conceit, the cartooning continues to be mostly uninspired line-drawings in color (although the Palma Sutra spread is hilarious).
The most evidence of any kind of a cartoon revival is in the "Heritage" section at the back of the book, where we can find a few reprints of classic Playboy cartoons of yore (and photographs of the curvaceous gender from the same fond past, some with generous endowments).
But these seem half-hearted attempts. And the magazine's masthead, while listing an "art director," doesn't list either a cartoon or humor editor. For that, we must repair to Esquire.
Esquire. When Bob Mankoff, erstwhile cartoon editor at The New Yorker, showed up as cartoon editor at Esquire last summer, his arrival was heralded with a chorus of bells and whistles proclaiming that he would "invent an entirely new look and sensibility in cartooning by upping the aesthetics and embracing a wide set of fresh voices." Not only would he blaze a trail to a new kind of cartooning, he would "recruit a new generation of humorists to Esquire and Esquire.com."
Now, after nearly six months of Mankoff-edited cartoons, we know that, so far, he's not created a new generation of humorists at his new home: all of the cartoonists he's recruited are those he worked with at The New Yorker. Our current culling includes work by Drew Dernavich, Joe Dator, Farley Katz, Seth Fleishman, and Matt Diffee—all of whom also cartoon for The New Yorker. Mankoff may be still incubating new talent off-camera, but these guys are old hands, proven professionals.
But working with his former colleagues, Mankoff has indeed produced a new kind of cartoon as we can readily see in the visual aids posted near here.
The full-page cartoons are what I'd call "essay cartoons": instead of being single pictures with a boffo caption, they're collages of individual pictures that illustrate accompanying texts on a given topic. The comedy is highly topical but whimsical: it aims to provoke a knowing smile rather than a belly laugh or, even, a chuckle.
One of these days, I'm going to do the requisite homework and look up issues of Esquire published before Mankoff's reign to see what sort of "humor" was published then. The opening pages of today's issues are cluttered with short articles and illustrations of a humorous sort, but without doing my homework, I can't say whether these pages are evidence of Mankoff's work as "humor editor" or not. But they are comical as we can see in the third and fourth exhibits at hand— "Esquipedia" and "Dept. Of Lost Causes" with other accompanying bits and pieces.
Among the pieces is a Mankoff cartoon entitled "The Disruption," his first cartoon appearance in his new home. Also, some mildly humorous illustrations by Fleishman under the heading "Spot On." And throughout the front matter, Esky, the magazine's historic mascot, appears offering "Eskpertise" on an assortment of topics. Are these the work of the "humor editor"? Or of some otherwise anonymous contributor? Can't say.
We've seen enough, though, to know that Mankoff is supervising the production of a new kind of cartoon. We're waiting for the debut of that new talent he was touting.
The New Yorker. In one of several interviews that accompanied her rise to the cartoon editor's perch at the country's most sophisticated weekly magazine, Emma Allen said that her sense of humor veered off in the direction of the surreal. By that, I believe she means that the comedy she enjoys is not necessarily related in any pronounced way to the reality we live in. Cartoons of this kind are a conspicuous departure from the traditional New Yorker cartoon, which was usually satirical, ridiculing some preoccupation of would-be New York sophisticates. And I think the difference is usually fairly obvious. Let's take a look at a recent harvest.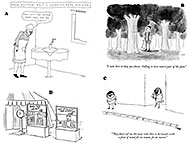 In three of the cartoons in our first visual aid (lettered A,B,C) the comedy is only vaguely connected to a reality we might want to poke fun at. A love affair between a lumberjack and a tree is clearly not of this world. But in the fourth cartoon (D), we have what might be called traditional. The assumption upon which the humor rests is that nobody wants to have someone guess his/her weight, and that the guesser is likely to be wrong—on the heavy side. So everyone whose weight the guesser guesses will eagerly desire revenge. The $10-guy will do the avenging for you—for a mere ten bucks.
The comedy, in other words, arises from an assumption about what human nature is like—real human nature, not something imaginary that's been concocted for the comedy of the occasion.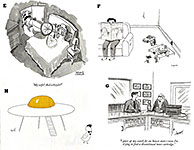 In the next exhibit, the humor in the two cartoons at the top (E,F) arises from putting animals (or fish) in human situations—wholly unrealistic—to which they react as people might. The mice at the upper right are conducting a crime scene investigation over the dead body of a mouse who is still in the trap that killed him.
At the lower left (G), a flying saucer is given the appearance of a fried egg, sunnyside up, simply because most cartoon flying saucers look like fried eggs. The chicken leaving the scene at the lower right finishes off the comparison. All surreal.
Traditional satire is accomplished at the lower right (H) where the wise man who once carried a lantern in search of an honest man is now looking for something that is similarly scarce—a discontinued toner cartridge. The object of the satire is a technology that moves so fast it outdates itself before it wears out.
Our last example offers another trio of surreal cartoons.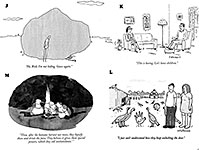 LETTERS. They're all funny—as are all the other surreal cartoons we've looked at; I'm not questioning that. (In fact, I think the giant rock cartoon J is hilarious.) But the comedy has very little, if anything at all, to do with life as we encounter it. No satire. And satire as been The New Yorker's cartoon forte for most of its history. Emma Allen is clearly turning it in another direction.
Not all the New Yorker cartoons are surreal. But enough of them are to change the tone and message of the magazine.
The humor at the lower right (L) resides entirely in our seeing a chicken as if it were drawn by using one's hand as a trace-around guide, a grade school stunt. At the lower left (M), we have snowmen discussion the inexplicable, to them, human use of carrots.
At the upper right, however, we have a wife satirizing the propensity of human couples to think having children will solve all their marital problems (K).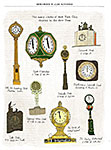 In turning the cartoon content of the magazine in this surreal direction, Emma Allen is blunting the cutting edge of The New Yorker's humor. Thecartoons may be funny (and even surreal they usually are), but they no longer present us with portraits of humanity that make us laugh at ourselves, an always refreshing (even revitalizing) experience. Too bad.
Our last New Yorker display (N) is a full-page rendering of an assortment of clocks one can find in New York.It's about to strike midnight on the face of every clock—just before the dawn of a new year—so the tribute is a propos. But is it humorous? In a previous issue, pictures of doorways took up a whole page.
Dunno if these forays are Emma Allen's. But we're likely to see more of them.
AND WHILE WE'RE UP, we just received the anniversary issue of The New Yorker. As fanatics on this matter know, for most of its 90-plus years, the magazine has celebrated its anniversary by reprinting Rea Irvin's cover drawing for the inaugural issue, February 21, 1925. The reason for this monotonous ritual is starkly simple: no one could think of anything else, something at least as appropriate, to put on the anniversary cover. Since Tina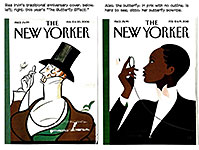 Brown became editor in the early 1990s, hiring Francoise Mouly as art director, the magazine has, beginning in 1994, occasionally strayed from hide-bound tradition, publishing some other commemorative image, which, however, invariably imitates the Eustace Tilley portrait that Irvin drew. (See Harv's Hindsight on Eustace Tilley, March 2015.)
And this year is one of those occasions. With the cover up for grabs again, Malika Favre, an illustrator who lives in London, produced the image that was chosen: an elegant black lady whose bow tie echoes the butterfly image—entitled "The Butterfly Effect." A thought to conjure with in these times when The New Yorker cover often makes a political statement.
QUOTES & MOTS
New Yorker cartoonist George Booth, who turned 90 last June, was asked about how he learned to draw elephants. He responded—:
I'll tell you a quick one about art school in Chicago, back around 1948, when I attended the Academy of Fine Arts. There was a kid in cartoon class, gag cartoon class—he couldn't do very well. He was from Texas. Mr. Garrity was the teacher. And Mr. Garrity confided in me that he didn't have much hope for this Texas kid. He was trying to get all the country kids like me started on gag cartoons. I was born in Cainsville, Missouri (population: four hundred), and then we moved to Martinsville, Missouri (population: seventy-five).
One morning in class, he tried to encourage the Texas boy and bragged on what the kid was doing, drawing elephants and donkeys. Mr. Garrity made up a compliment and told the boy he was doing all right, just keep going. The kid liked being complimented, and he turned his head ––this kid had a big mouth, full of Texas teeth—and he looked straight up at Mr. Garrity and said, "I tries, Mr. Garrity, I tries." I'll never forget that, because that's what I do with cartooning—I tries.
And In Conclusion—:
Until further notice, celebrate everything.
To find out about Harv's books, click here.