Opus 374, Part Two (posted on or about January 3, 2018). It's 8 a.m. on New Year's Day here in Denver, as good a time as any to begin the new year. New Year's Day is traditionally a time for reflecting on the immediately preceding year as well as contemplating the future twelve months. Looking backward and looking forward. There's not much to see looking forward: we can't know what's there. We spend most of our lives in the past, so we'll spend this opus looking back.
The emphasis here in Part Two of Opus 374 is on editorial cartoons; in the interest of saving your time, we postponed that department last time, focusing instead on book reviews. Editoonery brings us into contemporary life, the immediate past of it, with over 40 cartoons to examine wherein we find the usual scalawags, starting with the Clown in Chief, who failed to be Time's Person of the Year this year. We examine his antics and the machinations of Time's choice by way of making a cursory review of the year. And we take a look at the first issue of DC's imitation Watchmen, the long awaited Doomsday Clock.
But most of this posting—30% of it—is devoted to an examination of rampant sexual harassment that has emerged in every corner of American life since the expose of Harvey Weinstein's masturbatory habits last month. We see how editoonists have handled the issue, so to speak (sorry), and then we have a seminar on the subject with essays by William Falk (Editor-in-Chief of The Week), Megan McArdle (at Bloomberg.net), Liza Donnelly (New Yorker cartoonist), and Lili Loofbourow (at The Week), who offers 8 questions we need to ask ourselves. But the longest segment is mine, where I grieve over the fates of Al Franken and Garrison Keillor, wondering whether we didn't act just a little too fast with these guys. Not that they were sinless; but their sins, compared to Charlie Rose's and Matt Lauer's, were not so great. But not before we wish you a happy new year.
For that purpose, I've appropriated a wonderfully nonsensical Sunday 9 Chickweed Lane and a couple drawings of Dunstan Barswig, the campus tippler from my youth, who celebrated New Year's Eve all year long, all day long. Those who see an uncanny resemblance between me and Dunston are not far wrong.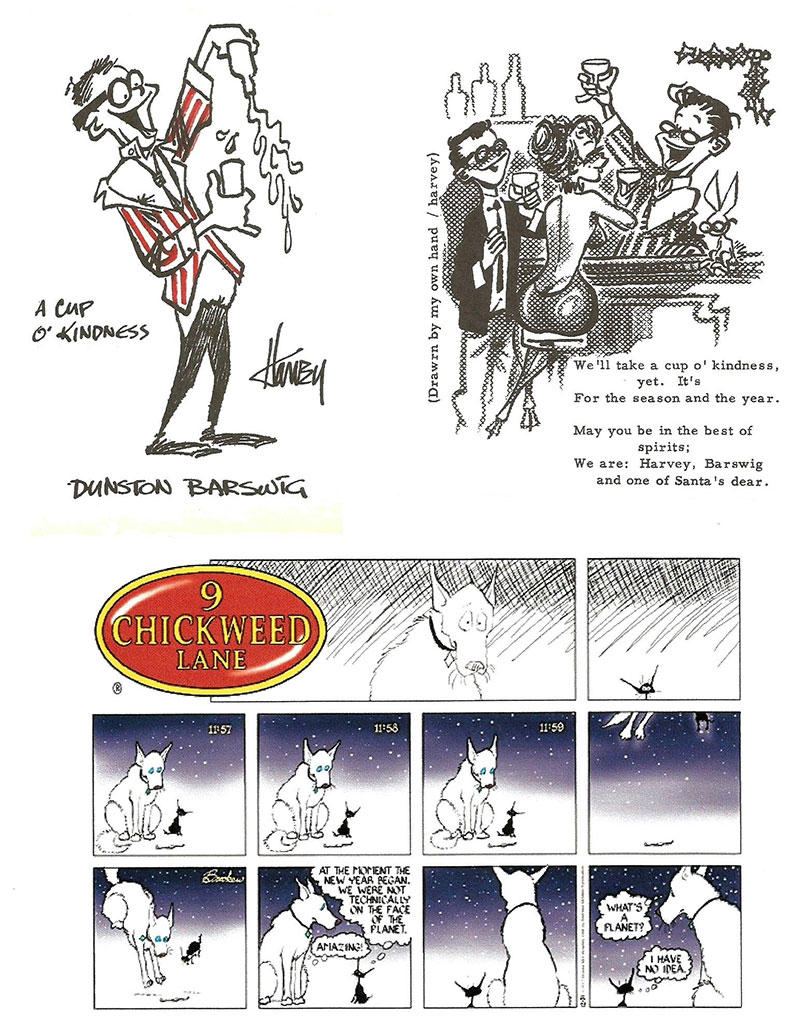 And now, our customary prediction: here's what's here, in order, by department—:
NOUS R US
Watterson Ripped Off
Head Turkey Goes After Cartoonists
Eaten Fish Freed
Archie, Deadbeat Publisher? Nah.
Dilbert's Dad Is a Trumpist
Archie to Publish Dick Tracy
Happy 95th Stan, from Roy Thomas
Alarm from Southern Poverty Law Center
Sexual Harassment in the Funnies
Odds & Addenda—:
Humor Times Is 25; Sub Info
Mort Walker Broke Hip
The Trump Year at The Nib
FUNNYBOOK FAN FARE
Review of Doomsday Clock
EDITOONERY
Over 40 Editoons of the Past Month Examined
Time and the Person of the Year
Cartoons on Sexual Harassment
HE SAID, SHE SAID
Harv's Cry of Alarm
The Harvey Girl and Rubens
THE FROTH ESTATE
Fake News by William Falk
NEWSPAPER COMICS PAGE VIGIL
Quick (and Mercifully Short) Survey of Taboos and Turnouts
CALLING THEM LIKE THEY ARE
USA Today Says Trump Not Fit for Office
—A List of His Misdeeds and Delusions
RANCID RAVES GALLERY
Hellboy's New Role
ONWARD, THE SPREADING PUNDITRY
Seminar on Sexual Harassment
QUOTE OF THE MONTH
If Not of A Lifetime
"Goddamn it, you've got to be kind."—Kurt Vonnegut
Our Motto: It takes all kinds. Live and let live.
Wear glasses if you need 'em.
But it's hard to live by this axiom in the Age of Tea Baggers,
so we've added another motto:.
Seven days without comics makes one weak.
(You can't have too many mottos.)
And our customary reminder: don't forget to activate the "Bathroom Button" by clicking on the "print friendly version" so you can print off a copy of just this installment for reading later, at your leisure while enthroned. Without further adieu, then, here we go—:
NOUS R US
Some of All the News That Gives Us Fits
WATTERSON IS RIPPED OFF IN AN ENTIRELY NEW WAY
Mutant Snowman is a unique, 7.6% ABV holiday kettle sour with cranberry, orange and hibiscus from Track 7 Brewing Company, but, says Jim Vorel at pastemagazine.com, what really caught his eye was the label. He says it "refers" to an episode in Bill Watterson's iconic Calvin and Hobbes in which Calvin creates and brings to life murderous "snow goons." More like, it rips off Calvin's creation. And Watterson's.
Vorel thinks "it's a clever, loving little tribute to one of the most inspiring strips to ever hit the Sunday funnies. We'd like to think that even author Bill Watterson, notorious for his desire to never see Calvin and Hobbes commercialized in any way, would hopefully approve of seeing his creations evoked in such a playful and zany way. And while I'm at it, here's hoping he'd also approve of the couples costume worn by the author of this post and his girlfriend this year."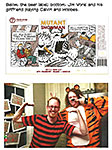 I suspect Watterson is too busy to worry much about a beer company copying an inconsequential "character" from his strip. But he could presumably sue over it. Probably won't. Probably won't sue Vorel and his girlfriend for dressing up like Calvin and Hobbes either. But since Vorel knows Watterson's objection to merchandising his characters, I'm surprised Vorel is so enthusiastic about the beer label. Sort of disrespectful I'd say, especially when he sees Calvin and Hobbes as "one of the most inspirational strips to ever hit the Sunday funnies." Hmm. It was daily, too, Jim.
THE HEAD TURKEY OBJECTS
Turkey's President Recep Tayyip Erdogan, who has ingratiated himself as a dictator eager to suppress freedom of the press and its associated freedoms (speech, expression), has it in particularly lately for two cartoonists, who, together, have posted online a total of 12 cartoons mocking him. Erdogan's lawyers have obtained court orders demanding that Twitter remove the cartoons, reports Maren Williams at Comic Book Legal Defense Fund (CBLDF). Twitter has not yet taken action on the orders, which target 11 panels by Brazilian cartoonist Carlos Latuff and one by Dutch cartoonist Ruben Oppenheimer.
Both Latuff and Oppenheimer received notification from Twitter on Sunday that it had been court-ordered to remove their work. The 11 cartoons by Latuff, a frequent Erdoğan antagonist and target, mostly concern Turkish policy in Syria and its purported benefit to ISIS. The single work by Oppenheimer, on the other hand, apparently concerns the very sort of manipulation of social media sites that Erdoğan is trying to apply here. The cartoon shows the president sodomizing Twitter's bird mascot, under the caption "Erdoğan is not a goatfucker."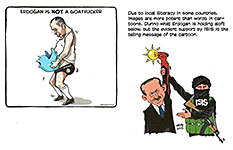 The same cartoon was removed from Facebook last year without any need for a court order, when moderators decided that it violated the site's guidelines.
Both Latuff and Oppenheimer have said that they have no intention of voluntarily removing their work from Twitter. The notification letter sent to Oppenheimer indicated that the cartoonist himself was also welcome to contest the order through the Turkish court system. Given that Erdoğan has purged about a quarter of the country's judges since the coup attempt last year, critics of his government certainly cannot be assured a fair hearing.
In his defiance, Oppenheimer even reposted his cartoon with a comment: "So this is the cartoon Erdogan wants to make disappear from Twitter. Is it very silly if I now make a call to massively share it again?"
He also went on to post images of the court order and said: "Christmas came early this year! And in the form of a court order on behalf of my Great Goat-eating friend Erdogan."
EATEN FISH FREE AT LAST
After four years in a detention camp, cartoonist Ali Dorani (aka Eaten Fish) has been released. The young Iranian cartoonist has been the focus of international attention on his plight and the deplorable conditions in Australian-run refugee camps on Manus Island, Papua New Guinea.
Here are excerpts from the ICORN press release on this breaking news—:
"I have left PNG," Dorani said. "It was a long journey but I am safe now. I am thinking about my friends in Manus Island and Port Moresby. Thank you to my supporters and people who worked to make this journey happen."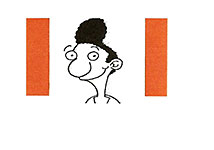 Dorani, known under the pen name Eaten Fish, has arrived safely in a city of refuge through the ICORN program, after spending the past four years in the notorious offshore detention camp for refugees on Manus Island, PNG. His cartoons are well known internationally and have become the image of life on Manus Island.
Dorani left Iran in 2013, arriving on Christmas Island by boat on August 6 that year, seeking asylum. He took the pen name, Eaten Fish, after he was pulled from the ocean on his way to Australia.
Dorani was transferred to Manus Island in January 2014, and started cartooning, documenting the harsh conditions and ill treatment of the asylum seekers in the detention camp. His cartoons are published extensively in online media including The Guardian, Washington Post, ABC news, and others.
Dorani's situation has been the concern of Cartoonists Rights Network International (CRNI) and other human rights organisations who have advocated intensively for his release and fair treatment, alongside internationally renowned cartoonists.
In 2016, CRNI conferred on him the Courage in Editorial Cartooning Award, for keeping up a stream of cartoons documenting the unspeakable abuses and excesses in the camp.
On December 16, Dorani left Papa New Guinea and arrived in a safe city in the International Cities of Refuge Network (ICORN) program.
Elisabeth Dyvik, Programme Director of ICORN says in a statement to the press: "We are relieved that Eaten Fish has arrived safely in a city of refuge where he is free to pursue his career as a cartoonist. ICORN could not have organised this residency for him without the assistance and tireless work of a group of dedicated individuals and organisations, such as Bro Russell, Director of Cartoonists Rights Network International (CRNI); poet and activist Janet Galbraith, and cartoonist Andrew Marlton (better known as First Dog on the Moon). ICORN would also commend the city of refuge that has invited him to be the city's ICORN resident for the next two years."
ARCHIE ISN'T, REALLY, A DEADBEAT PUBLISHER
But Archie Comics owes Kappa Printing Group over $900,000 for the printing of comic books, coloring books, and other publications, saith Rich Johnston at bleedingcool.com. Kappa, which bought Vanguard Graphics and the Archie debt, has brought a federal complaint against Archie. When we get beyond the headlines, though, it's a lot more complicated than that. Johnston explains—:
The paperwork states that Archie signed a credit deal with Vanguard Graphics for printing services back in 2015, with a limit of $400,000, and between then and June 2017, was invoiced for $921,309.65. However, despite significant late fees, it appears not to have been paid. Vanguard sold the debt to Kappa in September. Archie has since paid $44,899.83 to Vanguard, reducing the amount owed to $876,409.82.
With interest and agreed late fees, the current sum owed is $954,592.31. Kappa states that Archie has told them, "We will work this out." Kappa is seeking payment of the full sum, collection costs, and legal fees.
Now, here's where it gets interesting: Nicholas Karabots had a large stake in Kappa. He also owns, or has a large stake in, Kable Distributors, a long-standing and historically important pulp books/comics/magazine distributor that handled Archie's newsstand business.
That is, Kable handled distribution until it went out of business, with little notice, about two years ago around this time of the year. And Kable apparently still owes Archie more than enough for Archie to pay off the Vanguard debt— around $1.2 million.
The result is that this situation is part of some internecine debate over who owes who what for how much. Archie is arguing that the Kappa debt should be covered by the debt that Kable still owes them. Kappa argues that the debts should be separate.
And as Kable is pushed into Chapter 7 bankruptcy by many creditors, including Archie, it is more and more unlikely that Archie could get any of that money back — unless they can get out of paying the Vanguard debt and lump it into the same situation.
But then, wouldn't Kable's other creditors also want a slice of that pie? Maybe Pops can whip up another…
DILBERT'S DAD IS A TRUMP FAN
"The country needed to be broken before it was fixed. The government had just been ossified," says cartoonist Scott Adams. "And I thought, at the very least, Trump was going to break it. So I did favor somebody as a destroyer — a destroyer of all the ways we used to think. And what's different about the way I approach this is that I have very high confidence in Americans as a group to break stuff and fix it. It's what we do best."
Interviewed by Chuck Barney at mercurynews.com, Adams said: "I'm at a weird stage in my life where I have fuck-you money. So I can do things that other people simply can't do because of their economic reality. … In my opinion, understanding Trump as a technique is insanely important. You can see that a lot of people don't understand it as technique, and they are frightened to death."
And while the Dilbert creator certainly acknowledges the widespread fear, he is convinced that a president of Trump's ilk was what the the nation needed — and that the American public will be able to rein him in, if needed.
Adams, a trained hypnotist and a "lifelong student of persuasion," was one of the earliest public figures to predict Trump's victory, said Barney. On August 13, 2015, he declared in his blog that the Republican candidate had a 98 percent chance of winning. Just a week earlier, highly acclaimed political forecaster Nate Silver put Trump's chances at 2 percent.
"I was one of the very few people who got it right," Adams said. "And even among the small universe of those who got it right, most were wishful thinkers, whereas I was showing the mechanism under the hood."
In his latest book, Win Bigly: Persuasion in a World Where Facts Don't Matter, Adams
"goes beyond politics to examine tools of persuasion that can work in business settings and elsewhere. People, he writes, are generally more influenced by 'visual persuasion, emotion, repetition, and simplicity than they are by details and facts.'"
The media and all of punditry argued about the impracticality of Trump's wall at the Mexican border, but by harping on the wall—and ignoring construction and funding facts— Trump appeared to be the strongest voice on immigration.
Adams styles himself as an "ultraliberal" — one who isn't beholden to any party. "Still, he has spent much of the past year mostly admiring Trump via blog posts and tweets. Last month, Barney writes, Adams issued a 'report card' that gave the president a grade of 'A' in areas such as fighting terrorism, the economy and jobs, but an 'F' for race relations."
"I believe he's not a racist," said Adams, "but at the moment he's done more wrong than right (in this area). One hopes he can fix that."
Win Bigly, however, mainly focuses on the presidential campaign, during which Adams came to believe that Trump ranks as the most powerful persuader he has ever observed — atop a list that includes Steve Jobs, Barack Obama, Bill Clinton, author Peggy Noonan and … Madonna?
"When you see someone perform far beyond what you imagine their talents should get them, there's usually another layer going on," he says of the pop singer. "She's reinvented herself so many times. She seems unstoppable."
Over the past year or so, Barney reports, Adams has done some reinvention of his own — "going from a largely beloved artist-writer behind an iconic comic strip to a political pundit who has been vilified as a 'Trump apologist' by some on the left. And the career pivot has made him 'toxic.'
"Adams claims that his once-lucrative public speaking career dried up, and after fielding several Dilbert licensing proposals per week over the past couple of decades, the offers are down to zero."
On top of that, he estimates that "75 percent" of his friends and acquaintances, mostly Trump-haters, have shunned him.
"At one point, I actually thought Facebook was broken because I wasn't seeing any posts from my friends anymore," he says. "And I'm not even joking about that."
Still, Adams has kept his spirits up and insists that he has no regrets. He believes he's fighting a good fight.
Fitnoot. Well, that explains a lot.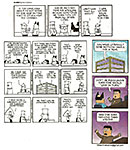 Dilbert has lately be channeling the Trumpet, applying the schemes of Trumpery to ordinary office endeavors. Just look at the strip at the top of our line-up in the adjacent visual aid. It explains what the Trumpet's "fake news" and habitual lying is all about: it's all "suppressive fire" designed to overwhelm the opposition by destroying whatever reality they can muster to their side. Suppressive fire will keep them cowering in their trenches.
And the rest of this selection of Dilbert includes other clues. The color panels excerpted from a Sunday strip is a vivid demonstration of the underlying mechanism of the so-called logic of Trumpery. And the three strips stacked on the left of the Sunday show that logic in action.
ARCHIE TO PUBLISH DICK TRACY COMIC BOOK
Archie Comics is bringing Dick Tracy back to comic books with a new series focusing on his early days as a detective, reported Graeme McMillan at hollywoodreporter.com. Launching next spring, the monthly series will be co-written by Archie Comics co-president Alex Segura and Michael Moreci, whose résumé includes Image Comics' Roche Limit and Hoax Hunters and the upcoming novel Black Star Renegades, with art from New York-based illustrator Thomas Pitilli, who has previously worked on covers for Riverdale and The Archies.
"The term 'dream come true' is a painful cliche, but also extremely accurate in this situation," Segura told Heat Vision. "I have vivid memories of being completely obsessed with Dick Tracy as a kid when the movie hit, and that sent me back to explore the amazing Chester Gould strips up through Max Allan Collins' superb work and the current, excellent dailies by Mike Curtis and Joe Staton. In my eyes, Tracy is an iconic character on par with Batman and Superman, and it makes perfect sense for another 75-year-old, iconic brand in Archie to be bringing him back to monthly comics."
Moreci is equally stunned about the chance to work on the series. "I'm still pinching myself over this. I can't believe this is really happening," he says. "To have an opportunity to contribute to this tremendous legacy is an honor and a thrill, and I can't wait to take readers on a fun, wild ride for, hopefully, years to come."
Segura — who moonlights as a crime novelist (his fourth book in the Pete Fernandez series due in May from Polis Books) — says that the idea for the series started about six months ago.
"I was thinking about Dick Tracy and how cool it would be to have him back in comic form," he explains. "I shot Scott Cameron at Tribune [Content Agency] a quick email asking about the rights, not expecting it to go anywhere, but it turned out the Tribune guys were looking to get Tracy back into comics, so everything rolled from there."
The first issue of the new series, which features a cover by Francesco Francavilla, will be available in comic book stores and digitally April 11.
HAPPY 95TH, STAN! BY ROY THOMAS
Stan Lee turned 95 on December 28 and as it happens, TwoMorrows' Alter Ego is celebrating its 150th issue. So the magazine's editor, Roy Thomas — Lee's protege and first successor as Marvel editor-in-chief — has dedicated the issue to his mentor and kicks it off with a letter of tribute. At 13thdimension.com, Thomas' letter is presented in full, and we picked it up from there; herewith—:
I remember well the first time I met you—on Friday, July 9th, 1965… just three days after I'd spoken to you on the phone, all the way from my hotel room on 23rd Street to your office between 58th & 59th on Madison Avenue, Manhattan.
That Friday, as I've oft recounted, I sneaked north over my lunch hour at National/DC to meet you to discuss the "writer's test" you'd had me pick up on Wednesday. I was every bit as much awed as I'd been at meeting such DC luminaries as Julius Schwartz, Gardner Fox, and Joe Kubert. And when you offered me a job, fifteen minutes into that meeting—well, Superman editor Mort Weisinger would've had to be a very much nicer person than he was, to keep me from jumping ship after just two weeks at DC.
From being severely downcast in my previous job, I went to being ecstatic about my new one—as "staff writer" for Marvel. Soon I was trying to churn out dialogue for stories in an office where gal Friday Flo Steinberg had to be constantly on the phone and Sol Brodsky was forever upbraiding artists to get their work in—while you immediately began to lean on me for things like backup proofreading, telling you where Dr. Doom last appeared, etc., until I was reassigned as "assistant editor."
I felt like the luckiest guy in comics to be standing to your left, with Sol on your right, as you went over scripts you'd written and the changes you wanted made in the artwork (along with the why). It was like Comicbook* Editing 101 … no, it was like skipping that level entirely and graduating straight to a Master Class in comics writing, editing, and art direction. (*See Alter Ego #150 for explanation of spelling!)
Working at Marvel then was a fabulous job—and you were a great boss! Sure, we had our arguments from time to time (which I nearly always lost), but I admired the fact you never bore a grudge. When a disagreement was over, it was over. Period. It was instantly so far in the past, it might as well never have happened. Today and tomorrow—that's what you were all about.
So many highlights, so many memories—personal mile-markers along the highway of my professional life:
That late-'60s day when you suddenly glanced left at me and announced: "They'll never know why I fired you! It's because of all that hair!" (I'd started wearing my blond locks a bit longer by then.)
The occasion when, upon my return from a con in St. Louis, you snapped at me because I'd taken an extra day off to elope. (But soon after Flo departed, you offered Jeanie a job as your secretary.)
The moment when you suddenly looked at me in a quizzical way and said, "You know—I could've been your father!" (True. You're just a few months younger than my mother was.)
The time when, severely depressed during a separation from my first wife in early 1973, I was screwing up, finding excuses not to come into the office, and you talked to me like a Dutch uncle … firm about my responsibilities, but very understanding about the place I was at, and eager to help me get through it. (You did, and I did.)
So many more memories… good and bad, but mostly good. I'll have to save them for my autobiography. Which will be read, understandably, by maybe .001% as many people as have read yours in either prose or comics format.
You're soldiering on—now without Joan, the rock you could always depend on—and you're inspiring not just an old Stanophile like me but a whole new generation of comics readers and moviegoers who can feel in their bones what you've meant to heroic fantasy (and just plain fun) over the past three quarters of a century. You're an inspiration to them all, Stan … and you've been one to me since that long-ago day when you changed my life by looking out your window onto Madison Avenue and saying in a casual voice:
"So—what do we have to do to hire you away from National?"
Happy 95th, Stan — and see page 83 for your present!
Bestest, Roy
ALARM ALARM
When in danger, when in doubt,
Run in circles, scream and shout.
The "special year-end message" from Southern Poverty Law Center warns of the growth of white supremacy organizations and hate groups. I realize that the SPLC is in the business of raising alarms, and it's been riding this horse for several years, but I think it worth reporting on every once in a while, and this is one of those times. Quoting from the SPLC winter newsletter—:
Less than a year into the Trump presidency, one thing is crystal clear: we're in a fight for the very soul of our country. As we saw in Charlottesville last August, President Trump has energized and emboldened white supremacists in unprecedented ways and has given bigots a license to act on their worst instincts.
At the same time, in close collaboration with hate group leaders and other far-right extremists, Trump and Attorney General Jeff Sessions are reversing hard-won civil rights protections and shredding the safety net that helps the poor and the marginalized. ...
Trump's presidential campaign had an incredibly corrosive effect on our nation's children. In a pair of reports, called "The Trump Effect," we surveyed over 10,000 educators—both before and after the election—and found that Trump's rhetoric was inflaming racial and ethnic tensions in the classroom. Teachers reported a sharp uptick in the use of racial slurs ... [and] a rise in the harassment and bullying of children whose races, ethnicities and religions were targeted by Trump during the campaign. ...
As it does every year, the political event known as the "Values Voter Summit" in October attracted a rogue's gallery of far-right extremists—people who cloak their bigotry in Christianity as they vilify the LGBT community and Muslims. But something extraordinary happened this year.
For the first time ever, a sitting president spoke at the Washington, D.C., gathering—shamefully lending the legitimacy of the White House to hate groups like the Summit's host, the Family Research Council.
The activists at the Summit cheered President Trump, hardly an exemplar of Christian values. They also extended a warm welcome to two of Trump's former White House aides—Stephen Bannon and Sebastian Gorka. These are men who fit squarely into the white nationalist movement that Trump has energized and emboldened.
SEXUAL HARASSMENT IN THE FUNNIES
Sally Brucker wrote a letter to the editor of the Washington Post to complain about the comic strip Dustin, by Steve Kelley and Jeff Parker. Brucker admits her complaint "may seem trivial compared with all of the depressing news going around these days," but, she goes on, "I had to shudder in disbelief upon reading the seemingly benign December 7 comic strip Dustin, written by not one but two men (no surprise), both of whom must have been sleeping for the past two months."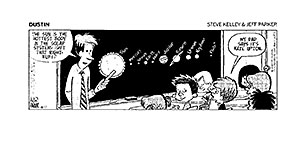 The kid's dad's opinion about hot bodies is what got Brucker's wattles in an uproar. She continues:
"Is this objectification of women, passed down by men to boys at a very young age, supposed to be amusing? Women are sick of hearing and seeing sexist, racist and clearly insidious slurs. The Post should make sure its comic strips abide by a higher ethical code."
Brucker's complaint is scarcely surprising. Newspaper comic strips follow the customs of the culture in which they occur, and American men have objectified women, turning them into their bodies and only their bodies, for centuries. We examine aspects of this dilemma in a special Sexual Harassment Seminar at the end of this posting. Don't miss it if you can.
ODDS & ADDENDA
Humor Times, a monthly tabloid reprinting the month's best editorial cartoons, is celebrating its 25th year by going to color. Yup: in the January issue, the editoons are in color. Subscriptions are $24.95 for 12 issues; send check or money order payable to the Humor Times at P.O. Box 162429, Sacramento, CA 95816. Save two bucks by subscribing online at humortimes.com.
Beetle Bailey's Mort Walker, 94, broke his hip just before Christmas and spent the holidays in the hospital. Best wishes, Mort.
At The Nib, a far-out online political cartoon site, Maki Naro and Andy Warner offer their interpretation of "2017: The Year In Trump." Herewith, a sample; for the hilarious remainder, visit thenib.com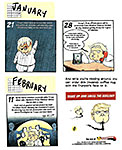 Fascinating Footnit. Much of the news retailed in the foregoing segment is culled from articles indexed at https://www.facebook.com/comicsresearchbibliography/, and eventually compiled into the Comics Research Bibliography, by Michael Rhode, which covers comic books, comic strips, animation, caricature, cartoons, bandes dessinees and related topics. It also provides links to numerous other sites that delve deeply into cartooning topics. For even more comics news, consult these four other sites: Mark Evanier's povonline.com, Alan Gardner's DailyCartoonist.com, Tom Spurgeon's comicsreporter.com, and Michael Cavna at voices.washingtonpost.com./comic-riffs . For delving into the history of our beloved medium, you can't go wrong by visiting Allan Holtz's strippersguide.blogspot.com, where Allan regularly posts rare findings from his forays into the vast reaches of newspaper microfilm files hither and yon.
FURTHER ADO
The Trumpet, who played golf for four straight days over Thanksgiving and who often criticized Bronco Bama for golfing too much, has spent 81 days at his golf properties since he took office, nearly triple the number of rounds played by Obama at this point in his first term. And by golfing at his properties, Trump pumps federal money into his coffers: Secret Service guys, at least, have to eat at those properties.
McDonalds are ubiquitous. They're everywhere, 14,000 of them. Every community of any size has one. One researcher mapped the franchises in the lower 48 states in 2009 and discovered that a spot in South Dakota was as far as you can get from a McDonald's—just 107 miles as the crow flies to the nearest one.—Steve Lipsher of Silverthorne, Colorado
FUNNYBOOK FAN FARE
Four-color Frolics
An admirable first issue must, above all else, contain such matter as will compel a reader to buy the second issue. At the same time, while provoking curiosity through mysteriousness, a good first issue must avoid being so mysterious as to be cryptic or incomprehensible. And, thirdly, it should introduce the title's principals, preferably in a way that makes us care about them. Fourth, a first issue should include a complete "episode"—that is, something should happen, a crisis of some kind, which is resolved by the end of the issue, without, at the same time, detracting from the cliffhanger aspect of the effort that will compel us to buy the next issue. A completed episode displays decisive action or attitude, telling us that the book's creators can manage their medium.
IT'S FINALLY HERE. The long-awaited, highly touted, deeply resented DC attempt, once again, to capitalize upon Alan Moore's watershed creation, The Watchmen, has arrived in the form of the first issue of a 12-issue mini-series, Doomsday Clock. In this series, writer Geoff Jones will meld the DC universe of superheroes (Superman, Batman, Wonder Woman et al) with Moore's Watchmen universe—Ozymandias, Nite Owl, the Comedian, Rorschach, Dr. Manhattan et al, blissfully ignoring the fact that Moore's heroes (or anti-heroes) were never a group called "The Watchmen." The Watchmen was the name of the comic book, not of a group of heroes. And besides, most of Moore's heroes are presumed dead. So how—
The events of the first issue fall handily into three parts. In the first hysterical, panicky part, we see the New York City massacre in progress, a confused melee of violence and disorder that a narrator sees as apocalyptic, heralding the end of the world. The narrator, we eventually discern, is Rorschach, who, known for his gloomy outlook, is scarcely a reliable witness, but even if the end of the world is not at hand, the pictures convince us that some sort of riotous destruction is going on.
In the second and longest part, Rorschach is the principal actor. But it isn't, actually, Rorschach: the Rorschach of The Watchmen is presumed dead (disintegrated by Dr. Manhattan); the guy we see here in Rorschach's mask, fedorah and trenchcoat is an imposter, but he talks and acts like the genuine article. He's broken into prison with the object of freeing a woman, Erika Manson, so she can help him save the world. But she won't play along unless Rorschach frees her husband, too, and promises to find their son. He does, and the three of them (Erika's husband, a mute with a strong face that reminds me of Clark Kent) leave the prison and drive to a dimly-lit undergroundy sort of place where they see Nite Owl's vehicle, the Owlship, and meet Ozymandias, Adrian Veidt, in full regalia, who tells Erika that he needs her to help him find Dr. Manhattan, who is powerful enough to save the world—or, as Rorschach puts it, "find God."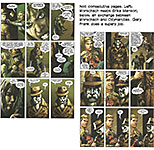 Next, for the third part of the book, we are transported to Clark Kent's bedroom, where he's asleep with his wife, Lois nee Lane. He has a nightmare that reenacts the death in a car crash of his parents, the bucolic Kansas couple the Kents. Clark awakens with a jerk, tells Lois what he's been dreaming, and she says she can't remember when he last had a nightmare. To which Clark responds: "I don't think I've ever had one."
End of No.1.
The project to find Dr. Manhattan is cliffhanger enough to bring me back. The connection to Superman isn't at all apparent, but that'll emerge, no doubt.
At first reading, I was put off by the purple prose of the first few pages, describing the rioting in New York City: "We slit open the world's belly. Secrets came spilling out. An intestine full of truth and shit strangled us."
But once I figured out Rorschach was talking, I got over it. And the rest of the book is engaging and not far off the mark Moore set.
The completed episode is the long, central section with Rorschach guiding the narrative. His characterization is a solid reminder of Moore's creation, and the episode finishes handily, having achieved its objective, bringing Erika to Ozymandias. Rorschach is, in fact, the best thing in this issue. And his cryptic utterances and sulky behavior summon up remembrances of Moore's memorable character.
And there are enough oblique allusions and inexplicable references to echo the general ambiance of the original. Plus a few references purely contemporary.
A newscaster keeps us up-to-date on the unfolding disaster as it transpires in New York City: "North Korea now capable of reaching as far inland as Texas. ... Hundreds have broken through the wall and flooded into Mexico. Thousands more are expected to follow."
So the Trumpet's wall fails in reverse.
The news continues: "We are still waiting on a statement from the President. ... The President scored a hole in one early today, beating his previous record. ..."
The search for Adrian Veidt continues, the newscaster tells us, adding that his arrest and conviction will absolve the U.S. of accusations of collusion in the New York City massacre."
Stay 'tooned.
Quotes & Mots
Poll Watch at The Week: 69% of American women say they have been sexually harassed. Of those, 69% say the harassment occurred at work; 43%, in a social setting; 45%, on the street.
EDITOONERY
The Mock in Democracy
The year's end is as appropriate a time as any to try to sum up the state of the nation under the Trumpet, and, happily, Time magazine provides our entree. Time concludes every year with a cover story featuring the Person of the Year. Trump enjoyed that distinction last year, and, to hear him tell it, he might have been this year's Person of the Year, too. Time, he claimed, had phoned him and said he "was probably going to be named Person of the Year" if he would participate in an interview and "a major" photo shoot. But Trump (he said) declined because "probably" wasn't good enough. His ego demands definite unqualified adoration. As a matter of fact, Time "made no assurances and placed no conditions on the outcome of its editorial decision-making." Time never phoned him. Never told him "probably." The Trumpet's report was fake.
Trump ranked second after Time's final choice, "Persons" of the Year—the Silence Breakers, those who blew the whistle on Harvey Weinstein and the legions of other sexual predators lurking and grabbing and groping in the fields of entertainment, the news media, and politics. (Taylor Swift is among their number. She won a legal action against a radio personality whom, Swift alleged, "grabbed my bare ass" whilst standing next to her for a photograph. Why was it bare? Doesn't she wear panties?)
Designating the Silence Breakers as Persons of the Year was a cop-out. Time does this occasionally—picks a social movement about which the nation will feel good. This was one of those years. The magazine offered no other credential for the Silence Breakers.
Time's criteria for picking the Person of the Year is "the person who most influenced the events of the year." An "event" is something reported in the news. A person who most influenced the events of the year would be in the news most of the year. I looked in the year-end issue of The Week magazine, which has a 2-page spread, "The Year in Review," offering a quick summary of the year's events, month by month. I highlighted in blue Trump's name every time it appeared, and I initialed each "appearance" with an 'E' if that appearance signaled an actual Event rather than, say, a mere blurt of the Trumpet.
As you can see, the spread is littered with blue. Trump was in the news every month, sometimes two or three times a month. And E's float through the morass regularly, every month. The Silence Breakers don't show up until October. They influenced events for only three months. Clearly, by Time's own criteria, the Trumpet was "the person who most influenced the events of the year."
Trump came in second. Why not first? Probably because Time didn't want to give him the satisfaction. It didn't want to fuel his overweening self-regard. His second-place finish is a slap in his orange face. Would any respectable news magazine name as the most influential person of the year the one who has been telling us all that the news media is peddling "fake news" and lies to us all the time? Not likely.
The other runners-up are, in descending order, Xi Jinping, China's chairman; Robert Mueller, the special counsel who has been a thorn in the Trumpet's side; Kim Jong Un, dictator of North Korea; Colin Kaepernick, the quarterback who knelt during the playing of the national anthem; and Patty Jenkins, director of the movie "Wonder Woman."
In MHO, Kaepernick and Jenkins are both dubious choices. The only reason the football player made any news this year is because Trump lambasted him and the NFL, reviving the controversy that had almost faded away. And in picking Jenkins, Time is obviously courting the women of the country. Again. For the second time in this issue. Jenkins did only one thing all year long. She made a movie. That's it. That scarcely influences "the events [plural] of the year."
But Time works hard to make Jenkins into a wonder woman, a woman who "takes for granted that women have the power to fight back, growing up innocent of the fact that it could be otherwise. ... Jenkins created a universe in which an ambitious, strong and, yes, aggressive woman could be admired and followed."
The movie made $800 million worldwide—"no woman has ever directed a more successful live-action film. ... There are more important events in any given year than the striking rebirth of a superhero. But 'Wonder Woman' gave form, narrative and credence to the idea that women can win."
Still, it was only one event in the year. The twitterpated Trumpet precipitated news every morning. And many of his tweets caused events to erupt.
WHETHER OR NOT THE LUGUBRIOUSLY TOUTED "historic, sweeping" tax bill Congress finally sent the chief executive to sign will rescue the Trumpet's reputation as a can't-get-anything-done Prez, he has already had "a major impact on federal policy and the direction of the nation," said Carolyn O'Hara in The Week (December 8).
"He's rapidly reshaping the judiciary with a series of deeply conservative judicial nominees who will sit on the bench for decades.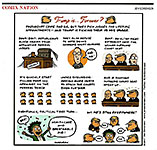 His FCC plans hand telecom companies the power to transform how people use the Internet. He's launched a massive crackdown on undocumented immigrants, overseen the gutting of the State Department, and ordered a dramatic rollback of environmental regulations [removing millions of acres of wilderness from federal land protection] and criminal-justice reforms. He's pulled the U.S. out of the Paris climate accord and the Trans-Pacific Partnership and taken aim at the Iran nuclear deal and NAFTA."
"It's fair to say," concluded O'Hara, "that Trump is winning."
Time joins in the chorus, saying that the greater impact of Trump's first year is that he has changed the presidency. "The passing feuds, the wild accusations, the crude and divisive language—no other Commander in Chief has broadcast his outbursts in such an unfiltered torrent. He has spurned traditional allies and democratic values overseas, carried into office a sprawling business empire and the potential conflicts of interest that come with it, pitted American corporations against each other in high-profile face-offs, and gleefully gone to war with the press, with leaders of his own party, with his long-defeated political opponents. ...
"Much of the world revolves around the Trump show. He inserts himself into social debates—the protests in the NFL, the fight over Confederate monuments—and instantly turns them into cultural flash points. The daily flow of conflict is numbing. ... The perpetual provocations thrill his supporters, horrify his opponents—and keep Trump at the center of the story. ...
"Foreign leaders have scrambled to adapt. The United States has been the principal promoter and defender of the post-World War II order in the world" by constructing a network of interdependencies among nations, a network that functions to prolong peace. "What Trump has signaled is that that will no longer necessarily be the case."
Trump's U.S.A. is America First. First and alone. Instead of leading the world, it stands in isolation, first puzzling other nations, then ignored by them. "Europeans have accelerated talks with partners in Asia, sidestepping the U.S. to strike a deal with Japan last July that could potentially put American firms at a disadvantage. ... Foreign leaders and Washington players have started to shrug at Trump's theatrics. ...
"He has taken the always-fraught relationship between Presidents and reporters to a new level of hostility in a sustained attack on the press, on freedom of speech and on the Constitution. ... African Americans face an Administration that has rolled back programs to combat systemic bias in the justice system. ...
"The major domestic policy accomplishment of Trump's first year has been a dramatic rollback of the administrative state. ... Thinly staffed Executive Branch departments from State to Energy have hampered the basic functioning of the federal bureaucracy. ... [And in the Republicon Party] its leaders live in fear that he'll suddenly turn on them. ..."
More likely, they'll turn on him, according to Bruce Bartlett at Gannett News Service. What they wanted most was the tax reform. Now that he's signed that into law, GOP moguls have no further use for him. "Trump will be encouraged to make an early exit by members of his own party, who see him as an albatross around their re-election hopes." They'll likely begin to chastise him for those of his future antics that are the most outrageous.
But until that eventuality takes shape, the Trump Show goes on.
"This has been Year One of Trump's presidency," Time finishes its Person of the Year article on Trump, "—and the Trump Show continues unabated. The reviews may be mixed, but no one can turn away."
And almost no one does. The Trumpet's orange visage turns up regularly on magazine covers and in feature stories.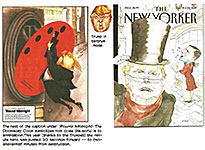 Master caricaturist Steve Brodner is doubtless having the time of his life with the most caricaturable Prez since FDR; ditto Barry Blitt, who made Trump the cover subject in The New Yorker's Christmas issue, casting Trump as Scrooge and Michael Flynn as Bob Cratchit, singing for his supper.
AND EDITOONISTS CONTINUE their celebration of the Clown in Chief. What cartoonist could ask for more than the Trumpet in the White House?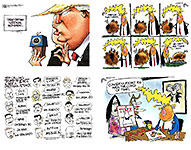 For all the fun the Trumpet affords fans of comedy, he isn't doing much for the office of the presidency, and at the upper left in the accompanying exhibit, Nate Beeler offers an apt image of what Trump is doing to this "national monument," alluding, at the same time, to other national monuments (notably Bears Ears) that Trump has shrunken. The picture coupled to the words in Beeler's caption completes the message of the cartoon.
Next around the clock, we get several pictures of Clay Jones' hair-do portrait of the Prez. Trump's hair looks nothing like Jones' picture, but it doesn't have to resemble it: Jones' pictorial extremity evokes another extremity, the one that Trump wears on his head. Ditto eyebrows and mouth. The Thanksgiving turkey wasn't grateful enough for Trump's pardon and so it forfeits its life. A typical Trump maneuver. Trump waits for four panels, checking his watch in the third, then dines on the bird. The multiple panels suggest not Trump's patience but his impatience. He demands adulation. Or else.
In his next drama, Jones envisions Trump the bigot. Trump's ego demands that he get on the cover of Time every other week or so, and here his demand is satisfied with a picture of him in a Ku Klux Klan hood, signifying his racial disposition. The imagery reminds us of Trump's actual episode with Time as a wannabe Person of the Year while alluding at the same time to his conduct in awarding medals to three WWII veteran Navajo code-talkers. He was so eager to seize the opportunity to needle Elizabeth Warren by calling her Pocahontas that he was deaf and blind to the insult he conferred instead of an honor. Looking over his shoulder is a portrait of Andrew Jackson, who ordered the removal of Native American tribes, reminding us that the award ceremony took place in front of that very portrait, another instance of Trump's tone deafness.
Holding the Time magazine cover are press secretary Sarah Huckabee Sanders, whose weary expression during press briefings tells us that she can barely stand to perform the daily ceremony so meaningless does she deem it to be. (And, of course, it is, consisting largely of canned information and question-dodging.) She's accompanied by another Trump stalwart, Kellyann Conway.
Then we have Pat Bagley whose wallpaper cartoon employs deft caricatures of 14 Republicons, each calling Trump some sort of idiot thereby demonstrating, as Bagley's caption asserts, that calling Trump an idiot is not a partisan attack: if it were a partisan attack, those attacking would be Democrats. But Trump's attackers here are all Republicons. Bagley's ability as a caricaturist is purely stunning: each face is completely different, each capturing the distinctive features of the target's visage as in real life. An impressive performance.
In our next visual aid, Mike Lester, usually a steady conservative voice, demonstrates that he is not a knee-jerk soldier in the cause: in portraying the Senate and the House as street-walkers with attache cases jammed full of money, he labels Congress as a prostitute more convincingly than Trump's crass allusion did with Senator Gillibrand.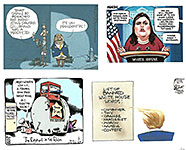 Next, Steve Sack offers a portrait of press secretary Sarah Huckabee Sanders that captures not only her actual appearance but her boredom at being required to do a briefing that she knows is a waste of everyone's time: she cannot acknowledge the truth about her boss, and everyone knows it. Not only is she bored, she's angry because her job is so boring and pointless. And Sack has her expression just right. The verbal exchange here works too, accurately conveying the sense of her interaction with the news media.
Below Sack, Chan Lowe takes advantage of the recent disclosure of banned words at the Center for Disease Control (see Opus 374, Part One for the list) to deploy the idea for ridiculing the Trumpet's various failings—his weird hair-do, tiny hands, orange complexion, and so on. And then Tom Toles brings up "the elephant in the room" that everyone is ignoring in the national frenzy to expose sexual harassers—namely, the Groper in Chief, who is lolling at his ease atop the pachyderm.
Ward Sutton provides a couple of comic strip oozing sarcastic insights into the world of Trump.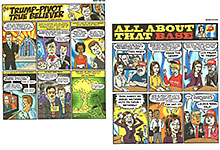 In the first (on the left), he shows us the Trumpet finally pivoting: when he drops a nuclear device, says Sutton, we'll know he's "a statesman and last." Before getting to that august state, however, he disappoints us by failing to act presidential at several opportunities. The comic strip format enables Sutton to "list" pictorially some of those opportunities.
In the second comic strip, Sutton uses the multi-panel format to offer several instances of the Trumpet Base's unflinching allegiance to their idol. After a year of the Trumpet, no one doubts in the slightest that everything in this cartoon is absolutely true. And Michael Kruse at Politico.com proved it.
A YEAR AGO, Kruse interviewed people in a struggling former steel town in western Pennsylvania. At the time, he found unqualified support for the candidate who vowed to restore the mines and mills that had been the lifeblood of the region 40 years ago. A year later, Kruse went back and talked to many of those he'd interviewed previously to see whether Trump's failing to revive their community or make good on other promises made them change their minds about Trump. Nope. They're still avid Trump supporters.
"I don't know that he has done a lot to help," said one citizen. "Support Trump? Sure. I like him."
Kruse heard that a lot, over and over.
"Nearly all those who voted for Trump would do it again," Kruse writes in his report, excerpted in The Week (December 1). "It seemed the basis of people's support had morphed. Johnstown voters do not intend to hold the president accountable for the nonnegotiable pledges he made to them. It's not that the people who made Trump president have generously moved the goalposts for him. It's that they have eliminated the goalposts altogether.
"His supporters here, it turns out, are energized by his bombast and his animus more than by any actual accomplishments. For them, it's evidently not what he's doing so much as it is the people he's fighting. Trump is simply and unceasingly angry on their behalf, battling the people who vex them the worst—'obstructionist' Democrats, uncooperative establishment Republicans, the media, Black Lives Matter protesters and NFL players (boy, oh boy, do they hate kneeling NFL players), whom they see as ungrateful, disrespectful millionaires."
Kruse talked to a 61-year-old Johnstown native who said: "Everybody I talk to realizes it's not Trump who's dragging his feet. Trump's probably the most diligent, hardest-working president we've ever had in our lifetimes. It's not like he sleeps in tilllnoon and goes golfing every weekend like the last president."
Kruse stopped him and told him that, yes, Obama liked to golf, but Trump in fact does golf, too—more, in fact.
The man did not linger on the topic. He smiled and just changed the subject with a quip: "If I was married to his wife, I don't think I'd go anywhere."
Another gray-haired man said he'd voted for Trump and was happy so far because he'd kept his promises. Kruse asked him which ones.
"Border security." But there's no wall yet, Kruse reminded him. "No fault of his," the man said. What else? "Getting rid of Obamacare." But he hasn't. "Well, he's tried to."
What else? "Defunding Planned Parenthood." But he didn't. "Not his fault again," the man said.
And he wasn't unusual. "I don't care about his wall," said another interviewee. "It's a good idea. Keep 'em out."
And he hasn't repealed Obamacare. "That's Congress," she said. "But I like him. Because he does what he says."
But he plainly doesn't.
It doesn't matter. They love him anyhow.
Interlude for Reading and Relishing
"Satires are the cut flowers of literature. Time wilts their wit, fading their bright colors like old political cartoons that poke fun at fat cats we no longer recognize.—Reviewer Ron Charles in the Washington Post
THE TRUMPET and the GOP Congress celebrated the passage of the "historic" tax bill as if it were a huge accomplishment. What? The Prez's party controls Congress and they finally manage to pass a bill the Trumpet wants—and that's an achievement? Not hardly. But it was touted as such in the news media over and over again.
This dubious accomplishment was realized without a single Democrat vote—but with much Dem-drummed up questioning of the Republicon motives, as Lisa Benson notices for us at the upper left of the accompanying visual aid.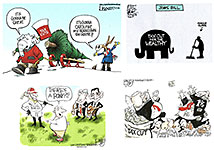 The image reminds us that Trump described the tax cut bill as a Christmas present for the middle class, but the Dem Jackass sees nothing in the gift but danger.
The tax cut bill is also described as a "jobs bill," and Chan Lowe's visual metaphor for it links a couple of images. The GOP emblem is silhouetted and labeled "tax cut for the wealthy" as an indictment of the Republicon-driven measure. And the elephant image also morphs into a circus parade, with the middle class assigned to cleaning up the inevitable mess that will ensue. Or is elephant dung the only thing the middle class will get out of the tax cut? It's shit that's trickling down.
The emblems Lowe deploys here also remind us of highway traffic signs. The implication is that they're telling us what to look for ahead.
Next around the clock, Pat Bagley constructs an image of a gleeful Pachyderm throwing money at the wealthy One Percent, and both of the parties to this game of catch are standing on the shoulders of all those who get nothing out of it.
Bagley's next effort suggests that the guy innocently asking the question doesn't realize that all three of his tax-conscious observers see him as the pony. The rich guy is waiting for the other two—Mitch McConnell and Paul Ryan—to put a saddle on the innocent guy so the rich guy can play polo.
The "pony" part also evokes memory of an ancient Ronald Reagan joke in which an optimistic young boy who, confronted by a room full of horse manure, is delighted and climbs to the top of the pile and begins digging with his bare hands, saying, "With all this manure, there must be a pony in here somewhere."
The pony that the GOP expects to find in the horseshit of their tax plan is that corporations will spend the money that the tax cuts save them in creating jobs thereby providing income for workers, which will subsequently increase tax revenue. The tax cuts will therefore pay for themselves.
And this notion persists in Republicon thinking despite the lesson of Kansas, which launched a "real-live experiment" in 2012, eliminating state income taxes for so-called pass-through entities. GOP Governor Sam Brownback and his supporters argued that the tax cuts would pay for themselves by generating massive economic growth. But the growth never materialized. And Kansas now faces a $889 million budget shortfall over the next two years.
The state has been forced to make deep, unpopular cuts to public education, social services, and even highway repairs. A coalition of Republicons and Dems reversed most of the tax cuts this year, overriding Brownback's veto. Many of the same economists who advised Brownback worked with the national GOP on its tax plan, which is now law.
Some Kansas Republicons warned Congress not to assume tax cuts will pay for themselves. "That won't work. You'd better learn our lesson."
So far, they haven't.
INTERLUIDE: The Borowitz Report
Trump Voters Celebrate Massive Cut for Everyone But Them
By Andy Borowitz
Jubilant Trump voters celebrated the prospect of a gigantic tax cut that will benefit everyone but them. Across the country, Trump supporters were overjoyed that, after months of gridlock and wrangling, the man they voted for was about to make Americans other than them wildly richer.
"President Trump has taken a lot of hits from the fake-news media, ut he stood his ground," Carol Foyler, a Trump voter in Ohio, said. "Today he honored his pledge to the American people, except for me and anybody I know."
Tracy Klugian, a Trump voter from Minnesota, said that tax cuts for everyone but him are an important step toward making America great again. "Look at the stock market—it's been going through the roof," said Klugian, who has no money in the stock market.
But some Trump supporters, like Calvin Denoit, of Texas, were more muted. "Tax cuts that completely exclude me and my family are a good start," he said. "But, until President Trump eliminates all environmental and safety regulations for corporations that I have zero stake in, I won't be satisfied."
Back to Rancid Raves & Editoonery
IN ANOTHER OF HIS ONE-WAY policy determinations, the Trumpet astonished the world by proclaiming Jerusalem the capital of Israel. While it's true that Jews had Jerusalem as a capital
centuries before Arabs even thought of settling down in an urban environment, it's also true that history is not always a reliable indicator of future outcomes.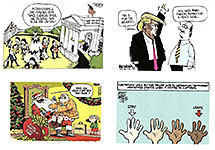 If it were, as Signe Wilkinson sarcastically reminds us at the upper left of the next exhibit, we'd have Native Americans taking possession of the White House.
Most of the world expected the status of Jerusalem to be determined by Israel and the Palestinians during negotiations about the destiny of the region they share. Technically speaking, Trump's pronouncement doesn't change that, but in such matters, appearances count more than technicalities; and certainly the U.S.'s naming Jerusalem the capital of Israel would seem to settle the question—without negotiation. And so 128 of the U.N.'s 193 member nations voted just before Christmas to protest the Trumpet's action. Nine nations voted against the resolution, supporting the Trumpet; 35 abstained, and 25 were absent from the vote.
Then Trump and his ally Nicki Haley, our ambassador to the U.N., behaved like the neighborhood bully, threatening to withhold financial support for the U.N. and/or to deny requests for financial help that might come from any of the 128 countries that refused to kneel to the U.S. and kiss Trump's ring. Play the game my way or I'll cut you off at the knees.
Nice announcement for a world leader to make. For Trump, typically childish. A Trumpet temper tantrum
All around on every hand, not a desirable state of affairs.
Mike Luckovich at the upper right supplies an image that accurately captures the Trumpet's attitude towards the Mideast. And the U.N.
And just about everyone who isn't Trump.
Shifting to another subject, Chan Lowe offers a vivid image that describes the Trumpet's racist attitude about immigrants, Haitians in particular. Those who sought refuge here after a hurricane destroyed their island a couple years ago, the Prez has ordered to return, whether Haiti is ready for them or not. (It's not.) They're illegal immigrants, and we don't tolerate them any more.
And then Rick McKee uses Santa Claus to dole out payments to victims of sexual misconduct by dipping into the Congressional slush fund of taxpayer money that is used to buy the silence of the victims who complain. Only the bad boys get the largesse. Bad Boy Congress, sitting on Santa's lap in the role of yuletide supplicant asking for a gift, is delighted.
THE REPUBLICON DEBACLE of the Ron Moore candidacy didn't begin with the Trumpet, but he is the greatest loser in the Alabama election.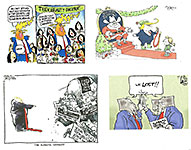 At the upper left of our next display, Clay Jones starts us off with a two-panel cartoon that covers a lot of ground. In the first panel, the Trumpet endorses Moore, unequivocally. In the second panel, Jones' camera pulls back to reveal Trump's proclivity for barging into the girls' dressing rooms at his teen beauty pageants. The Trumpet, in other words, suffers from the same disorder as Moore—hence, his sympathetic support for Moore. Jones has arranged his revelation of the Trumpet's motives in a way that revives an aspect of his personality that we'd like to forget.
At the upper right, Signe Wilkinson offers another harrowing view of Moore and Trump, the latter aiding and abetting the former's proclivity for young girls.
In jest, I speculated that Alabamans' overlooking Moore's preference for young girls was not so odd in the deep South where incest was reputedly common. Any young girl could be standing in for your daughter. But that's just my bad taste joke.
Evangelicals went for Moore in a big way—just as they had for the Trumpet. George F. Will said this about them: "The self-described 'values voters' and 'Evangelicals' of pious vanity who have embraced Trump and his Alabaman echo have some repenting to do before trying to reclaim their role as arbiters of Republican and American righteousness."
In Time, Molly Ball reported that "six years ago, just 30% of white Evangelical voters believed a candidate who acted immorally in private could still behave ethically in office, according to the Public Religion Research Institute. Asked again last fall (2017), 72% thought candidates' private morals were irrelevant."
So much for zealous religion in politics.
But perhaps Moore isn't a pedophile. Writing in The New Yorker (December 8), Charles Bethea reports on his interview with Barry Robella, who was in Moore's class at Westpoint. Robella's remembrance of Moore strikes me as insightful.
"Roy was an extremely serious, very devout young man. With women, he was almost naive. I don't think he had much experience there. Maybe he asked some younger girls out. If you're from small-town Alabama, you know, that's not unusual. It's a place where people got married at fourteen or fifteen back then. In my estimation, his piety might have led him to younger ladies later. He was so earnest, he may have thought younger girls were virginal. That was probably important to him."
To return to the visual aid at hand, just below Wilkinson's vision of Santa, Chan Lowe captures the sense of relief that doubtless prevails at the higher levels of Republicon leadership, which contemplated Moore's candidacy with some trepidation, uncertain about what "Senator" Moore might have done to the orderly fascism of the Grandstanding Obstructionist Pachyderm's program. Would he have the Ten Commandments carved over the door of the Senate? What other retrograde attitudes would he demand in return for his party loyalty at voting time?
George Will again offers an explanation for the possibly hostile reception Moore might have encountered in the Senate had he been elected. "He is an anti-constitutional recidivist, twice removed from Alabama's highest court for his theocratic insistence that his religious convictions take precedence over U.S. Supreme Court decisions, so he could not have sincerely sworn to 'support and defend the Constitution' and to 'bear true faith and allegiance to the same.'"
Then we have Scott Stantis, offering an image of the post-election status of the Trumpet in his party. After the disaster of his endorsing Moore, no GOP candidate wants his support. No GOP candidate wants to be seen with him. In fact, they're stampeding away from him in vast numbers.
George Will again: "By joining Steve Bannon's buffoonery on Moore's behalf, the 45th president planted an exclamation point punctuating a year of hitherto unplumbed presidential depths. He completed his remarkably swift—it has taken less than 11 months—rescue of the 17th president, Andrew Johnson, from the ignominy of ranking as the nation's worst president."
Johnson, you'll remember, is the guy who followed Lincoln into the White House; and he was subsequently impeached, but one more vote in the Senate was needed to throw him out. That vote didn't materialize.
Interlude with a Wise T-Shirt: All I Need to Learn about Life, I Learned from NOT Reading Directions.
Think about it.
ELSEWHERE, THE ONSLAUGHT CONTINUES. Whatever the Trumpsters do, we may be sure it is being done to benefit BUSINESS in some way. Take, f'instance, Internet neutralilty—net neutrality. According to St. Wikipedia, neutrality expected that "Internet service providers must treat all data on the Internet the same, and not discriminate or charge differently by user, content, website, platform, application, type of attached equipment, or method of communication. For instance, under these principles, internet service providers are unable to intentionally block, slow down or charge money for specific websites and online content." But all of that will evaporate, say many observers, if net neutrality disappears. As it is about to.
Net neutrality was recently destroyed so that the Big Service Providers (BSP) on the Web can make money by controlling our access. That, at least, is the ultimate objective—not, as you might think, to improve the service the BSPs provide. Chris Britt's visual metaphor at the upper left coincides with my view—and that of many others.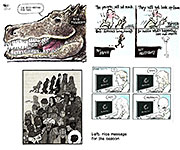 The BSP will, like some prehistoric alligator, simply devour net neutrality: those who seek to save it are too small in influence to have any effect.
Next around the clock, Milt Priggee offers a view of what is likely in the way of protest against the loss of net neutrality: in four panels, he builds to his conclusion by dribbling out his indictment a little at a time. Steve Breen deploys the comic strip format in the same way, adding another dimension: at each syllable of his utterance, the pictured Internet user gets older and older as he waits for the BSP to provide what he has asked for—presumably without paying for it. Had he paid the BSP fee, service would be much faster.
Our last cartoon changes the subject dramatically. Dunno the cartoonist (the signature appears to be the initials HAM), but the message of the image is clear: the parade may have begun with the ape-like creature emerging from the swamp and dragging his knuckles, but over the centuries, he evolved into the multiplicity of humanity. Given our common heritage, we should get along better.
AS A GUN CULTURE, we're never far away from the next shoot-out. And the Trumpet in Tom Toles' cartoon at the upper left offers the customary explanation of the gun violence at that church in Texas.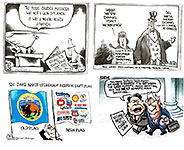 Guns aren't the problem: crazy undetected mental defectives are the problem. This National Rambo Association always thinks we need to do a better job of identifying crazed citizens. But the problem with that as a solution is that it's nearly impossible to tell a crazed
citizen from the average teenager these days. Are we gonna lock 'em all up?
Seriously, kimo sabe—it takes an enormous effort to get any citizen in a free country confined to a mental institution. What one person perceives as incipient insanity in someone's behavior, another observer sees as simple nonconformity, which our Constitution not only permits but encourages. How're we gonna lock 'em up?
Next on the right, Scott Stantis couples caption to picture to define the actual mental health issue with respect to our gun problem: doing the same thing over and over again expecting different results is "the very definition of insanity."
Just below Stantis, Steve Sack illustrates what Congress actually did: it passed a right-to-carry law immediately after the Texas shooting. Sack's "Congress" is an excellent caricature of Mitch McConnell, and for NRA, he deploys a caricature of the organization's executive director, Wayne LaPierre (except Sack's LaPierre isn't drooling at the corner of his mouth; the NRA really oughta get a less repulsive-looking represenative to appear in its name on tv).
Changing the subject at the last minute, here's Pat Bagley's assessment of Secretary of the Interior Ryan Zinke's program for our natural resources and the environment. Zinke has indeed adopted a new flag for the Interior, but the one Bagley's Zinke is saluting is different: it puts the Secretary's intentions on display: the flag is emblazoned with corporate logos, symbolizing Zinke's intention to perform his duties to advance the objectives of BUSINESS.
Everything the Trumpsters do is intended to put business profits ahead of all other considerations. The Trump's contention is that government regulations have stymied economic growth for decades; his plan is to revive the economy by stripping all these regulations away. His strategy may indeed work. But it ignores a larger issue: what sort of country/society do we want?
Do we want a culture in which profit is the only motive? Or do we want a culture in which reasonable profits are balanced against having clean air and water? And a vibrant natural environment that is enjoyable to experience? Can't we have both—profits and clean air?
We can if we resolve to recalibrate our priorities so that we achieve a little bit of both, but neither to the one-sided disadvantage of the other. It's toward that culture that we've been trending for decades. As a society, we've already made that decision. The Trumpet ignores that fact along with all other facts he doesn't like.
Another Interlude for Taking a Breather—with More T-Shirt Wisdom:
I try to take one day at a time, but sometimes several days attack me all at once.
Nothing messes up your Friday like finding out that it's Tuesday.
I don't do drugs and I don't drink. At my age, I can get the same effect by standing up too fast.
Not sure if the doctor said I was obese or a beast.
I REALIZE THAT THIS DISQUISITION is going on forever, and so I've attempted to enliven the proceedings (and thereby make them go quicker) with the occasional imported witticism—like the above— but I keep running across a few more editoons too good to pass by. So Editoonery gets prolonged, forthwith, again.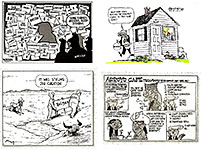 In the first, at the upper left, Walt Handelsman offers a stunning image that tells the tale: Mueller, inspecting the evidence board in front of him, thinks something is missing, and the only blank spot on the board—the only thing missing— is in the shape of the Trumpet's famous head-and-hair. Mike Luckovich is next with an image that vividly captures the politics of the GOP—distraction, distraction, distraction. As the Pachyderm takes his plunder out the back door, he frightens the resident enough to keep him glued to the front window, on the fearful look-out for gun grabbers. The guy's bulging eyes show us just how horribly frightened he is.
Pat Bagley is back at the lower right with a sarcastic jab at Trump's ignorance about Native Americans. The Trumpet rises to the challenge, naming other Native Americans, including Tonto, Frederick Douglass, and Wayne Newton. Nuff said.
And then Tom Eagan, who does gag cartoons as well as editoons, makes one of the former do the work of the latter in a memorable metaphor about environmental protection—or, in this case, the lack thereof under the newest policies of the Department of the Interior and the Environmental Protection Agency.
THE RUNAWAY TRAIN OF SEXUAL HARASSMENT REPORTS slowed a little as we approached Christmas, when people are more interested in their travel plans (and the weather) than scandal, which frenzy in these matters can last only so long before it begins to burn itself out. Dustin Hoffman's exposure as a sexual predator didn't make nearly the splash that Charlie Rose's did. Still, the nation's editoonists had a field day pondering the issues that sexual misconduct engendered.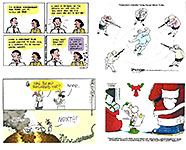 Ted Rall takes four panels at the upper left to air male concerns—which, a careful reading reveals, are exactly the concerns that women have. Hence, equality of the sexes.
Next, Jeff Danziger offers a vivid image about the fate of Senator Al Franken, every Democrat's favorite target; more about the Franken case down the scroll during our sexual harassment seminar (way at the end so's not to bore you with it in the midst of the editoonery excitement).
Bob Gorrell gives voice to a growing concern: where can we draw the line? Is kissing under the mistletoe sexual harassment? Asking the question in the context of Santa Claus is playful, but a serious issue underlies the jest.
And Mike Lester brings up the Trumpet's conduct. The implication of these two panels is that we'll continue to sacrifice men over allegations until Trump resigns. After all, it was Trump's self-incrimination, not just allegation by others (although that, too), that tagged him as a sexual predator. So why—with Franken forced out and Matt Lauer fired—is Trump still in the White House? Making the case in two panels lends the matter a tidy slam-bang, one-two punch. If not X, then, wham, Y.
In the next visual aid, Clay Jones goes down to the corner saloon where men lining the bar are pondering the questions that have lately been clouding men's minds.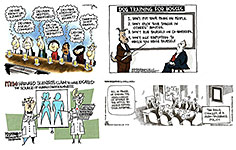 Jones makes a joke of it, but these are the concerns of many men in the wake of #MeToo. Next around the clock, Dan Wasserman strenuously implies that it's possible to train men to behave in the workplace: we train dogs; we oughta be able to train male bosses. An brilliantly inventive cartoon with a novel metaphorical notion.
On the newspaper funnies page, Wiley Miller, erstwhile editoonist before starting his Non Sequitur strip, brings up a backlash element. One way to end sexual harassment in the workplace is to make sure women don't get into the workplace.
Then David Fitzsimmons takes us quickly to the heart of the matter: men are dicks. It was Robin Williams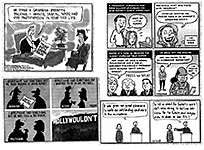 who put it best: "God gave men both a penis and a brain, but unfortunately not enough blood supply to run both at the same time."
In the next exhibit, Dan Wasserman directs our attention to another aspect of sexism in the workplace, reminding us of the government's continuing attempt to control what women do with their bodies.And Jan Sorensen reacts to the news that many powerful men somehow see their peckers as their sex appeal. As Sorensen says, "No woman ever...." A gag cartoonist named Horacek returns us to reality, where men see women as bodies, not people—despite whatever accomplishments women have made. And then Walt Handelsman summarizes the situation in la-la land with a verbal re-construction of a famous place name.
HE SAID, SHE SAID
In the Age of Sexual Harassment
During a normal month, I make frequent trips to a copy shop to make photocopies of images that I use to illustrate this deathless prose. The copy shop is in a mall, and when I turn into the mall parking lot, I see immediately in front of me on the far side of the lot the large orange letters HOOTERS, the name of a restaurant that is part of a national chain.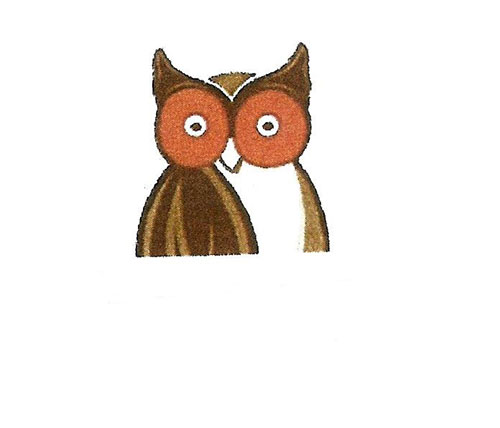 The name "hooters" is a double entendre, the restaurant's website tells us—"referring to both its owl logo, a bird known for its hooting calls, and an American slang term for female breasts." The imagery of the owl logo perpetuates the second meaning, too: the eyes are large and round with pupils right in the middle, suggesting breasts with nipples at their center. Waitresses—er, "servers"—at the restaurant wear the uniform, orange shorts and tight t-shirts emblazoned with both the owl logo and "Hooters."
The Hooters owl and name would be in bad taste if it weren't for the culture in which it is embedded. Evidence of human sexuality is everywhere, so Hooters is right at home.
Women's fashions deliberately emphasize female anatomy, drawing attention to or emphasizing legs, bosom, and/or butt.
It is said that Eskimos have a large number of words for snow because snow is so plentiful. The American male's obsession with the female breast is reflected in the "extraordinary number of slang terms for breasts that linguists have cataloged," observes Charles Panati in his book Sexy Origins and Intimate Things. He continues: "Some derive straight-forwardly from the shape and function of breasts. Others are strange sounds and meaningless expressions, sexy codes that have no dictionary definitions and lost origins." Beginning with knockers and ending with titties, he lists 45 such terms—including the ever-popular jugs and headlights and the more obscure hangers and boobulars. And the list is not exhaustive; it is only a sampling.
In comparison, Panati's chapter on the male organ lists and defines over 40 terms for it, including the common cock and dick, pecker and dork, prick, putz and schlong. The word penis, incidentally, comes directly from the Latin, meaning "tail." Many of the words are terms of endearment. The old joke is that men name their penises so they can be on a first-name basis with the person who makes most of their decisions.
"It's been said that mature well-endowed men like their secret to be known only to women while immature men prefer that other men know," Panati says. The dashing actor Errol Flynn belonged in the latter category and thoroughly enjoyed displaying his pecker and delighted in observing envious reactions.
"Writer Truman Capote, who was personally well-acquainted with Flynn's endowment, claimed that at a party, the actor played the piano with his schlong, beating out the tune 'You Are My Sunshine.' The song's title and lyrics—'My only sunshine / You make me happy, when skies are gray'—seem fitting."
The poet Octavio Paz used soaring penile imagery to define sex as "the spindle on which the earth turns." For actor John Barryore, sex was "the thing that takes the least amount of time and causes the most amount of trouble." Lord Chesterfield found sex embarrassing and its preoccupation, particularly by men, a waste of time: "The pleasure is momentary, the position ridiculous, and the expense damnable." The sex act requires that both participants assume the position of a frog.
Poet James Dickey summed up many people's sentiment that sex is always, somehow, illicit and dirty: "The true feeling of sex is that of a deep intimacy but above all deep complicity."
In such a highly sexualized culture, it is no surprise that people think about sex more often than they can practice it.
It has always been thus. The species comes in two sexes, and all male-female relationships from the coffee shop to the boudoir are essentially sexual because the propagation of the species requires it. The new element in this age-old relationship is the workplace. Except for farms, women weren't found in the workplace much before the 20th century, and women in the workplace created new opportunities for a sexual relationship.
One kind of sexual relationship that has lately commanded much attention in the public prints is sexual harassment. The revelations of powerful men abusing their privileges to hit uninvited upon women in the workplace has shocked us even though we are not surprised by it.
We've had numerous reports of men offering professional advancement in exchange for sexual favors, men making suggestive comments, men groping women, and, even (unlikely as it seems) men masturbating in front of women—as if they believe their peckers are magically hypnotic and can, merely by being seen, sweep women off their feet into positions of copulation.
WHAT'S NEW in all this is, apparently, that women are no longer silent about this sort of abuse. They kept quiet in years past because they feared that if they complained, their careers would be adversely affected. Now, they've put their fears behind them. And if one woman complains about a man's unwanted attentions, others soon join her, and a chorus of complaint results in the man being fired. That's new.
As the number of famous men guilty of such behaviors mounts, so do questions. Some people question what constitutes proper, permissible behavior between men and women. What is impermissible behavior? Does the demand for reform mean the end of courtship as we've known it? Is asking a co-worker out on a date a form of sexual harassment? (I suppose it is if the man keeps asking and the woman keeps declining. Or is that just a man being annoying?)
Is flirting sexual misconduct? When? I guess only when it creates a hostile work environment---or becomes a "threat" to a subordinate from a superior in a workplace hierarchy.
Women flirt, too. And our culture fosters a compliant, pleasing behavior in women: in meeting men, they smile and look pretty. The more compliant women seem, the more they encourage men's attentions—and the attentions verge from friendly to sexual, albeit, often, merely friendly in sexual terms.
Are there degrees? Is patting a female colleague on the arm in the same category as inviting her to your office and dropping your pants? Is groping boobs in the same category as patting a fanny?
Some "offenses" are relatively harmless, inconsequential; others, egregious sexual invasions of privacy.
So we need some sort of hierarchical distinctions.
And what is appropriate punishment? The minute a man is accused by more than —what? Two? Three? Four?—women, he should be fired? Or is one accusation enough? Is firing the only punishment?
Some of the women complaining do so openly and give their names. Others do not, preferring to remain anonymous for fear of reprisals.
And men may well ask—and many are asking—what happened to our constitutional right to confront our accusers? What about due process? That's for courtrooms, not boardrooms. We're not, alas, dealing with legal rights here. We're dealing with rumor and innuendo and behaviors that are not governed by law. They're governed by custom.
And so we overlook constitutional rights in order to achieve some sort of "moral justice" for moral failings.
But still—are all sexual harassments the same? Do they all deserve the same punishment? Aren't there degrees of both?
ARE WE SEEING ONLY THE TIP OF AN ICEBERG of men being bad? Hard to say, although I think most men most of the time behave themselves in a "civilized" manner. I also suspect that most men, at one time or another, don't. Meanwhile, I'm waiting for the backlash: when men start objecting to no longer being innocent until proven otherwise and when people begin pointing out that one woman's complaint can ruin a man's reputation and career. One complaint. And sometimes the woman complaining remains anonymous. That's assassination.
Men can be destroyed with a single accusation, and with that, we enter the ol' she-said he-said dance, and neither has any actual evidence to support her/his claim. But times have changed. Kevin Spacey found himself in the headlines after only one allegation. And that single complaint was enough to stop, ostensibly only temporarily, production on the next season of "House of Cards." Subsequently, others came forward to accuse him, and as the number grew, his guilt became obvious. He even admitted it. And his career went out the window. A lifetime shot.
For an allegation to be believable, it must be accompanied by several others of the same ilk. But even one complaint can cast doubts. I still think women have a legitimate complaint, and maybe men do too.
Another possible backlash might undermine the progress women have made in entering the world of work. Many of those in hiring positions are men. Might they stop hiring women (particularly good-looking women) in order to avoid the "trouble" their presence in the workplace might cause?
The December 18 issue of People published on a two-page spread the photos of 36 men who've been accused of sexual "misconduct," including Harvey Weinstein, Charlie Rose, Louis C.K., Dustin Hoffman, Bill O'Reilly, Kevin Spacey, Al Franken, and Garrison Keillor. Of the 36, 16 denied the accusations; that's 44%. Another 6 offered no comment at all. In short, better than half, 61%, have not confessed to their sin. Or maybe they didn't sin at all. How can we tell? That's the trouble in cases of conviction without a trial. Guilt must be confessed. Or innocence must be overwhelmed by a preponderance of allegation to the contrary. Even then, doubts may remain.
Despite the screams in social media, we are not far from the ol' she-said he-said dilemma. Quantity of complaint very nearly resolves the practicalities of such situations. But what about the moral propriety? Do we really want a culture in which men's reputations and livelihoods can be lynched by rumor? What happened to that fair trial we're all entitled to?
We certainly want a culture in which women can function without fear of sexual predators. But I'm not sure we've found a good way to achieve that just yet.
WHY AM I FLOGGING THIS SUBJECT so endlessly? Am I seeking to assuage some lingering guilt? Is it because, as a onetime girlie cartoonist, I wonder if I'm one of those sexual harassers? Do my toothsome pictures of sexy women in various states of undress create a hostile environment for women? Not a work environment but a world environment. Well, as my attorney daughter might say to those who hold this view, Get over it. That's life in the world of two sexes. They attract each other. And that, for the sake of propagating the species, is the way it 'sposed to be.
Besides, those who maintain that girlie cartoonists are bad for the sexual environment must then deal with Rubens. For more on that subject, visit Harv's Hindsight for March 2009, "Of Cartooning, Rubens, and Adam's Rib: Girlie Cartoons and Barenekkidwimmin."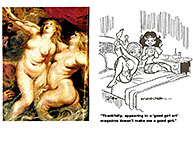 So why am I doing this? Because I have two daughters and a wife, and I want them to go through life as something more than just bodies for men to play with. Because I worry about the frenzied lynch mob atmosphere that is stampeding to destroy any man who ever patted a butt. Because a sense of fairness demands that we analyze what we are doing as a culture. And because writing about a subject helps me clarify my thinking about it.
As for sexual harassment and other manifestations of bad male behavior, we've posted at the end of this opus several essays that together are a seminar examining the subject in insightful ways that deserve thoughtful consideration.
READ AND RELISH
The Ages of the Infantile Trumpet: the self-perception of a three-year-old; the emotions of a 6-year-old; the vocabulary of an 8-year-old.
THE FROTH ESTATE
The Alleged "News" Institution
Ah, fake news. Such a useful concept. Totalitarian states have long known its power and utility, but autocrats are now taking lessons from the U.S. Crying "fake news" can magically erase any inconvenient evidence, whether it points to genocide, the destructive impact of rising global temperatures, Russia's election interference, or a favored politician's predations on teenage girls. The lying media made it all up!
Our nation is having what philosophers might call "an epistemological crisis." That's a highfalutin way of saying many people no longer know what it's possible to know. If nothing the media reports can be trusted, if scientists are frauds, if there is no reliable source of information or verification—then how do you distinguish between "fake news" and reality?
You cannot.
This can be disorienting at first, but it can also be marvelously liberating: there is no objective truth—just what you want to believe, and the "biased" beliefs of the enemy. Thus, in Alabama, 71% of Republicans say they don't believe that senatorial candidate Roy Moore preyed on girls in their teens, despite the detailed accounts from eight women. The president's attorneys are now saying he can't be accused of obstruction of justice, even if he tried to shut down the Russia investigation, because "the president is the chief law enforcement officer."
In his novel, 1984, George Orwell described a dystopian world in which citizens are taught: "War is peace. Freedom is slavery. Ignorance is strength." Surrender to the paradox, and you are free from all doubt. —William Falk, Editor-in-Chief, The Week
READ AND RELISH SOME MORE
The higher forms of fiction and the lower form of fibs were, no doubt, born within minutes of each other. Anyone who is an inspired storyteller knows that the essence of good storytelling is not assembling a heap of facts but having the imagination to leap through an arc of bright truths to create a great curve of invention. A story is a constellation of stars, with a recognizable shape made from shining bits of fact that may exist, empirically, at different levels and different spatial depths.
Yet even if the will toward art and the will to deceive others can be closely aligned, we readily distinguish between the liar and the litterateur. The fabulist wants to convey the dramatic experience of events while the fraud wants to convent a false evaluation of them. The fabulist wants to dramatize himself; the fraud, to deceive others.—Adam Gopnik in a review of the life and art of novelist Romain Gary
NEWSPAPER COMICS PAGE VIGIL
The Bump and Grind of Daily Stripping
THINGS THAT WARM THE COCKLES of your heart can often be found in the funnies.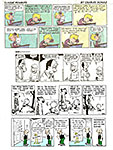 And the line-up at hand is a good example. Sally's mastery of testing in Charles Schulz's Classic Peanuts makes me smile because I wish taking tests were as easy as she makes it: I admire the way she defeats reality with the aplomb of the Trumpet. (Although I consider him a threat to our way of life.)
Next down the line is what my newspaper insists on calling Adam by Brian Basset despite the fact that Basset left the strip in 2009 (February 21, saith St. Wikipedia) in order to focus his energies on his other strip, Red and Rover, about a boy and his dog. Adam was the name of the strip when Basset started it in 1984. Initially, the strip was about a stay-at-home dad, Adam Newman, juggling family and his wife's career. Then Adam became a stay-at-home consultant, connected to the outside world by the ever-present Internet. At that point (or near there) it was re-titled Adam@home, deploying up-to-date computer lingo.
When Basset left the strip, it was taken over by Rob Harrell, who had originated a strip of his own, Big Top (about circus animals), but had to leave it for health reasons. His health improved, enabling him to take advantage of the Adam opening. Unhappily, the strip is often still credited to Basset although he, if asked about it, screams loudly that it ain't him anymore.
Adam is famous for his insatiable craving for coffee, and in this installment, he and his wife trade terms for the beverage that adequately describe the high-voltage stuff he's looking for on this occasion. And that makes me smile.
As does Calvin's quandary over Santa Claus. And God. It's the God part that sets me free: I can't remember any newspaper comic strip that ever brought God into its panels—let alone seemed to question his existence as Calvin does here. Historic no doubt.
And finally, Al Smith shows up in Mutt and Jeff. Dunno when this strip initially appeared (I read it at GoComics where it's been re-running for years, dateless), but Al Smith produced Mutt and Jeff longer than its originator, Bud Fisher, did.
The strip started in November 1907, but Fisher hired an assistant to produce it in about 1915 or so: Ed Mack did the strip until he died in 1932, when it was taken over by his assistant, Smith, who, like Mack before him, signed Fisher's name to the strip for decades. Upon Fisher's death in 1954, Smith was at last permitted to sign his name to the feature, which he continued until he left it at the end of 1981, having produced the strip five times longer than its creator had. Smith died 5 years later. But long before that, he did the strip at hand, putting his signature on it twice, perhaps to make up for the long years he wasn't permitted to sign it.
You can read the entire Mutt and Jeff saga, complete with ruffles and flourishes and extended quotes from Fisher and Smith, in Harv's Hindsight for November 2007, where we celebrate the centennial of the comic strip.
IN OUR CEASELESS STRUGGLE for purity in the funnies, we bring you the next installment in the never-ending battle. As usual, we're here to point out the violations of age-old taboos in the comics of a family newspaper. (Actually, we're not on a crusade at all, as you may remember. Instead, we're noticing these deviations from decency as a way of tracking the slow decline of our culture—as marked, most recently, by the election of a sexual harasser to the highest office of the land.)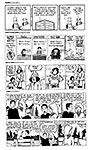 Our first instance, Scott Adams' Dilbert, is not an example of wayward decorum. The reverse, in fact, pertains: Adams scrupulously avoids saying "crap" in the second panel. But "Holy carp!" is an utterance that merely draws attention to and thereby emphasizes the word that's being deformed.
In Stephan Pastis' Pearls Before Swine we once again encounter the mysterious phrase "oompa loompas," which, judging from the syntax, is a substitute for "short hairs" or "balls."
But that's not what oompa loompas are. They are, according to St. Wikipedia, characters in "Charlie and the Chocolate Factory" that have spray-on orange complexions. Sort of like the Trumpet's.
But I'm pretty sure Pastis means something else.
In One Big Happy, Rick Detorie brings us back to the universally hysterical fart, another verboten word from days gone by. Here, however, he avoids the word but not its meaning.
In Greg Evans' Luann, Brad and Toni are contemplating their first wedding anniversary. A delightful couple, always, and Evans handles their relationship with compassion, passion, and good taste. But in these two strips, we know sex is present in the thinking of the characters— particularly when Brad asks "what do you wanna do," and Toni answers, "You." "Do" in this context means something a little more intimate than mere canoodling. She's gonna "do" him; and vice versa, of course.
Even in these lascivious times, I'm surprised Evans got away with it.
New Topic
CALLING THEM LIKE THEY ARE
USA Today is not usually where we find scathing editorial comment. But here's what the paper published on December 12—:
A President Who'd All but Call a Senator a Whore Is Unfit to Clean Toilets in Obama's Presidential Library or to Shine George W. Bush's Shoes: Our View
And here's the Trumpet's tweet that prompted the headline and the editorial:
Lightweight Senator Kirsten Gillibrand, a total flunky for Chuck Schumer and someone who would come to my office "begging" for campaign contributions not so long ago (and would do anything for them), is now in the ring fighting against Trump. Very disloyal to Bill & Crooked-USED!
I added the foregoing emphasis.—RCH
Here's the editorial—:
WITH HIS LATEST TWEET, clearly implying that a United States senator would trade sexual favors for campaign cash, President Trump has shown he is not fit for office. Rock bottom is no impediment for a president who can always find room for a new low.
White House spokeswoman Sarah Huckabee Sanders on Tuesday dismissed the president's smear as a misunderstanding because he used similar language about men. Of course, words used about men and women are different. When candidate Trump said a journalist was bleeding from her "wherever," he didn't mean her nose.
And as is the case with all of Trump's digital provocations, the president's words were deliberate. He pours the gasoline of sexist language and lights the match gleefully knowing how it will burst into flame in a country reeling from the #MeToo moment.
A president who would all but call Sen. Kirsten Gillibrand a whore is not fit to clean the toilets in the Barack Obama Presidential Library or to shine the shoes of George W. Bush.
This isn't about the policy differences we have with all presidents or our disappointment in some of their decisions. Obama and Bush both failed in many ways. They broke promises and told untruths, but the basic decency of each man was never in doubt.
Donald Trump, the man, on the other hand, is uniquely awful. His sickening behavior is corrosive to the enterprise of a shared governance based on common values and the consent of the governed.
It should surprise no one how low he went with Gillibrand. When accused during the campaign of sexually harassing or molesting women in the past, Trump's response was to belittle the looks of his accusers. Last October, Trump suggested that he never would have groped Jessica Leeds on an airplane decades ago: "Believe me, she would not be my first choice, that I can tell you." Trump mocked another accuser, former People reporter Natasha Stoynoff, "Check out her Facebook, you'll understand."
Other celebrities and politicians have denied accusations, but none has stooped as low as suggesting that their accusers weren't attractive enough to be honored with their gropes.
If recent history is any guide, the unique awfulness of the Trump era in U.S. politics is only going to get worse. Trump's utter lack of morality, ethics and simple humanity has been underscored during his 11 months in office. Let us count the ways:
■ He is enthusiastically supporting Alabama's Republican Senate candidate Roy Moore, who has been accused of pursuing — and in one case molesting and in another assaulting — teenagers as young as 14 when Moore was a county prosecutor in his 30s. On Tuesday, Trump summed up his willingness to support a man accused of criminal conduct: "Roy Moore will always vote with us."
■ Trump apparently is going for some sort of record for lying while in office. As of mid-November, he had made 1,628 misleading or false statements in 298 days in office. That's 5.5 false claims per day, according to a count kept by the Washington Post's fact-checkers.
■ Trump takes advantage of any occasion — even Monday's failed terrorist attack in New York — to stir racial, religious or ethnic strife. Congress "must end chain migration," he said Monday, because the terror suspect "entered our country through extended-family chain migration, which is incompatible with national security." So because one man — 27-year-old Akayed Ullah, a lawful permanent resident of the U.S. who came from Bangladesh on a family immigrant visa in 2011 — is accused of attacking America, all immigrants brought to this country by family are suspect? Trump might have some credibility if his criticism of immigrants was solely about terrorists. It isn't. It makes no difference to him if an immigrant is a terrorist or a federal judge. He once smeared an Indiana-born judge whose parents emigrated from Mexico. It's all the same to this president.
■ A man who clearly wants to put his stamp on the government, Trump hasn't even done his job when it comes to filling key government positions that require Senate confirmation. As of last week, Trump had failed to nominate anyone for 60% of 1,200 key positions he can fill to keep the government running smoothly.
■ Trump has shown contempt for ethical strictures that have bound every president in recent memory. He has refused to release his tax returns, with the absurd excuse that it's because he is under audit. He has refused to put his multibillion dollar business interests in a blind trust and peddles the fiction that putting them in the hands of his sons does the same thing.
Not to mention calling white supremacists "very fine people," pardoning a lawless sheriff, firing a respected FBI director, and pushing the Justice Department to investigate his political foes.
It is a shock that only six Democratic senators are calling for our unstable president to resign.
The nation doesn't seek nor expect perfect presidents, and some have certainly been deeply flawed. But a president who shows such disrespect for the truth, for ethics, for the basic duties of the job and for decency toward others fails at the very essence of what has always made America great.
CLIPS & QUIPS
"Stare. It is the way to educate your eye, and more. Stare, pry, listen, eavesdrop. Die knowing something. You are not here long."—Walker Evans
"As in absolute governments the King is law, so in free countries the law ought to be king."—Thomas Paine
Life is all about ass—you're either covering it, laughing it off, kicking it, kissing it, busting it, trying to get a piece of it, or behaving like one.—T-shirt
RANCID RAVES GALLERY
Pictures Without Too Many Words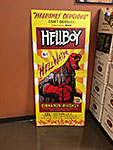 AND BEFORE WE LEAVE the premises, here's an in-store advertisement for a new "cinnamon whiskey."From which we can safely conclude that life after a superhero movie includes life as an intoxicating beverage. Another advance in civilization.
T-SHIRT WISDOM
I can explain it to you, but I can't understand it for you.
I didn't mean to gain weight. I happened by snaccident.
I don't really like going outside. It's too "peopley" out there.
I plan on living forever. So far, so good.
Common sense is not a gift, it's a punishment. Because you still have to deal with everyone who doesn't have it.
ONWARD, THE SPREADING PUNDITRY
The Thing of It Is ...
A Seminar on Sexual Predation
The seminar consists of several essays by various personages who said things I think ought to be said. Our deliberations also include two lengthy diatribes by Yrs Trly on Al Franken and Garrison Keillor, neither of whom should have been drummed out of the corps. I give my reasons in their places below. But first, some of the other essayists—:
Sexual Harassment and the Predatory Gender
This is not a proud moment for the male of the species. Virtually every day, men of power, wealth, fame, and accomplishment are being exposed as gropers, butt grabbers, pants droppers, and serial predators. The allegations are swelling like a tsunami reaching shore, carrying in its furious tide Democrats and Republicans, atheists and evangelicals, libertines and family men, intellectuals and coaches, gays and straights. The common denominator is ownership of a penis and the amoral sexual instinct that's a standard accessory with that piece of equipment. No woman I know is shocked by the scope of this scandal, but for many men, it's a wake-up call. The grotesque stories pouring forth compel any man with a conscience to think hard about the daily vulnerability women feel in a world still defined by male power and physical strength — a world of straying hands, pressured come-ons, and physical assaults from priapic bosses, senators, mentors, teachers, gurus, and strangers.
By their nature, reckonings are painful and disorienting. Uncomfortable questions face us all. Have we been complicit by ignoring or accepting harassment as normal? Have we seized on accusations against members of the other partisan tribe, while dismissing the accusers of our own tribal leaders as "nuts and sluts," as Bill Clinton's defense team once put it? Liberals must now decide whether to topple Clinton from his pedestal, and whether their tarnished hero Senator Al Franken should face permanent expulsion. Conservatives are debating whether it's morally justified to elect an accused serial molester of teenage girls to the Senate rather than surrender a precious vote for a tax cut or a Supreme Court nominee. But what we're confronting should transcend partisan point-scoring. In this watershed moment, we have an opportunity to establish stronger norms and expectations for male behavior, and appropriate penalties for those who cross the line. Let's hope we don't waste it. —William Falk, Editor-in-Chief, The Week
SEXUAL HARASSMENT SOME MORE
By Megan McArdle at mmcardle3@bloomberg.net.
A few weeks ago, in a meditation on the allegations that have followed the Harvey Weinstein revelations, I described how we'd know if we'd come to a real watershed in our cultural tolerance of sexual abuse:
"We'll know we've made progress when women are willing to accuse men at the height of their powers, men who can hurt them for years to come — or benefit them in exchange for their silence. And when the people around those men move swiftly and without hesitation to deprive them of the power they've abused, even though they'll be tainted by the scandal, even though they'll suffer personal costs from the loss of an ally."
The intervening weeks have unleashed a flood of accusations against younger men in the entertainment industry. But now we've come to the real test: Senator Al Franken has been accused of sexual harassment by Leeann Tweeden, a newscaster and former model.
In 2006, on a USO tour, Franken the comedian was in a skit with Tweeden, and she says that during a rehearsal for a scene in which his character tries to kiss her, Franken grabbed her and put his tongue in her mouth. Later, he posed for a photo in which he appears to be groping her breasts while she's asleep. (It's not clear whether he did actually grope her; to my eyes, given the shadows under his hands, it looks as if he's simply miming it.)
To their credit, high-ranking Democrats are calling for an ethics investigation into one of their own. Given the underwhelming efforts Congress has made to investigate its troublemakers in the past, that seems like a definite sign of change. But what will happen after the ethics investigation? Will Franken reiterate the apology he's already made, and be subject to a toothless censure from the Senate? Since he's not up for re-election for years, that doesn't seem like much of a consequence.
Alternatively, the Senate could move to expel Franken (or more realistically, make it clear that they're going to expel him, and allow him to resign in advance of the formal separation). But Democrats will, understandably, be reluctant to shove out a political ally. And Republicans will probably be reluctant to go forward without the blessings of Democratic leadership because they probably wouldn't want to evict the suspect members of the GOP and defend those seats against Democrats.
Which leads me to a question I've been asking myself over the last few weeks: As the accusations of sexual harassment snowball, how ready are we for the consequences of rewriting the sexual rulebook so drastically, all at once?
WHEN I ASK THIS, I'm not thinking of people like Weinstein, whose behavior was very far over any line we might care to draw between "appropriate" and "inappropriate." I'm thinking of circumstances more like the allegations against Franken. I've thought of the older man who pestered me to give him a birthday kiss — on the lips — when I was 17. The young man celebrating his birthday in a bar, who grabbed me and kissed me, at great length. (What is it with birthdays, anyway?) The many men I've worked with who liked to tell dirty jokes. (Let me hasten to add: Not colleagues in my current job!)
I had mixed reactions to these attentions, from stammering and twisting my way out of the older man's attempted embrace, to telling a few dirty jokes myself. How many of those guys would I want to see publicly shamed, fired and shunned? The answer, I've concluded, is none of them.
These events, after all, took place at least two decades ago. In some cases, cultural norms really have changed. I'd be shocked now to hear a really dirty joke told at work, but in my early 20s, I don't recall even being mildly nonplussed. I'm not saying that the norms of those workplaces were right, but I am saying that the men who told them did not have mens rea: the knowledge that they were doing something wrong. And in general, it's a bad idea to punish people for trespassing against rules they didn't know. Or rules that didn't exist.
But even if they had known, I still wouldn't be eager to out and punish them now. I did a lot of things decades ago that I regret, and I would hate to be held accountable for them now as if they'd happened last week. And since I hope to grow and change a bit in the coming decades, I'd also hate to be punished in some far tomorrow for the norms — or even the folly — of today.
So it seems worth asking whether we need some sort of statute of limitations on these kinds of offenses in our culture, not just in our laws. It would not be a blanket pardon for anyone who manages to go unreported through the five- or 10-year mark. It would be a mitigating factor in deciding how to respond in the present to actions from another time: autre temps, autre moeurs.
THE QUESTION when confronted with reports of decades-old misdeeds is not "Would this guy be a creep if he did this today?" Better to ask: "Was he better or worse than his environment?" And also: "Is there reason to believe he might have changed since then?"
Some cads and criminals would fail all these tests. And if the offense was last year, or if the accused attempts to intimidate the victim or explain away the transgression, then the answer to those questions is probably "no." But if a man shamefacedly confesses that he made a mistake decades ago, through bad understanding or bad judgment, just how far are we willing to go in shunning him? To the same extreme we would for a recent, remorseless, serial offender?
If so, how many of us are willing to live under that standard — in which the sins of our distant past are ripe for litigation at any moment? In which the court of public opinion issues the same summary judgment immediately after every accusation? In which every defendant's reputation and contributions are discarded into the same garbage heap, no matter what the age or nature of the offense?
Victims have lived in fear and silence for too long, and it's a tremendous achievement that more now feel able to speak out. But in dealing with these transgressions, our aim should not just be to shift the shoe to the other foot. It should be to build a world in which there is less fear to go around.
WOMEN ARE NOT JUST BODIES
Ripping Off the Gag Tape
By Liza Donnelly, New Yorker cartoonist
Donnelly's short essay opened my eyes to an aspect of the sexual harassment issue that had heretofore evaded me. If women are considered just "bodies," then they have no personalities, no individuality. In effect, then, they do not exist as people. A crime against humanity if ever there was one. Here's the essay—:
I don't have any terrible #MeToo stories. Like most women, I've been cat-called on the street. I've been told by men that I should smile for them. I've had my rear end pinched and touched on buses. A man once creepily smiled at me across a subway car as he touched his erect penis in his pants. But for me that's about it. I'm lucky.
While I have not been victim to harassment or assault in a major way, as a woman I have felt that my body is not my own. When I was growing up, there was a brief period of feminist awareness in the 1970s—an awakening of sorts, and as a country, we took one step forward. But it was short-lived— Madison Avenue took over the feminist revolution and ran with it. It was as if the contents of what had been happening— equality for women—was secondary to how women should appear.
"Sex sells" became even more acceptable, and women's bodies were central. The feminist cause was co-opted, and women were visually used, thought of as bodies for the use of others. While of course advertising is not the cause of sexual harassment and abuse, I believe it is complicit.
What's happening now is making this reality crystal clear. When I first read the graphic descriptions of what some of these men were doing to women, the specificty alarmed me, and I wondered if we needed to hear such detail. Then I thought, yes we do. The phrases "sexual harassment", or "sexual misconduct" are too vague, and can be interpreted in many ways. Spelling it out in grotesque detail helps our culture more fully understand how bad this is. And it comes from famous men as well the man-on-the-street.
Women are thought of as property: A woman walking down the street is yours to ogle and say crude things to. The woman in your office wearing a short dress is yours to touch. A woman in an advertisement wearing skin tight jeans and no shirt is yours as well. A highly sexualized female cartoon figure in a video game can be manipulated as you choose. They are inter-changeable.
We are experiencing a change in this country, and I predict we will look back on the fall of 2017 as the time when our country really woke up to sexism, hidden and overt. We may not be able to fully stop the ad agencies from using women's bodies as selling objects, but we can learn to understand it for what it is, and we can teach our children—boys and girls—to respect women as people, not just bodies.
Women are finally feeling the support they need to speak out about what has been happening to them. We are ripping off the duct tape that has covered our mouths. While it hurts to do this, it is important. I support those who want to tell their story so that we can know their pain and help them. We can stop this madness in our country. If we can stop it here, then we can help other countries do the same.
Because this is global.
NOW, ABOUT THE FRANKEN SCANDAL
RCH Chimes In
OTHERWISE, I'M STEAMING a little over Al Franken's resignation from the U.S. Senate. Here, by way of background, I'm repeating my comments from Opus 373—:
Senator Al Franken has been accused of sexual harassment by a radio personality, Leeann Tweeden, who says that in 2006 (two years before Franken became a senator) while she and Franken were performing with the USO in the Mideast, he forced a kiss on her and groped her.
Franken, remember, was a professional comedian before he became a professional politician. (And there are those, Will Rogers among them, who would say the two are synonymous.) The USO act they were doing together was, doubtless, a humorous skit. Keep that in mind.
Tweeden has made public a photograph of her and Franken taken while she is asleep on the airplane taking them back to the U.S. after the USO tour. In the photo, Franken is shown with his hands over her breasts—not touching, I suspect, but hovering—as he looks back at the camera and grins fiendishly, the perfect picture of a lecher, which is, of course, the joke.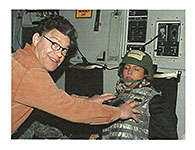 Clearly, this is a prank. Franken isn't actually groping Tweeden: he's pretending to. Just for the sake of a laugh.
The kissing routine is likewise possible to interpret as a gag. Let's see, Franken wrote a skit for himself and a beautiful buxom woman. I'd like to read the script to see what leads up to the kiss. What else but sex—lust by a fat man for a voluptuous woman—would be the obvious topic of their interaction in the skit? She says that he kept pestering her to rehearse the kiss. "Leeann, we gotta rehearse the kiss," he'd say.
Oh, sure: when I tell this story aloud, this's when my listeners laugh.
See? It is a joke.
Franken's not a good-looking guy. So what do not-good-looking guys do around good-looking girls? They lust after them. And that's what the kiss was—an act of lust for the sake of a joke, the joke having something to do with a not-good-looking guy lusting after a good-looking girl.
Franken clearly thought Tweeden had a kindred sense of humor, a sense of humor that would appreciate a joke about a not-good-looking guy lusting after a good-looking girl. The photo, staged without Tweeden's knowledge, was of-a-piece with that premise.
Franken, as soon as all this became public, issued an abject apology. Then a few hours later, he issued a second even more elaborately abject apology.
Was he sexually harassing Tweeden eleven years ago?
I doubt it. I think he was joking. The photograph at least clearly confirms this. He was just fooling around for a laugh.
That's what comedians do when on the road between acts.
And I think he seriously misunderstood Tweeden: he didn't recognize that she hasn't the kind of sense of humor that could appreciate his off-stage slightly off-color comedy.
She says she's been haunted by this episode since it happened, over a decade ago. I'm sure she's being truthful. But I also think she misinterpreted Franken's "jokes." And his mistake was to think that she had a sense of humor akin to his own.
But she doesn't.
Meanwhile, to relieve her decade-long agony, she's assassinated a public servant whose service, as far as I know, has been commendable. But she regards reporting Franken as her duty to all women, to exemplify going public—and then wait to see if other women join her in complaint.
She says she accepts Franken's apology. She says she doesn't doubt his sincerity and believes his apology comes from the heart. But she can't undo the damage she's done, however well-intentioned she may be.
Tweeden was a model in her early adulthood, a career she chose immediately after graduating from high school in 1991 when she moved from her birthplace, Manassas, Virginia, to Hollywood, where she hoped to find work as a model. She was glamorous enough with a figure that earned her a job in 1992 as hostess at a Hooters restaurant. That year, she won first place in the Venus International Model Search, which led to international exposure. She traveled the United States doing promotional appearances and hosted the 1993 Venus Model Search competition, which she returned to host in 1994, 1995, 1996 and 1997. During this time, she modeled for Fredericks of Hollywood and Hooters (appearing in their 1993 and 1994 calendars).
In 1996, Tweeden appeared non-nude in a fitness model pictorial for Playboy; 15 years later, at the age of 38, she appeared on the cover of the December 2011 issue of Playboy and inside in a nude pictorial (long after her USO gig with Franken). She also appeared at least twice on the cover of FHM (For Him Magazine), the second of which, the highest selling cover to date.
And she was a Budweiser swimsuit model. She published the first of her own calendar in 1998, featuring the photographs of Mario Barberio (and, we assume, the body of Tweeden).
In short, her body was her meal ticket. And as a model, she had to know what effect her appearance had on men. And we may conclude from the places she did her modeling that she enjoyed having that effect.
TWEEDEN'S USO gig with Franken took place in 2006 when she was 33 and unmarried. It was her ninth tour with USO. She would do seven more USO tours. Surely, she knew she wasn't entertaining the troops with her intellect or witty patois. She was there as "the body." When she walked on stage and heard cheers from the military audience, she knew they were cheering her appearance, her body. She was playing a role that many glamorous women have played on tour for USO.
Franken's mistake, as I said, was in assuming that she also had a sense of humor about her glamorous self. She either lacks a sense of humor—therefore couldn't see Franken's pranks as the pranks they were—or she's a publicity-grabbing would-be celebrity. She hasn't been on the cover of Playboy recently and probably misses the attention.
Is that why she volunteered to "expose" Franken? For the publicity? For the attention?
I realize that in questioning her motive I'm engaging in a stereotypical role—that of character assassin. But I'm willing to accept other explanations for her Franken attack. My motive is to understand what motivated her.
Tweeden was described in the initial publicity about her Franken expose as "a radio broadcaster." And that's what she is. She specializes in sports coverage. She was a correspondent for Fox Sports Network's "The Best Damn Sports Show Period" from 2001 to 2007. In 2008, she became the third hostess of the NBC late night tv series "Poker After Dark."
She also appeared on the political discussion series "Hannity" in 2011 and 2012. (She voted for GeeDubya and Trump. (Was her motive for attacking Franken political?) She is currently on the Los Angeles morning radio show "McIntyre in the Morning," which she joined in February 2017 as news anchor.
In her reaction to Franken's resignation, Tweeden repeats what she said when she first publicized Franken's USO behavior: "I'm telling my story because there may be others." She continues:
"And there were. Yesterday a seventh and an eighth woman spoke out, and even more have reached out to me, but are unwilling to talk to the press. After experiencing many vile and partisan personal attacks on my credibility since I went public, I don't blame these women one bit. All our nearly identical experiences show that this was not a onetime failure of judgment on Senator Franken's part, it was a clear pattern of behavior."
One woman said he made suggestive remarks to her on the Bill Maher show in 2000. Seventeen years ago. But she didn't say she was sexually harassed.
Tweeden hoped that if Franken is a habitual harasser, other women will follow her lead. And subsequently, sure enough, some half-dozen or so women alleged sexual misconduct. Franken's accusers all say he groped them. Sure: they requested that he have a photo taken with them, so, in a playful mood, he said, Okay, hugged them and patted their butts playfully. I can envision this happening. But I don't excuse it.
Still, his behavior is not, strictly speaking, sexual harassment. Sexual harassment, according to my attorney daughter, happens when one of two situations exist, both in the workplace: if a woman's superior wants sexual favors in order to promote the woman's career or maintain her employment, or if the conduct of men in the workplace creates a hostile environment.
While the USO experience undeniably created a hostile environment for Tweeden, none of Franken's other accusers were in his workplace. And three dozen of the women who shared Franken's workplace at "Saturday Night Live" signed a letter attesting to his unfailing respectful behavior towards them, saying he treated them "with the utmost respect" while working in his office.
"He valued our work and our opinions and was a champion for women both in the legislation he supported and in promoting women to leadership roles in our offices," the statement said.
Tweeden said that she didn't expose Franken in order to get him to resign. She just wanted "others" to come forward and accuse him of similar sexual harassments.
That's it?
She wanted to create a "flash crowd" of accusers of Al Franken?
No, I doubt it. In fact, I don't think her motive was clear even to her. She just wanted to speak out—to join the chorus of women who were finally speaking out against their male oppressors. That, surely, is motive enough—and admirable enough.
I don't think her motive was political—although politics is what destroyed Franken. I watched Tweeden being interviewed on CNN by Jake Tapper. She was clearly a little confused about what she was doing and what effect it would have. She seemed a little embarrassed by all the attention. She said she was angry. Franken's behavior in 2006 made her angry at the time, and she continued to be angry about it ever since—every time she thought about it. Inspired by women of the #MeToo persuasion, she didn't want men to be getting away with "it." And the only useful personal instance of her being sexually harassed that she could cite was, apparently, the USO gig with Franken.
I'm sure that wasn't her only instance of being harassed. C'mon—a woman with a bodacious figure who made a living (or at least a good supplemental income) with her body for almost 20 years and she's never been sexually harassed? No man has ever grabbed her butt or a boob? In the year that she toured the world for the Venus Model Search no man ever groped her?
I'm sure she's been harassed before—but not by anyone famous. Franken is famous. He was, ergo, the best candidate for her purpose—which was to join the chorus. That, I believe, was her motive. She had been sexually harassed all her life, and she wanted to join the chorus protesting that circumstance. As a woman making an occasional income with her body, she wanted to be admired but not groped. She wanted to protest the latter. And I don't blame her. In fact, I'd applaud her if her action hadn't had such a deleterious effect on the fate of the man she chose to attack.
Hold On There. Just a Darn Minute.
Let me pause here to emphasize as strenuously as I can what I believe to be my motive in examining Tweeden's motives. By introducing numerous photographs of her admirable epidermis, I don't mean to disqualify her as a witness on behalf of the #MeToo cause. I'm not slut-shaming. At least, that is not my conscious intention. With those photographs, I'm trying to establish that Tweeden was not innocent of her body—or of its potential. When a fat comedian keeps pestering her to rehearse the kiss in a skit he's written, she can't have been innocent of the presumed effect she may be having upon him—perhaps personally but certainly as a character in the skit. And she'd appeared as a kindred "character" on previous USO tours. She is a beautiful woman, and that's her character on tour. That she didn't see the humor in the situation with Franken is too bad, but that's the only part of the scenario she could have been unaware of.
I'm not trying to invalidate her complaint about Franken by saying, as many critics of sexual harassment complaints say, that Tweeden wore provocative clothing and therefore was "asking for it." I'm sure she wasn't asking for it from Franken.
I don't aim to question her character or suggest some dark political reason for her attack on Franken. She's not a bad person, not a saboteur out to destroy a political opponent. In the last analysis, I don't think she is seeking publicity either. In fact, I suspect she'd rather avoid it for her own sake: publicity might lead others like me to unveil her life as a model (euphemism for pin-up) and her Playboy appearances in the nude. To sustain the respectability she enjoys as a radio news anchor, she probably doesn't need the naked lady reputation. Not that I think she's ashamed of it; I don't. Naked ladies, however, traditionally don't have much credence as promulgators of fact and truth; newscasters do (or at least did sometime in the history of the medium).
I think Tweeden's motive was entirely understandable—and commendable. Unlike most women, she, as a bodacious and admired representative of the curvaceous gender, had probably suffered more than her share of wolf calls from male passersby. Wolf calls and other predations. Like most women, she'd had enough. She therefore wanted to join the chorus of those who objected, loud and clear. Although she had stature as a professional personality, she wasn't widely enough known to make her voice discernible. And she wanted to be heard. She needed, then, to complain about someone well-known enough to amplify her voice. Al Franken qualified. And she knew Franken; she'd had an experience with him that would qualify her to join the chorus.
And that, it seems to me, is why she did what she did.
IT WAS DOUBTLESS TO FORESTALL that antique she-said he-said character assassination ritual that Congress instituted its convoluted complaint system, about which we've just started to hear.
Under the 1995 Congressional Accountability Act, complaints about sexual harassment and other workplace offenses have been referred to an obscure Office of Compliance. Politico also reported that the office requires victims of abuse — sexual or otherwise (salary discrimination, f'instance)— to go through a three-month process before filing a complaint. It includes "counseling," "mediation" and a one-month waiting period that one lawyer referred to as "cooling off" time.
"The law gives an accuser 180 days to report an incident," noted the Chicago Tribune in an editorial. "That flies in the face of everything we know about how hard it is for victims of sexual abuse to come forward. And the initial report isn't even a complaint—it's a 'request for counseling.' It becomes a complaint only if counseling and mediation fail. ...
"'It is not a victim-friendly process,' said Representative Jackie Speier (D-California). 'It is an institution-protection process.'"
Over the last 20 years or so, taxpayers have paid out $15-17 million to settle the complaints processed by the Office of Compliance (not all of which were about sexual misconduct). Said the Chicago Trib: "Think of it as the Taxpayer Hush Money Fund. You pay, and the complaints go away. Those records aren't subject to the federal Freedom of Information Act. The Compliance Office doesn't disclose the names of congressmen or their aides who reach settlements with their accusers."
And one of the actions of our usually innert Congress has been, lately, to examine this operation and eliminate the possibility of taxpayers paying for victims' silences. There may have been many more complaints if the process for lodging them weren't so cumbersome.
If Tweeden had be required to go through such a system, I suspect she'd have given up before completing the process. Too much she-said, he-said, the classic sexual harassment dilemma—i.e., the impossibility of determining who's telling the truth.
What confirms complaints of sexual harassment these days is the number of complainers. The more victims come forward, the more likely the truth of their accusations. That's happening with Roy Moore in Alabama.
UNWITTINGLY, Tweeden set in motion the political mechanism that would ultimately destroy Franken's career as a public servant. At first, no one was saying much about Franken. Almost everyone recognized the incriminating photo as a prank—perhaps in bad taste, but a prank nonetheless. Roy Moore had just come along—an Alabama Republicon candidate for the Senate accused of molesting teenage girls, one as young as 14! Most newsstories on this topic began about November 9, a week before Tweeden's expose of Franken.
The so-called "news" media, however, was not as diligent as we'd expect it to be. Moore's alleged molestations took place nearly 40 years ago, but little of the on-going news coverage included this furtive fact. (Just as almost all newsstories about Franken failed to include mention of the SNL women's letter attesting to his respectful treatment of them. In comparison, those alleging his sexual misconduct number fewer than a dozen, and several of them declined to give their names. But the accusers were a juicier story than the supporters.)
Tweeden's accusation fed right into the newsstream of the moment. And it offered the Democrats an irresistible opportunity. A Republicon was accused of misconduct but the Grandstanding Obstructionist Pachyderm refused to condemn him. Initially, the GOP stopped funding Moore's campaign; but within a few weeks, after the Trumpet himself endorsed Moore's candidacy—loudly—the GOP resumed funding.
The opportunity the Democrats saw in Franken's predicament was the chance to establish the Democrat Party as morally superior to the GOP, which was supporting the candidacy of a child-molester in Alabama. To achieve this objective, it was necessary to call for Franken to resign his Senate seat. Then the Democrats would be pure—in marked contrast to the GOP, which would seem, in comparison, morally corrupt.
It was too good to pass up. And so they didn't. They forced Franken to quit. They ruined him, but the Democrat sway in Congress will remain as-is. His Senate seat will be filled by someone appointed by the Democrat governor of Minnesota—probably another Democrat. Given this purely political motivation, I wonder whether the Democrats would have pushed for Franken to resign if the governor of his state had been a Republicon who would doubtless appoint another Republicon to fill Franken's seat.
The irony of Franken's departure was not lost on him. A humorist and satirist could scarcely fail to see the irony. To Franken's everlasting credit, he made sure the rest of us saw it, too, saying, during his resignation speech, "I, of all people, am aware that there is some irony in the fact that I am leaving while a man who has bragged on tape about his history of sexual assault sits in the Oval Office, and a man who has repeatedly preyed on young girls campaigns for the Senate with the full support of his party."
But it wasn't irony: it was betrayal by a party that clearly valued making political points over party loyalty. For a fleeting political advantage, the Dems gave up Franken.
Without politics, Franken might well have survived, his sexual harassment history seen as the antics of a comedian.
AND THEN CAME GARRISON KEILLOR
If Al Franken's treatment by his Senate colleagues was an affront to common courtesy, Garrison Keillor's firing by the Minnesota Public Radio was a crime against humanity. That's right: the raconteur of Lake Wobegon was unceremoniously fired form MPR after spending a lifetime creating it.
The homegrown humorist didn't detail the allegation to the Associated Press's Jeff Baenen, but he later told the Minneapolis Star Tribune that he had put his hand on a woman's bare back when trying to console her.
"I meant to pat her back after she told me about her unhappiness, and her shirt was open and my hand went up it about six inches. She recoiled. I apologized," Keillor told the newspaper in an email. "I sent her an email of apology later, and she replied that she had forgiven me and not to think about it. We were friends. We continued to be friendly right up until her lawyer called."
MPR said only that it received allegations of "inappropriate behavior" against Keillor last month involving one person who worked with him during his time hosting "A Prairie Home Companion."
In a statement, MPR said: "Based on what we currently know, there are no similar allegations involving other staff."
Although that seems to be somewhat uncertain. Keillor gave a statement to MPR News saying he had to "respect the privacy of the two employees who have made the allegations."
One? Or two? Is that all? Is that all it takes to destroy a man's reputation and a 50-plus year career? One she-said wipes out all the he-saids he can muster. If there'd been a cumbersome Office of Compliance at MPR, would the lynching of Garrison Keillor have been achieved so easily? So quickly?
MPR's action based upon one complaint cannot be seen as anything other than craven panicky institutional cowardice. They gave up their own icon because of one (maybe two—but no more) allegation. Shame on them.
"Getting fired is a real distinction in broadcasting," Keillor said in his usual gentle humorous way, "—and I've waited fifty years for the honor. All of my heroes got fired. I only wish it could've been for something more heroic. Anyone who ever was around my show can tell you that I was the least physically affectionate person in the building. Actors hug, musicians hug, people were embracing every Saturday night left and right, and I stood off in the corner like a stone statue."
Elsewhere, Keillor said: "If I had a dollar for every woman who asked to take a selfie with me and who slipped an arm around me and let it drift down below the beltline, I'd have at least a hundred dollars. So this is poetic irony of a high order."
He went on: "I've been fired over a story that I think is more interesting and more complicated than the version MPR heard. It's some sort of poetic irony to be knocked off the air by a story, having told so many of them myself, but I'm 75 and don't have any interest in arguing about this. I cannot in good conscience bring danger to a great organization I've worked hard for since 1969. I am sorry for all the poets whose work I won't be reading on the radio and sorry for the people who will lose work on account of this. But my profound feeling is that of gratitude, especially to my wife Jenny, and for this painful experience that has brought us even closer together. ... A person could not hope for more than what I was given."
Howard Mortman, the communications director of C-SPAN, noted that Keillor had taken up the subject of sexual harassment before. In 1994 Keillor spoke at the National Press Club in D.C. and said, among other things, "We should be careful not to make the world so fine and good that you and I can't enjoy living in it. A world in which there is no sexual harassment at all is a world in which there will not be any flirtation." The crowd was quiet.
"A world without thieves at all will not have entrepreneurs," Keillor said next, and at that, the crowd laughed.
In another twist of poetic proportions, the MPR announcement of Keillor's firing came a day after Keillor had defended Franken in an op-ed in the Washington Post.
After a few paragraphs of the hazards of re-naming things (rivers, mountains, etc.) because changing times had invalidated the glories of the past heroes (the FDR Drive in New York is named after a man who was unfaithful to his wife), Keillor turns to Franken:
"He did USO tours overseas when he was in the comedy biz. He did it from deep in his heart, out of patriotism, and the show he did was broad comedy of a sort that goes back to the Middle Ages. Shakespeare used those jokes now and then, and so did Bob Hope and Joey Heatherton when they entertained the troops. If you thought that Al stood outdoors at bases in Israq and Afghanistan and told stories about small-town life in the Midwest, you were wrong. On the flight home, in a spirit of low comedy, Al ogled Miss Tweeden and pretended to grab her and a picture was taken. Eleven years later, a talk show host in LA, she goes public, and there is talk of resignation. This is pure absurdity, and the atrocity it leads to is a code of public deadliness. No kidding."
Then he recommended that Franken change his name to Newman.
In its statement, Minnesota Public Radio said that because of the allegation, it was terminating its contracts with Keillor and his private media companies. "By terminating the contracts, MPR and American Public Media (APM) will: end distribution and broadcast of 'The Writer's Almanac' [a short recap of literary events in history that includes reciting a poem] and rebroadcasts of 'The Best of A Prairie Home Companion' hosted by Garrison Keillor; change the name of the current APM 'A Prairie Home Companion,' the weekly music and variety program hosted by Chris Thile, Keillor's successor; and, separate from the Pretty Good Goods online catalog and the PrairieHome.org website."
Rod Dreher at theameridanconservative.com quoted David Vossbrink, who wrote:
"Garrison Keillor has been disappeared into the Memory Hole. If you look for his biography or the archived shows from a half century of 'A Prairie Home Companion' on the website of Minnesota Public Radio since his fall from grace, you'll now find only this: 'Sorry, but there's no page here.'
"Keillor and his entire body of work from 'A Prairie Home Companion' and 'Writer's Almanac' have been effectively erased from the archives of MPR, along with the work of all the other storytellers, singers, poets and production staff who made the shows successful. In these tumultuous days of unceasing revelations of sexual scandals in media, politics and business, media enterprises especially face a new ethical challenge with their fallen stars: What do you do with history and art?"
To which Dreher responded at length:
"That's a very good question, though it really should be an easy one to answer: as a general rule, the art is separate from the artist. The MPR panic is what you would expect from a Stalinist regime dealing with figures who have fallen out of ideological favor. Unless MPR has evidence that Keillor was some kind of unspeakable monster, this response has been hysterical and unjust — unjust not just to those who worked on the show, including Keillor, but unjust to the show's fans, and future fans.
"If you only chose to partake of art, music, and literature created by morally upstanding persons, you'd quickly come to the end of what's available. Museums would empty out. Concert halls would fall silent. Bookstores would have to be repurposed as yoga studios, and movie theaters as hipster churches. The unfortunate truth is that bad, or at least deeply flawed, people often make the best art. ...
"You can walk into any good bookstore in the country and buy the works of Louis-Ferdinand Céline and Ezra Pound, though both were pro-fascist during the Second World War. And you should be able to! To unperson someone whose artistic work is as gentle and anodyne as Garrison Keillor's because of some alleged sins in his personal life ought to chill writers, musicians, artists, and those who love art, music and literature, to the bone. I've mentioned in this space on several occasions that I hear from readers who grew up in Communist countries, and who tell me that they sense more and more the same atmosphere of their youth coming into existence here. This erasing of Keillor and his enormous and valuable creative legacy from history has to be setting off their internal alarms."
RCH: Certainly sets mine off.
Any chance Franken or Keillor—particularly Keillor— will be forgiven and reinstated, given the relative harmlessness of their transgressions? Yeh—fat chance.
More on Sex Harassment
8 Big Questions We Need to Ask Ourselves
In the Wake of America's Sexual Awakening
Lili Loofbourow at The Week
There's a big question haunting the ongoing culture-wide epiphany about the scale of sexual predation in American workplaces: Can it all build to substantive change? What, beyond the obvious, can anger and testimony achieve? So far, we've seen them produce a great deal: There's an emetic, purgatorial quality to this outpouring of experiences that have never been sayable before. Along with the catharsis and relief, there's a grievous but essential corrective to the stories we've told ourselves about where we are in the fight for gender equality.
But in concrete terms, even though some malefactors are indeed seeing consequences, the effects have been more chaotic than systematic or surgical.
Yes, Harvey Weinstein was forced out of The Weinstein Company. Mark Halperin did indeed lose his job. So did Charlie Rose. Former Oklahoma state Senator Ralph Shortey — the chair of Donald Trump's Oklahoma campaign — is expected to plead guilty to child sex trafficking on November 30. Emerson Collective canceled its backing for Leon Wieseltier's new journal. Fox News pulled Bill O'Reilly's show. Kevin Spacey was replaced by Christopher Plummer in All the Money in the World.
But whereas Louis C.K.'s Netflix special was canceled, Danny Masterson — who stands accused of a great deal more than Louis C.K. — still has a deal with Netflix. Why?
Anthony Weiner is in prison for sexting with a minor; Alabama Senate candidate Roy Moore received the president's endorsement despite multiple allegations of molesting one.
Armie Hammer pointed out (in a tone-deaf, vaguely self-serving way) that allegations of sexual misconduct affected Nate Parker and Casey Affleck quite differently. Parker is in "director jail," Hammer says, whereas Affleck won an Oscar.
The haphazard way in which consequences are coming should concern anyone who's hoping for a systemic response to a systemic problem. The fact is, some of these scandals have become inverse popularity contests; that means the most beloved or famous figures are — in an interesting reversal — absorbing most of the response. People care deeply about Louis C.K.'s misconduct (myself included) because they thought he was better than that. No one seems to care much about the allegations about Steven Seagal; no one liked him enough to be surprised. But that lack of interest shouldn't mean that Seagal gets to escape the professional repercussions some of his colleagues are facing.
This is no way to proceed. For one thing, it's simply not fair. For another, this folds fame into the equation in ways that exclude ordinary people. If the consequence for being accused of sexual assault is that you lose your platform — and that seems to be the best ad hoc solution we've come up with — then women who aren't famous in non-celebrity industries don't have the same recourse. Whether it's female marines or hotel staff or restaurant workers, their plight won't generate the same public response. Our imaginative attachments to public figures matter, but they aren't particularly good at delivering equality or justice.
THE MORE WE WATCH consequences accrue in response to eddies of public outrage, the more likely a backlash becomes. We have to develop better metrics if we want this movement to translate into real change. I don't have the answers for how to go about that; but we can start compiling some of the relevant questions:
1). What are appropriate consequences for sexual predation? Assuming a harasser isn't famous, what form of justice can his victim expect? So far, the tacit consensus seems to be that they shouldn't get to work in their chosen careers. For how long? If the victim is tasked with publicly judging an apology (or otherwise absolving her harasser), doesn't that just open her up to being pressured behind the scenes? What do we as a society want from this process we're being forced to collectively improvise? Punishment? Rehabilitation? Restitution?
2). What are the hierarchies of harm? This is tough; sexual assault and sexual harassment exist on a worryingly wide spectrum, and the damage is hard to objectively measure. But it must at least be attempted. As Michelle Goldberg says at The New York Times, "Weinstein's sadistic serial predation isn't comparable to Louis C.K.'s exhibitionism. The groping Franken has been accused of isn't in the same moral universe as Moore's alleged sexual abuse of minors." The terms we have — sexual harassment, sexual misconduct — are such blunt instruments that they practically force false equivalences. If we're going to take this seriously, let's take it seriously. You know that old, semi-correct story about the Eskimos having 50 words for snow? A culture needs to develop a rich lexicon to properly describe its environment. We need to radically expand our glossary for sexual misbehavior so that we may precisely address the sheer range of sexualized abuse to which people are routinely subjected.
3). What should men who know they're guilty of sexual misconduct do? The Establishment's Ijeoma Oluo suggests that, rather than wait to be denounced, they should come forward and face the music. It's the right thing to do. Others have suggested some kind of "truth and reconciliation committee" — complete with amnesties — whereby harassers could confess to all the reprehensible things they've done. The merits of this are largely academic: It would be useful to have as complete a picture of exactly what our workplace culture has been, and it might be validating to victims. On the other hand, this robs people whose entire careers have been derailed of more forceful remedies. Are there other solutions?
4). How does a culture standardize its approach across industrial and political divides? Is this even possible, given how different the incentives and power structures are? Mike Allen at Axios points out that certain industries have remained hitherto untouched: "The wave has yet to hit the New York corporate suites. I'm told they're hardly immune," he writes. It's possible there simply aren't any allegations; it's also possible that some industries are still managing to pressure victims into keeping quiet. Academia, for instance, has shown itself to be remarkably resistant to addressing sexual misconduct. The restaurant industry is just barely starting to take this stuff seriously.
Politically, too, there are splits emerging between those who are ethical and those who are tactically-minded. While Democrats have roundly condemned Senator Al Franken's actions, they can't quite decide what he should do now. As for the GOP, it has wrapped itself in knots around Alabama Senate candidate Roy Moore, variously arguing that the allegations against him are disgusting untruths, a total conspiracy, or perfectly fine, as some 14-year-olds could pass for 20, and the Virgin Mary was a teenager. If there's anything that unites us all as Americans, it's that many men on both sides of the political divide have been guilty of pretty serious wrongdoing. That's not a recipe for a healthy society. Less healthy still is the lack of political will to deal with offenders in the same way regardless of party.
5). Why haven't past solutions worked? Why, in particular, have HR solutions failed? Sexual harassment training is widely seen as a joke — so much so that "The Office" even dedicated an episode to the phenomenon. "The basic compliance function of human resources — to ensure a company doesn't violate the law — is often interpreted as a mission to protect a company from lawsuits, and employees know it," Rebecca Greenfield writes at Bloomberg. Is there a way to uncouple HR from the company — or at least from its naked self-interest?
6). Now that so many people finally see the scope of the problem, how do we deal with how repugnant our beliefs were? How to reconcile the deplorable conditions under which so many women have worked with the fact that, for generations, we tolerated and even sided with their tormentors? While some serious introspection is called for on this front, I want to offer an important caveat: Let's not get carried away and pretend that historically, everyone truly believed that sexual harassment was okay. As we reckon with all this, it's tough but essential that we practice holding multiple truths in our hearts at one time; for example: a) it's true that our culture used to turn a blind eye on this behavior, and b) you don't usually have to turn a blind eye on actions you deem desirable and correct .
To put it bluntly: While there were no social or professional repercussions for men who violated their female employees, there isn't a single man in the world who thought groping his secretary was good, upstanding behavior. Even the language we used betrayed that. Translated, "boys will be boys" means "men will do bad things and it is our job to tolerate them and love them anyway," not "those things aren't bad." As CBS News president David Rhodes said in the internal memo announcing Charlie Rose's termination, "What may have once been accepted should not ever have been acceptable." We all knew sexual harassment was wrong. We tolerated it anyway. Why? More importantly: How do we stop?
7). How do we come to terms with how awful so many people seem to have been? When someone you love is accused of doing a terrible thing, how will you reconcile your ethics with your affection? There will be a lot of different answers to this; we're only at the beginning of that reckoning. Elizabeth Bruenig offers one useful approach that brings us back to the need for systemic, culture-wide solutions. I've argued that many of the most powerful men who've been accused of sexual malfeasance have tried to hide behind the alibi of the male bumbler. While I don't think she'd disagree that there are plenty of socially savvy abusers who feign social ineptitude to escape social sanction, Bruenig suggests that there are varying degrees of malice. Yes, individual agency matters, and so does personal accountability. But habitual, systemic abuse on the scale we're seeing here is abetted by a society that actually makes it easier to engage in behavior that victimizes women than it is to stop it. One thing to try, then, is to alter those paths of least resistance:
When we conceive of social inequity operating through power structures, we're admitting that certain behavioral pathways are easier to traverse than others, and that certain bad behaviors are rewarded with power, prestige and esteem. Behaving accordingly is the agent's choice, and they are accountable for their decisions to cooperate with power at the expense of others. But because they are also, to some degree, following the path of least resistance, it isn't necessary for them to be willfully malicious to participate in these behaviors. That's why these power structures are so dangerous: They can sort of sweep people along, meaning that it doesn't take a whole lot of intense, volitional evil to wind up doing a very bad thing. This is in fact what it means to describe biases like sexism in terms of culture, paradigms and structures. [Medium]
8). How do we move toward a truly equitable society? Especially given how well many people thought America was doing with gender equality and how spectacularly we failed. Or, as journalist Rose Eveleth puts it, "how do we prevent this s--t more broadly?" This is the biggest question of all. And, as is often the case, women of color got there first. We'd do well to look at those histories for guidance. Another angle of approach might be cultural: It will likely involve talking a lot about consent, and social cues, and sexual mores.
But all these questions exist under a giant conditional, an umbrella question: What happens when a critical mass of people, tired of unequal treatment, finally talk openly about it and find a sympathetic hearing? Can society really shift in response, or will the backlash I and others have been predicting ensue? Could something good and lasting really come of this?
It's possible. I'm starting to see glimmers of something like hope. For all that some are concerned about a "sex panic," those fears strike me as premature, misnamed, and fundamentally misplaced. I mean sure, it's possible that Americans will become so skittish about sex that they'll over-legislate social boundaries, or that some will adopt versions of the "Pence rule" as a massive and moronic overcorrection that in no way addresses the problem. But this strikes me as paranoid thinking and worse, inaccurate paranoid thinking. This isn't about sex. Not really. [Well, actually—it is. It's about the male personality being defined by an erection. Too bad. Simple-minded. But true.—RCH] I submit that the real panic is happening elsewhere. The fact is, nothing causes more paranoia than a call for widespread, systematic change. Mass movements of any kind get instantly pathologized in America, and little frightens the average person more than a group with legitimate grievances finding the will to seek redress. Hence the proliferation of terms that not-so-subtly suggest that the present response to this decades-long epidemic of exploitation is overblown — terms like mob, witch hunt, and panic.
But if we can keep from panicking, and instead keep asking careful questions and try to answer them while fully acknowledging their difficulties and contradictions, there's a small but real chance we might channel all that fear and anger into change that lasts.
A Final Word by Will Durst
Men behaving badly is a tale as old as dogs chasing cats, a concept even more apropos when you consider that most men are horndogs to begin with. It's a miracle women have survived, considering the position of vulnerability various quirks of nature foisted upon them: childbirth, being 10% smaller than male counterparts and a shorter fertility period. Offset by living longer and a tendency to mature more quickly and some might argue owning a monopoly in that particular aspect.
Every single woman you've ever met, including your sister, mother, grandmother and great-grandmother (if you met her), has been the unwelcome recipient of inappropriate touching and crude groping and hugs that go on much too long and clumsy pawing and cheek kisses that inexplicably involve wetness and all sorts of leers and ogles and catcalls and having to constantly worry that the provocative or unprovocative clothing they are wearing might provoke the unwarranted attention of some deranged carbon unit with y-chromosome poisoning who thinks he is god's gift to women. Which admittedly is many of us. Okay—most. All?
WE'RE ALL BROTHERS, AND WE'RE ONLY PASSIN' THROUGH
Sometimes happy, sometimes blue,
But I'm so glad I ran into you---
Tell the people that you saw me, passin' through
TURNING THE LAST PAGES of the December 18 issue of People and in similar places in other magazines, I encountered the section devoted to picturing famous personages who left us in 2017, and I was thereby reminded of departures that I either overlooked or never heard about or somehow have forgotten but now wish to remember: Mary Tyler Moore, Glen Campbell, Robert Osborne, Jerry Lewis, Adam West, Fats Domino, Don Rickles, Hugh Hefner, Martin Landau (an aspiring cartoonist before becoming an actor), Zbigniew Brzezinski, Rose Marie, Keely Smith, Jim Nabors, John Hellerman, Chuck Berry, Dick Gregory. And Sir Roger Moore, who appeared as James Bond 7 consecutive times, more than anyone else consecutively; Sean Connery's 7 was interrupted after the first 6.
They've all gone. Where? I can't imagine.
Something else I can't imagine—and that's the death of personality.
And so, without any great conviction, I occasionally join a few million people and invent Heaven where personalities go when they leave us.
It's a nice idea.
To find out about Harv's books, click here.