Opus 364 (March 31, 2017). This posting of Rancid Raves, like all the others, is all just talk, talk about comics and cartooning. Stuff I dote on. So if I wax on at great and unforgiving lengths, well—that's just that much more talk about comics, and if you, like me, like to talk about and contemplate comics and cartooning, then the feast laid out here won't be a groaning board but a joyous celebration. There is, perforce, a lot, a lot of talk and a lot of pictures. But maybe you won't be interested in all of it, right away. We encourage you to scan the listing that follows this preamble, choose the topics you want to spend time with and then scroll down until you get to them.
A couple flags, though. Four great cartoonists died over the last month—Jay Lynch, Skip Williamson (within 11 days of each other), Bernie Wrightson, and The New Yorker's James Stevenson, plus Howard Shoemaker, a long-time Playboy contributor. We eschew the sadness usually associated with pall-bearing in favor of appreciative memorials for them all, with a generous sampling of their work, which is sometimes jocular to the point of iconoclasm.
We also contemplate Jack Cole's cuties and do lengthy reviews of two great graphic novels—Corto Maltese, back in a new translation, and Dieter Lumpen, at least Corto's equal in the adventuring game. For the legendary European favorite Corto, we do a virtual history of the character and his creator, Hugo Pratt. Here's what's here, in order, by department—:
NOUS R US
Health Care Fiasco
Reuben Nominees
Tom the Dancing Bug Gets Herblock
Sack Gets Thomas Nast Award from OPC
Mad Westbound?
Archie Into the Movies
Malaysia Stops "Beauty and the Beast"—Briefly
Bell Wins Berryman
Garfield's Sex Affirmed
Odds & Addenda
Guest Appearances in Dick Tracy
Bob Mankoff Retires
The Pro on the Big Screen?
Stan Lee Better
FCBD May 6
FUNNYBOOK FAN FARE
First Issues Reviewed are—:
The Old Guard
The Visitor
Black Road
Also—:
The Assignment, Nos.1-3
And Up-dating—:
Kill Or Be Killed
Wonder Woman 75th Anniversary
DC Universe Rebirth
Lady Killer
EDITOONERY
Appreciating Some of the Best Editoons on—
Health Care Debacle
The Trumpet's First Month
ED IS BACK
The Return of Editoonist Ed Stein
(Who Couldn't Stand It Silently Anymore)
RANCID RAVES GALLERY
Lost Spillane Is Found
NEWSPAPER COMICS PAGE VIGIL
Strange and Wonderful Events in the Funnies
ACCRETION OF INTENTION DEPARTMENT
Reviews of Neglected Books of Interest, Namely—:
Classic Pin-Up Art of Jack Cole
1000 Pin-Up Girls
CIVILIZATION'S LAST OUTPOST
Pop Tarts and the Justice League
BOOK MARQUEE
Short Reviews of—:
How About Never—Is Never Good for You? My Life in Cartoons
Sh*t My President Says: The Illustrated Tweets of Donald J. Trump
LONG FORM PAGINATED CARTOONS STRIPS
Er, Graphic Novels
The Adventures of Dieter Lumpen
Under the Sign of Capricorn: A Corto Maltese Graphic Novel
Exquisite Corpse: Dying To Be An Author
PASSIN' THROUGH
Appreciative Obits for—:
Jay Lynch
Skip Williamson
Bernie Wrightson
James Stevenson
Howard Shoemaker
QUOTE OF THE MONTH
If Not of A Lifetime
"Goddamn it, you've got to be kind."—Kurt Vonnegut
Our Motto: It takes all kinds. Live and let live.
Wear glasses if you need 'em.
But it's hard to live by this axiom in the Age of Tea Baggers,
so we've added another motto:.
Seven days without comics makes one weak.
(You can't have too many mottos.)
And our customary reminder: don't forget to activate the "Bathroom Button" by clicking on the "print friendly version" so you can print off a copy of just this installment for reading later, at your leisure while enthroned. Without further adieu, then, here we go—:
NOUS R US
Some of All the News That Gives Us Fits
The BIG NEWS of the week is that the GOP blew it, demonstrating beyond question the acuity of its nick-nom de guerre, the Grandstanding Obstructionist Pachyderm. The Party of No proved that it is only the Opposition Party: it can obstruct and oppose but it cannot legislate. It cannot govern. And on the Other Side of the $ubscribers Wall, we have a short collection, a quartet, of editoons on the subject of the spectacular failure to repeal and replace Obamacare.
Until you get there, here's PBS Newshour's liberal commentator Mark Shields at the end of that catastrophic Friday, March 24, condemning the Republicons' colossal fumble in a blistering rant. I've never seen him so unreservedly irrate. So angry and disgusted. For so long a diatribe. Here he is—:
"Speaking in general—the Republican Part is an opposition party. It's a protest party. We have a protest President. We have a protest party. It's not a governing party. It showed itself unable to accept the responsibility in the accountability of government. This bill was not a bad bill. It was an abomination. There was no public case to be made for the bill. There was no public argument to be made for the bill because nobody knew what was in it. There was no public campaign for the bill. No organization—every organization involved in medical care, they were all against the bill. It was a terrible bill. The only organizing principle was that it was against Barack O'Bama.
"Paul Ryan, a very earnest policy wonk, showed himself to be an inept political leader. He couldn't even lean on the safest seats in his party's caucus. These are people whose re-election is not at all threatened. He could go to them and say, I need you. I need your vote. But he didn't even do that.
"Donald Trump showed he has no understand of the legislative process. He used a lot of colorful words—it's a wonderful bill, a fantastic bill. But he had no idea what was in it. The art of the deal just collapsed. This is a man who gave away the store to the Freedom Caucus, and he got nothing in return. He didn't even get their votes.
"It was a disaster in public policy and for the country. In no way was this anything but a disaster."
In short, no one—not the Trumpet, not Ryan, not the GOP, not the protest movement, and certainly not the so-called "Freedom Caucus," the party's most obstructionist element—came out of this debacle unscathed. In fact, they were all scarred for life. Their action in every sense was, as Nancy Pelosi observed, a "rookie" performance, something attempted by people so grossly unfamiliar with the terrain that they were lost from the very beginning.
On Monday, after the intervening weekend's strife and finger-pointing—a veritable "festival of recrimination," as E.J. Dionne Jr at the Washington Post put it— back on the PBS Newshour, Amy Water, another of the program's commentators, noted that the famous Trump style may have worked during the campaign, but it didn't work in legislation. She mimicked Trump, mocking him: "I can't tell you about it. But it's a wonderful bill. Vote for it because you like me."
But that wasn't enough, she concluded.
But it's enough for now. More later, down the scroll to the Editoonery Department.
REUBEN NOMINEES
National Cartoonists Society members have nominated the top five finalists for the 2016 NCS Reuben Award for Cartoonist of the Year. Ballots are now being cast by all voting NCS members, and the results will be announced when the Reuben is presented to the winner at the 71st Annual Reuben Awards Banquet on May 27th in Portland, Oregon.
This year's line-up of nominees is historic in at least two ways. First, it includes more than one token woman cartoonist. And there are more women nominees than men. Finally, two of the five are not syndicated newspaper comic strip cartoonists. Wonders never cease.
Cynics among us will frown, saying three women on the ballot will split the "woman vote" and necessarily result in one of the two men winning. So much for cynicism.
The nominees and their credits are detailed at the NCS website:
Lynda Barry is a cartoonist and writer. She's authored 21 books and received numerous awards and honors including an Honorary Doctor of Fine Arts degree from University of the Arts, Philadelphia, two Will Eisner Awards, the American Library Association's Alex Award, the Washington State Governor's Award, the Wisconsin Library Associations RR Donnelly Award, the Wisconsin Visual Art Lifetime Achievement Award, and was inducted into the Will Eisner Hall of Fame in 2016. Her book, One! Hundred! Demons! was required reading for all incoming freshmen at Stanford University in 2008. She's currently Associate Professor of Interdisciplinary Creativity and Director of the Image Lab at the University of Wisconsin-Madison were she teaches writing and picture-making. Lynda was nominated for Cartoonist of the Year for 2016 and will be the recipient of the Milton Caniff Lifetime Achievement Award at this year's meeting in Portland Oregon. You can follow Lynda on Twitter at @NearSightedMonkey.
Stephan Pastis is the creator of the daily comic strip Pearls Before Swine, syndicated by Universal Uclick. Stephan practiced law in the San Fransisco Bay area before following his love of cartooning and eventually seeing syndication with Pearls, which was launched in newspapers beginning December 31, 2001. NCS awarded Pearls Before Swine the Best Newspaper Comic Strip in 2003 and in 2006. Stephan is also the author of the children's book series Timmy Failure. Stephan lives in northern California with his wife Staci and their two children. This is his ninth nomination for Cartoonist of the Year. Visit Stephan's blog and the Pearls Before Swine website.
Hilary Price is the creator of Rhymes With Orange, a daily newspaper comic strip syndicated by King Features. Created in 1995, Rhymes has won the NCS Best Newspaper Panel Division four times (2007, 2009, 2012 and 2014). Her work has also appeared in Parade Magazine, The Funny Times, People and Glamour. When she began drawing Rhymes, she was the youngest woman to ever have a syndicated strip. Hilary draws the strip in an old toothbrush factory that has since been converted to studio space for artists. She lives in western Massachusetts. This is Hilary's fourth nomination for the Cartoonist of the Year. You can visit Rhymes With Orange online.
Mark Tatulli is a syndicated cartoonist who produces two daily newspaper comic strips, Heart of the City and Lio, which appear in 400 newspapers all over the world. He currently has written three books in a children's illustrated novel series entitled Desmond Pucket, which has been optioned for television by Radical Sheep. He also has two planned children's picture books coming from Roaring Book Press, an imprint of McMillian Publishing. Lio (a sample of which appears below) has been nominated three times for the NCS Best Comic Strip, winning in 2009. Lio was also nominated for Germany's Max and Moritz Award in 2010. This is Mark's third nomination for Cartoonist of the Year. You can follow Mark on Facebook at https://www.facebook.com/mtatulli/ and find his Lio strips here http://www.gocomics.com/lio.
Ann Telnaes creates editorial cartoons in various mediums— animation, visual essays, live sketches, and traditional print— for the Washington Post. She won the Pulitzer Prize in 2001 for her print cartoons. Telnaes' print work was shown in a solo exhibition at the Great Hall in the Thomas Jefferson Building of the Library of Congress in 2004. Her first book, Humor's Edge, was published by Pomegranate Press and the Library of Congress in 2004. A collection of Vice President Cheney cartoons, Dick, was self-published by Telnaes and Sara Thaves in 2006. Other awards include: the NCS Reuben Division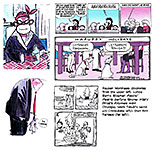 Award for Editorial Cartoons (2016), the National Press Foundation's Berryman Award (2006), the Maggie Award, Planned Parenthood (2002), the 15th Annual International Dutch Cartoon Festival (2007), the National Headliner Award (1997), the Population Institute XVII Global Media Awards (1996), and the Sixth Annual Environmental Media Awards (1996).
Telnaes worked for several years as a designer for Walt Disney Imagineering. She has also animated and designed for various studios in Los Angeles, New York, London, and Taiwan.
Telnaes is the current president of the Association of American Editorial Cartoonists (AAEC). This is Ann's first Cartoonist of the Year nomination.You can visit Ann's website, http://www.anntelnaes.com, and follow her on twitter at @AnnTelnaes.
COMIC STRIP GETS THE HERBLOCK
The Herblock Foundation's press release:
Ruben Bolling, pen name for Ken Fisher, has been named the winner of the 2017 Herblock Prize for editorial cartooning for his weekly page-size comic-strip format cartoon Tom the Dancing Bug, a free-format cartoon that uses varying types of humor, artistic styles and formats. It's an unusual strip in that in any given week, it could feature a spoof, a multi-panel sketch, political or absurdist humor, recurring characters or caricatures of real people. But during 2016, political subject matter was at its heart, as it mostly dealt with the election and the rise to power of Donald Trump.
In any year, it would be an unusual—that is, unconventional—choice for an award typically given to the time-honored editorial page single-panel commentary cartoon.
Judges for this year's contest were Mark Fiore, editorial cartoonist in animation and winner of the 2016 Herblock Prize; Matt Wuerker, editorial cartoonist for Politico and 2010 Herblock Prize winner; and Martha Kennedy, curator of Popular and Applied Graphic Art at the Library of Congress.
Fiore said: "Ruben Bolling's cartoons are consistently sharp, funny and incredibly original. His use of recurring characters, like Hollingsworth Hound and Lucky Ducky, add a wonderfully inventive richness to his masterful satire. Bolling's deft skewering operates under the cover of silly cartoon fun."
Said Wuerker: "Ruben Bolling created his own unique style of political cartoon, one that's full of sly allusions and clever twists. Tom the Dancing Bug pushed the form into new territory with imaginative tropes, deft imagery and provocative allegory. He makes his political points with a humor and writing style that's fresh and singularly his own."
In his strip, Bolling repeatedly demonstrates his concern about the power of large corporations, saith St. Wikipedia, and satirizes the way government has been corrupted by money. Particularly since 9/11, Bolling's work often concerns war. Many of his strips admit no political interpretation, instead featuring absurdist humor or parodying comic strip conventions. Bolling's lampoons of celebrity culture, such as in the parodic series of comic strips labeled "Funny, Funny, Celebs," can be scathing.
It was while attending Harvard in the mid-1980s that Fisher came up with the idea for Tom the Dancing Bug and his pseudonym, Ruben Bolling (which is a melding of the names of two favorite old-time baseball players, Ruben Amaro and Frank Bolling). The strip originally ran in the Harvard Law School Record.
St. Wikipedia quotes Bolling: "I started Tom the Dancing Bug in 1990 in a small New York newspaper. It was called New York Perspectives, then it was called New York Weekly, then it was called 'bankrupt.' But before it went bankrupt, I was able to sell the strip to a few other papers. For seven years, I was sending packages out and following up with phone calls, trying to get editors to run the strip. I ended up selling it to about 60 newspapers [under the name Quaternary Features]. I was surprised at the success I had, especially in selling to daily newspapers. I didn't think it would be my market.
"Then in 1997, the Universal Press Syndicate approached me and asked if we could work together. That came at just the right time, as I was starting a more serious day job, and I was about to have my first baby. I just didn't have the time and energy to devote to the selling of the strip. I decided that whatever job they did would be better than whatever I could put forth at that time."
You can see more examples of the Bug that Dances by Googling "Tom the Dancing Bug." Happy hunting.
This year's Finalist (runner-up) is Marty Two Bulls Sr., a freelance Oglala Dakota cartoonist who has drawn editorial cartoons for the Indian Country Today Media Network since 2001. He will receive a $5,000 after-tax cash prize. Fiore commented: "The cartoons of Marty Two Bulls, Sr. take a hard-hitting look at issues impacting native peoples. His bold style screams with powerful messages that have been overlooked by much of society. Two Bulls' strong work exemplifies a courage and ferocity that is the lifeblood of a good political cartoon."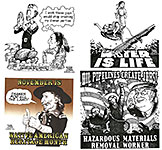 On his blog, Bolling said: "I'm very honored to have won the 2017 Herblock Prize. I thank the Herblock Foundation and the judges. And thanks to all the very kind congratulatory words from folks all around social media. I'm proud to share the award (but not the prize money) with my partners and absolutely essential friends: Boing Boing, which premiers Tom the Dancing Bug on the Web every week, Andrews McMeel Syndication, which distributes it to my great and valued newspaper clients, plus Daily Kos and GoComics... and of course, that motley squad of the greatest heroes, ne'er-do-wells, gamblers and outlaws ever assembled, the Proud & Mighty INNER HIVE, without whom, truly, none of this would be possible.
"And congratulations to the Herblock Finalist Marty Two Bulls Sr., an Oglala Dakota artist and cartoonist who does fantastic and very diverse work."
The Herblock Prize is awarded annually by the Herb Block Foundation for "distinguished examples of editorial cartooning that exemplify the courageous independent standard set by Herblock." The winner receives a $15,000 after-tax cash prize and a sterling silver Tiffany trophy. Bolling will receive the Prize on March 29th in a ceremony held at the Library of Congress. Representative John Lewis, the U.S. Representative for Georgia's 5th congressional district, will deliver the annual Herblock Lecture at the awards ceremony.
Tom the Dancing Bug, distributed by Andrews McMeel Syndication to many newspapers across North America, also appears on: BoingBoing.net, one of the most linked-to websites in the world; DailyKos.com, the U.S.'s largest progressive blog; and Gocomics.com, the largest comic strip website.
Ruben Bolling was the Finalist for the 2016 Herblock Prize, the 2014 winner of the Society of Illustrators Best Cartoon Award in its Art Annual, and in 2011, Bolling won the Sigma Delta Chi Award from The Society of Professional Journalists, for Editorial Cartooning. Tom the Dancing Bug has been twice-nominated for the Harvey Award for Best Comic Strip or Panel, and has won the Association of Alternative Newsweeklies Award for Best Cartoon five times.
THOMAS NAST AWARD GETS SACK
On Tuesday, the Overseas Press Club announced that the Minneapolis Star Tribune's Steve Sack is this year's recipient of its Thomas Nast Award for editorial cartooning. Sack, whose work won the 2013 Pulitzer Prize, says he is "immensely honored" to be recognized by the OPC, even as he emphasizes the role of the press in 2017.
"Technology may be shrinking our world, but without the work of professional journalists to sort out what's truly of value, we'd be left with nothing but gibberish, commercial pablum and government spin," Sack tells Michael Cavna at the Washington Post's Comic Riffs. "The press is my window to the world. To have my cartoons recognized by those whose efforts I depend on every day," he adds, "is most gratifying."
The OPC judges said that "Sack successfully harnessed all the cartoonist's tools — caricature, composition, biting wit and solid journalism — in his impressive portfolio."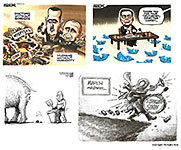 Said Cavna: "Sack draws a rather uncanny Vladimir Putin, complete with heavily hooded eyes perched above long cheekbones — as if even the Russian leader's very face is simultaneously distancing itself while remaining ever watchful."
The OPC also awarded a finalist (runner-up) citation to Adam Zyglis of the Buffalo News.
"I was extremely happy to see Steve Sack win the top prize," says Zyglis, who won the 2015 Pulitzer Prize. "He is a true master of the craft, and is at the top of his game right now. To be a finalist behind someone of his caliber is humbling."
MAD FOR THE COAST?
Mad caricaturist Tom Richmond pondered the fate of Mad magazine on Wednesday, March 22,
to wit—:
A week or so ago Bleeding Cool broke the news that Mad was apparently following the rest of DC Comics out to Burbank "soon." Back in 2013 when DC announced they were moving out of NYC and to Burbank, I wrote this post speculating on what would happen with Mad. The short version offers four possible scenarios:
1. Enough current Mad editors and art staff make the move that Mad remains the Mad we know and love.
2. DC bankrolls a small, separate Mad office in NYC, and Mad remains the Mad we know and love.
3. DC forms a new editorial and art staff to continue Mad out west, and we have no idea if Mad remains the Mad we know and love.
4. DC cancels Mad magazine.
Turned out that No.2 was what happened. Now it seems we will see one of the other options take place. Several people have written to ask me if I will still continue to draw for Mad, if the editorial staff will make the move, or what in general will happen. I have no answers.
My general sense is that, of the three remaining possibilities above, No.3 is the most likely. I do not foresee many or any of the current staff pulling up stakes from the city most have lived in their whole lives and moving to the world of bean sprouts, infused water, and suntans, but as far as I know, no one on the current staff has made any official decisions. Mad is a valuable brand for DC Entertainment and that brand is much more viable with a magazine in production, so I do not think No.4 is likely.
As for what kind of changes will take place if scenario No.3 is indeed what takes place, your guess is as good as mine. I think we will see some big changes, though. Mad has always had a distinct New York flavor to its voice, from the Yiddish slang it's always incorporated to just a general NYC sensibility, I do not see that flavor continuing on. A new staff will bring new voices and new directions. My work may or may not have a place there. Lots of unknowns. Time will tell.
ARCHIE INTO MOTION, BIG TIME
In the wake of the launch of "Riverdale" on tv at CW, Archie Comics has signed an exclusive deal with Warner Bros Television to develop more of the publisher's properties for television and original content.
As Archie CEO Jon Goldwater tells The Hollywood Reporter, the deal extends beyond the traditional Riverdale crew of Archie, Betty and Veronica as seen in the current CW series. It could include lesser-known properties, including "America's Queen of Pin-Ups and Fashions" Katy Keene, as well as the superheroes of the company's Dark Circle imprint.
Said Goldwater: "Archie is unique in that we have a huge library of characters that are not only recognizable, but they're successful and entertaining. Everyone knows Josie and Sabrina. Beyond that, we have an entire pantheon of heroes and villains that are perfect for tv or movies. Not to mention Black Hood and Sam Hill, just to name a few. The possibilities are endless, and I can't wait to start talking about what we have coming up."
"Riverdale" creator Roberto Aguirre-Sacasa told reporters last month he was interested in creating a whole Archie world. The series, with its dark tone and sexy new murder mystery plot, has been a critical hit. The deal is similar to Warner Bros tv's pact with DC Comics, which has seen it put a whole stable of series on the air, including CW's Arrow, The Flash, Legends of Tomorrow and Supergirl, as well as Fox's Gotham and NBC's Powerless.
"Riverdale's" success and the tv pact marks the latest stage in Goldwater's push to modernize Archie as a company, which started with the 2010 introduction of Kevin Keller, the first openly gay character in the publisher's long history, and continued with the launch of a series that featured an adult Archie struggling with life post-marriage (to both Betty and Veronica; the series ended with his death).
Coinciding with news of the Warner Bros deal, Archie revealed that Mark Waid, the writer of flagship comic book series Archie, will be expanding his relationship with the company later this year by signing up to co-write a number of series, as well as mentoring upcoming writers, with the overall aim of growing the current stable of talent at the company.
Goldwater, asked if he is experiencing a "sense of vindication" in seeing the success of his drive to get the characters accepted once again by a mainstream audience, said:
"Yes, there's a huge sense of vindication. This deal with Warners is in many ways a culmination of the work, along with the amazing staff and freelancers who work at Archie, to bring these characters forward into the present day. To show that Archie is an iconic brand that is flexible, relevant and energized. It's still Archie, and people want more of him and his friends. In the same way Batman can be dark, bright and funny or off-kilter, Archie can, too. He's part of a pantheon of select characters and brands that are part of America. They're part of the consciousness, so there's a built-in knowledge there.
"We knew we could widen the scope a bit, and show people that Archie could be Archie in a variety of settings. We could have an older Archie dealing with job woes and marital problems, we could bring Archie into alternate realities and face off against things like Predator or Sharknado. We could be fun again.
"The moment where I could finally sit down and say "Okay, now we're ready to roll," Goldwater continued, "was [2015's] Archie No.1, by Mark Waid and Fiona Staples. This was ground zero for the company. This was a rebirth. This was an Archie for today's reader. Obviously, we still cherish and respect the classic Archie stories — we still produce them because that audience is hugely important to us. But the 'Death of Archie' was more than a publishing stunt. It was a metaphor for the company. That Archie had to die, saving Kevin Keller, the face of the new Archie brand, to ensure the company would continue.
"As long as the story is good," he went on, "—and as long as the characters are true to themselves — you can do anything with them. The Archie in Afterlife and in the new Archie series is the same Archie you see in other comics. Sure, the content can change, but at its heart, that's Archie. Same goes for 'Riverdale' on tv. And that's what unites fans. There was a time when Archie Comics only produced a certain kind of book. So, once you grew out of those books, you had nowhere to go. So you'd move on to different stuff from different publishers. That's not the case anymore."
GAITY IN MALAYSIA IN "BEAUTY AND THE BEAST"
Malaysian censors recently ruled that a brief, gay-themed scene in the movie involving two male characters dancing promoted homosexuality, but Walt Disney Studios refused to cut the scene, meaning the film did not open there on March 16 as scheduled. The sequence, reported Reuters, is said to be three seconds long.
"The film has not been and will not be cut for Malaysia," Disney said in a statement on March 14 without elaborating.
The film, starring Emma Watson and Dan Stevens, is a live-action remake of Disney's 1991 animated blockbuster of the same name. The film's director, Bill Condon, confirmed that the scene in question — involving a character named LeFou, manservant to the villain, Gaston — is an "exclusively gay moment."
Oddly (as either John Oliver or Bill Maher—forgot which—observed), the Malaysians have no objection to bestiality—a woman falling in love with an animal. THE FILM IS PROMOTING HUMAN-ANIMAL SEX! Where's the outrage? Geez.
Abdul Halim Abdul Hamid, chairman of the Film Censorship Board, argued Wednesday that Malaysia was not preventing the movie from being screened. "It is in our guidelines that we don't allow LGBT activity in movies in Malaysia," he said in an interview. "They are the ones not allowing the movie to be shown. We approved it with a minor cut."
He said the movie would have been shown with a PG-13 rating had Disney agreed to cut the scene.
Malaysia is a Muslim-majority country, and sodomy is illegal there, although the law is seldom enforced. The capital, Kuala Lumpur, has a thriving gay community.
With about 30 million people, Malaysia is a small part of Disney's overall audience. "The Jungle Book" last year had $967 million in global ticket sales, and Malaysia represented $5.7 million of that total. In 2015, "Cinderella" took in about $540 million globally, with Malaysia contributing $4.5 million.
Russia agreed last week to let "Beauty and the Beast" be shown there, but it barred children under 16 from attending unless accompanied by someone over 16. A Russian lawmaker had called for it to be banned entirely, saying it was "blatant, shameless propaganda of sin."
Kuwait, another Muslim-majority country, pulled the film from cinemas after it had been showing for almost a week. Again, the cause was concern over the gay scene. Nobody minds that this bimbo is fucking a horny buffalo.
Right: no one really minds. Brooks Barnes at nytimes.com reports that "Beauty and the Beast" achieved "an astounding $170 million in ticket sales at North American theaters over its opening weekend (March17-19). That total broke multiple Hollywood records, including one set last year by 'Batman v Superman: Dawn of Justice' for the biggest March opening."
Back in Malaysia, the authorities ultimately overturned the Film Censorship Board's earlier ban against "Beauty": the movie opens, nation-wide, on March 30. Perhaps tourism played a part in the reversal: Tourism Minister Nazri Aziz, reports Richard Paddock at nytimes.com, objected to the prohibition, calling it "ridiculous. ... You don't ban a film because of a gay character," he said. "All these years even without the gay character in the 'Beauty and the Beast,' there are also gays in the world. I don't think it is going to influence anyone" (to become homosexual).
Meanwhile, in the ensuing days, another American-made movie, "Power Rangers," has apparently escaped B&B's fate: the movie is the first big budget superhero movie to have an LGBT protagonist, but it got a green light from Malaysia's censors until they found out that the Yellow Ranger, Trini, may be lesbian. The censors wanted to have another look. But, perhaps cowed by international outcry over the B&B censorship, they let "Power Rangers" slip into the country's theaters, unscathed, reports Patrick Brzeski at hollywoodreporter.com.
BELL WINS BERRYMAN—AND MORE
Darrin Bell of the Washington Post News Service and Syndicate is the winner of the 2016 Clifford K. and James T. Berryman Award for Editorial Cartoons. He went to Washington to receive the award and reported on a memorable experience there, visiting the Smithsonian National Museum of African American History & Culture.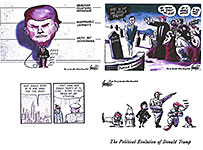 He began by admitting that he was nervous about his pending speech before thousands of journalists. He and his wife and daughter planned to visit the Lincoln Memorial before the presentation ceremony, but en route, they stopped at the Smithsonian's African American Museum.
"I won't describe what we witnessed in that museum. I'm sure you can find descriptions elsewhere, but I think it's something that's so powerful, and so personal, that it shouldn't be spoiled. There is something in there that's going to stop you in mid-step and make you feel more than you thought you would. And that something is different for everyone. ... But I will say this: there comes a point, after you've literally risen through the centuries of struggle, persecution, and contributions of slaves and their descendants, where there's a reflection room. You sit by a fountain that rains down from the high ceiling and come to terms with everything you've just seen. … Or you try to.
"I'm the great great great grandson of slaves whose contributions to America were ignored and lost to history. And here I was in the nation's capital, about to accept an award for my contribution to the national conversation. One of the least important realizations I experienced in that reflection room was that compared to everything I'd just seen, standing up before thousands of people and saying a few words was nothing at all."


GARFIELD IS A BOY
Wikipedia's editors have apparently be arguing about the orange cat's sex. The controversy, saith the Associated Press, began a couple years ago after Garfield's creator Jim Davis told a viral content site Mental Floss that as a cat, Garfield is "not really male or female." By which he meant, I think, that as a cartoon character, Garfield, like all cartoon characters, "is not perceived as being any particular gender, race, age or ethnicity ... so the humor can be enjoyed by a broader demographic." But that was enough to send fans off into the outer reaches.
Davis has now set the record straight, telling the Washington Post that Garfield is male and has a girlfriend named Arlene.
ODDS & ADDENDA
◆ Mike Curtis and Joe Staton keep bringing into their Dick Tracy more and more walk-ons by characters from other strips. The current adventure, which has Will Eisner's the Spirit partnering with Tracy, has also seen the arrival of Daddy Warbucks and Mr. Am from Harold Gray's Little Orphan Annie, and Hotshot Charlie and the Dragon Lady from Milton Caniff's Terry and the Pirates. There are so many guest appearances that the plot has wandered off into a weedy vacant lot next door, a typical outcome when a parade of secondary characters takes place because each requires some background explanation or a few minutes in the spotlight alone.
◆ Bob Mankoff, the cartoon editor at The New Yorker, is stepping down at the end of April after more than 20 years at the job; Emma Allen, another editor at the magazine, will assume his position, but Mankoff won't be leaving the magazine's pages: he plans to contribute his own cartoons regularly, and he's also editing a new anthology, The New Yorker Encyclopedia of Cartoons, scheduled for publication in 2018. Harv's Hindsight of a couple weeks ago has all the details—his life, career, impact on the magazine, etc., including ample evidence that New Yorker cartoons are meant to induce knowing chortles rather than guffaws.
◆ Paramount Pictures has picked up rights to The Pro, a graphic novel with a comically sleazy heroine by Garth Ennis and Jimmy Palmiotti, lovingly drawn by Amanda Conner. Erwin Stoff of 3 Arts is producing and Zoe McCarthy has been hired to write the screenplay. She is best known for her script "Bitches On A Boat."
◆ Stan Lee got fans all in a swivet over the past few weeks. He has cancelled appearances at a few conventions, including Big Apple Comic Con and Salt Lake Comic Con FanX, due to health issues. But, at 95, he's bound to have some off-days. In any event, he has taken to Facebook to let fans know his health is improving: "Been feeling almost back up to snuff," he posted. "So time to send out the battle cry: Excelsior!"
◆ This year's Free Comic Book Day (FCBD) is May 6, as usual, the first Saturday in the May. Go to your local comic book shop and see what you can get for nothing; most shops set a limit—say, 4 titles to a customer. But four free is better than no free.
Fascinating Footnit. Much of the news retailed in the foregoing segment is culled from articles indexed at https://www.facebook.com/comicsresearchbibliography/, and eventually compiled into the Comics Research Bibliography, by Michael Rhode, which covers comic books, comic strips, animation, caricature, cartoons, bandes dessinees and related topics. It also provides links to numerous other sites that delve deeply into cartooning topics. For even more comics news, consult these four other sites: Mark Evanier's povonline.com, Alan Gardner's DailyCartoonist.com, Tom Spurgeon's comicsreporter.com, and Michael Cavna at voices.washingtonpost.com./comic-riffs . For delving into the history of our beloved medium, you can't go wrong by visiting Allan Holtz's strippersguide.blogspot.com, where Allan regularly posts rare findings from his forays into the vast reaches of newspaper microfilm files hither and yon.
FURTHER ADO
One-liners for the day—:
I try to take one day at a time, but sometimes, several days attack me at once.
All I want is a warm bed, a kind word, and unlimited power.
How can you tell a macho woman? She rolls her own tampons.
Current death rate: one per person.
FUNNYBOOK FAN FARE
Four-color Frolics
An admirable first issue must, above all else, contain such matter as will compel a reader to buy the second issue. At the same time, while provoking curiosity through mysteriousness, a good first issue must avoid being so mysterious as to be cryptic or incomprehensible. And, thirdly, it should introduce the title's principals, preferably in a way that makes us care about them. Fourth, a first issue should include a complete "episode"—that is, something should happen, a crisis of some kind, which is resolved by the end of the issue, without, at the same time, detracting from the cliffhanger aspect of the effort that will compel us to buy the next issue. A completed episode displays decisive action or attitude, telling us that the book's creators can manage their medium.
GREG RUCKA tells us on the inside front cover of The Old Guard No.1 that "this is a fairy tale of blood and bullets. It is the story of one woman and three men who cannot die. Mostly. Their names are Andy, Nicky, Joe and Booker. It is a story about time, and age, and ages, and about friendship, and love, and regret." From poetry, we jump immediately into scenes of violence—then a bedroom, where Andy, the woman in Brubaker's quartet, arises and dresses and leaves the man in bed, not wanting to know his name.
The opening episode reveals Andy hard-nosed character—her passion and her longing for something better ("Will this time be the one?" she asks herself) and also her stark and stoic
realism: no, it won't be.
Andy and her cohorts are given an assignment to rescue 17 girls who have been kidnaped in North Africa. They accept the assignment, and as they pack up to leave Barcelona, where they are at the moment, the story shifts to Afghanistan, where we meet Nile and Stacy, two American women marines who are trying to find a local bad guy.
They find him and shoot him, and as he lies there, bleeding, Nile tries to administer First Aid; he pulls a knife and stabs her.
Then we're back with Andy and her crew, raiding the compound in North Africa where the 17 girls are supposed to be. They get liberally bloodied as they kill lots of bad guys, but the girls are nowhere to be found. It was, they decide, a setup. All the action was filmed and sent off to some other bad guys.
"They saw the whole thing," says Booker, "—we've been made."
Then we're back in Afghanistan where Stacy and Dizzy go to the sick bay and find Nile awakening and in fine fettle. But Stacy has just told us that Nile died in her arms of that knife wound. So what's going on?
The next issue, we are promised, will reveal a "new immortal." My guess—Nile.
And the reason Andy and her pals survive the blood bath in that compound is that they are the immortals Brubaker talks about inside the front cover.
We finish with two mysteries—two cliffhangers: who (or what) set up Andy and her crew and why; and how did Nile survive dying?
There are, altogether, five complete episodes in this inaugural issue. And each one gives us information vital to understanding the episode as well as abbreviated character studies of the principals; the mysteries do not cloud the action, making it incomprehensible. We also gain a little insight into whatever mcguffin Brubaker is pursuing. His storytelling is deft, but Leandro Fernandez's pictures are breathtaking.
His breakdowns advance the story quickly— sometimes, in the action sequences, breathlessly, shifting focus rapidly from close-ups of weapons firing to long shots showing dropping bodies. His page layouts are inventive, panels overlapping. And everywhere, solid black molds figures and establishes setting and mood. Heavily shadowed scenes are sometimes shot through with stark beams of light.
There are virtually no storytelling captions—the few that are sprinkled across the pages are Andy's first person narrative, not an omniscient observer's. Fernandez's pictures—panel compositions and page layouts—carry the story, often silently.
This is comics the way it ought to be, kimo sable. I'll be back.
JUST AS I THOUGHT HE WOULD, Paul Grist proves a perfect illustrating partner for Mike Mignola's newest undertaking, The Visitor: How and Why He Stayed, as much about Hellboy as it is about the Visitor. Assisted by Chris Roberson, Mignola tells the story of Hellboy's early years, beginning with his arrival December 23, 1944, when he pops into view in front of some soldiers in World War II Europe, one of whom is actually an alien visitor who possesses the mysterious Prism, a card-like iphone-looking object that he almost deploys against the infant Hellboy. But he stops just as "Archie" shows up to plead for Hellboy's life.
The soldiers put their guns down, and the alien wanders off into the forest where he communicates with his commander aboard a space ship hovering somewhere in the upper atmosphere. The alien explains that he decided not to kill "the destroyer" (i.e., Hellboy) because he was "just a child."
"He is his mother's son as well as his father's, after all. The future is still in motion. There is still hope for him. Hope for redemption. He is an innocent. He cannot be blamed for the circumstances of his birth."
The alien decides to remain on Earth and monitor the child's progress. His commander's space ship scoots off into space, leaving the alien behind.
For the rest of the book, we have glimpses of Hellboy as he is growing up—in 1947, 1948, 1950 (by which time, he's broken off most of his horns), 1953 (by which time he's joined the paranormal investigative agency), and 1954, when he goes into the woods and kills a dragon. The panels of these pages are laid out against black solids which accent an increasing number of drops of blood, falling across the scenes.
All this time, a trenchcoated figure lurks in the background, watching. It's the alien. And as he watches lilies growing out of the dragon's blood, he marvels: "It never occurred to me until this moment that the child might grow into a force for good in his own right. ... I shall watch how he progresses."
And we'll watch with him for the next 4 issues of this 5-issue run.
Mignola's story is the usual constipated narrative, pregnant (to mix a metaphor) with lurking unknowns and half-explained knowns, exactly the sort of mysteriousness-clogged tale that could annoy more than it entertains. But completed
episodes reveal the storytellers' competence—the opening gambit, the vignettes of Hellboy's life through the years, and the final triumphant encounter with the dragon—and the tale moves forward, promising some sort of resolution ultimately. And for that, we'll return.
Grist's pictures, like those of Mignola, are drenched in solid blacks and are often mute, their silence—their noncommittal presence—underscoring the unexplained by not explaining, lending to the entire enterprise a haunting atmosphere, the sort of thing at which Mignola is so expert. We'll be back. Wouldn't miss it. Especially since it promises to tell us more about Hellboy.
A GIANT HULK OF A MAN named Magnus—"Black Magnus"— is the protagonist of Brian Wood's Black Road No1. He takes a job escorting a priest to the northern country, protecting the cleric against attacks from thugs that lurk along the Black Road to the north. But they are attacked and the priest is brutally killed, impaled by three huge swords. Magnus is badly beaten, but he survives because he is nursed back to health by the priest's "guardian angel," a young woman named Julia, who is the priest's adopted daughter. She asks Magnus to take her north, and he, having accepted pay already for the priest, agrees in order to fulfil his contract.
One of the complete episodes is the recruiting of Magnus, a short scene in which a friend tells him of a contract opportunity; another, longer, is the fight between Magnus and the roadside thugs—four pages of silent swordplay. In both, Wood proves adept. But not without the storytelling authority of Garry Brown, whose rugged bristling drawing style adroitly conveys the brutal ambiance of the story, etching forms with tiny fragile lines and then deeply shadowing them, turning them into crude but deft images that evoke the primitive time and place.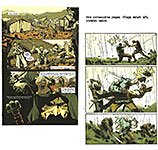 The fight shows Magnus to be a capable warrior, but he is out-numbered and is defeated.
Magnus narrates the tale, laminating his recitation with commentary as he goes. His country is being invaded by Christians, who seem, unexpectedly, to be the villains: "They preach peace and love in the midst of performing incredible violence," Magnus says. He hasn't decided whether he will "go to war for the Christians or against them."
The book opens with a page of straight text that tells of a small fleet of cargo ships delivering their cargo and then being attacked and sunk—seemingly, by the Christians. The next two pages are silent, devoted to picturing a bleak country side into which Magnus stalks, carrying a dead body on his broad shoulder. Then he buries the body under a pile of rocks. None of this is explained. We next see Magnus in town, being recruited to escort the priest northward.
Apart from Brown's appealing pictures, the attraction of the tale for me is in the casting of Christianity in such unfavorable light. Magnus is the witness whose testimony paints the Christians so villainously. Is he wrong? Possibly. But if he's right, Wood's book will be a startling deviation from the norms of the society in which it is produced.
VIOLENCE, SEX and revenge are the boundaries within which Matz (aka Alexis Nolent) adapts one of the strangest stories in comics by Walter Hill and Denis Hamill. Drawn in a wispy but thoroughly confident realistic manner by Jef (Jean-Francois Martinez), The Assignment tells the story of killer-for-hire Frank Kitchen, who takes one assignment too many. One of the people for whom he regularly kills, Gleason, turns on him, selling him off to a perverted plastic surgeon, who, over several months, performs an operation upon the unconscious Frank without his consent. When Frank wakes up after this long sleep, he removes bandages from his face and sees—the face of a woman. He then looks at his body and sees—the body of a woman.
| | |
| --- | --- |
| | |
In the first of the 3-issue run, we see Frank at work—killing one of his assignments—then accepting Gleason's next assignment, which turns out to be a trap. The issue opens on a two-page sequence during which we see Frank's bandaged face and hear him, as the narrator of the tale, vow vengeance. At the end of this issue, we see the female Frank in all his (her?) naked glory.
In the second issue, we follow Frank as he comes to grips with his new body, finds a way to temporarily make a living, and tries to figure out what has happened to him. And why. In the third issue, he goes after Gleason. Frank has given up none of his tough-guy abilities by having a woman's body: he kills his way through body guards and snitches until, at last, he finds his target. Gleason tells him why he sold him to the surgeon, a woman. And we learn that the surgeon turned Frank into a woman to avenge Frank's having killed someone close to her.
Frank then goes after the surgeon, but he doesn't kill her. His revenge is somewhat sweeter. After that, Frank becomes a vigilante, killing the men who make sex slaves of young women.
Sex scenes are as plentiful in the series as killing sequences. Each of the three issues has an explicit scene (explicit nudity, not explicit copulation), each serving the tale's larger narrative purposes. Interviewed in No.2, Matz says the parts of the story he likes best are those where Frank, with his woman's body, attracts the attention of thugish guys "who assume she's weak and think that they can take advantage of her—and who are ultimately headed for a world of pain."
Jef says: "The sex scenes were the ones I enjoyed drawing." I suspect he grinned as he said it. Leered even.
Poised against Frank's first-person narrative are a series of episodes of a psychiatrist interviewing a woman in prison. The woman, it eventually develops, is the surgeon, and it is during the last of these interviews that we come to know Frank's revenge, the last twist in an ingeniously twisted tale of many parts, all artfully woven together. In sum, an accomplished piece of writing.
Hill, a Hollywood screenwriter-director, took the story from Hamill and turned it into a movie script and then a graphic novel story that he gave to Matz to adapt. After breaking the story down, Matz turned it over to Jef, who drew The Assignment. Jef's illustrative manner bristles with tiny lines and is crammed with detail. The books' coloring gives every picture a gray haze; we watch as if through a scrim, a provocative effect. Much of the modeling is accomplished by careful smudging, which has the same visual value as the graying.
The storytelling—narrative breakdown, panel composition—is expert: Jef and the writers/adapter let pictures tell the tale in much the manner of a motion picture—action and dialogue combine to achieve dramatic impact; Frank's narrative captions filling in the blanks.
The book, the accomplished execution of a shocking premise, is published under the Hard Case Crime imprint of Titan Comics, and there are several other titles in the same mode—Peepland and Triggerman (the latter conducted by the same creative team as did The Assignment).
Riffling Pages. When we last left Dylan, Ed Brubaker's deranged protagonist in Kill or Be Killed, he had just killed another of the deplorables—some sort of sexual predator—that he's determined don't deserve to live, and just as he turns to leave the scene of his crime, he's confronted by a cop with a pistol drawn and pointed at him. In No.6, the next issue, he escapes, miraculously, and then the narrative shifts as he tells us about a police officer named Lily Sharpe who has apparently figured out that four recent murders are the work of one vigilante killer. Dylan, who is the book's first-person narrator, explains his knowledge of Sharpe's thinking with a single bound: "Obviously," he says, "I didn't know that was happening at the time—call it artistic license." Reminds me of one of Louis L'Amour's books, To the Far Blue Mountains, in which the first person narrator, Barnabas Sackett, dies on the last page. (Well, think about it: how'd he manage to write that whole book while expiring there in the woods?)
The presence of Lily Sharpe means that Dylan will eventually get his just desserts, a happy prospect. Meanwhile, Sean Phillips continues to produce wonderfully detailed New York street scenes like the one at the left at the bottom of the page posted near here. One of the remarkable aspects in that picture is that not all the buildings have the same facade: in particular, one on the left seems to be an older, more elaborately designed building. Wonderful.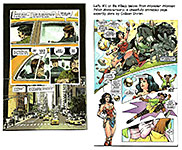 Wonder Woman 75th Anniversary No.1 exists only to celebrate the Amazon's anniversary by providing as many visual interpretations of the character as can be crammed—often without a story to tell—into its pages. There are 10 pin-ups and as many short narratives, some of Brian Bolland's covers and unused sketchkes from 1992-1995, and a faux interview with Lois Lane. The interview, staged on the celebrity-journalist-encounters-another-celebrity model, is insightful in the frilly manner of the genre; not much more. The perennial problems with Wonder Woman are on display—the boring preoccupation with the Amazonian life on the island of Themyscira and whether WW is a sex symbol or a warrior. Riley Bossmo goes much too far in the direction of the warrior, producing a Wonder Woman more masculine than feminine. But I was happy to see Fabio Moon's too brief interpretation of the character and Jill Thompson's. Collen Doran's version is the best, combining both sex appeal and lively action.
DC Universe Rebirth is an extravagant "deluxe" hardcover edition published in 2016. A lot about the Flash and Wally West, but the real hero seems to be Batman. The book offers pages and pages of swirling vapor and lightning bolts that are intended, doubtless, to signal a cosmic significance. Pages are jammed with close-ups of grimace and cramped gesticulating hands like claws. The tale begins with images of the face of a watch being deconstructed and ends with images showing the watch being reconstructed, resulting, finally, in the Watchmen smiley face with a drop of blood on it. The accompanying captions repeat some of the last words in Alan Moore's Watchmen— hence, this book heralds the impending arrival in the DC Universe of Moore's universe. Or so we suppose.
At the end are several pages showing costume designs for various of the DC roster of superbeings, including one of Wonder Woman. Her skirt now seems vaguely Grecian but more practical and warrior-like than the bikini bottom of recent years; but the eagle on the neckline of her bodice has always baffled me: its pointy beak, presumably metal, is pecking away at her bosom right where the cleavage starts. Wouldn't that be terribly uncomfortable for a woman in action?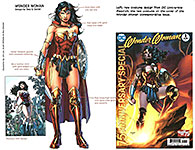 In Lady Killer 2 No.4, Josie Schuller has decided that Irving, her erstwhile clean-up man, is too lethal to keep around. He keeps killing people that he believes she wants dead—like her huband's boss, f'instance, whose body he stows in the Schuller family freezer. Meanwhile, Josie's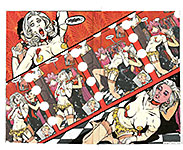 husband is being questioned about the disappearance of his boss. Next, Josie is strangling a stripper in a nightclub. No reason is given. Josie is a professional assassin and needs reasons for her murderous activity, but none have been forthcoming in this, the second round, of the title. But we get Joelle Jones' spectacular two-page spread of a nearly naked lady being strangled. "Nearly naked"—those are a stripper's pasties on her boobs, not nipples. Look closely. (Not that you need encouragement.)
The Funniest Vulgar Line of All
It happened on the March 9th tv broadcast of ABC's "The Catch." The scene opens and the screen fills with a picture of an Adonis of a man, flexing his muscles with a smirk of a self-satisfied smile on his face, naked from the waist up (and, as we soon conclude, from the waist down, too). The camera pans to the right where we see a bed upon which Margot Bishop, Ben's criminal mastermind sister, reposes in a frilly gown, studying a sheaf of papers in her hand. She glances up long enough to see what her Adonis is up to (pardon the expression), and she reacts: "Careful," she says, looking back to her papers, "—you'll poke someone's eye out."
I had to get this written down. The funniest vulgarity of all. So funny, it ain't vulgar anymore.
Quotes & Mots
The Southern Poverty Law Center reports that the Trumpet's election has electrified far-right extremists and ushered a white nationalist agenda into the White House. White supremacists were ecstatic on election night. Many expressed the belief that they finally had a friend in the White House.
Immediately after the vote, the SPLC exposed a wave of hate crimes and other bias-related incidents that swept the country. It documented a surge of classroom bigotry spawned by Trump's xenophobic rhetoric—and then created resources to help teachers protect vulnerable students from harassment. And it played a role in helping the media and public understand the extremist ties of some of Trump's appointees and closest advisors—including Stephen Bannon, who helped nurture a growing white nationalist movement.
The SPLC also began pushing back in the courts against a White House that appears set on rolling back decades of progress.
"Our country hasn't seen this kind of extremism in the White House in modern times, if ever," said SPLC Prez Richard Cohen. "But at the same time, our country's ideals of equality and justice are deeply rooted and our democracy is resilient."
—From the SPLC Report, Spring 2017
EDITOONERY
The Mock in Democracy
When Trump says words,
what do the words mean?
—Quoted from John Oliver's "Last Week Tonight"
You'd think, judging from the nation's editoons last month, that nothing except Trump was happening in the world. No war in Syria. No refugees in Europe—or drowning en route from North Africa. No wholesale starving in South Sudan. (And the Trumpet wants to cut back on foreign aid.) Nothing. It's all Trump.
El Trumpo is everywhere on the covers of the nation's magazines.
No surprise as progressive (or, at least, left-leaning) magazines turn their covers into political cartoons with him as the butt of the jokes—not how he imagines himself as a cover subject—but even Time, ostensibly an objective news organ, ridicules him. He appears as a Roman emperor in mid-tantrum, a revolutionary with an evil counselor at his ear, a comic strip character (in Garry Trudeau's Doonesbury), and a phallic symbol (by Massimo Calabresi).
For the second time, Time has deployed its cover as a political cartoon, poking fun at the holder of the nation's highest office. Letters to the editor in the next issue of the magazine complained about it (March 27). Not about making a joke of the Trumpet, though—but about making him the cover subject too often (three times this year) or missing the point: Trump constructs rather than destructs, saith one reader. Another reader, noting the condition of the Washington Monument, asked: "Is Trump causing D.C. to crumble or is he keeping it from collapsing?" Shrewd observation.
But these comments miss the point. Or points. With his nefarious red necktie pointing to Trump's proudest achievement, he stands erect but leaning slightly on the nation's most famous phallus, which is cracking and crumbling due to the proximity of childishness instead of machismo. The other point is ironic: the Washington Monument commemorates the man who, in legend, was the nation's first abject failure: he could not do what Trump does so blithely every day.
And then came Friday, March 24, and with it, the most confounding moment in the history of the majority Republicon party in decades. Given the opportunity to govern, the Grandstanding Obstructionist Pachyderm simply flopped. It could not get up for the task. It failed on every front, a vivid demonstration of its ineptitude.
Bringing forward the bill that would repeal and replace Obamacare, the GOP proved itself, as House minority leader Nancy Pelosi said, to be rookies, rank amateurs. Neither politicians nor leaders. And certainly not statesman of any description. Theirs was a staggering failure, and on the sidelines, astonished criticism burst forth from virtually every quarter almost immediately. (I'm propounding another of my notorious rants here, so if you want to skip the vituperative contumely, scroll down to the paragraph that begins with ALL CAPS. Thank you.)
Syndicated columnist Kathleen Parker dripped sarcasm: "In a week that felt like a month, Americans got a clear view of Donald Trump's governing style and also of his fabled deal-making approach: Do as I say or you're dead to me. ...
"Trump, who promised to repeal and replace (as has nearly every Republican the past seven years), has no patience with process [of legislation]. As the chief executive of his own company for most of his life, and notwithstanding his reverence for his deal-making skills, he prefers quick results. And, hey, if things don't tumble his way, well, there are other greens to sow and mow. And, certainly, a 30-foot wall to build.
"He gambled on his own power to persuade (or bluff), the result of which could leave him holding Obamacare and conceding failure. [And it did just that.] What, then, do Republicans tell their base? And what would this say about the party in power? After years of harping on the collapsing health care plan installed by President Obama and the then-Democratically controlled House and Senate, they had their opportunity to govern responsibly.
"You'd think seven years would be ample time to cobble something together that could replace Obamacare. The fact that Republicans didn't confirms that such an overhaul requires the time and patience Trump and Co. haven't been willing — or able — to spare. What we saw these past several weeks, meanwhile, was a frantic race to pass something virtually no one recognized as a workable piece of legislation, and which the Senate would probably reject.
"Back in 2010, when then-House Speaker Nancy Pelosi said that Obamacare had to be passed so that we could find out what was in the bill, Republicans guffawed — and never let her forget it. At least, one observes, the Democrats had a bill. GOP legislators have been racing to pass something that isn't fully written yet.
"While Democrats [in constructing Obamacare] solicited input from experts in the medical, pharmaceutical and insurance industries, Republicans have spent most of their time fighting among themselves. The resulting bill was a patchwork of margin scribbles and crossouts, even including instructions to the Senate to figure out ways to make certain parts work.
"Once the deadline for voting passed, Trump began acting like a child who didn't get to have his birthday party on the precise day of his miraculous delivery into the glare. Forget it. I don't even want a party now.
"The truth is, many Republicans never seriously thought Obamacare could be repealed and replaced, probably for the good reason that it's nearly impossible to do. The most sensible solution was to fix what was already in place until the inevitable day, coming soon, when we become a dual health care system: single-payer for the majority of Americans and concierge health care for the wealthy. It's just a matter of time."
At the Washington Post, E.J. Dionne, Jr had more of the same to pile on.
"There are many reasons the Republicans' health proposal failed (beyond the fact that it was an awful mess of a bill). They include Trump's breathtaking contempt for policymaking ...
Trump once again revealed himself to be a fraud who really doesn't care about the lives of those who voted for him. As recently as January, he said in an interview with the Washington Post: 'We're going to have insurance for everybody. There was a philosophy in some circles that if you can't pay for it, you don't get it. That's not going to happen with us.' But then Trump fought for a bill that would have done just what he said he wouldn't by throwing 24 million Americans off health insurance.
[Evidently, he didn't even look at the bill to see if it would, as he promised, provide insurance for everybody. What towering cynicism.—RCH]
"This is Ryan's mess, too. He was equally unconcerned about the suffering his bill might create. He thought he could slap together old ideas pulled off the GOP policy shelf and not face any pushback from his colleagues.
"And there was the inspiring citizen mobilization that forced Republican legislators to confront the reality that millions of Americans have benefitted from a law that Ryan, Trump and company, with a stunning indifference to fact, falsely insist is a failure. Trump's opponents learned that they can win. This will only energize them more.
"But the bill's collapse was, finally, testimony to the emptiness of conservative ideology," Dionne said.
And no Pachyderm proved itself emptier than the so-called "Freedom Caucus," which met every concession they were granted with a new set of demands that made the legislation increasingly unpassable.
"The House Freedom Caucus has made itself irrelevant," wrote columnist Marc A. Thiesssen.
Dionne continued his analysis:
"Democrats can celebrate, but they cannot be complacent. They will have to expose and fight any efforts by the Trump administration to sabotage the Affordable Care Act through regulation. They should propose a package of improvements to make the ACA work better and dare Trump — and the dozen or so non-right-wing Republicans who helped block the Trump-Ryan bill — to join them.
"But above all, the GOP needs an appointment with its conscience. In every other wealthy democracy, conservative parties think it's heartless to leave any of their citizens without health insurance. Do Republicans really want to be the meanest conservatives in the world?"
The Denver Post editorial began by noting that the week of the debacle was not a good week for Trumpery. The week began "with the directors from the FBI and the NSA stating in congressional testimony that Trump can't be trusted regarding his claims that President Barack Obama illegally had his phones tapped." And: "Federal investigations into Trump campaign contacts with Russian officials continue." And: "Neither of Trump's Muslim bans made it through the courts."
Still, Trump was uncowed and unbowed: after all, he had asserted on the campaign trail that he alone could fix the nation's problems, and he ranked repealing and replacing Obamacare a top priority.
"But as the world watched last Friday, Trump's strongman approach to reforming Obamacare failed spectacularly, even in the now Republican-controlled Washington, where House Republicans had been waiting for seven years to do the deed.
"This was so much more than a bad beating for Trump and for the Grand Old Party. This was an epic, self-inflicted humiliation for the new president and an enormously costly setback for Republicans. There is no other way to view the collapse. ...
"The irony is supreme. For seven years now, the narrative from the hard right has been that passage of the Affordable Care Act represented the pinnacle of runaway government overreach that must be neutered and tamed. The ACA fueled the Tea Party rebellion that led to a Trump presidency. During that time, House Republicans voted to repeal the ACA more than 60 times.
"Yet somehow, the Republicans didn't actually have a plan the party could rally behind. And, somehow, Trump wasn't keen enough to realize the one thing that the hardliners in his party won't do is say 'yes' to anything they don't fully agree with."
Fully. Every jot and tittle. No compromising.
"If Trump the dealmaker hopes to have much success with his ambitious agenda," Dionne continued, "he will need to ... finally admit, at least to himself, that he needs to start acting presidential and learn — no matter how much he dislikes it — how Washington works.
"Now Trump's enemies are emboldened. For much of the early days of his young presidency, Trump still enjoyed the element of surprise. There was a power in the cloud of confusion he created by trying to rush through big changes. That fog is lifting now.
If Trump wants to right the ship, he ought to look within."
STRANGELY, given the provocation, cartoons on this shameful GOP maladroitness were slow in coming. Perhaps the Republicon failure was so astounding that everyone's breath was taken away and their pens dried up. More likely, the disaster's occurring on a Friday helped delay a predictable uproar: most editoonists draw their weekend cartoon for the Sunday paper on Friday, and Trump and Ryan didn't pull the bill until late in the day, after those cartoons had gone into production—and the cartoonists had gone home for the weekend. By the time they were back at their drawingboards, the next cartoon they'd draw would be for Tuesday's papers. I'm typing this on Wednesday, and not many cartoons of ire have appeared yet. But a few brave souls recovered enough to be suitably caustic.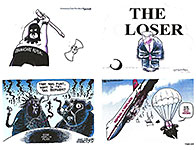 Clay Bennett gets us started at the upper left with a devastating image revealing the cause of the failure to pass the legislation: the cutting edge of the repeal movement fell off at the last moment. The GOP (the Grand Old Party) disappeared. Next, Nick Anderson resorts to a typographic device that may have been used elsewhere in the wake of the catastrophe, but it is no less telling. And, deliciously, it labels the Trumpet with his own most belittling tag.
Nate Beeler's metaphor captures the shameless arrogance of the Trumpet. The plane is going down in flames, but instead of taking some of the blame for the calamity, Donalt Rump simply ignores it as if he has no accountability, turns his back on whatever is transpiring, and moves on to the next thing. That wall, perhaps. And then Rob Rogers offers another, somewhat more devasting, image of how the Trumpet and the GOP are reacting to the bomb that just went off.
And with that, we leave the health care fiasco and turn to other evidence of how the Trumpet's first month in office went.
Derisive portraits continue to show up on our next visual aid.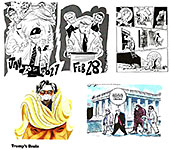 At the upper left, Frank Hansen presents a feverish picture of the Prez at his most hysterical during his first month in office—changing dramatically for his much-remarked upon sobriety in his address to a joint session of Congress on February 28. Next around the clock, Ed Hall turns to comic book form. Alas, I couldn't find a good copy of this cartoon, so I should explain that it depicts our Prez furtively avoiding "something" for six panels, but he's at last caught in the glaring spotlight of Truth, which reveals a cringing fugitive.
Jack Ohman offers laughable imagery of the paranoid Trumpet, confiding in Steve Bannon about some wholly imaginary characters that he thinks are following him. Bannon is the subject of the final portrait on the page—an excellent image by an accomplished caricaturist whose name, alas, I neglected to record. He'll doubtless show up again in the magazine from which I clipped this picture, and when he does, I'll jot his name down so I can correct my lapse here. (I also failed to record the names of the perpetrators of two of the four covers; drat. Sorry.)
The Trumpet's relentless tweeting is the topic of the next few editoons.
In This Modern World, "Tom Tomorrow" (aka Dan Perkins) reveals that the twitterpated preoccupation of the Prez is symbolic of his delusion rather than his insight. (For the meaning of "twitterpated," you need to recall a scene from Disney's "Bambi" movie.) Next, Jeff Stahler gets directly to the point with a metaphor that characterizes the tweeting Trumpet as the cuckoo bird of the cuckoo clock. Mike Lester, usually on the right, is not twitching in the opposite direction in his cartoon: he's stating a fact. And he emphasizes it by having the speaker drop the mic, a current practice that indicates that the holder of the mic has gotten the better of someone. Even if the mic is fake.
Finally, Clay Bennett shifts the subject to the other great preoccupation of recent weeks—the Trumpet's possible allegiance to or collusion with the Kremlin, deploying the lengthy red tie with emblematic effect. Red is the color of Communism, remember?—the Russia of yesteryear?
Which brings us, circuitously—incidentally— to the Senate confirmation hearings on Trump's nominee for the Supreme Court, Judge Neil Gorsuch, a Coloradan. Colorado's Democrat governor, John Hickenlooper, opined the other day that Democrat senators would be justified in blocking or delaying the appointment of Gorsuch in retaliation for the Republicons' refusal to give Bronco Bama's nominee, Merrick Garland, a hearing. But it wouldn't be simple revenge.
The GOP stance was that the appointment of a new justice should await the election of a new Prez in order that the American people would have a say in the matter. (By this reasoning, no SCOTUS appointment would be confirmed until after the next presidential election, a clear perversion of the meaning of the Constitution.) Following a kindred line of thought, confirmation of Trump's nominee should await the outcome of the investigation of Trump's possible ties to Russia.
Said Hickenlooper: "We're already beginning to hear people say, 'Hey, if this is a legitimate cloud about the legitimacy of this president, should he be appointing the next Supreme Court until we get this resolved?' Somehow it was okay to wait ten-and-a-half months without having a candidate stand for the Supreme Court. Maybe we should wait another four or five months and see what this investigation proves."
Now, back to our regularly scheduled appreciation of the art of editorial cartooning, which we resume forthwith.
TRUMP'S UNFLAGGING EGOTISTICAL INTEREST in the news media's coverage of him is suitably conveyed in Jim Morin's cartoon at the upper left of our next exhibit—with a picture of a Trump-approved newspaper front page.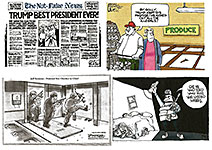 Next, Chan Lowe's grocery shoppers show the consequences of the Trumpet's "kicking out all the illegals." Then Signe Wilkinson at the lower right offers a dramatic enactment of how ICE (Immigration and Customs Enforement) performs Trump's directive, reciting, as he does in bitter irony, a fragment of the inscription on the Statue of Liberty. And then we have Jeff Danziger, who takes Jeff Sessions' role as "Sex Checker in Chief" to an extravagant and therefore laughable extreme. Horrifying, yes, but still laughable, by which the ridiculousness of "sex checking" is revealed.
But the big news of the last couple weeks is about (a) the new Republicon health care concoction and (b) the Trumpet's budget. Our opening gambit a few paragraphs ago exposed the folly and ineptitude of the GOP effort to bring the former into being. Here, we'll look back a little further to the editoons that contemplated Ryancare on the precipice, before it went down to ignominious defeat.
Our next display takes up (a), beginning with Lisa Benson at the upper left.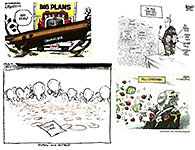 Trump and the Grandstanding Obstructionist Pachyderm's agenda for GOP-controlled congressional action await the outcome of the "repeal and replace" effort. Until that's accomplished, all else is in abeyance. And Benson's picture deftly poses the dilemma.
Next around the clock, Matt Davies reports on the alleged "paid" town hall protesters that confronted GOP congresspersons whenever they held town hall meetings. In Davies' view, the only paid participant in these meetings is the congressperson. Next, Nate Beeler provides a visual metaphor for what happened to the Pachyderm when the bipartisan Congressional Budget Office examined the GOP replacement plan, which would result in 24 million people losing their health insurance coverage: 14 million the result of freeing Americans from the despised individual mandate so they could choose not to buy insurance; but the remaining 10 million are likely to be poor and elderly people who will suffer when the proposed caps on Medicaid go into effect in 2020.
Dubbed Ryancare (after its chief architect, House Speaker Paul Ryan, a devotee of Ayn Rand, the "virtue of selfishness" guru), the GOP plan most benefits the young and middle-income urban elites but, saith Eric Levitz in NYMag.com, "hammers the older, rural working-class voters who backed Trump." Ryancare uses tax credits to ease the insurance premium burden, but the perennial problem with tax credits is that to avail yourself of them, you must pay income taxes, and those most in need of this kind of assistance are the poor and the elderly, whose incomes are so low they do not pay income taxes. Hence, a solution that's no solution. It's all GOP window-dressing.
According to the Wall Street Journal, "in Nebraska's Chase County, a 62-year-old currently earning about $18,000 a year could pay nearly $20,000 annually to get health insurance coverage under Ryancare." The New York Times estimated that an average 64-year-old earning $26,500 a year would have to shell out $14,600 under the GOP plan, up from $1,700 under Obamacare.
Once this kind of analysis emerged in evaluating Ryancare, the gutless Republicons retreated post-haste from their own plan, as Scott Stantis so vividly visualizes at the lower left, bringing about the aforementioned ignominious defeat.
In our next visual aid, Nate Beeler offers a hugely amusing image showing how badly the GOP has managed a replacement plan after 7 years of practice.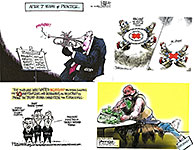 This hilarious bit of visual commentary could stand as an emblem for the wholesale collapse of the Republicon plan when it was pulled before a vote could reveal just how shaky the party's support for the plan was. Joe Heller's imagery is similarly vivid in depicting the sort of replacement the GOP conjured up.
Trump's budget shows a ready inclination to inflict kindred cruelties upon the poor and vulnerable. Funding for Meals on Wheels is to be cut because the program shows no results. (!!! Does that mean those served by the program didn't eat?)
Herewith, another of my compulsivse rants begins. To skip to editoons, just scroll down to the next paragraph that begins ALL CAPS.
President Trump doesn't want to spend federal dollars on after-school programs, meals for poor people, or heating assistance that helps keep folks alive. But he has no problem wasting more than $3 million a pop to spend weekends at his private Mar-a-Lago club in Florida.
Trump has already made four trips there since becoming president on January 20, and he recently confirmed that he's headed there for a fifth weekend.
The Trumpet's weekend trips to his Mar-a-Lago resort in Palm Beach, Florida probably cost taxpayers more than $3 million each according to Politico. The estimate is based on a 2016 Government Accountability Office report detailing a similar three-day trip by former President Obama in 2013. During the trip, Obama left Washington for Chicago and later flew to Palm Beach, Fla. The report pegged the cost of that getaway at about $3.6 million. (But Obama didn't do it every weekend.)
About $770,000 of that cost was borne by the Department of Homeland Security, which oversees the Secret Service, while the other $2.8 million was billed to the Defense Department, primarily for the use of Air Force One and its accompanying support.
CNBC says that the Trump family's costs go well beyond the Mar-a-Lago trips. Police officials estimate that they spend $500,000 a day on security for Trump Tower in New York, where first lady Melania Trump and son Barron live. (Recently, a petition has begun to circulate demanding that Melania move to the White House to save money.) The Secret Service also protects Trump's eldest sons Donald Jr. and Eric when they travel for Trump Organization business. The Washington Post reported that Secret Service and U.S. Embassy officials paid almost $100,000 for hotel rooms when Eric Trump went to Uruguay to promote a Trump-branded property.
Despite vowing during his campaign that he "would rarely leave the White House because there's so much work to be done" and "would not be a president who took vacations" because "you don't have time to take time off," Trump has visited Trump-branded properties eight of his first nine weekends as Prez according to a report from Medium Daily Digest.
Trump's repeated trips to Trump-branded properties aren't just problematic because they embody how he's profiting off the presidency and breaking campaign promises (his Secret Service entourage pays for the rooms it occupies; one of his campaign promises was that he wouldn't take vacations but would stay in the White House and work). They also represent Trump's selective austerity when it comes to spending taxpayer dollars.
As Quartz reported recently, after the sixth weekend, Trump will have already spent about $16.5 million on trips to Mar-a-Lago. For that amount, Meals on Wheels could feed 5,967 seniors for a year and after school programs could feed 114,583 children for a year.
Office of Management and Budget director Mick Mulvaney defended the draconian cuts included in the Trump administration's proposed budget by arguing that the federal government can't ask "a coal miner in West Virginia or a single mom in Detroit to pay for" programs like the Corporation for Public Broadcasting. But one wonders whether those struggling Americans would rather have public radio or dole out their share of the $3.3 million a self-proclaimed billionaire is spending each weekend to mingle with his ludicrously wealthy club members down in Florida.
THE BUDGET Trump sent to Congress shifts the nation's financial resources from helping those at home who are in need and fostering friendships abroad to improving our ability to make war, and Jeff Danziger's image adroitly depicts the situation with War stuffing himself with the Trump budget money.
At the lower left, David Fitzsimmons offers a comment on the Republicons' foot-dragging in initiating an investigation into the Trump-Russia connection. Perhaps not so vivid a visual as some we've looked at this time, but Fitz's style is worth a look anytime—and his caricatures of the congressional leaders are wonderfully deft.
But let us not leave our gallery of past fumbles and stumbles without taking a moment to smile.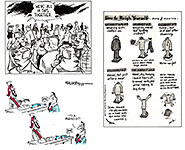 Tom Eagan at the upper left puts it all in context, not altogether a soothing one but at least communal. Below Eagan is Mike Lester, who deftly combines sacrilege and comedy. So this is how Jesus fed the thousands? Biting commentary: in the increased number of jobs in Lester's metaphor, the jobs are only half of what they once were. And finally, wholly off the political map is a cartoonist whose signature seems to say "Rompire." And I'll be forever grateful to him for the lesson he conveys: holding a fart does not make you lighter, rising into the air above the scales like a hot-air balloon.
But the alternative does not make you popular—as all the little Trumpeteers now can attest.
GOLDEN TRUMPET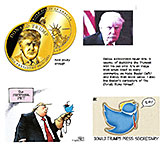 The American Mint is offering "the exquisite Donalt Rump Presidential Dollar," a 24k gold-layered coin with the Trumpet's face on one side, the Statue of Liberty on the other. Trumpet doesn't look like Trump, though: not pouty enough. Here—judge for yourself.
PERSIFLAGE AND FURBELOWS
The number of hate groups in the U.S. rose for a second year in a row in 2016 as the radical right was energized by the candidacy of the Trumpet according to the Southern Poverty Law Center. The most dramatic growth was the near-tripling of anti-Muslim hate groups—from 34 in 2015 to 101 last year.
The growth has been accompanied by a rash of crimes targeting Muslims, including an arson that destroyed a mosque in Victoria,Texas, just hours after the Trump administration announced an executive order suspending entrance to the U.S. by travelers from some predominantly Muslim countries.
The hate group increase was fueled by Trump's incendiary rhetoric, including his campaign pledge to bar Muslims from entering the United States, and anger over terrorist attacks such as the June massacre of 49 people at a gay nightclub in Orlando.—From the SPLC Report, Spring 2017
ED IS BACK
He could take it no longer. A little more than a month of Trump as Prez is all Ed Stein could stand. He could not continue to remain silent. He had to speak out. In anger, in disgust, in frustration, Stein took up his pen again and started drawing cartoons that commented on the dangerous buffoonery of the Trumpet.
Stein had been the staff editorial cartoonist for Denver's Rocky Mountain News for 31 years, from 1978 until the Rocky, Colorado's oldest daily newspaper, ceased publication in February 2009, ending a 150-year run. At 63, Stein could afford to accept his forced retirement. But he didn't.
For 11 years while producing political cartoons for the Rocky, Stein also wrote and drew a comic strip six days a week. Called Denver Square, it focused on Denver and Colorado and ran only in the Rocky. Said Stein: "I see Denver Square as a completely different kind of cartoon. It has characters and a specific setting, and is about local issues and events. It give me a chance to have fun with what's going on in the city and the state, not all of it serious. I'm afraid my political biases slip into it, but it's not primarily a political commentary; it's about enjoying what's going on in town."
Denver Square started in January 1997, and Stein ended it on May 21, 2008. Like many cartoonists who produce a daily comic strip, Stein had begun to feel the never-ending string of daily deadlines as a torturous burden. Sometimes he hated the characters. But more significantly, his children were grown up and he'd thereby lost his connection to Denver schools, and both his father and father-in-law had died, leaving him without insight into the older generation's concerns. So he bade Denver Square farewell.
Two years later—a year after the demise of the Rocky and Stein's editoonist role there—the characters in Denver Square came back in another Stein strip, Freshly Squeezed, in which the grandparents move in with their children and grandchildren, having lost their home in the economic downturn of the times. Starting September 20, 2010, Stein produced the strip for 4 years in national syndication and then gave it up: the strip's circulation had not achieved what he'd hoped for, and the work it took wasn't worth it.
But during the combined stints on the two strips—15 years altogether—Stein found that he enjoyed the storytelling format, and he began producing online a serial cartoon memoir, Sleeper Avenue, about his growing up in Waco, Texas. The memoir was published in book form 2016, After the Tornado: Stories from Sleeper Avenue.
In the faltering days of the winter of 2017 as Stein took up his pen at edsteinink.com to comment pictorially on the sins of the Trump Administration, he did so in the storytelling format of the comic strip. And the characters whose comments make the strip a political cartoon look familiar to anyone who's read Denver Square or Freshly Squeezed.
Stein accompanies the strips with comments in scathing prose. Here are a few of both strip and text; first, the strips, then the texts—:
NOW SOME of Stein's pithy prose—:
The most disheartening thing about Republican party's rush to get rid of Obamacare is that their motivation has nothing whatever to do with health care. If you were to start from scratch to design an effective health insurance system, the first question you should ask would be, "How can I create something that will cover the most people at an affordable cost." If you wanted to improve Obamacare and correct its inefficiencies so that more people were covered and the price became more affordable, that would still be the question you would ask.
Neither of those goals motivate the GOP, and as far as I can tell, nobody on that side of the aisle is asking either of those questions. Rather, the sole objective seems to be to get rid of the hated Obamacare in any way that causes the least political damage to the party, and that has the additional benefit of further enriching those poor millionaires whose taxes went up under Obama's plan. The millions of Americans who will lose their coverage, their meager fortunes, their homes and even their lives for lack of affordable insurance is not a concern. Sad.
*****
As anybody with a brain should have expected, the American Health Care Act, the Republican plan to replace the Affordable Care Act, falls a bit short—24 million short over a decade?—of covering as many people as its predecessor. This is what happens when the legislative intent changes. The goal of the ACA (popularly known as Obamacare; I mention this because an astonishing number of Americans don't know that they are one in the same) is to cover as many people as possible. The GOP's goal appears to be to give its wealthiest donors the biggest tax cut possible by bleeding the funding mechanism that made health insurance affordable for low-income Americans.
Speaker Paul Ryan is positively elated at the size of the budget cuts in the House proposal, and seemingly unconcerned for the millions who would be harmed. This isn't just an academic argument; people without insurance die for lack of health care. The luckier ones only go bankrupt if they get seriously ill. Today's GOP makes one long for the more benign cynicism of the Bush era's "compassionate conservatism." There's nothing remotely compassionate here. Just cruelty.
*****
And don't get me started on the proposed budget, which sends every available dollar from programs on which the poor and the middle class depend to the Pentagon, because, as we all know, more jet fighters and aircraft carriers will keep us safe from some wacko in a movie theater with a machine gun. But, there is a small ray of light emerging in this gloomy picture. The Mar-a-Lago crowd are not the only ones who can profit from the new regime. Opposition to Trump is creating a market of its own.
*****
Over the past few weeks I've had a number of requests for permission to reprint this cartoon.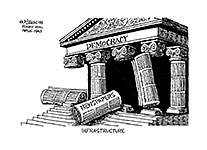 I drew this when it became evident that the Rocky Mountain News, my employer for 31 years and the place where I published some 10,000 cartoons, was on life support. It became one of the first big-city newspapers to close its doors, the victim of the changing technology and economics of publishing. It seems that lots of people are starting to regret the decline of news in print since the election of a compulsive liar to the highest office in the land. Despite their weakened state, newspapers are still where most investigative stories originate, where news is still carefully vetted for accuracy, and where the truth still matters.
RANCID RAVES GALLERY
Pictures Without Too Many Words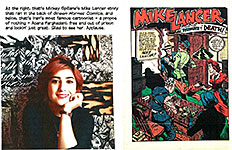 From Heritage Auctions – We knew about Mike Danger, who didn't see comic book publication until the 1950s, but had no idea Mickey Spillane had also written the "Mike Lancer" character published by Harvey as a backup feature in Green Hornet Comics— a Mike Hammer prototype in the comics, written by Spillane five years before Hammer debuted in the novel, I, The Jury.
We know this because Heritage is auctioning the Mickey Spillane collection, and this lot is not the only one with a comic book connection.
NEWSPAPER COMICS PAGE VIGIL
The Bump and Grind of Daily Stripping
PLAYING WITH THE MEDIUM is one of strip cartoonists' favorite games. In Alex Graham's Fred Basset in the accompanying visual aid, the function of speech balloons is toyed with in an amusing manner.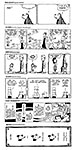 (Graham, by the way, died in 1991, leaving about 18 months of unpublished strips—he was that far ahead of his deadlines. After those were distributed, Fred Basset was continued with artwork by Michael Martin and Graham's daughter, Arran Caith.)
In Blondie, I continue to be amazed at John Marshall's persistence in drawing the characters full figure most of the time. And sticking the dog Daisy into many of the panels of Bumstead domesticity shows a commendable dedication to the legacy of the strip. In Jim Davis' Garfield, we seldom see Jon Arbuckle in full figure; here, however, we must see all of him in order for the strip's gag to function.
In Dilbert, Scott Adams gets in almost three laugh lines in this single strip.
Then we have a couple strips turned on their sides to become elongated single panel cartoons. In neither does the gag require a single vertical panel. The maneuver serves only three purposes that I can discern: 1) it saves a lot of drawing time, 2) it attracts attention on a page of all horizontal visuals, and 3) it saves a lot of drawing time. Tom Batiuk in Funky Winkerbean gets away with one of the oldest jokes in the butcher shop; and in Mutts, Patrick McDonnell gets a strip out of a single quotation. He did a week's worth of these.
IN NON SEQUITUR, Wiley Miller takes a two-day foray into the political jungles of Trumpery with an examination of the possible uses of "alternative facts." Danae starts an alternative fact, and—lo and behold— it becomes an actual fact. A cautionary tale for us all to heed.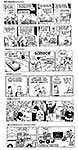 In Baldo, Hector Cantu and Carlos Castellanos make a resounding statement that the Trumpet might well heed. For the sake of the joke, though, we have to know that Baldo and his buddy are Mexican Americans, a fact that may not be so readily apparent as Cantu evidently thinks it is.
Scott Adams' Dilbert is on our line-up this time for historic reasons: this is one of the few occasions when Dilbert grows a mouth.
In this installment of Luann, creator Greg Evans playfully "signs" a picture on the wall in the first panel. And the picture is of Luann as she first appeared 32 years ago on March 17, 1985.
And at the bottom of the page, in Beetle Bailey for March 3, cartoonist Mort Walker pays tribute to his long-time partner and friend Jerry Dumas. Born in 1930, Jerry died last November 12 from neuroendocrine cancer. He'd been a member since 1956 of "King Features East" as the Walker "studio" was known. Dumas was a part of the gag-writing team for both Beetle Bailey and Hi and Lois, and he also drew some of the product.
His own strip, Sam and Silo, began April 18, 1977, starring the police chief (Sam) and his assistant in the little town of Upper Duckwater, a thinly disguised Greewich, Connecticut, where Dumas lived. Dumas was the creative force behind the predecessor of Sam and Silo— Sam's Strip, which he produced with Walker, starting October 1961 (lasting only 20 months). An early post-modern take on popular culture, the strip's central character, Sam, runs his strip like a television show and brings on guest cartoon characters from other strips, featuring appearances by Krazy Kat, Dagwood, Charlie Brown and a host of others. Dumas meticulously drew every character in their original style without assistance. A few samples appear nearby.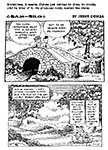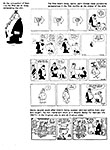 You'll notice at the bottom of the display, another Beetle Bailey strip in which Sam and his assistant,Silo, are making a guest appearance. This and the release for this year's March 3 are, to the best of my knowledge, the only Beetles in which these fugitives show up.
It was in Sam and Silo that Dumas expanded comic strip vistas in another direction, producing visual symphonies of texture and shading just for the sheer fun of it—that is, neither the gag nor the pictures conveying it require the embellishment he so happily lavishes, sometimes, on the strip. A couple of those, Sundays both, appear hereabouts.More pictures and a full biographical obit appears in Opus 361.
BACK TO POTTY HUMOR, of which there is an abundance in the comics these days.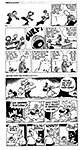 Jef Mallett doesn't usually indulge in this brand of off-color comedy in his Frazz, but he does here—twice. First, with "dog doots" (an expression I'd not heard—"dog duty"?), then with Deanie's little fart. In our third Frazz, however, Mallett is back where he is more comfortable—with word play. I'm happy he's invoked a musician's axiom. And given Frazz's status as the moonlighting writer of popular songs, appropriate.
In Mother Goose and Grimm, Mike Peters spends more time in the toilet than most of his colleagues—probably because his principal character is a dog, and dogs are always.... Well. Drinking out of the toilet. At least Grimm is. In our first example, he's adopted the grocery store clean-up announcement. But in the next strip, he's just twice as stinky as all the rest of us—and, as he explains, for good reason. Four good reasons.
The last Grimm here is beyond me. What's the joke? By "having," is Grimm thinking of
"having" in the Biblical sense? Copulation? Rattling the bedposts?
SEX, NATURALLY, is never far from our minds: it is, after all, essential to the survival of the species. And so it can't help but crop up occasionally on the funny pages. More these days than ever before, as we've noted dutifully for years here at Rancid Raves.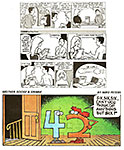 Our first instance of this oddly compelling circumstance occurs in three successive Luann strips by Greg Evans. The newlyweds Toni and Brad confront the necessity of making a budget. Toni suggests a variation of strip poker to enliven the otherwise boring proceedings. I don't know how that is done, actually, but by the third strip, it's done—and Toni and Brad dash off for other newlywed activities.
And then Mike Peters ends our sermon this time with a Mother Goose and Grimm that says it all. I think. Well, most of it anyhow.
GOSSIP & GARRULITIES
"I'm not religious. So if I say, yes—there is a soul, it's nothing to do with religion or God. But—yes, I would say there is a spirituality in being a human being that is connected to the imagination in some way."—Helen Mirren
TICS & TROPES
One of the Trumpet's first orders was for 150 of Cross's Century II pen in black lacquer with a felt tip. List price, $110. Nothing unusual about that, said Denver Post columnist Jon Caldara: "every previous administration since the 1970s has purchased scores of Cross pens to use for signing ceremonies." And Cross is an American company, started in 1846 in Rhode Island by Richard Cross.
Picking Cross pens, then, adheres to the Trumpet's loudly proclaimed policy: "We will follow two simple rules: buy American, and hire American."
Cross is undeniably American. Like any good American company, it took $1.9 million in corporate welfare to move its headquarters from Lincoln, Rhode Island, to Providence. "Its new building is at least 3 ½ times smaller than their old place because they don't make their pens there anymore. Cross pens are made in China."
Admittedly, Caldara adds, "a few select pens, like the presidential ones, are at least partially assembled in Rhode Island from parts made in China."
ACCRETION OF INTENTION DEPARTMENT
Books In Need of Good Reviews
THE RANCID RAVES Book Grotto is littered, literally, with books we acquired with the intention of reviewing them. Alas, they've piled up over the years, and it has become increasingly apparent that we'll never give most of them the kind of intensive examination they deserve. So rather than let the accretion be entirely in vain, we've started this new department wherein we'll briefly describe books by way of urging them upon you, beginning, this time, with—:
Classic Pin-Up Art of Jack Cole
By Jack Cole; edited and introduced by Alex Chun
104 7.5x10-inch pages, b/w and a little color; Fantagraphics 2004, rpt in paperback 2010; $18.99
BETWEEN PLASTIC MAN AND PLAYBOY, what was Jack Cole doing? He was drawing single-panel gag cartoons for Humorama's vaguely sleazy line of digest magazines, Joker, Laugh, Breezy, Stare, Jest and the like. Run by Abe Goodman, brother of Martin Goodman, who was publisher of Marvel Comics, Humorama was the last stop on the magazine cartoon circuit: it paid less than most magazines. Typically, freelancing cartoonists offered their wares to the highest-paying markets first, then worked down the list through ever lower pay rates until they'd exhausted every possibility. In the 1950s, last in the line was Richard Rodman's SRI quarterly Sex to Sexty, which paid $5/cartoon; Humorama, as I recall, paid about $10-15. Cole wasn't the only comic book cartoonist who found himself doing quality work for a cheap publisher: Bill Ward—like Cole, out of regular assignments once the comic book business was suppressed by the Comics Code Authority—was another regular at Humorama. Both Cole and Ward deployed pseudonym signatures—Jake and McCartney, respectively.
The book at hand collects a goodly sample of Cole's girlie cartoons (but not, by any means, all of them; for a broader perspective, visit colescomics.blogspot.com, run by Cole enthusiast Paul Tumey). After Chun's brief biographical introduction, the volume is divided into sections: Line Art Cartoons, Washes, and Original Art (that is, pictures reproduced from original art not magazine pages).
Apart from the pleasure of viewing Cole's bountiful femmes, the book is a short course in his development as a limner of the curvaceous gender. From the broad brush strokes of his line art to the delicate grays of his wash cartoons, we scan see Cole's growing mastery of both his medium and his subject. Chun's introduction includes a couple of the cartoonist's pencil roughs as well as a couple of Playboy color cartoons. Cole is one of the few girlie cartoonists whose renderings are somewhat realistic: leaving aside for the nonce the pendulous parts of the pulchritude (although who would want to?), his women are as pear-shaped as the authentic articles. Ward's, in contrast, are not by any stretch realistic.
1000 Pin-Up Girls
By Taschen
540 5.5x8-inch pages, b/w photos and color paintings; 1997 rpt 2015 Taschen hardcover, $19.99
A BOOK OF BOOK COVERS, this compact brick of a volume features the pin-up art of Peter Driben and a couple others, but mostly Driben, on the covers of Robert Harrison's girlie magazines, Beauty Parade (his first, started in October 1941), Eyeful (1942), Titter (1943), Wink (1944), Whisper (April 1946), and Flirt (1947).
A few interior pages of Harrison's magazines are also presented—his b/w "photo stories" (like fumetti but without speech balloons) of scantily clad models and burlesque dancers in comic sequences. But no nudes: Harrison didn't like nudity. It's awe-inspiring to realize that Driben painted so many covers—and these covers weren't all he produced: he was one of the most prolific of the 1940s and 1950s pin-up artists.
The book is organized by magazine title, beginning with Beauty Parade. Each section begins with a page of breezy comment on the title then plunges into covers and b/w photos, some of which feature Bettie Page, a Wall Street secretary supplementing her income for acting lessons (so saith St. Wikipedia). A similarly date-free essay about Harrison and his mags begins the volume. Like many Taschen tomes, the text is in English and another couple European languages (in this case, German and French).
In 1955, Harrison sold off all his girlie titles except Whisper in order to concentrate on Confidential, a salacious gossip tabloid he launched in December 1952. Presenting rumors and innuendo as facts, Confidential exposed alleged "scandals" about movie actors and actresses and other celebrities and made Harrison a very rich albeit widely despised man. He slowly converted Whisper into a pin-up version of Confidential, but the whole empire collapsed, finally, in the wake of law suits charging defamation of character and libel from the likes of Liberace, Errol Flynn and Maureen O'Hara, all of whom eventually settled out-of-court for thousands. Confidential and Whisper were sold in May 1958; the new publisher continued both titles but toned them down dramatically.
PITHY PRONOUNCEMENTS
You can always tell when the Grandstanding Obstructionist Pachyderm is about to stick it to us: whenever they start telling us how much more freedom we'll have under the latest scheme. When Paul Ryan launched Ryancare into the world, he did so in the customary GOP fashion: "People are going to do what they want to do with their lives because we believe in individual freedom in this country. It's not our job to make people do something that they don't want to do. [Like have a healthcare system that includes "mandates" telling people to buy health insurance because the more purchasers there are, the lower the cost of premiums for everyone.]
"It is our job to have a system where people can get universal access to affordable coverage if they choose to do so or not," Ryan twaddles on.
Yup: it's the old Pachyderm YoYo treatment: You're On Your Own.
"It's not about forcing people to buy expensive, one-size-fits-all coverage," Ryan goes blithely on. "It is about giving people more choices and better access to a plan they want and can afford."
YoYo.
CIVILIZATION'S LAST OUTPOST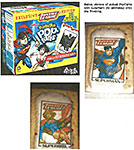 One of a kind beats everything. —Dennis Miller adv.
The good people at Kellogg's have gifted comic book fans with a stunning new dining treat. Some of the famed Pop Tarts have been confected for Justice League enthusiasts. The concoction is a truly ingenious one: first, the Pop Tart is give a top layer of white frosting, and then, laminated onto the frosting, is a drawing of one of your favorite Justice Leaguers—Superman, Flash, Supergirl, etc. Collect 'em all. Be the first kid on your block ....
BOOK MARQUEE
Previews and Proclamations of Coming Attractions
This department works like a visit to the bookstore. When you browse in a bookstore, you don't critique books. You don't even read books: you pick up one, riffle its pages, and stop here and there to look at whatever has momentarily attracted your eye. You may read the first page or glance through the table of contents. And that's about what you'll see here, beginning with—:
How About Never—Is Never Good For You?
My Life in Cartoons
By Bob Mankoff, Cartoon Editor of The New Yorker
292 8x10-inch pages, profusely illustrated text; 2014 Henry Holt hardcover, $32.50
IF YOU'VE PERUSED Harv's Hindsight about the cartoon editor of The New Yorker (posted just lately), you'll have a good idea of what's in this book. It's the story of Mankoff's life and career, mostly the latter. The early 17-page chapter on his childhood and youth is a bit much, more, probably, than the subject warrants. Like many cartoonists, Mankoff assumes that no one would be interested in "the life of a cartoonist," and so, like many of his brethren, he concentrates his biographical efforts on his youth, ignoring his life as a cartoonist—except when demonstrating how he developed his unusual stippling manner of drawing cartoons.
Which raises the question: if, as a cartoonist, you think your "life" is so boring, why undertake to write a book about it?
Fortunately, Mankoff has something other than his boring life to write about—namely, his being editor of The New Yorker. To tell this tale, he analyzes the magazine's cartoon "style" and talks a good deal about what makes a good cartoon and some of the cartoonists who make them—all lavishly illustrated with their cartoons and his.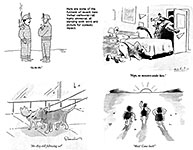 He also traces the history of his invention, the Cartoon Bank, discusses the infamous "Seinfeld" cartoon episode in which Elaine, like many New Yorker readers, doesn't "get" one of the magazine's cartoons, and offers suggestions about how to win the weekly Cartoon Caption Contest. (Right off, he says he won't tell you how to "win" but how to "lose," and by that method in reverse, you can divine how to win.) Throughout, ample evidence in the prose of Mankoff's celebrated wit.
In addition to hundreds of excellent cartoons that break up the quip-laden text, the book concludes with a 14-page section showcasing the cartoons of the newest New Yorker cartoonists, each accompanied by a self-caricature.
This book may well be the best autobiography of a cartoonist ever. Although we still don't know much about his life. (Well, maybe the second best, just after Mort Walker's Backstage at the Strips.)
Sh*t My President Says: The Illustrated Tweets of Donald J. Trump
By Shannon Wheeler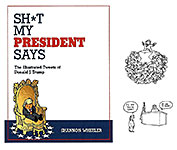 120 5x6-inch pages, b/w; 2017 Top Shelf hardcover, $14.99
DUE OUT IN AUGUST, the book reportedly transforms Trump's tweeted trumpery into "razor-sharp cartoons, offering a subversive and illuminating insight into the mind of the most divisive political figure of our time." Here's the cover and a couple of the cartoons (all taken from Top Shelf's press release).
PERSIFLAGE AND BADINAGE
So Donald Trump and Steve Bannon are hanging out in the White House, and Trump says to Bannon:
"Remember the crowd that was here for my inauguration? It was huge. It was fantastic. It was the biggest crowd ever in DC! And remember Obama's inauguration? It was pitiful. It was sad. There was no one here. It was a lot less people."
Bannon says to Trump: "Uh, Mr. President—I know you don't like to be corrected—but not 'less,' 'fewer.'"
Trump replies: "Shhhh, I've already told you: it's too early to call me that."
—From John Govsky, co-publisher of Comic News, a monthly newspaper of editorial cartoons
LONG FORM PAGINATED CARTOON STRIPS
Called Graphic Novels for the Sake of Status
The Adventures of Dieter Lumpen
By Jorge Zentner; drawn by Ruben Pellejero
264 8x11-inch pages, color throughout; 2016 IDW's EuroComics paperback, $49.99.
THE BACK COVER BLURB does an admirable job of introducing this book, part short story and part graphic novel: "The first English translation of the entire Dieter Lumpen series, the most famous work of the Angouleme award-winning team of Zentner and Pellejero, this omnibus edition contains all eight short stories and the three graphic albums that European comics readers have enjoyed for years.
"Dieter Lumpen is a man of the world, an adventurer who wants no part of adventure. Nonetheless, he is swept along to exotic locations from Turkey to the Caribbean, from China to Venice. The stories are set in the 1940s, but the protagonist is not the typical hard-boiled adventure hero. As written by Zentner, Dieter's irony is gentler, more subtle and reflective; he is more pragmatic and romantic than hard or bitter. A healthy dose of the metaphysical adds an even more intricate dimension to the tales.
"Pellejero's drawing and his sophisticated staging perfectly complement Zentner's dense storytelling, delightfully challenging the reader from page to page. Pellejero also exhibits an impressive mastery of color—from the desert's blazing sun-drenched sky viewed from a hot-air balloon to an eerie neo-riddled oasis seen from a hearse speeding down a Southwest highway."
Zentner and Pellejero created Dieter Lumpen in 1985 and in the next couple years produced 8 short stories followed by three graphic novels in 1987, 1988-89, and 1994. Dieter is not so much an adventurer of the old swashbuckling era as he is a man around whom adventures happen. Most of the stories involve some sort of violent action, but many of them are tales with a twist for an ending: Dieter embarks upon a scheme, which then goes awry, leaving him holding the bag. Or not.
In "Gold Mouth," Dieter is taken by a girlfriend on a journey into the Amazon in search of her grandmother's lover, a black man who had been beaten for his involvement with the grandmother, all his teeth knocked out of his head. The grandmother has them replaced with gold teeth. Then, uncomfortable in the hostile environs of Paris, he returns to his homeland. The grandmother, on her deathbed, makes her granddaughter, Magda, swear to find the gold-mouthed lover, Paulino.
Magda takes Dieter along with her, and after a few trials and tribulations—including a run-in with river bandits—they find Paulino, and, miraculously, he seems as young as he was when he was making love to Madga's grandmother. He tells his story—about finding some sort of Fountain of Youth. The "fountain" is the gold in his mouth, symbolizing his great love affair with Magda's grandmother.
When Magda and Dieter leave, Paulino takes his golden dentures out of his mouth and throws them in the river, saying: "Goodbye, my love ... now I can grow old in peace."
That's the sort of adventure Dieter has.
In the longer graphic novels, Dieter is sometimes reduced to a walk-on, who arrives at a critical moment in a tale otherwise revolving around other persons.
But in all the stories, Pellejero's staging and storytelling are masterful, creating mood as well as locale. In some of the stories, Pellejero's drawings are Caniffian, drenched in chiaroscuro shadows. In the later tales, however, shadows are not as extravagantly deployed. But the over-all appearance of the pages is much more in the manner of Milton Caniff than, say, the pages of Hugo Pratt's Corto Maltese adventures, which have been dubbed Caniffian by many observers.
Under the Sign of Capricorn: A Corto Maltese Graphic Novel
By Hugo Pratt; translated by Dean Mullaney and Simone Castaldi
140 9x11.5-inch pages, b/w; 2014 EuroComics imprint of IDW Publishing paperback, $29.99
THIS BOOK IS THE FIRST of IDW's planned twelve-volume project reprinting all of Hugo Pratt's famed enigmatic sea-faring adventurer's tales, which, with two exceptions, IDW intends to publish in the order of their initial appearance: The Ballad of the Salt Sea (which launched Corto Maltese on his adventures in 1967), Under the Sign of Capricorn (1971), Beyond the Windy Isles (1970-71), Celtic Tales (1971-72), The Ethiopian (1972-73), In Siberia (1974-75), Fable of Venice (1977), The Golden House of Samarkand (1980), Tango (1985), The Secret Rose (1987 in color), and Mu (1988-89).
The reissue project has so far yielded Capricorn and the next four, but the inaugural Corto Maltese adventure in the Salt Sea has not yet appeared. Too bad: the story seems a perfect beginning for Pratt's mysterious sea-farer: he arrives on the fifth page, naked from the waist up, bound crucifix-fashion to a raft in the middle of the ocean, cursing his rescuer just heaving into view, a Russian captain named Rasputin, an old frenemy of our hero's.
The Salt Sea tale will be reprinted at the end of the IDW project, as explained further below (far below).
The other Corto Maltese book that won't be published in order of its initial appearance is The Early Years. Produced in 1981, this volume is a flashback tale of Corto Maltese's youth. Perhaps the least satisfactory of the oeuvre, the book's central character is writer Jack London, who is a war correspondent in Manchuria during the Russian-Japanese War of 1904-05. Corto Maltese, age 18, doesn't show up until the 26th page of a 33-page story. It, like the Salty Sea yarn, IDW will publish in approximately 2020, after all the others. In this book, Rasputin is also among the cast; Corto Maltese meets him at the end of the story, and they go off together, headed south. They'll make an uneasy duo in subsequent adventures.
Their voyage ends in mutiny from which they are rescued and travel to Argentina in 1905. They meet Butch Cassidy, Sundance Kid, and Etta Place. Corto travels to Ancona in 1907 and meets the Russian revolutionary Dzhugashvili, a doorman who would become Stalin. Returning to Argentina in 1908, he meets Jack London again—and the American dramatist Eugene O'Neill. And in 1909, Corto is in Trieste where he meets the writer James Joyce.
In 1913, Corto travels in Indonesia and the South Pacific, becoming a pirate, working for the mysterious character, the "Monk." On October 31st, his crew mutinies and abandons him off the coast of the Solomon Islands—whereupon, Corto's story continues in the Capricorn volume.
Even such a cryptic recitation as this reveals one fascinating aspect of Pratt's storytelling —it's authentic historical connections. Jack London was, indeed, a war correspondent during the Russo-Japanese War; and Stalin had been a doorman before the Revolution and his birth name was Dzhugashvili. Rasputin? Pratt's character is crazed and fanatic enough to be the infamous Russian monk, the charismatic mystic whose influence over the wife and family of Nicholas II, the last Tsar of Russia, began in about 1907 and lasted until he was killed in 1916. And Pratt's Rasputin looks like some of the photos of the bearded Russian monk.
ALL THIS IS FANTASTIC ENOUGH, but cartoonist Pratt was almost as much an adventurer as his creation. At least, he traveled a lot. Born in 1927 in Rimini, Italy, his childhood was spent in Venice. In 1937, saith St. Wikipedia, he and his mother went to Abyssinia (Ethiopia) to join his father, who, a professional soldier in the Italian army, was serving there. Captured by the British in late 1942, the father died in a prison camp. Young Hugo, now 15, and his mother were also imprisoned, and Hugo enhanced his education by buying comics from the prison guards. He and his mother were later sent back to Italy by the Red Cross, and there, he worked briefly as a translator.
After WWII, Pratt moved to Venice and began producing comics with other Italian cartoonists. One of Pratt's characters was a great success, particularly in Argentina, and when the cartoonist was invited to go to that country in 1949, he went and worked for Argentine publisher Editorial Abril. He also taught drawing and traveled to various South American destinations.
For a year, starting in the summer of 1959, Pratt lived in London, where he drew a series of war comics for Fleetway Publications. He returned to Argentina, but left in 1962 for Italy. In 1967 he met Florenzo Ivaldi with whom he created comics for Il Sergente Kirk, a magazine named after a character first written by Hector Oesterheld. The first issue of the magazine began publishing the debut tale of Corto Maltese, A Ballad of the Salt Sea.
The series continued three years later in the French magazine, Pif gadget. From 1970 to 1984, Pratt lived mainly in France, where Corto Maltese soon proved immensely popular, bringing Pratt success and critical acclaim. From 1984 until his death in 1995, Pratt lived in Switzerland. And he continued to wander the globe—from Canada to Patagonia, from Africa to the Pacific area.
Pratt has cited authors like Robert Louis Stevenson, James Oliver Curwood, Zane Grey, Kenneth Roberts, Joseph Conrad, Fenimore Cooper, Herman Melville and Jack London as influences along with cartoonists Lyman Young, Will Eisner and "especially Milton Caniff."
Deploying a chiaroscuro technique for shadowing his pictures in somewhat the manner of Caniff, Pratt acquired among many aficionados a reputation as the European Caniff. While his deployment of shadowing is impressive, his visuals are not quite as dark as Caniff's and often take place without much background detail. And his stories often involve complicated motivations requiring explications that are delivered in long verbal passages.
"Long before the term 'graphic novel' entered the popular lexicon," we are told on one of the Capricorn covers, "Pratt pioneered the long-form 'drawn literature,'" setting "the standard for all adult adventure comics in Europe. The Corto tales were the continent's most popular series and Pratt the world's leading graphic novelist."
According to the late Kim Thompson, "Corto Maltese was the first European strip to advance a mature, artistically serious sensibility within the traditional adventure format. The elliptical narrative of the stories, the pervasive sense of destiny and tragedy, the side trips into the worlds of dreams and magic—all capped off with the exotic, guarded nature of the hero—combined with Pratt's hard-won craft, worldly experience, and scrupulous research to form a work of breathtaking scope and power."
Pratt produced 29 Corto Maltese tales, all set in the first 30 years of the twentieth century. The stories appeared initially in successive issues of Pif gadget and then, in the customary European practice, were collected and re-issued as "albums" under one title. Taking place in 1916 and 1917, six of those tales are gathered in Under the Sign of Capricorn and are loosely connected, chiefly through casting: Corto is accompanied by the same characters through several adventures.
IN THE OPENING ADVENTURE, Corto meets an elderly drunk, a professor Steiner, and a youth named Tristan Bantam, who has inherited some "documents" upon his father's death—documents that reference a mysterious disappeared kingdom called Mu, probably Atlantis. Tristan also mentions his half-sister, Morgana, and his experience with premonitions, some involving a woman named Ogun Ferraille. Tristan buys a yawl and asks Corto to captain the vessel and take him to find his half-sister, thereby setting up the situation that motivates and governs the ensuing tales.
Before Corto takes the assignment, he saves Steiner from a beating in the streets outside Madame Java's Inn, where we first see Corto, relaxing on the inn's veranda. Madame Java, it seems, knows Corto from some earlier, unspecified adventure—a narrative dodge that is common in Pratt's tales of the peripatetic sea-farer, who is always running into people with whom he shared some harrowing experience at some earlier time. Later in the story, one of the thugs who'd been beating Steiner comes after Tristan. Madame Java throws a knife and kills him, but not before he confesses to Corto that he has been hired by a lawyer to kill Tristan so that the lawyer can inherit the Bantam fortune.
Steiner accompanies Tristan and Corto on their voyage to Bahia, where, in the second of the book's adventures, they meet Morgana and several exotic characters as well as the unsavory lawyer, whom Corto arranges to have disposed of.
In the third adventure, Morgana joins the expedition and they meet more exotic characters, including Gold Mouth, a woman of indeterminate age (but probably more than a hundred) who looks young and beautiful. Gold Mouth wants Corto to help foment a revolution by inspiring its leaders, and he does so.
Then en route to England to return Tristan to his studies at university, they get sidetracked: a mysterious map falls into their hands, and Corto decides the map will lead them to a sunken treasure of gold. They follow the map and find the location of the gold, but before they can raise the Dutch galleon that holds the gold, combatants from the war in Europe (World War I) show up and destroy the site.
The key to the treasure's location is on four playing cards, all aces. The third of the cards —belongs to Rasputin.
The sixth tale in this volume finds Corto wounded and amnesiac on the beach. He's rescued by a beautiful blonde named Soledad, who is also the one who shot him. Steiner shows up at the end of this episode, but Tristan has disappeared. Perhaps forever.
This series of stories is typical of Pratt's work with Corto Maltese. Exotic locales, mysterious happenings, sinister characters, lengthy explanations of long-forgotten history—fascinating, perhaps too complex, but punctuated by flashes of vigorous action and Corto fights off threats to life and limb.
The IDW Corto Maltese books are not the first to find their way to these shores. Starting in 1986, NBM published many of the Corto Maltese stories in seven 8.5x11-inch paperback volumes. But the packaging was somewhat different. The Capricorn stories were reprinted in two volumes, the second of which launched into the next series of tales, which were originally grouped in the second of Pratt's Corto albums, Beyond the Windy Isles. Since the stories are only loosely connected, NBM's manuever did no damage to the originals. The NBM volumes have different titles—Brazilian Eagle, Banana Congo, and others—but that maneuver doesn't affect the content.
The IDW series is published on thicker paper (which is opaque enough to prevent see-through bleeds) at a larger dimension and with a new translation, which differs from the first only in nuances, not substance.
NBM finished its project in 1996 with seven issues of The Ballad of Salt Sea in comic book format. Dunno why the change of format. Perhaps the strategy was to hook readers by means of the issue-to-issue continuity. There was, then, a movie in the offing, and maybe a continuing story in comic books would promote the movie.
IDW didn't begin with The Ballad of Salt Sea, the first Corto Maltese tale, because, IDW's Dean Mullaney tells me, another publisher's version of the book is still on the shelves. That edition, Rizzoli's, has been criticized for revamping and cropping page layouts, but the publisher insists all the changes were made with Pratt's approval the year before he died. In any event, IDW calculates that by the time their reprint project gets to Salt Sea, the Rizzoli book will no longer be available, and IDW can finish the project in its usual style.
"After we've completed the Pratt stories," Mullaney told me, "we'll begin the new stories by Juan Diaz Canales and Ruben Pellejero."
I didn't know about them, but I'm eager to find out more.
Exquisite Corpse: Dying To Be An Author
By Penelope Bagieu
124 6x8.5-inch pages, color; 2015 First Second hardcover, $19.99
THE CRISP SIMPLICITY OF Bagieu's drawings charmed me at first glimpse, and then the story sucked me in. Zoe (aka, later, Ariane Solal) works as a product representative at exhibitions. It's dull work: she wears a costume as a huge piece of cheese, selling cheese; or a svelte suit like an airline stewardess, flogging airplane tickets or tours at a travel show. And she lives with a slob who scarcely sees her as anything but a punchboard. One day, as she sits on a park bench eating her lunch, she realizes that someone is watching her—someone at the third story window of the apartment house over looking the park. Impulsively, she enters the building and goes to the door of the watcher's apartment (the third floor is all one apartment), and when the resident comes to the door, she says she has to pee and wants to use his bathroom. He lets her in.
He is a famous author, Thomas Rocher, but Zoe, not at all well-read, doesn't recognize either his face or his name. They have a conversation about almost nothing, but Rocher is so lonely that he invites her to come back to see him again. And she does.
Rocher is a pleasant fellow and appreciates Zoe. Before long, she's left her slob boyfriend and is living with Rocher. She thinks it's strange that he never leaves the apartment. After a while, she develops a severe case of cabin fever. She wants him to go for a walk with her. But he still won't leave the apartment. And he has groceries delivered. He never goes out. He offers no explanation.
Then one day, she goes into a book store. She's not a literary type, but she falls into conversation with one of the salespersons. She asks about Thomas Rocher and learns that he's a best-selling author, whose books keep the store in business.
He's also dead.
That's why he never leaves the apartment.
But he's not really dead.
To see how Bagieu explains all this and gets Zoe out of the mess she's in, you'll have to read the book. I won't give it away here. But you'll like it. And you'll love Bagieu's drawings.
BEEFS & BOFFOS
More one-liners to savor—:
She's always late. Her ancestors arrived on the Juneflower
Time is the best teacher, but it kills all its students.
No one has ever complained of a parachute not opening.
What is a zebra? 26 sizes larger than an A bra.
WE'RE ALL BROTHERS, AND WE'RE ONLY PASSIN' THROUGH
Sometimes happy, sometimes blue,
But I'm so glad I ran into you---
Tell the people that you saw me, passin' through
TWO SEMINAL FIGURES OF THE UNDERGROUND COMICS REVOLUTION of the 60s and 70s, both with ties to Chicago, have died within 11 days of each other, noted Maureen O'Donnell at chicago.suntimes.com: Mervyn "Skip" Williamson and Jay Lynch helped make the Chicago Seed underground newspaper a "crossroads between the East Village Other and the Berkeley Barb," said Art Spiegelman, another of the key figures in underground comix (and, not incidentally, creator of Maus, the first graphic novel to win a Pulitzer Prize).
"These two were very important pioneers, and it put Chicago on my map," Spiegelman told O'Donnell. In the days before cellphones and email, "Jay's [Chicago] house became a pit stop for cartoonists traveling back and forth in their VW vans" between the East Coast and West Coast, he added.
"Our world lost both Skip and Jay to illnesses just within days of each other, even though they'd yet to stop producing clever, entertaining, high-spirited cartoons more than a half-century after they'd begun," said Michael Dooley at printmag.com. "It seems natural to speak of Skip and Jay together," Dooley continued, "— as they were colleagues throughout most of their lives. They were born within six months of each other in the mid-1940s, and they both funneled their shared childhood passion for comics into creating fanzines.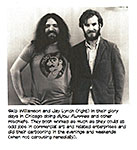 "Personally," Doolely concluded, "I've always been most impressed when their creative sensibilities connected with and reflected their roots. Their art beamed most brilliantly in their spectacular, Kurtzman-inspired meta-humor and their irreverent parodies and lampoons of politics, mass media, and the very counterculture in which they were entrenched. Fittingly, the entire last issue of their Bijou Funnies was a tribute to ol' Harv."
The near simultaneous departure of Lynch and Williamson is distinguished poetry for two ug cartoonists whose careers paralleled one another, but the underground they flourished in disappeared long ago, and both went on to do hilariously outrageous comics that were as above ground as Bazooka Joe and "Playboy Funnies."
Jay Lynch, 1945 - 2017
Jay Lynch — cartoonist, satirist, and counterculture archivist — died from complications of lung cancer on March 5, reported Patrick Rosenkranz at tcj.com. "His career spanned more than six decades and made full use of his many graphic talents. He contributed to the earliest counterculture press, drew and edited many underground comic books, designed confectionary novelties and promotional products, and in later years painted a myriad of private commissions for fans of his work."
The Haight in San Francisco and the Village in New York were not the only venues for comix in the formative years of the underground in the late 1960s and early 1970s. In Chicago, Lynch, a thorough-going professional humorist and cartoonist, was also nurturing the infant medium. But he started out in Miami, Florida, said Rosenkranz, born January 7, 1945.
"Lynch first sold gags to Cracked magazine while a student at Norton High School in Miami. In 1963, he left his home in Florida, moved to Chicago, checked into a cheap hotel, and got a job as a lingerie stock boy. It was all part of his master plan to earn big bucks in the exciting field of cartooning."
Rosenkrantz continues in italics (and whenever italics pop up, it's Rosenkranz, who is working on a biography of Lynch):
Lynch saw himself as a cartoonist even when he was just a young whippersnapper. He liked to draw. He liked funny stuff. It just made sense. He enjoyed the strip There Ought to be a Law!, which appeared in his local paper. He noted that the cartoonists, Al Fagaly and Harry Shorten, invited readers to send in gag ideas, maybe events from their own lives, that could be adapted for the two-panel strip. The first panel set up a situation that required quick action, and the second showed how people's best efforts went awry. The name and address of the person who suggested the joke was included in the strip. Lynch sent Fagaly and Shorten dozens of ideas but none of them were ever used. Rejection, he soon realized, was part and parcel of a cartoonist's life, and he accepted that.
Many years later, There Ought to be a Law! provided inspiration for his Give 'Em an Inch series that appeared in Playboy during the 1980s. Similar setup, same sort of payoff, but with many more naked adults.
Like virtually all underground cartoonists except Robert Crumb, Lynch spent his fledgling years on college humor magazines. While studying at the Art Institute of Chicago and Roosevelt University, Lynch contributed to the latter's "The Kicked-Off Campus Humor Magazine," Aardvark. He also sent cartoons to Bill Killeen's Charlatan in Florida. Between 1962 and 1966 (while a student in college), he wrote for Cracked and Sick, the Mad imitations.
He was in touch with almost all of the cartoonists whose work would shape comix. Through a letter he read in Cracked in 1961 when he was about 16, he met (by exchange of letters) Art Spiegelman in New York and Skip Williamson, growing up in Canton, Missouri. And when he visited Killeen in 1963, he saw Gilbert Shelton's Wonder Wart-Hog and was soon corresponding with Shelton and Jaxon (Jack Jackson). Lynch would make trips to New York to hang out with Spiegelman, who later started a humor magazine at Harper College called Mother. Lynch journeyed to Missouri to see Williamson.
In 1967, Williamson moved to Chicago with the object of joining Lynch in producing a humor magazine. They launched the Chicago Mirror, "a kind of magazine somewhere between the Realist and Mad," Williamson told fellow ug cartoonist Grass Green in a 1986 interview in The Comics Journal. Lynch elaborated in another Journal interview in 1987: "It was a satire magazine for hippies— which was a contradiction in terms since the hippies en masse seemed, by this time, to totally lack a sense of humor. By 1967, hippiedom had become a national fad and converts to it were predictably humorless."
Lynch saw a copy of Zap Comix No.1 and changed direction. He and Williamson preferred cartooning to the comic journalism of the Chicago Mirror, so they abandoned their first-born and conceived Bijou Funnies, destined to become one of the longest-running early anthology titles in the underground. For its 1968 debut, Lynch produced stories about Nard and Pat, an Andy Gumpish bachelor and his ne'er-do-well pet cat (whom Lynch had invented earlier while contributing to the Chicago Seed), drawing in a meticulously clean and uncluttered manner and modulating the stark black and white pictures with a range of grays in zipatone.
Lynch was a key figure in the underground comix movement, producing eight issues of Bijou Funnies with Williamson. They were a vital part of what became one of the most revolutionary art movements of the 20th century. Lynch contributed to numerous other underground titles like Bogeyman, San Francisco Comic Book, Bizarre Sex, and Teen-age Horizons of Shangri-la. The last issue of Bijou Funnies, 1973, an homage to Lynch's favorite satirist, featured Harvey Kurtzman-style parodies of popular underground comic characters drawn by other cartoonists.
"The brilliant Jay Lynch (R.I.P.) through the years told me of his influences," Craig Yoe said upon learning of Lynch's death. "Of course for satire, Kurtzman. For cartooning, in general, he adored and took chops from funny animal cartoonist Vince Fago. For his character designs and zany crowd scenes he drew he was very inspired by.the French artist Dubout. Jay told me to draw women you must take poses from Bill Ward. Jay did that, but added a nice, soft fleshy aspect to his ladies and always topped them with big round bosoms. Jay told me he loved big bosoms because he was born in New Jersey where all women had very large boobs." [Jay was not born in New Jersey but Florida, where all women wore bikinis and had big round bosoms. Well, it makes a good story.—RCH]
Crumb came to Chicago in 1968 to observe the "yippies" at the Democratic National Convention that summer, and he stayed with Lynch. While there, he drew the comics that he contributed to the first issue of Bijou, which was published shortly after the Chicago Convention debacle.
Meanwhile, in Wisconsin, another humor magazine was about to give birth to a comix magazine. In Milwaukee, Denis Kitchen was fermenting his own homebrew of comix in the fall of 1968. He'd been art editor and the chief cartoonist for the first issue of Snide, a humor magazine for the University of Wisconsin. And when the editor scarpered with the first issue's profits, Kitchen was left with a pile of cartoons he'd prepared for the second issue. Not wanting to have his effort come to naught, he decided to do some more comics and publish the lot in his own magazine.
A bohemian denizen of the post-graduate enclave on the fringes of the college campus, Kitchen frequented the local head shops and counterculture boutiques and saw copies of Zap Comix and Bijou Funnies in the stores. Inspired by what he saw, he completed his project, publishing Mom's Homemade Comics No.1 ("Straight from the Kitchen to You") in the spring of 1969. A roommate took copies to San Francisco for sale through Gary Arlington's shop, the San Francisco Comic Book Company, and made arrangements with the Print Mint for reprinting the first issue (which had successfully sold out) and for printing the forthcoming second issue. But Kitchen eventually decided he would be happier publishing his own comix, so he severed relations with the Print Mint and began preparing material for the third issue of Homemade Comics.
Kitchen sent copies of his comix to Crumb and Lynch and other worthies. Crumb wrote to encourage him. And later in 1969, when Crumb was visiting Lynch again, he and Lynch took a trip to Milwaukee to meet Kitchen. The Print Mint was also publishing Bijou Funnies, and when Lynch found out later that Kitchen was jumping ship to publish himself, he asked Kitchen if he would publish Bijou, too. "Sure," Kitchen said, "— two's as easy as one." (Quoted in Dave Schreiner's history of Kitchen Sink Press.)
A fateful comment. And naive, as Kitchen was soon to discover (and always to admit). But it was the cornerstone of a publishing empire: Kitchen Sink Press prospered and established new standards of quality in product and of equity in the treatment and payment of cartoonists.
"Lynch's comics never reached as broad an audience as some of his more famous brethren's," said Richard Sandomir at nytimes.com. "Rosenkranz suggested that this might have been because he did not use sex as much in his work as others and was not part of the so-called 'slash and drip' school of underground cartoonists.He was more interested in intellectual ideas.
"Lynch, who had a wry, deadpan sense of humor," Sandomir continued, "held strong views about the importance of underground comics, which differentiated themselves from the mainstream through raunchy and grotesque depictions of sex, drugs and violence."
Sandomir quotes Lynch: "Underground comix were the most important art movement of the 20th century," he wrote in the introduction to Underground Classics: The Transformation of Comics Into Comix (2009) by Denis Kitchen and James Danky.
"Copies of many of the early books sell to collectors for many thousands of dollars," Lynch went on. "It's all quite ironic: rebellious cartoonists mocking consumer culture were inadvertently producing collectible artifacts for the same consumer culture 40 years down the road."
Said Sandomir: "Lynch founded Bijou Funnies with his fellow cartoonist Skip Williamson to publish his work and that of other artists, and acted as a publicist for the loosely defined industry."
"He put people together," said Rosenkranz. "He publicized what was going on. In the back of Bijou, he had small free ads for other underground comics. He was a crossroads figure."
ROSENKRANZ resumes the story (in italics):
After the underground faded, Lynch moved into commercial work, overseeing the production of celebrity sticker books and fast food giveaways. He drew cartoons and illustrations for Playboy, Oui, and other men's magazines. His juvenile sense of humor was also in high demand at Brooklyn's biggest bubble gum manufacturer, Topps Chewing Gum. Hired at the instigation of Spiegelman, Lynch designed characters for Wacky Packages and, later, according to Dooley, Garbage Pail Kids, which prominently featured puke and booger jokes—trading cards that, Dooley said, "sneakily subverted new, post-Kurtzman generations of innocent tykes."
Said Sandomir: Lynch recalled that he was told which food conglomerates not to mock, but with a list of products that he could parody, "I would go to the supermarket and buy those products."
Ira Friedman, a Topps vice president, said in an interview, "Jay was at the epicenter of Wacky Packages."
He also illustrated Bazooka Joe comics. In recent years, he has worked on public interest campaigns, illustrated children's books, and designed covers for the last remnant of the underground impertinence, Mineshaft magazine.
His personal archives were stored in his home in a small town in upstate New York, where he moved in 2000, and include every letter he ever received since 1958, every publication in which he has appeared, file cabinets full of notes and rough sketches, and extensive collections of humor magazines. A few months ago, he bequeathed his property and belongings to the Billy Ireland Cartoon Library & Museum at the Ohio State University.
Before he died, I [Rosenkranz] had several conversations with Lynch about his end-of-life plans. He wanted to stay alive long enough to ensure that his will transfers his whole estate to the Billy Ireland Museum and that his creditors are paid in full, so no one can make a claim on his home. He bought his own casket and funeral package and was subsequently interred at Maple Grove Cemetery in Candor, New York. He told me he wanted a tombstone with a coin-operated fortune-telling device on top to pay for perpetual maintenance of his resting place.
"I'm thinking of a Magic Eightball-type-of affair, where you can ask a question," he explained. "You put in a quarter and it answers it with a Magic Eightball type of answer. They won't have quarters in the future, but some credit system. I don't know. Something that maintains itself." If any hardcore fans of Jay Lynch want to fulfill this eternal wish, please step forward.
He left no close family, two ex-wives, no children; he believed his life's greatest accomplishment was the creation of an archive that spans the whole Beatnik-Hippy-Punk-New Wave-Alternative-Millennial counterculture. He accumulated a big pile of paper over many years, and it brought him great satisfaction to know it will be part of a proper repository of comic lore, The Billy Ireland Cartoon Library & Museum. Columbus is also a less likely target for terrorists in the future compared to our major metropolises, he noted. "Billy Ireland's new building was built by the Army Corps of Engineers and is nuke proof. It goes very deep below the ground."
Lynch was an old-fashioned graphic artist, with the know-how to make things work in the printing industry. After several decades as inkslinger for hire, he became a repository of arcane printing processes, discontinued art supplies and materials, and forgotten production methods. Eventually, he became the go-to guy when it came to obsolete printing technology. He readily adapted to computer design tools in the 1990s, but if you were printing a million sticker books on a giant Webb press and the color was a little off, you'd want Jay Lynch with his knowledge of halftone color separations and chromatic charts to be in your corner.
ABOUT HIS TECHNICAL KNOWLEDGE, I can testify in a wonderfully obscure and roundabout way.
I met him at the first Chicago Comic Con I attended—late 1980s, early 1990s, as I remember. I was settled in Artists Alley, and he wandered by. We exchanged a few words. And we did it again at the next couple Chicago Cons. But we were scarcely close friends. Friendly acquaintances, more like. So I was surprised one evening to get a phone call from him.
We hadn't seen each other in a couple years by then, and yet, here he was on the line. I recognized his lisp. I thought at the time that he sounded a little tipsy. And he kept repeating the same thing—something about "the light" in comic book art. He was mildly alarmed by it and disapproved. But I couldn't figure out what the hell he was talking about.
Several years later, I realized what he was so concerned about. At the time he phoned me, many comic books were just starting to be colored on computers. Colorists looked at the digital image of a black-and-white page and colored the pictures electronically. But there was a problem in this method, and Jay had figured it out. This was early in the history of computer-produced artwork for comic books, so he was ahead of the game—or, at least, right up with it.
The problem is that the pictures on the screen are lit, so to speak, from behind. And the light behind the imagery makes the colors seem lighter, so the colorist would make them darker so they'd look good on the screen. That, however, was bad for printing. When printed, those colors were, as the colorist had directed, darker. Often in the early comics colored this way, they were too dark, almost obscuring the linework of the drawings. And it took a while for colorists to figure out that the colors appeared too light when backlit on the computer screen, but that's because of the back-lighting. If they try to compensate by making the colors darker on the screen, they'll be too dark on the printed page.
And that's what Jay was telling me on the strange phone call.
At the online Comics Journal (tcj.com), a 1987 interview with Lynch is currently running. In it, Jay talks about his career and elaborates on his theories of cartooning and comedy.
Skip Williamson, 1944 - 2017
By Patrick Rosenkranz at tcj.com and St. Wikipedia and others (Rozenkranz in italics)
Mervyn "Skip" Williamson became a fly in the ointment at an early age, a thorn in the side of polite society throughout his whole life. He left this mortal coil unbowed and unrepentant from complications of organ failure and the frailty of all flesh. He was a cartoonist who became a painter and a writer, and a firebrand during the countercultural revolution of the
'60s and '70s. He never grew up, he often said.
"A rambunctious creator of underground comics that merged his radical politics with his love of scatological humor," said Richard Sandomir at nytimes.com, Williamson died at Albany Medical Center in New York on March 16, at 12:30 p.m. Before that, reports of his death had circulated through the social media, but his wife, Adrienne, quickly issued a correction and apologizing for making misleading statements earlier:
"Skip is not dead. He is presently in a medically induced sleep to relieve him of the pain he was in due to the meds they were giving him to sustain him. ... I spoke to Skip on the phone before they gave him the pain relief, and he still responded lucidly and told me he loves me. Our love is strong so that even in pain and sluggishness, he responded. If any one of you believes in miracles, let's believe that he is going to fight—as it has always been in his spirit to do—and that good will come out of this."
But he died nonetheless. The official cause of death was renal failure and complications from heart disease and diabetes, but it was an antibiotic that killed him, according to Adrienne, who declared, "He was in perfect health before he went into the hospital." She described how Skip recently cut a toe while trimming his nails with his antique Confederate-era jackknife. It became infected and swollen and a local doctor prescribed Bactrin, which damaged his liver and kidneys. The doctors in Albany were trying to counter the effects of the medication when he died.
In his memoir Spontaneous Combustion, Williamson described early skirmishes with rules and expectations, like getting busted in third grade for drawing cartoons on his textbooks, and stealing copies of Walt Disney's Comics & Stories from the local drugstore in Lynchburg, Virginia.
Mervyn Wilton Williamson Jr. was born in San Antonio on August 19, 1944, and grew up in Austin, Texas, Lynchburg, Virginia., and Canton, Missouri. His father was a humanities professor and minister, and his mother, the former Rhodie Lott, was a homemaker, reported Sandomir.
"When he was a boy," Sandomir continued, "his troublemaking led his grandmother to nickname him after Percy Crosby's mischievous comic strip character Skippy. Williamson's high jinks extended to stealing comic books from a local candy store and drawing Mickey Mouse in the margins of a notebook, which led to his being disciplined by his third-grade teacher."
Young Williamson's love of comics "infuriated his strait-laced, professorial father." In a documentary, Williamson says: "I made comics because it was an anti-intellectual behavior."
In 1952, when the Democrats nominated Adlai Stevenson for their presidential candidate, 8-year-old Williamson chose to support him. "I was beaten up in the schoolyard that year for wearing a 'Stevenson for President' button, and forced to wear an 'I Like Ike' button. It was my first visceral lesson regarding the unhealthy potential of unpopular ideas." Neither incident deterred him from choosing his own path in life, though. "At the time, it was just another thumping," he wrote. "In the long run, it was a harbinger that foreshadowed my art's unsteady relationship with Authority over the years."
His comic career began in 1961 when he sold a gag cartoon to Harvey Kurtzman's Help! magazine. The cartoon showed two garbage cans in New Orleans, identical except for their signs: one says, "White trash"; the other, "Negro Trash."
Williamson later recalled that the comedian Dick Gregory showed the cartoon to Jack Paar on "The Tonight Show." "Boy, what an ego boost for a high school kid in Canton, Mo.," Williamson told the Comics Journal in an interview currently posted online at tcj.com. "That really gave me a shot to want to keep going."
He was an active participant in the network of small mimeographed comic fanzines that spewed out of garages and basement across suburban America in those years, including Wild! Blasé, and Williamson's own amateur publication Squire. His teenage colleagues [by letter] included future cartoonists Jay Lynch and Art Spiegelman.
Williamson moved to Chicago in 1967 to join Lynch to form the Bijou Publishing Empire and disseminate the gift of their art to the wider world. They both began contributing covers and cartoons to the Chicago Seed and the Old Town Underground Newspaper, and soon put out their own magazine, The Chicago Mirror, which morphed into Bijou Funnies after three issues.
The underground comix movement was launched in 1968 with the appearance of Zap Comix No.1 in San Francisco by Robert Crumb, who came to Chicago a few months later and helped them put together Bijou Funnies, No.1. Only half a dozen underground comic books were in existence by the end of that year, but within five years there were hundreds of titles, sold as "comix" to differentiate themselves from that dull nonsense put out by the "overground" comic publishers.
For the underground cartoonists of the 1960s and '70s, said Sandomir, "sex, drugs, profanity and violence were as common as superheroes in mainstream comics, and Williamson was among the most provocative. His characters were often visual grotesques, like Snappy Sammy Smoot, a dandy with fat hands and fat fingers, goggly eyes, gigantic red (or pink) lips, pomaded black hair and a delicate mustache. Smoot's naïveté placed him in counterpoint with the era's changing politics and mores. The Smoot creation became popular enough to appear (played by Carl Reiner) on the 1960s tv program "Rowan & Martin's Laugh-In."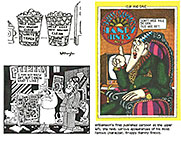 Williamson's comedy was both visual and verbal, but the pictures and the words followed their own routes and were not necessarily blended for humorous effect. The pictures were funny because Williamson exaggerated facial features and anatomy, turning the pictures into comedic abstract renditions of humanity. But much of the humor in Williamson's work depended upon his use of language. He mangled both words and syntax, producing a faux sophisticated lingo laced with verbal inventive convolutions.
In 1977, he was invited to contribute a comic strip to Sidetracks, a Thursday supplement invented that year by the failing Chicago Daily News. Advised that the newspaper frowned on "the unpolished romance of dope-shooters and prostitutes, the savage and recidivous political realities, tormented souls and wasted lives" that he'd been thinking of drawing about, Williamson, he said, "retracted a few scruples and created a couple of characters that would mimic the editorial protoplast and hoped that I could sneak the rest under the fence."
He proposed Halstead Street, Stories of Torment and Drama from the Hog Butcher. His proposal began with elegant metaphors: "Seeking the delusions requisite to the high-rise lakefront life-style that is the glittering necklace that graces the neck of the City of Big Shoulders, Bosco and Sheila Spoonbread find it nigh impossible to escape the raw nerve of distilled Chicago essence epitomized by Halstead Street. Running north/south, this boistrous thoroughfare cleaves through the neighborhoods that are the roughhouse soul of Chicago."
Sammy Smoot showed up, too.
The strip, weekly, offered something of a storyline that the supplement's editors could never quite detect. The jokes were laced throughout, almost as asides, rather than as punchlines. And when Sammy Smoot suggested that hyperactive children should be mounted on roller skates and hauled off to Montessori parking lots, his editor said his superiors "found his humor feculent and had dropped their considerable umbrage into his lap."
Halsted Street consequently ended in December 1977; the Chicago Daily News ended two months later at the age of 102 on March 4, 1978, the last issues of Sidetracks littered with ads for photographic equipment.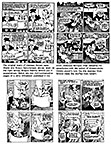 "Williamson found President Richard M. Nixon a particularly inviting target for caricature," said Sandomir— "distorting him a few degrees more than editorial cartoonists did. In a cartoon published in Class War Comix, Nixon wonders how to react to a phony newspaper article that accuses Vice President Spiro T. Agnew of killing thousands by flatulence.
"'We're in serious trouble, Spiggy,' a fretful Nixon says, applying a powder puff to his 5 o'clock shadow with one hand and holding lipstick in the other. 'Cruel anarchists have perpetrated an incredibly effective, image-shattering hoax on the American public.'"
Some years later, the Comics Journal said: "Skip Williamson is still the quintessential underground comix artist. ... Where [Robert] Crumb's primary comix aim was introspective ... Williamson took a broader look, skewering both left-wing trendiness and right-wing over-reaction at a time of much-publicized left-wing trendiness. ... Crumb's approach may have been more ... artistically 'legitimate,' but to those struggling to make sense of the socio-political chaos, Williamson was frequently the funnier."
Williamson was aligned with radical politics and demonstrated in the streets during the 1968 Democratic Convention/Yippie riots and many other anti-war protests. Because of Williamson's friendship with Yippie activist Abbie Hoffman, he was allowed into the courtroom where the trial of the Chicago Seven [or Eight] was being held; as a courtroom artist, he did sketches of key characters in the trial. And he illustrated the first printing of Hoffman's book, Steal This Book. He drew illustrations for Jerry Rubin's Do It! and We Are Everywhere.
Hoffman gave Williamson an advance from his book for Williamson to produce a comic book that would raise money for the Chicago Eight defense fund. The result, Conspiracy Capers, featured the art of Lynch, Spiegelman, Jay Kinney, Dan Clyne, Paul David Simon and others.
Williamson's day jobs included stints at ad agencies, and, during the 70s and 80s, as art director for various men's magazine publishers. He liked to say he got all the jobs that Robert Crumb turned down during the comix era.
In 1973, he was art director of Gallery magazine where he created the "Girl Next Door" concept by publishing snapshots of sweethearts and wives sent in by readers. In 1974, Williamson was the founding art director of Hustler, and in 1976, he joined the staff of Hugh Hefner's Playboy. There he created the popular "Playboy Funnies" section and introduced millions of readers to his characters, Neon Vincent and the post-modern couple Nell 'n' Void.
Williamson's work appeared in various anthologies in the post-underground years, including Blab! Zero Zero, and Mineshaft. He self-published several paperback collections of his comics, including Naked Hostility, Class War Comix, and Smoot, a paean to his notorious creation Snappy Sammy Smoot. His art has been published in the National Lampoon, High Times, The Realist, Industrial Worker, Chicago Seed, Encyclopedia Britannica and others.
He moved to Atlanta, Georgia in 1994 and started painting full time.
IN 2000, WILLIAMSON EXHIBITED HIS PAINTINGS in a solo show at Decatur, Georgia's Vinson Gallery and at Atlanta's Eyedrum Art & Music Gallery.
"At one of his shows in Atlanta," said Rosenkranz, "somebody asked him to move one of his paintings, of Jesus packing heat. They had hung it so you could see it through the gallery's front door and got complaints."
Jerry Cullum, senior editor at Art Papers, wrote in the Atlanta Journal-Constitution: "Williamson knows how to put together a picture, balancing color and skewed perspective as effectively as any realist painter would. ... He fits pefectly into a type of art championed by Juxtapoz magazine, in which a cartoon style is put to intelligent but outrageous usses. And his cynical view of humanity, worthy of such past satirists as Honore Daumier, is dead-on regarding the place where most people are. And yet, so much art reveals the places where people never even consider going. But that's not Williamson's concern. He reflectively steps on toes, and he rocks."
Williamson moved to Vermont in 2010.
He was married four times, to Cecilia Einhaus, Francy Stanford, Harriett Hiland, and finally to Adrienne Morales. He is survived by four children: Megan Williamson, Molly Hiland Parmer, Nikki Williamson-Weiner, and Rita Williamson. His remains will be cremated and no funeral service is scheduled, according to his widow.
He and she were total soul mates from the moment they exchanged comments on a poetry website in 2012, Morales said. Their first phone conversation lasted hours. "He had heart and soul and I was wishing he could be mine. I could love him the way he deserved to be loved."
They met in person a few months later and were married on June 11, 2015, in Vermont. "We were both romantics," she said in a phone call. "We are fucking ying and yan. We are those things that nobody knows. He was the bright light in my life."
Williamson left for posterity hundreds of pages of comics, and a home full of large and small canvases that speak wordlessly of his passions and personal visions. He lived for the moment, and took many chances, but lived to a ripe age. He was a genuine revolutionary, a vital force in underground comix, a player in Playboy's hedonistic heyday, a prolific painter, and eventually a Grand Old Man of Comic History.
His life story was recently documented by filmmaker John Kinhart, in his feature-length biopic "Pigheaded," which traces Williamson's personal life and career. The film played in two film festivals to date, in Washington, DC, and in Newburyport, Massachusetts, which Williamson attended. A DVD has not yet been released.
"He told me he was hard to kill," said Kinhart. "He said he would soon be recovered from his heart failure last year and back to a full life. "I'm going to miss him. He was a lot of fun. He was very intelligent. He paid attention to the whole spectrum of society. I'm going to miss him a lot."
Williamson always counseled his readers, "An' when yer smashin' th' state, kids, don't fergit t' keep a smile on yer lips and a song in yer heart!"
"Williamson's sympathies might have rested with the Yippies for a while," said Sandomir, "but he had little trust in politicians of any stripe. In one panel of a comic, Sammy Smoot stands between two figures: a crew-cut, vampire-fanged, cigar-smoking 'conservative' and a cool-looking 'liberal' wearing buttons that exhort 'Save Soviet Jews,' 'Boycott Lettuce' and 'Keep On Truckin'.'
"'Liberals are patronizing egomaniacs,' Smoot says. 'And conservatives are vicious power brokers!'"
The Comics Journal online is currrently carrying a long interview with Williamson. Here's a sampling of Williamson art.
Bernie Wrightson, 1948 - 2017
By Steven Ringgenberg (plus Michael Cavna and Aaron Couch, as noted)
SWAMP THING CO-CREATOR, comic book artist and illustrator Bernie Wrightson died March 18 following a long battle with cancer. Wrightson was a product of the second generation of comics fandom and began contributing to fanzines in the late 1960s, before breaking into the comics industry in 1969, with work for Web of Horror and DC's Showcase, including two issues of the dark fantasy strip "Nightmaster."
Although his early work was raw, it was powerful, with lush inks, dynamic anatomy, and a knack for telling stories, especially dark, scary ones, as you'd expect from an artist whose favorite movie was James Whale's 1931 masterpiece, Frankenstein. Wrightson's métier was horror, but he was too talented and too versatile to be easily pigeonholed, and drew beloved fantasy and sword and sorcery stories and illustrations early on in his career.
Born October 27, 1948, to a working class Baltimore family, Wrightson didn't recall receiving a great deal of encouragement for his early artistic endeavors from his parents, but as he observed in a 2015 interview in Comic Book Creator, "I've been drawing as long as I can remember."
Comic books and comic strips were early influences, with Wrightson citing Hal Foster's Prince Valiant, Flash Gordon drawn by Mac Raboy and Buz Sawyer by Roy Crane as his favorite comic strips. Wrightson was only five or six when he began reading EC Comics, the most visceral of which, as drawn by Graham Ingels or Frank Frazetta, had a profound influence on his aesthetic.
Another big influence on Wrightson was horror films: He was fortunate to be in the "Monster Kids" generation, when Famous Monsters of Filmland began publishing, and Universal released its "Shock Theater" package of old horror films for syndication, spawning a host of local late night horror movie hosts like Baltimore's own Dr. Lucifer, played by faded movie idol Richard Dix.
In addition to his influences from popular culture, Wrightson also learned about drawing by watching John Gnagy's famous art instruction program on television, and taking the Famous Artists correspondence course. His first published drawing appeared on the letters page of Creepy No.9 (June 1966), showing a man being dragged into an open grave, and a headstone bearing the inscription "Berni Wrightson, Dec. 15th, 1965."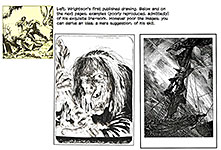 In 1966, Wrightson secured a job at the Baltimore Sun as an illustrator, his first professional work as an artist, and he freelanced to DC Comics. At age 20, his first published work in comic books was "The Man Who Murdered Himself" in House of Mystery No.179 (March-April 1969), a title with which he would have a long association. Wrightson is also credited with creating the illustrated splash pages that graced many issues of DC's "mystery" comics as a way of getting a quick paycheck. Wrightson drew his first continuing character in 1969, Nightmaster for Showcase Nos.82-84.
Three years later, reports Michael Cavna (in italics), in 1971, Wrightson co-created, with Len Wein, the character he likely will be most remembered for: the Swamp Thing. Within that character, you can find so many of Wrightson's artistic gifts: the sinewy tension of tissue; the viscous muck clinging to muscle; the haunted eyes that dare you to come in for a close-up; and always, elaborately rendered settings that reward close study.
Befitting his style, Wrightson adapted stories by Poe and Lovecraft for Warren Publishing, and collaborated with Stephen King several times as an illustrator, including on a special edition of The Stand and Cycle of the Werewolf.
But it is his textured visions for Mary Shelley's masterwork that might stand as his most compelling epic achievement. In 50 pen-and-ink illustrations, completed over more than a half-dozen years, Wrightson created a Frankenstein to haunt our waking dreams. The doctor's lab is a staggering menagerie of tubes and beakers that stand like cool, clinical witnesses to the rise of a rippling, tortured beast.
"Wrightson left DC to work for National Lampoon," reported Aaron Couch, "— and created illustrations for a number of novels, including editions of Frankenstein and Stephen King's Cycle of the Werewolf, The Stand, From a Buick 8 and Dark Tower V. He also illustrated the comic book adaptation of King's movie collaboration with George A. Romero, 'Creepshow' (1982). As a conceptual artist, he worked on films such as Ghostbusters, Galaxy Quest and Spider-Man."
Recent work includes a collaboration with 30 Days of Night creator Steve Niles for the three-issue comic book series Frankenstein Alive, Alive!
"Bernie Wrightson didn't draw lines so much as he seemed to summon them from the deep," said Cavna, waxing poetic. "His pen spun out dark and supernatural visions in such spellbinding detail that to some comics fans, Wrightson rendered Poe to be Baltimore's second greatest master of the macabre."
Said Joss Whedon: "R.I.P. to the great Bernie Wrightson, a star by which other pencillers chart their course. Raise a glass."
Guillermo del Toro calls Wrightson "my North dark star of youth. A master."
"There were giants in those days," remembered Neil Gaiman, "when all the world was young."
At the online Comics Journal (tcj.com), a long interview with Wrightson is reprinted. Here are some of Wrightson's drawings—only a glimpse, alas, because my sources are on the Web and pixilated too much to catch the fine lines.
James Stevenson, 1929 - 2017
By Richard Sandomir, nytimes.com (and others, as noted)
A cheerful boss tells a slightly startled underling, "Keep up the good work, whatever it is, whoever you are."
A financial executive raises his hand in a boardroom to ask, "What's a debenture?"
A politician tells his publicist: "Congratulations, Dave! I don't think I've read a more beautifully evasive and subtly misleading public statement in all my years in government."
James Stevenson spent nearly 50 years at The New Yorker gently skewering lawyers, businessmen and other members of the upper middle class — some of the same highly educated and privileged people who read the magazine.
And when he died on February 17 in Cos Cob, Connecticut, at age 87, he ranked among The New Yorker's most prolific artists, having drawn 1,988 cartoons. His final one, in 2003, showed a convention of Swiss bankers whose ID badges bore only their numbers, not their names.
His wife, Josie Merck, said that her husband died of pneumonia, but that he also had dementia.
Stevenson did not restrict himself to drawing cartoons at the magazine; he was one of the rare people there who wrote and illustrated articles, including Talk of the Town pieces. And, away from The New Yorker, he wrote novels and children's books, plus an illustrated biography of Frank Modell, a fellow New Yorker cartoonist, who died last year.
Lee Lorenz, the magazine's cartoon editor for much of Stevenson's stint, said: "A colleague at The New Yorker once suggested that, with the possible exception of poetry, James Stevenson could have produced the magazine single-handedly. As an artist, he published close to two thousand cartoons, dozens of covers, and innumerable spot drawings. As a writer, he contributed regularly to The Talk of the Town, and produced memorable longer pieces such as a straight-faced report on the production and marketing of peanut butter."
But Stevenson was best known for cartoons that mocked the pompous and the hypocritical with "an effortless competence employed to structure a drawing for maximum comic effect," Robert Mankoff, the magazine's cartoon editor, said in an interview. Mr. Stevenson, he added, executed his cartoons with "a perfect combination of line and wash" (diluted ink).
In 1983, decades before Donald J. Trump became president, Stevenson depicted the yawning gap between wealth and poverty at the construction site of the luxurious Trump Tower on Fifth Avenue. As people walk beneath scaffolding that displays the building's name in capital letters, an unshaven, scruffy man sits with a sign at his feet that says, "Trump Bum."
Stevenson's tone reflected his heyday at the magazine, from the late 1950s to the mid-1980s, when William Shawn was its editor.
"It was humor where voting for different people didn't disqualify you from dating someone," Mankoff said. "It was congenial and more benign." He added that Stevenson had "one complete synchronous wavelength with Shawn and Lee Lorenz."
Stevenson shifted easily from light social commentary to a silliness that often had its roots in art, current events or old jokes.
One of his cartoons showed a particularly glum egg and a chicken meeting at a supermarket checkout line. Each has a shopping basket in tow. "Who's next?" the cashier asks.
One of his 79 covers for the magazine showed three Cupids at mission control watching the heavenly launch of a giant arrow.
"Anything that was sort of ridiculous was in his milieu," Roz Chast, one of the magazine's star cartoonists today, said in an interview.
JAMES STEVENSON was born in Manhattan on July 11, 1929, to Harvey Stevenson, an architect who helped design the F.D.R. Drive, and the former Winifred Worcester, a homemaker. He grew up in Croton-on-Hudson, N.Y., and, while on his summer vacation from high school, was an office boy at The New Yorker.
"I was not hired on merit," Stevenson wrote in The Life, Loves and Laughs of Frank Modell — "My mother was a friend of the Fiction Editor, William Maxwell." A cartooning colleague, Michael Maslin, recalled that Stevenson worked for that summer in 1947 as an office boy, and a part-time supplier of cartoon ideas.
The summer job left him with a desire to contribute comedy to the magazine, so he started to send in gags for others artists' cartoons through the rest of high school, from Yale University, from the Marine base in North Carolina where he served for about 18 months, and from Life magazine, where he was a reporter.
In 1956, Maslin said, Stevenson was hired by the art editor, James Geraghty, as a full-time ideaman. Stevenson recalled that Geraghty turned to him after the hiring handshake and said, "You must not tell anybody at the office or anywhere else what you do."
Shawn, he recalled, was at such a loss for something to say when they first met that he asked him, "Would you like to have a cigarette?" But Shawn could not find one, and they parted.
Maslin continued: "Stevenson's own drawings were eventually published in the magazine beginning in March of 1956. He went on to become one of scant few New Yorker contributors who could say they had contributed written pieces in the magazine as well as covers, cartoons, and illustrations, or spot drawings. James Thurber, Lou Myers and Peter Arno come to mind as the only other members of that club.
"I once mentioned to Stevenson how energetic he seemed, considering the amount and variety of his contributions to The New Yorker. He replied, 'I had to be energetic — I had a large family.'
"In a career at the magazine that lasted 47 years, he published nearly 80 covers. His astounding number of cartoons –1,988 — places him, according to Ink Spill's calculations, in the top five contributing artists in the magazine's history (the other four being William Steig, Lee Lorenz, Alan Dunn, and Helen Hokinson)."
Even while he was producing cartoons for The New Yorker, Stevenson was writing and illustrating children's books, over 100 of them. A few, like When I Was Nine (1986), were stories based on his youth; some were about Emma, a young redheaded witch; another was about The Worst Person in the World (1995), a sour old man challenged to be better by the ugliest creature in the world. He even illustrated a book by Dr. Seuss, I Am Not Going to Get Up Today! (1987).
In an interview with the New York Times in 1990, Stevenson said that he used a simpler voice when he wrote for children but that "the same care, the same intensity of communication" was involved in writing for adults and younger readers, with humor the bond between the ages.
The joy he derived from creating picture books, he said, was connected to his love of movies.
"You cast, write the script, set design, find the right actors, people you care about, have them say the right things, find locations, the right stove for the kitchen," he said.
Susan Hirschman, the retired publisher and editor in chief of Greenwillow Books, who published many of Stevenson's children's books, said in a phone interview: "Every single book is different. No cuteness, no talking down, and such sweetness and truth. I think he understood that honesty was the key."
Stevenson was so productive, she said, that she wondered if she had done him a disservice by publishing so many of his books. "But if we'd done half as much or a third as much, someone else would have published him," she said.
Jim's interest in the arts extended well beyond the printed word, according to Lorenz: "He was a passionate jazz buff. Although he never played an instrument, he and his close friend and fellow-cartoonist Frank Modell found another form of musical expression: tap dancing. Although they never appeared professionally, their impromptu performances outside their offices were wildly applauded and still echo down the corridors of The New Yorker today."
BY THE TIME HIS LAST CARTOON ran in The New Yorker, Sandomir continues, Stevenson was also contributing to the New York Times. He first drew editorial cartoons, and in 2004 he began an occasional series for the Op-Ed page called "Lost and Found New York," which looked back on people and places of the past. Sometimes the pieces were little memoirs, like the one in 2010 about the Hessian Hills School, the progressive private school in Croton-on-Hudson that was a critical influence on his creativity.
No grades were given and no tests taken, he wrote. And students addressed teachers by their first names.
"We read newspapers, including the Daily Worker," he wrote, referring to the American Communist Party publication. "We knew about the Ford strike at River Rouge, where company thugs bloodied the strikers. We painted huge murals and put on plays. My part was the heartless banker evicting Okies in the Dust Bowl."
"For me," said Maslin, "— as a kid just out of college beginning at The New Yorker—Stevenson's work and the work of his colleagues, was my real education. I noted immediately that Stevenson's world was inhabited by drawings that connected to the very moment. His seemingly effortless line flowed buoyantly across the page, welcoming us in, and then, as the best cartoons do, surprising us with a caption we never saw coming; in those pre-social media days, Stevenson expertly distilled and commented on a news item or cultural event as quickly as a cartoonist working for a weekly publication could possibly manage. It's difficult enough for any cartoonist to successfully do that kind of drawing on any given week, but Stevenson's gift allowed us to laugh out loud (or on the inside) nearly 2000 times, almost weekly, for close to half a century."
We conclude with a smattering of evidence of Stevenson's gifts.
Howard Shoemaker, 1932 - 2017
By Emily Nitcher, Omaha World Herald
Howard Shoemaker had a quirky take on the world. He made bizarre connections between things, and he saw the potential for humor in everything, friends and relatives said. The Omaha native turned those connections into cartoons that for decades ran on the pages of Playboy magazine.
Shoemaker, or "Shoe," died January 28. He was 85.
Larry Sosso, an Omaha sculptor, described Shoemaker's cartoons as "sardonic."
One Shoemaker cartoon shows Santa, with a sly grin revealing a few teeth, stuffing amputated feet into stockings hung over a fireplace. Another shows a sad snowman pointing a blowtorch at his own head.
"His cartoons had just a subtle something inside of them that made you think," Sosso said.
Shoemaker also created humorous promotion material for Porsche automobiles and other companies. His 1964 book of Porsche cartoons is now a collector's item commanding hundreds of dollars a copy.
Before becoming a full-time cartoonist, Shoemaker worked for the Omaha-based Bozell & Jacobs advertising agency.
Shoemaker had a big burly mustache and a gait that was recognizable from down the street, friends said.
Patrick Drickey, director of Gallery 1516 in Omaha, said Shoemaker was one of the Old Market's original characters. He was a Slime Dog, one of a loosely organized and mainly anonymous group of men and women who would sit at the end of the bar and drink beers at M's Pub. If he saw something interesting about strangers he would invite them to join, said friend Roger duRand, a designer.
"He was very observant," said duRand. "A very visual person."
The essence of Shoe was his quirky mind and vibrant personality, duRand said.
He had six children, 13 grandkids and 13 great-grandkids.
Shoemaker's daughter Mareaeric Campagna said the family car was a Porsche. There would be outings in the hills of Council Bluffs, or Shoemaker would wake up his kids and take them out in the car to make the first tracks in fresh snow.
The house was filled with jazz, the Beatles and dance parties, his daughter said. Shoemaker's drawing board was in the middle of the living room of the house.
He jotted down ideas on napkins or his hand — a trait he passed down to children and grandchildren. And he drew cartoons on everything. Bar napkins, tags, cards and envelopes, which amused post office workers. All are treasured now, his daughter said.
In 1978 the World-Herald asked Shoemaker what one thing needs to be done locally, in the state or nation.
"Stop taking everything so seriously," Shoemaker said. "Try a good dose of belly laughter at least four times a day."
Metaphors be with you.
To find out about Harv's books, click here.