Opus 358 (October 13, 2016). Down the rabbit hole this time, we spend lots of time on the political season. We won't have the Trumpet to make fun of much longer, so we've devoted a yuuge section of this opus to his shenanigans, including a survey of Trump caricatures, Trump errors, missteps, fake apologies, sexual obsessions (the notorious videotape), his corruptions and connivings, his lies and deceptions and law-breakings, and other Trump insecurities and buffooneries. And the debates. We also have a long report on the recent convention of the Association of American Editorial Cartoonists (AAEC), devoting vast reaches to experiential reportage, with lots of editoons and photographs. We try to take you there. Try it; you'll see. All of which makes this posting an editorial cartooning extravaganza unequaled anywhere in the digital ether. But that's not all. We review at loving length the landmark tome, Pioneering Cartoonists of Color, and a collection of Kelly's Onion kartoons. And we ponder Wonder Woman's sexuality, Cerebus' damnation, and a do-nothing Congress. And more, much more. Here's what's here, in order, by department—:
NOUS R US
Jordan Writer Killed Because of Cartoon
Wednesday's Chick Retires
Stan Lee's Con (and Stan Lee Day)
March, A National Book Awards Finalist
Wonder Woman On the Big Screen (Gay?)
Jackie Ormes, A Monument
Stalking Playboy
Cerebus Died and Went to Hell
Odds & Addenda
Pooh's 90th
Obama Last 100 Days in Mad
Wimpy Kid Hits 180 Million
AAEC'S ELECTION YEAR CONVENTION
What Happened During Editoonists 3-Day Fete
Extravagantly Illustrated
Eaten Fish Interviewed
EDITOONERY
Trump as Editoonists See Him
And Other Events of the Month Worthy of Ridicule
Some of the Best Political Cartoons of Recent Weeks
Trumpster Dumpster
The Names People Have for This Asshole of a Buffoon
THE FROTH ESTATE
The News Media Thinks Better Of It—
And Starts Unveiling The Trumpet's Flaws (A Bonanza)
TrumpTalk: Fame and the Sex It'll Get You
The Notorious Videotape
The Second Presidential Debate
HILLARY
BOOK MARQUEE
Short Reviews Of—:
Kelly: The Cartoonist America Turns To (in the Onion)
Long Awaited Biography of George Herriman, December 6
TRUDEAU PICKS SIX FAVORITE BOOKS
BOOK REVIEW
Pioneering Cartoonists of Color
RANCID RAVES GALLERY
King Aroo
NEWSPAPER COMICS PAGE VIGIL
Who's a Douche Bag?
ONWARD, THE SPREADING PUNDITY
Thoughts About Our Do-Nothing Congress
QUOTE OF THE MONTH
If Not of A Lifetime
"Goddamn it, you've got to be kind."—Kurt Vonnegut
Our Motto: It takes all kinds. Live and let live.
Wear glasses if you need 'em.
But it's hard to live by this axiom in the Age of Tea Baggers,
so we've added another motto:.
Seven days without comics makes one weak.
(You can't have too many mottos.)
And our customary reminder: don't forget to activate the "Bathroom Button" by clicking on the "print friendly version" so you can print off a copy of just this installment for reading later, at your leisure while enthroned. Without further adieu, then, here we go—:
NOUS R US
Some of All the News That Gives Us Fits
JORDAN WRITER KILLED BECAUSE OF CARTOON
Prominent Jordanian writer Nahed Hattar was shot to death outside a court where he was facing charges for sharing a cartoon on Facebook that was deemed offensive to Islam, reported aljazeera.com.
Hattar, a Christian, was arrested on August 13 after posting a cartoon on his Facebook page that depicted a bearded man in heaven smoking in bed with women, asking God to bring him wine and cashews. Hattar removed the cartoon shortly thereafter, saying "it mocks terrorists and their concept of God and heaven. It does not infringe God's divinity in any way."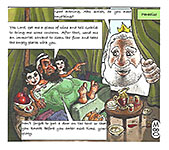 Attempting to explain his motive for sharing the cartoon, Hattar said he did not intend to cause offense to Muslims and wanted the cartoon to "expose" the Islamic State of Iraq and the Levant (ISIL) group and the Muslim Brotherhood. In another explanation, Hattar said "as a non-believer" he nonetheless respected "the believers who did not understand the satire behind the cartoon".
It is not known who produced the cartoon. The gunman was arrested.
Many Jordanian Muslims considered the cartoon offensive and against their religion. Authorities said Hattar violated the law by widely sharing the cartoon. He was charged with inciting sectarian strife and insulting Islam before being released on bail in early September.
Daoud Kuttab, an award-winning journalist and director of Community Media Network, told Al Jazeera that Hattar's killing represents a "scary situation where people with opinions we don't like or the government doesn't like become susceptible to assassination. It's a clear case of intellectual terror," added Kuttab.
After the cartoon appeared on Facebook, the backlash against Hattar was immediate, with Jordanian social media users lambasting the writer for purposely causing offence to Muslims.
Social media users also called on the government to question and arrest Hattar, and some attacked him for being Christian and a secularist.
Social media accounts of prominent conservatives in Jordan and elsewhere were celebrating Hattar's death, saying he deserved it for blasphemy.
WEDNESDAY'S CHICK RETIRES
Rina Piccolo, one of the six women cartoonists who produce the King Features' comic strip Six Chix on a rotating schedule—each cartoonist does one day a week—has retired from the strip with her last appearance, Wednesday, September 28. She will continue, however, doing her daily comic strip, Tina's Groove. Writing in her blog, Piccolo said:
"I made the decision this past June, and as you may imagine, it was a difficult one to make—I really love doing single panel gags for Six Chix; it's always been a unique feature. When it launched in 2000 with King Features, it was my first experience in the field of syndication, a sort of debut you might say, and since then I've grown so much as a cartoonist—and as a person.
"It goes without saying that growth brings change, and for the past year or so, I've had a revision of career goals. You could say that my parting from Six Chix is the beginning of a new, and exciting time. While it's too early to tell you of my upcoming project, I could tell you that I am not quitting Six Chix without good reason."
Wednesday readers will now read that day's strip by Susan Camilleri-Konar—"my dear friend," said Piccolo. "What can I say about Susan? The two of us have the same sense of humor. We jam comics together over FaceTime (she lives in Vancouver, and I live in Toronto. Yes, she's a fellow-Canuck!) As for her work, you may have already seen Susan's cartoons. Her gags run frequently in The Reader's Digest, The Wall Street Journal, Woman's World, The Harvard Business Review, and more. She also does illustration.
"Personally, I think there is no one more fit for the job, and I'm happy that my Wednesdays will be taken care of by a cartoonist that I believe in.
"Saying goodbye to a feature is weird," Piccolo went on, "— but it's not as though I'm going anywhere. You can still see me in the funny papers with [her daily comic strip] Tina's Groove! Yet I feel the need to say something pivotal about my resignation because Six Chix has been an impactful, important part of my life. It's the feature that taught me the ropes in this funny business of syndicated comics. It's the place where I refined my abilities in writing and drawing – allowing me to develop the sorts of skills that would later open doors.
"Six Chix is where I met Jay Kennedy, its creator. Jay Kennedy was my first syndicate editor, and the guy responsible for making Tina's Groove happen. He was a wonderful man. It was through Jay that I met my now ex-husband, Brendan Burford [who succeeded Kennedy as King's comics editor—RCH]. Another great King Features editor, and wonderful man. It was because of Jay and Brendan, and all my friends at King Features, and Torstar Syndicate, that my career meshed intimately with my personal life (I've long since stopped trying to disentangle the two).
"And Six Chix was at the beginning of it all."
STAN LEE'S CON
And a New Holiday for Los Angeles
Stan Lee's Comikaze Expo gets a new name just in time for this year's con. Henceforth, reported Aaron Couch at hollywoodreporter.com, the Lee extravaganza will be known as Stan Lee's Los Angeles Comic Con; this year, it runs October 28-30.
"I felt that a lot of people didn't know what Comikaze really meant or what it was. And I didn't think we should hide under a bushel," Lee said. "Los Angeles is, to me, the center of the world's entertainment. It has to have a Comic Con."
Lee's only regret about the new name? "I'd like to get the word 'Super' in there if I could," he jokes.
Held on the eve of Hallowe'en, Lee's Con will continue the tradition of bringing in two tons of candy for trick or treaters — who go from booth to booth to get their bounty (as their parents or guardians check out the goods venders are selling). "Children 12 and under are admitted free," said Couch, "— and visitors don't skip any booths when candy is involved."
For Lee, said Couch, "he's determined to continue making L.A. Comic Con bigger every year — to be synonymous not only with tv, movies and comics, but also sports and music eventually."
"I want [people] to feel they've had an experience," said Lee, "—because these conventions are a chance for the fans to be up close to the people they are fans of and to see the workings of the television shows — and even music and sports. It's going to encompass everything that people are entertained by. People love comics, movies and television more and more every year, so we intend to provide more and more every year."
And on opening day of this year's Con, Lee will be honored by the city council, which has officially designated October 28 as "Stan Lee Day" in the city of Los Angeles.
MARCH, A NATIONAL BOOK AWARDS FINALIST
Publisher Top Shelf rejoiced in reporting that the National Book Foundation's finalists for the 67th Annual National Book Awards include the concluding volume of the graphic novel March, the autobiographical series that depicts Congressman John Lewis's firsthand account of the Civil Rights Movement.
Written by Lewis and Andrew Aydin and drawn by Nate Powell, the series has previously won such honors as the Robert F. Kennedy Book Award, the Eisner Award, two Harvey Awards, and a Coretta Scott King Author Honor. It is rapidly being adopted by universities and public school systems from New York to San Francisco, and recently spent six continuous weeks holding the top 3 spots on the New York Times Bestseller List.
"This is amazing to me," said Lewis. "I'm overwhelmed and deeply moved that March: Book Three is a finalist for the National Book Award. It is my hope that this honor inspires many more young people, and people not so young, to read March and to learn the transformative lessons of our ongoing struggle to create the beloved community."
Co-writer Aydin had this to say: "When I found out, I cried. I couldn't help it. This is such an unbelievable honor. It's been an incredibly long and difficult journey to get to this point, and I am deeply, deeply grateful to the judges and supporters who have gotten us here."
Artist Powell added: "We're all blown away by how deeply this trilogy has been embraced. It's never been more urgent to understand and apply the Movement's history and perspectives — this work is for the unwritten future. We're grateful to be able to help those voices be heard.
"It means so much that we've had such a passionate response to this work, and to further increase comics' presence in the world at large," Powell went on. "We all need this account of the young, dedicated people — who changed the fabric of our society — to understand what it takes to push our world forward."
The winners — who receive $10,000, a bronze medal and a statue — will be announced November 16 at a New York ceremony.
WONDER WOMAN ON THE BIG SCREEN
Will Wonder Woman Be the Movies' First Major Queer Character?
Sony Pictures Worldwide Acquisitions has acquired worldwide rights to Topple Productions and Boxspring Entertainment's "Professor Marston & The Wonder Women," the unconventional true story of behind the creation of the most famous female comic book superhero of all time. Written and directed by Angela Robinson, Deadline Hollywood reports, the indie feature has already begun production, starring Luke Evans, Rebecca Hall and Bella Heathcote.
"Professor Marston" details the life of Dr. William Moulton Marston (Evans), Harvard psychologist and inventor who created Wonder Woman in 1941; his wife, fellow psychologist and inventor Elizabeth (Hall); and their polyamorous relationship with Olive Byrne (Heathcote), a former student of Marston's and an academic in her own right.
Their relationship proved enduring. Marston created DC's iconic Amazonian princess with significant input from Elizabeth having been inspired to do so by Olive. Marston, like Wonder Woman, was profoundly influenced by the feminist ideals espoused by Elizabeth and Olive. After his death from skin cancer in 1947, Elizabeth and Olive raised their children by Marston together and remained a couple until Olive's death in 1988.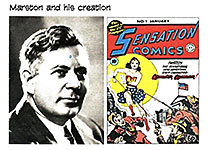 The film will explore how Marston dealt with the controversy surrounding his creation — which homophobic moral guardians charged would turn young girls into lesbians — while he and his partners navigated and concealed a romantic and family life that, if exposed, could have destroyed them all.
All of which prompts speculation about how the movie will deal with Wonder Woman's sexual preferences. DC Comics, the Guardian reports, has confirmed the Amazonian princess is bisexual, so why not celebrate the superhero's queer identity on the big screen?
FOR THOSE HOPING TO SEE a little more diversity in superhero films, there is now a sliver of hope. The writer of Wonder Woman's current comic book adventures has confirmed what we pretty much all knew, that Princess Diana of Themyscira is bisexual.
"Yes," replied Greg Rucka when the Guardian's Ben Child asked whether his revamped version of the Amazonian warrior was queer.
"I think it's more complicated though," he said. "This is inherently the problem with Diana: we've had a long history of people – for a variety of reasons, including sometimes pure titillation, which I think is the worst reason – say, 'Ooo. Look. It's the Amazons. They're gay!'
"And when you start to think about giving the concept of Themyscira its due, the answer is, 'How can they not all be in same sex relationships?' Right? It makes no logical sense otherwise.
"It's supposed to be paradise. You're supposed to be able to live happily. You're supposed to be able – in a context where one can live happily, and part of what an individual needs for that happiness is to have a partner – to have a fulfilling, romantic and sexual relationship. And the only options are women. But an Amazon doesn't look at another Amazon and say, 'You're gay.' They don't. The concept doesn't exist."
Rucka's right, Child said. "No one should be too surprised that Wonder Woman likes women when she lives in a single-sex feminist utopia. But there are also strong historical reasons why the superhero should be considered proudly queer.
"Wonder Woman was created in 1941 by the American psychologist and writer William Moulton Marston, a famously leftfield, not to mention rather creepy, thinker on matters of sexuality and feminism who, as documented in Jill Lepore's 2014 book The Secret History of Wonder Woman, lived in a menage a trois (and sometimes more) with his wife Elizabeth Holloway Marston (often considered the superhero's co-creator) and their lover and cohabitant Olive Byrne. Both women have been cited as inspirations for the character, with Elizabeth believed to have contributed her famous phrase 'Suffering Sappho!' and Olive her looks."
Though born of male bondage fantasies, Wonder Woman still emerges as a frontrunner of emancipation in this impressive account, writes Catherine Bennett.
And Child asks: Will monster director Patty Jenkins, who's overseeing the new Wonder Woman movie, be brave enough to incorporate her subject's queer identity, thereby making her the first major big-screen gay superhero?
NO ONE'S SUGGESTING (and Rucka seems to be fiercely against) a full-scale "I'm transexual, Barbara" moment, in the vein of Simone's Batgirl run, Child said, but there are other more subtle ways to offer a sly nod to recent developments. Although Jenkins' film wrapped in May, it surely wouldn't require full-scale reshoots for the film-makers to shoehorn in, say, an early flashback scene hinting at the superhero's youthful dalliances on Themyscira.
Despite the risk—and Warner Bros has been burned on this subject before (over Margot Robbie's Harley Quinn in "Suicide Squad")— there's an argument, Child goes on, that it makes no sense for same-sex relationships to remain taboo for superhero movies in 2016 when the highest-grossing children's film franchise of all-time, Harry Potter, achieved some its best box office results following J.K. Rowling's 2007 revelation that Hogwarts headmaster Dumbledore was gay. More recently, we learned that Gobber, the amputee Viking from the How to Train Your Dragon movies also prefers men, without any real associated fuss.
By celebrating Diana of Themyscira's bisexuality, DC would in one fell stroke leap ahead of rival Marvel in the diversity stakes and guarantee itself a whopping share of the pink pound come opening weekend next June. There is an opportunity here, Child said—beyond doing the right thing and offering acolytes a sly nod to the superhero's famously unorthodox gestation. And perhaps the Amazonian princess needs a little something extra to shout about, a genuine distinguishing mark, for us to hear her voice through the cacophony of big-screen superheroes heading to screens over the next few years.
Never mind the lasso of truth, said Child— or her frickin' invisible plane, as she prepares to hit the multiplexes for the first time in her own movie next year, a queer identity could end up being Wonder Woman's new secret weapon.
JACKIE ORMES, A MONUMENT
Jackie Ormes, the nation's first black female syndicated cartoonist, grew up in Monongahela, Pennsylvania, and attended high school there in the late 1920s. Her legacy will henceforth be celebrated with a new Pennsylvania historical marker in Monongahela's Chess Park.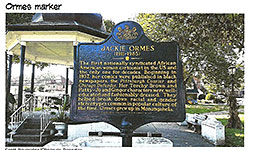 Ormes drew cartoons that appeared in her high school yearbooks, reported Scott Beveridge at the Observer-Reporter, and was working at a prominent black weekly newspaper in Pittsburgh as a writer and proofreader before graduating and becoming a syndicated cartoonist.
"She finally gave black girls something positive to identify with," said Susan Bowers, president of Monongahela Area Historical Society.
Ormes' cartoons appeared in the Pittsburgh Courier and the Chicago Defender, featuring well-dressed, sophisticated black characters who were in sharp contrast to those that were featured in mainstream white newspapers. She created Torchy Brown, a young, adventurous woman from Mississippi who made it to the stage of the Cotton Club, and Patti-Jo, who was "known for politically scathing commentary," according to biography.com. (See review of Tim Jackson's Pioneers of Cartoonists of Color below.)
Her cartoons took on such issues as racism before the Civil Rights era, pollution in poor neighborhoods and educational injustices. Her art helped to break down racial and gender stereotypes "common in popular culture of the time," the marker states.
Until that time, blacks were portrayed with racist, derogatory characters in newspaper advertisements and other illustrations, Bowers said. She said Ormes gave her audience characters who exhibited "positive self-images."
Ormes also "hobnobbed with Duke Ellington" and other famous black Americans of her time after relocating to Chicago. "She was high society," Bowers added.
The frame house at Ninth Street and Marne Avenue where she lived in Monongahela is still standing. For more about Ormes, see the R&R review of Nancy Goldstein's Jackie Ormes: The First African American Woman Cartoonist in Opus 219.
STALKING PLAYBOY
In its October issue—the 8th issue since the banning of nipples and pudenda— Playboy persists in desecrating the arts of cartooning by (a) not publishing any genuine cartoons and (b) printing another excretion by Nicholas Guerwitch. It appears in the exhibit near here; it may be the lamest cartoon in the history of the medium. Has Hugh Hefner left the planet Earth?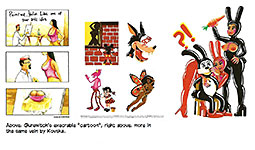 The other illustrations on the accompanying exhibit are those of this issue's "artist in residence," Chloe Kovska, who, as you can see, has a dubious talent for making pictures that look like the products of that clown you hire for your children's birthday party who makes animals out of balloons. She is introduced by Jean Andre, who says: "Kovska has the ability to reduce forms to the essential, paying tribute to the American tattoo tradition and Golden Age comics and cartoons while adding her own primal twist"—what Andre calls "her kinky, trippy pop-cartoon visions." Kovska says: "I paint desires, urges, dreams, inspirations and memories with lovers, dressed up in cartoons." Ew.
The magazine also has a 2-page article about Marvel's television Luke Cage. Luke Cage must be all the rage: Time also ran a modestly extensive piece on it.
Otherwise, as before, Playboy has no naked women viewed from the front. But there are some wet t-shirts with visible nipples.
I don't miss the nudity. But the absence of decent cartoons is a crying shame. And I'm crying.
CEREBUS DIED AND WENT TO HELL
From 1977 until 2004, cartoonist Dave Sim chronicled the life of an anthropomorphic aardvark in the pages of his comic book Cerebus. "One of the most important and groundbreaking independent comics of all time, Cerebus delved into politics, religion, gender and pop culture, all seen through Sim's satiric eye, and in the 300th and final issue, exactly as Sim had long promised, Cerebus the 'earth pig' died and passed through a great light to something unknown," as Michael Lorah puts it at cbr.com.
The unknown was Hell.
"At long last, Cerebus' afterlife fate is revealed in Sim and partner Sandeep Atwal's new [as of last summer] online comic strip, Cerebus in Hell? Sim and Atwal aim for the funny bone, crafting a four-panel, joke-a-day strip that tosses sharp barbs at the modern world, including many japes at the comics industry in particular. Done fumetti-style, the comics feature images of Cerebus Photoshopped into classical Gustave Doré illustrations inspired by Dante's Inferno."
Sim explained the genesis of the project and its form: "I haven't been able to draw since February 2015 because of a mysterious wrist ailment, but I thought people deserved an answer to 'So where did Cerebus end up?'"
Interviewed in Previews, Sim elaborated: "I thought I owed the longtime readers an answer to the post-issue No.300 question: 'So is Cerebus in Hell or what?' There's definitely still a question mark as to where specifically he is, but, you know, it's Cerebus, so I think we can safely rule out 'Heaven.' It's also funnier that he's been there for twelve years at this point. 'No hurry on checking in with him: he isn't going anywhere,'" Sim added, laughing. "'Meanwhile, twelve years later...'"
"The online strips have been well received," notes Lorah, "but they're only the tip of the iceberg, as the duo's best strips have apparently been set aside for a print incarnation, which, Cerebus in Hell? No.0, shipped to comic shops in September from Sim's Aardvark-Vanaheim, and if sales warrant, Sim plans to release four more issues of Cerebus in Hell? in 2017 in commemoration of Cerebus Number One's 40th anniversary."
Sim said David Malki's online strip Wondermark was his inspiration: "Basically, it's using Victorian engravings and putting in funny dialogue. I was sick over Christmas and I thought, 'I want something funny to read. Actually funny, capital-F funny.' Wondermark is one of my go-to things for that. And looking at it this time, I thought, 'I think I could do this. I could do this with Cerebus and have him stripped into old steel engravings in Photoshop.'"
And so that's what he did—with Sandeep.
"I paste it up from printed-out lettering and I've just got little stick-on Cerebuses that I stick on to reductions of the Gustave Doré prints. I mock it all up and photocopy that, and give it to Sandeep. Either he does it in Photoshop, or actually we have what we call the paint department now, which is volunteers who have volunteered to do the Photoshop on Cerebus in Hell? in exchange for a permanent credit on any strip that they work on.
"Sandeep will email them my paste-up," he continued, "— and then they just clean it up in Photoshop with raw materials. I do that in house, and Sandeep is back at Camp David with his computer actually doing his in Photoshop, and you just try and make the other guy laugh. Usually I'm doing it overnight. I get up about one-thirty in the morning and I'll have four or five strips by the time he gets in at ten in the morning. Then he works from about ten in the morning until about five at night, and brings them in on a thumb drive. I read them, and that's the job – just make the other guy crack up."
As for Cerebus' adventures in Hell, Sim suggested what happens in his Previews interview: "The assumption is that Cerebus is being punished so, instead of 500-page stories [the original dimensions of Cerebus], he's stuck in 4-panel stories and instead of having a huge spectrum of reactions, he's limited to one deadpan reaction, one angry reaction and one disgusted reaction. 'You weren't really very good at being Cerebus, so let's try you out as the poor man's Garfield and see if you're any better at that.'
"Sandeep and I have the same reaction: Cerebus is so hilariously pathetic that the strips really pretty much write themselves: Cerebus and the Minotaur. Cerebus and the Unconsecrated Dead. Cerebus and the Suicides. Cerebus and the Titans. Cerebus and Lucifer. If you can't write four funny panels on that, you're in the wrong line of work."
ODDS & ADENDA
In honor of the 90th annivesary of the publication of A.A. Milne's first Winnie the Pooh book, saith Time, the current series author Brian Sibley is introducing a new character in the Hundred Acre Wood. Geez: I didn't know there was a "current series" or a new stand-in author. Nobody ever tells me anything.
■ In its forthcoming "Politics 2016" issue (due to hit newsstands Oct. 11), Mad offers its madcap look at "The Last 100 Days of the Obama Presidency." In envisioning Obama teaming with Putin on a tv show (a buddy-cop series?) and sitting for a portrait by George W. Bush, Michael Cavna reports that "Mad writers Jeff Kruse and Kenny Keil (working with caricaturist Tom Richmond) map out Obama's lame-duck high jinks before he boards Air Force One for the final time." Cavna asked the writers: "Who would be more fun to satirize come January — Trump or Clinton?" Keil said: "Oh, dear God, I hope we're all writing Hillary jokes by then." Said Kruse: "Tough call. They've each been satirized so much by Mad and every cartoonist, comic, and guy around the water cooler in every workplace in America, I'd think it's a draw. That's why I'm pulling for Gary Johnson."
■ By November 1, 2016, Jeff Kinney's Wimpy Kid books will have achieved a global in-print total of more than 180 million copies of all books in the series in print, according to publishersweekly.com. Author Kinney will be touring North America to support the release of the eleventh entry in the series, Double Down, later this fall.
Fascinating Footnit. Much of the news retailed in the foregoing segment is culled from articles eventually indexed at rpi.edu/~bulloj/comxbib.html, the Comics Research Bibliography, maintained by Michael Rhode and John Bullough, which covers comic books, comic strips, animation, caricature, cartoons, bandes dessinees and related topics. It also provides links to numerous other sites that delve deeply into cartooning topics. For even more comics news, consult these four other sites: Mark Evanier's povonline.com, Alan Gardner's DailyCartoonist.com, Tom Spurgeon's comicsreporter.com, and Michael Cavna at voices.washingtonpost.com./comic-riffs . For delving into the history of our beloved medium, you can't go wrong by visiting Allan Holtz's strippersguide.blogspot.com, where Allan regularly posts rare findings from his forays into the vast reaches of newspaper microfilm files hither and yon.
FURTHER ADO with STEVEN WRIGHT
Depression is merely anger without enthusiasm.
When everything is coming your way, you're in the wrong lane.
Ambition is a poor excuse for not having enough sense to be lazy.
Hard work pays off in the future; laziness pays off now.
AAEC'S ELECTION YEAR CONVENTION
Wherein a Great Variety of Resources Were Deployed
A healthy helping of America's editorial cartoonists gathered in Durham, North Carolina, September 21-24 for the convention of the Association of American Editorial Cartoonists (AAEC), an annual event heralded this year by an assortment of disturbances both trivial (but annoying) and tragic that would provoke their ink-slinging ire: the state's attempt to reject transgender rights, the Hillary vs Trumpet campaign shenanigans roiling the headlines on the eve of the first presidential debate, tropical storm Lisa hovering along the East Coast, and a few miles away in Charlotte, riots in the streets protesting the tragic and apparently senseless shooting of yet another allegedly unarmed black man. And on the convention's last day, a Gay Pride Parade/Festival transpired near the meeting rooms.
Continuing the effort of the past few years to broaden the scope of its convention, AAEC this year joined Duke University in mounting a timely "Political Cartoon and Satire Festival," during which most of the program was open to and attended by Duke students. (Duke, incidentally, houses a cartooning collection of comic books, newspaper strips, and political caricature second only to the Billy Ireland Cartoon Library & Museum at Ohio State University.)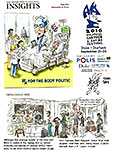 Other convention sponsors enriching the political thrust of the programming included POLIS: The Center for Political Leadership, Innovation and Service; DeWitt Wallace Center for Media Democracy; Sanford School of Public Policy; Duke Arts; and Campaign Stop 2016.
The joint sponsorship produced at least two events in addition to the usual lineup of presentations by cartoonists: the Night of the Simpsons with writers and producers of the famed tv series, and Facts and Comedy with researchers and fact-checkers for "The Daily Show" and "Full Frontal with Samantha Bee" offered insights into other realms of satire both social and political.
Registrations for the convention, a tally of attendance, totaled 128, which included about a dozen speakers (whose registration fees were waived).
Program sessions took attendees on a veritable tour of erstwhile tobacco capital Durham ("roll your own and save your roll") from several downtown sites to both West and East campuses of Duke University—beginning and ending every day at the refurbished and recently reopened art deco building that housed the host hotel, the 21c Museum Hotel, where public spaces were decorated with avant garde art and the hotel's second floor gallery exhibited other works of the eye-opening genre.
And everywhere we looked, pink penguins.
The ambitious program, planned by AAEC president Adam Zyglis (Buffalo News), Kevin "Kal"Kallaugher (The Economist and Baltimore Sun) and Durham natives V. Cullum Rogers (Indy Week) and J.P. "Jape" Trostle (freelance designer, editor and self-proclaimed "cat herder"), included the mounting of four exhibitions of editorial cartoons.
One of them, "Bathroom Banter," showcased cartoons pertinent to current alimentary issues aroused by North Carolina's legislature and governor— sexual identity, gender stereotyping, the right to privacy, women's safety and the practicality of government intervention in personal matters. A second exhibit, "This Campaign Is Yuuuge," displayed more than 50 cartoons about the current presidential contest.
The other two exhibits were one-man shows focused on the work of two AAEC members.
"Forty Years of Editorial Cartoons and Then Some" reviewed the editooning career of Dwane Powell of the Raleigh News and Observer. "The career retrospective encompasses the high (and low) points of a changing North Carolina and takes a snarky, ink-stained look at the Tarheel state and beyond. From Jesse Helms to Pat McCrory, gun control to HB2 [the infamous bathroom law], this exhibit is a perfect run-up to this year's presidential election." (Quoted from the convention program booklet, as are all ensuing otherwise unattributed quotations.)
The other display covered the 50-year career of Durham's V. Cullum Rogers, an AAEC stalwart (former editor of the Notebook for 6 years and former secretary treasurer for 12 years and the only Mount Rushmore the Association has), "from rank amateurism to near-competence through a selection of political cartoons from the Durham Morning Herald, the Spectator, the Independent Weekly and other publications" that have employed Rogers' pen.
A fifth "bonus show" featured abstract images by Jape Trostle that decorated the Atomic Fern Social Club (a picturesque downtown saloon), where the "president's post-con party" transpired after the concluding banquet on Saturday night.
Altogether, the 2016 Convention was a treat, visually and intellectually, with enough built-in variety of experience to whet appetites and aspirations. It was, in short, exactly what a convention should be. And it took advantage of both the political atmosphere and the site, exploiting both tourist attractions and off-beat local venues.
Next, we'll reveal how it all happened as best we can, hampered somewhat by rigged hearing that prevents your reporter from understanding much of his verbal surroundings. But we took notes anyway, as you can see from the adjacent page of my notebook.Now, here's how it happened, day-by-day:
Opening Night
The Convention got underway Wednesday evening with a reception in the monster-pipe festooned Power Plant Gallery, part of the re-purposed campus of Durham's American Tobacco enterprise. In addition to conversation, drinks, and hors d'oeuvres, the event featured the Dwane Powell exhibit or original cartoons.
Writing in a catalogue accompanying the show, Powell discussed the generation of ideas. "After forty years of drawing political cartoons at a pace of five per week, they probably total about 12,000. Each represented a day that started out reading or watching several news sources, followed by jotting down topics for an over-view before settling on one to draw about. Usually, the topic that made me maddest won. ...
"The ideas may not flow until preceded by hours of doodling, heard scratching and pacing," Powell continued. "A solid factual grip on an issue, combined with confidence in my take on it, is essential at this point in the process. Eventually, a metaphor or image does come to mind and it is usually instant and fully formed."
He concluded: "While on this trip back in cartoon time, I found an amazing number of them that, with slight caption changes, would fit right in with today's news cycle."
Duke University's Neil McWilliam put in his two cents: "In his cartoons, Powell achieves exactly what visual satire does best: taking messily complex debates and distilling them into memorably sharp, insightful visual arguments. ... Powell has made a particular speciality of transforming the GOP elephant into a woolly mammoth, whose tusks grow longer the more the State General Assembly seems to look back to the Neanderthal period for inspiration."
The catalogue helpfully includes footnote explanations by Powell about the issue each cartoon addresses.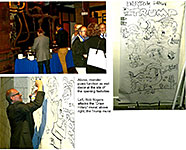 Between imbibes, some of the devotees took a few minutes to inscribe their caricatures of Trump and Hillary on 4x6-foot sheets of paper affixed to the wall. These makeshift murals were removed at the end of the party and transported to the West Campus of Duke University, where they were hung in the lobby of the Bryan University Center, site of program events on Thursday and Friday.
Thursday
Breakfast on Thursday and Friday was served on long tables on the sidewalk outside Rise, a coffee and donut, biscuit and coffee dispensary three blocks downhill from the hotel. Next door to Rise is the Horse and Buggy Press, a letterpress shop and design studio which creates contemporary work by integrating hand processes with automated digital and offset printing techniques.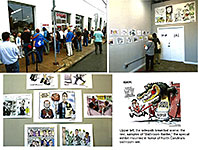 H&B also donated a few of its walls to displaying two of the convention's exhibits—"Bathroom Banter" and the Cullum Rogers retrospective. We'll review the latter in Friday's report.
Numerous organizations and entities cancelled plans to come to North Carolina in protest against the state's newly enacted law that requires transgender persons to use public restroom and dressingroom facilities corresponding to the sex denoted on their birth certificates, but AAEC, composed, as it is, of loud-mouth opinion-mongers always on the look-out for a good bit of evil to ridicule, elected to come to town (as scheduled) and to make the ludicrous injustice of the issues conspicuous by mounting this exhibit, curated by Cullum Rogers, who selected four dozen cartoons by three dozen cartoonists from the more than 150 submitted. Those exhibited "represented many points of view and touched on issues ranging from sexual identity to the limits of government intervention."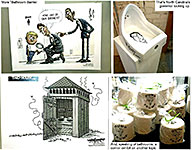 We chomped donuts and/or biscuits and drank coffee (for which, alas, neither sugar nor cream was available—but you could find both inside Rise, just a few feet away from the sidewalk tables) and viewed the cartoons of the two exhibits for 30 minutes or so until buses pulled curbside to collect us for the trip to the West Campus of Duke University, depositing us at the Bryan Center, where we reconvened in the Reynolds Auditorium for the day's ambitious schedule of program sessions.
The stage was decorated with cutout figures of the Democrat donkey, Republican elephant, Bronco Bama, Putin, Paul Ryan, and Hillary and Trump, who faced each other like prize fighters.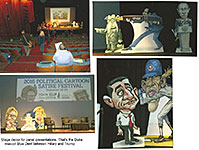 Keeping the two combatants separated was another cutout, this one of Duke's mascot, the Blue Devil, which served his function all weekend but turned up missing at the end. As one wag said, "I'm surprised he didn't disappear long before."
At the first presentation, "Making Satire Great Again," Dave Horsey, Signe Wilkinson, and Steve Breen discussed the "challenges, joys, and oddities of covering the first celebrity billionaire nominee and the first female nominee" to run for Prez of the U.S. All three displayed a selection of their cartoons.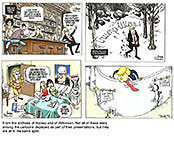 Horsey observed that at the Democrat convention, outside protesters went inside as delegates; at the Republican convention, outside protesters stayed outside. The ever acerbic Wilkinson showed sketches about social media, and Breen claimed that Trump was not all bad—some of his points are right.
The others, however, contended that everything Trump does is worthy of satire—even his appearance. Horsey noted that nothing is likely to change the minds of Trumpkins, who are nonetheless "very nice people." Wilkinson recalled a Washington Post column that proudly began, at last, exposing Trump's misrepresentations and falsehoods; but, she said, cartoonists had been attacking Trump in these areas long before the columnist did. Addressing the paper's editors, she said: "Don't you read your cartoonists?"
Breen presented an unusual film clip of his supposed interviewing of Hillary Clinton in which he delicately introduced himself as a conservative, a phrase at a time, awaiting her reaction as he went. She, however, was entirely silent, her face an immobile mask. Nothing he said provoked her. A fable, perhaps, for the professional life of an editorial cartoonist.
The next panelists, Ann Telnaes, Joel Pett, and Matt Bors, discussed their experiences of the wrath of social media under the heading "Likes, Loves and Lynch Mobs: Cartooning in the Digital World of Social Media."
When Ted Cruz aired a tv commercial in which his daughter was coached to attack Hillary Clinton, Telnaes responded with a cartoon showing Cruz as an old-time sidewalk organ grinder whose monkeys danced to his tune.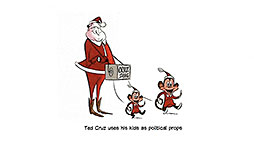 She was immediately attacked by social maniacs, who accused her of turning Cruz's kids into monkeys (often expressing their opinions in the vilest sexist terms; see Opus 355 for her examination of this issue and Opus 347 for a full report of the episode soon after it happened).
The Washington Post caved in to social media pressures and pulled the cartoon, claiming that the paper's policy, a traditional press stance, was that candidates' children are off-limits— ignoring the obvious fact that Cruz was deploying his children as campaign shills. They were more than just the junior members of his family.
Cruz turned the incident into a fund-raising appeal, saying Telnaes was making cruel fun of his offspring.
Astonishingly, none of the newspaper coverage of the incident cited Cruz's shameless exploitation of his children to attack an opponent: newspapers almost universally claimed Telnaes' cartoon did nothing but turn the innocent children into simian caricatures.
Despite this experience, Telnaes believes social media response is reader response—and that's good. She wondered, though, what would have happened if the Post had not pulled the cartoon. The incident wouldn't have been as big a deal then, she supposed. But she would have done the cartoon even if she'd known the results in advance.
In any event, the episode reveals the power of social media, something we must all be aware of these days. Telnaes summarized her experience in a June article in the Columbia Journalism Review, concluding:
"A danger now is the use of social media to intimidate and silence because it attacks the satirical core of what makes a cartoon an editorial cartoon. If we're being harassed and pressured not to aim our pens critically, we won't be able to call ourselves editorial cartoonists much longer—we won't be able to create anything but mushy, uncontroversial drawings.
"How should the journalism community protect cartoonists so they can do their jobs? We need to educate and be ready the next time a cartoonist aims his or her satire against a thin-skinned politician or interest group looking for an opportunity to manipulate fair criticism. Be aware when a false narrative is being presented to deflect the actual intent of a cartoon; talk to your editors and come up with a plan to counter the misinformation."
Kentuckian Joel Pett recounted his experience last year when his state's governor-elect, Matt Bevin, came out in opposition to resettlement of Syrian refugees in his state. Like many timorous Americans, he imagines terrorists lurking among the displaced multitudes. In response, Pett did a cartoon in the Lexington Herald-Leader that depicted Bevin as scared of his own adopted children, who are from Ethiopia.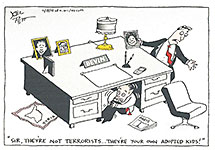 Bevin objected by calling Pett a racist because of "his deplorable attack on my children." Pett is not a racist, and his paper gave him space to respond, which he did, full of sarcasm and truth, saying, in part:
"I understand that, for many readers, this cartoon may have been a bridge too far. But here's an idea: Suppose we just use the means at our disposal here, while we still live in a country where freedoms are cherished, to discuss political issues? Like whether cracking down on Syrian immigration to the U.S. is a proper response to a terror attack in Paris carried out by young people born and raised in France. We can play it straight, or use sarcasm and humor, or irony, whatever. And maybe we could make an attempt, some tiny attempt, to understand other positions, and not poison free debate with a morass of shrieks, hurt feelings and calls for silence.
"As it happens," Pett continued, "I am in our nation's capital [at the time of writing this], attending a fund-raiser which benefits cartoonists who labor in countries where political cartooning isn't quite so appreciated, shall we say—where calls to silence dissent are serious, where people's reactionary impulse to quiet their perceived enemies has deadly consequences. Mine is a great job, in a great country, where freedom of speech is celebrated and satire and ridicule have deep roots, upheld at every turn by a broad and thoughtful Constitution and an open-minded court system. Unlike, say, Iran or Syria, where questioning the leadership is met with fury and worse."
The whole story—and the complete text of Pett's response—can be found at Opus 346.
Bors contributed to the discourse by showing his cartoons that castigated the social media, among them one that railed on: "This is fine. Oh, my god! It's NOT fine. ... What the fuck was I even thinking."
The break for lunch (sandwiches in boxes) was enhanced by cartoonists (Mike Jenkins and Steve Benson with Matt Wuerker) drawing caricatures of live volunteers, unsuspecting Duke students who innocently wandered into their inky-fingered clutches as they walked through the Plaza outside of the Center. At the same time, Wuerker attacked the nearby bookstore window with white paint, creating, among other political images, a mermaid with the face of Trump (to which, apparently, enough passersby objected that it was later modified and/or removed, can't tell which).
Next, in "Black and Blue: Cartooning #BlackLivesMatter and Modern Policing," Keith Knight and Darrin Bell were joined on the panel by moderator Duke law professor Jim Coleman, director of the Center for Criminal Justice and Professional Responsibility, and North Carolina senator Mike Woodard.
Knight showed cartoons he'd drawn that addressed the issues of "Black Lives Matter." He insisted, rightly, that the time to address those issues is now, and he keeps doing cartoons about them, hoping to keep the issues alive, demanding solution.
In addition to his syndicated daily comic strip, The Knight Life, Keef does two other cartoon features. Dunno how they're distributed, but they appear less frequently than the strip. The oldest of the two is The K Chronicles, in which Keef himself is a major player (as he is in the strip); the other, th(ink), is a more overtly political conveyance. Here are a few samples.
In addition to showing some of his cartoons on the subject, he recalled an incident in which a black woman visited a police shooting range and observed, to her surprise, that the cutout targets for gun practice were of African Americans—one of which, to her shock, depicted her brother.
Bell's cartoons took a kindred stance. Bell's earliest cartooning career was as an editorial cartoonist in college; he gave up editooning when he began drawing the comic strip Rudy Park and producing his own comic strip Candorville. But when African Americans started being shot by police, he returned to editorial cartooning, adding this genre to his workload because he could not express adequately his feelings on the topic in either of the strips he was doing: they are character-driven. (And he's now writing Rudy Park as well as drawing it.)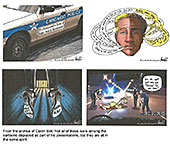 Senator Woodard spoke (presumably) for his political colleagues when he said that "as policy makers we're all struggling with this issue," allowing that it is "a systematic problem that we must address." Politically astute of him, no doubt, but not particularly inspirational. Earlier, I was told, when he first met with his fellow panelists offstage, he was much more vehement in support of equal rights and racial issues of injustice; onstage, however, he had to assume a posture more politically palatable to a general audience (which term, he doubtless did not realize, did not describe a room full of editorial cartoonists).
The afternoon concluded with a session about "Finding the Elephant's Funny Bone" in which conservative cartoonists Scott Stantis and Chip Bok explained and exemplified in their cartoons that Republicans do not suffer from a lack of sense of humor.
Scott made a strong case by showing his cartoons that depicted some of the more ludicrous aspects of GOP activity. Bok explained complexities, arguing sometimes from highly debatable "facts" —albeit ones held by reputable pundits and philosophers even if some of them are Tea Bagger initiates. Stantis avoided debate by going for an easy laugh. Both, however, showed notable political courage—or folly—by defending conservative positions in front of editorial cartooning colleagues, most of whom are ravening liberals.
| | |
| --- | --- |
| | |
After dinner on our own, we reconvened that evening in the Page Auditorium for "sketch comedy and live cartooning," the latter by Kevin "Kal" Kallaugher, Rob Rogers, Cullum Rogers, and Dave Horsey. Kal began the show with some caricatures drawn "live" on an easel. Then Duke's comedy troupe Inside Joke and an improv group DUI took the stage for a half-hour's performance, followed by a sort of contest in which the cartoonists drew "hints" for one performer to explain without specifics to another, who was prevented from seeing the cartoons but was supposed to guess the subject of the drawings—sort of like charades.
Returning to the hotel, many exhausted cartooners retired to the bar, where they discussed the current national political brouhaha. Hillary, many opined, will probably win; but others expressed a fear that Trump might. And these opinions were sometimes held by the same persons.
Friday
This day began the same as Thursday—waiting for the bus to Duke at a standing-room only breakfast of Rise donuts and biscuits on the sidewalk outside the Horse and Buggy Press. Those who wandered indoors from the curbside conversation browsed either the "Bathroom Banter" cartoons or the mementoes on the wall of Cullum Rogers' 39-plus year career cartooning for newspapers around Durham.
The Rogers exhibit was enriched by his homey hand-lettered annotations posted near the pictures, explaining "How I Learned to Draw," amplified with such advice asides as: "It's better to start over than to erase" and "Never try to catch a falling exacto knife."
Although he drew for his college newspaper, his first sold cartoon was published in the Durham Morning Herald in 1977. "By the time the editors realized their mistake" in publishing his cartoons, Rogers wrote, he "had sold them nearly 2,000 more, and he later pulled the same trick at Raleigh's Spectator magazine and Durham's Independent Weekly." Now semi-retired, Rogers is writing a book about newspaper and magazine parodies and blogging at magazineparody.com.
The first presentation of the day, "Small Hands and Big Hair," featured nationally renowned illustrator-caricaturists Steve Brodner, Victor Juhasz, and Tom Fluharty.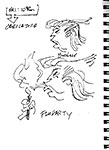 All three work chiefly in color; Juhasz and Fluharty are painterly caricaturists, and Brodner deploys linear pictures which he then colors.
Easily the most engaging of the convention's sessions—every editoonist craves more hints about caricaturing—it supplied several bywords to live by. Brodner remarked, for instance, about the folly of the "Thomas Nast Syndrome" which drives cartoonists to strive to make an enormous impact on the world. Brodner also said that good caricaturing requires "a combination of the brain, the eye, and the heart."
During the Q&A following the presentations, someone at the mic in the audience (probably Cullum Rogers) observed that "irony isn't dead; it just switched sides"—a scrap of wisdom that defies analysis.
Perhaps the most impressive insight of the session was the realization that these illustrators often worked with the tightest deadlines: a phone-called assignment on Wednesday evening might be due Thursday morning.
During the two-hour box-lunch break, the caricaturing of volunteer Duke scholars on the Plaza resumed; some of us wandered the campus, marveling at the architectural unity of the buildings—all in a gothicky English decorated style; others took their boxes to tables under the shade trees of the Center's Plaza.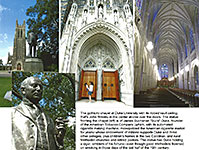 After the break, the presentations continued with "Bathroom Banter," featuring editoonist Kevin Siers and Charlotte Observer's government reporter Jim Morrill who discussed (and ridiculed) North Carolina's "unenforceable law for a non-existent problem." It was as if, one of them remarked, the state legislators held a meeting to decide what they could do to attract cartoonists' derisive laughter all over the country and said, finally, "Let's do bathrooms and gender discrimination."
Siers showed several of his cartoons on the issue, followed by the cartoons of others, including Steve Sack's notable "Hoohoo Inspector" cartoon.
At the following session on "International Ink," cartoonists GADO of Kenya, Rayma Suprani of Venezuela and Rod Emmerson of New Zealand talked about "the challenges of being a visual satirist in today's uncertain world" in which the governments of some countries persisted in acting officially against cartoonists in order to prevent them from ridiculing assorted follies.
Dinner that evening was supposed to be an outdoor picnic on the yard at the Sanford School of Public Policy, but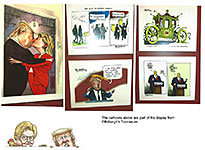 the cook-out turned into a cook-in because of unpredictable weather. After dining, some of us visited an exhibit supplied by Pittsburgh's Toonseum "This Show is YUUUGE: Cartoonists Tackle the 2016 Presidential Race."
After dinner, we experienced "The Night of the Simpsons: A Celebration of Satire." Conducting the celebration was Number One Simpsons Fan, Bill Adair, Pulitzer winning journalist and director of the DeWitt Wallace Center for Media and Democracy, who quizzed a team of directors, producers and writers from "The Simpsons"—Caroline Omine, Jeff Westbrook and Stewart Burns. They commented upon clips from the tv show, and we all had a good laugh.
Saturday
For the annual business meeting, we all trekked around the corner and down the block to a meeting room on the fourth (walk-up) floor of the MDC, initials that have long since lost their meaning. After the business meeting, the tour of Durham continued when Kal Kallaugher and a "select class of award-winning cartoonists" presented a hands-on workshop for Duke students on the East Campus of the University.
To get there, we were advised to take a free downtown shuttle bus, the Bull City Connector, that ran from the hotel to the campus. Unfortunately, the Connector's route was seriously disrupted on Saturday by Gay Pride events on the East Campus—namely, a parade that effectively blocked the street. Consequently, it took some of us longer than usual to get there, finishing the trek on foot.
The afternoon's only event was also on the East Campus—"Facts and Comedy," wherein Bill Adair again took the stage to guide the talk among Adam Chodikoff, senior producer of "The Daily Show," Naureen Kahn lead researcher for "Full Frontal with Samantha Bee," and fact-checker Ishan Thakore of the same show. They discussed the central issue at a satirical show: if you're going to do satire, you should make sure the thing you're ridiculing actually exists.
The rest of the day was free, and we were urged to take in the Gay Pride Festival and then stop for a pint plus chips and curry at the James Joyce tavern on Main Street, a site the name of which prompts me to recite the only scrap of Joycean prose I ever committed to memory, a feathered flight of imagination that goes: Nobirdy avair soar anywing to eagle it.
Annual Banquet
We were encouraged to "dress up" for the Banquet, so most of us did. The menu offered a choice of first courses, entrees and desserts—an almost unheard of luxury in a group meal. The cost was apparently controlled by reducing the number of waiters/waitresses, so the service was slow. The after-dinner ceremonies began with a guest appearance of someone wearing a towering yellow wig and pretending to be Donald Trump. Some of us suspected the pretender was Joel Pett, but he, of course—ever in character— denied it.
The big event after dinner was the presentation of the Cartoonists Rights Network International's "Courage in Cartooning Award" which recognizes the bravery of a cartoonist in some foreign clime who persists in satirizing and criticizing a government that threatens his/her liberty, livelihood or life.
This year's award went to a 25-year-old Iranian cartoonist whose pen-name is Eaten Fish, and whose signature is a fish skeleton. The remainder of this account of Fish's fate and persistence is taken from a leaflet distributed at the Banquet.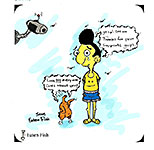 Fish is currently imprisoned on the notorious Australian-run immigration detention camp on Manus Island, Papua New Guinea. The cartoonist had fled his homeland due to persecution and had requested asylum in Australia. Australia's policy of immigrant deterrence sounds like a bit of Trumpery: the country views anyone seeking asylum and arriving in Australia by boat as a candidate for indefinite off-shore detention. In 2013, Eaten Fish was forcibly moved from Australian territory to the Manus Island camp, where he has been subject to systematic brutality, harassment and beatings, and, he says, deprived of medical care. He has witnessed the murder by employees of one of his countrymen and the death of another through inadequate medical care. The United Nations has called out the Manus Island camp for its "cruel, degrading and inhumane" treatment. But the place lives on.
Within this environment and despite considerable ill health resulting from his internment, Eaten Fish has managed to smuggle out cartoons that depict the daily horrors that surround him. That journalists, human rights organizations and independent observers are prevented from visiting the detention camp underscores the importance of the work of people like Eaten Fish—work that illustrates the brutality, humiliations and tortures that he and others are forced to endure. His is a courageous and essential intervention, bringing what is kept secret into view.
Other awards given at the Banquet included the AAEC Ink Bottle Award, given this year to Kevin "Kal" Kallaugher "in recognition of dedicated service to the Association and distinguished efforts to promote the art of editorial cartooning." And the John Locher Memorial Award for college editooning was also presented.
The keynote speaker of the evening was David Rennie, Washington Bureau chief for The Economist, who spoke about the world's changing demographics and the need, now almost universally ignored, to recognize the changes and address them. In the ensuing Q&A, his responses were increasingly energetic, involving exaggerated gestures and high-pitched vocalizations. He had become the theatrical cheerleader of his own speech.
The only unfortunate aspect of the after-dinner proceedings was that the podium and the speakers at it appeared before a huge projection screen that displayed informative visuals; the effect, with the lighted screen behind the speakers, was that the speakers all appeared in silhouette.
As the meeting adjourned, Steve Artley sat himself at an otherwise unemployed piano in the corner of the hall and played songs we all recognized while we slowly exited the room.
After the ceremonies, many of us re-convened at the so-called "President's Party." Usually held in a suite at the host hotel, this year's festivities took place a block away from the hotel at the Atomic Fern Social Club, which was closed to other patrons for the event. We took the occasion to inspect the abstract artistry of J.P. "Jape" Trostle which decorated the walls of the place, and some of us responded to the management's invitation to draw on the walls. We also sympathized with Jape, who appeared on crutches, due to an unfortunate accident that he'd conducted earlier that day.
Then we went back to the hotel and its pink penguins and slept.
Sunday
Brunch at Cullum's. V. (for Virginius, he told us) Cullum Rogers, a walking historical y resource on AAEC, editorial cartooning in general, and many other matters, could not let us go
our ways without a chance to visit and appreciate his famed "library" on editorial cartooning and other aspects of the art. So on Sunday, he invited the entire convention to tour his Forest Hills bungalow. We signed up in advance (so he'd know how much brunch to have on hand; looked like 30 or 40 of us enrolled) and found our own transportation to his place; and he rounded up some friends to take those of us who were flying out to the airport.
The whole six-room domicile is a library. Bookshelves line every wall that isn't window'd. And the books all appear to be arranged in meaningful groupings. Whenever a wall showed up without bookshelves, it supported framed drawings or posters or other artworks. In the kitchen, on a table in the center of the room, are arrayed the files he's presently prowling to assemble a book on magazine and newspaper parodies.
The brunch huddled on the backporch, which overlooked the backyard jungle, a tangle of shrubs and bushes.
Cullum wandered through the eddying crowd, stopping to explain this array of books or that poster on the wall and to answer questions.
It was a fitting conclusion to a convention that will live on in the annals of the AAEC as one of its most picturesque, colorful, adventurous, and informatively challenging.
Fitnoot. Duke University scientists have found that men are more likely to report believing in God after having sex. The act causes a surge of the hormone oxytocin, which promotes social bonding, altruism, ans spirituality. "Oxytocin's effects on women's spirituality," said one of the scientists, "still need to be investigated." (The Week)
EATEN FISH INTERVIEWED
The Iranian refugee cartoonist who received the 2016 Courage in Cartooning Award from the Cartoonists Rights Network International (CRNI) was interviewed by ComicRiffs' Michael Cavna shortly before the Award was conferred. Once-jailed Iranian American political cartoonist Nikahang Kowsar, now an executive with the Washington-area-based CRNI, who picked up the award on Eaten Fish's behalf, served as interpreter during the e-mail exchange. Eaten Fish, the cartoonist's penname, has been in the Australian detention center on Manus Island for about three years. Australia keeps more than 2,000 people in its detention centers. Identifying himself only as Ali, the cartoonist said the so-called detention center is actually a prison. Said he: "I fled my country to Australia to find safety, but as you know from the other reports, most horrible things [have] happened to me in this place. I asked for asylum in Australia and they forcibly sent me to Manus. … I've been told this place is a refugee processing center and [that] it's legal, but you know that Papua New Guinea's high-court decision made this place illegal. So I've been locked up in PNG for three years.
"I've been assaulted and abused. And not having the medical care I need. It's very painful and awful being trapped somewhere and not having control of your plight. [Having] suffered, I didn't deserve this horrible life."
[Editor's note: Australia's immigration and border-protection department has said in a statement that it "strongly denies the claims made by Cartoonist Rights Network International that transferees are subject to 'beatings, deprivation of food and, even worse, degrading treatment by the guards." The statement goes on to say: "The Department takes allegations of inappropriate conduct very seriously. Any allegations of inappropriate behaviour by service provider or departmental staff at regional processing centres are immediately reported to the Department for investigation. The Department currently has no evidence that any of these allegations are true."]
The interview continues—:
Michael Cavna: According to some reports, your situation is extremely difficult in terms of physical pain, psychological challenges as well as issues of safety and brutality. Could you talk about what your truest difficulties and hardships are there?
Ali: My story is a long story to tell. I've got very sick in here. Having OCD—obsessive compulsive disorder— [it's] getting very hard — and [I've had] painful panic attacks for more than a year. [I'm] having stress and nightmares every single night. [I'm] not feeling safe and … I need freedom in a safe place.
[Editor's Note: The Australia border and immigration department said in its media statement: "Transferees receive appropriate medical care, broadly comparable with health services available within the Australian community."]
MC: Are you hopeful that your situation might improve soon? And does outside-world attention at all buoy your hope?
Ali: What kind of hope? I don't think … there is any hope for me. I'm trapped in a political game and it will never get finished. I have no control of my life. Policy does not care about my life. I'll die in here.
[Editor's note: "The Australian Government is working with the Government of Papua New Guinea to close the regional processing centre, settle refugees in PNG and assist those found not to be refugees to return to their country of origin," a Department of Immigration and Border Protection spokesperson told the Washington Post on Tuesday.]
MC: Why did you leave Iran, and would you fear returning, or at least have great concern about a return?
Ali: I don't feel safe in here, and also it's not safe enough for me to answer this question. I cannot return to my country. I would be dead or imprisoned.
MC: So about your art: When did you first begin cartooning in general, and how long into your detention did you decide you wanted to create cartoons about your plight? And have you been punished for your cartoons?
Ali: I started drawing and cartooning since when I was a child. As you can see, my cartoons are my diaries, and I've been doing drawing all the time I [have been] here. I draw about whatever happens to me, mostly. I do not know if you call it some kind of punishment, but I've suffered mentally [as a result of] cartooning and publishing them. Even I tried to kill myself once.
MC: What does it mean to have fellow cartoonists and writers, including in Australia, rally and draw to your cause?
Ali: Oh, that means a lot to me. I see light and too much kindness in those cartoons. Australian people and artists are so kind for supporting me with the campaigns. I really thank them.
Also, my deep appreciation to my [artist] friends Sally Stokes, Janet Galbraith and the First Dog on the Moon who never stopped helping me and I would be dead now without their help.
MC: What does receiving the Courage in Cartooning Award mean to you?
Ali: Getting a cartooning courage award feels awesome, but I feel sad because I've suffered badly and an award does not fix my hurt body. At least I wish I could touch the courage award by my hands.
MC: Is there anything you want to say directly to readers?
Ali: Yeah, I'd really like to say this: I see many people looking for scientific and theoretical movies and stories like the movie called "The Maze Runner." But if people do a bit [of] research about this detention center, they'll find out the "Maze Runner" story in real life somewhere in the world called Australian detention/processing center in Papua New Guinea, where if you try to protect yourself from abuses, you'll hear [that] it's against the rules and you'll be named a violent criminal and will be hit by Papua New Guinea royal police exactly like grievers in that movie.
READ & RELISH
Hilllary the bobble-head. If you watch Hillary Clinton as she's being interviewed, she nods her head slightly, repeatedly, signaling that she's hearing the interrogator. Ergo, Hillary the bobble-head.
I'm not the first, by any means, to say it: the Trumpet's whole posture and program as a candidate for public office is flipping the bird at the political and cultural establishment. That's you and me, babe.
EDITOONERY
The Mock in Democracy
DONALD J. (for "jerk") TRUMPET, the gods' gift to American politics. His hair, his mouth, his minuscule hands, his roaring mendacity, his towering ignorance. The Trumpet stalks the hustings, shooting himself in the foot with every utterance.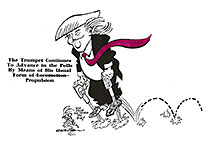 And as he propels himself across the landscape, committing hypocrisy at every milestone, he exposes the hypocrisy of others, thereby benefitting the nation.
Take, f'instance, the Trumpet's appearance before the far-right evangelical Christian "Value Voters Summit" in September in Washington, D.C. For the occasion, Trump assumed "an unusual mantle," writes Simon Brown in Church & State for October, "—defender of America's Christian heritage."
If he's elected to the highest office in the land, Trump said, he will cherish, protect, and defend "our Christian heritage like you've never seen before. Believe me," he burbled, invoking his usual Trumpery, "—I believe it and you believe it and you know it."
"Believe me."
"Like you've never seen before."
With the Religious Right's endorsement of the Trumpet, said Brown—despite his standing for everything it's against—its "hypocrisy reached new lows. How else to explain that a group of supposedly devout, fundamentalist Christians have thrown their support behind a thrice-married reality television star who has bragged about bedding married women and never claimed to be a man of faith until he started running for President?"
American United Executive Director Barry W. Lynn, quoted by Brown, agrees: "Donald Trump has made hay with right-wing evangelicals by posing as an anti-abortion, Bible-loving politician who will compel people to say 'Merry Christmas' and change the law to allow church-based partisan politicking—views he never said a word about until a few months ago. This election season has exposed the leadership of the Religious Right for the hypocrites that they are. What tiny bit of moral authority the Religious Right had left disappeared when they tossed the moral values they supposedly treasure under the Trump campaign bus before jumping aboard."
But the gift of the Trumpet, while undeniably benefitting the nation as a whole by exposing hypocrisy wherever it lurks, is greatest to the country's editorial cartoonists. They have never had a national figure so magnificently intended for caricature and derisive laughter. As the election season soars into its final weeks, whipping us all into a fine frenzy of electoral fervor, we pause here at Rancid Raves to inventory the images that editoonists have deployed to capture the Trumpet's everlasting likeness in appearance and deportment.
IN THE NEXT SEVERAL VISUAL AIDS, we present the Trumpet as seen by a baker's dozen of his cartooning admirers, beginning with Chris Britt's silky tressed Trumpet at the upper left.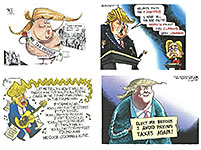 The others have evolved similarly distinctive treatments of Trump's most distinctive feature: Phil Hands' groved headpiece (accompanied by pitch-perfect imitation of Trumptalk), Rob Rogers' wave, and Clay Jones' never-ending coif wafting forevermore in the breezes.
Throughout this exhibit and the ones that follow, Trump's tax evasion is celebrated and criticized. And rightfully so. In Britt's cartoon, for instance, his Trump is parading around like an underwear model, protected only by his sash, to which we might append his triumphant assertion that evading taxes proves he's smart. But the audience finds nothing impressive in that.
Overlooked by almost every commentator, however, is that the Trumpet's tax break was inaugurated by his losing over $900 million dollars in 1995. He lost almost a billion dollars! In one year! If ever there was a loser, it's the Trumpet!
So much for his constant self-portrait as a successful businessman. He's a loser!
But we digress.
And now we return to the business at hand—inventorying the numerous images of Trump that beset us every day.
Nate Beeler at the upper left captures the whole Trumpet physiognomy—his fat face, squinty eyes, protruding lips and stringy hair—all toiling through the years to bring Bronco Bama's citizenship into question. Until he didn't. Next around the clock, Pat Bagley goes for the whole face, too, with more stringy hair while evoking an image from the past—the picture of another famous non-payer of taxes (and another hotelier), Leona Helmsley, whose wealth was inherited from her husband when he died. (She's quoted here exactly.) Joel Pett's Trump is crowned with waving whipped cream. Signe Wilkinson gives her target a couple banana shapes while concocting an apt visual metaphor for the gist of the Trumpet's political discourse—a fog of unrelated images.
On the next display, Scott Stantis at the upper left begins with wisps of golden orange hair. Hillary is being motherly with Trump during their first debate: noting his sniffles, she lends him a handkerchief to blow his nose. I like Bill Maher's explanation for Trump's sniffles: the candidate stoked up on coke before coming to the podium (a runny nose being a symptom of having snorted some cocaine); this also explains Trump's excellent performance at first and his subsequent unraveling as the debate went on—he was coming off his high.
Jim Morin's portrait perpetuates the wispy aspect of Trump's hair-do while also using the progressive capacity of the strip format to conclude with a telling reveal: not paying taxes may not be so smart after all. At the lower right, Stuart Carlson presents fat-faced Trump with a whipped cream do in his ironic comparison of the GOP candidate with Hillary: Trump, the most secretive of the candidates, accuses his opponent of hiding something.
I love Gary Varvel's cartoon even if I'm not at all sure what the boat represents. Trump's whole campaign? Regardless, his Trump's hair is a single wave.
On the next exhibit, Matt Bors finishes our inventory of hair-do's by revealing that the Trumpet's famous hair is phoney: it's a wig that he takes off at night.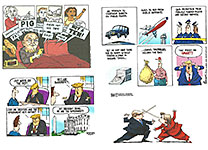 Bors also shows that Trump with his endless tweeted Trumperies overshadows the serious conversation that the more engaged and concerned citizens are having, nearly obliterated by tweet-balloons.
Next around the clock, Stuart Carlson is back with a series of images that condemn the Trumpet as a deadbeat when it comes to paying taxes: he leaves the financing of public services and facilities to actual tax-payers while claiming his evasion makes him smart. Ha. Smart maybe but not a very good citizenship.
Trump the tax dodger has said he'll probably make money as a candidate. And we can see why: he charges his "campaign" for the use of Trump facilities. So far, The Week reports, the Trump campaign—financed by the Republicon Party as well as citizen donors—"has paid Trump's own businesses $8.2 million for services, including rent, food, and facilities. Trump has also charged the U.S. Secret Service $1.6 million so its agents can follow him around on a Trump-owned aircraft."
Michael Ramirez offers a memorable image of the two candidates dueling to win the White House—their swords, tell-tale Pinocchio noses grown large with lies. And Walt Handelsman shows us how Trump will apply business acumen to managing the national budget. We see also his whirling-pancake treatment of the Trumpet's hair.
In the next visual aid, Tom Tomorrow (aka Dan Perkins) dramatizes in six panels the way he imagines the Trumpet wants us to interpret his absurd but poisonous statements. Which, in turn, shows just how much more absurd his suggested interpretations of his own comments are.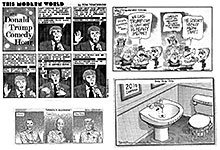 Pat Bagley follows with another comment on the same matter, deploying two panels to contrast opposing elements in the ludicrous logic of Trumpton, revealing, thereby, the falsity of the second.
Below Bagley, Clay Bennett offers one of his pristine renderings, this time focusing on bathroom fixtures. According to the imagery here, while Hillary must endure the drip, drip, drip of never-ending reportage on the e-mail debacle, Trump is behind (so to speak) an overflowing toilet.
And then we have Bill Giffith, who offers three revealing portraits, ending with a typical Zippy absurdity. Wonderful.
OUR NEXT EXHIBIT continues to examine (and ridicule) Trumperies of all sorts.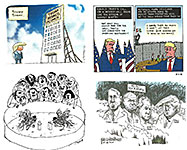 We start with Nick Anderson at the upper left (whose portrait of Trump's hair gives it a sweep all its own), and with the aid of Anderson's visual metaphor, we see immediately that Trump's oft-touted business acumen is a front—a false front. And Ted Rall's two panels show a heretofore unnoticed flaw in Trump's wall proposal. (Rall's Trump hair, while identifying, isn't as spectacular as many of the others we've witnessed.)
Below Rall, Michael Luckovich re-imagines famed Mount Rushmore as a "rookery"—i.e., a place where those who've rooked us hang out—with the fabulous Trumpet joining other scam artists—Charles Ponzi (concocter of the celebrated "ponzi scheme"), Ken Law, and Bernie Madoff. A monument to con-men, of which the Trumpet may be the foremost.
At the lower left, a New Yorker cartoon by Edward Steed opens the way to our next topic, "the debates." Steed's cartoon reveals the essential under lying nature of political debating: they're cock fights, through and through—as the Trumpet demonstrated during the both debates.
By the time this epic opus gets posted, we'll all have witnessed the second debate between Trump and Hillary. But for the nonce, here at the Rancid Raves Intergalactic Wurlitzer, we'll take things in their proper order, beginning forthwith to review the comments on the first debate, starting with Nick Anderson's characterization at the upper left.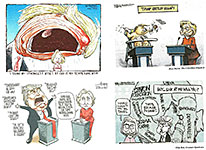 The Trumpet's huge maw exemplifies his temperament, saith Anderson—and the image he supplies underscores his meaning. Next around the clock, Nate Beeler offers an image of Trump that suggests another aspect to his temperament—childishness.
Conservative Chip Bok, on the other hand, sees Trump as having missed out on debatable (and therefore questionable) Hillary acts while instead extolling himself (his usual plan of attack). And David Horsey finishes this display with another image of Trump's self-importance and ignorance. His Hillary admits she's not popular but does it in a way that gets in a shot at "that bloated, orange mess" that is her rival.
Critiques of the debate continue on the next exhibit beginning with David Fitzsimmons' beautiful stylistic treatment of the event.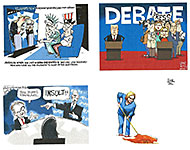 Although he puts both Miss Liberty (of Statue fame) and Uncle Sam in the picture, the caption stands alone, not needing an illustration. But Fitz's picture enhances the meaning. Liberty's look askance at Sam helps, underscoring the verbal message, and the caption explains the look. Still, Fitz's main message is that Trump, in interrupting Hillary, simply took another step in his long trek of insulting and alienating American women. Fitz's caricature of the Trumpet is exquisite—all mouth and hair.
By the end of the debate, when Trump started ranting about how fat one of his Miss Universes was, he finished the assault on women. Women are traditionally—historically even, and certainly compulsively—obsessed with their weight. And lots of them are overweight. So as Trump expressed his revulsion at the sight of overweight women, he completed his alienation from that group of voters—and it's a, er, large group.
Glenn McCoy, another conservative, shows vividly his theory about why Hillary was deemed the winner: the news media favored her, according to McCoy. But Steve Benson's simple imagery carries the day: his metaphor shows Hillary wiping up the floor with Trump.
Finally, we have a short comment on the more recent smaller than life Vice Presidential debate from Pat Bagley. Mike Pence is generally conceded to have won the debate—wholly on demeanor not substance; Tim Kaine was rude—"aggressive"— throughout the evening. Bagley captures the essence of the evening: Kaine persisting in connecting Pence to his bete noire at the top of the GOP ticket, and Pence saying everything Kaine uttered was an insult.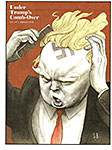 They talked at the same time so much that moderator, CBS' Elaine Quijano, interrupted once to remind themthat viewers at home couldn't hear or understand either one of them if they both talked at once.
You'd think, after all this, that we'd be finished with the Trumpet. Alas, no. As I've intimated earlier, we won't have his magnificence around much longer, and I'm determined to enjoy him as long as I can; to which purpose, the ensuing paragaphs—but not before we repeat Steve Brodner's classic caricature of the Trumpet, a perfect note upon which to conclude our survey of cartooners' visions of Trump.
TRUMPSTER DUMPSTER
Dottie Lamm, wife of a former governor of Colorado, occasionally takes to newsprint columns in the Denver Post to air a concern. Recently, she advised against putting the Trumpet in the White House, saying, among other things: "The possibility of electing such an egotistical, autocratic, violence-inspiring, gun-promoting, crude, boastful, know-nothing, xenophobic, racist and sexist candidate to the highest office in the land would be a tragedy, not just to the Republican Party, but to democracy itself." For good measure, a few paragraphs later, she called him a "self-promoting bully."
My prediction is that the GOP blowhard will be called even more names in the ensuing weeks, as we approach Election Day. In the spirit of public service for which Rancid Raves has become renowned, we'll do our best to assemble these steaming nuggets here, under the Trumpster Dumpster heading.
Collect them all.
Watch for Trumpster Dumpster next time. Here's last month's round-up: hustler, scam artist, grifter, modern day P.T. Barnum, bigot, bully, ugly; fear-mongering, demagoguering, third-rate panderer; (and, more poetically) a fugue of failure, a farce of fumbling and bumbling, or, at last, a howling chasm of ignorance.
In the most recent month, we collected these: narcissistic megalomaniac with fascist tendencies, ignorant and deluded, erratic, inconsistent, unstable, unprincipled, vindictive, divisive, uninformed; a crude, shallow, sneering dissembler; a showboating huckster ...
We'll continue next time.
Oh—and finally, most accurately, asshole. An asshole of heroic dimension.
FROTH ESTATE
The So-called "News" Media
THE NEWS MEDIA that created candidate Donald Trump from the tv star and celebrity blow-hard Donald Trump is now stumbling over itself to report unfavorable facts about the Trumpet as they realize that their policies of airing uncritically whatever Trump outrage or sensation will pull in readers/viewers has produced a monster. Here's a culling of paragraphs in the new mode—:
■ The fame that Trump enjoyed that put him on the ticket was generated as the star of a tv reality show where his chief role was to fire people. Asks Thomas Frank in The Progressive (for September): "How can a man who fires people for a living be a working-class hero?" Still, appeal to them he does—everyone who thinks their lives aren't going as well as they wish. Said Frank: "He is the great human middle finger raised at those [the Trumpkins] think have ruined their lives."
■ "What enables Trump to shift policies on a dime is that he has no genuine policies to begin with. His previous statements on immigration were junk. Trump offered a powerful attitude and aggressive language but never a viable position. The essence of the Trump enterprise is that it has no fixed values. Trump hasn't changed his policy on immigration because he never had a real policy on immigration. He doesn't have a real policy on anything. He has postures, attitudes, opportunities, affinities—along with a bunch of notions that carom around his head like a pinball. Tilt him hard and you get a new game.—Francis Wilkinson, Bloomberg View
■ Trump has said, perhaps repeatedly, that his tax evasion proves him to be smart. He has taken credit for his exploiting the nation's tax laws to make himself lots of money. But Jack Mitnick, the accountant who prepared Trump's tax returns, played down Trump's role in formulating the tax strategy: "He had nothing to do with it."
"Voters are being asked to reconcile two diametrically opposed views of Trump: his own narrative that he is a financial wizard who used the laws of the country to protect himself, and Clinton's contention that he is a rapacious and unrestrained capitalist who 'abuses his power' and 'games the system.'"—Robert O'Harrow Jr and Drew Harwell, Washington Post
■ Most of the $916 million loss that Trump claimed for 1995 is probably derived from about $900 million in bank loans taken out in the mid- to late-1980s that he had personally guaranteed and that he used to wildly overpay for hotels, airlines, yachts, barren land and other trinkets. Trump couldn't afford to buy any of this with his own money, he lacked the good judgment and foresight to pay the right price for almost everything he bought, and once he bought all of it, the interst payments on the loans quickly became unmanageable. Corporate bankruptcy ensued.
None of these things are hallmarks of a great business operator or deal maker [which Trump has persistently cited as his overwhelming qualification to be Prez].
[Yes, Trump—or his business surrogates (more likely)— did some hard negotiating to get himself out of difficulty. But the difficulty was something a true business genius would never have gotten in to begin with.—RCH]
The $900 million in loan guarantees reflected in the 1995 return expose decision-making so poor it almost forced Trump in personal bankruptcy. His banker's forgiveness and loans from his father's estate helped him escape that fate, but his fumbling ultimately led to years of corporate bankruptcies, job losses and investors getting pummeled.—Timothy L. O'Brien, Bloomberg News
■ Should Trump be trusted with nuclear weapons when he says, "We have them. Why can't we use them?" Trump's "character is so erratic that he might order a nuclear launch just because he's mad at someone," said Zack Beauchamp in Vox.com. You have to wonder about Trump's mental health, said syndicated columnist Kathleen Parker. His "quick to anger, unfiltered outbursts," she said, "are consistent with the symptoms of a personality disorder, brain damage or even the onset of dementia"—hardly a far-fetched possibility in a man of 70. (The Week)
■ About the touted "pivot" that will turn the Trumpet into a statesman, Charles Krauthammer writes: "Can you really repackage the boasting, bullying bombastic, insulting insensitive Trump into a mellow and caring version—with only weeks to go?" Turns out you can. "How? Deflect and deny—and pretend (the objectionable) never happened. ... In this surreal election season, there is no past. Clinton ads keep showing actual Trump sound bites meant to shock. Yet her numbers are dropping, his rising. How? Trump never goes on the defensive. He merely creates new Trumps."
■ Trump's plan to forcibly remove 11.3 million undocumented immigrants in two years would require roughly fifteen thousand apprehensions per day. Raids on farms, restaurants, factories and construction sites would require more than 90 thousand apprehension personnel, six times the number of special agents in the FBI. Beds for men, women and children would total over 350,000, nearly triple the detention space required for the internment of Japanese-Americans during World War II. A report on the matter estimated the total cost at $600 billion dollars, which the report judged to be financially imprudent.—Evan Osnos in The New Yorker, imagining a Trump Presidency
■ Economists "now generally regard a Trump victory as a major destabilizing development for financial markets." ... Trump is governed, above all, by his faith in the ultimate power of transaction—an encompassing perversion of realism that is less a preference for putting interests ahead of values than a belief that interests have no place for values.—Evan Osnos in The New Yorker
■ Envisioning a Trump Presidency has never required an act of imagination: he has proudly exhibited his priorities, his historical inspirations, his instincts under pressure, and his judgement about those who would put his ideas into practice. ... [Richard Conniff, the author of The Natural History of the Rich] said: "Successful alpha personalities display a single-minded determination to impose their vision on the world, an irrational belief in unreasonable goals, bordering at times on lunacy." [The Trump himself.]
Trump's vision, even his "irrational belief in unreasonable goals," was never a charade. ... Americans have sometimes traced our greatest errors to a failure of imagination. ... Trump presents us with the opposite risk: his victory would not be a failure of imagination but, rather, a retreat to it—the magical thought that his Presidency would be something other than the campaign that created it."—Evan Osnos in The New Yorker
■ Stories about Trump corruption and shady conniving are multiplying. His charitable foundation accepts donations from people but Trump dispenses the money as if it's out of his pocket. And he misuses the money, illegally deploying it for personal or political purposes. Trump's modeling agency used underpaid foreign women to work illegally in the U.S. Lawsuits alleging fraud are underway against Trump University. He violated the U.S. trade embargo on Cuba in 1998. He has a reputation for stiffing workers and contractors. "There seems to be no area of his extremely complex financial life that is not infected by double-dealing, public lies, broken promises or outright fraud," said Paul Waldman in the Washington Post. If this swindler is allowed to get away with his giant shell game, " then shame on all of us." (The Week)
And sleaze? Reports are now surfacing about his crass and sexist behavior in his years as a reality tv boss on "The Apprentice." He repeatedly demeaned women with sexist language, according to show insiders who said he rated female contestants by the size of their breasts and talked about which ones he would like to have sex with—according to the Associated Press, which interviewed more than 20 people, crew members, editors and contestants.
And then came Friday, October 7, and the unveiling of the Authentic Trump.
TRUMPTALK: FAME AND SEX
On a video- and audio-tapes surreptitiously made in 2005, Trump, married just a few months to his third wife, Melanie, brags about his successful romantic techniques for forcing himself on women.
"You know," he says to his escort, Billy Bush of "Access Hollywood, "I'm automatically attracted to beautiful—I just start kissing them. It's like a magnet. Just kiss. I don't even wait [to be introduced?]. When you're a star, they let you do it. You can do anything. Grab them by the pussy. You can do anything."
As the lewd discourse continued, Trump boasts about forcing himself on women sexually.
"I moved on her," Trump says, "—and I failed. I admit it. I did try and fuck her. She was married. And I moved on her very heavily. In fact, I took her furniture shopping. She wanted to get some furniture. I said, 'I'll show you where they have some nice furniture.'"
Maybe he has nice furniture in his apartment? Or a nearby hotel room?
Furniture shopping as seduction? Only with the Trumpet, the same guy that knows more about Iraq than the generals.
"I moved on her like a bitch," Trump continues, "but I couldn't get there. And she was married. Then all of a sudden I see her [years later?], and she's now got the big phony tits and everything. She's totally changed her look."
The vulgar tape went viral almost immediately, and just about as quickly, Republicons began distancing themselves from the party's Prez candidate, calling his comments inappropriate and unacceptable. House Speaker Paul Ryan said he was sickened by Trump's language. Even Trump's wife joined in to voice her disapproval.
Almost 24 hours after the initial video that showed Trump talking about being able to grope woman because of his celebrity status, his wife Melania Trump sent out an official statement reported by USA Today:
"The words my husband used are unacceptable and offensive to me. This does not represent the man that I know. He has the heart and mind of a leader. I hope people will accept his apology, as I have, and focus on the important issues facing our nation and the world."
She's a more canny politician than her husband.
Trump, as soon as he had some inkling of the damage the tape could do him, apologized. Half-heartedly, saying he was sorry "if anyone was offended."
Later, he was persuaded that his so-called "apology" wasn't good enough. He issued a videotape with a more thorough-going apology (verbatim, en toto):
"I've never said I'm a perfect person nor pretended to be someone that I'm not," he began. "I've said and done things I regret. And the words released today on this more than a decade-old video are one of them. Anyone who knows me knows these words don't reflect who I am. I said it, I was wrong, and I apologize.
"I've traveled the country talking about change for America, but my travels have also changed me. I've spent time with grieving mothers who've lost their children, laid-off workers whose jobs have gone to other countries, and people from all walks of life who just want a better future. I have gotten to know the great people of our country.
"And I've been humbled by the faith they've placed in me. I pledge to be a better man tomorrow and will never, ever let you down."
If he'd stopped there, he'd have won back a lot of those who presumably were all at once re-considering their choice. But the Trumpet never knows when to stop; he went on—:
"Let's be honest: we're living in the real world. This is nothing more than a distraction from the important issues we are facing today. We are losing our jobs, we are less safe than we were eight years ago, and Washington is totally broken. Hillary Clinton and her kind have run our country into the ground.
"I've said some foolish things, but there's a big difference between the words and actions of other people. Bill Clinton has actually abused women, and Hillary has bullied, attacked, shamed and intimidated his victims. We will discuss this more in the coming days. See you at the debate on Sunday."
(Trump brought up Hillary's attacking her husband's victims during the debate; fact-checkers said there is no evidence of Hillary ever having done such a thing.)
Trump's apology, while beginning with humility and contrition, morphed into one of his usual rants. Not many were appeased or reassured.
Republicons continued to disavow Trump. Many called for him to drop out of the race. That was all posturing for the sake of voters. At this late stage—with states having printed ballots and already, in some states, collecting early votes—it would be impossible for Trump to exit. But—whatever—the politicians say what the voters probably want to hear.
BUT WHAT DO WE EXPECT?
We've been watching this narcistic and boorish buffoon for months. We know what he's like. And this supposedly "startling" tape shows him to be exactly what we know him to be. That's Trump. Right there, on tape, for all to see.
If the tape and its vision of Trump doesn't finish him off as a candidate that women will vote for, at least it helps explain the long ties he wears. Trump's extra long necktie is a giant arrow pointing down his front to the thing he's proudest of.
Editoonists rubbed their hands in fiendish glee and went off on a field day.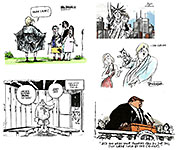 Mike Luckovich at the upper left in our first visual aid on this topic captures everything about the episode in a single image: Trump's egotism, the lewdness of his approach, and the shock of observers (women, in this case). Next around the clock, Tom Stiglich's metaphor pairs Trump's colossal sexual gall with the shock a woman doubtless experiences—and by making the woman the Statue of Liberty, Stiglich makes the whole country appear shocked.
Just below, Jeff Danziger imagines Trump's effort to explain in a wonderfully antic image. And below Danziger, Henry Payne, a conservative who saw the light early and began disparaging Trump, conjures up a vision of President Trump, incorporating what we now know about him. At the lower left, Jack Ohman puts Trump in his favorite venue—the locker room—with a metaphorical image that is both comical and accurate: his team is deserting him on the eve of the Big Game, and the Trumpet stands there with his pants down. Perfect.
Although many who witnessed this Trumpet performance expressed shock and disgust, that wasn't my reaction. Surprise, surely, that a public figure would use such language where there was a microphone to pick it all up. But I've always thought locker room language is harmless; mostly, it's a display of male macho, which, like the exploits celebrated in the locker room, is largely fictional, a delusion men indulge to bolster their own egos as sexual beings.
Still, Trump's choice of words is an affront, I thought then (and think now), to the ideals of civilized behavior that keep societies together. We say "please" and "thank you" because these expressions enhance civility. Civility keeps things orderly and comfortable, non-threatening. And with civility, we express our aspirations to better behavior—and better societies.
That, it seems to me, is a good enough reason to refrain from using lewd language. But there is an even better reason as I discovered when I read a column by Washington Post's Alexandra Petri.
Trump's lewd vulgarity is not so important in itself, she believes, but the so-called "locker room banter" reveals a heretofore "repellent but remarkably unexamined idea that we carry around in society with us—the notion that somehow this is okay. That this is just boys being boys. That we must give boys a safe, unpolluted, secret space where they can stop the exhausting charade of acting as though women contain the same internal worlds that they do themselves."
That women, in other words, are people with values and aspirations and personal lives and preferences just like men.
By encouraging men to be "boys" in this locker-room manner, we contribute to creating the rape culture—a culture in which women are good for nothing but fucking. Oh, and oogling.
Petri continues: "Trump lives in a world where the highest compliment you can give a woman—even your own daughter—is that you would sleep with her. And it's not creepy because—well, what else might a woman possible want?"
In short—to deploy that favored phrase of yesteryear—the sort of locker-room banter Trump seems to enjoy objectifies women. And if we want to live in a civilized society, we must put sex objects aside and learn to be people together, all of us, regardless of sex or gender.
THEN CAME THE DEBATE—
—on Sunday night, the Trumpet squared off against Hillary for the second time. Noticeably, they didn't shake hands when they came on stage. Trump in his first national appearance since the revelations of the sleaze tape seemed contrite, and he offered an apology—and an explanation: just locker room talk, he said. Words only. Not actions—he didn't do that stuff. Not like Bill Clinton, for whom Hillary was an enabler.
Yup: typical Trump. Turn an apology into an attack.
The Denver Post ignored the attack mode and concentrated on the Trump's intention to move the spotlight off his indiscretions.
"Donald Trump's attempts Sunday to shift attention away from his boasts of sexual aggression and assault add yet another layer to the rising foundation of reasons to end his presidential ambitions. We applaud the many members and leaders of his own party who are denouncing him. ...
"Trump is correct to note that the tape is 11 years old, but what evidence would he point us to that might suggest those old comments—made when he was nearly 60 and newly married to his third wife—were the stuff of a less mature man?
"Perhaps his ripping into Fox News journalist Megyn Kelly, blaming her tough questions of him on his presumption that she was menstruating? Or his takedown of primary opponent Carly Florina based upon her looks?
"These comments, which suggest a man at odds with rational views about women, were made within the last several months. [Not 11 years ago.]
"But any suggestion that he learned from those mistakes disappeared after the first presidential debate, as he went all out to defend his public shaming of a Miss Universe winner for gaining weight."
Throughout the second 90-minute debate on October 9, Trump he attacked Hillary. He had little to say about national or international issues; nothing about his policies (if any). He just attacked her. Not, thankfully, for her looks. But for her alleged lying and other criminal behavior. She, on the other hand, talked about America and what she wanted to do to keep America great.
Trump was essentially negative about America: the country was broken and needed to be fixed. Hillary was upbeat about the country: it was a good country and we could move it forward to greater greatness.
Pundits later described the Trumpet's debate strategy as an appeal to his base. Trump the cheerleader at another pep rally, invoking all the usual tropes and tics that had sure appeal to his white, male no-college-degree base. By the end of the evening, he'd even threatened Hillary, saying that if he becomes President, he'll have his Attorney General appoint a special prosecutor to investigate her sins all over again—and get her tried and convicted.
Unprecedented—that one candidate for Prez of the U.S. would threaten the other will a jail sentence.
Many commentators afterwards said the two traded insults in a contentious and nasty debate. I'm admittedly partisan, but I don't think Hillary insulted Trump very often. And when she did, the barbs were not nearly as nasty as the Trumpet's. He called her a liar—"the devil," at one point. And he said she has hate in her heart. She said a couple of times that what he said wasn't true, that he lived in an alternate reality— scarcely as venomous as the Trumpet's attacks.
He may have galvanized his base, as some said, but he did it at the cost of expanding it.
Most of the evening, Trump seemed a pouting whiner; Hillary seemed cool, dignified, in control of her material and herself. Yes, Hillary won.
As always, the nation's editorial cartoonists offered their own perverse interpretations— which are, generally, more accurate than the pundits'. We begin with Tom Toles at the upper left in our first exhibit, and with him, we prolong for a few more minutes the national gasp that the vulgarities of the videotape prompted. Just when we think Trump has gone as low as he can go, he goes lower—as he did during the debate.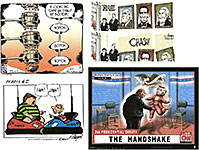 Toles' metaphor of a bottomless descent is memorable. As is the quip of Toles at his drawingboard at the lower right-hand corner of the cartoon. Next, to the right of Toles, is David Horsey, whose portrait gallery metaphor takes us a few weeks back to the time before the revelation when Trump appeared to be gaining on Hillary, turning the contest into a close race. In two panels, Horsey makes his point with punchline surprise.
At the lower right, Sean Delonas starts the debate off with a —handshake? No—with a reminder of just how coarsely inappropriate Trumpish vulgarity is. Instead of a handshake, Trump is likely to begin by grabbing a woman's crotch. Wonderful. Pictures can be so much more explicit than words sometimes.
And then at the lower left, Henry Payne offers a metaphor of the debate as a carnival bumping cars contest with juvenile drivers exchanging profanities. I wouldn't put Hillary in one of those miniature autos, but Payne's portrait of Trump as a fat boy is about as accurate as one can hope for.
David Fitzsimmons gets our next visual aid off to a start.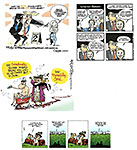 The portraits he paints are marvelously insightful: Trump's approach is a drooling obscenity while Hillary stands calmly, keeping her thoughts about her opponent to herself (however accurate they may be). Next, Jen Sorensen employs the same cartooning device—the thought balloon—both to portray Hillary's restraint (she's only thinking bad thoughts about Trump, not, as he does, expressing them) and to summarize the offenses against civilized behavior that the Trump represents.
Dropping down to the left, we come to Mike Lester's wonderful portrait of Clintonian sleaze and corruption. I admire Lester's drawing even if I don't agree with the interpretation he gives to the moral stance Hillary assumed. But Lester is a conservative and must be forgiven if we are ever to see any more of his hilarious artwork.
Finally, by way of sending us all off to bed feeling a little better, we have the happy fiction Michael Fry and T Lewis offer in Over the Hedge. If only—after two years of this garbage—we were in the matrix.
HILLARY
As for Hillary's much touted untrustworthiness, let us dispose of those allegations with James Israel, Editor of the monthly Humor Times (where we find lots of editorial cartoons to our taste), who writes: "For those who have bought into the decades of hatred heaped upon Ms Clinton from the right, and figuring there must be something there since it's gone on for so long, all I can say is, she's either the greatest criminal of all time to avoid prosecution all these years, or it's all unsubstantiated innunedo"— and bullshit, don't forget bullshit.
Or—as the conservative but Clinton-endorsing pundit P.J. O'Rourke put it, her flaws lie "within normal parameters" for an American politician.
BOOK MARQUEE
Short Reviews and Proclamations of Coming Attractions
This department works like a visit to the bookstore. When you browse in a bookstore, you don't critique books. You don't even read books: you pick up one, riffle its pages, and stop here and there to look at whatever has momentarily attracted your eye. You may read the first page or glance through the table of contents. All of that is what we do here, starting with—:
Kelly: The Cartoonist America Turns To
50th Anniversary Platinum Collection
By Stan Kelly; edited by Ward Sutton
200 7x8.5-inch landscape pages, b/w; 2016 Yoe Books/IDW Publishing paperback, $19.95
IF YOU LIKE The Onion, you'll like Kelly's kartoons, "torn from the pages of The Onion." To understand and appreciate Kelly's kartoons, you need to understand (if not to appreciate) The Onion, Wikipedia-defined satiric news operation that began producing a weekly print parody newspaper on August 29, 1988 in Madison, Wisconsin. Over the years, it infected the Web, publishing video and audio "reports" online. In 2013, it gave up its print incarnation and re-incarnated itself as an advertising agency. But I won't swear to the accuracy of this last statement: a newspaper becoming an advertising agency sounds like parody to me, not fact.
How to describe the coverage of The Onion? You can't. You must witness it to understand it.
And even then, grasping its essence is not easy.
Perhaps "tongue-in-cheek" news would serve. The paper's newsstories were entirely false, the falsity devoted essentially to ridiculing accepted mainstream cultural beliefs, mostly those of conservative America. Mostly but not entirely.
But falsity is what parody is all about. At its core, parody is imitation: it achieves its satire by posing as the thing it satirizes. The better the imitation, the more ridiculous the object imitated becomes.
By way of explanation, here are a few historic headlines from The Onion—:
Congress Threatens To Leave D.C. Unless New Capitol Is Built—The ensuing article is a parody of U.S. sports franchises' threats to leave their home city unless new stadiums are built for them.
You get the idea. So you're ready for more—:
Conspiracy Theorist Convinces Neil Armstrong Moon Landing Was Faked
Planned Parenthood Opens $8 Million Abortionplex
Gallup Poll: Rural Whites Prefer Ahmadinejad to Obama
Obama Openly Asks Nation Why On Earth He Would Want To Serve For Another Term
Congress Passes Americans With No Abilities Act
In a similar vein, Kelly's kartoons parody editorial cartoons by imitating the real article, which results, as you can see, in ridiculing the dominant American cultural attitudes that inspire actual editoonists.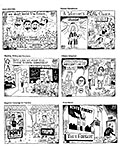 As unnerving as these specimens are, it is even more disorienting to realize that cartoonist Stan Kelly is himself a fictional parody. He is not real. His self-caricature appears in the lower right-hand corner of every cartoon, but that isn't him. The rumor is that the Kelly parody ridicules Ward Sutton.
But we can't be certain of that, either, because this book is a parody of collections of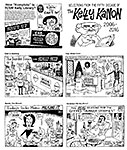 editorial cartoons. The anniversary it celebrates is not the 50th. Even if the Kelly kartoon haddebuted with the first issue of The Onion in 1988, it will be 2038 before it could have an actual 50thanniversary.
On the 9th page of the book, we realize someone is having us on: the collection reprints kartoons from "the fifth decade of the Kelly Kanon, 2006-2016." What a surprise. Here's the evidence.
Kelly is an acquired taste, as they say. But acquiring the taste is simplicity itself: just read a few of his cartoons.
IT'S KRAZY TIME AT LAST
The long-awaited critical biography of Krazy Kat and the strip's creator George Herriman by Michael Tisserand is finally arriving. Krazy: George Herriman, A Life in Black and White will be published at 560 pages by Harper/Collins on December 6. Amazon encapsulates the history of the strip: Appearing in the biggest newspapers of the early twentieth century—including those owned by William Randolph Hearst—Herriman's Krazy Kat cartoons propelled him, eventually, to fame. Although fitfully popular with readers of the period, his work has been widely credited with elevating cartoons from daily amusements to anarchic art.
The Kirkus Review begins: "Set among the desert mesas of Coconino County, Krazy Kat graced the funny pages from 1913 to 1944 and featured the philosophical antics of Krazy and the brick-throwing mouse, Ignatz. Tisserand reveals the depths of their age-old rivalry, tracing influences from Cervantes and Othello to minstrel shows and the Jack Johnson vs. Jim Jeffries bout of 1910."
"Herriman used his work to explore the human condition," saith Amazon, "creating a modernist fantasia that was inspired by the landscapes he discovered in his travels—from chaotic urban life to the Beckett-like desert vistas of the Southwest."
Kirkus: "Krazy Kat always had a racial angle: Herriman was born a fair-skinned boy to African-American [or Creole] parents and grew up in the Creole community of New Orleans. His complexion allowed him to 'pass' as white, a controversial practice [since the dangerous days of post-Civil War Reconstruction].
"Though he penned numerous strips— Us Husbands, Baron Mooch, Family Upstairs—it wasn't until after the arrival of Krazy Kat in 1913 that he moved toward the life of a celebrated artist, garnering praise from the likes of e.e. cummings and President Woodrow Wilson. Herriman's unique racial perspective allowed him to sneak some remarkably potent themes into his cartoons, many of which were likely lost on his readers at the time: Krazy, for instance, is revealed to have been born in the cellar of a haunted house, in a 'tale which must never be told, and yet which everyone knows.' In another gag, Ignatz flings a mug at Krazy saying it's not the black coffee he wanted. 'Sure it is,' Krazy tells him. 'Look unda the milk.'"
Amazon: "Drawing on exhaustive original research into Herriman's family history, interviews with surviving friends and family, and deep analysis of the artist's work and surviving written records, Tisserand brings this little-understood figure to vivid life, paying homage to a visionary artist who helped shape modern culture."
Kirkus: "Tisserand elevates this exhaustively researched and profusely illustrated book beyond the typical comics biography. Seamlessly integrating the story of Herriman's life, he executes an impressive history of early-20th-century race relations, the rise of Hearst and the newspaper boom, and the burgeoning cross-continental society life of New York and Los Angeles."
Writing to others on the Platinum Age list, Tisserand said: "If someone is going to spend eight years researching a life, I highly recommend George Herriman. Pretty sure it's impossible to tire of Herriman and his work, or to learn all there is to learn."
PERSIFLAGE AND BADINAGE
In Forbes annual ranking of the country's 400 riches citizens, Donald Trump has dropped spots to 156, behind 14 immigrants. (The Week)
Our infrastructure includes energy, communications, financial and transportation systems on which our nation and economy depend. They are all computer-operated and all vulnerable to cyber attack. (Newspaper clipping)
It's a myth that raising the minimum wage leads to job losses, said Paul Krugman in the New York Times. A study of states that raised their minimum wage found no significant impact on employment compared with neighboring states that didn't raise the wage. (The Week)
TRUDEAU PICKS SIX
The Week magazine has a regular feature in its book department: a famous writer describes his five or six favorite books. A recent famous writer tasked with this assignment was Doonesbury's Garry Trudeau, who recommended—:
Tribe by Sebastian Junger (Twelve, $44). The latest from perhaps our best observer of war. Curious as to why vets who had no combat exposure were suffering PTSD at rates comparable with those who did, Junger developed an intriguing argument: humans are wired for community, and the shattering of the powerful bonds of military kinship can prove devastating.
Pilgrim at Tinker Creek by Annie Dillard (Harper Perennial, $16). I developed a serious grad-schoolboy crush on Dillard when this 1974 book came out. Technically, this "pilgrim" was just a housewife taking notes in her backyard, but the Pulitzer judges that year saw something else: an astonishing talent and the best noticer of the natural world since Thoreau, only with a sense of humor.
Fox in Socks by Dr. Seuss (Random House, $10). It comes with a warning label ("Don't go fast!"), but it's no use; you won't be able to resist trying to impress your 3-year-old by speeding through this short book without stumbling. You'll fail, but you and your young listener will be laughing too hard at the pictures to notice the indignity.
Understanding Comics by Scott McCloud (William Morrow, $24). Some artists — Paul Simon and Stephen Sondheim come to mind — can explain their creative process. The rest of us haven't a clue how we do what we do. McCloud explains the universal appeal of comics in terms so compelling that even a practitioner comes away with renewed respect for his profession.
Bad Love by Randy Newman (SKG, $6 on iTunes). Yes, it's an album, not a book, but Randy Newman's masterpiece is also as good a collection of short stories as you'll ever hear. Pay particular attention to "Shame," a litany of cocky but sad lamentations by an aging New Orleans skirt chaser whose case is undermined by his mocking background singers. From our country's best satirist, in any medium.
Pride and Prejudice by Jane Austen (Dover, $5). Okay, so I've never actually read this Austen classic. But the person I sleep with [his wife, Jane Pauley] reads it repeatedly ("my default book"), so I've heard most of it. With Austen, every character — no matter how minor — is so fully and originally imagined, each could command his or her own novel.
BOOK REVIEWS
Critiques & Crotchets at Greater Length
Pioneering Cartoonists of Color
By Tim Jackson
176 8x8-inch pages, b/w; 2016 University Press of Mississippi paperback, $35 (also in hardcover for $85)
AT LAST! The landmark reference work about African American cartoonists that we have been so sadly lacking. No more. Jackson spent twenty years assembling the information this volume offers, and now we all have it at our fingertips.
It was never at Jackson's fingertips. Not at first. He had to search for it, find it, and dig it up out of the pages of the black press newspapers, many of which don't exist anymore. That's the focus here: cartoonists whose work appeared in the black press—like the Pittsburgh Courier, New York's Amsterdam News, the Afro American, the Chicago Defender (for which Jackson, 58, worked as an illustrator and editorial cartoonist, making his research there easier), and others, mostly obscure—not African American cartoonists whose work appeared in mainstream publications.
The black press, newspapers that cater to the interests of African-Americans, started in the 19th century, particularly after the Civil War. The first, Freedom's Journal, started in 1827; Frederick Douglas launched his North Star in 1847. And there were others. In the post-war 1860s, Elevator and the Pacific Appeal emerged in California as a result of black participation in the Gold Rush.
"In the late 19th century," St. Wikipedia advises, "the main reason that [African American] newspapers were created was to uplift the black community. Many black people sought to assimilate into larger society and Northern blacks felt that it was their duty to educate Southern blacks on the mores of Victorian society."
As the 20th century commenced, "African American newspapers flourished in the major cities. ... As African Americans moved to urban centers around the country, virtually every large city with a significant African American population soon had newspapers directed towards African Americans."
And many of those papers had comics and cartoons focused on the same audience. And Jackson knew it.
"During the late 1990s," he writes, "the world was preparing to celebrate the one hundredth anniversary of the American comic strip. I anticipated that the books and articles published in connection with the anniversary were going to either exclude African Americans altogether or limit their inclusion to the three cartoonists with comic strips that were represented by the mainstream cartoon syndicate on the wave of change following the assassination of Dr. Martin Luther King Jr in 1968" (namely, Morrie Turner's Wee Pals, 1965; Brumsic Brandon's Luther, 1969; and Ted Shearer's exquisitely rendered Quincy, 1970).
Jackson was determined "to make it impossible for writers of articles, monographs, anthologies, or encyclopedia entries on American cartoonists to make the usual excuse that they did not know there were Black cartoonists or that they simply could not find any information about these artists."
So in 1997, Jackson taught himself how to build an Internet website, initially dubbed Creative License Studio (clstoons.com), where he posted the results of his research as a Salute to Pioneering Cartoonists of Color. Jackson's research, the University Press news release tells us, "involved many hours searching pages upon pages of historic newspapers and magazines on microfilm as well as rare, fragile volumes of books and 'Who's Who' directories." He posted the results—biographies of cartoonists, illustrators and graphic designers and samples of their work—at the website.
THE VOLUME AT HAND is the print version of that digital destination—but greatly amplified. Jackson added historical context to his lists of black cartoonists, and arranged it all in chronological order. The book is organized roughly by decade, but Jackson begins with "What We Had to Overcome," an overview of the demeaning stereotypical imagery of African Americans (black faces, thick lips, bulging eyeballs) that prevailed through most of American history, especially in cartoons. Then with the next chapter, "1800-1899: The Pioneering Cartoons," he begins his march through history.
Although one short-lived newspaper introduced in1865 (and lasting only a year) included
spot cartoons in the hand-lettered (!) text of its articles, it wasn't until The Freeman started in Indianapolis in 1888 that a significant number of illustrations and cartoons were featured.
The cartoons of the first two decades of the 20th century, the subject of the next chapter, were mostly of the editorial sort, but a comic strip featuring a Mutt-and-Jeff pair, Buddie and Starlight in The Jolly Bean Eaters, by Fon Holly, began in the Chicago Defender in 1911.
The next decade's chapter, "The Race Cartoons of 1920-1929" ("race" was used then as we use "African American" now), saw the arrival on November 20, 1920 of Bungleton Green, one of the fabled black comics in the history of the medium. Drawn at first by Leslie Malcolm Rogers, the strip would be produced by six succeeding cartoonists over its 44-year run, and its protagonist would evolve from the eponymous vaudevillian tattered-clothed ne'er-do-well to the star of an adventure story (with altered appearance—tall, powerfully muscled), then a "hapless participant in the Italo-Ethiopian War" of the mid-1930s, then a movie star until 1944 when the strip was taken over by Chester Commodore, who would return Bung to a comic appearance and the strip to its original gag format, drawing it until "it quietly came to an end in 1964."
The chapter includes the histories of other creations of the Roaring Twenties— Amos Hokum, Bud Billiken, "Sunny Boy" Sam, Ham and Beans—descriptions of the characters and their antics and adventures with short biographies (if known) of their creators, much in the manner of Coulton Waugh in his justly famed The Comics, the first serious attempt at a history of the medium (1947).
The chapter on the Depression thirties notes that "all of the leading Black press publications featured an editorial cartoon, a sports cartoon, and a comic strip." Black comics featured "an abundance of precocious, mischievous children," domestic comedy with bumbling husbands, independent young women, and so on. Such titles as Deacon Jones, Bonnie, The Dopes, Betty, Goodhair and Scoop, among others. We meet Jackie Ormes and her enduring creation, Torchy in Torchy Brown in Dixie to Harlem; Torchy would be re-envisioned later in the 1950s as Torchy in Heartbeats.
"Surprisingly," Jackson says, "as late as 1933 there were still three or four comic strips in the Black press that continued to rely upon blackface imagery and dialect for their humor."
The chapter also includes a long segment on the evolution of Bungleton Green and the career of one of the artists who drew it, Jay Jackson, and a history of the protests against the radio program "Amos and Andy" as perpetuating stereotypes of black Americans. The Pittsburgh Courier denounced the demeaning portrayals, but the Chicago Defender didn't join in, instead telling the Courier to lighten up.
The chapter covering next decade, the 1940s that Jackson dubs "The Cartoon Renaissance," is different than the preceding and following chapters: after a brief introduction about the temper of the times and the condition of the black press, Jackson covers the cartooning developments of the period with alphabetically arranged paragraphs about each of the comics that debuted during that time as well as a review of the status of enduring comics concocted earlier— Amos Hokum, Arlene's Corner, Breezy, The Brown Family, Bucky, and another long segment about Bungleton Green; Candy, Every Tub, Patty Jo 'n' Ginger (a panel cartoon by Jackie Ormes), Ol' Hot, Scoopie, Snooky, Speed Jackson (action and adventure), and many many more—45 in all, a bonanza justifying the chapter's title.
Ted Shearer did several comics for the black press before his mainstream syndicated strip, Quincy, was launched: Candy, Around Harlem, Next Door. The paragraph about Dark Laughter introduces us to the celebrated Ollie Harrington, but Jackson, strangely, doesn't devote much space to Harrington, whose Bootsie character in Dark Laughter was probably as famous as Bungleton Green.
Harrington also produced Jive Gray, an adventure strip in the spirit and graphic style of Milton Caniff's Terry and the Pirates (but without pirates). The strip initially appeared in Afro American in 1941 but was retooled for the Pittsburgh Courier in 1943, "the same year," Jackson notes, "that the Black 99th Pursuit Squadron, better known as the Tuskegee Airmen, flew its first combat mission in Italy." A satisfying aspect of the book is the way Jackson mentions tangential matters as he goes along.
Alas, neither Dark Laughter nor Jive Gray gets an illustration.
Harlem Sketches is one of three cartoon features done for the black press by famed Esquire cartoonist E. Simms Campbell, who also created Little Mose/Little Elmo, and the adventure strip, Phantom Island. Oddly, Jackson, in summarizing Campbell's career, scarcely mentions (and then only in the list of cartoonists at the end of the book) the cartoonist's Esquire achievement. That, admittedly, is outside the Black press, but so was George Herriman's Krazy Kat, which gets a few paragraphs in the book's second chapter. (Campbell gets a whole chapter to himself in my new book, Insider Histories of Cartooning; but I wish I'd known about his black press creations so I could have included them.)
"Wartime Cartoons in the Black Press" is the subject of the next chapter, in which Jackson resumes his discursive history manner. Apart from editorial cartoons on wartime and racial matters, this chapter includes mention and illustration of Douglas Akins' Sergeant Joe, an adventure strip starring prize fighter Joe Lewis, the legendary heavy-weight boxing champ of the day (who enlisted at the beginning of the U.S. engagement in World War II, declining "promotion" to a rank and instead entering as a private).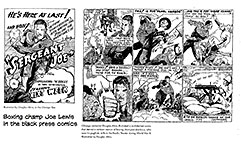 Also discussed in this chapter is the Pittsburgh Courier's famed Double 'V' campaign, which championed black participation in the miliary and, simultaneously, urged another victory, over racism, on the homefront.
But it didn't work out that way.
After fighting in Europe and the Pacific to defeat dictators and to bring democracy to the world, Jackson says, African American soldiers returned to their native land and its persistent racial prejudice. "The media silently stood by when Black soldiers returned to American soil only to be terrorized and lynched in the South while in the North, at the same time, they were given little choice but to live crowded into aging, dilapidated rental properties because lending institutions prevented them from purchasing any of the new homes being built in the developing suburbs."
And motion pictures perpetuated an outdated image of black America as poverty-ridden and helpless or blackface minstrelsy. "Many Americans remained unaware that there was a thriving Black middle class that prospered under segregated conditions to build financially thriving communities."
Meanwhile, the cartoon renaissance was continuing in the black press. The chapter on the 1950s "In Living Color" focuses on the product of a single newspaper, Pittsburgh Courier, and the work of one of the black press feature syndicates, Smith-Mann, which began in 1950 distributing comic strips in color to newspapers with Sunday magazine sections. Jackson reports that he had difficulty finding examples even in the Courier files, which suggests that samples may not exist at all in the archives of other black press papers.
Smith-Mann commissioned black artists to produce features for the Sunday line-up, and a great variety of comic strips poured forth—"comics about suave detectives, dauntless spies, plucky journalists, stouthearted adventurers, valorous soldiers, spirted nurses, skillful doctors, gritty cowboys, good-hearted pugilists, fun-loving baseball stars, dashing race car drivers, a title wooden boy, and even an African American outer space adventurer."
Judging from the examples Jackson includes, these strips were expertly rendered in a sophisticated realistic manner.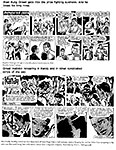 Some of the titles Jackson discusses include Chisholm Kid (a Western), Don Powers (boxer), Guy Fortune (spy), Kandy (auto racing), Lohar (a leopard is the title character), Mark Hunt (private detective), Neil Knight (interstellar adventure), and Woody (a wooden-headed boy). As usual, the artists' biographies are briefly recited (if known). Two artists, Carl Pfeufer and Edmund Ashe, both veterans of the comic book industry, were white, but they presented undistorted images of African Amerians.
The chapter's long segment is devoted to Ormes' Torchy, and Jackson rehearses several storylines in the famous strip. Most of the Smith-Mann features were determinedly color-blind, avoiding racial issues. But not Ormes. Her Torchy in Heartbeats "broke ground with its stories of segregation, bigotry, and attempted sexual assaults" as well as environmental pollution.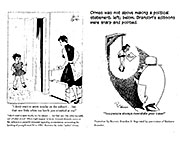 As a result of the Smith-Mann effort and the strips it nurtured, Jackson says, "We could at long last see ourselves as skilled, decent, respectable 'red-blooded' all-American citizens. ... The Smith-Mann cartoons in the Black press during the 1950s filled an immense void in African American society. By presenting professional quality cartoons that depicted African Americans in a positive light, they were an empowering force. ... [W]e now had role models other than the comical cook who ran scurrying off crying 'Lawdy, Lawdy" at the slightest hint of danger."
Although Jackson mentions the non-syndicated work of editorial cartoonists at black newspapers, they get no more than a mention, which, considering provocation of the times—the 1954 Supreme Court decision in Brown vs the Board of Education, the horrendous murder of Emmett Till, Rosa Parks and the Montgomery bus boycott, and the growing Civil Rights movement—seems a little odd. Black editoonists clearly had plenty of material. But Jackson does not generally discuss political cartooning in the black press: it is beyond the scope of the present work.
JACKSON BRINGS HIS HISTORY to a close with the next two chapters. "1960-1968: Going Mainstream" is devoted in large part to explaining why he ends his history in 1968. That was the year of Martin Luther King Jr's assassination, for one thing. But Luther's murder sparked the emergence of black cartoonists doing comic strips for mainstream newspapers, which, feeling guilty no doubt for decades of prejudices both large and small, sought to appeal to and, perhaps, appease black Americans by running strips by and about African Americans. And white syndicated cartoonists began including black characters in their strips—black characters that were not stereotyped or demeaning. Among others, Jackson cites Dateline: Danger and Friday Foster as examples; both featured African American protagonists.
At the same time, the black press began shrinking, and the space traditionally devoted to black-oriented cartoons vanished. In their place were revenue-producing advertisements from white businesses seeking black customers. Black cartoonists, now more likely to be accepted in mainstream endeavors, looked beyond the black press for livelihoods. And for better pay.
Many black newspapers bought and published comics from mainstream syndicates. The Chicago Defender in the 1960s started running Mickey Mouse, Donald Duck, Hazel, Mandrake the Magician, and Popeye.
Much of the chapter discusses the Nation of Islam (NOI) newspaper, Muhammad Speaks, and the cartoons it published to encouage black Americans to be self-reliant, separate from white America. The paper "took an undeniably in-your-face approach, depicting white Americans with pointed devil's tails, razor sharp teeth and sometimes horns."
In this chapter and the next, the last, Jackson traces the emergence in the mainstream press of black cartoonists like Ray Billingsly (Curtis), Steve Bentley (Herb and Jamaal), Robb Armstrong (Jump Start), Aaron McGruder (Boondocks), Darrin Bell (Rudy Parks and Candorville), Keith Knight (The K Chronicles, th(ink), and The Knight Life) and others.
But Jackson's mission is over: he wanted to give visibility to black press cartoonists, and he has done it, superbly, digging up names and histories of erstwhile obscure creators and their creations and telling their stories.
In a concluding and extremely helpful appendix, Jackson lists alphabetically and annotates almost 100 black cartoonists, many of whom are not mentioned in the body of the work— Floyd Norman, for instance, an animator and writer at the Disney Studios (who once worked with Bill Woggon on the Katy Keene books for Archie Comics). Comic book artist Matt Baker is on the list, as is Playboy cartoonist Buck Brown. Generally speaking, as I indicated above, no political cartoonists are listed; some, yes, but Jackson has made no deliberate attempt to round up this cadre of cartooners.
I incidentally learned a lot of the sort of miscellaneous trivia that I delight in storing up. Pinocchio means "pin nut"; I suppose any student of Pinocchio knows that, but I didn't. Nor did I know that Donald Duck's twin sister, mother of Huey, Dewey and Louie, is Della (sometimes called Dumbella); if I'd been paying attention to Don Rosa, I would have known it, but I didn't and didn't until this book came along. But all that, as I say, is fodder for trivia collectors.
For the rest of us, students of cartooning or even casual enjoyers of it, the book is profoundly useful and informative. It is an achievement of which Jackson must be justly proud.
A polemic thread runs through the book, as it must: the reason black cartoonists who worked in the black press are almost entirely unknown today is that the dominant culture in this country persisted in disparaging blacks or ignoring them often in vicious ways. But Jackson makes his points, time and again, without shrieking. In context, what he says is more potent and likely effective than it would be on a flag in a protest parade.
Illustrative material in the book, alas, is merely adequate. Samples of many of the strips and features discussed are provided, but the volume could use a lot more. There are no samples of Jive Gray, for instance—or of Dark Laughter. In the absence of such accompanying illustration (created, no doubt, by the budget limitations at the University Press), Jackson often tells us what is in some of the more exemplary pictures. But we'd rather look than listen.
This is no quibble in a book about a visual art. But considering what is here rather than what isn't, the book is an astonishing achievement. Jackson regards it as a beginning. He says his research is ongoing; he'll eventually post additional findings at his website. But for now, his book stands as a veritable monument to black cartoonists.
RANCID RAVES GALLERY
Pictures Without Too Many Words
I own the original King Aroo strip on display here. An interesting specimen. The top strip was the one that probably got printed in newspapers; the bottom strip, the one with the X's on it, appears on the reverse of the top strip. Two originals in one.
You can tell both strips have their origins in the same gag—an approaching swarm of locusts. But it looks like Jack Kent changed his mind, X'ing out the first try and going for another version, the top strip.
PITHY PRONOUNCEMENTS
From Jon Winokur's Curmudgeon—:
Adultery is the application of democracy to love.—H.L. Mencken
When a man steals your wife, there is no better revenge than to let him keep her.—Sacha Guitry
Adultery—which is the only grounds for divorce in New York—is not grounds for divorce in California. As a matter of fact, adultery in Southern California is grounds for marriage.—Allan Sherman
Is oral sex adultery? Yes! There is no discussion! If curling is an Olympic sport, then oral sex is adultery. And oral sex should be an Olympic sport because it's more difficult than curling and if you're any good at it, you deserve a medal!—Lewis Black
NEWSPAPER COMICS PAGE VIGIL
The Bump and Grind of Daily Stripping
IN OUR NEVER-ENDING quest for evidence that cartoonists are granted greater and greater artistic liberties in the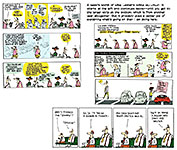 newspaper funnies, we were warned by an alert reader about a week's worth of Mike Lester's Mike du Jour (August 22-27), which appears in the accompanying exhibit.The expression "French shower" refers, we gather, to "douche." And when I asked Lester whether he'd encountered any reader outrage from "concerned citizens," he wrote back only that he'd done it before and sent a copy of the strip that appears at the end of the series in our exhibit; it's from another year (either 2013 or 2015, can't tell for sure). So apparently if you attach "French" to "shower," can get away with calling a rude old lady a "douche." I'm not sure if you could expand the translation to "douche bag," but it's tempting. And she is carrying a bag when she first shows up. Ergo—
You can look it up—"French shower"—and resolve the mysteries to your own satisfaction.
Whatever the outcome, we are grateful to Mike Lester for pioneering new freedoms of expression for us all, and we are the better for it. Thanques, Mike.
ONWARD, THE SPREADING PUNDITRY
The Thing of It Is, Is—
THE SHAME OF CONGRESS. Carolyn O'Hara, managing editor of The Week, went on a screed in the October 7 issue, and it's so wonderfully informative that we'll include almost all of it, verbatim, right here—:
It's become conventional wisdom that our lawmakers don't get much done in a presidential election year, but the 114th Congress is doing its best to land the title of "Most Do-Nothing" yet. Of the 219 bills Congress passed before it went on its 7-week summer recess—the longest hiatus since at least 1960—195 were for minor resolutions, like post offices namings. The Senate is on track to work the fewest days in a session in six decades.
[And now, after being in session only a few weeks since the summer vacation and doing nothing about Zika or Flint water or anything else even vaguely controversial until slapping together a stopgap bill to keep the government running], lawmakers just started another weeks-long recess until after the election.
You might argue that campaigning is a time-consuming business and that vulnerable candidates don't want to stake out controversial positions in the run-up to Election Day. That might hold water if most of the congressional seats up for grabs on November 8 were actually competitive. Of the 435 House seats, only about 40 are in play; of the 34 Senate seats on ballots, just five or six are toss-ups. The rest are races where incumbents or members of the incumbent party are certified shoo-ins. Even if the Senate tips into a Democratic majority, the faces of the next Congress will look remarkably familiar. Is it to much to hope that they come back to Washington next January ready to do some actual work to address the nation's problems?
AND SPEAKING OF SLOPPY WORK, we have the stunning consequences that follow Congress's overriding Bronco Bama's veto of legislation that will enable 9/11 survivors and their families to sue the kingdom of Saudi Arabia in U.S. courts for allegedly helping the al Qaida terrorists. Immediately after the override, Republican lawmakers experienced buyer's remorse and began muttering that maybe they need to amend the bill.
"Nobody really had focused on the potential downsides," said Senate Majority Leader Mitch McConnell, quoted in The Week, October 14.
Obama had pointed out the fallacy in the legislation: it would overturn long-standing international precedents preventing citizens from suing foreign governments. Abandoning such precedents permits Iraqis, for instance, to sue the U.S. for killing their family members during the war.
So maybe we need to re-think this, the Grandstanding Obstructionist Pachyderm pondered.
And then the GOP members began to blame Obama for inadequately explaining the flaws in the bill he vetoed. That took some gall, said Michael McGough in the Los Angeles Times —"like the boy who kills his parents and then pleads for mercy at his trial because he's an orphan."
The law passed and the override succeeded because it's an election year and no one in Congress wants to appear to be denying the 9/11 families anything they want. A typical political act of pandering, in other words.
But it'll all come to naught anyhow. Even if there were any clear-cut evidence of Saudi government involvement in 9/11, the discovery process in a court proceeding would require that the Saudi government disclose any and all documents it had that might shed light on the question.
Can you imagine any sovereign nation opening its files to U.S. lawyers?
Of such fancies are our Congressional leaders possessed. Sigh.
Pandering to an electorate is a sad and sorry activity.
To find out about Harv's books, click here.