Opus 353 (June 5, 2016). SEVENTEEN YEARS! Yup, we've been hoppin' down the rabbit trail for 17 years, at least twice a month without fail. Who woulda thunk it? We're amazed. And we hope you are, too. We don't do anything special for the occasion, just the usual LAVISHLY ILLUSTRATED casserole of news and reviews (some comics from Free Comic Book Day, half-a-dozen books), highlighted by Bobby London's firing revisited, Complete Peanuts completed, Ted Rall's Bernie graphic novel examined, and recent editoons, cartoons in Playboy again! The New Yorker zoo, appreciating Darwyn Cooke and Mell Lazarus, and, just in time for the election season, a startling proposal on campaign finance reform that will revitalize American politics. And more, of course—much more. Here's what's here, by department, in order—:
Our 17th Year Completed
Bob Hall's Batman Revisited
NOUS R US
Black Panther Movie (Of Course)
The Latest Playboy
FUNNYBOOK FAN FARE
Free Comic Book Day Harvest—:
Suicide Squad
Lady Mechanika
The Censored Howard Cruse
Loose Ends
Peter Panzerfaust, No.23
EDITOONERY
Some of the Month's Best Editorial Cartoons
Dixon Diaz, Another Internet Parasitic Imposter
PERSIFLAGE & FURBELOWS
Cutthroat CalipHATE and the Crusades
BOBBY LONDON AND POPEYE
Dirty Duck Omnibus Forthcoming
PITHY PRONOUNCEMENTS
On the Effectiveness of Editorial Cartoons
NEWSPAPER COMICS PAGE VIGIL
Sex and Potty Humor in the Funnies
Jake Tapper Guests on Dilbert
BOOK MARQUEE
Reviews of—:
America in Cartoons: A History in Pictures
Dictators in Cartoons: Unmasking Monsters and Mocking Tyrants
Black Hand Comics
GAGGING WE SHALL GO
Single-panel Gag Cartooning
New Yorker Zoo
New Yorker Spots
Chartoons
BOOK REVIEW
The Complete Peanuts—:
Volume 25 and President Barack Obama's Introduction
Volume 26, Ephemera
The Constant Renewal of the Strip
When (Exactly) Did Charlie Brown Become a Loser?
Designer Seth's Insights
MOTS & QUOTES
Adam Hughes on Betty and Veronica
LONG FORM PAGINATED CARTOONS TRIPS
Review of—:
Ted Rall's Bernie
ONWARD, THE SPREADING PUNDITRY
Trumperies
PASSIN' THROUGH
Darwyn Cooke
CAMPAIGN FINANCE REFORM
A Workable Radical Proposal
QUOTE OF THE MONTH
If Not of A Lifetime
"Goddamn it, you've got to be kind."—Kurt Vonnegut
Our Motto: It takes all kinds. Live and let live.
Wear glasses if you need 'em.
But it's hard to live by this axiom in the Age of Tea Baggers,
so we've added another motto:.
Seven days without comics makes one weak.
(You can't have too many mottos.)
And our customary reminder: don't forget to activate the "Bathroom Button" by clicking on the "print friendly version" so you can print off a copy of just this installment for reading later, at your leisure while enthroned. Without further adieu, then, here we go—:
Our 17th Year Is Completed This Month!
That's right: we've been posting these reports and folderols twice a month for SEVENTEEN YEARS, kimo sabe. Unbelievable, now that I think of it. And here, to celebrate stamina, a review that we ran in our second outing, May 22, 1999.
All Hail, Hall. Bob Hall. In Batman: I, Joker, Hall created superhero mythology.
Batman: I, Joker is an Elseworlds Batman story told by the Cowled Crusader's arch enemy. But the plot is laid far in the future by which time Batman is a god-king called "The Bruce."
The Bruce is maintained in power by the faith of the populace, and the faith of the people is sustained by regularly enacted feats of violence against a recurring cast of villains—the Penguin,Two-face, the Riddler, Ra's al Ghul, and the Joker. Once every year,volunteers are invited to capture or kill one of this bunch— and, if successful, to challenge the Bruce to personal combat to the death. If victorious, the successful citizen will become the new god-king.
In addition to incorporating elements of the Fisher King myth, Hall has constructed (as I trust you can tell from the foregoing) a clever parable that parallels the relationship between the comic book hero, Batman, and his faithful readers, before whom (like the Bruce), Batman re-enacts periodically the ritual conquest of a litany of arch villains. Having set up the resonances of this situation, Hall then proceeds to explore its implications. And I'll not say more about that in deference to your undoubted desire to find out what happens on your own.
Hall's artwork and storytelling abilities are well displayed here. He renders anatomy in chips and chunks like raw meat, making dramatic use of solid blacks and deep shadows, and he paces the tale with breakdowns that create the story's atmospherics in flashes of consciousness. Nifty stuff, deftly done. Look for your copy in the back-issue bins at the summer cons.
NOUS R US
Some of All the News That Gives Us Fits
BLACK PANTHER MOVIE (OF COURSE)
I shoulda known: the new Black Panther comic book is the harbinger of the movie, which is due to appear in 2018. The comic book, meanwhile, is being written about all over the place, as if celebrating the 50th anniversary of the character's debut. With every article, the comic book's writer Ta-Nehisi Coates —a genuine literary talent, not just a funnybook scribe—gets interviewed. In Entertainment Weekly (May 13) he says: "People like the kind of badassery inherent in T'Challa. I mean, who doesn't? People have this hero that is black and isn't compromised in any sort of way. He's powerful; he's the king of his country."
The question Coates is exploring is whether an advanced society like Black Panther's Wakanda needs—or wants—a monarch.
Artist Brain Stelfreeze chimes in: "Every character needs something as their foundation. Superman's is hope. And with Black Panther, his foundation is pride. To the black audience, that really resonates."
Other black heroes remain beloved, says EW, "but there is a different kind of fervor surrounding Black Panther. He doesn't just have fans; he has disciples."
What about the Moon Knight movie, then? Another recently resurfacing Marvel superhero, but this one's nuts.
CARTOONS AND PLAYMATE OF THE YEAR
Whoop! The June issue of Playboy has two full-page cartoons in it. I think they're cartoons. They seem to be funny in a deliberately effete way. Or not. The wolf and the damsel doesn't seem very amusing. Could be me, of course. Is the wolf passing around a reefer? How's that funny? Still, maybe these two cartoons are the thin edge of the wedge. Maybe Hugh Hefner's minions are re-thinking the most criminal part of their re-design and re-branding. Maybe they'll start publishing cartoons again. Cross your finger.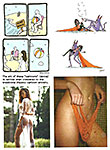 In the same issue, other evidence that some things don't die off: Playboy's Playmate of the Year, f'instance, seems a more deeply rooted tradition in the magazine than either nudity or cartoons. But in keeping with the newtradition at Hef's zine, neither the POTY nor this month's Playmate are naked. Well, they're naked (even I am naked under my clothes), but they're covered with sheets and blankets, suggesting that they've just rolled out of the hay with someone. We can see belly buttons and the rounded sides of a breast here and there. No nipples, though. And no pubic hair in sight either. Close, but not exactly.
See what you think from the evidence we've gathered near here.
ODDS & ADDENDA
"Captain America: Civil War" led in North American box office receipts again May 13-15, the fifth straight weekend at Number One. The Disney movie is now among the biggest superhero movies ever, having generated weekend sales of $72.6 million in the U.S. and Canada.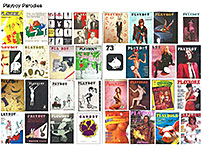 ■ A cartoonist friend of mine, Cullum Rogers, a stalwart in the front ranks of the Association of American Editorial Cartoonists, has been working for years on a book about magazine and newspaper parodies. Near here is a collage of the covers of Playboy parodies he's assembled so far.I hope he finishes soon while we all can still remember those aspects of the magazine that are worthy of parody.
Fascinating Footnit. Much of the news retailed in the foregoing segment and in the scroll to follow is culled from articles eventually indexed at rpi.edu/~bulloj/comxbib.html, the Comics Research Bibliography, maintained by Michael Rhode and John Bullough, which covers comic books, comic strips, animation, caricature, cartoons, bandes dessinees and related topics. It also provides links to numerous other sites that delve deeply into cartooning topics. For even more comics news, consult these four other sites: Mark Evanier's povonline.com, Alan Gardner's DailyCartoonist.com, Tom Spurgeon's comicsreporter.com, and Michael Cavna at voices.washingtonpost.com./comic-riffs . For delving into the history of our beloved medium, you can't go wrong by visiting Allan Holtz's strippersguide.blogspot.com, where Allan regularly posts rare findings from his forays into the vast reaches of newspaper microfilm files hither and yon.
FUNNYBOOK FAN FARE
Four-color Frolics
FREE COMIC BOOK DAY HARVEST. Among the five free funnybooks that my comic book store allowed its FCBD visitors to carry off, I picked up Suicide Squad, the cover of which purports it to be No.1. The drawing (by a trio, Federico Dallocchio, Randsom Getty and Scott Hanna) is attractive enough, but Adam Glass's story is flat-out repulsive. We watch while members of the Suicide Squad are tortured—disgusting, painful and sadistic tortures with bloodshed galore and generous bruising all around—for over half the book. Then we find out the torturing was a test that qualifies them as agents of Task Force X. And the whole time, I can identify only three of the victims—Harley Quinn, Deadshot, and the character with the shark head, "the Shark," I presume. This is terrible stuff, kimo sabe. Too awful to waste more words on.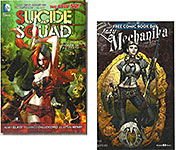 I also picked up a copy of Joe Benitez's Lady Mechanika. The steampunk fashion has fascinated me ever since it started some years ago. It seems essentially satiric: the foundation garment garb of its women represent an assault on Victorian sensibility. But inside the book, I was soon disappointed: the coloring rendered the art too dark to discern. And the story, starring a woman who is "the sole survivor of a mad scientist's horrific experiments that left her with mechanical limbs" and who is making a new life for herself as a private investigator, seemed little more than a series of physical encounters between the PI and various unappealing bad people.
Loose Ends by Jason Latour as rendered by Rico Renzi looks to me like a revival of a title I tried to find years ago. I found a couple issues but never could locate the first. It's distinguished (in both meanings of the word) by wildly differing drawing styles that Renzi adopts for different facets of the story. Nicely done.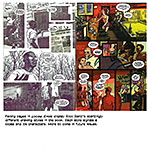 Another item on the stack of FCBD trophies is The Censored Howard Cruse from Boom!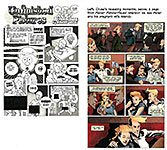 Town. The lesser-known comics of Cruse, who the publisher correctly describes as "a fearless cartoonist ... never afraid to take on uncomfortable or controversial political topics" (among otherthings, Cruse was the first openly gay cartoonist and the original editor of Gay Comix), will be collected "soon" in The Other Sides of Howard Cruse, which purports to publish the uncensored versions of the strips in this comic book. The uncensored version of the page we post near here will presumably remove the black, censoring rectangles. Cruse has been a favorite of mine for years—particularly his Barefootz stories. It'll be a treat to see his work in print again.
WHILE COLLECTING Free Comic Book Day trophies, I also picked up the most recent issue of Peter Panzerfaust, No.23. I didn't like this title when it first arrived a couple years ago, but on the chance that I was wrong then, I decided to give it another try. No good. It's still lousy. This issue involves Nazis killing a couple of doctors after the two have saved Nazi lives, followed by a long conversation among Panzerfaust's followers about things I (a mere dilettante visitor to the premises) can make no sense of (references to the Hook and the Croc—Peter Pan?), then Peter P shows up and broods about whether to undertake a new mission, "The Final Battle." We also meet Peter's pregnant wife, Wendy. Peter and Wendy? Peter Pan again. There must be a connection, but I fail to see it in this single issue, which is otherwise a waste of time. Except for Tyler Jenkins' eccentric drawing.
Okay: I haven't been a regular reader, so how can I expect anything in this book to make sense? True. But shouldn't periodical literature like this be arranged in such a way as to encourage readers to jump on at any time and feel at home? Maybe a little puzzled but not completely baffled, eh?
Quotes & Mots
"It is useless to hold a person to anything he says while he's in love, drunk or running for office."—Shirley MacLaine
EDITOONERY
The Mock in Democracy
IF YOU BELIEVE the so-called "news" media, particularly cable news and the associated commentariat, nothing much happened in May except Trumperies. Editorial cartoonists once again proved themselves incapable of resisting Trump. And who can blame them? He's a cartoon character incarnate—the hair, the mouth, the outrageous and often insulting utterances, the misogynism, the xenophobia, the bigotry, the unbridled ignorance. He's a creation of his own overweening narcissism and a salivating, conscienceless pandering news media that will do anything to amp readership. Responsible journalism in this day and age? Forget it.
The Trumpet made the cover of The New Yorker, one of those frail linear treatments by the magazine's duty political cartoonist, Barry Blitt.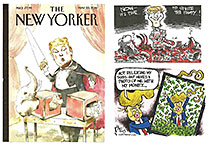 Blitt wasn't the only editoonist to arrive at the dismembered elephant as a symbol of what the Trumpster has so far accomplished: somewhat earlier in the month, Milt Priggee employed similar symbology. Blitt went further with it, though: his Trump, dressed in tie, tails and cape, is portrayed as a magician, exactly what's needed in the Grandstanding Obstructionist Pachyderm these days. Just below Priggee, Clay Jones offers an image of Trump with his money. But the major point of interest in this cartoon—as in other Jones renditions of the Trumpet—is the treatment of the hair-knit. It's all over the place, wildly out-of-control. No self-respecting editoonist these days can leave Trump's hair alone. But Jones runs away with it more joyously than most.
We resume the Trumpery in our next visual aid, starting with Matt Davies at the upper left, who deploys a memorable image to suggest that Trump's foreign policy is vague: the outline is made with dashes. But it's great, right?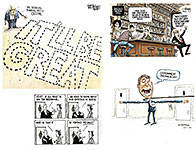 Next around the clock, David Horsey creates the scene I conjure up in words at the end of this posting under The Spreading Punditry. The best analysis of the Trumpet yet (naturally—it's mine, too): he's the barstool bullsitter, a familiar character in every neighborhood saloon. Next, Nick Anderson highlights the wonderful irony in North Carolina's governor saying the federal government is "over-reaching" in declaring his new law unconstitutional. And what about the over-reach of his law? And finally, we have Dan Wasserman demonstrating another colossal irony in four panels that advance the argument to the point of utter collapse.
We take a break from Trumperies in our next exhibit.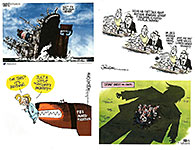 Michael Ramirez creates a stunning visual metaphor of the state of the U.S. economy according to Bronco Bama (he's the tiny, wire-thin figure who's talking). The high part is the stern of the ship plunging to a watery grave, bow first. Then Joe Heller offers a comment on the pervasive political corruption of our daily conversation, and below Heller is Nate Beeler, returning us to the issue of unifying the GOP. Trump's gigantic shadow towering over everyone frightens Republicons who are seeking re-election, and in the shadow of the Trumpster, they've come together, unified in their quaking electoral fright, unwilling to oppose Trump because they fear that their constituents might disapprove and vote them out of office. (The button they are wearing says, "Re-elect me.")
To make a stab at fair and balanced, here's Mike Lester's comment on the other "presumptive" candidate. Conservatives like Lester are not likely to let us forget Hillary's dire situation with the FBI demonstrating its dogged dedication. But the thing that I admire in this cartoon is the Hillary caricature.
Two more editoons finish us off for this outing.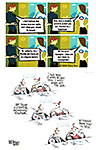 At the top, a comic strip by Dixon Diaz (about whom, more in a trice), who in four static panels gives us a pretty accurate image of the state of liberal thought these days. Diaz is not on my usual rounds through the jungle of editoons, but this strip (however it surfaced here at Rancid Raves) caught a moment for me.
Below Diaz is another Matt Davies effort, three panels that set up for the political punchline—one of those conversations in which Trumpsters reveal their essential ignorance.
And with that, we return to Dixon Diaz. Not knowing the name, I googled him and found more of his "cartoons" at conservativepapers.com, where he lobs his bombs at unsuspecting readers who actually think he's a cartoonist.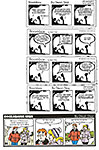 He's not a cartoonist because he can't draw. And we know he can't draw because all of his pictures are clip art—here, the panels in his strips that he clips whole from well-known comic strips. Yes, he's one of "those" Internet parasitic imposters who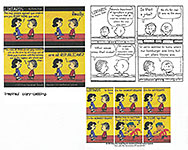 composes new speeches for characters others more gifted than he have invented.
Notice the four strips stolen from Aaron McGruder's Boondocks. These appear in a line-up of13 identical strips. All of them look exactly alike. Diaz offers apologies to McGruder, but if he's sincere, he'd quit photocopying McGruder's work. Or at least he'd change strips so the line-up is not so obviously a rip-off.
He steals from Charles Schulz's Peanuts, too—but no apology this time. Ditto his theft of Archie. He's absolutely shameless. An unabashed disgrace and an insult to actual cartoonists everywhere.
PERSIFLAGE & FURBELOWS
Pondering, more often than I'd like to, the atrocities committed by the Cutthroat CalipHATE, I wondered if there has ever been a more depraved and gruesome perversion of religious beliefs. And then I remembered the crusades of the 11th and 12th centuries, and I turned to Will Durant's Age of Faith to find out more.
The crusades (there were half-a-dozen or more of them, depending upon how you count) were in effect "commissioned" by the Pope to rid the Holy Land of infidels (Muslims) who might pollute the holy sites or prevent earnest pilgrims from visiting them. The First Crusade (1096-99) perhaps set the tone by massacring Jews in Germany as the pious passed through the country en route to the Holy Land. Jerusalem fell in June 1099 after a 3-year siege. Reported the priestly eyewitness Raymond of Agiles: "Numbers of Saracens [Muslims] were beheaded ... others were shot with arrows, or forced to jump from towers, others were tortured for several days and then burned in flames. In the streets were seen piles of heads and hands and feet. One rode about everywhere amid corpses of men and horses."
"Other contemporary witnesses," Durant goes on, "contribute details: women were stabbed to death, suckling babes were snatched by the leg from their mother's breasts and flung over the walls or had their necks broke by being dashed against posts; 7,000 Muslims remaining in the city were slaughtered. The surviving Jews were herded into a synagogue and burned alive. The victors flocked to the church of the Holy Sepulcher, whose grotto, the believed, had once held the crucified Christ. There, embracing one another, they wept with joy and release, and thanked the God of Mercies for their victory."
During the Third Crusade (1189-92), its star performer, Richard the Lionhearted, who dazzled with his courage and military know-how, paraded 2,500 Muslim prisoners before the walls of Acre and had them all beheaded because the defeated defenders of the city were slow in carrying out the terms of their surrender.
So the Cutthroat CalipHATE, sadly, is not unique.
BOBBY LONDON AND HIS RUDELY IMPOSED
DEPARTURE FROM POPEYE
As we noted in November 2014 (Opus 333), Bobby London was fired in July 1992 as the cartoonist producing the King Features comic strip Popeye. London is a noted underground cartoonist, a member of the notorious Air Pirates gang, famous in later years for creating Dirty Duck, a character he drew for more than 40 years in the pages of various publications, including National Lampoon and, lately (until the recent purge of cartoons from the magazine), Playboy. A longtime fan of Popeye and of the strip's legendary creator, E.C. Segar, London was invited to take over the strip when Bud Sagendorf retired in 1986. And then, six years later, he was fired. At the age of 42, he was suddenly unemployed.
London may be the only syndicated cartoonist to be fired from his feature. Other cartoonists may have quit, leaving their feature to another cartoonist. But as far as I know, London is the only one to be fired. And on the face of it, King Features' firing of London seems shameful. And gutless.
The cause of his termination was a sequence, entitled "Witch Hunt," that he began July 6. The presumably offensive part of the sequence begins at the end of the second week when Popeye suspects Olive of having an affair—and an illegitimate child—with Bluto. From there, it plunges on into the abortion issue. And hence to religious questions. Near here, I've posted some of the supposedly offensive strips.
On the issue of abortion, the sequence seems to be in favor of it. Popeye, after all, recommends that Olive "get rid" of the "baby" that she doesn't want. (Actually, it's a robot doll that she compulsively ordered through a shopping channel.). On the religious matter, London is pretty clearly ridiculing organized religion. One of the clerics who shows up is named "Nosebest." And he is depicted as motivated by issues other than moral ones: without Satan, he proclaims, "we're out of a job."
Which of these dubious matters got London fired? We've always assumed in was abortion. But the near-blasphemy is also pretty severe.
In a 2014 interview at Comic Book Resources, London claimed the priests were not villains. "The tall priest was the same one administering last rites to Popeye in 'Return Of Bluto,' so he was definitely not a villain," London insisted, "— and at no time and in no place did I depict either of them doing anything villainous."
Maybe not villainous, but they were both satiric targets, which makes them less than admirable men of the cloth. The priests may not be the reason London was canned, but they are no doubt part of the reason. Still, my guess is that London's take on abortion is the main issue.
TWO WEEKS AFTER LONDON WAS FIRED, he was interviewed at comic-art.com by Steve Ringgenberg, who asked the cartoonist to explain how the firing came about. At the time, London said he had no warning that he would be treading forbidden ground and risking his gig at King; in fact, a previous mention of Roe v. Wade in the strip had lead him to believe the topic was acceptable. He'd done a gag where the Sea Hag uttered the words: "Drat! There goes Roe v. Wade." Said London:
"I didn't hear a peep out of the syndicate and since I always heard from them whenever they objected to any kinds of punchlines or other nonsense that I might have injected in the strip— which was seldom, but it did happen occasionally—I automatically assumed that Roe v. Wade was considered fair game by them and I proceeded to prepare a full-length story about the subject."
Then, all of a sudden, he was fired.
Said London: "It happened very briefly and very abruptly. They just, the editor, Jay Kennedy, just called me up and told me that they were unhappy with the storyline and I was fired. It was as simple as that."
Kennedy, incidentally, was an acquaintance from before he became comics editor at King. London knew him from Kennedy's days at Esquire when London was drawing for "slick magazines" in the late 1970s.
London admitted that he'd heard rumors about King executives being not all that pleased with his Popeye work:
"There was a rumor that I heard from somebody there that they'd been considering dismissing me for quite some time because they had other plans for Popeye, but I just sort of, I just kind of ignored that. I was continually ignoring rumors like that because they're just rumors, and to concentrate on my work, and see that it improved. I just, uh, I think the only serious argument I had up there with somebody was one particular individual who no longer works there, who was the former head of the licensing department."
The sequence in Popeye just before "Witch Hunt" was "Stupid Little Hat," ostensibly about the merchandising value of Popeye's little dixie-cup sailor hat, which London hated—preferring the billed cap of the legendary Segar's creation. The sequence was an outright satire of licensing and merchandising.
The next thing we knew here at Rancid Raves is that, over two years ago, on November 26, 2014, London was interviewed at Comic Book Resources by staff writer Alex Dueben, and during this interview, London's memory of his final months at King proved somewhat clearer than it was when he was talking to Ringgenberg.
Dueben asks London if there had been any indications before he was fired that King officials were unhappy with what he was doing.
To which London responded: "I think taking my name off the strip as early as 1990 is a mild indication that they were not amused."
And it develops (as we'll see in a trice) as Dueben and London talk that the cartoonist had been working in an undercurrent of syndicate disapproval for some time before he was fired. "Witch Hunt," in effect, was the straw that broke the cartoonist's pen.
Was London lying then, when he was interviewed by Ringgenberg? (You can see the entire interview at comic-art.com/interviews/london.htm ; I quote pertinent parts at Opus 333.)
Frankly, I don't think so. Ringgenberg talked to him just two weeks after he was fired, and London was doubtless still in shock, however mildly. He was also (as we'll see when I quote some of the interview with Dueben) probably still drawing Popeye strips in order to comply with the terms of his contract. He may also have been a little flustered over the incident. Understandably.
And Ringgenberg's question wasn't all that pointed. Here's his question and London's reply (which, when quoted in full, shows London struggling with how to respond)—:
Ringgenberg: Okay, so why don't you run down, as briefly as you want, exactly how did the syndicate notify you that your work was unacceptable and that you were being terminated?
London: Well, in, you know, uh, they, I can, I can just tell you very briefly because it happened very briefly and very abruptly. They just, the editor, Jay Kennedy, just called me up and told me that they were unhappy with the storyline and I was fired. It was as simple as that.
London was answering the second part of Ringgenberg's question—how were you notified that you were being terminated? The first part, being informed of the syndicate's unhappiness with his work, London didn't respond to.
The conversation then wandered off into related matters, Ringgenberg trying to find out what, other than the abortion storyline, might have led up to the firing. Did subscribing papers complain? No. Was the client list growing or shrinking? A little of both, apparently.
THE CAUSE OF THE DISCONTENT at King Features was rooted in conflicting ideas about what the strip should be, and that was present at the beginning of London's stint on the strip. With Dueben, London recalled how it all began (in italics)—:
I was tapped by Heavy Metal magazine in 1980 to illustrate the Heavy Metal comic book version of the Robin Williams movie, a script by Jules Feiffer, and no one to tell me how to draw, but the movie bombed and that was it. I knew all the Westport-area cartoonists, including Bud Sagendorf. When I got the call from [King Features comics editor] Bill Yates, he said, "I hear you know all about Popeye, how about coming down and trying out?"
You see, they had a problem: they couldn't find anybody who knew all the characters. My first sample was rejected because they looked too much like E.C. Segar. The second was drawn too big and the third was the charm. I was ready to pick it up wherever Sagendorf left off, but somewhere in between tryouts, they told me they were changing it into a gag-a-day strip and I balked. I didn't see how that could work. Then Yates said Elzie Segar was his instructor in a mail order cartooning course, he and Sagendorf were close friends and he was choosing me because my stuff had "a lot of heart" and he didn't want Popeye to "go the way of all the others." The flinty look in his eye disappeared when he said that, and I thought, okay, maybe I can do this.
Later, King relented and let London tell stories. London's first Popeye was dated February 24, 1986; before the year was out—starting in mid-August—London was into short continuities, telling a story that continued from one day to the next for a week at a time. Said London (in italics)—:
I think they were getting bad feedback about their gag-a-day concept and eventually relented. Writing a gag-a-day Popeye strip was a total game-changer, I must say. I had to rethink my whole approach fast, and come up with something that would maintain at least a shred of continuity. I remembered my couple of years at Disney Licensing in New York where they would dress Mickey Mouse up as Michael Jackson or have him skateboarding, and all that pseudo hipster stuff, trying to update his image. I thought, what if I lampoon that whole approach with Popeye— only keep Popeye the same and have the other characters freaking out and trying to keep up with the times? It sounded good to me, and obviously it sounded good to Bill Yates because he okayed it.
London said he wasn't worried about the appearance of the strip as he took over from Sagendorf: "I wasn't concerned about the style changing radically because my drawing style was already in that neighborhood to begin with. However, I had been drawing Disney characters for two years previous to that, so I almost forgot what my own drawing style looked like. It took a while for me to draw like myself again, but it did happen."
London's first few months on Popeye look a lot like Sagendorf; after a couple of months, though, authentic Londonish renderings were coming through, radiating a somewhat more slap-dash antic energy than Sagendorf's.
But two undercurrents were running through London's tenure on the strip. The first—and the reason King wanted Popeye to be gag-a-day—was the animated tv series being developed as London took over the strip.
Called "Popeye and Son," in it Popeye and Olive Oyl are married and have a son named Popeye Junior, who has Popeye's ability to gain superhuman strength from eating spinach but Popeye Jr. hates the taste of spinach (preferring hamburgers like Popeye's lazy lout buddy Wimpy), much to his father's disappointment, although he eats spinach to boost his strength. The show aired September-December 1987, and it was obviously being developed in 1986 when King hired London. Eager to make the newspaper strip dove-tail with the animated version—just as DC and Marvel want their superhero comic books to look like the movie versions of the characters—King thought the strip could move in that direction if it was gag-a-day rather than adventure stories.
London told Dueben that he was being "pressured to redesign the entire series to look like 'Popeye & Son'" But London wouldn't go along, he said (in italics)—:
And refusing to do so probably cost me my job. I defended the sanctity of that strip, I didn't destroy it. I was twenty years old when I created Dirty Duck, and I stuck with him because I knew he was this timeless character -- he had one foot in the past, one foot in the present and his butt in the future. That sort of equals timelessness. I knew I could bring that same quality to Popeye if I could just overcome all that ill will.
Popeye was very much of his time. He talked about the Depression, fascism, unions, gangsters, short skirts, politics. I wanted the average reader to relate to him again. I certainly wasn't afraid to draw a cell phone or ATM machine, because the way I would draw a cell phone or an ATM machine would look exactly like a Popeye version of a cell phone or an ATM machine. He was in good hands because I left him alone. I had him walking around in that same old suit, and the party girls would say, "He's so punk!"
There's no difference between what I did and having him fight gum card monsters from the 1950s, but, no—they hated it. They would rather have had him in a Hawaiian shirt, a baseball cap and little blue shorts. You cannot change Popeye, kids. He is the one constant in an ever-changing universe. His credo is "I yam what I yam, and tha's all that I yam"— how can he go against his own credo?! Sure, you can put him through costume changes for story purposes, but take away his pipe forever? Even his bloody theme song has a pipe.
Well, they can all rejoice. I'm not in the Popeye business anymore. They can do whatever they want with him now, it's all the same to me. But as long as I was the proprietor of Elzie Segar's newspaper strip, that wasn't gonna happen. Not on my watch. No, sir.
"Popeye and Son" lasted only thirteen episodes. But King Features' effort to make the comic strip echo the animated version poisoned the relationship between the syndicate and London.
Said London: "The Popeye daily died the day they ordered me to make it look like 'Popeye & Son.'"
But that wasn't the only poison pill in the stew. London wanted to do the Sunday Popeye and felt he had been promised the opportunity—and then King reneged. London was understandably resentful, as he explains (in italics)—:
When I first went up there, [London told Deuben], I had asked for an option on the Sunday page when Bud retired; they told me that if I behaved and proved my worth, I would get it over time. That was the promise my first editor had made to me; when I brought the subject up again five years later, the second editor reneged on that promise, in a very insulting and passive-aggressive fashion, I might add. I was stunned and I didn't know what to do at first, so I did nothing for a long time. [Sagendorf was only semi-retired: while London did the dailies, Sagendorf was doing the Sunday Popeye and would continue doing it until he died in 1994.—RCH]
People who really know me know that deep down inside, I'm an honorable person who's as good as his word, depending upon what that word is, of course; but their promise had been broken and all bets were off, so I wrote the "Stupid Little Hat" story.
When they called and said stop writing stuff about a licensing execs and go back to Popeye punching Bluto, I said, Okay, I promise I won't write about the licensing guy anymore— then I turned around and wrote "Witch Hunt." The rest you know.
Years later, I read somewhere online that they had no intention of ever giving me the Sunday— that they promised it to Hy Eisman before they even hired me, so my instincts were correct. To stay on board after all those years of hard work and not be chosen to draw the Sunday page would have been far more humiliating to me than getting fired on a slow news day and being all over the media for 24 hours. And, then, of course, there were the financial losses in being denied the Sunday page.
FOR THE REST OF THE STORY (plus some other, interesting asides), I'm quoting some of the Deuben/London interview verbatim—Deuben's questions/comments in bold face; London's in everyday roman type. Deuben begins by asking about the last six weeks of the strip that are published for the first time in the second volume of IDW's London Popeye reprints, Thimble Theatre Presents Popeye: Classic Newspaper Comics, 1989-1992.
In the last batch of strips that were never before published and that people are seeing here for the first time, you wrap up "Witch Hunt" and end like you did with Jeep saying goodbye— did you know that would be your last strip?
Well, sure. Of course. I had already been dismissed, and they said you have four more weeks to fill out, so I knew they would be my last strips. I wrapped up the Roe v. Wade story as best as I could according to my original outline and said my goodbyes. Those strips were flatly rejected, and they've been sitting in my files ever since.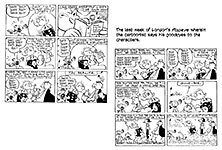 I'm sorry. They fired you—publicly— and then said you're still under contract for four more weeks of strips?
Yes. They fired me and said, Oh by the way, you have four more weeks of your contract to fill out, and you're gonna do these strips whether you like or not.
[Laughs] And then they rejected those strips, which they made you draw.
Yes, Kafka-esque, ain't it? I said, so what? You already fired me! What are you going to do, fire me again? [Laughs]
I'm laughing because it's a different experience from most of us who have been fired or laid off.
I've been through worse. At least it makes for a very nice book.
It does. The book reads well and it ends nicely. Looking back at the strips, 20-25 years later, how do you feel about the work?
I think they hold up great. It really doesn't matter if people don't remember who Milli Vanilli was. I mean, so what? Go look it up. For every Milli Vanilli reference in there, there's a Pete Townsend or Willie Nelson reference. Those people are forever! If Harpo Marx can be in a Popeye cartoon, why not the Beatles? I guess I knew that there wouldn't be a Mount Rushmore-type monument to poor Milli Vanilli anytime soon, but I was trying to be absurd. I try to go for the absurd as much as I can— the same way Segar did. The way Stan Laurel did! Like Cervantes! Jonathan Swift! Rabelais! Willy Elder!
When I first took the strip on, there were people who said, who do you think you are? E.C. Segar created what is arguably one of the greatest comic strips in the history of newspapers. Who do you think you are to try to top him? Well, I know who I am— at least part of the time— and I wasn't trying to top E.C. Segar. I figured the only way I was going to get through it was to be myself. And may I say, I got as close to the original with that final story as anything I'd ever written by being myself. I think they proved they'd have fired E.C. Segar if they had half the chance.
When you consider the lengths the Reagan Administration went to in those days to to demonize liberals in the media, and the unfortunate results on the evening news for even children to see, my little cartoon story had the Lubitsch Touch by comparison. All of it, from start to finish, was first rate. I have no regrets and clearly, neither does King Features, otherwise they wouldn't have published it all in two delightful volumes. Of course, they had twenty years to think it over.
You've had some strange experiences as a cartoonist, and you'd been working as an artist for many years by that point, but after being fired like that, was it hard to get back into things and draw again?
No, I kept drawing all the way through it. I drew myself getting kicked out of King Features for Time magazine, and I was back drawing for the Op-Ed page of the New York Times. The publicity got me a lot of offers. My friends at Disney gave me work. My face was on television, so people recognized me in restaurants for a while. I became a gym rat, working out three days a week. But my mother was sick, she went into a rapid decline not long after that, and I spent most of my time looking after her in her last days. When that was over, I went back to work full time.
I called the offices of MTV and they said come on up— we don't have anything for you, but maybe someone else does. Chris Duffy, who was comics editor of Nickelodeon magazine, picked up a family strip I originally created when I was 12. I had used the characters in my New York Times illustrations, but the strip version had been rejected by the syndicates long before and then immediately after I did Popeye. Chris Duffy and the editors of Nickelodeon liked it and ran it on a fairly regular basis until they ceased publication a few years ago.
Is there a chance that we'll see a new collection of Dirty Duck or some of your other work one of these years?
If you don't, you'll know who to blame.
What are you doing now?
Well, as you know, in 2000, I went West, young man, and drew storyboards for Cartoon Network and character concepts for the first Spongebob movie. It was cool with all of those generous, open-minded folks in Hollywood for me to do that between Dirty Duck strips and Nickelodeon assignments. Unfortunately, one particular producer at Disney chose to pressure me to quit Playboy before I could work on his show. That would have meant quitting my own characters, and I just couldn't do it. I've been with Playboy since 1976. It was funny how there were other comic book artists they didn't ask that of.
People have issues with Playboy for many reasons, but I've heard a lot of very good things from cartoonists over the years. Obviously, people like Harvey Kurtzman and others worked there, Gahan Wilson has had a great working relationship with the magazine, and Jules Feiffer called Hefner one of the smartest editors of comics he's encountered.
Hefner saved the Dirty Duck strip from an ignoble fate back in the 1970s, so I'll always be thankful to him for that. The blogs say he left me "high and dry" during the Reagan Era, but that's simply not the case. They offered me a full page but I took a half. It was my decision. I'm just amazed at the things people say. About ten years ago, they had a general manager who wanted to get rid of all the cartoons and make it look more like Maxim. They fired him pretty quickly. They chose their artists over a suit. I couldn't very well leave them after that. I don't understand the problems that people have with Playboy at all, and I don't want to get into first amendment issues, okay? I don't wage wars, I draw funny pictures.
RCH: I remember that guy who wanted to make Playboy into Maxim. Yes, they fired him. But then they hired another guy who, to judge from the recent demise of Playboy, finally did the conversion.
Another fitnoot: I ran into the late Jay Kennedy in the fall of 1992, months after the London firing, and I asked Jay if he wanted to add anything to the prevailing reports. King Features had been portrayed pretty universally as the corporate bad guy; so did he want to do anything to set the record any straighter? What was the syndicate's side of the story?
Kennedy declined to elaborate beyond the official statements that had been made at the time of London's firing. He was fired because his work was no longer acceptable. Given the timing, it was assumed that the Bluto baby episode was the cause. And Kennedy said nothing to correct that impression.
I had the sense, though, that Kennedy—whose involvement with underground and alternative press cartoonists was long and cordial—was a little embarrassed and very much wanted the whole thing to go away without further ado.
If the abortion sequence were to run these days, probably nothing would come of it. Syndicated comic strips today have joked about a number of previously taboo'd matters. These are simply freer times. But in 1992, as London discovered, the leash had not yet loosened much.
BY THE WAY, that collection of Dirty Duck alluded to in the foregoing? It's happening this summer. IDW is bringing out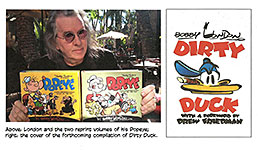 a 304-page 8x12-inch hardcover tome at $49.99. It will include "nearly all" (a few must've sneaked off to be by themselves) of Dirty Duck from Air Pirates Funnies, National Lampoon, Playboy and other publications. "Many of the strips have been scanned from the original art in the artist's vast personal archives, including rare and unpublished preliminary drawings."In 1978 at the Lucca Comics Festival, London was awarded the Yellow Kid Award for his work writing and drawing Dirty Duck, and now you can own all the evidence in support of his deserving that award.
GOSSIP & GARRULITIES
Adam Minter, a columnist for Bloomberg View, reports (May 12) that the federal transportation security apparatus, TSA, found 25,000 security breaches at U.S. airports between 2001 and 2011. That's 2,500 a year or seven (7!) every day. And last year, Homeland Security investigators achieved a 95 percent success rate in smuggling mock explosives and weapons through TSA checkpoints. Makes you wonder, as we do frequently about Congress, why we have it—and why we continue to take off our shoes to get clearance to board an airplane.
EVERYBODY got all wee-wee'd up at the news that United Healthcare, the nation's largest health-care insurer, is leaving most of 34 states in which it offers plans on the Affordable Care Act's public exchanges—citing the $650 million it is projected to lose on those exchanges in 2016. Doom-sayers predicated UH's departure as the canary in the mine signaling the end of Obamacare. No one mentioned that another insurer, Cigna, plans to expand its Obamacare offerings into more states in 2017.
AS FOR THE BATHROOM BROUHAHA, Frank Bruni in the New York Times said "it's a tempest in a toilet," going on to observe that transgender people have been going to the restroom of their choice for years without incident. Without telling anyone, either, I'd say. Potty pandemonium indeed.
PITHY PRONOUNCEMENTS
Warren Bernard, an avid collector and longtime lecturer on the history of editorial-political cartoons and editor of Cartoons for Victory (reviewed in Opus 346), was asked recently at historynet.com how "effective cartoons are in shaping wartime public opinion. To which Bernard said:
"The history of the United States is full of examples in which cartoons played a big part in mobilizing support for war. During the Civil War, Thomas Nast's cartoons in Harper's Weekly, especially his Christmas cartoons, put a bright light on the sacrifice of soldiers. President Abraham Lincoln called Nast 'the best recruiting sergeant the Union ever had.'
"In the 1890s newly developed color Sunday cartoons in the newspapers of William Randolph Hearst and Joseph Pulitzer drummed up support for what became the Spanish-American War and gave us the term 'yellow journalism,' for the color of Hearst's comic character the Yellow Kid.
"In World War I, the Woodrow Wilson administration created the Committee on Public Information to influence the American public's view of the war, with a separate cartoon division that sent out ideas for the nation's cartoonists to incorporate. During World War II the War Bond Division of the Treasury Department syndicated its own cartoons about war bond drives to the nation's newspapers, while the Office of War Information had cartoonists create syndicated works on such topics as rationing, scrap drives and women in the armed forces.
"In neither world war, as a rule, did the nation's political cartoonists criticize the war itself. But the Vietnam era brought a different tone to the political cartoon world, as a number of prominent cartoonists—such as the widely syndicated, Pulitzer Prize–winning Herblock—did not support the war."
NEWSPAPER COMICS PAGE VIGIL
The Bump and Grind of Daily Stripping
POTTY HUMOR, as we've been at great pains to demonstrate for several years, is now fully accepted in newspaper comic strips. The once tabooed topic is pooping up everywhere (and we'll look at some more instances in a trice). Sex, however, hasn't made comparable inroads. Although it's working at it.
In Francesco Marciuliano and Jim Keefe's Sally Forth, the eponymous heroine goes on a "date" with her husband, Ted. Maybe it's their wedding anniversary. I've forgotten (or wasn't paying attention). In the uppermost strip in our first visual aid, table talk at the conclusion of their dinner veers off in the direction of the bedroom—but subtly enough that only adults and dirty old men (like moi) get it.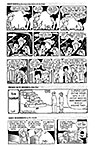 In the next Sally Forth, we have mere romantic whisperings on the couple's way home. Sentimental and romantic. And nice. Then, once they're home and walk into the house, their connubial plans go awry immediately when faced with a daughter and her plans.
In Rhymes with Orange, Hilary Price alludes to the feverish disrobing that once accompanied a dash upstairs to the bedroom: the couple is reminded of their lost lust by seeing their children's duds strewn all over the stairs.
Finally, in Tom Batiuk's Funky Winkerbean, Cindy is climbing into bed with her current beau (whose name, like that of most of the characters in this strip, evades me) who is a movie actor. Is she promising a roll in the hay? "Fireworks"? Looks like it. But even if not, these two sharing a bed seems risque. They aren't even married, are they? Is this pre-marital canoodling? If so, probably a first. (No—second. In Doonesbury, Garry Trudeau had an unmarried couple in the sack a few centuries ago. It was a famous sequence taking two or three days as a camera moved in to a building, a window in the building, and then into the bedroom. Or so I remember, without checking.)
WITH OUR NEXT EXHIBIT, we're back to potty humor. (Just to demonstrate that it hasn't gone away.) In Mike Peters' Mother Goose and Grimm, Grimm is licking his balls (or his butt), something no comic strip dog would do in decades past.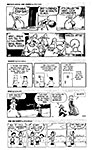 And in the next strip, the dog witnesses are identifying some miscreant by having the police artist draw that feature of the sinner that the dog witnesses are most likely to recognize. Right, the culprit's butt. That's what all dogs look at, inspect, and become familiar with before any other aspect of a strange canine's physical being.
In Scott Adams' Dilbert, Dilbert and an office pest go into the men's room and apparently wind up in the same stall. Not as risque as licking your balls, I realize; but restroom stalls were on the verboten list for years, too.
In Frazz, Jef Mallett has the kid use a word that sounds and looks at good deal like "farted." Means the same, too. And in One Big Happy, Rick Detorie's Ruthie corrects her friend's misunderstanding of the meaning of "windbreaker." (Farded and breaking wind both having to do with flatulence. Oh, you knew that, right?)
Potty humor all around.
STEPHAN PASTIS (who is up again this year, for the 8th time, for the Reuben Award as "Cartoonist of the Year" for the National Cartoonists Society; to be determined this coming Saturday at the Reuben Banquet) has a well-deserved reputation for constructing elaborate puns (the lowest form of humor as one wit saith) and other forms of wordplay in his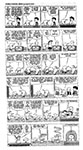 Pearls Before Swine. In fact, some weeks, the strip is so thoroughly verbal that it nearly fails to qualify as a comic strip (traditionally, a species of visual-verbal humor). Near here is a culling of six strips from the last month or so in which Pastis out-does himself again and again.
The last strip at the bottom of the display is the only one in which visual content acts to provoke the laugh. Wordplay isn't the essence here. I'm including it because it's another example of how Universal/Uclick's comics editor, John Glynn, gets his name in the papers.
Oh—the lowest form of humor is that which is the foundation upon which all other jokes depend. So puns ain't bad, aristotle.
OUR FINAL DISPLAY begins with more unmentionables, starting with Mike Peters' Mother Goose and Grimm, which depends for its comedy on our knowing that dogs "read" trees and other such objects for "signs" of other dogs' presences. The signs are a residue of canine urine, remember?
In Frazz, Jef Mallett reveals that he knows the history of viagra even if we can't be persuaded that elementary school children know it. Viagra started as a treatment for hypertension. And in Rhymes with Orange, Hilary Price reminds us that when we eat beets, we're likely to experience poop that is red.
At the bottom of this exhibit are two Dilbert strips not drawn by Scott Adams. They're drawn by Jake Tapper, chief Washington correspondent for CNN and host of "The Lead" on tv. Adams wrote the strips but Tapper drew them. Adams has had "guest artists" on the strip recently so maybe another one isn't a surprise. We may not be surprised, but Adams was.
He was appearing on Trapper's tv show where Tapper expected to have an interesting discussion about Donald Trump. What happened next is described in the Charleston Gazette-Mail.
"We were chatting during the commercial break," said Tapper, "and I let it slip that I was a failed cartoonist."
Adams, who has been resting his drawing hand of late, pounced on the admission and invited Tapper to draw a week's worth of Dilbert. Adams would write the strips; Tapper would draw.
Before Tapper found success as a journalist, he drew cartoons for the Los Angeles Times, Washington Post, Philadelphia Inquirer, Roll Call and Washington City Paper. He once demonstrated his caricature chops by drawing Bronco Bama on an easel in front of a gaggle of editorial cartoonists at the Association of American Editorial Cartoonists. Not bad. (I was there.)
Tapper's interpretation of Dilbert is running the week of May 23 through Saturday, May 28, a significant date in the year's cartooning. That night, members of the National Cartoonists Society will award their Reuben trophy to the person deemed "Cartoonist of the Year," during a banquet at the NCS meeting in Memphis. Tapper will not get the Reuben: he wasn't a well-known failed cartoonist until this week, too late to enter the competition.
"I think readers will enjoy seeing [Tapper's] take on the art, which came out great," said Adams. "He's way better than I expected!"
But his rendering of the Dilbert cast is, as you can plainly see, deeply at variance with the way Adams draws. It may even be an improvement. More lines anyway.
The one-of-a-kind strips will be auctioned off to raise money for Homes for Our Troops, an organization that builds mortgage-free, specially designed homes for the most disabled veterans from Afghanistan and Iraq.
CIVILIZATION'S LAST OUTPOST
One of a kind beats everything. —Dennis Miller adv.
A 10-foot-high statue of Hercules in the French town of Arcachon has been fitted with a removable penis to thwart vandals, who've been stealing the hero's member with alarming regularity since the statue was, er, erected in 1948, saith The Week (May 6). To prevent future episodes of castration, town officials commissioned a removable prosthetic that will be attached to the statue's groin for special ceremonies in the part—and removed right after.
The very thought of a removable dick makes me cringe.
A prosthetic pecker? In this day and age? When some enterprising doctor has just managed the first penis transplant?
BOOK MARQUEE
Previews and Proclamations of Coming Attractions
This department works like a visit to the bookstore. When you browse in a bookstore, you don't critique books. You don't even read books: you pick up one, riffle its pages, and stop here and there to look at whatever has momentarily attracted your eye. You may read the first page or glance through the table of contents. All of that is what we do here, starting with—:
America In Cartoons: A History in Pictures
Edited by Tony Husband
192 7x10-inch pages, b/w; 2015 Arcturus hardcover, $16.95 ($5-10 Amazon)
HUSBAND, the editor of, now, a 3-volume series of history books of editorial cartoons, is a British cartoonist, whose works are sampled just at the elbow of your eye.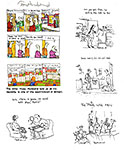 We reviewed his Cartoons of World War II in Opus 320 (January 2014), and here is another tome of the same kind of thing. The most conspicuous aspect of the book is also its chief flaw: most of the cartoons are reproduced as half-tones rather than line drawings, which gives the pictures a gray tone that blurs their linear qualities. On the other hand, most of the cartoons are given generous full-page or half-page display; but a few, alas, are reproduced much too small to even read, particularly in the gray tones of half-tone reproduction.
But the historical aspect of the work is admirable. Every cartoon is captioned with background information that explains the context and therefore the original purpose of the cartoon. A few British cartoons are included for their peculiar awareness of facets of American history, but by far most of the work here is by Americans. The first half of the volume covers the colonial era through the 1800s, which lends the book a 20th century emphasis because that's the focus of the remaining half of the book. There is, alas, no index.
With his British perspective, Husband brings up matters that are not likely to be discovered in American histories of this sort, offering thereby insights we otherwise lack. A cartoon about Mark Twain and copyright law, for instance—and Oscar Wilde's visit to the United States, Thomas Edison's greed, a horse-drawn traffic jam in New York City, the Gold Rush to California.
He includes some fascinating minutiae. In the caption for a cartoon about college football, he observes that in 1905, there were 18 deaths on the gridiron. On the other hand, he doesn't include much about the Civil War—or about President Lincoln, one of the most caricatured personages of the 19th century.
A few of Husband's observations are questionable. In one caption, he says that the experience of the Salem witch trials "led Americans to be wary of including religion in the Constitution." There were other contributing factors to this Constitutional decision even though the tendency of religion to foster zealotry is doubtless one of them. Husband offers Betty Boop as a "symbol" of the Depression era. And he repeats the etymological canard that "blue laws" acquired their characteristic hue because they were printed on blue paper. Or in books bound in blue. Not true.
The origin of the expression "blue laws" to disparage laws enforcing rigid moral codes is cloudy. Some say "blue laws" derive from "blue nose," a term denoting a person who advocates extreme moral rigor. The term was first used in reference to Connecticut's laws. The northeastern states were colder than many others, so residents in that vicinity might have "blue noses" because they were cold.
Others say "blue-stocking" is the seed from which the noxious plant grew: in Britain, Oliver Cromwell's "little Parliament" of 1653 was sometimes called a "blue-stocking" Parliament, but that referred to its common rather than aristocratic members (who wore white stockings), not so much to moral attitudes.
My guess is that "blue" became a euphemism for "bloody," a term of disparagement. "Bloody laws" referred to laws that many disliked, but "bloody" was a socially unacceptable allusion to "by Our Lady," a possibly blasphemous oath alluding to the Virgin Mary, so "blue" was substituted for "bloody." But I find no support for this theory among the etymologically adept.
Many of the cartoons are not, strictly speaking, editorial cartoons, and many of the artists included are not, strictly speaking, editorial cartoonists— Frederic Remington, Harrison Cady, Rea Irvin, Oliver Herford, Winsor McCay (his Little Nemo). But the book, after all, is "history in pictures," and artists like the aforementioned provide insights into that history.
The work of Thomas Nast is among the most frequently displayed, but not many of his cartoons herein are the more familiar ones. Joseph Keppler, Clifford Berryman, Daniel Fitzpatrick, and Bob Englehart, are represented by more than one cartoon. But there's only one by Homer Davenport and none by J.N. Darling ("Ding").
For all its minor flaws, however, the book makes a valuable contribution to understanding American history and to the history of editorial cartooning. It's also fun to look at the pictures, some of which are posted nearby.
Dictators in Cartoons: Unmasking Monsters and Mocking Tyrants
Edited by Tony Husband
192 7x10-inch pages, b/w; 2015 Arcturus hardcover, $16.95 ($5-10 Amazon)
THE FOCUS is on 20th century dictators with chapters on Mussolini, Stalin, Hitler, Franco, and Mao Zedong, but a 38-page introductory chapter dips deeper into history, beginning with Roman emperors Caligula and Nero and continuing through Vlad the Impaler and then skipping ahead to Napoleon and czars of Russia and World War I's Kaiser Wilhelm III, and including Charles Philipon's pear-shaped caricature of the face of French king Louis-Philippe (without, sadly, explaining that the portrait was a visual pun: the French for "pear" meant "imbecile" or "simpleton" as well as "pear").
As in previous Husband books of cartoons, many of the pictures (particularly in the first chapter of ancient history) are reproduced by half-tone, a maneuver that sometimes grays and blurs an otherwise crisp black-and-white line drawing. In this book, however, lots of the pictures are "drop-out" half-tones, a process that eliminates the graying of otherwise white background. Most of the cartoons are allotted a full (or at least a half-) page, which displays even half-toned drawings in sufficient detail; but one or two cartoons are reproduced at the disappointingly diminutive dimension of a postage stamp. Why include such tiny pictures at all? We can't see enough to make sense of them.
Captions explain every cartoon by giving them their historical context; and many are dated (by year, at least). But the book lacks an index.
As in Husband's Cartoons of World War II, many, but not all, of the cartoonists are British or European. The most frequently represented are Bernard Partridge, E.H. Shepard, and Arthur Szyk, and Americans Clifford Berryman, Daniel Fitzpatrick, and Herblock (with several cartoons I've never seen before despite the numerous books devoted to reprints of his work).
Apart from the scraps of history Husband imparts, the pleasure the book affords is chiefly in the ingenuity of the cartooning, a few samples of which are posted herewith.
Black Hand Comics
By Wes Craig
104 6x10-inch landscape pages, b/w and color; 2014 Image hardcover, $19.99
THE TITLE REFERS neither to African or African-American art nor to some branch of the Italian Mafia but to tales of supernatural horror—exactly the sort of thing that usually turns me off before I get fairly going. And here it isn't the stories that engage me but the artwork from the co-creator of Image's Deadly Class, who has taken three of the stories from his webcomic (blackhandcomics.com) and bound them together between hardcovers, a presentation that might tempt one to think this book could qualify as a graphic novel except that the content isn't one narrative but three: The Gravediggers Union, Circus Day, and The Seed.
In the first story, gravediggers' duties extend into the night so they can make sure the bodies they've interred during the day stay dead; in the third, a man is running from something inside himself until it finally breaks out, Alien-style. Neither of these particularly engages me, but the third tale, "Circus Day," isn't supernatural at all: it concerns a boy's experiences at a circus.
The attraction in Craig's work is in the inventiveness of his artwork. All the tales are drenched in black, which he accents with flashes of white or color. The panels appear against a black background. Black black black. And the format of the book dictates the size of the artwork—mostly tiny. Tiny images but inventively concocted and deployed. A treat for the eyes, as the accompanying excerpts might, I hope, convince you.
PERSIFLAGE AND BADINAGE
France's Pierre de Coubertin, founder of the modern Olympic Games, said: "The important thing at the Olympic Games is not to win but to take part; for the essential thing in life is not to conquer but to struggle well."
Admirable sentiment. Too bad it has been so completely overshadowed by the monetary and drugging issues that have so thoroughly corrupted the Olympic ideal.
GAGGING WE SHALL GO
Single-panel Gag Cartooning
NOW THAT PLAYBOY has deserted single-panel gag cartooning in favor of—what? Short articles in front of the magazine? Better white space?—The New Yorker is the only remaining reliable venue for magazine cartooning. And over the last few years (five to ten), the New Yorker cartoons have gotten better. For what seemed like decades, the cartoons were inert: the captions didn't illuminate the pictures or vice versa. The captions were simply snatches of overheard conversation uttered by "typical" New Yorkers, who were of the self-satisfied pseudo sophisticate sort. If they were funny at all (rather than simply snide), they were funny without the pictures (if you like that sort of "sophisticated" humor, a staple in The New Yorker for generations).
But then, once we were safely into the new century, we started getting cartoons of the "classic"—i.e., fundamental—sort: cartoons in which neither the pictures nor the words made the same comedic sense alone without the other. Here's a culling from the May 23 issue.
In these cartoons, the pictures "explain" the captions and vice versa. In other words, good cartooning.
But this gleaning reveals another new trend in the magazine—a growing number of cartoons with anthropomorphic animals in them. In the issue these come from, fully a third of the cartoons feature animals—these four out of a total of twelve cartoons. And in this issue's Cartoon Caption Contest, two-thirds of the cartoons involve animals.
What's going on in cartoon editor Bob Mankoff's head? Does he see a blend of words and pictures more often in cartoons about creatures that don't usually talk than in cartoons about his fellow human (sic) sapiens?
Who knows? Dunno. But we'll keep on the alert for more symptoms.
NEXT, WE SAMPLE ANOTHER of The New Yorker's visual aspects—the spot drawing. The magazine has always scattered throughout every issue random black-and-white drawings that have nothing to do with the text columns in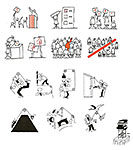 which they occur. Just nice pictorial trimmings. A few years ago, the magazine modified its spot drawing practice: nowadays, the spots in any issue are all by the same artist; each issue showcases the work of one individual. In the page of spots at hand, we have Tim Laban's spots in the first two rows, then, below that for the next two rows, Joost Swarte. The stack of books at the end are Anthony Hukchette's.
I picked these specimens because they struck mine eye as pleasing combinations of black-and-white (with accents of color in Laban's case). No other reason. Nothing more to see here, so move along.
WITH ALMOST NO OUTLETS for single-panel gag cartoons among America's magazines, I rejoiced a few opuses ago at the arrival at Time of "chartoons." These are cartoons because they make amusing sense by blending words and pictures in the definitive manner. But their creator, John Atkinson, claims an additional function for them: they are also like "charts" that impart graphically some scrap
of information that is made more evident by reason of the combination of the visual and the verbal. Here's a collection of his Chartoons that I clipped from Time lately.
I'm not sure the "chart" part of Atkinson's formulation is all that illuminating: the information we gain is not of the same order of clarity in revelation as, say, pie charts. But the interdependence of words and pictures is undeniably present.
So maybe there's a future for magazine-type cartooning after all?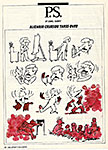 FINALLY, WE HAVE A FULL-PAGE cartoon from The Artist's Magazine. Used to be (and maybe still is) one of these closed out every issue of the publication. (Haven't seen one in a while.) Typically, the humor arises from some deployment of color or artistic line. No big deal here. Just some visual fun.
BOOK REVIEWS
Critiques & Crotchets
WHAT FOLLOWS is not, strictly speaking, just a "review": I've included several sidebars of possible interest. So here we go—:
The Complete Peanuts: Volume 25, 1999-2000
By Charles M. Schulz
312 7x8½ landscape pages, b/w throughout; 2016 Fantagraphics hardcover, $28.99
THIS LONG AWAITED VOLUME completes the reprinting of every single one of the almost 18,000 strips created by Schulz between 1950 and 2000. When this project was launched in 2004, proposing to publish two volumes a year until the end of the strip's run, I crossed my fingers in the hope that the goal could be met. Given the vicissitudes of publishing in the comics arena, I feared it never would. And now it has been. I can uncross my fingers.
This volume begins with an Introduction by President Barack Obama (quoted here in full, in italics)—:
Like millions of Americans, I grew up with Peanuts. But I never outgrew it.
Wherever I lived, wherever I travelled, I could find those three or four panels in the paper each morning. And Charlie, Snoopy, Linus, Lucy, Franklin and the gang brought childhood rushing back.
That's what made Charles Schulz so brilliant – he treated childhood with all the poignant and tender complexity it deserves. He gave voice to all its joys and anxieties – a spectrum of emotions that run from the start of a new baseball season to the anguished "Augh" that comes with losing the big game. He explored the emotions that we too often forget kids feel until we're reminded that we once felt them ourselves. Hope. Doubt. The exquisite pain of unrequited love. The self-exploration of what it means to be different. The comfortable knowledge that it's all going to be okay – even if Lucy's advice isn't very good.
For decades, Peanuts was our own daily security blanket. That's what makes it an American treasure.
In his final strip, Charles Schulz wondered how he could ever forget the Peanuts gang. Thanks to this groundbreaking series of books collecting all of Schulz's Peanuts strips, the rest of us never will—and we can share our love for the gang with our children and grandchildren for decades to come.
The book includes all of Peanuts for 1999 and 2000 (the last strips, too, wherein Schulz says a painful goodbye to his readers), but in the year 2000, Peanuts stopped on Sunday, February 13, the day after Schulz died in his sleep. (The dailies, produced with a shorter lead, ceased on January 3; Schulz stopped working on the strip in December or thereabouts, but he was a couple months ahead on the Sunday production schedule.) Filling out this volume—as well as providing as complete a history of Schulz's Peanuts and Peanuts-related work as possible— is the complete Li'l Folks, the weekly series of one-panel cartoons that Schulz produced for the St. Paul Pioneer Press, beginning June 8, 1947 as Sparky's Li'l Folks, and continuing (starting June 22) as just Li'l Folks, ending January 22, 1950. More strips than it's generally supposed—137 of them. The creative precursor to Peanuts, its inclusion in this volume brings The Complete Peanuts full circle.
And Fantagraphics is going beyond the circle, too: a surprise 26th volume is announced for October 2016, collecting all of Schulz's non-strip related Peanuts art: storybooks, comic book stories, single-panel gags, advertising art, book illustrations, photographs, and even a recipe. Schulz's widow Jean Schulz will write the Foreword to Volume 26, capping the final volume in a star-studded lineup of contributors to the series with a personal reminiscence of her life with the famed cartoonist.
Volume 25 comes with the usual Index at the end. (If you want to know when Tarzan is mentioned in the strip, the Index leads you to September 9 and September13, 1999.) And in place of the short Schulz biography that appears in each of the previous volumes, this one includes a history of Li'l Folks by Gary Groth.
A FEW OF THE CARPERS and belittlers who are never quite content until they've pointed out that the gods among us all have feet of clay—a few of these malcontents have delivered their opinions that Schulz's work in the last decade or so wasn't as good as it had been before that. He slipped, they maintain. The strip wasn't so brilliant anymore. One sign of its slippage was that it was the same old formula, day after day. Nothing new.
Well, as you might expect, I beg to differ. Without doing exhaustive research, the "library" of The Complete Peanuts permits us to isolate a few new developments over the years.
New characters, for instance. Each new character ushered in another strain of comedy. Peppermint Patty offered humorous insights into America's flawed educational system, beginning August 22, 1966—sixteen years into the 50-year run of the strip. And Patty's buddy Marcie enhanced Patty's comedic persona when she showed up two years later, June 18, 1968. Rerun came along March 26, 1973, and Spike, Snoopy's lonely brother in the desert, arrived on August 134, 1975. And there were numerous other characters who arrived after that—and even into the 1990s.
The fresh crop of jokes that could be harvested from each new personality may not seem like all that much difference: Peanuts has always been a character-driven strip, so a new character may not change the essential ambiance much. But in 1988—38 years along the Peanuts-strewn pathway—Schulz effected differences of a sea-change sort.
In early 1988, he abandoned the strip's rigid adherence to a four-panel daily format. He started doing 3-panel strips. And on April 2, 1988, he did the first one-panel strip. Then two weeks later, on April 16, he did the first two-panel strip.
The scoffers and belittlers may scoff and belittle, pointing the finger-bone of scorn and saying such changes were minor and of little consequence. Again, I beg to differ.
Changing the number of panels changes the pacing of the humor. The comedy in a one-panel strip is different than the comedy in a four-panel strip. Schulz's one-panel strips tend to be more thoughtful. Or, perhaps, more puzzling. And when Snoopy is among the characters assembled, a note of poignance is stuck. He doesn't seem to understand the situation the other characters are discussing. Typical dog behavior, perhaps, but a different kind of humor. A new kind of humor.
And once Schulz had broken the four-panel mold, he seldom returned to it. And he varied the formats, switching back and forth from three panels to one to two and then three for several more days. Hereabouts are samples from The Complete Peanuts for 1988 and 1998 and a few from 1999.
THE DESIGNER for The Complete Peanuts, the Canadian cartoonist Seth (whose actual name I've forgotten but "Gregory Gallant" sounds right), agrees with me. Peanuts never got tired or worn out. It constantly renewed itself, he says. What became clear to Seth as he pored over the decades of the strips is "how the strip morphed over its five decades," says Michael Cavna, who interviewed Seth at Comic Riffs.
"Each decade, he almost reinvented the strip," Seth said of Schulz, who launched the strip while in his 20s. "There were the same characters, but he could have retitled it [at different points]. There were very distinctive flavors. The last 10 years and the first 10 years are tremendously different, and the last 10 years and the '70s are different.
"Schulz was a different person and he was getting older," Seth continued, noting that the latter strips had a somberness that was less leavened by a younger man's buoyancy and pacing.
And that evolution — that ever-changing nature of Peanuts as an honest organic creation resonating with its own "life" — is crucial to the brilliance of the strip.
"If Peanuts had been frozen in time" creatively, Seth says, "we wouldn't still be talking about it."
The adventure for Seth began shortly after Schulz died in 2000. Seth started right away longing for someone to publish all of Peanuts. Once when working with Gary Groth, Fantagraphics publisher, Seth voiced a wish: if anyone ever published the entire Peanuts, he'd like to design it. Then one day the phone call came from Groth, and soon he and Seth were traveling to Santa Rosa to talk with Jean Schulz, the cartoonist's widow, about the forthcoming project.
Says Cavna: "A nervous Seth worked up a talk to convince her that he was just the man to design this Peanuts set — that he had 'deep respect for the work' and that he thought of the Peanuts creator as an inspiration. He was soon assuaged by Jean and their smooth meeting of the minds, which he calls 'a really meaningful experience.'
"Also a profound experience has been designing the set's final volume," Cavna continues, "for which Jean will write the Foreword."
"This volume is basically an appreciation of what the strip meant to me — and how meaningful it's been for me to be connected to it — to get the work, and the series, in print," Seth told Cavna. "It's been a tremendously important thing for me."
AND WHILE WE'RE OUT SURVEYING the goober harvest, we finally came across the strip that Stephan Pastis says is the watershed Peanuts. This strip—the release for February 1, 1954—is the one that inaugurated the "loser" aspect of Charlie Brown's personality.

Until he concocted this strip, Schulz thought of Charlie Brown as a sort of smart-mouth kid. And everyone in the strip occasionally "lost." But in this strip, Schulz discovered the "essential Charlie Brown"—the little kid who somehow repeatedly falls short of his own ambitions for himself. And henceforth, we seldom (if ever) see the smart-mouth kid again. Instead, we see the "loser." And we also see his resilience.
MOTS & QUOTES
The next revamped title from Archie Comics is Betty and Veronica, which will be written and drawn by renowned good girl artist, Adam Hughes. He was interviewed in the most recent issue of Previews; excerpts—:
"Archie Comics inquired if I wanted to be involved with the new Betty and Veronica, and I asked if I could write and draw the book. After they got up off the floor, they agreed.
"All I care about on Betty and Veronica is making people have some kind of emotional response. Mostly laughing, maybe one or two tears. Whatever I need to do to pull that response from the readers—nostalgia, uncharted territory—whatever!"
Asked how he got "into" the heads of Betty and Veronica to "hear their respective voices," Hughes said:
"I get into Betty's head by blindly trying to see the best in people, no matter what. I get inside Ronnie's head by wondering what they're really up to, the sly devils. ... I approach their relationship this way: to me, Betty would never admit to hating anyone; she just can't. Veronica would find it hard to tell someone that she loves them: she'd show it, but the words would catch in her throat."
There'll be about 25 alternate covers when the book debuts with No.1 in July.
LONG FORM PAGINATED CARTOON STRIPS
Called Graphic Novels for the Sake of Status
Bernie
By Ted Rall
208 5x7-inch pages, color; 2016 Seven Stories Press paperback, $16.95
IN THE AFTERWORD, Rall says, "After a person is radicalized, whether they're motivated by disgust at unfairness or a strong desire to fix a problem, they're presented with a choice between two roads: the way of the rebel and that of the reformer." In his previous tome, Snowden, Rall extolled the way of the rebel; here, he champions the way of the reformer, Bernie Sanders. We reviewed Snowden in Opus 348, so it's no surprise to discover that here again, with Bernie, Rall recasts history to fit his own perceptions of how the world is wending. I don't fault him for this maneuver—we all do exactly as he does here: we see events of the past through the eyes of our experiences, and that can't help but give an otherwise objective history a tilt it probably doesn't actually have.
The book is divided into two sections: the first third rehearses political history in this country since 1973; the last two thirds presents us with Rall's idea of Bernie, a politician the cartoonist admires. The year 1973 is pivotal, Rall says: that was the year after the Democrat candidate for Prez, George McGovern, lost to incumbent Richard Nixon in "the biggest landslide in American electoral history."
Holding a post-mortem on the Election—just as the Republicons did after losing to Bronco Bama in 2012—the Dems decided that they lost because the country was leaning right, not left. Unlike the Grandstanding Obstructionist Pachyderm in the years after 2012, the Dems actually followed their own prescription for future victory: they turned right. In his hawkishness, Jimmy Carter is more conservative than liberal, but when he loses to Reagan in 1980, the Dems decide he was still too liberal: "We need a conservative Democrat," they decide. And, ipso facto, Rall says, "ostracized by the party leadership, lefties are out in the political wilderness." (Rall himself is a leftie, crying in the wilderness.)
That is an understandable view of the political landscape 1973-1980. But when Rall says that when "Carter ignores the threats of Iranian revolutionaries" and admits the ailing Shah of Iran to a hospital in New York, his action "prompts radical students in Iran to take over the U.S. Embassy in Tehran" and hold Americans hostage for 444 days, methinks Rall is simplifying history just a tad. Surely, it wasn't just Carter's treatment of the Shah that caused the take-over; surely, there were other factors—chief among them, the Shah's absence from the locale. The students would presumably not have dared so defiant an act if the U.S.-supported Shah were present in the country to impose his will.
Maybe that's what Rall is saying, too, but it also seems as if he's saying that Carter's action not the Shah's absence provoked the take-over.
The Iran hostage situation makes Democrats "appear weak on foreign policy, traditionally their political Achilles' heel. Carter's popularity erodes," and he loses the 1980 election to Reagan. Liberalism has been ousted from the Democratic Party.
Political debate in this country, Rall maintains, is thereafter between center-right and right-right. The GOP rules right-right for 12 years; when Bill Clinton wins in 1992, he does so by being pro-business and by leaning "right." Leftie Rall doesn't like Clinton, whom he calls DINO—Democrat In Name Only.
Nor does he like Obama, who, he says, broke his promises—among them, his pledge during the 2008 campaign to create a "single payer" option for health care; instead, we have Obamacare. And when the Occupy Wall Street movement gets going, "Obama's Department of Homeland Security coordinated a simultaneous series of violent police attacks to eradicate the Occupy movement" (Rall's emphasis)—a leftie movement that, because of the traitorous Democratic Party, has no political home.
I don't remember the law enforcement reaction to the OWS movement being all that violent. Yes, the use of force—or the show of force—was sometimes necessary to remove Occupiers from the places they occupied. But "violent attacks"? Is any use of force—any appearance of force—necessarily "violent" to Rall?
Well, no matter. Once you grant Rall the license to distort history to suit his rhetorical purposes—which, you'll remember, I did at the beginning of this disquisition—you can't complain. And I'm not complaining: I'm merely pointing out that Rall, as a historian, indulges his own biases and beliefs to the neglect of certain unattractive facts. As do we all.
AT THIS POINT IN HIS NARRATIVE, Rall introduces Bernie, who has "unique credibility that can come to those who wander the political wilderness for long enough to come to be seen as a prophet."
In the ensuing biography of this prophet, Rall shows him to be a "product of the 1960s" but not a hippie: "He was out to change the world, not to drop out." He is an activist intellectual, who takes part in the great protests of the era—the civil rights movement, anti-war movement.
Bernie grew up in Brooklyn, not poor exactly but money was always scarce. Parents leaned left but not by much. "Bernie Sanders came from left-of-center Judaism, which leans toward the secular/reform side. For reform Jews in general, social consciousness and concern for the plight of the poor and oppressed is a priority and a religious obligation."
Bernie went to the University of Chicago and acquired more definite Socialist views—Scandinavian socialism, not Soviet socialism. He objected to the Vietnam War, applying to be a conscientious objector. He married the first time in 1964 and moved to Vermont. (Why Vermont? Rall doesn't say; probably didn't ask.)
Divorced after two years, Bernie moved in with a girlfriend and they had a child, Bernie's first son, born in 1969. Bernie joined Vermont's Liberal Union Party, which defines itself as "nonviolent socialist." He ran for governor and lost. Ran for the Senate and came in third. Worked as a writer.
In 1981, he ran for mayor of Burlington, deploying a fiery populism. He won by a narrow margin, defeating a six-term incumbent. He served four terms. During his last year as mayor, he married his second wife, who had three children from her previous marriage. In 1990, Bernie ran for Congress and was elected to the House, where he spent 16 years (seven re-elections). Then in 2006, he ran for the Senate and won. He was re-elected six years later.
The remainder of the book is devoted to repeating Bernie's various views and policies as enunciated during the current campaign for nomination.
In a way, Bernie is a candidate much like Trump. Trump reportedly entered the campaign to mount a protest against the same-old politics that had gridlocked Washington. He didn't think he'd get the GOP nomination. Bernie, too, entered for reasons other than winning the White House. He wanted to give voice to issues of economic fairness and justice that apparently no one else was talking about. "These issues have to be discussed. And if no one else will, I will discuss them," he says.
Rall views the Vermonter as having revived the Democrat left, which had been left in the cold for nearly 40 years. For Rall, Bernie could be the hero.
In the book's Afterword, Rall lays it out: "The massive crowds that began coming to Bernie's campaign rallies ... many of them drawn from the ranks of the young, demonstrate that there is a raging appetite for new leadership. If Bernie turns lame or stays true and loses the nomination or the election, the hundreds of thousands of voters who turned out will never do so again. They will become jaded and cynical, much like the young men and women who canvassed for Obama in 2008, only to find out after the election that their politics bore little resemblance to his. That, I suspect, is something that Bernie would hate to see. How he manages to avoid such a dismal outcome will be fascinating to watch."
Rall will be watching. But, to judge from the enthusiasm for Bernie displayed in the book, Rall will also be rooting for Bernie, hoping (and perhaps working) for his eventual success.
Apart from its inherent bias, the book is informative. I learned much about Bernie's past and the formation of his attitudes. Rall did his homework. Significant portions of the last part of the book are derived from interviewing Bernie, who is about as candid a political creature as we could expect. As disguised polemic, the book is a success.
As a graphic novel (or graphic biography), however, is falls far short of the mark. The pages I've scanned hear here are typical of the entire book.
Like the Snowden volume, Bernie is a procession of talking (and captioned) heads—and, except for hair and, occasionally, noses, the heads all look alike, a flaw inherent in Rall's so-called drawing style. Few, if any, actions are depicted. Talk—Bernie's or Rall's—is the only varying content here.
The book would be a colossal bore visually were it not for the page layouts. Rall proves himself an able designer while failing as a cartoonist. Or as a graphic novelist. Or biographer.
BEEFS & BOFFOS
On Restaurants (from Curmudgeon by Jon Winokur):
"I stopped for breakfast at the International House of Pancakes. As soon as you walk into the establishment, you catch the distinct, worldwide feel of the place. I was completely baffled by the complex menu. So I just had the flapjack du jour, and my syrup steward helped me select a very dry maple that was busy but never precocious."—Dennis Miller
"Murals in restaurants are on par with the food in museums."—Peter de Vries
"Never eat at a place called 'Mom's,' but if the only other place in town has a sign that says 'Eats,' go back to Mom's."—W.C. Fields
ONWARD, THE SPREADING PUNDITRY
The Thing of It Is ...
Now that the Trumpet is the presumptive Republicon prez candidate, the Grandstanding Obstructionist Pachyderm is dashing back and forth with its hair on fire, enacting an antique axiom—:
When in danger, when in doubt,
Run in circles, scream and shout.
Every pundit on the planet is trying to explain the Trumpet's success. He gives voice to the rage of the voiceless, say some—the jobless, the people who resent the emergence of racial minorities and the disappearance of white privilege. But Megan McArdle at Bloomberg View has the best explanation—:
"The most compelling explanation also, curiously, gets the shortest shrift: he's a celebrity candidate, and celebrity candidates break election models. Jesse Ventura in Minnesota; Arnold Schwarzenegger in California. These people bring out folks who don't normally vote. In a low-turnout election, or a badly divided field, that's enough to turn things in their favor.
"Celebrity candidate voters aren't normal voters. Normal voters care more about policy than normal non-voters, care more about party identification, care more about ideology. Simply Trump's celebrity attracted the rest of the voters."
And he's still a celebrity, and will be through the general election. All those experts who say he can't win in the fall? A lot of them were the same people saying he could never snare the GOP nomination. Watch out.
BUT THE PUNDITS PERSIST in trying to explain the Trumpet. He has an uncanny "sense" of the popular mind, its anger and angst, and he set out to appeal to just that. Phooey. Donalt Rump is a familiar figure in any saloon or bar in the nation during Happy Hour. Get a couple drinks in him, and he's the "barstool bullshitter," spouting off his half-baked ideas and ill-informed opinions to anyone who'll listen. He began a year ago what has been described as "a protest candidacy": he didn't expect to win; he just wanted to get some opinions aired and out there—to protest the general malfunction of federal government. Just like many of us. And once he got on his barstool, he spouted things we all had spouted ourselves (some of us). Nothing extra-sensory about it. Nothing uncanny or even canny. He's just a barstool bullshitter.
And once he saw the size of the crowds at his "rallies," his narcism took over. And his ego kicked in, making it impossible for him to stop.
MAY 13. Today's paper (and yesterday's and the day before's tv punditry) is bubbling with excitement about whether Paul Ryan will be able to make sufficient peace with the Trump to approve of his candidacy, which, Ryan said, he's not yet ready to endorse. The so-called "news" media lists other prominent Republicons who are not, yet, backing the Trumpet. Phooey again. Nothing is as certain as their future support.
All of them tremble at the thought of losing an election. To win their own election in the fall, all the Republicons in the House and the one-third of the Senators running this year will, before long, endorse the Trump. They do not dare otherwise. They look at the happy throbbing faces of Trump's thousands of supporters at his rallies, and they don't want to risk losing those votes. As long as Trump commands a noticeable following, any Republicon seeking re-election this fall will avow their support of him—in order to enlist the votes of his supporters. What they think of the Trump and his so-called policies is immaterial and irrelevant.
Political cowards all, they'll line up and march with the Trumpet.
WE'RE ALL BROTHERS, AND WE'RE ONLY PASSIN' THROUGH
Sometimes happy, sometimes blue,
But I'm so glad I ran into you---
Tell the people that you saw me, passin' through
Darwyne Cooke, 1962 - 2016
The news arrived via his blog on Saturday, May 14. "We regret to inform you that Darwyn lost his battle with [lung] cancer early this morning at 1:30am ET. We read all of your messages of support to him throughout the day yesterday. He was filled with your love and surrounded by friends and family at his home in Florida."
On Friday, Cooke's wife, Marsha, announced he was receiving palliative care "following a bout with aggressive cancer." "Palliative care" is end-of-life care, intended to make the last days or hours of a person's life bearable.
The Web was immediately crawling with encomiums to his skill—his genius—as a storytelling comic book cartoonist. And most of those outpourings including testimonies to his humanity—his modesty and sense of humor and regard for others.
I didn't know him, but I knew his work. And admired it. He was a gifted comics storyteller, better than most. And at the time he first emerged, he astonished with the simplicity and expressiveness of his visuals. I'll miss his work. He's gone too soon. He was only 53.
I met him once, sort of. Years ago, at the beginning of his fame, he passed by my table in Artists Alley at the ChicagoCon and thanked me for some complimentary things I'd written about his work. Nice. Not everyone does that.
COOKE WAS BORN in Toronto on November 16, 1962. At nytimes.com, George Gene Gustines writes: "He discovered comics as a child but did not become passionate about them until his teenage years, when he bought an issue of Spider-Man drawn by John Romita. After a year at George Brown College in Toronto (he was expelled), Cooke worked as an art director for several magazines there before establishing his own design studio."
In about 1985, he submitted to DC Comics a 5-page crime story without dialogue. It was published, but Cooke decided that comic book work was an impractical career for him: "The economics of the business — he was paid $35 per page and produced one page per week — would not make it feasible."
He went back to his design studio. Then "in 1996, he learned that Warner Bros was seeking storyboard artists for its animated Batman and Superman series. His successful pitch included 14 pages that would be published in 2000 as Batman: Ego. He began working with Bruce Timm on "Batman: The Animated Series." Says Meredith Woerner at latimes.com: "The success of the tv show, celebrated for its artistic style and noir-tinged storylines, would open doors for Cooke at DC."
Cooke's pitchbook, unveiled as the graphic novel Batman: Ego in 2000, marked his first comic work in 15 years. In 2001, Cooke revamped Catwoman with writer Ed Brubaker to revitalize the Batman villain. Said Brubaker, quoted by Gustines: "I had been looking at all the previous runs of Catwoman, and I was horrified by how sexist all the art was." Cooke's revamp gave her more modest proportions, clad her in head-to-toe leather and costumed her in an aviator mask with cat ears, goggles and a whip that doubled as a belt.
"He made her classy and sexy," Brubaker told Gustines. The look of the character is still used today, including in the tv series "Gotham."
Cooke continued to work for DC, reports ICv2, and also spent some time with Will Eisner's Spirit character, drawing a Batman/The Spirit crossover (written by Jeph Loeb) and The Spirit series. He also wrote and drew the celebrated DC: The New Frontier and Solo, an anthology project that landed Cooke an Eisner for "Best Single Issue" (No.5).
But not all of Cooke's comic contributions came in the form of tights and a cape, notes Woerner. "Somehow the artist swayed novelist Donald E. Westlake (pen name, Richard Stark) into granting the rights for him to translate the 1962 crime novel The Hunter into the 2009 graphic novel Richard Stark's Parker: The Hunter for IDW. Scott Dunbier and Cooke's blue-hued, noir novel was dubbed a stroke of genius by many, including director Guillermo del Toro who wrote this online after the news of Cooke's death broke: 'Everybody remembers Darwin Cooke for his DC work. I remember him for adoption the Parker books with bravado and love.'"
Cooke adapted to graphic novel format three more Westlake/Stark Parker books— The Outfit, The Score, and Slayground—for which he won a number of Eisner awards. My admiring review of The Hunter appears in Opus 248.
Most recently, Cooke drew Gilbert Hernandez's The Twilight Children. The story of their collaboration, which I rehearse in a review in Opus 345, reveals much about Cooke's mastery of the medium.
BRIAN FIES AT HIS BLOGSPOT does the best job of analyzing Cooke's particular genius (in italics)—:
Cooke came to comics from animation, and it shows. Animation is all about economy: draw nothing but the lines you absolutely must, because you'll be drawing them another 10,000 times. Character designs are (often) based on simple geometric shapes that are easy to turn in space as the character moves. Clean lines, solid blacks. Not a lot of fussing around. Cooke built on his animation roots and transcended them. His style is often called "retro," and I'm sure some of that was due to Cooke looking back at the Old Masters of the 1930s, '40s and '50s, liking what he saw, and incorporating some of their look and feel. But I'll bet a lot of it involved Cooke facing the same storytelling problems they did and arriving at similar solutions on his own. Because while Cooke does evoke the past, nobody in any decade drew like he did.
Describing two of the many approaches to cartooning, Fies talks about Illustrators and Essentialists. Illustrators' work might be called "realistic," but, Fies says, "there's nothing really realistic about it. It's romantic, heroic, detailed, dynamic. Classical. This is the kind of art most people think of when they think 'comic books.'"
For Essentialists, Fies goes on—:
The idea is that comics shouldn't necessarily try to mimic reality but instead embrace their built-in comic-ness. The ideal comic is one that distills reality to its essence, omitting anything that doesn't matter. Simplify, polish, pare. This approach is common among some types of comics— Charlie Brown's face is a masterpiece of minimalism— but unusual in superhero comics. Cooke stood out because he was an Essentialist in an industry filled with Illustrators.
Then Fies offers an example (which we post hereabouts): On the left, Batman by Neal Adams; on the right, Batman by Darwyn Cooke.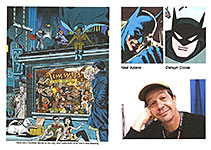 Adams drew hundreds of lines defining the contours and expression of Batman's face. Cooke drew two, plus two white triangles for eyes. You couldn't draw much less than that, yet it's still instantly recognizable as Batman.
Fies finishes by quoting Cooke about the current state of comic book stories (again, in italics, from a WonderCon panel in 2015)—:
If we're talking about mainstream comics, I think there have been a lot of real tactical errors made in this century. I can't really read superhero comics anymore because they're not about superheroes. They've become so dark and violent and sexualized. I think it's a real wrong turn. I don't know how a company like Warner Bros or Disney is able to rationalize characters raping and murdering and taking drugs and swearing and carrying on the way they do, and those same characters are on sheet sets for 5-year-olds, and pajamas and cartoons ...
I think the bravest and smartest thing one of these companies could do would be to scrap everything they're doing and bring in creative people who would have the talent and were willing to put in the effort it takes to write an all-ages universe that an adult or a child could enjoy. If either one of these companies were smart enough to do that, I think they could take huge strides for the industry.
"Cooke was a great talent," Fies finishes, "— maybe even a necessary one. I'm sorry we lost him but I'm glad we had him at all."
DC COMICS issued a statement: "Darwyn was one of our medium's true innovators. A gifted artist and master storyteller, Darwyn began his career as a magazine art director and graphic designer. After answering an ad placed by Warner Bros animator Bruce Timm, Darwyn entered the world of animation, where he contributed to such shows as "Batman: The Animated Series," "Superman: The Animated Series" and "Men In Black: The Series" [which he directed]. From there, Darwyn made the leap into print comics, where his character design was never more effective, enduring or entrancing. It was the look and honest simplicity of his characters for which Cooke became famous—as first seen in his breakout work Batman: Ego published over 15 years ago today and then followed up by his popular and critically acclaimed work on Catwoman: Selina's Big Score and The Spirit. Even after 15 years, Darwyn's design for Catwoman is still the one used today in both comics and inspired the look for Catwoman on the hit TV show, Gotham."
Meredith Woerner rings down the curtain for us: "The majority of Cooke's work was permeated with boldness. His style and taste would sound like a golden trumpet through the DC Comics catalog. It was loud, daring and it heralded hope.
"When asked to elaborate on why he was searching for hope back in the 2012 interview, Cooke responded, 'Without getting too far out there, it all speaks right to the heart of our mortality. You start out drawing with crayons as a kid and if you look at Picasso's work when he was 9 and when he was 90, he's basically come full circle. And then there's all that stuff in between. When you're 20, you've basically come to believe that everything you've been told as a kid is a lie and you're looking for material to support that. Then you start to grow out of that and you realize that's not the case and that the dark things are just part of the picture.'
"In a medium that is currently overburdened with darkness, Cooke's contributions to the comic world shone like a confident beam of wonder."
Now here's a gallery of Cooke's broth, an ever-so-short sampling of his work.
Mell Lazarus, 1927-2016
A press release from the National Cartoonists Society arrived just as we were going to post with this opus. Mell loved NCS, and I suppose he's a little put-out that he died so close to the annual meeting: if he'd lasted another week, he could have made the Reuben dinner this coming weekend in Memphis. I knew Mell a little; we had some happy, humorous exchanges, and I spent a few hours with him a couple years ago, interviewing him for a video I'm working on with Tom Tanquary. Given a little time, I could probably come up with a joyful anecdote or two. But I haven't time to re-write any of the release or add to it. Here it is, verbatim except for a few facts I added from other sources—:
We are very sad to report the passing on May 24 of Reuben Award Winner, Past National Cartoonists Society President (two terms, 1989-1993) and Medal of Honor recipient Mell Lazarus. Mell joined the NCS as soon as Miss Peach was launched in February 1957. In October 1970, Momma debuted, and for 32 years Mell wrote and drew both strips—over 30,000 of them altogether, he reckoned. Up until a few weeks ago Mell was writing and drawing Momma dailies and Sundays with the help of his wife, the wonderful Sally Mitchell, who Mell met through her father, renowned comic strip gag writer Ed Mitchell. Among those at their wedding were Bil Keane and Stan Lee.
The eponymous heroine of Momma was based upon Mell's own mother, Francis "Frankie" Lazarus. He based the character of her son, Francis, loosely on himself.
Mell joined Creators Syndicate in 1988, as soon as his contract with United Features let him take Momma and Miss Peach there. Said Rick Newcombe, founder and CEO of Creators: "He was an adviser to me from the beginning. I loved Mell. He was so talented, so smart and so much fun."
Mell began his career editing comic books for Al Capp at Toby Press. His time with Capp inspired his first novel, The Boss Is Crazy, Too published in 1963. Joseph Heller, author of Catch 22 (whom Mell met through Walt Kelly) wrote this blurb for the book – "Mell Lazarus is the second-funniest writer in America and has written the second-funniest novel." Mell wrote a second novel, Neighborhood Watch, three off-Broadway plays, and several television specials based on Miss Peach. At the time of his death Mell was working on another novel and a screenplay.
"Writing novels doesn't interfere with doing the strips," he said, "—they use different creative muscles."
The time I met Mell, he learned I had been an English teacher, so he asked me a question that came out of his novel-writing. It was about quotation marks. At the end of a quotation sentence, he wanted to know, do you put the period inside the quotation mark—or outside?
"Inside," I said. "The punctuation mark—the period—is embraced by the quotation marks."
He smiled. Mell was always smiling. Even when he was criticizing my Milton Caniff biography—half joking that it was too long—he smiled.
As President of NCS, Mell helped create regional chapters, and he was instrumental in moving the annual Reuben weekend out of New York and to other cities. The years he was President included two Reuben weekends on cruise ships that people are still talking about.
Parties at Mell's house are legendary. One resulted in the piano in his living room being covered in cartoons. "We had a bunch of drunken cartoonists in the house one night and they just destroyed a perfectly good French provincial baby grand piano," Mell said in an interview. Among those who have drawn on the piano – Charles Schulz, Cathy Guisewite, Garry Trudeau, Don Martin, Arnold Roth, Sergio Arragones, and Matt Groening to name a few.
Mell was beloved by all at the NCS. He was funny, charming, and full of stories, many we cannot repeat here. Talk to any NCS member who spent time with Mell, and they will surely have a funny Mell Lazarus story.
"Here are a few facts about Mell that he told me over the years," says friend Tom Gammill, "He was a high school drop-out who later joined Mensa. For a time he lived in Palm Springs down the street from Milton Caniff. He was in Times Square on VJ Day and told me 'everybody was banging that day.' And he loved the NCS. In an interview Mell said, 'We have the best club in the world. They're all terrific guys and girls. It's a body of people like no other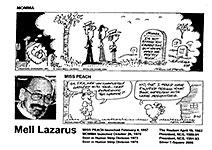 industry. They all become relatives very fast."
Mell is survived by his wife Sally, three daughters Marjorie, Susan and Cathy, six grandchildren and two great-grandchildren.
We will all be toasting Mell at the Reuben Awards this year. If you have a funny Mell Lazarus story we can share on this website, please send it to the editors.
RCH—Here's the last of Mell's autobiographical entries in the NCS Membership Album. It leaves out a lot, but he included the important cartooning stuff—dates and images.
CAMPAIGN FINANCE REFORM
On a recent "60 Minutes" broadcast, we learned that raising money for one's campaign is a primary duty for members of Congress. They all spend something like 30 hours a week dialing for dollars. The people's business—the stuff Congress is supposed to be doing—doesn't get as much attention: Congress is officially in session only three days a week; the rest of the time, our "representatives" are journeying back and forth to their home towns and schmoozing there with voters. Reform is clearly needed, and James Carville and Paul Begala offer a sterling proposition—:
NOT ONE DIME
A Radical Plan to Abramoff-Proof Politics
By James Carville and Paul Begala, 1997
CUT OFF THE INCUMBENTS
The biggest problem with the status quo of campaign fund raising is that it puts good people in a bad system. Nearly every member of the House and Senate, whether sinner or saint, spends a spectacular amount of time raising money. The very process of raising money distorts the politician's perspective. You try spending six hours a day, six days a week in a cramped room calling people and sucking up to them for money. If the only people you ever talk to are people with the wherewithal to contribute thousands of dollars to your campaign, that is bound to affect the way you see the world. You don't hear much about the minimum wage from folks who can write a check for $2,000. Nor do you spend a lot of time calling people who don't have health insurance or who can't afford their prescription drugs.
We propose fundamentally and radically reforming the way that campaigns are financed. Our proposal combines the fondest dream of liberal reformers—public financing of campaigns—with the fondest dream of conservative and libertarian reformers—no restrictions at all on donations from American citizens. The goal is to put a little distance between power and money. Federal office holders have power but need money. Special interests have money but need power. When the two come together, trading money for power, bad things happen. Here's how our plan would work:
First, we raise congressional pay big time. Pay 'em what we pay the president: $400,000. That's a huge increase from the $162,000 congressmen and senators currently make. Paul, especially, has been a critic of congressional pay increases. But he is willing to more than double politicians' pay in order to get some of the corrupt campaign money out of the system. You see, the pay raise comes with a catch. In return, we get a simple piece of legislation that says members of Congress cannot take anything of value from anyone other than a family member. No lunches, no taxi rides. No charter flights. No golf games. No ski trips. No nothing.
And when it is campaign time, incumbents would be under a complete ban on raising money. You read that right. No president or member of Congress could accept a single red cent from individuals, corporations, or special interests. Period.
Challengers, on the other hand, would be allowed to raise money in any amount from any individual American citizen or political action committee. No limits, just as the free-market conservatives have always wanted. But here is the catch: Within 24 hours of receiving a contribution, the challenger would have to report it electronically to the Federal Election Commission, which would post it for the public to see. That way, if you want to accept a million dollars from, say, Paris Hilton, go for it. But be prepared for voters and reporters to ask what you promised her in exchange.
The day after you disclose Paris's million bucks, the U.S. Treasury would credit the incumbent's campaign account with a comparable sum—say 80 percent of the contribution to the challenger to take into account the cost of all the canapés and Chardonnay the challenger had to buy to raise his funds as well as the incumbent's advantage. So if Paris gave the challenger a mill, the Treasury would wire $800,000 to the incumbent. It couldn't be much simpler. You might even call it the flat tax of campaign laws.
The penalties for violation would be swift. If an incumbent accepts so much as a postage stamp, he loses his seat. If a challenger doesn't report contributions, he loses his shot. If you cheat, you are out on your ass.
What if the incumbent wants to spend her own money? After all, the Supreme Court has made it clear that the Constitution does not allow restrictions on how much money a candidate—challenger or incumbent—can spend. No problem. Uncle Sam would write the challenger a check for an equivalent amount. Unlike today, no one would have the upper hand simply because they were loaded.
What if a sitting congressman wants to run for senator, or a senator wants to run for president? Would he be allowed to raise funds? Sure. He'd just have to do what Bob Dole eventually did—resign his Senate seat and hit the campaign trail like a regular citizen. If you want to run for higher office, you have to get off your current pedestal first.
The idea is to fundamentally change the role and responsibilities of incumbency. Under our plan, incumbents have to live by Thomas Jefferson's maxim: "When a man assumes a public trust, he should consider himself as public property." (We know, we know, the language is archaically sexist, but we are not going to edit Mr. Jefferson.) Once you assume an elected office, you achieve a new status. You are no longer a campaigner. You are a public servant. As such you should not be in the fundraising business. You should be in the exclusive business of making policy.
Today more than 90 percent of all senators and representatives are re-elected. Under current law, incumbents almost always have a huge money advantage. Our wager is that a majority of incumbents would be willing to give up that advantage in exchange for higher pay and no time spent fundraising. Think about it. Not only would they be bringing in a much larger salary, they'd also never have to kiss up to another rich donor. You should never underestimate how much these folks hate spending half their time—or more—sniveling for money. Nor should you underestimate how damaging and distorting it is to require federal office holders to spend that time raising money. No wonder they vote on so much legislation without ever reading it.
And what about the public? We haven't seen the final data for 2004, but in all the federal races in 2000—congressional, senatorial, and presidential—candidates spent a total of $1.6 billion. Half of that, which is what taxpayers would have had to shell out under our plan, would be a lot of money: $800 million. But that is nothing compared to what the current system costs us. Those special interests who pour money into politicians' campaigns get something in return. Actually, they get a lot in return. Special tax breaks, special loopholes, special funding of pork-barrel projects, maybe even a no-bid contract or two. The energy bill passed in 2005 handed $2 billion in subsidies to the ethanol industry—you know, the fine folks at Archer Daniels Midland. It gave the makers of the controversial fuel additive MTBE another $2 billion. And another $8.1 billion in tax breaks for oil, coal, and electric utilities. In all, that one bill cost you $80.8 billion.
All of a sudden $800 million—one percent of the cost of one bill—doesn't seem like very much money, does it?
We know our plan is not perfect. Some will argue over whether the plan favors incumbents or challengers. Some will argue whether it favors Democrats or Republicans. Some will argue whether salary increases for politicians are justified.
We have our doubts as well, but if more money from the taxpayers makes it easier for politicians to agree to no money from special interests, it's a good deal.
At its core, this plan does something no one will argue with: It forever divorces the corrosive—and sometimes corrupting—effect of campaign cash from members of Congress and presidents. When American citizens look at their Congress and White House, they will say what Alexander Hamilton said to a visitor to the newly-constructed U.S. Capitol: "Here, Sir, the people govern."
This article is adapted from Take It Back: Our Party, Our Country, Our Future by James Carville and Paul Begala.
To find out about Harv's books, click here.