Opus 349 (February 29, 2016). Top stories this time include cartooning at The New Yorker and the first no-nudes (and NO CARTOONS!) issue of Playboy. We also report on— the discovery of a 1940s anti-Wertham comic book, CRNI's protest of Atena's incarceration, the first editoonist to win the Herblock Prize with only animated cartoons, a self-declared lesbian character in a comic strip, and a criticism of the comic book industry for not learning from its past mistakes. We also review Will Eisner's PS Magazine; Lost and Found: Griffith's Comics 1969-2003; KREMOS: The Lost Art of Niso Ramponi; and graphic novels Trashed by Derf Backderf; Tex the Lonesome Rider by Joe Kubert & Claudio Nizzi; Fist Stick Knife Gun by Geoffrey Canada & Jamar Nicholas; Invisible Ink: My Mother's Secret Love Affair with a Famous Cartoonist by Bill Griffith—plus, we take a look at some of the best editorial cartoons of the month and report on how Donalt Rump blew the biggest deal of his life.
You'll notices that this is our 349th outing. Next time—350!!! And we're planning a 350th fling in celebration—a gallery of some awful specimens of the Happy Harv's sordid career as a girlie cartoonist. You won't want to miss it.
And now, here's what's here, in order, by department—:
NOUS R US
CRNI Protests Atena's Incarceration
Black History Month: Dwayne McDuffie Remembered
Fiore's Animated Editoons Win Herblock Prize
Silberkleit's Comics Against Violencse
Deadpool Movie Reviewed
Anti-Wertham Comic Book Discovered
New Scholarly Association Forming
The Mocking Bird and the Penguin
Comics Industry Not Learning from Its Mistakes
Wahoo Terminal Delightfully Weird
Odds & Addena
Matt Bors Moves The Nib
Image Comics Launches New Magazine
Dilbert's Uber Substituted For
Egyptian Caricaturist Jailed Briefly
Expand Credits for Wonder Woman
FUNNYBOOK FAN FARE
The State of the Art?
EDITOONERY
Sampling the Month's Artistry
A PICTURE OF THE NEW NON-NUDE PLAYBOY
With No Cartoons Either
CARTOONING AT THE NEW YORKER
It's Getting Better
Short Review of 90 Years of New Yorker Cartoons
GOSSIP & GARRULITIES
How Donald Trump Blew the Biggest Deal of His Life
Rancid Raves Gallery
NEWSPAPER COMICS PAGE VIGIL
More Taboos Discarded
Pearls On Contemporary Politics
Only In the Comics
Greg Evans Makes History Again—This Time, with Lesbian Thesbian
CIVILIZATION'S LAST OUTPOST
National Rambo Association Urges Buying a Second Gun
BOOK MARQUEE
Short Reviews Of—:
Will Eisner's PS Magazine
Lost and Found: Griffith's Comics 1969-2003
KREMOS: The Lost Art of Niso Ramponi
The Incredible Herbe Trimbe
Patience, Clowes' New Graphic Novel
The Untold History of Black Comic Books
Lots of Scholarly Books
LONG FORM PAGINATED CARTOON STRIPS
Reviews of Graphic Novels—:
Trashed by Derf Backderf
Tex the Lonesome Rider by Joe Kubert & Claudio Nizzi
Fist Stick Knife Gun by Geoffrey Canada & Jamar Nicholas
Invisible Ink: My Mother's Secret Love Affair with a Famous Cartoonist by Bill Griffith
ONWARD, THE SPREDING PUNDITRY
Your Local Gas Bag Expectorates
PASSIN' THROUGH
John Caldwell
QUOTE OF THE MONTH
If Not of A Lifetime
"Goddamn it, you've got to be kind."—Kurt Vonnegut
Our Motto: It takes all kinds. Live and let live.
Wear glasses if you need 'em.
But it's hard to live by this axiom in the Age of Tea Baggers,
so we've added another motto:.
Seven days without comics makes one weak.
(You can't have too many mottos.)
And our customary reminder: don't forget to activate the "Bathroom Button" by clicking on the "print friendly version" so you can print off a copy of just this installment for reading later, at your leisure while enthroned. Without further adieu, then, here we go—:
NOUS R US
Some of All the News That Gives Us Fits
CARTOONIST RIGHTS NETWORK MUSTERS SUPPORT FOR ATENA
Forty NGOs and more than 75 international cartoonists call for leniency for Atena Faraghdani, the Iranian cartoonist currently in prison for drawing a cartoon critical of the country's parliament. The call was issued in a letter to Iranian President Hassan Rouhani from Robert Russell, Executive Director of the Cartoonist Rights Network International. Here is the letter—:
Your Excellency—
Our organization, along with the undersigned organizations and individuals, are happy to learn that as a result of the new chapter of relations with the international community, your government was able to approve the release of a number of prisoners of conscience, including the Washington Post reporter Jason Rezaian.
Building on this very positive action, we ask your excellency to start a conversation with the Judiciary to free cartoonist Atena Faraghdani who is now in prison for publishing on the Internet a symbolic cartoon. Atena, sentenced to 12 years 9 months in prison, is awaiting final verdict for the court of appeal.
The Islamic Republic of Iran is a party to various Articles within UN International Human Rights Conventions, including Article 19 of the UN Universal Declaration of Human Rights, "The right to freedom of opinion and expression," and Articles 19, 21 and 22 of the UN International Covenant on Civil and Political Rights, mandating "The right to express an opinion and freedom of expression" and "The right to freedom of association."
Your excellency, you have pledged "support for the Freedom of Speech in Iran's newspapers, magazines and websites," and Foreign Minister Zarif also noted during a tv interview that "We do not jail people for their opinions." Many Human Rights organizations and the UN believe that arresting, charging and sentencing Atena Farghadani for such activities contravenes the above-mentioned rights. It is also of concern to the international community that her continued imprisonment contravenes the spirit of a new era of international co-operation with Iran.
The United Nations, and other World Human Rights organizations, consider Atena Farghadani to be a prisoner of conscience, presently held for the peaceful exercise of her rights to freedom of expression and association. Being a party to the UN's International Covenant on Civil and Political Rights, we would hope you could see this too.
We hope that you are able to convince the Judiciary to reconsider her sentence on appeal, and set aside her conviction and sentence so allowing her to immediately return to her family.
The world looks on — hoping Iran will, in good faith, free Atena Farghadani in this era of international co-operation — and in so doing prove that Iran is indeed a supporter of the right to freedom of opinion and expression, along with other internationally accepted human rights, a vital condition and component within this new era of international co-operation that we are hopefully heading towards.
With best regards,
Dr. Robert Russell
Executive Director, Cartoonists Rights Network International
Russell's signature is followed by a list of NGOs and more than 75 international "Friends of Cartoonists" who join in the CRNI protest, beginning with Jean Schulz, Charles M. Schulz Museum, USA.
BLACK HISTORY MONTH
By Victoria Johnson, comicsalliance.com
After years of working in a comic book industry managed by a majority of white editors and publishers, and dominated by white creators, Dwayne McDuffie decided to start his own company, Milestone Media. Along with his co-founders, Denys Cowan, Michael Davis, and Derek T. Dingle, McDuffie created unique and memorable characters of color who remain cherished to this day.
February 20th marks the anniversary of McDuffie's birth in 1962, and February 21st unfortunately marks the anniversary of his untimely passing in 2011. The proximity of those dates serves to illustrate an important fact; it's impossible to look back on the life of Dwayne McDuffie without also considering his legacy.
Perhaps McDuffie's most notable co-creation with the other Milestone founders was Static, a character who debuted in Static No.1 in 1993 and would later star in his own animated TV series "Static Shock" on The WB from 2000-2004, becoming a generation's favorite black superhero.
Before launching Milestone Media, McDuffie was an assistant editor at Marvel, where he co-created the short-lived cult classic series Damage Control, about clean-up crews who repair the damage done by superhero fights. The comic will serve as the basis for an upcoming tv series on ABC.
Through it all, he was an advocate for diversity in comics and animation and a champion for representation at a time when few others would take up the cause. He also inspired other black creators to pursue their dreams in the industry.
On Milestone's former website, McDuffie explained his vision for characters of color as it related to Milestone's mission (in italics):
If you do a black character or a female character or an Asian character, then they aren't just that character. They represent that race or that sex, and they can't be interesting because everything they do has to represent an entire block of people. You know, Superman isn't all white people and neither is Lex Luthor. We knew we had to present a range of characters within each ethnic group, which means that we couldn't do just one book. We had to do a series of books and we had to present a view of the world that's wider than the world we've seen before.
McDuffie's legacy lives on in the work of young black creators telling their own stories and creating their own characters, in the resurgence of interest in black superheroes, and in the annual award that bears his name, the Dwayne McDuffie Award for Diversity in Comics. Though Dwayne McDuffie is gone, his vision and his influence continue to make the comic industry a better place.
ANIMATED EDITOONER WINS HERBLOCK PRIZE
From the Press Release
Editorial cartoonist Mark Fiore has been named the winner of the 2016 Herblock Prize for editorial cartooning. Fiore is the first to win the Prize with all animated cartoon entries.
Fiore, who the Wall Street Journal has called "the undisputed guru of the form," creates animated political cartoons in San Francisco, where his work has been featured on the San Francisco Chronicle's web site, SFGate.com, for over ten years. His work has also appeared on Newsweek.com, Slate.com, CBSNews.com, MotherJones.com and NPR's web site. Fiore's political animation has been featured on CNN, Frontline, BillMoyers.com, Salon.com and cable and broadcast outlets across the globe.
Beginning his professional life by drawing traditional political cartoons for newspapers, Fiore's work appeared in publications ranging from the Washington Post to the Los Angeles Times. In the late 1990s, he began to experiment with animating political cartoons and, after a short stint at the San Jose Mercury News as their staff cartoonist, Fiore devoted all his energies to animation.
A past president of the Association of American Editorial Cartoonists, Fiore was awarded the Pulitzer Prize for political cartooning in 2010, a Robert F. Kennedy Journalism Award in 2004 and has twice received an Online Journalism Award for commentary from the Online News Association (2002, 2008). Fiore has received two awards for his work in new media from the National Cartoonists Society (2001, 2002), and in 2006 received the James Madison Freedom of Information Award from the Society of Professional Journalists.
The Herblock Prize is awarded annually by the Herb Block Foundation for "distinguished examples of editorial cartooning that exemplify the courageous independent standard set by Herblock." The winner receives a $15,000 after-tax cash prize and a sterling silver Tiffany trophy. Fiore will receive the Prize on May 24th in a ceremony held at the Library of Congress. Mark Shields, a nationally known political analyst, columnist and commentator, will deliver the annual Herblock Lecture at the awards ceremony.
Judges for this year's contest were Kevin Kallaugher (KAL), editorial cartoonist for The Baltimore Sun and The Economist, winner of the 2015 Herblock Prize; Michael Rhode, archivist and author, commentator on comics for the Washington City Paper and creator of the ComicsDC blog; and Peter Kuper, alternative cartoonist and illustrator best known for his autobiographical, political, and social observations who is also a visiting professor at Harvard University.
Judge Kallaugher commented: "Mark Fiore's entry contained an engaging and powerful collection of visual commentaries. Fiore demonstrated a great use of parody, adept writing, great visualizations and solid journalism to deliver thought provoking editorials. Like a good Herblock cartoon, Mark's work displayed a consistent and determined passion to fight against societies' ills and absurdities. It is his skilled and masterful cartoon craftsmanship steeped with determined political convictions that make Fiore's animations worthy of the Herblock Prize."
Kuper added: "From the numerous high quality entries to this year's Herb Block Foundation award, Mark Fiore's animation entry rose to the top. Not because it was animated, but rather because he demonstrated a consistently strong handle on his subject matter with an ability to convey complex topics with great humor, rage and irony. Fiore produced a powerful body of work that addresses a range of current events and brilliantly serves them up with a smile and a kick in the gut, heart, and other body parts. His work honors the legacy of Herblock and expands the form."
This year's finalist is Ruben Bolling, pen name for Ken Fisher. He is the author of the weekly comic strip Tom the Dancing Bug and will receive a $5,000 after-tax cash prize. Judge Kuper stated: "For decades Ruben Bolling has consistently produced full page comics that find new angles of attack on familiar subjects. With subtlety, yet tremendous humor, he constructs each comic without any wasted space to build to surprising conclusions. Many of his strips take on several topics at the same time and over the years he has honed his art to deliver these ideas with great verve."
The Herb Block Foundation seeks to further the recognition and support of editorial cartooning: www.HerblockFoundation.org.
Fitnoot. As for me, I'm delighted at the quality of the judges' comments. Each of them speaks of the winners' work in ways distinct to that cartoonist's effort. The comments are precise and descriptive and directly pertinent to each individual's style rather than the usual vacuous vaporizing that could apply to any visual phenomenon.
COMICS AGAINST VIOLENCE
From the press release—:
Nancy Silberkleit, co-CEO and co-Publisher of Archie Comics, is using the power of comics to open a dialogue on gun violence. The recently published See Something, Say Something is an eight-page comic book that tells the story of a teen who is new at a school and is shunned and bullied by a group of students. He struggles with the turmoil and cannot find inner peace, which causes him to bring disharmony to the school. He tells another student of his plan to get even, which involves violence to others.
"I began working on this project at the beginning of this year," said Silberkleit, whose Rise Above Social Issues Foundation has published comics on bullying and self-esteem. "After the horrific shooting in a church in South Carolina, United States last winter, I put the project on fast-track. Never could I have thought I would be suggesting that our educators present the unthinkable issue of 'gun violence' for classroom instruction. The story underscores the need to take action to bring about change, in this case to educate young people about dealing with anger and the need to say something if you see or hear something that could portend a problem."
See Something, Say Something was scripted by noted U.S. educational consultant and scriptwriter Peter Gutierrez, with pencil illustrations by Loyiso Mkize from Cape Town, South Africa. The story has a five page teaching guide, free for teachers who purchase the digital comic.
Silberkleit, a former teacher, said the new book is designed to provide teachers with a platform to spark discussion among young people on the issue of keeping their educational environment safe.
"Like all of us, teens are looking for ways to explain and understand episodes of mass violence that too often capture the headlines," she said. "The text and rich graphics of the comic create a stage for students to think creatively, internalize feelings and share them through open discussions in a classroom setting."
Copies of See Something, Say Something are available digitally for $1.99. To order contact Nancy Silberkleit at riseabovesocialissues@gmail.com or call (+1) 914 450 9880.
DEADPOOL CASHES IN—BIG TIME
The "extremely R-rated" "Deadpool" broke box office records over Valentine's Day weekend, taking in about $135 million at North American theaters—almost twice the revenue Hollywood had expected, according to Brooks Barnes at the New York Times. It was, Barnes said, "a triumph of audacious marketing, risky filmmaking and cost consciousness — at an old-line movie studio, no less — 20th Century Fox's "Deadpool," starring Ryan Reynolds in a career-defining role (at last)."
Comedic, violent and sexually charged, "the film ended up generating more mentions on Twitter than any movie other than 'Star Wars' over the past few months — and significantly more than 'Guardians of the Galaxy' and 'Avengers: Age of Ultron' to boot," e-mailed Shawn Robbins, a senior analyst at BoxOffice.com. A sharp-edged promotional campaign succeeded in attracting not just the built-in in comic-book audience, but also what has become Hollywood's hardest-to-reach audience: young men. Fox said that 60 percent of the audience was male.
"Deadpool" could do for Reynolds what "Iron Man" did for a struggling Robert Downey Jr. in 2008. Until now, Reynolds has struggled to find his footing in Hollywood. He notably suffered a misfire in 2009 by playing a sanitized version of Deadpool in "X-Men Origins: Wolverine." Comic book fans had a fit.
And with seeming justification: unlike other costumed superheroes, Deadpool, who made his funnybook debut in 1991, traffics in vulgarity, as Alan Zilberman noted at Washington City Paper—" dirty jokes, genuine bloodlust, and a cheeky breaking of the fourth wall. He is rebellious like a preteen boy who just discovered The Jerky Boys; he celebrates profanity for its own sake and rarely breaks from a formula. The new film 'Deadpool' continues in that tradition. It contains everything that made the character a cult hit, and yet it doesn't use that freedom to accomplish anything interesting or genuinely subversive.
"Deadpool is funniest," Zilberman continues, "when he upends traditional superhero masculinity. There's a throwaway gag when his tiny hand rejuvenates, and another as he takes a dildo up the ass. The vast majority of 'Deadpool's' humor is adolescent to a fault. There is nothing wrong with poop jokes—indeed, poop is often the funniest bodily excretion—except Deadpool treats them as asides to material that's already too thin.
"Unlike other films from Marvel, 'Deadpool' feels like a labor of love. Reynolds, director Tim Miller, and the others clearly have an affinity for the character, and their energy creates the ironic feeling that they should have had gone further. The ubiquity of Marvel and superhero films means that they deserve to be knocked down a peg or two."
Alan Scherstuhl at laweekly.com doesn't quite agree: "[The title character] is a sort of shock-jock Spider-Man, with the Punisher's arsenal, Wolverine's healing powers and the dialogue of one of those open-mic comedy dudes who believes it's some kind of courageous truth-telling to point out that men like blowjobs. Onscreen, he can't go a minute without a one-liner about jerking off, or calling bad guys 'cock thistle' or 'wheezing bag of dick tips.' In a tense moment in his pre-costume life, talking with his love (Morena Baccarin) about how he'll deal with the cancer that's killing him, he spouts with some wistfulness, 'If I had nickel for every time I spanked it to Bernadette Peters...'
"And between the patter," Scherstuhl goes on, "it's splatter, some of it memorable: Deadpool pinballs the severed head of Mook A to take out Mook B, and he cheerily loses the use of every limb, Monty Python and the Holy Grail-style, fighting the immovable Colossus (Stefan Kapicic), on loan from the X-Men movies. It's all too much by design, and it's also by design that carping about it makes you feel like a killjoy. Go ahead and go nuts if your life has a void in it that can only be filled by a superhero who gets an eyeful of Gina Carano and immediately declares that she must have a 'wang'— and later compares her to Rosie O'Donnell. You just can't pretend it's radical, on-the-edge comedy when the hero picks the same joke targets as Donald Trump."
Ryan Reynolds in tights, "plays Deadpool like the man suffers from an aphasia, like he just can't stop. He expectorates three jokes in a row, in one shot of one scene, and never looks like he cares whether any hit."
AMID ALL THE RIPPLES IN THE DEADPOOL, Entertainment Weekly conducted a faux interview with the character; excerpts—:
EW: Mr. Deadpool, you're often referred to as an anti-hero. How do you feel about that label?
Deadpool: Labels are for jars. I keep my enemies' organs in mine.
EW: You've been nicknamed 'The Merc with a Mouth.' Is your mouth your best feature? If not, what is?
Deadpool: Curiously, my a-hole has the brighter smile. And more teeth.
EW: The film received an R rating for 'strong violence and language throughout, sexual content, and graphic nudity.' What's the most offensive thing about it?
Deadpool: "There is absolutely nothing offensive about this movie. In the future, it will be used in kindergartens to shape tiny minds into wholesome soldiers of God.
EW: What historical figure do you most identify with?
Deadpool: Tonya Harding.
The interview was more fun than the comic books. I haven't see the movie, and I probably won't: I didn't like the comic books at all. They're all discontinuous bad jokes with no over-arching plots. If this be the stuff of cults these days, we're lost.
AGED ANTI-WERTHAM COMIC BOOK DISCOVERED
Carol Tilley, the dauntless comics scholar who discovered that Fredric Wertham fudged his research in Seduction of the Innocent, went to the Billy Ireland Cartoon Library & Museum at Ohio State University last fall and unearthed a piece of Wertham-related history that has languished in vaults for seventy years or so: a "satirical, trenchant and silly 27-page comic book, The Uncanny Adventures of (I Hate) Dr. Wertham," produced in the late 1940s by a teenage cartoonist and comic book collector named David Pace Wigransky.
The comic book exists only in its original, pen-and-ink on typing paper form, bound with a piece of string. No copies are known to exist (and none are likely to exist). Said Tilley: "The author bills himself as Sterling South, a play on the writer and critic Sterling North, who helped inaugurate mid-century comics hysteria with a widely circulated and emulated 1940 editorial in the Chicago Daily News. Tucked into a folder with a few bulletins published between the years 1946 and 1948 from the National Cartoonists Society, the comic has languished, seemingly forgotten—it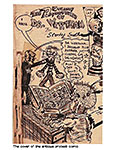 was noted on the finding aid but one has to be looking for it—in the storage of the Billy Ireland Cartoon Library & Museum until I stumbled on it last October during a research visit."
Tilley has written a description of the comic book (accompanied by copies of many of its pages, like the one of the cover posted near here) that rehearses its story (ending with Wertham shooting himself); it can be read at the Billy Ireland Cartoon Library website, cartoons.osu.edu. Once you get there, scroll down to Blog, click on it, and you'll be transported to "Guest Post! Found in the Collection: 'The Uncanny Adventures of (I Hate) Dr. Wertham.'"
NEW SCHOLARLY ASSOCIATION FORMING
The Comics Studies Society, a new professional association for comics researchers and teachers, has launched its inaugural membership drive and is now welcoming members, Charles Hatfield announced in a press release. Members who join now, at http://www.comicssociety.org/members/, can become Founding Members of the association, which promotes the critical study and teaching of comics both within and without the academy.
A learned society open to scholars across the disciplines and from diverse backgrounds, CSS is the first U.S.-based comics studies organization to be supported by members' dues while advocating for professional development, teaching, and the expansion of resources for comics research. Founding memberships are now available at various levels: students, comics professionals, independent scholars, contingent faculty, tenure-line faculty, librarians, curators, and academic administrators. Founding memberships run through 2017; thereafter, dues pay for one year membership at a time. Amounts vary: $25 for students; $30 for independent scholars or contingent faculty; $50 cartoonists/comics professionals; $100 for tenure-line faculty, administrators, librarians, or curators.
A journal will be launched in 2017. Until then, members will receive The Best of Inks Series 1 collection, featuring a selection of the best essays from the pioneering comics studies journal of the early 1990s, edited by Lucy Shelton Caswell and with an all-star cast of collaborators.
The CSS is open to anyone with a serious interest in comics studies, which it defines liberally to include the study and critical analysis of comic strips; comic books, papers, and magazines; graphic novels, albums, and other graphic books; webcomics and other electronic formats; single-panel cartoons, including editorial and gag cartoons; caricature; animation; and other related forms and traditions. All types of sequential art, graphic narrative, and cartooning are relevant to the Society's mission.
THE MOCKING BIRD AND THE PENGUIN
When Harper Lee, famed reclusive author of To Kill a Mockingbird, died last month, cartooner Berkeley Breathed of Bloom County fame rushed out to share with the New York Times copies of four letters he'd received from the author over 14 years, the first arriving in 1994 and the last in 2008. He'd kept the letters out of public view, he said, out of deference to Lee's privacy; but now, with her death, he saw no further need to keep them quiet.
Breathed, who first wrote to Lee in 1972 when he was a high school freshman, told Katie Rogers at the Times that the rural backdrop for his Pulitzer Prize-winning comic strip, Bloom County, was inspired by sleepy Maycomb, Alabama, the setting for To Kill a Mockingbird, and that he had written about a dozen strips that made direct reference to the novel.
His first letter to Lee went unanswered, but in 1994 Breathed tried again, said Rogers. He wrote to Lee's address in New York, asking to make a reference to the book in another one of his comic strips, Outland. ...
His letter was found in one of the piles of envelopes that a neighbor of hers in New York would regularly scoop up and forward to Lee in Alabama. "From the volume of mail I get, you'd think Mockingbird was published last year," Lee wrote back to Breathed, adding, "What has happened, I think, is that Mockingbird is on its second generation of readers."
Said Breathed: "She talked about the book in 1994 as if she was still marveling that it was doing so well."
It developed that Lee was particularly partial to one of Breathed's characters—Opus.
When she heard that Breathed planned to retire Opus, Lee began lobbying, saying that "depriving him of life is murder—a hard word to describe the obliteration of your creation, but Opus is real. He LIVES."
Breathed, Rogers reported, could barely believe what he was reading: "How ironic is that here, she is desperately upset that I'm letting my character die for her when millions around the world, for generations, have been upset that she let her characters end?" he said, referring to Lee's never publishing another book until the contentious release of Go Set a Watchman last year.
She eventually accepted the idea when Breathed sent her a letter with a drawing of Opus. Lee even turned a bit flirtatious: "Maybe I can find it in my heart (not being old and horrible, but young and beautiful) to forgive you," she wrote.
Although Breathed seemed eager to make the letters public, he said that he would not sell them. They will remain in a safe at his home in Santa Barbara, Calif.
"Certainly what she talked about was not terribly intimate," he said. "It was a beautiful, and, I think, tiny little insight into the mind of an artist that so many people love."
COMICS INDUSTRY NOT LEARNING FROM ITS MISTAKES
At the lately concluded ComicsPRO's annual membership meeting, Image Comics publisher Eric Stephenson addressed retailers, newsarama.com reported, "calling out recent trends by publishers and retailers as damaging to the industry."
After rehearsing the history of the industry briefly, he jumped into the 1990s. Excerpts (in italics)—:
Just as it seemed [in the 1990s] that comics were bound for the kind of cultural legitimacy that eluded the art form when mature content was foolishly abandoned with the sudden death of EC Comics in the 1950s, the market gave in to its most craven impulses. The unprecedented level of creativity that ushered in one of comics' most prosperous periods gave way to gimmicks.
There were more comic book stores than ever, and there were more comics, too.
Too many comics, with too many covers. Variant covers. Foil covers. Hologram covers. Embossed covers. Die-cut covers. Gatefold covers. Glow-in-the-dark covers.
Comics were polybagged, comics were commoditized, and comics were hoarded as speculation ran rampant. Comics were shipped late, and sometimes not at all, as publishers of all breeds galloped ever onward, with little regard for their readers and next to no respect for retailers. Heroes died, and heroes were reborn. Titles were canceled, and titles were relaunched and renumbered.
The market expanded.
And then it collapsed.
Stores went out of business.
A textbook example of both short-term thinking and extreme hubris resulted in an almost lethal blow to the Direct Market's distribution system, effectively leaving only Diamond Comics Distributors standing.
More stores went under, with the number of Direct Market retail accounts plummeting to a small fraction of a total that once topped 10,000 – losses that, to date, are far from being recovered.
Marvel filed for bankruptcy.
That was less than 20 years ago, but let's fast forward again, to the earliest part of this century.
Thanks to Joe Quesada, and Bill Jemas, Marvel Comics was on its feet again. Thanks to the careful oversight of Paul Levitz and Bob Wayne, DC tied together past and present successes alike to build an impressive and sustainable backlist program that in many ways remains the industry standard.
And thanks to the creative vision of as varied a bunch as Craig Thompson, Marjane Satrapi, Warren Ellis, Mark Millar, Brian Michael Bendis, Grant Morrison, Brian Azzarello, Daniel Clowes, Chris Ware, and once again, Alan Moore, Neil Gaiman, and Frank Miller, as well as a growing influx of Manga titles too numerous to list, the comics industry found its spine.
For the first time since the days of the newsstands, it embraced a broad, general audience in a true sense, and comics flourished again.
Things didn't get better immediately, but the market stabilized, and then the market began to grow. Better still, it began to grow in new and different ways.
New voices sounded the call for new audiences: Jeff Smith. Brian K. Vaughan. Gail Simone. Jill Thompson. Bryan Lee O'Malley. Alison Bechdel. Robert Kirkman. Jeff Kinney.
As the types of content comics offered expanded, the entire appearance of the market changed.
And here we are today.
Where once comics were summarily dismissed as light entertainment for adolescent boys, there are now comics for everyone by everyone. ...
But people are worried about the future.
They are worried because we are once again falling victim to our worst instincts. We are letting short-term thinking dictate our future plans. We are letting greed guide our way. ...
So we've gone back to gimmicks, to variant covers and relaunches and reboots and more of the same old stunts disguised as events, when really all our readers want are good stories.
We're giving them great jumping on points over and over again, but it's becoming so commonplace our audience instead sees them as opportunities to cut and run. We are misinterpreting sales spikes for long-term success, and worst of all, we are spending so much time looking at how to keep going that we've lost sight of where we were heading in the first place.
Stephenson ended by calling for a new emphasis upon creativity.
I've been turning down zombie pitches for years, but now, I'm turning down sci-fi pitches. I'm turning down horror pitches. Crime pitches. Anything we already have in abundance. Unless there's something truly remarkable about those kinds of comics, the market is filled with them already. There are other seams to work. Now is the time to start digging deeper.
If you are a creator – a writer, an artist, both – the legends of yesteryear have done their work. For decades now, we've all been standing on the shoulders of giants. It's time to stop. Let them have their rest. Now is the time to create new characters, to explore new worlds, to tell new stories. Our industry – our medium – has a long and magnificent history, but the past isn't going anywhere. The future is an open road.
Look at the success of Jessica Jones and the Walking Dead. Look at Mark Millar and Dave Gibbons's Kingsmen. Or Phoebe Gloeckner's Diary of a Teenage Girl. All ideas from this century that inspire genuine excitement.
The whole reason the entertainment industry is currently so besotted with comics is because we have traditionally been a wellspring of new creativity. Stop acting like interchangeable brand managers and create.
WAHOO TERMINAL IS DETERMINEDLY OFF-BEAT
In a Freewheeling Madcap Way
A NEW DELIGHTFULLY WEIRD COMIC STRIP is traversing the digital ether at GoComics.com, the Universal/Uclick website. The strip, Wahoo Terminal, is the reincarnation of a strip that Brooke McEldowney concocted in 1991 before he came up with 9 Chickweed Lane, his current syndicated effort, which started July 12, 1993. In 1991, McEldowney said, Wahoo Terminal "passed, as a submission, from syndicate to syndicate, getting everything from serious consideration to deafening silence. Ultimately, it was dismissed as too weird for a 'mainstream' newspaper readership."
Not content with the foregoing somewhat straight-laced description of what happened in 1991, McEldowney tried again:
"Welling up out of the DEEP MAGIC from before the DAWN OF TIME and, in the best tradition of Colin Clive, brought to life from an admixture of Hunt nibs, India Ink, newt eyes and a generous dusting of runic curses, Wahoo Terminal roiled up under the watchful, editorial gaze of deer mice, and was sprung upon star-crossed syndicates in 1991. With lightning speed it was sprung back. However, one syndicate proffered a letter beginning with the words, 'We've had a chance to digest the material in Wahoo Terminal. (After reading through it, my synapses became temporarily blocked, but now are functioning so I can respond.)'
"As a cartoonist," McEldowney continued, "I took this as encouragement. (As a cartoonist, I would have taken being kneecapped in an alley as encouragement, but I digress.) I have ever since preserved Wahoo Terminal, perhaps the runt of my litter but still the runt I adore, which brings me now to the decision, after 24 years, to redraw the strip, invent some new installments as they may occur to me, and present it here, interposed into the present story of Pibgorn. All I can add to that is Colin Clive's observation upon watching Boris Karloff's fingers begin to move, 'It's ALIVE!'"
Elsewhere, McEldowney elaborates: "I have drawn each strip anew, mainly because I wanted to do it. Visually, therefore, it bears only a fleeting resemblance to the original cartoons. Textually, it is the same—at lease, mostly the same. I can't help but tinker with the words. I have added brand new cartoons to the mix as they occur to me. As I have resolved to stick to the originals, you will encounter dinosaurs in the bathtub, and tufted titmice who look and behave as piranhas. Don't come running to me about it. They are canon."
Pibgorn is the online comic feature McEldowney promulgates at the Uclick website. To find Wahoo Terminal, go to GoComics.com, click on Comics at the top, and then find Pibgorn on the list of comics (it helps if you first click on A - Z Listing). Click on Pibgorn and you'll be transported to that feature's venue, which is where Wahoo Terminal is conducting its zany weirdness these days. It has been appearing since November 28, so you'll want to click on the arrows/calendar atop the display to roll back to nearer the beginning.
I realize this sounds a little convoluted, but once you get to Wahoo Terminal, you won't be disappointed, as the ensuing sample strips should persuade you. Most of the ongoing story focuses on the aspirations of Norman Thumber, a short but colossal nerd, who has become the target of the tall beauteous Angela Eggchurch (for reasons that are, oddly, explicable: her psychologist told her to open up her social life to men she would ordinarily find "squat and odious").
Norman also sometimes keeps company with a painfully plain girl who wears glasses. In an attempt to strike up a conversation, the girl told Norman that when she was a child, other kids called her "four eyes" because she wore glasses. When she asks Norman what his childhood playmates called him, he paused to think—then said, "Seven nipples."
It's that kind of strip. You'll love it.
And while you're up at GoComics, visit 9 Chickweed Lane, McEldowney's syndicated strip, which delves with humor and compassion into areas of human relations not explored elsewhere in syndication—namely, romance (wherein even canoodling is almost depicted, a panel of entwined hands signifying the intimacy taking place off-camera).
ODDS & ADDENDA
■ First Look Media today announced that they have partnered with award-winning cartoonist Matt Bors on his irreverent online comics publication, The Nib. Formerly part of the online platform Medium, reported Alan Gardner at DailyCartoonist.com, The Nib will re-launch this summer through First Look Media as an independent daily publication and online newsletter. Created and edited by Pulitzer Prize finalist and Herblock Prize for Excellence in Cartooning winner Bors, The Nib delivers engaging and provocative social commentary in the form of political cartoons, comics journalism, and non-fiction writing from a diverse team of contributors. As part of the First Look family of media properties, The Nib will continue its distinctive approach to storytelling with enhanced distribution platforms to bring its irreverent content to more people in more ways. The partnership is part of First Look Media's mission to support independent voices and to help them reach and expand their audiences.
■ ICv2 reported that Image Comics will launch Image+, a new magazine to be distributed monthly with Diamond's Previews catalog. Scheduled for 64 pages each issue, the magazine will include creator-owned comics content, exclusive interviews, spotlight features, previews, editorials, and comics coverage. The first issue will ship in May, focusing on July-releasing titles; it will include a four-page The Walking Dead story, the first of twelve such stories by Robert Kirkman and Charles Adlard that will appear in the first year of the magazine. The 48-page story will concern Negan's origins. The new content in Image+ will be in addition to the Image Comics section in Previews, which will continue as before.
■ In many newspapers, the February 24 and following releases of Scott Adams' Dilbertcomic strip were recycled strips from the past, replacing a new story line that involves the car-sharing service Uber. In the wake of the mass shooting the previous weekend in Michigan involving an Uber driver, Universal Uclick Syndicate offered substitute strips for newspapers to publish instead, through March 1. Most papers published the substitutes. The Uber sequence was drawn weeks in advance of publication date; Adams had no way of knowing it would run after a tragedy involving Uber. The Uber storyline can be followed at GoComics.com.
■ "Managing a Facebook page without a license. That was the accusation they used to detain me," the Egyptian caricaturist Islam Gawish told Al-Monitor said in an interview from the Cairo International Book Fair February 2, a few hours after his release. Gawish, reported Walla Hussein at al-monitor.com, was at the fair to launch the second volume of Al-Waraqah (The Paper), a collection of pieces from his Facebook page, also titled Al-Waraqah. The site, with its stick-figure satirical caricatures lampooning the state of affairs in Egypt, has met with widespread success on social media. Gawish had been arrested January 31 at his workplace, the offices of the Egypt News Network website, and interrogated about drawing political caricatures targeting symbols of the Egyptian state.
■ Ellie Collins is mustering the feminist and otherwise caring troops to add a name or two to the credit line identifying the creator of star-spangled Amazon. Now that Jill Lepore's Secret History of Wonder Woman has told the whole world about William Moulton Marston and his two live-in lovers, his wife Elizabeth Holloway and his one-time student Olive Byrne—all members of a "sex cult" that practice free love and advocated the superiority of women— it's time to admit, as Lepore apparently does, that Holloway had a role in developing a comic book superheroine. Ditto Byrne. So Collins would like the credit line to read: Wonder Woman created by William Moulton Marston and Elizabeth Holloway Marston—maybe even adding on the end, "with Olive Byrne." I assume that this proposal is timed to get the credit on the big screen when the Wonder Woman movie debuts. So where's H.G. Peter, the guy who created WW's look? I mean, if you wanna be inclusive in portioning out credit, let's be all-inclusive and not overlook the most visible aspects of a visual artform.
Fascinating Footnit. Much of the news retailed in the foregoing segment is culled from articles eventually indexed at rpi.edu/~bulloj/comxbib.html, the Comics Research Bibliography, maintained by Michael Rhode and John Bullough, which covers comic books, comic strips, animation, caricature, cartoons, bandes dessinees and related topics. It also provides links to numerous other sites that delve deeply into cartooning topics. For even more comics news, consult these four other sites: Mark Evanier's povonline.com, Alan Gardner's DailyCartoonist.com, Tom Spurgeon's comicsreporter.com, and Michael Cavna at voices.washingtonpost.com./comic-riffs . For delving into the history of our beloved medium, you can't go wrong by visiting Allan Holtz's strippersguide.blogspot.com, where Allan regularly posts rare findings from his forays into the vast reaches of newspaper microfilm files hither and yon.
READ & RELISH
"I am a cartoonist, a goalie, a dystopian feminist —many things but you cannot represent all the realities of a person's life at any given time," said novelist and poet Margaret Atwood. "I am writing for Angel Catbird (a trilogy about a part-at, part-bird superhero) for Dark Horse Comics, and I drew the cartoons for The Secret Lives of Geek Girls for a Kickstarter-funded anthology. But graphic novels are not exactly a new idea, you know. They were big in the 1940s. Caricatures have been a big thing since the late 19th century. And there is a huge tradition of stories told in paintings and carvings on walls, cathedrals and tapestries across the world. It is just that younger people have started taking a greater interest in comic books, especially serious stories told in the comic format. I drew comics as a kid, and I drew a strip in the 1970s for This Magazine. It was called Survivor Woman. She was a Canadian superwoman who wore snowshoes so she didn't fly like they did in America. She did pretty much nothing except sit on the curb and think [enacts rolled fist under her chin]." Quoted by Malini Nair, timesofindia.com
FUNNYBOOK FAN FARE
Four-color Frolics
LOOKING THROUGH THE LATEST (February) issue of Diamond's Previews catalogue, we can arrive at a birdseye view of the funnybook industry today. First, there are lots of comic books being issued each month. In fact, there may be too many comic books, as Image's Eric Stephenson just said (a few paragraphs ago). And to support his contention, ComicBase surveyed Januarys of yesteryear and found that an average of 174 new comics were publsihed 1970-80; in January of last year, that number was 715 a month. That's a lot. That's by far more than I or any other normally endowed individual can read and/or review every 30 days. (I don't even try: if I don't like the artwork, I don't buy the book, and I try to concentrate on Number Ones, the genuine newcomers.)
Second, the subjects of those comic books—their focuses (er, focii)—are much more varied than in recent years. We have more to choose from than just costumed superheroes: mysteries, sf, steam punk, legends of Oz, war, horror, teenage adventure, crime with cops and robbers, survival in the wild, skimpily clad heroines, jungle tales, spies, manga (even some of the erotic sort), prehistory and Biblical yarns, romance, not to mention zombies all over the place, Star Wars (understandably, but also Star Trek) and an exorbitant plethora of Doctor Who.
Third, there's a growing category of the My Little Pony species: Salem Hyde, Blade Bunny, Lumberjanes, Little Dee and the Penguin, Pippi Longstocking, Goosebumps, Missile Mouse, Magic Trixie, Nimona, The Muppets, Kung Fu Panda, Geronimo Stilton, Fuzzy Baseball, Silly Lilly, Jack and the Box plus munchkins, fairy tales, and garden gnomes under every bush. In short, cutesy stuff of the pre-adolescent sort.
I'm not sure that all these roly-poly creations are an improvement over blood-sucking vampires and brain-devouring zombies. Probably. But all three leave me vaguely nauseous.
HAVING EXPERIENCED INCREASED SALES the last time they re-booted all their titles and characters (when was that? two years ago?), DC is going to do it all again with a new starting-over series dubbed Rebirth. It'll start in May. And at Marvel, which enjoyed a spike in sales with a "civil war" series not long ago, they're doing it again with "Captain Marvel : Civil War." But that's in the movie. Whatever happens in the movie is likely to be repeated in the comic books. Sigh. No originality trumps copy-catting anytime.
Quotes and Mots
More George Carlinisms—:
Why does someone believe you when you say there are four billion stars but check when you say the paint is wet?
Why do they use sterilized needles for death by lethal injection?
Why doesn't Tarzan have a beard?
Why does Superman stop bullets with his chest but ducks when you throw a revolver at him?
Disney bought Star Wars. The mouse is replaced by the wookie.—RCH
EDITOONERY
The Mock in Democracy
MOST OF THE MONTH, due chiefly to the so-called "news" media's obsession with the Presidential campaign, was awash in trivial matters—namely, the aforementioned obsession. Yes, the Presidency is important, and it matters a lot who wins the race for the White House. But—day after day? Every week another debate? Then another endless round of blather by the Punditariat? A bit much.
Apart from Bronco Bama's announcement of his intention to close the Guantanamo Muslim prison, Justice Antonin Scalia's death was about the only matter of significance to transpire. Not merely because his replacement will undoubtedly change the way the Supreme Court leans on certain issues (thereby changing aspects of American life) but because the Grandstanding Obstructionist Pachyderms in control of the Senate are once again demonstrating their complete incompetence. It's clear—now, almost two years after gaining a majority in both houses of Congress—that the GOP simply cannot govern. They ought to be turned out next fall to make room for people who want to give it a try.
The Senate, led by the champion obstructionist Mitch McConnell, asserted, as soon as news of Scalia's death surfaced, that it would not confirm whoever Prez Obama nominated. Qualifications and litmus tests be damned: if Obama nominated him/her, whoever he/she might be, he/she wouldn't be confirmed. Not even a hearing. Talk about abdication of responsibility.
The good senators pretend that the replacing of Scalia should wait until the next Prez is elected because that will give the American public a voice in the selection: whoever is elected will determine the sort of nominee they'll confirm.
This maneuver appears to be committed in a delusional fever. The GOP senators pretend (again) that the next Prez is likely to be a Republicon (or the faux Republicon, Donalt Rump) and so they'll get to confirm another right wing-nut to replace Scalia. But the next Prez is just as likely (more likely, I'd say) to be Hillary Clinton. So what does this unseemly delay accomplish? Not much. Except to demonstrate again the obstructionist tactics of the GOP Congress, providing ample ammunition for the Democrats to fling during this Election Year. At The New Yorker, Jeffrey Toobin says: "This Republican intransigence is a sign of panic, not of power." Probably, but that doesn't change much.
The GOP pretends that confirmations of new justices never happen in Presidential Election years, but history denies their claim: six justices have been confirmed in election years since 1900.
Other shenanigans. In order to support his present contention, McConnell must twist himself around to ignore what he said in 2005: "Any president's judicial nominees, after full debate, deserve a simple up-or-down vote." Similarly—on the other side of the aisle—Joe Biden must do the same dance to ignore what he said years ago when the Dems controlled the Senate: selection of a new justice should take place after the Prez Election in the fall.
As for letting the newly elected Prez decide, that reasoning is also flawed, as Nan Aron and Kyle C. Barry point out in The Nation (March7): "What this election will not decide is who gets to replace Justice Scalia. That decision was made in 2012, when the American people elected President Obama to another four-year term that still has 11 months to go. Once he nominates a new justice, the Senate must take seriously its constitutional obligation to give that nominee a fair hearing and a timely vote. The senators owe it to Justice Scalia and his philosophy of obligation over outcome. And as stewards of our democratic institutions, they owe it to the American people."
Frankly, McConnell & Co. are impossible to understand. Their tactics defy explanation. Their stonewalling on a nominee for SCOTUS might be understood as support for the Trumpet: he has advised the Senate to delay, delay, delay. But the success of Trump and Sanders—both running far ahead of the expectations voiced early in the season—is widely attributed to voter anger and frustration about a Washington that doesn't work.
And the most non-working part of it is Congress (currently enjoying the lowest approval rating at 6% of any Congress on record), which is on the cusp of chalking up another record do-nothing session. So McConnell's blatant obstructionism on the SCOTUS appointment can only exacerbate voter discontent. Does McConnell really want to be a member of the most despised governmental group in America?
Why does the GOP Congress want to lend support to its most vociferous critics—namely, the American electorate?
The answer, in a word—November. Making the selection of Scalia's replacement an issue in the Election will distract voters from being angry at Congress. And, more important, McConnell and his minions hope that the appointment issue will crank up a fever of interest in maintaining the Court's conservative caste—and that the fever will prod millions of passionate conservatives and rampant Tea Baggers to go to the polls in November and elect the Republicon candidate, who, in turn, will appoint a raving conservative to the bench. And, incidentally, will keep the Democrats out of the White House. Perhaps the GOP will at last control all three branches of government.
But—wait. Won't the Democrats flock to the polls, too—and for the same reason?
IN OUR FIRST VISUAL AID, Jen Sorensen gets us started at the upper left with a comic strip format that examines the so-called thinking of the Obstructionist senators: if their premise—that no Prez in his last year in offices should be allowed to nominate a Supreme Court justice—is valid, then several sitting justices should be kicked off the bench, leaving a 4-1 liberal majority. Can't argue her point—if the GOP's contention is valid.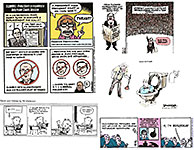 Next around the clock, Jim Morin pokes a giant hole in the GOP delusion: the American public has expressed its opinion about Obama twice by electing him to the office twice. Clearly, if anyone in Washington can speak in the name of the American people, he is it. Below Morin's cartoon, Jeff Danziger gives us a fresh image of McConnell, who appears as a clog in the toilet bowel, preventing the appliance from functioning as it should. (The expression "turd in a punch bowel" comes to mind.) But Uncle Sam in this Election Year has the means to unclog the toilet. Danziger's metaphors function in more ways than one to express the cartoonist's opinion. Congress is a toilet?
Two syndicated comic strips finish this exhibit. In La Cucaracha at the lower right, Lalo Alcaraz, who often comments on current events, turns a play on words into a castigation of the "un-Christian" would-be leaders who would deny Syrians entrance to the U.S. And at the left, we resurrect an ancient Calvin and Hobbes by Bill Watterson, which, nearly two decades ago, unwittingly addressed the ever-present (these days) religious issues of our time by having Calvin apply the contemporary logic to his test paper. Twenty years later and it's still a propos.
In our next exhibit, we turn to the enduring comedy of the GOP race for the Republicon nomination. Nick Anderson's imagery shows us just how reasoned the debate has become and applies that assessment to a habitual Pachyderm criticism of Obama. John Deering is next with a hilarious picture that applies the axiom about shooting oneself in the foot to the Trumper—who, despite his obvious persistence (notice the quantity of bullet holes), can't seem to get the job done. But what can we expect of a man whose qualifications for Prez are bombast, bluster and bile? (But he's not the only one demonstrating incompetence. Did you see the last Republicon "debate"? The three leading contenders behaved like squabbling children on the schoolyard.)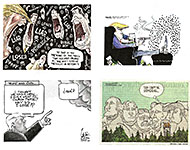 Just below the failed target practice, Bill Schorr's picture of Mount Rushmore with Lincoln thinking askance about the newest sculpted head on the mountain illuminates the dilemma of the GOP establishment as it contemplates the Trumpet as its candidate—a possibility that looms ever more likely. The choice of speaker is not accidental: Lincoln is the first Republican Prez. Finally, Chan Lowe offers a wonderfully comedic comment on Trump's campaign strategy with an image of Trump the Negotiator confronting God, whose response ("Que?") identifies the Diety as Hispanic, which, in turn, explains Trump's loss while also stopping him cold.
To broaden our examination of the current political obsession by going beyond Trump antics (Trumptics?) to the machinations of the GOP slate and the preoccupations of the Republicon Party and other issues in the contest, we begin with Pat Bagley's portrait of the GOP contenders as a screaming mob intent on "fixing" the country Obama is describing.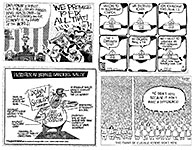 This editoon was produced shortly after the Prez's State of the Union speech, but because the Republicons continue their criticism of Obama, it is as applicable today as it was a month or more ago. Portraying the GOP's Presidential candidates as a tightly-knit mob of angry mouths creates an easily recognizable metaphor for the lot of them.
Next around the clock, Tom Toles uses the comic strip format to isolate, panel by panel, the insidiously discriminatory measures that right wing-nuts say will eliminate the non-existent voter fraud. The measures are themselves the fraud. Then, Nick Anderson's imagery comments on the ever-lackadaisical American voter. The divided panel handily emphasizes the contrast inherent in Anderson's criticism. And finally at the lower left, David Fitzsimmons offers a vivid picture of the Socialism that everyone objects to: it's already become part of mainstream America. Apparently, Fitz is ridiculing the protester on behalf of Bernie Sanders, but the assessment of American life as largely Socialist is accurate whether on Sanders' behalf of not.
Hillary comes in for some criticism in our next visual aid.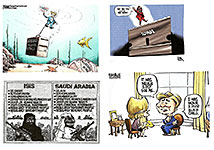 A.F. Branco compares Hillary's missing e-mails to the infamous missing twenty minutes on Richard Nixon's tapes, and the setting, the bottom of the sea to which Hillary is being pulled by the weight of the evidence, suggests an end to Hillary's run for the White House. Steve Benson offers a startlingly accurate metaphor for Hillary's win in Iowa, and below that, Eric Allie takes a particularly jaundiced view of Hillary's integrity. I don't agree with Allie, but I admire his drawing style, and the cartoon serves to remind us of Hillary's persistent vulnerability—her seemingly tangential relationship with the truth. In Allie's cartoon, the visual evidence gives the lie to the verbal assertion.
Lastly, we turn from the vagaries of political campaigning to Monte Wolverton's pictorial comparison of ISIS and Saudi Arabia. Side-by-side visuals serve to emphasize either similarities or dissimilarities, in this case, the former. Everything is identical except that the Cutthroat CalipHATE is our enemy while Saudi Arabia is not—posing the question: why?
We turn in our last exhibit to guns and the attitudes that foster an affection for them.
Monte Wolverton starts us off with a vivid picture of America taking aim at its gun problem. The pictorial implication is that the aim we're taking—which is not pointed at the right target—won't solve the problem but will destroy the country. Next around the clock, Joel Pett's metaphor is bitterly ironic: those who live by guns cannot "rise up" because they've died by guns. This situation is not, of course, an entirely accurate rendition of reality: those who support gun rights are not necessarily the ones killed by guns. But Pett's metaphor suggests the self-destructive consequences of lax gun laws.
And then we have Mike Luckovich's hilarious interpretation of the usual National Rambo Association response to proposed gun control. Finally, shifting to the distant West Coast, we arrive at the Oregon stand-off. David Horsey's picture is not metaphorical: it is a portrait of misguided "patriotism" in which commercial development is the actual agenda of the patriots who want the federal government to "return the land" to the "people" (i.e., it is implied, us). In the commonly accepted interpretation of such matters, the federal government is the people, but the would-be patriots don't accept that interpretation because, to them, all government is "the other."
More on Gitmo when there is more about the GOP genuflecting in the direction of everlasting shame and infamy.
PERSIFLAGE AND FURBELOWS
George F. Will described the Bernie Sanders drinking game: "Every time he mentions a free government program, you drink someone else's beer."
Bill Maher on the PC of free speech, etc.: It makes you feel better—a substitute for actually doing something about the affront you're mouthing off about.
A PICTURE AND MY FEW THOUSAND WORDS
THE PHOTOGRAPH that appears near here at the elbow of your eye is the very emblem of the new Playboy. In a single swell foop, it tells the whole story of Hugh Hefner's revamped skin magazine—naked ladies, yes, but they'll be coy about it.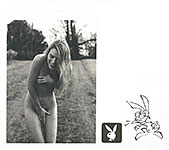 The photo trumpets for all to see the magazine's new visual truth: nudes are going to appear but they'll be covering the best parts with their hands.
In the March issue of the magazine—the one that introduces the widely touted changes in Playboy—this photo appears next to the centerfold, which is not, in another shattering departure from custom, at the magazine's center. It's later on. And the centerfold woman depicted is fully clothed, from chin to crotch.
The centerfold is not at the center, and nudes are not quite nude. And cartoons aren't there at all.
I've been a subscriber to Playboy for over 50 years. I subscribe for two reasons: the magazine publishes photographs of barenekkidwimmin and cartoons in full color, both of which I like to look at. I pulled the March issue out of its wrapper when it arrived a couple weeks ago, and I was stunned at the anemic appearance of the cover, which, here, I'm contrasting with the previous issue's cover, a close-up of buxom Pamela Anderson's grin, "sex" necklace, and cleavage. Nothing like that in view on March's cover.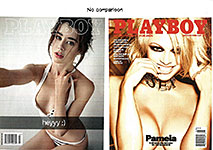 And the magazine's subtitle "Entertainment for Men" has disappeared.
Inside the magazine, no photos of naked women. And no cartoons.
This issue is accompanied by a letter from Scott N. Flanders, Chief Executive Officer of Playboy Enterprises. Signing the missive with a friendly flourish— "Scott"—he explains that "our editorial team" has spent the last six months "redesigning Playboy from top to bottom." But he also says "much" hasn't changed in the magazine: "Playboy will still champion long-form journalism, fiction, art and, of course, the world's most beautiful women."
But no cartoons.
Thumbing this issue quickly, I am impressed by its whiteness. The page layouts emphasize white space. White, in the normal course of events, represents the absence of everything. Nothingness. Here, it is a visual element of the layout. But it is also symbolic of the new nothingness. The pages are half-an-inch wider than before, brimming with whiteness.
The opening pages of the magazine are laddie magazine inspired short, one-page articles on aspects of the technological thrills of modern masculine life. There's an article on "nudity." Another on the birth of the sex industry and the failure of the drug war. One on political consultants. There's a long interview with Rachel Maddow, and a piece on "modern sexuality" (which begins by saying "it was only a matter of time before Playboy decided to stop running nude photos"). An excerpt from Karl Ove Knausgaard's six-volume autobiography reports, in slavish detail, the first time the author masturbated. (And why, readers of Playboy, would we need a lesson? Only with the new "no nudes" Playboy.)
Another longish effort is about birth control, dubbing the IUD "not only the most practical and effective contraceptive available" but a device that frees one of "anxiety and fear—a slap in the face of puritanism." At least, Playboy hasn't given up crusading against puritanism, a preoccupation of Hef's since his undergraduate days at the University of Illinois, where he edited a single issue of the campus humor magazine Shaft and extolled the liberating Kinsey report. (For Hef's campus career, see Harv's Hindsight for September 2008.)
In concert with discarding "Entertainment for Men" from the cover, the magazine should change its name: from Playboy to Playbill. This adjustment would recognize the effort being made here to keep up with trends in contemporary popular culture: here's what's playing out there in the world.
Rumor to the contrary notwithstanding, there are, actually, photos inside of naked women. But none of them are of the full-frontal fully-nippled sort. There's a centerfold but it's not at the magazine's center. It's later on, as I said, and she's fully clothed from neck to just below the navel. But on other pages, she and others of her sex are naked but covered up, artfully draped.
Oh—and there are some so-called cartoons. Puny, miserable abstractions, they are found in a feature about Jay Howell, who designed the main characters in Fox's "Bob's Burgers." Funny pictures, badly drawn—the trend in modern cartooning.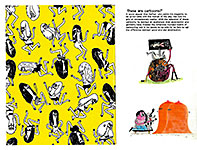 Howell is named "artist in residence."
Artist? Not cartoonist?
We agree: a cartoonist, he isn't.
No. There are no cartoons in this issue inaugurating Playboy's second coming.
Gone are the luxuriously painted cartoons of Eldon Dedini, Doug Sneyd, Dean Yeagle, Erich Sokol, Buck Brown, Jack Cole, John Dempsey, Phil Interlandi, Edmund Kiraz, Ray Raymonde and the rest of the stable of regulars that Hefner so laboriously assembled over the years.
Gone is my subscription, abandoned forthwith in a feeble protest.
It is to weep. The most extravagant venue for magazine cartooning in America has expired.
We have now only The New Yorker. And it, thank goodness, is improving: its cartoons have lately been displaying a new-found vigor.
CARTOONING AT THE NEW YORKER
Much to my annoyance, a reliable annual provocation to ranting in this website has inexplicably ceased: The New Yorker gave up publishing a "cartoon issue" in 2010, depriving me of an occasion to blurt out high-minded syllables of disdain and low-growly decibels of dissatisfaction. The annual pro forma homage to the arts of cartooning had appeared with predictable regularity since 1997. That first blooming 20 years ago was a balm to the soul of cartooning: at last, one of the foremost venues for cartoons genuflected to the cartoonist muse and paid it tribute. In addition to publishing a handful more cartoons than it usually did, the first "cartoon issue" included articles about cartooning and/or cartoonists. A genuine tribute.
Alas, that first flowering proved to be the exception, a lonely harbinger without entourage. In the ensuing years, the "cartoon issue" quickly deteriorated into a 12-page section of cartoons. Just cartoons, no more articles about cartooning. No more cartoonist biographies.
I was monstrously annoyed by this development because there is so much The New Yorker could have done, so many more insights into cartooning that it could have mustered, so many great cartoonists of the past whose achievements could have been extolled. Instead, The New Yorker took the easy way out. It just printed a few more cartoons in the "cartoon issue" than it would have otherwise printed. Phooey.
And so the annual "cartoon issue" continued to provide fulminating fodder for this website: I could rely upon it to commit the same sins of omission that prompted my annoyance with the second "cartoon issue" that had nothing much to say about cartooning or cartoonists. And I reveled in the opportunity.
The New Yorker, I would say (with predictable angst), was failing in its self-imposed task of exalting the art that only it (and, until March 2016, Playboy) glorified any more. It could have done so much more. It could have published biographies and appreciations of the Great New Yorker Cartoonists of Yore—Peter Arno, Helen Hokinson, George Price, Charles Addams, and more. Alas, nothing of the sort.
It could have produced every year an article of the sort that cartoon editor Robert Mankoff has been producing online for the last several months or years. Some of those are pretty feeble; but some toy with the professional preoccupations of cartoonists in amusing and informative ways. They could have been revised and expanded for a fascinating look behind the scenes with (or over the shoulders of) some practicing cartooners.
But, no—instead, the "cartoon issue" project has been allowed to simply wither away.
I take small comfort in the only compensation this criminal lapse now affords me: I can now complain about the magazine's failure to produce a "cartoon issue" every year.
Instead, we have—starting in 2011 and continuing every year through 2015—a paperback book that ostensibly collects "cartoons of the year 2011" with exactly that title, changing only the denominated year. It is impossible to know from the book's cover or any of its interior whether the cartoons inside are "new" (never published before) or "old" (a culling of the magazine's cartoons from those published in 2011).
Because comprehending the comedy in a cartoon takes only as long as one needs to see the connection between a caption and the picture above it—roughly 1.75 seconds—none of us have sufficient brain cells to store such brief bits of information forever (or even for a year), so it's not possible for the average reader to know whether he/she has seen and laughed at (or not) any of the cartoons in this anthology before—that is, during 2011—or not.
Yes, the cover says: "New Features! New Cartoonists! New Newness!" But the cuteness of this alleged humor slyly avoids telling us what we most want to know: are the cartoons inside reprints of cartoons The New Yorker published in 2011? It would be nice to know that. Not at all essential, mind you: because we can't remember any cartoon we've laughed at (or not), we can't tell whether the cartoons herein are new and fresh or old and therefore stale.
Not that it matters. Because of our tragically short memory of things cartoony, we'll laugh (or not) at any batch of cartoons we're presented with whether they're new or old, crisp and crackling or sodden and wrinkly with age.
Still, it would be nice to know if we're revisiting past triumphs or gazing at new ones.
THIS ANNUAL WAS POSTPONED in 2015 by the arrival of an anniversary collection of cartoons, The New Yorker 90th Anniversary Book of Cartoons (144 8x10½-inch pages, b/w; $12.99). Its nine chapters are organized in ten-year increments beginning with 1925-1935 and ending 2005-2015. These cartoons are clearly of the recycled sort, winnowed from the 9-decade history of The New Yorker. Many of the magazine's most famous cartoons are included; and I'm posting nearby some of them—and a few others that I found on my own.
Thumbing through the book's 90-year survey, you'd think you'd notice a steady deterioration of the quality of the drawings. After all, today there are no Peter Arnos, Helen Hokinsons, Carl Roses, George Prices, Gluyas Williamses, Charles Addamses or Richard Taylorses. Instead, we have Roz Chast, Bruce Eric Kaplan, Victoria Roberts, P.C. Vey, Emily Flake, Bob Mankoff, Tom Cheney, Richard Cline, Michael Crawford, Zachary Kanin, David Sipress, Edward Steed, B. Smaller, Danny Shanahan and others of the less-than-firm-line ilk.
Still, back in the early decades, The New Yorker had James Thurber, William Steig, Mary Petty, Saul Steinberg, and a few of that fine shaky-line breed, so when paging through this tome, we notice only that some drawings are less expertly done than others, from beginning to end, starting in 1925 and ending last year.
Sipress, of course, is scarcely Steinberg, and Vey is not Rose. But the linework seems similar enough that we don't notice how seriously the run-of-the-mill cartoon is less well executed today than it was in days of yore.
Well, not "today" anymore. Mercifully, that's changing a little. If we browse a little slower, we can tell that The New Yorker's cartoons are better drawn today than they've been for decades. The improvement has been gently seeping in on us for several of the most recent years—gently, but noticeably. Lines are stronger, compositions better, anatomy surer.
This advance in cartooning artistry is accompanied by the emergence of a single new trait in New Yorker cartoons: to a greater extent that has been manifest for years, the comedy in these cartoons arises from a blend of words and pictures. These days, captions are not funny alone, by themselves, without the accompanying pictures—as has been the case in so many New Yorker cartoons for so long. Instead, we need to comprehend the implications of the pictures for understanding the captions in order to "get" the joke.
You may think that's always been the case with single-panel "gag cartoons." Well, yes—in every venue but The New Yorker, where cartoonists could get away with drawing any old picture and then slapping a wholly unrelated caption across the bottom, creating the uniquely inert cartoon for which the magazine is notorious. Like the ensuing examples of "sophisticated" (bored) urban ennui over upper middle class daily life that once passed for "cartoons" in the magazine. For more in this vein, see Opus 344, wherein we examine BEK and find his cartoons seriously wanting.
We don't need pictures for any of the following captions in order to comprehend the alleged humor (in italics)—:
If I could take back ninety percent of the things I say, then I think people would know the real me.
Don't you want to have parents who can brag about their children?
I thought I'd be a successful fashion blogger by now. (Spoken, in this instance, by a small girl in the playground, but the picture could be of anything or anyone: the caption still works as an example of the sophisticated weariness of the legendary average New Yorker.)
But I like living in the past. It's where I grew up.
No, Thursday's out. How about never—is never good for you? (Cartoon editor Bob Mankoff's most famous cartoon, which pictures a man talking into a telephone; but do we really need the picture to see comedy in the caption?)
Instead of this tiresome litany, we more and more have cartoons in which neither the caption nor the picture make any comedic sense without the other—a few of which I've gathered in our next visual aid.
Hoorah, I say—hoorah for our side, the side of verbal-visual blending.
And there are other reasons to rejoice at The New Yorker: there are new names signed to many of the cartoons of the last decade. As we'll see in a subsequent installment of this treatise on cartooning in The New Yorker, the magazine has benefitted from a surge of new blood in the last dozen years.
SON OF READ AND RELISH
When I got married, the first thing a female friend of my bride's said to me was something about putting the toilet seat down after I used the appliance. It sounds like a sexist thing, but it really isn't. The snappy comeback is that men should insist that their wives leave the toilet seat up. And that sounds sexist, too. The fact, however, is that toilets are designed to look better with the seats down. Putting the seat down after use is thus an aesthetic matter, not a sexist one.—RCH
GOSSIP & GARRULITIES
Name-Dropping & Tale-Bearing
DONALT RUMP IS CAMPAIGNING FOR PREZ as a champion deal-maker. "Gliding into February's Republicon presidential primaries atop a flotilla of polls, Trump has made 'deals' the litmus test of his candidacy," says Timothy L. O'Brien at Bloomberg View. When he debuted as the star of a tv reality show in 2004, he told viewers that he was the "largest real estate developer in New York." But, says O'Brien, he wasn't. "By any measure—square footage or value—this simply wasn't true (and it's still not true today). Trump had become a major personality, but he wasn't New York's top developer." He is, instead, the presidential campaign's top fibber and reigning clown par excellence.
And O'Brien tells the story that justifies his judgement (in italics)—:
A well-documented and widely reported trail of bad deals litters Trump's career as a real estate developer and gambling mogul. (Disclosure: I wrote a book about the Republican candidate, "TrumpNation," for which he sued me in 2006 because, among other things, it questioned the size of his fortune; the suit was later dismissed.) Fueled by a slew of bank loans in the late 1980s, Trump absorbed an airline, a football team, a landmark hotel, a bunch of casinos, a yacht, and other nifty stuff— almost all of which he eventually lost because he couldn't juggle the debt payments.
He overcame those setbacks, but the man who emerged from that mess wasn't really a dealmaker anymore. Kept afloat by his wealthy father's funds and his own gifts for self-promotion, Trump became a reality tv star, golf course developer and human shingle who licensed his name on everything from real estate and vodka to mattresses and underwear.
Through Trump's rise, fall and rebirth, there was one major real estate project that he tried to keep. The tale of what happened to that property should be of interest to anyone looking for insight into how Trump might perform as President. It was a deal of genuine magnitude and would have put him atop the New York real estate market. And he screwed it up.
The deal involved Manhattan's West Side Yards, a sprawling, 77-acre tract abutting the Hudson River between 59th and 72nd Streets and at the time the largest privately owned undeveloped stretch of land in New York City, a vestige of the Penn Central Transportation Company, a failed railroad enterprise. ... Trump leveraged his father's ties to New York's Democratic machine and local bankers to acquire pieces of Penn Central's holdings, including the Yards, in the mid-1970s.
Unable to reach agreements with the city and community groups on how to develop the site, Trump let his option lapse in 1979. His Yards saga began in earnest in 1985, when he bought back the property from another developer for $115 million.
Trump's plans for the property included office and residential space; a new broadcasting headquarters for NBC; a rocket-ship-shaped skyscraper that would have been the world's tallest building and cast shadows across the Hudson River into New Jersey; and a $700 million property tax abatement from the city as an incentive to build it. The $4.5 billion project—which Trump called Television City—would have been New York's biggest development since Rockefeller Center.
But Trump didn't complete the deal because he was unable to work with different stakeholders, including Mayor Ed Koch, who had his own outsize personality and who was trying to balance the city's redevelopment with the needs of the area's longtime residents.
... Instead, the author of The Art of the Deal quickly became entangled in an epic, only-in-New-York round of public fisticuffs with Koch in the spring and summer of 1987. The brawl devolved into name-calling—and ultimately helped doom a deal that could have had vastly different results if Trump chose different tactics.
After learning that Koch was going to turn down his request for the $700 million abatement for Television City, Trump dashed off a letter to the mayor, beginning an exchange of vituperative contumely that doomed the deal. ... Trump said Koch's New York had become a "cesspool of corruption and incompetence." Koch said Trump was a "piggy, piggy, piggy."
Trump said the mayor had "no talent and only moderate intelligence" and should be impeached.
In 1994, with the Yards bleeding about $23.5 million in annual carrying costs, and long after Koch had departed City Hall, Trump's bankers forced him to give up control of the site. The property went to a group of Hong Kong investors for $82 million and the assumption of about $250 million in debt Trump had amassed.
After developing the area, the Hong Kong group sold the entire project for about $1.8 billion in 2005— the largest residential real estate transaction in New York City's history at the time. ... Trump eventually ended up with minority stakes in a pair of office buildings now worth about $640 million, according to Bloomberg data. ...
Had Trump kept control of the Yards, he could have vaulted into the top ranks of Manhattan builders. But that would have required him to effectively straddle the public and private sectors, to work with a diverse array of leaders and interests, to stay focused, to demonstrate financial discipline, and to get things done— in other words, to be a great dealmaker.
Instead, he proved himself to be exactly what he appears to be today as a politician—a blowhard and a bully and a bullshitter, unable to contemplate or countenance any opinion but his own. Imagine this guy negotiating with China.
PERSIFLAGE AND FURBELOWS
"Let us not look back in anger, nor forward in fear, but around in awareness."— James Thurber
"When you are done changing, you are done."—Benjamin Franklin
"Sometimes you get the best light from a burning bridge."—Don Henley
Only 6% of Americans approve of the job Congress is doing—another new low.—The Economist/YouGov.com
RANCID RAVES GALLERY
Pictures Without Too Many Words
I DID THE DRAWING at your eye's elbow for a booklet done years ago by Steve Thompson (of Pogo fan fame); then I used the drawing on the cover of my first book at the University Press of Mississippi (i.e., The Art of the Funnies, which—shameless plug—is offered for sale hereabouts). The idea originally was to depict the second bananas in famous strips.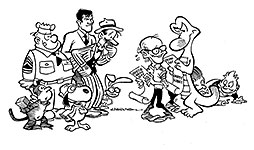 So we have Sarge from Beetle Bailey, Captain Easy from Wash Tubbs, Snoopy from Peanuts, and Albert Alligator from Pogo. But I couldn't resist doing first bananas Krazy Kat and the Katzenjammer Kids (giving Albert a "hot tail"). And it's highly questionable whether Mutt is the second banana in Mutt and Jeff: he's named first in the strip's title, and he appeared months before Jeff was on the scene.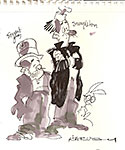 Many many years later, I did a 24-hour comic book (falling slightly short of 24 pages—only 22—and taking slightly more 24 hours, a "noble effort" as the official trophy puts it) starring my versions of Mutt and Jeff, sketches of which appear somewhere in this posting.Mutt is wearing a Goofy hat, my favorite comic character chapeau, and I use it whenever I can. As for the 24-hour comic, it's posted in Harv's Hindsight for Thanksgiving 2011 if you'd like to see how that worked out.
NEWSPAPER COMICS PAGE VIGIL
The Bump and Grind of Daily Stripping
ONE OF OUR HABITUAL EXERCISES in this corner is to point out how the comic strip taboos of yesteryear have faded into absolute obscurity. And our offering this time surely does that. Among the traditionally forbidden topics—adultery, methane gas (as farts), venereal disease, booty, and butt holes. You wouldn't find any of those subjects broached in newspaper comic strips of yore. But there's more to this exhibit than taboos violated.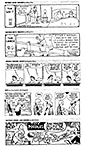 In our first strip, Rhymes with Orange by Hilary Price, the topic is adultery. And this gag demonstrates beyond a shadow of demurer that comic strips are for adults. (That isn't what I mean by "adultery"—although it could be.) The persons in bed are not committing adultery, and the visitor at the door is not a cuckold. So ostensibly no taboo has been breached. But the joke isn't funny unless we realize that the scene before us enacts an antique scenario of cuckoldry: in the classic joke, the guy at the door is the husband who has just found his wife in bed with his best friend.
If you don't know that, you don't appreciate the humor. And what juvenile reader is likely to know that? Ergo, this comic strip is obviously intended for adult readers.
The next specimen of Price's humor likewise depends upon our knowing that farts consist of inflammable methane gas. Teenagers know this—as do adults—but little kids usually don't. Again, the joke depends upon the reader being an adult (or at least a teenager, an adolescent).
Ditto Stephen Pastis' Pearls Before Swine. If we didn't know that Rat's abbreviation for Valentine's Day was also shorthand for venereal disease, there'd be no joke.
The comedy of the other two strips on this visual aid do not depend upon adult sensibilities, I suppose. But at least adolescent sensibilities. In Zits, Jerry Scott and Jim Borgman have crossed a rubicon not previously, to my knowledge, crossed in newspaper comics: no one else has, before this, referred to the female booty as a butt. And this is the same strip that, a few years ago, was widely castigated for using the word "sucks."
In Mike Peters' Mother Goose and Grimm, Grimm is, I assume, contemplating sticking a battery in the poodle pup's butt. Mother Goose is alarmed because the poodle is a living pup and doesn't need a battery.
GRATITUDE DEPARTMENT. We must express our gratitude to Stephan Pastis for his lesson in American civics,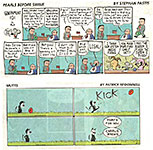 which he delivered in Pearls Before Swine on February 14 as a Valentine to all those rapscallions running for President and other orifices in the federal fabric.Too many of us—particularly those impressed with the magic of Trumpistry or Sandersonia—think government is accomplished by persons dedicated to the public weal rather than to simply getting re-elected, which preoccupation makes them particularly vulnerable to the blandishments of moneyed lobbying. "The system is fixed" indeed.
And then, a pause of refreshment, Patrick McDonnell remembers Charlie Brown in Mutts with the cat who does what Charlie never could. Who could forget? Whoever will?
SOMETIMES THE JOKES in the comics can be performed in no other medium. "Only in the comics," we say.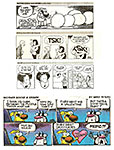 And we have three examples of that in the adjoining visual aid. In Mother Goose and Grimm, Mike Peters seizes one of the most obvious of ploys: playing on the word "balloon" in "speech balloon," he has Grimm pumping up the balloons.
In Zits, Jerry Scott and Jim Borgman take a little further the notion of a speech balloon being a physical presence in the comic strip. And in Baldo, Hector Cantu and Carlos Castellanos provide palpable evidence of that ancient axiom "you'd forget your head if it weren't fastened on."
The Sunday Mother Goose and Grimm at the bottom of our exhibit is here for another reason. I don't get it. What's the joke here? Are chocolates poison to dogs? Seems that I've heard that. But is that the basis for this joke? Pretty lame. And it depends upon our knowing a pretty esoteric scrap of information, too.
GREG EVANS' LUANN MAY NOT BE the first comic strip to have a lesbian character (in fact, I know it isn't: Milton Caniff had a lesbian character in Terry and the Pirates in January-February 1939; but Sanjak's sexual orientation isn't named); still Luann is probably the first in which the character announces that she is gay. The character is Pru, the girl Luann's boyfriend Quill met while acting in New York City. Dark-haired Pru came out West to help Quill and Luann in some project, and she stayed in the spare bedroom at Luann's house. Luann, who, until just last week, thought Pru heterosexual, agonized over this arrangement with Pru too close to Quill. And then, a week or so ago, she broke up with Quill because Quill took a theatrical job and cancelled the trip they'd planned together. That's just a little perhaps necessary background information.
And then Bernice, who thinks Quill broke up with Luann because he's infatuated with his New York friend Pru, comes storming in, as we see here, to commiserate with Luann and finds her being comforted by Pru.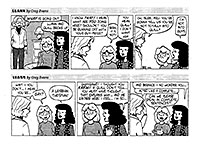 And then the events depicted in our visual aid transpire.
Evans, as he usually does, manages a delicate situation with both humor and compassion. Pru calls herself a "lesbian thesbian," one of the great lines in literature, surely: it embodies not only a happy euphony but is casual, matter-of-fact. No bugles or marching band crusades. Just a plain, unadorned statement of fact, as if it is merely an ordinary, everyday occurrence. And, of course, it is. Which is doubtless why Evans chose this manner for the reveal.
Nicely done.
CIVILIZATION'S LAST OUTPOST
One of a kind beats everything. —Dennis Miller adv.
From the Beaverton in Canada:
The NRA released a statement earlier today advising that all gun owners purchase an additional gun to be used in self-defense against the other guns they own.
"Statistic after statistic shows that guns in the home lead to higher chances of murder, suicide, and unintentional self-injury," said NRA head Wayne LaPierre. "By properly arming ourselves we can stop these guns from harming us and our families."
While critics are up in arms, NRA members have pointed out that the 2nd amendment gives US citizens the right to bear arms to protect themselves against arms already being beared by those same citizens.
"The time has come to take this matter seriously," said LaPierre. "Many Americans are left totally unarmed against the firearms in their own homes. This is very dangerous because, as we all know, the home is where most gun owners are shot."
LaPierre says that gun owners need to learn how to defend themselves and their families from the various handguns and rifles found in the average American home. At all times, each person should have a rifle strapped to their back to ward off other household weapons and a smaller, concealed handgun just in case the rifle also becomes aggressive.
"For years we've been saying 'guns don't kill people, people kill people' but that's just not true," said LaPierre. "Guns do kill people. Now go buy a second gun, because it's time to return the favour."
The NRA was quick to point out that not all guns are necessarily dangerous and that most injuries and deaths are caused by unstable weapons acting alone.
"A lot of guns are safe, but every so often there will be one that lets you shoot yourself or a loved one," said Ramses O'Brien, a gun seller. "That's why I tell all my customers to buy a bigger, more powerful gun to defend themselves."
At press time, the NRA has donated $10 million to the families of guns who have been shot.
SWEAT SHIRT WISDOM
If guns kill people, then pencils misspell words, cars make people drive drunk, and spoons make people fat.
I'll never be over the hill. I'm too tired to climb it.
I enjoy a glass of wine each night for its health benefits. The other glasses are for my witty comebacks and flawless dance moves.
A paper cut is a tree's last revenge.
When someone rings the doorbell, why do dogs always assume it's for them?
I don't trip over things: I do random gravity checks.
BOOK MARQUEE
Previews and Proclamations of Coming Attractions
This department works like a visit to the bookstore. When you browse in a bookstore, you don't critique books. You don't even read books: you pick up one, riffle its pages, and stop here and there to look at whatever has momentarily attracted your eye. You may read the first page or glance through the table of contents. All of that is what we do here, starting with—:
Will Eisner PS Magazine: The Best of the Preventive Maintenance Monthly
Edited by Charles Kochman, Selected with Commentary by Eddie Campbell, Introduction by General Peter J. Schoomaker, Preface by Ann Eisner
272 6x8-inch pages, color; 2011 Abrams ComicArt hardcover, $21.95
DUNNO HOW THIS ONE SLIPPED by me, but I didn't find it until last month on a visit to a local bookstore, too late to include mention of it with other Eisner works that we've been rounding up (Ops. 346 and 347). The volume at hand is the perfect companion to Paul Fitzgerald's Will Eisner and PS Magazine reviewed in Opus 346: Fitzgerald's text supplies a history, and this book provides the illustrative material, showing what, exactly, PS Magazine did that no other instructional publication up to that time had done.
The book includes an ample sample of the comic strips Eisner and his staff devised to entertain while explaining equipment maintenance and safety procedures—plus covers, diagrams, pin-ups, step-by-step guides, and other cartoony maneuvers aimed at supplementing technical manuals.
Lost and Found: Comics 1969-2003
By Bill Griffith
392 8x10-inch pages, b/w with color; 2011 Fantagraphics paperback, $35
IF YOU THINK Griffith's comic strip Zippy is all he's been doing all these years, this book will convince you otherwise. The content is divided into four chapters: the first three cover the decades (1960s-1970s, 1980s, 1990s); the last, color work from across the years. Everything herein appeared first in underground comix; titles and dates thereof are meticulously cited. The strip started in syndication August 26, 1985, but only a short sequence from the syndicated strip is reprinted here (Griffith's visit to his childhood home).
Zippy makes occasional appearances throughout the volume, but the first chapter—at 220 pages, the longest—belongs mostly to Mr. Toad. Zippy's first appearance (in "I Gave My Heart to a Pinhead and He Made a Fool Out of Me" in Real Pulp Comics No.1, 1971) is included, as is the tongue-in-cheek "The True Origins of Zippy the Pinhead," but the Pinhead takes a back seat to other characters and miscellaneous shenanigans—Alfred Jarry, the Toadettes, Claude Funston, the sex-obsessed Randy and Cherisse, Benny Breen, not to mention the hilariously sexual Young Lust romance comics parodies. There's much more unabashed nudity and copulation here than you'd expect from the comic strip Zippy.
One of the book's chief values for historians as well as fans is the opening 20 pages, which Griffith devotes to telling the story of his debut in comix and his subsequent rise into syndication, full of anecdote and apostrophe—and false starts at turning Zippy into a movie. For a somewhat shorter version of the tale of Griffith's progress, you can visit Harv's Hindsight for July 2011, where the whole sordid story is divulged. The Hindsight version is much better at telling how syndicating Zippy was a scheme by a departing King Features factotum who wanted to leave a "time bomb" ticking on the syndicate's doorstep, and Zippy was the time bomb. You have to read it.
KREMOS: The Lost Art of Niso Ramponi
Edited by Joseph Procopio
Vol.1—Bodacious Black and White
Introduction by Mario Verger
200 8½ x 11-inch pages, b/w; 2015 Picture This Press paperback, $27.95
Vol.2—Curvaceous Color
Foreword by Jerry Carr
260 8½ x 11-inch pages, b/w; 2015 Picture This Press paperback, $34.95
THE BEST WAY TO REVIEW this sumptuous two-volume set is to post a few pictures lovingly torn from their interiors—which we do a few sentences hence. The set is the 8th production of Lost Art Books from Picture This Press, and it focuses on the Italian cartoonist, animator and illustrator known as the "King of the little ladies"—the provocative women of his cartoons for the weekly humor magazine il Travaso ("the overflow") and its occasional supplement, il Travasissimo, from the late 1940s through the early 1960s. Ramponi's career was mostly in animation, and his lively line embodies the dashed-off breezy quick drawing we expect from an animator, but Ramponi's pictures, while they have all the energy of sketches, have also the appearance of highly polished finished art. In the color work of Volume 2, the color is judiciously applied, then splashed with accenting hues. Whether in black-and-white or in color, his drawings are an unabashed delight, as you'll see in a trice.
Until about 1957, Ramponi signed his cartoons "KREMOS," an adaptation of the signature he employed while in the army, when regulations prohibited his moonlighting in his profession. A friend of his named Cremo acted as his intermediary, seeking and accepting assignments on his behalf, and Ramponi signed that name to his work. As he became more successful with that signature, he adapted it to KREMOS. To avoid a copyright fight with a painter who also signed his work KREMOS, Ramponi abandoned the pen name in 1957 and signed his work with his first name, Niso. But it was his cartoons signed KREMOS that seeped into the U.S. occasionally in the mildly risque digest magazines published in the 1950s by Humorama, Jest, Gee Whiz, Gaze et al.
And now for a sampling of his cartoony good girls, whose generously bootied embonpoint evokes another (somewhat more celebrated) Italian figure, Sophia Loren's. KREMOS' women became somewhat more slender as time passed but no less appealing. They are given generous display in these volumes, one cartoon to a page; and each cartoon is copiously sourced. Visit Lost Art Books website for more pictures and to order your copies. Incidentally, the next book from Lost Art Books will focus on Ethel Hays, an American cartoonist of the 1920s and 1930s whose delicate delineations are as delicious a treat as KREMOS'.
The captions on KREMOS' cartoons appear, alas, at a tiny dimension. You can enlarge the pictures to read them, but you'll discover, as I did, that the ribald comedy of the 1950s is pretty tame (not to say lame) so you'll better spend your time just admiring the view.
The Incredible Herb Trimbe
TwoMorrows has produced a 160 8x11-inch page hardcover review ($34.95) of the career of Trimbe, who seems to have been shabbily treated by the industry—i.e., Marvel, for whom he drew The Incredible Hulk for a definitive eight years. I haven't seen this one, but Trimbe's fate intrigues me, so I'll eventually pick it up.
Patience
This new graphic novel by Daniel Clowes is a time-travel thriller (it sez here) "filtered through his own furiously warped sensibility." A review by Douglas Wolk elaborates: "Seventeen years after his pregnant wife, patience, is murdered, Jack Barlow stumbles upon a time machine and goes back to 2006 to figure out the secrets of her past so he can rescue her." As he slowly goes nuts, the book "mutates from a sf whodunit to psychedelic psychological horror."
The Untold History of Black Comic Books
Out, presumably, in time to help celebrate Black History Month, Bill Foster's history is something of a landmark accomplishment (hardcover $39.99). Foster has been advocating for black comics for years, and now he's put some of his knowledge down on paper (with the able assistance of Craig Yoe). The volume traces the changing image of African-Americans in comic books from the 1940s up to the present day. It includes nearly 200-pages of rarely seen classic and mainstream comics, many in full-color.
Lots of Scholarly Books (Perhaps Too Many)
FOUNDED IN 1979, McFarland calls itself "a leading independent publisher of academic and nonfiction books." And many of its titles delve into popular culture—and comics. Culled from the winter catalogue, here are a few titles, which, in common with most academic titles, are long enough to be annotations:
The Law for Comic Book Creators: Essential Concepts and Applications by Joe Sergi, $49.95
The Comics of Joss Whedon: Critical Essays edited by Valerie Estelle Frankel, $35
Graphic Details: Jewish Women's Confessional Comics in Essays and Interviews edited by Sarah Lightman, $49.95
Imagination and Meaning in Calvin and Hobbes by Jamey Heit, $40
Soul of the Dark Knight: Batman as Mythic Figure in Comics and Film by Alex M. Wainer, $40
Other titles reek esoterica, learning and high degrees of astuteness:
James Bond and Popular Culture: Essays on the Influence of the Fictional Super-spy by Michele Brittany, $40
Walt Disney, from Reader to Storyteller: Essays on the Literary Inspirations edited by Kathy Merlock Jackson and Mark I. West, $40
The Creation of the Cowboy Hero: Fiction, Film and Fact by Jeremy Agnew, $45
Glastonbury and the Grail: Did Joseph of Arimathea Bring the Sacred Relic to Britain? by Justin E. Griffin, $38
I sent for one—The Art of the Political Swamp: Walt Kelly and Pogo by James Eric Black. Eventually, I'll review it here. For now, it is perhaps tantalizing enough to note that it seems to be a doctoral thesis (like most of the McFarland titles).
You can send for the catalogue at McFarland & Company, Inc., Publishers, P.O. Box 611, Jefferson, NC 28640-0611 or mcfarlandpub.com; 800-253-2187
PERSIFLAGE AND BADINAGE
"History is against the probability of the creation of an Arabic empire. The Semitic mind [that of Arabs and Jews] does not lean toward system or organization. It is practically impossible to fuse the diverse elements among the Semites into a modern closely knit state. On the other hand, the Semites have been more fertile in ideas than any other people. ... The Semites are represented by very little art, architecture, philosophy. There have been few Jewish artists or philosophers. But we find an amazing fertility among the Semites in the creation of creeds and religions. Three of those creeds—Judaism, Christianity and Islam—have become great world movements."—T.E. Lawrence quoted in Lowell Thomas' Lawrence of Arabia
LONG FORM PAGINATED CARTOON STRIPS
Called Graphic Novels for the Sake of Status
Trashed: An Ode to the Crap Job of All Crap Jobs
By Derf Backderf
256 6x9-inch pages, b/w with blue tint; 2015 Abrams ComicArts hardcover, $24.95
CARTOONIST BACKDERF (The City) once worked as a garbage collector, and this book, although fiction, is based upon his experiences and those of his co-workers; or, as the dust-jacket flap says: "Trashed follows the raucous escapades of three twentysomething friends as they clean the streets of pile after pile of stinking garbage, while battling annoying small-town bureaucrats, bizarre townsfolk, sweltering summer heat and frigid winter storms. ... Interspersed with this comedic epic of reeking garbage cans and exploding trash bags are nonfiction pages that detail what our garbage is and where it goes. The reality will stun you. ... Trashed is a hilarious, stomach-churning tale that will leave you laughing—and wincing—in disbelief."
Derf's graphic style can be described as painfully, copiously detailed under normal conditions, but when deployed to render trash in all its multifaceted variety, his attention to detail (mostly of the repulsive sort) is astonishing. Every day's pick-ups involve new assorted details—trash bags that break when lifted, spewing their contents all over one's shoes; rotten jack-o-lanterns, dead pets (and other animals), liquid trash, decaying food full of maggots, condoms, plastic bags and bottles. And flies. On heavy trash days, the garbage guys pick up and grind into their truck's interior cast-off appliances—stoves, refrigerators—a piano, an old phone booth, and various auto parts. In winter, they must dig trash out from snow banks.
At various intervals, Derf tells us the facts about trash. Americans generate at least 254 million tons of trash a year. (A conservative estimate, Derf says; 384 million tons might be closer to actuality.) Almost 30% of it consists of the containers and packages that what we buy comes in. And 20.3% is what the EPA calls "nondurable goods"—much of which is disposable diapers. "The average child will go through up to 8,000 diapers before being potty-trained. That totals 18 billion (that's billion) poopy diapers heading to U.S. landfill each and every year."
Each of us generates 5.06 pounds of garbage a day; that's 35 pounds a week, 150 pounds a month, and 1,847 pounds in a year. One person's product. Tin cans take 50 years to break down in a landfill; plastic bottles, 450 years; styrofoam —styrofoam never breaks down. Never.
Derf diagrams how landfills work, calling them "ecological time bombs—as garbage decomposes, it produces large underground pockets of carbondioxide and methane gas, 'explosive gas.'"
But this sort of statistical analysis is a sideshow. The main event is the lives of Derf's characters and the accidents they encounter and the pranks they play upon each other—and upon residents whose thoughtlessness grates upon the garbage guys nerves and muscles. The comedy is often gross rather than risible, but comedy it is.
Tex: The Lonesome Rider
Drawn by Joe Kubert and written by Claudio Nizzi
240 7x9-inch pages, b/w; 2005 SAF Comics paperback, $15.95
DARK HORSE has just published this book in color, but I like this earlier edition: Kubert drew it with black ink on white paper, so this version is closer to the moment of conception. And this edition has front matter—an interview with Kubert and a history of the Italian "Tex" series, which has been appearing regularly for over 50 years, by Ervin Rustemagic, Kubert's friend, who, trapped in Bosnia during the war there in the 1990s, inspired Kubert's Fax from Sarajevo.
The story is a simple one: Tex goes to visit some old friends, but when he arrives at their ranch, he finds only their dead bodies. They've all been senselessly, brutally, killed by a roving quartet of outlaw thugs. Tex vows to find them and bring them all to justice. He does—one by one. The tale includes a roster of classic Western characters—bullying cattle baron, corrupt sheriff, sleazy saloon bums—plus stagecoach robbery and a one-on-one knife fight with a Native American champion. What elevates the narrative above this catalog of cliches is Kubert's storytelling.
Kubert varies the visuals rigorously—camera angles shift, panel to panel; ditto distance, from long shots to tight close-ups. Many pages of the narrative are silent, full of visual atmosphere but no dialogue. He dramatically deploys solid blacks in shadows and silhouettes. No pyrotechnics; nothing showy or fancy. Just superb drawings and expert pacing.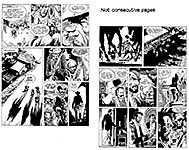 The horses—to be hyper picky for a moment—are Arabians, not mustangs. But no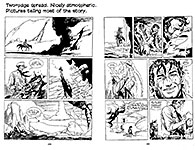 matter: Kubert can draw horses. And he can draw men mounted on horses. Both essential skills in telling a Western story but too often lacking in those who tell them visually.
Throughout, Kubert's laconic line prevails: even in tense action sequences, the figures seem at ease, relaxed. And there are numerous sequences with Tex riding through picturesque Western landscapes, lovingly limned.Whether you find the Dark Horse version in color—expertly applied, by the way—or this one in stark black and white, you're in for a treat.
Fist Stick Knife Gun: A Personal History of Violence
By Geoffrey Canada as drawn by Jamar Nicholas
128 6x9-inch pages, b/w; 2010 Beacon Press paperback, $14
WITH THIS BOOK, Canada and Nicholas join an ever-lengthening line of failures at the medium. An African-American, Canada started with a prose treatment of his growing up in the South Bronx; then Nicholas adapted the prose to what they both believe is a graphic novel. But, alas, it isn't: captions carry the narrative; the pictures contribute nothing. So it's not a graphic novel: it's decorated prose. And the book also fails as a polemic, which Canada obviously intends.
Young Geof, like all youth everywhere—not just in the South Bronx—wants to belong, and in his tough neighborhood, belonging means living by the code of the block. He must establish a reputation and then work to maintain it. He begins with his fists, fighting to prove he is tough. Then as he grows older, he takes up other weapons—a stick, a knife, and, finally, a gun. So far, Canada's tale is insightful and logical. But in the story's resolution, he fails.
Carrying a gun, Geof realizes that, sooner or later, he would have to point the gun at someone and pull the trigger. "In the end," he says, "my Christian upbringing proved to be stronger than my fear of the gang or my need for a sense of control over my environment. ... In the end, I realized that I didn't want to kill anyone." And so he throws the gun away. And the book ends.
His motive at this turning point in his life is wholly absent from the narrative. His "Christian upbringing" is never mentioned anywhere else in the book. What is there about his Christian upbringing that overwhelms the ethos of the gang that he has so carefully obeyed throughout the book? Canada clearly intends the book as a cautionary tale: don't do this or you'll wind up badly; but you can save yourself. He achieves the first part admirably (albeit sometimes tediously); but he fails at the second part. His book doesn't show how a young kind growing up in a tough neighborhood can save himself.
Canada, who is president and CEO of the Harlem Children's Zone, a nonprofit community-based organization aimed at helping kids, is a passionate advocate for educational reform, and he provides an epilogue that discusses some of his understandings and purposes:
"Schools in America are especially dangerous places. Intimidation, threats and outright fights go on in the classrooms, hallways, cafeterias, and schoolyards. ... When it comes to violence, school is too often the child's learning ground about the impotence of adult authority. ... The problem cannot be solved from afar. The only way we are going to make a difference is by placing well-trained and caring adults in the middle of what can only be called a free-fire zone in our poorest communities. ... Adults standing side by side with children in the war zones of America is the only way to turn this thing around. ... While nationally we have foolishly invested our precious resources in a criminal justice approach to solving our crime problem—including hiring more police and locking up more people for longer periods of time—we have nothing to show for it except poorer schools, poorer services for youth, and more people on the streets, unemployable because they have a criminal record."
He concludes: "If we were fighting an outside enemy that was killing thousands of our children every year, we would spare no expense in mounting the effort to subdue that enemy. What happens when the enemy is us? ... Do we still have the will to invest the time and resources in saving their lives? The answer must be yes."
But that's Canada's hope. It's not his assessment of actuality.
He wrote this book—first in prose, then with accompanying pictures—trying to address the problem. He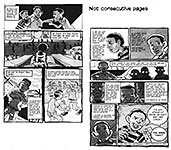 describes the problem thoroughly. But his solution is deux ex machina, a mechanism that descends into the narrative and magically rescues the protagonist. To be effective, the solution should arise from the narrative, not be imposed upon it from without.
And who does Canada see as the audience for this book? Young people? Presumably, Canada chose the graphic novel form as a way to reach youthful readers, readers caught in the trap he escaped from. But he doesn't show them how to escape.
Nicholas' pictures are excellent—boldly outlined, deftly toned in gray. But they add nothing to the narrative carried in captions.
Invisible Ink: My Mother's Secret Love Affair with a Famous Cartoonist
By Bill Griffith
200 7x10-inch pages, b/w; 2015 Fantagraphics hardcover, $29.99
ON THE COVER, Griffith calls the book "a graphic memoir," and he's right: it is more meandering memoir than sordid sensation. Despite the focus of the subtitle, the book wanders at length through family history (Griffith's great grandfather is William Henry Jackson, famed photographer of the Old West) and dwells on tangential connections (his next door neighbor in Levittown, Ed Emshwiller, celebrated illustrator of sf and mystery paperbacks) before chronicling the adulterous relationship his mother had for sixteen years with "a famous cartoonist," who, today, is probably nearly unknown. In recognition of this shortcoming, Griffith spends many pages on the biography and career of Lawrence Lariar. (For some pages on Griffith himself, as I mentioned earlier, you can visit Harv's Hindsight for July 2011, where his whole sordid story is divulged.)
If Lariar is remembered at all these days, it is for compiling and editing a series of "Best Cartoons of the Year" anthologies for almost thirty years, from 1942 to 1971. But he did much more, and Griffith details it all: he also wrote lurid crime novels (using pen names Michael Stark, Adam Knight, Michael Lawrence) and "how to" books about cartooning, and he tried, sometimes successfully, to get his comic strips syndicated. He wrote them; someone else drew them. The only one I encountered ran through a succession of titles—first Bodyguard, then Ben Friday, then Prince Hassan, and finally The Bantam Prince, all about the same characters; drawn until the last one by John Spranger, then Carl Pfeuffer. Lariar also contributed to early comic books, including New Fun, in which his Barry O"Neill appeared briefly.
Griffith's parents' marriage was not a happy one, and his mother, after finding part-time work as secretary for Lariar, who was also married, fell into an affair with him. Griffith's father died in a bicycle accident in 1972, when the affair was fifteen years along. By this time, Griffith's mother is deeply in love with Lariar. She reveals her love to him, hoping he'll divorce his wife and marry her.
Griffith wonders how this outcome might have affected him: if his mother married Lariar, Lariar would have been Griff's stepfather and presumably would have guided Griffith's career in cartooning. Griffith imagines and illustrates an alternate career for himself, drawing girlie cartoons for the same magazines that Lariar sold to. Griffith also wonders what Zippy would have looked like if drawn under Lariar's influence, and for a few pages, supplies examples.
Lariar, however, is not interested in marrying Griffith's mother. She starts seeing another man (whom she eventually marries), and in a long and painful sequence, Lariar breaks off the affair.
Griffith pieces together this long tale by rummaging through boxes of old letters, photographs, and other memorabilia, including his mother's diary—and an unpublished novel his mother wrote, a thinly disguised autobiography, from which Griffith quotes to provide intimate insights into the love affair and its ultimate dissolution. Griffith illustrates his researching as well as the affair and Lariar's career, so sometimes we are watching him as he reads a diary and muses; at other times, we witness his mother in Lariar's embrace.
Given the nature of the tale he's telling, much of Griffith's storytelling is what I call "decorated captions": the narrative is carried by the captions, the pictures contributing very little to the story. But there are long sequences in which Griffith depicts characters conversing, and often in such sequences, the pictures add information to the narrative. And his discussion of Lariar's career is amply illustrated with representative cartoons, essential to understanding the cartoonist.
With my interest in old cartoonists like Lariar—and in younger cartoonists like Griffith—the book has considerable appeal. But I can't say anyone without my interests would find it engaging. Except for the drawing.
Griffith's extensively hachured pen drawings are often stunning: street scenes and other locales rendered realistically in copious detail. This will come as no surprise to anyone who's been reading Zippy lately: Griffith spends more time on settings than on the people who occupy them. Several years ago, he did a long series in the strip featuring picturesque roadside diners—buildings shaped like derbies, comic book characters, roving woodland creatures. Inside each of these lovingly rendered structures, we could hear Zippy or Griffy conducting their usual non sequitur dialogues.
In Invisible Ink, when Griffith goes to Greenwich Village, I recognize some of the streets and storefronts so exacting a representation does he manufacture. A note at the beginning of the book explains that all the visuals are drawn by Griffith—even Lariar's cartoons, which Griffith re-creates rather than cutting and pasting from the originating creator.
Although I can't imagine who, besides bush league cartoonists like me, will find the book interesting, it is an engrossing story. With the illicit love affair at its center, framed by a detailed and fully illustrated account of Lariar's career and Griffith's pictures of his painstaking research—digging into old boxes of memorabilia, reading old letters and the like—the tale is methodically told, and its detail begins to absorb you. It is, after all, a mystery, and mysteries live in their details. Throughout, Griffith is slowly, event by event, episode by episode, one discovery after another, solving the mystery.
What did his mother mean when, his father not dead fifteen minutes, she tells Griffith and his sister that she's had an affair for fifteen years with a cartoonist Griffith knows slightly? Why tell them now? Who is that cartoonist? What did he do? How did the affair come about? Did his father know about it?
Systematically, Griffith answers the questions, exercising admirable composure and emotional distance, and we go along with him to learn the answers.
In the last scenes in the book, Griffith goes to visit his Uncle Al, whose possession of a box of old photos and papers had launched the cartoonist into his memoir. Al's wife has died, and they attend the funeral. Then Griffith gets on a train and, wordlessly, disappears down the tracks on his way back home.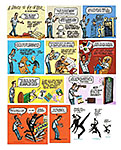 Jules Feiffer, quoted on the book's back cover, calls the book a "compelling mystery that brims over with wonderful imagery and quiet emotion. But not so quiet that I didn't tear up on the last page."
I didn't tear up on the last page. Probably some kind of character flaw. But the book held my attention to an obscure and insignificant event with slices of life that demonstrate our common humanity.
Oh—speaking of Jules Feiffer, here's Peter Kuper's tribute to him.
HARPER'S INDEX
Portion of tattoo-removal procedures in the U.S. that are performed on women: 3/4
Estimated percentage of child-rearing heterosexual couples who are unmarried: 44
Of child-rearing homosexual couples: 15
Percentage of U.S. small-business owners who say they should have the right to refuse service to LGBT customers: 1/3
Date on which Cathoklic priests in Mexico performed an exorcism on the entire country: 5/20/2015
Price of a Donald Trump pinata in Reynosa, Mexico: $30
ONWARD, THE SPREADING PUNDITRY
The Thing of It Is ...
"Donald Trump and Bernie Sanders might occupy opposite political extremes," writes William Falk, editor-in-chief of The Week, "but the extravagantly coiffed billionaire and the rumpled anti-billionaire are both surfing a tsunami of voter disgust. Their fans have much in common: a deep distrust of the political establishment, the conviction that wealtlh in America no longer trickles down, and a susceptibility to magical thinking. Trump promises to rid America of millions of illegal immigrants, destroy ISIS, bring back millions of jobs from China, and restore the lost status of the white working class. Sanders vows to transform America into a socialist paradise like Scandinavia, where everyone will get free health care and college educations and gladly pay trillions more in taxes."
The magic? Bombastic Trump forgets that the President of the United States is not an emperor. Yet he talks as if, should he be elected, he will ascend an imperial throne from which, waving his wand, he will banish all social and economic ills. And Sanders has an inexplicable faith in vast hordes of Americans rising up and shaking their fists at the sky and saying they won't take it anymore.
Falk continues: "Ask either candidate how he'll get his radical proposals through Congress, and overcome the opposition of at least 60 percent of the country, and you get the same true-believer response: This is a revolution! Details to come.
"Outside their fan bases," Falk goes on, "their ideas have virtually no support, and attempts to impose them would spark vehement counter-revolutions. If Trump really did try to round up and deport 12 million people, at least half the states would actively resist, and there'd be something akin to a civil war. If Sanders tried to jack up taxes and take over the entire health-care system, he'd meet the same overwhelming resistance in Congress that he did in 25 years as a legislator, when only three of the 353 bills he introduced passed—two of them renaming postal offices in Vermont. Talk of revolution is easy and exciting. Change is hard."
Much is made in the pundit press of the allegiance of young voters. Sanders attracts young voters. So does Trump. And it isn't difficult to see why. Young people lack experience. They don't see politics and government as hard work. Neither, to judge from what they say, do Sanders or Trump. All of them—candidates and young voters—indulge in magical thinking. Wand-waving. Change by pronouncement. Millennials, who haven't the experience to understand how things work in government (or, sometimes, in life itself), are attracted to candidates who make it seem easy. Government by magic.
Millennials have been trained in magical thinking. They have been brought up by Star Wars movies. Star Wars movies are about magic. The laws of physics do not apply in the long ago and far far away. Aircraft fly through space as easily as they fly through planetary atmosphere. "The Force" is a mysterious and magical thing. With dark and light sides.
For fans of Star Wars—which, now, comprises a couple generations of Americans—neither Sanders's programs and policies nor Trump's are unrealistic. And both say what millennials want to hear.
WE'RE ALL BROTHERS, AND WE'RE ONLY PASSIN' THROUGH
Sometimes happy, sometimes blue,
But I'm so glad I ran into you---
Tell the people that you saw me, passin' through
John Caldwell, 1946 - 2016
Caldwell, advertising illustrator and freelance cartoonist with work appearing in all the top magazine markets from Mad to Playboy to The New Yorker, died at his home in Ballston Lake, New York, February 21, reported the Albany Times. He graduated from Keveny and Hudson Valley Community College, and then studied at Parsons School of Design in Manhattan, after which, he began his career at the N.Y.S. Department of Transportation.
At his website, he joked in his third-person autobiography about how drawing maps for the state was not the creative outlet he desired:
"Indeed, you might still find an occasional topographic map of New York showing roads that never existed bearing names like HEY, IT'S ME JOHNNY AVENUE and HOW BORING IS THIS BOULEVARD. There's even a IF I LIVED HERE THIS WOULD BE CALDWELL LANE just north of Rochester. Realizing, under pressure from supervisors, that drawing maps was not the creative outlet he'd imagined it to be, Caldwell moved on to cartooning, an even more tenuous means of expression."
He freelanced cartoons to National Lampoon, Mad, Writer's Digest, Playboy, Barron's, The New Yorker, Wall Street Journal, Reader's Digest and Harvard Business Review.
He started placing work at Mad in 1978, when he was 32. He always said he was proud to be one of the "Usual Gang of Idiots" at Mad, reported Lauren Stanforth at the Albany Times. Caldwell also wrote a book in the early 1990s called Fax This Book, followed up by a collection called Faxable Greeting Cards.
In an interview with the Times Union's Paul Grondahl in 1991, Caldwell talked about a "Gross" and "Beyond Gross" feature he was writing for Mad that included pictures illustrating the following unpleasantries: "'Gross' is finding a hair on your plate. 'Beyond Gross' is flossing your teeth with it; 'Gross' is guys who don't trim their nose hairs. 'Beyond Gross' is guys who braid them."
"Those are even more sophomoric than what I'm used to," Caldwell chuckled at the time.
His one-panel cartoon, Caldwell, was also distributed to about 60 newspapers from 1986 to 1989.
Caldwell continued to create and sell his cartoons through December 2015 until the pancreatic cancer made him too weak to sit at his drawing table.
Upon Caldwell's passing, Tomas Bunk posted a cartoon that Caldwell had sent him ten years ago when he learned he had the same cancer that Caldwell would die of. Said Bunk: "I'm going to miss him and his fine humor."
Here are some of Caldwell's cartoons, gleaned from his website (where at least 150 or more reside; go there and rejoice), beginning at the upper left with the cartoon Caldwell sent Bunk.
To find out about Harv's books, click here.